The Spring Dinner Menu At The Duncombe Arms, Ellastone
---
Published On Sunday 13 May 2018 by Sticky Beak
See Recent Dining Out Reviews | See All Recent Reviews


You can't escape fate, you just can't. And I should know, a hefty dose of it was what led me to cross paths with The Man Bird many moons ago! Laura and Johnny Greenall experienced its inevitability too in their journey to the purchase of the Duncombe Arms pub in the beautiful village of Ellastone
We arrived a little ahead of our reservation time, and Laura and Johnny graciously took the time to sit down and have a chat with us, and fill us in on their journey thus far. To cut a long story short, Laura's' mums maiden name was Duncombe and the pub bore the family's crest; a bit of research revealed that there were family ties to the pub, so Johnny and Laura bought the boarded up shell and set about returning it to its glory days.
The building dates from the 17th century and typically has lots of characterful "nooks and crannies", as well as exposed brick walls, wooden floors in the upper dining area, tiles and flagstones in the bar and lower dining area, and of course the ubiquitous wooden beams. Some of the wooden beams were showing their age and history with the scars of woodworm being visible, albeit the culprits have died long ago either by natural or chemical causes!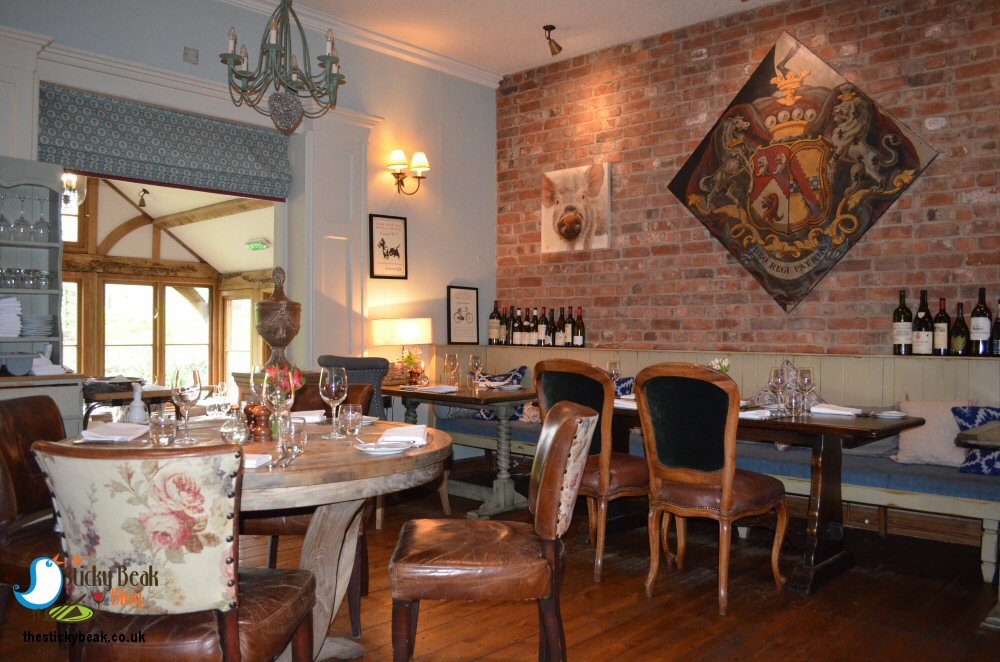 Johnny and Laura Greenall have worked blooming hard to get the Duncombe Arms to the position it's at right now. Their ethos has been to make the pub the heart of the village again and to make it an extension of their own home. Not many owners would actually install a vast collection of personal pictures and photos from their own home though, but proudly looking down on visitors to the pub are Johnny's family from days gone by and even Johnny himself atop a jumping steed in his days as a jockey. If Johnny's surname sounds familiar to you, it's because he was also a distiller in the family firm, Greenalls, the longest continuously running distillery in England!
There are plans to have a 10 bedroom boutique Hotel up and running in November 2018 just a few yards from the Duncombe Arms and Laura will again be styling this herself; given the welcoming vibe of the pub, I think she has a knack for this area of design :)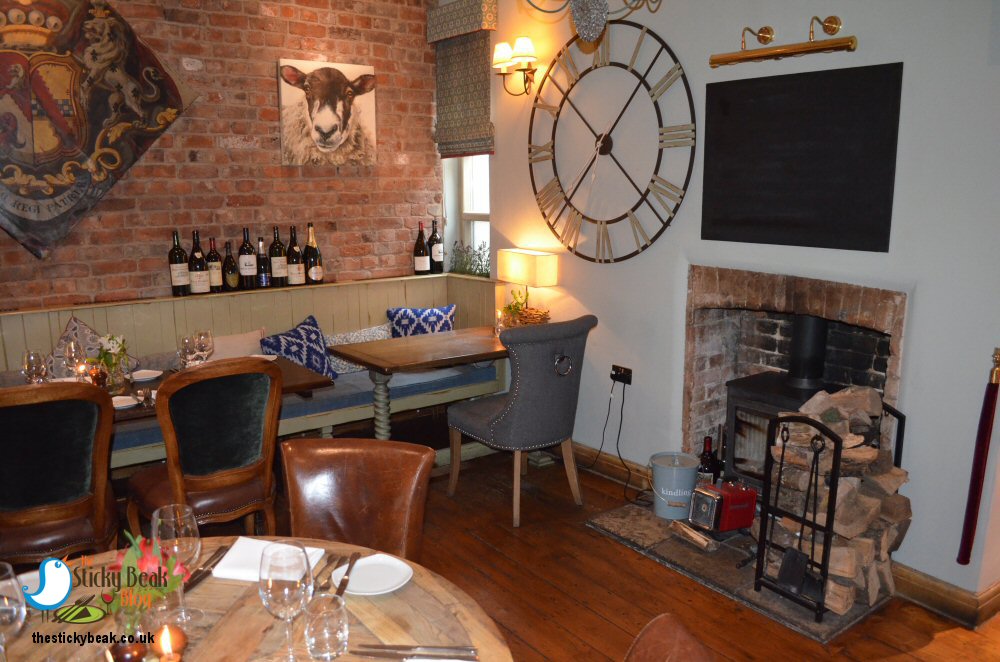 As well as being a great place to kick off your shoes and the cares of working life with a sociable drink in the evenings, the Duncombe Arms offers a mix of classic and modern British cuisine for those wanting to dine. The pub has been in business since 2012 and with mentions in The Michelin Guide, The Good Pub Guide, and The Diners' Choice Awards (among others) citing the venue as one of the countries' best dining pubs, you can be assured of a fantastic meal.
Chef Stuart Langdell is a relatively new addition to the Duncombe Arms team, but with his considerable experience working as a Head Chef for Marco Pierre White, and at the Michelin-starred The Cross in Kenilworth, this dynamic young man promises exciting ideas for this Ellastone pub.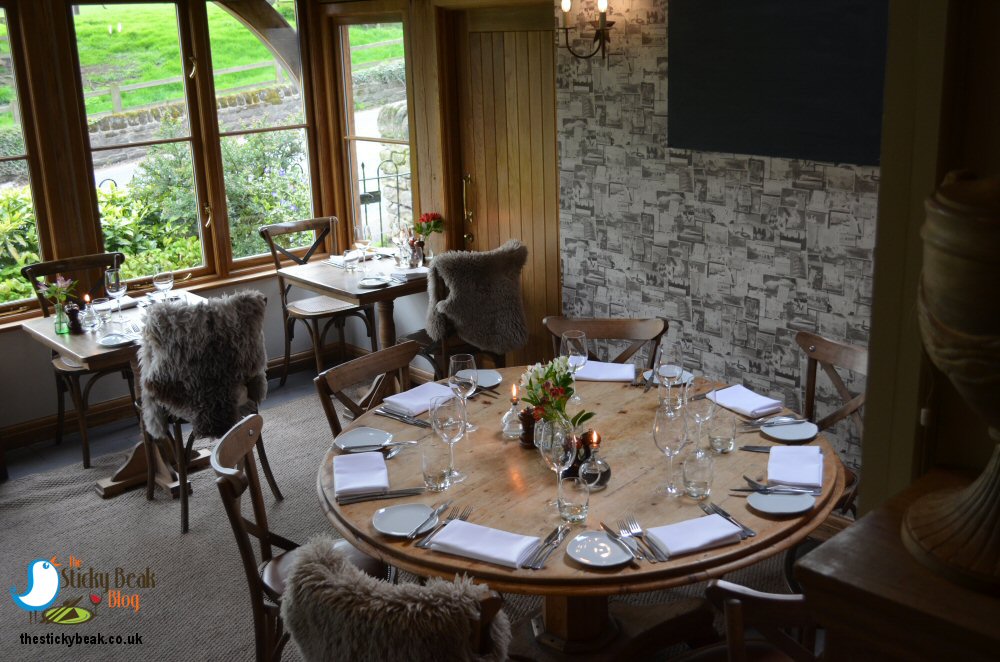 The Man Bird and I were invited along to sample the seasonal Spring Dinner Menu (£55 pp); a five course extravaganza showcasing the best seasonal flavours Britain can offer. There is an option to pair each course with a wine at an extra £30 per person, but as one of us was driving, we declined. General Manager James Oddy was on hand to show us to our table, before handing us over to the care and attention of a lovely young lady called Steph.
James and The Man Bird have a mutual love of Gin; in fact, James' passion for this libation is one reason the Duncombe Arms boasts an impressive 28-strong Gin Menu! I had a Masons Lavender Gin to begin my evening, which I have previously had (and loved!) and His Nibs had one from Forest Gins – his latest discovery, thanks to Adam at The Devonshire Arms, Beeley :)


So, with us all settled in, it was time to bring out the first course; Pickled Sardine, Gooseberry and Rye Bread. Fresh fish is surprisingly "unfishy" in flavour, and a good indicator of fresh fish is a lack of a smell and clear eyes (if it's a whole fish). Needless to say, the fish was fresher-than-fresh out of Stuart's kitchen, and the flesh was firm textured and semi-sweet in taste. The mid-mint green coloured Gooseberry gel was beautiful and popped on the palate; it wasn't as tart as the fruit that is plucked from the bush – that always used to make me squish my eyes up as a fledgling! Malty, earthy Rye bread added some depth and balance to this course, and it was a fantastic introductory course to the menu, being light and fresh in the mouth.
Next up was the grilled Lemon Sole with Cockles and purple sprouting Broccoli. This was an elegant dish; carefully arranged and simple in its execution; the fish fillet was surrounded by a drizzle of its cooking liquor, then fresh cockles and delicate fronds of broccoli had been placed on top. It was precisely the simplicity of this dish that really allowed the individual elements to be appreciated on the palate. To me, this epitomised the essence of spring; optimistic, vibrant and bursting with flavour (new life).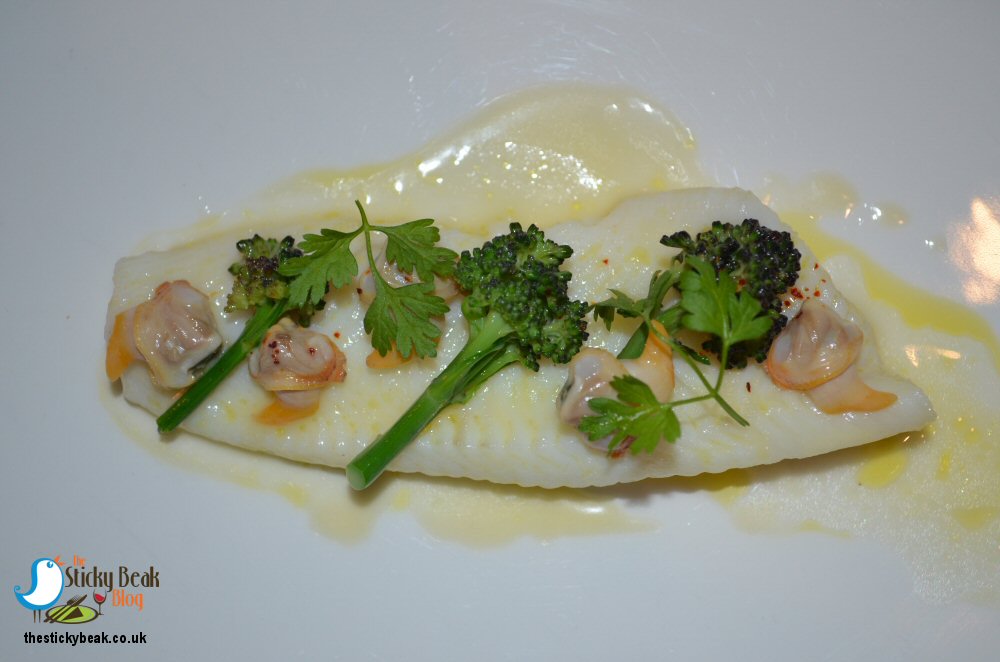 The third, middle course got me quietly bouncing around with glee – I absolutely love Rabbit, as you know - and this course was a terrine of Rabbit, Pistachio, and Prune; served with a simple Watercress salad. The terrine had both light and dark rabbit meat in and was finely coarse in texture (confusing description, but you know what I mean!), with pieces of chopped Pistachio nuts and juicy, rich flavoured Prune.

This dish had everything you could wish for; texture, sweetness, earthiness, and zingy peppery heat. It was a real carnival for the taste buds! In the course of the evening I had mentioned to James that we'd been to Niagara the previous year and passed the vineyards that the wine for this course was produced in. Very kindly, he surprised me with a glass of the Norman Hardie Pinot Noir to go with the terrine, and it was magnificent :)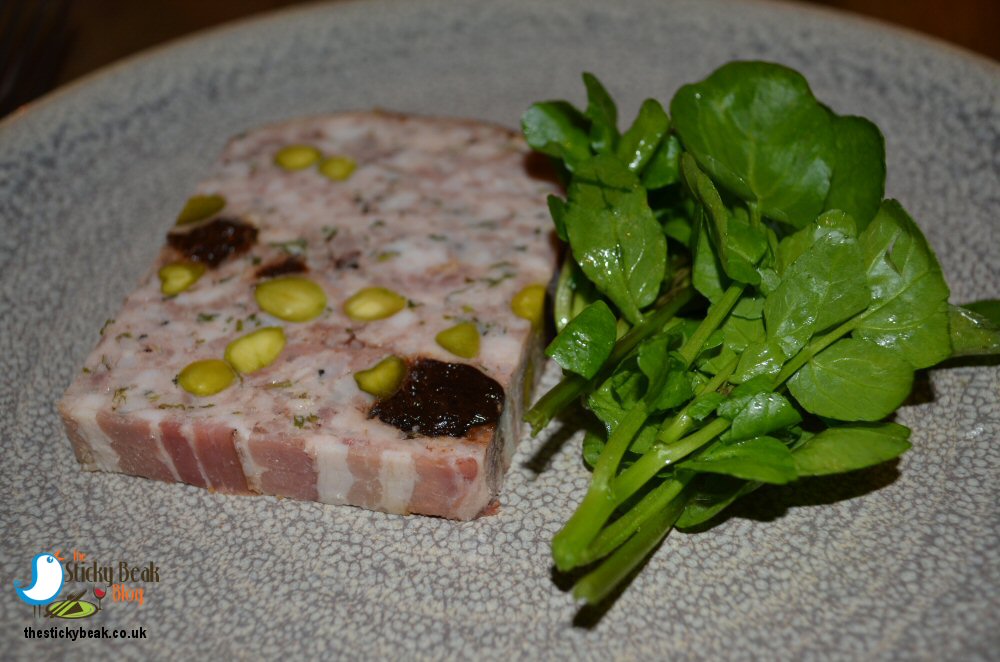 Our penultimate course really encapsulates the unbridled joy of warmer, lighter nights; Lamb rump, Jersey Royals, Asparagus and Morel mushrooms. Wowsers, this was just sublime! An utterly perfect, pink piece of Lamb rump rendered the use of the knife pretty much unnecessary; it was like velvet on the tongue and gambolling with taste as I imagine the Lamb would've done in the field :)

Happy animals always seem to impart their joy into their flesh, I've said it before, and I'll say it again. Jersey Royals are always gorgeous and sweet, and these specimens didn't disappoint. As well as tender, young Asparagus, there were baby Broad Beans and these just erupted into their sweet melody once in the mouth. Stuart had transformed the morels into a decadently sumptuous puree that defies description; it was simply mesmerising to my taste buds - even His Nibs enjoyed it (and he calls mushrooms of any type "slugs" and won't eat them normally!).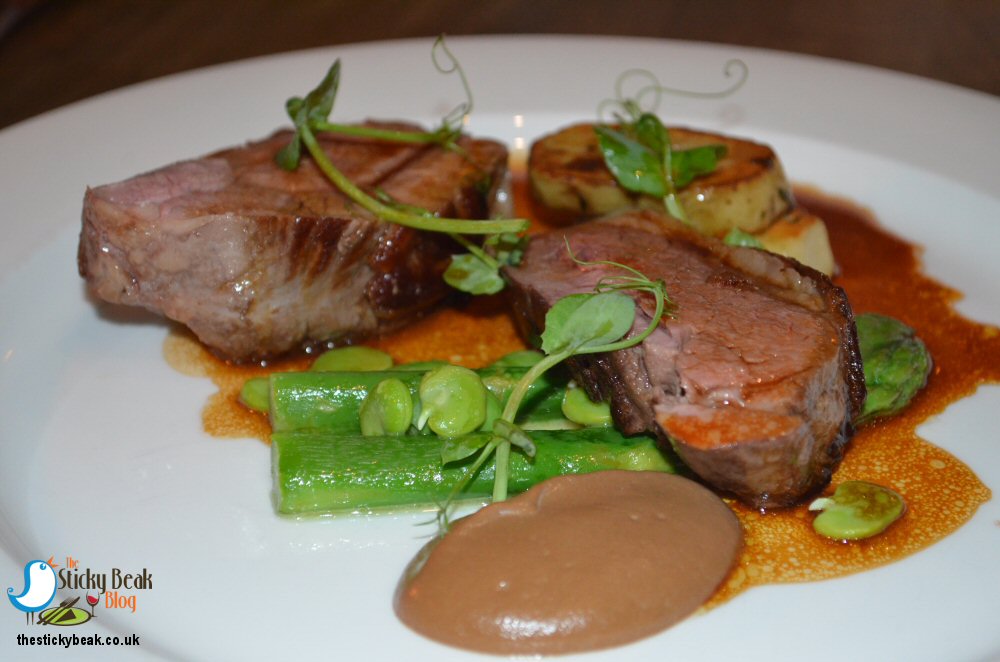 Throughout the evening Steph had treat us like royalty, as had all the other dapper staff attired in their aprons with the Duncombe crest embroidered on them. Nature called to The Man and he dutifully trotted off to the little boys' room; Steph folded his napkin up and placed it back on the table for his return, which is a touch all too lacking nowadays. It wasn't just our table that got this level of attention though; all guests had their every need met. Good service really does elevate a venue from memorable to incredible; The Man and I both said that the Duncombe Arms definitely warrants a few extra miles journey to visit.
The final course of the Spring Dinner menu is a Strawberry and Elderflower Trifle, and what a beauty it was to behold. A ruby-hued jelly layer was at the bottom of this individual morsel, topped with a layer of thick custard, singly piped rounds of cream, then scattered with Almond slices and chocolate dust. A pleasing wiggle was elicited from the trifle – you can always tell a good trifle by the wiggle factor it has, and this one had got it by the bucket-load! The whole trifle had been surrounded by a decorative layer of fresh Strawberry slices, just to give even more flavour to the dessert.


James had got another little surprise up his sleeve for us; glasses of the delicious Nederburg Winemaker's reserve Noble Late Harvest Chenin Blanc from South Africa. Clearly the grapes had been languishing in plenty of sunshine and drinking up the nutrients and water from the fertile soil of the vineyards; their natural sweetness bounced around in the mouth and enhanced the fruitiness of the trifle.
As we put down our cutlery for the final time we couldn't help the tiny sighs of smugness and contentment that escaped our lips. Stuart, Laura, Johnny, James and the rest of the Duncombe Arms team have nailed their goal of fine dining standard food and service in relaxed surroundings. The secret with the food is the quality of the ingredients used to assemble the dishes; no matter how talented the chef, if the ingredients aren't excellent, the dish is never going to attain gastronomic glory. In simple terms, you can't make a silk purse from a sow's ear.
Stuart is absolutely committed to using only the freshest local, seasonal produce where possible (clearly the cockles and fish didn't come from land-locked Derbyshire!) and this shines through phenomenally well in his end results.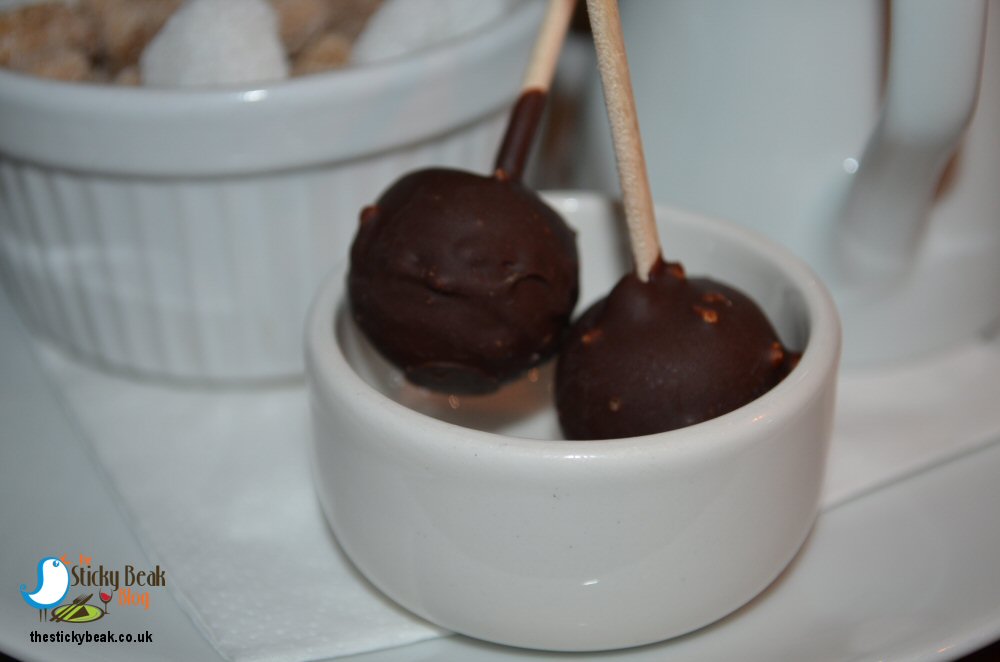 Our customary black coffees came with a last bit of indulgence – Chocolate, Caramel, and Hazelnut truffle "choc pops"; similar to cake pops but infinitely better, actually infinity multiplied by infinitely better!!
Clearly Hot Wings are awarded here, and I really would urge you all to make the extra effort to come and sample the cuisine for yourselves –trust me, you won't be disappointed. Alongside the seasonal spring dinner, there are pub classics available, a la carte starters and mains, and a market menu (either 2 or 3 courses, priced at £18.50 and £22 respectively) which is served Monday-Saturday Noon-2.30pm and Monday-Thursday 6-9pm.


Thank you for allowing us to share a bit of your magic; we had a marvellous time at the Duncombe Arms in Ellastone :) P.S we're claiming you as a Derbyshire venue – you have a "DE" postcode, so Staffordshire can diddle ;) !!
Some form of incentive was provided to visit this venue
read more