Afternoon Tea At Croots Farm Shop 'Shires Eaterie' In Duffield
---
Published On Tuesday 8 May 2018 by Sticky Beak
See Recent Dining Out Reviews | See All Recent Reviews


The typically "April shower" weather was living up to its name, but the lambs in the fields at Croots Farm, Duffield weren't having their spirits dampened. Oh no Siree, not one little bit; they were frolicking and gamboling around like the little white wool-bombs that they are! Less than enthusiastic however, were their mothers and the Shire horses in the adjoining fields - clearly they were older and wiser :)
It's been a wee while since The Man Bird and I last visited Croots farm and I'd forgotten how lovely it is. I'd also forgotten that you need at least an extra hour for your visit to really appreciate all the treasures on sale in the farm shop! This place has everything you could possibly want, whether that's your charcuterie, or cordials, preserves, cards, and gifts.
Having eventually had my sensory fill of the farm shops delights, His Nibs and I made our way through to "Shires Eaterie" where there were a few tables already occupied by folks enjoying a late afternoon treat of cake and coffee. The counter in Shires is no less tempting than the farm shop; except it was mainly sweet treats here, including very scrummy looking millionaires' shortbread and homemade Rocky Road.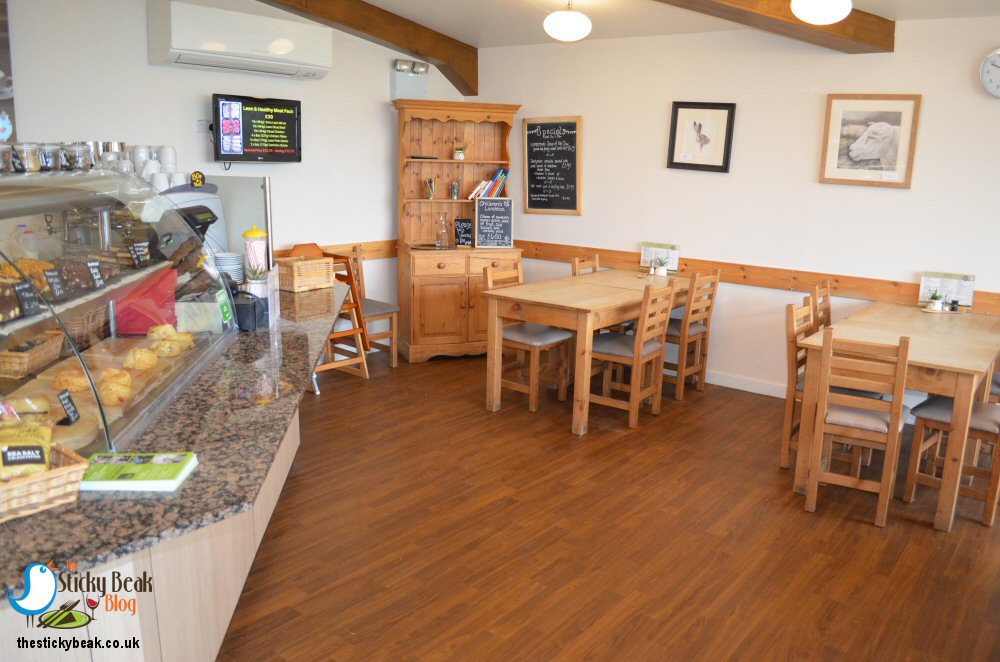 Breakfasts are served from opening until Noon (including the swanky sounding Champagne Breakfast priced at £20pp), then lunch service takes over until 2.30pm, and Afternoon teas are served until 4.30pm (Sundays until 3.45pm). It was the Afternoon Tea that The Boy Wonder and I had come to try, and I was really looking forward to it.
A table in front of the huge windows and overlooking the fields had been reserved for us and the lovely Shelley took us over, and got us settled in. Even though the weather wasn't playing ball, the view was still pretty special – not least thanks to the exceptionally cute shire foal that was doing its best Usain Bolt impression with anxious Mummy in hot pursuit! Natural light streams in through the large windows and the double (maybe even triple) height ceilings maximise this fantastically well. Shires eaterie has a nice farmhouse kitchen feel to it with its tile floor and chunky wooden tables; it's also spotlessly clean and welcoming.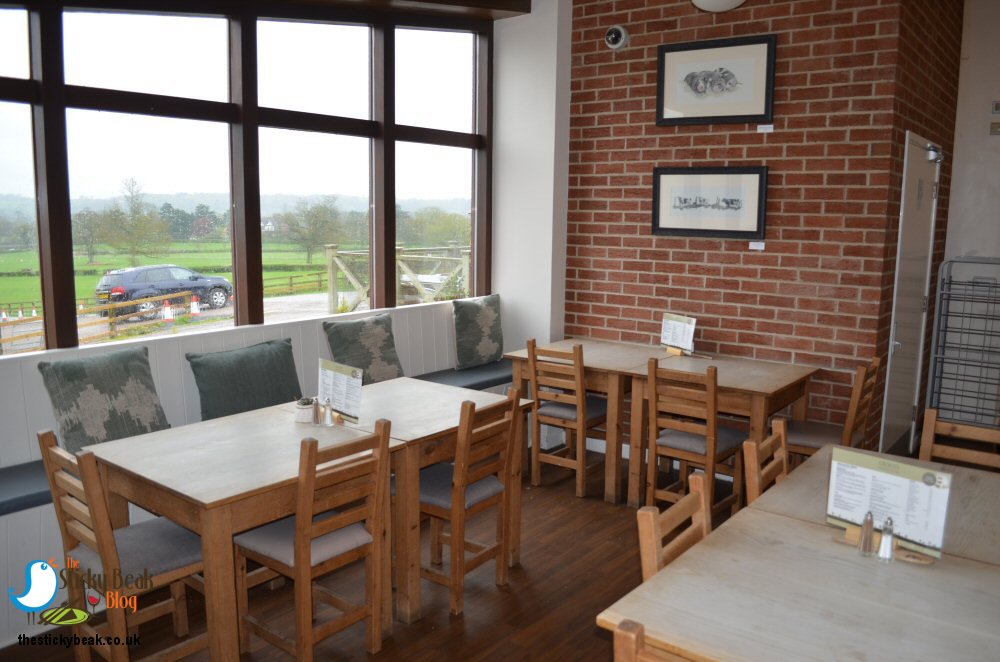 Before long Shelley brought out our pots of tea; breakfast for me, Earl Grey for The Man and Chloe carried one of the triple tier stands out as Shelley went to fetch the other. How on earth these stands didn't buckle under the weight of all the goodies they contained I don't know; I was pre-occupied with thanking my lucky stars that I'd resisted the urge for a cheeky nibble at lunchtime. Our tummies capacities were going to be seriously challenged here at Croots farm!
The bottom tier contained a selection of sandwiches and salad, the middle tier housed Macaroons, Lemon Meringue cupcakes, homemade individual Bakewell Tarts, Carrot cake, Rocky Road (yay!) and fresh Strawberries, and the crowning top tier was laden with a scone, mini jar of Strawberry jam, and a pot of fresh whipped Cream. Plenty to keep even the hungriest Horace's occupied for a while :)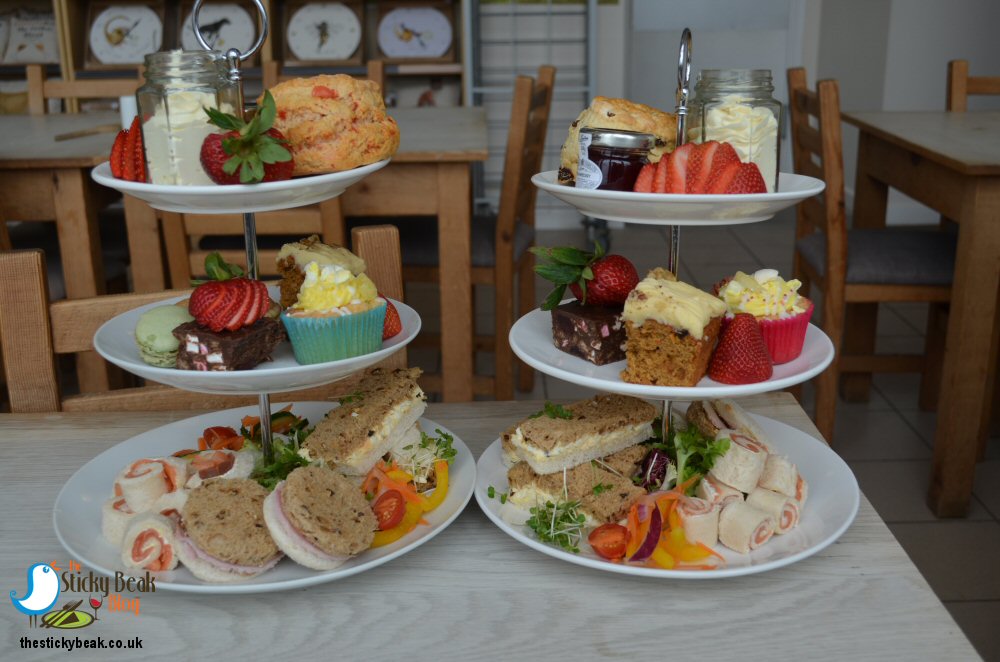 What I really liked about the spread at Croots Farm in Duffield was the variety of the sandwiches; not only their fillings, but also their shape and composition. There were several pinwheel sandwiches of Salmon and cream cheese, as well as mixed circles of white and granary bread (the top and bottom layers of the sandwiches were different) that contained honey roasted Ham, and finger sandwiches of Egg Mayonnaise and Watercress; again with layers of white and granary bread.
The pinwheel sandwiches were uber-dinky and just the perfect size to pop into your mouth whole. You can't say that the team at Croots Farm aren't feeders - the Egg Mayo finger sandwiches must've been a good inch deep with filling, and the "proper" Ham was not only sliced thickly, but there was plenty of it too.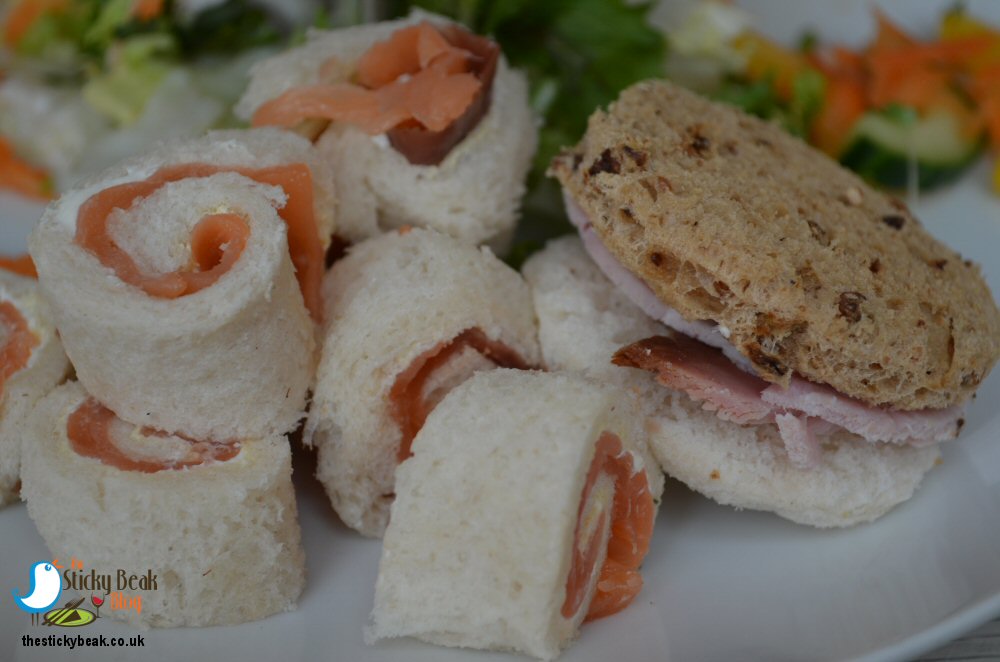 The salad was all fresh and crispy, and there was a nice mix of leaves; including bitter ones such as radicchio. Yellow pepper slices popped against bright red cherry tomatoes, red onion slices, and de-seeded half moons of cucumber. A scattering of peppery cress added the finishing touches to what was a very attractive savoury platter.
With our initial hunger satiated, we settled back and pondered which of the cakes to nibble first. The mini macaroons were first to go and both had that lovely thin, crisp shell that gives way to a soft, chewy inner. Next up we decided to sample the Lemon Meringue cupcake. This had a marvellously light texture, and when I cut into it you could see just how airy it was; like a little cloudJ. The cupcake had a soft, rounded Lemon taste, not at all harsh, and the tiny candied Lemon half looked really cute on it.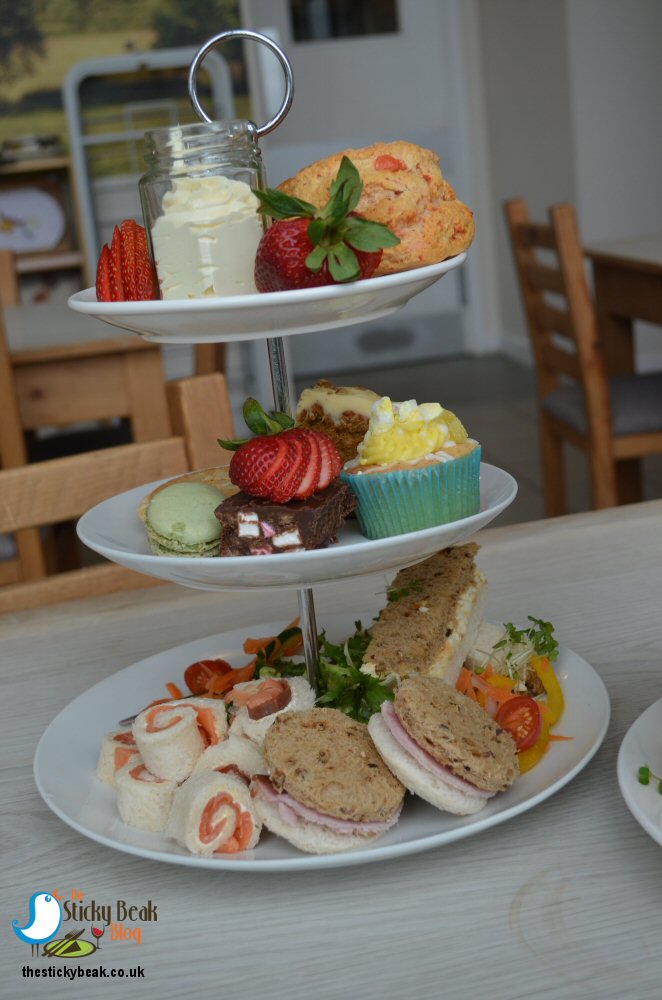 I can't resist the lure of a Bakewell Tart for long, so we tucked into our individual versions next. The pastry casing was incredibly crumbly and buttery - absolutely gorgeous – and a light Frangipane was encased within it. The almondy note was punctuated with a fabulously punchy Raspberry jam, and a generous scattering of flaked almonds gave a superb textural dimension in the mouth. Mercifully there was no icing layer in sight (why on earth Mr Kipling does it is beyond me!), and the whole thing really was melt-in-the-mouth; no clagginess and not overly, cloyingly sweet either. Personally, it's the best Bakewell Tart I've had, and I don't say that lightly.
Carrot cake was the next up to bat, and this is something that everyone interprets differently. I always like to see a flash of carrot in it, and some texture from Walnuts; other than that I'm not fussy, as long as it isn't buried under a ridiculous amount of frosting. Too much frosting simply makes it too sweet, buries all the other tastes, and makes my teeth tingle. Ugh. Thankfully the specimen at Croots Farm doesn't succumb to any of these traps. A light hint of spice was evident, and the cake was moist but not gooey; I liked the amount of Walnut pieces in it too – enough for texture, but not too much to make it overly nutty. There was about 1cm of icing on the top, so enough to get a good taste of it and give it the "oooh" factor when bitten into, but not enough to overwhelm the cake itself.


The homemade Rocky Road (well actually all the cakes we had were homemade on this occasion) was another sublime example of a sweet treat classic. Again, it was moist not gooey, and had a lovely denseness to it when bitten into. You could see the biscuit pieces, mini white and pink marshmallows and cherry halves all peeking through the mixture and it really was delicious. The chocolate layer that crowned it was nicely thick, but not too thick as to be hard to bite into. I'm a bit lazy when it comes to cakes and things; I don't want to have to work too hard to get at them!
With all the cakes demolished, His Nibs and I cleansed our palates (and eased our guilt levels!) by tucking into the plentiful fresh Strawberries. Shelley had also thoughtfully provided us with a large bottle of iced water at the start of our experience, so a few sips of this also helped to refresh our mouths.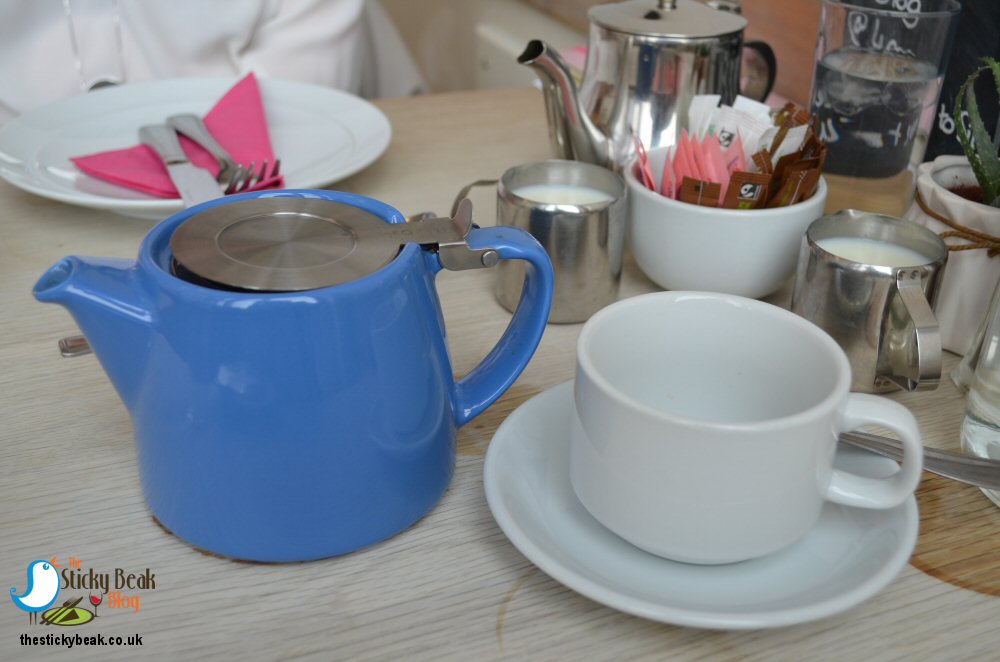 Shelley and Chloe both kept popping over to check how we were getting on, and brought fresh pots of tea out for us too; they really were hosts-with-the-most, bless them :) They also took time to come and have little chats with us, which passed the time very nicely and made the occasion that bit more personal and sociable.
We were treated to a Cherry scone, and a fruit one, so we chose to go halves with each other and try both each; we can occasionally play nicely! Both scones had a lovely texture to them and a nice "crust" to their outsides that yielded easily when bitten into. There were plenty of cherries and mixed fruit in evidence too, so that each mouthful gave you a good taste of its fruity constituent.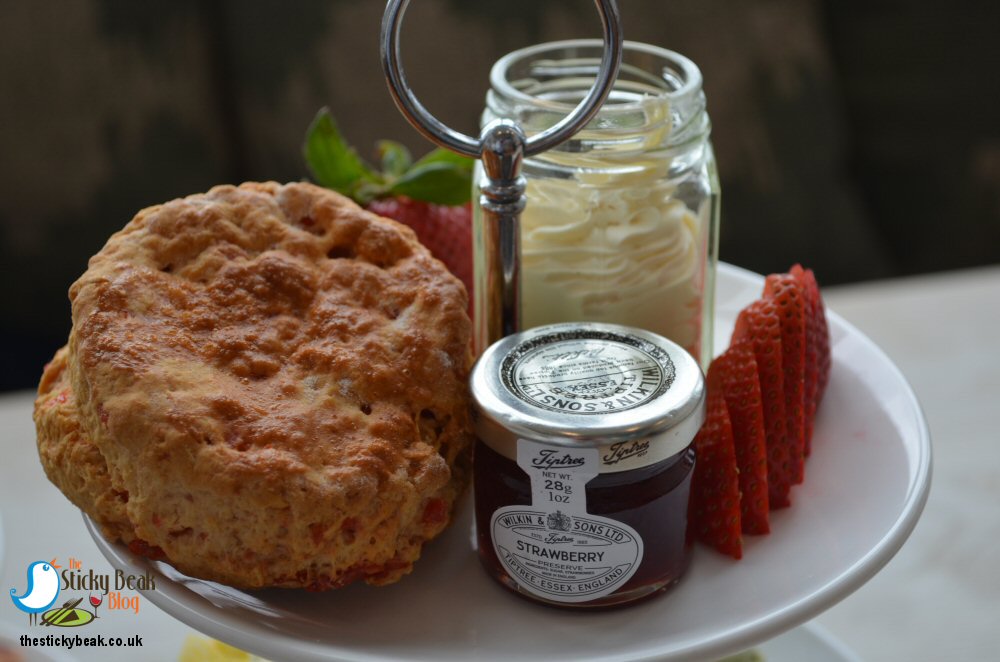 Regular readers will know that "camp Beak" can be a divided one at times; the ketchup or brown sauce debate being a prime example. Another can of worms was opened with the scones – should jam or cream go on top first? We opened up a fun poll on Facebook to see how the land laid, so to speak, and so far the over-whelming verdict is jam first. Now personally, I think the cream holds the key to the order of proceedings. If the cream isn't stiff enough and you put the jam on top of it you end up with a swirly mess, which I don't like. More often than not, therefore, I begin with jam and top it with cream; purely for neatness.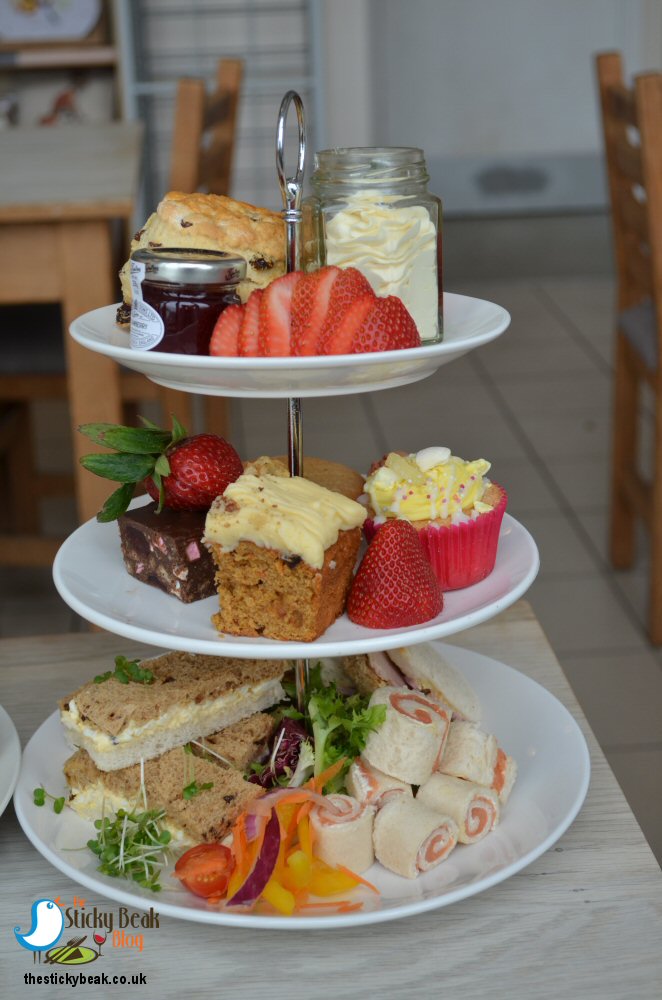 At Croots Farm in Duffield the cream had not only been piped into its glass jar, which gave a wonderful ripple effect visually, but it had been stiffly whipped too to give it some real guts. After having tested the water, I decided to risk it for a biscuit (as Daddy Bird would say) and put cream on first!! Yep, I know, pushing my luck. Guess what though? When I put the jam on top of my cream, it didn't create a mush *fist pump of victory*. So, do y'know what; if cream first makes you happy, do it - just check the cream stiffness beforehand!

His Nibs played safe and went jam first, so as per usual camp Beak was divided! :) We did both agree on the fact that this was a real belly-busting afternoon tea; we were literally crumbs away from having to admit defeat. Sensibly, Croots Farm prices the Afternoon Tea individually at £12.95 per person, so you don't have to order in pairs - handy if there's an odd number in your group/family. Children can also join in too with this traditional pastime; Croots do a smaller version priced at £6 for tiddlers.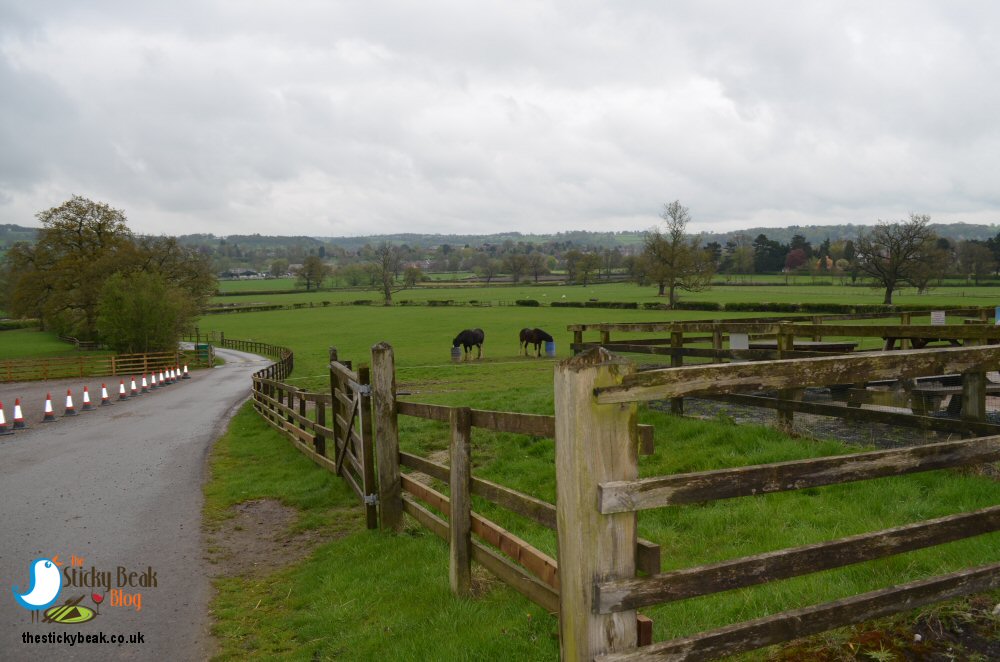 We thoroughly enjoyed our afternoon tea experience at Croots Farm in Duffield and are more than happy to say "Hot Wings" to the team. If you do go, and I really hope you do, just remember to take a shopping bag with you and stock up on some goodies at their deli counter!
Some form of incentive was provided to visit this venue
read more