Trying Out New Healthy Eating & Vegan Options At Wagamama, Derby
---
Published On Sunday 6 May 2018 by Sticky Beak
See Recent Dining Out Reviews | See All Recent Reviews


Unless you've been living on planet moonbeam you can't have helped but notice the trend towards healthier eating; whether that's meant organic, vegetarian, or even vegan options popping up in our fave eateries.
Wagamama always keep their menu options up-to-date and exciting for their customers, with regular changes to dishes, but when they let us in on the latest updates we couldn't wait to go and try them out ahead of their official launch on May 9th 2018. There are also several new beverages launching on this date too - exciting news for Waga fans! :)
The Derby Intu centre hasn't yet had its latest makeover in decor, unlike the Nottingham venue (although it is scheduled to happen this summer, so watch out!), so it was the same fun, vibrant place we remembered from former visits. There were already loads of diners in on the Sunday evening, including several groups of families; the relaxed atmosphere is perfect for taking kids to.

Ysabelle, the venues manager, greeted us warmly and took us over to our table. This was when we got our first sneak-peek at the new menu items, all contained in a dinky staff booklet – one of which I was given to keep :)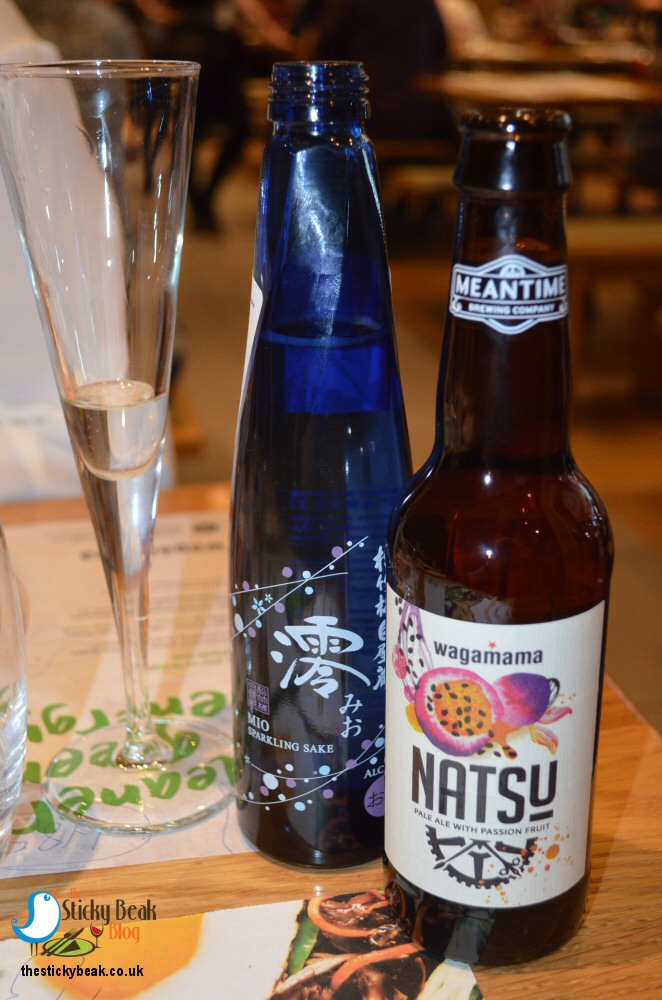 To get things going, His Nibs and I ordered a couple of the new drinks; Mio for me (a sparkling Sake), and Natsu for The Man (a pale Ale with Passion fruit). The Mio can only be described as the Prosecco of the Sake world; gently bubbly and perfect for when you want something a little special. It has a subtle, light taste of Blackberry and hints of vanilla and I found it to be a really refreshing choice.

The Boy Wonder wasn't quite sure what the Natsu was going to be like, but as it turned out it was another great choice. Natsu is a fairly "hoppy" pale ale to begin with so it has a good foundation on which to put fruity notes; the name means summer in Japanese and it does have an "optimistic" taste to it. His Nibs liked the hoppy, fruity taste, it went very well with the dishes we'd chosen, and it wasn't overly fruity, just a nice balance of sweet and savoury notes.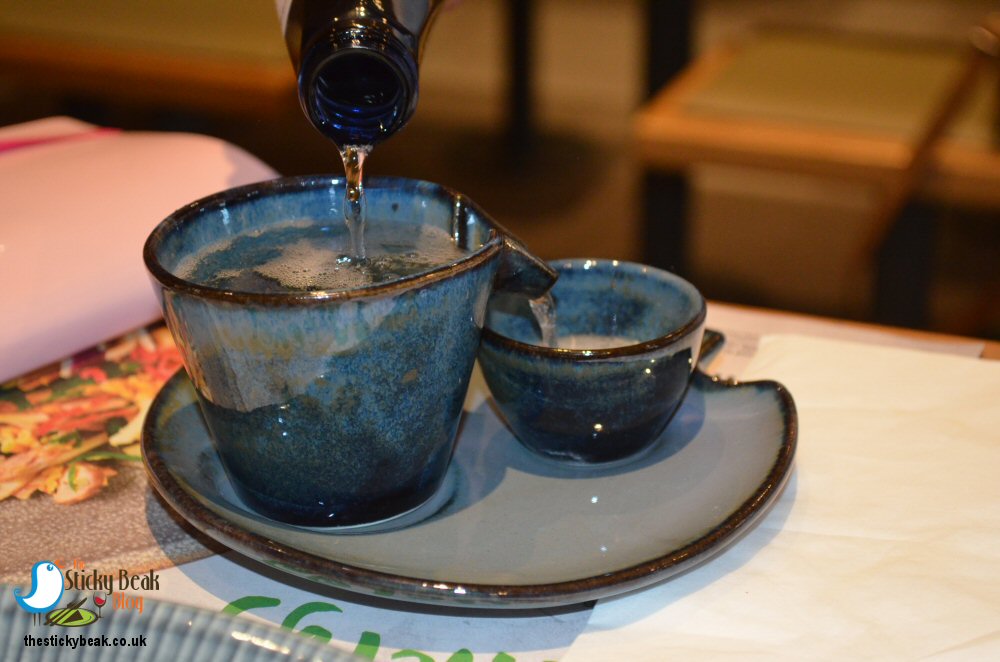 Now as you know, our appetites are fairly ample to say the least, but previous experience has taught us that Wagamama portions are on the generous side so we proceeded with a little caution. When you first look at the Waga menu, you really could just order one of everything; there's so much choice, and everything sounds amazing. We reined our glee in, and thought about it logically – we were there to try the new items, so they had to take priority. Ysabelle was chuckling away with us, as we stated our dilemma. Luckily she told us that everything was just as fab as the regular menu dishes, and that we could also have some of our favourites too!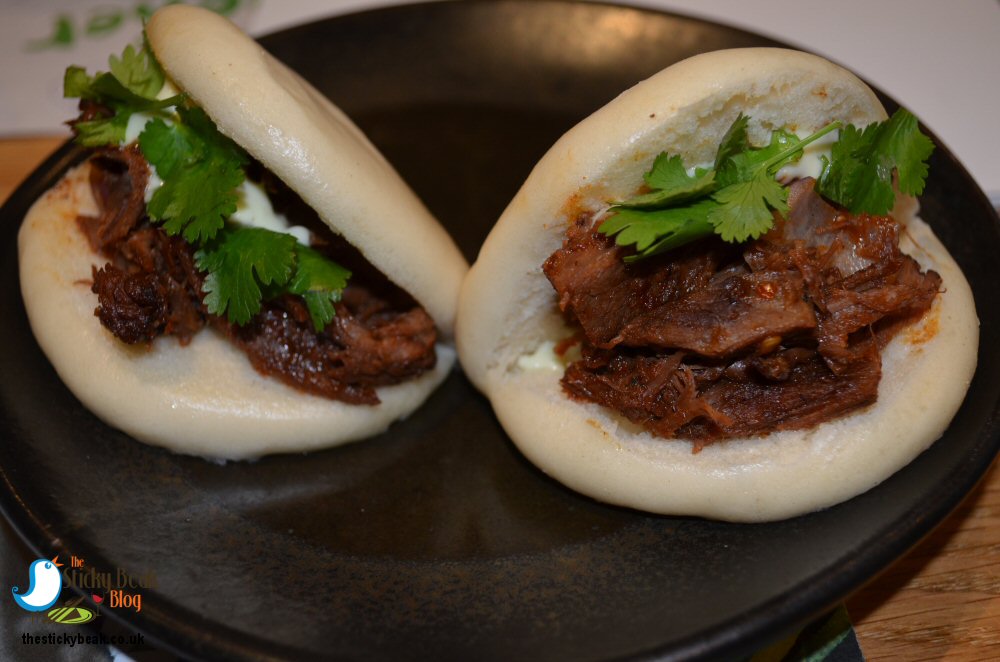 For starter we had the Tama Squid (a new dish) and Hirata steamed buns with Korean BBQ Beef and Red Onion. Waga fans need no description of the steamed buns; they're just like soft clouds of yumminess and as usual were full to the brim with punchy BBQ beef and red onion. Our mouths were singing with joy as the flavour filled them. The Tama Squid is quite simply a-maze-balls!! These balls of delight have a ridiculously crispy outer to them; the crunch you get when you bite into them is off the scale, and very satisfying.




Then you get super-soft shredded Squid inside that is so tender and tasty; it's a wonderful contrast that gives the senses a real buzz :) Delicate drizzles of Mayonnaise and Okonomiyaki sauce just provide the final piquant touch to this wonderful dish.

One of the big trends recently in terms of lifestyle choices has been the rise of folks eating vegan diets. Wagamama have tapped into this nicely by creating a "Vegatsu" for vegans, or those wanting to have another meat-free choice (not necessarily just for vegetarians). In my opinion, vegan food has just got itself a new cheerleader, and this bad gal isn't shy at all! Seitan is made from wheat gluten (beware Coeliacs or those with intolerance to gluten!) and has a very meaty texture –no pun intended- which explains why it's often called "wheat meat".


The Seitan is shaped and sliced to into good sized slices, ideal for chopstick use, topped with a large quenelle of sticky rice, and then smothered in Waga's world famous curry sauce. A crunchy salad of mixed leaves gives a delicious textural element to this great dish. I'm a fully paid up member of the carnivore club and I have to say that I didn't feel at all short-changed in terms of taste or texture by the Vegatsu, and neither did The Man Bird. This baby is going to rocket to number 1 in the Wagamama popularity stakes, no worries at all! :)

The third member of the newbie brigade is the Harusame glass noodle salad, available with Tofu or Ginger and Lemongrass Chicken. We had the chicken version, not only because we love the spices involved but also Tofu doesn't quite hit the spot for either of us. This dish is just wonderful; colours pop off the plate; oranges, greens, and reds and the flavour is incredible!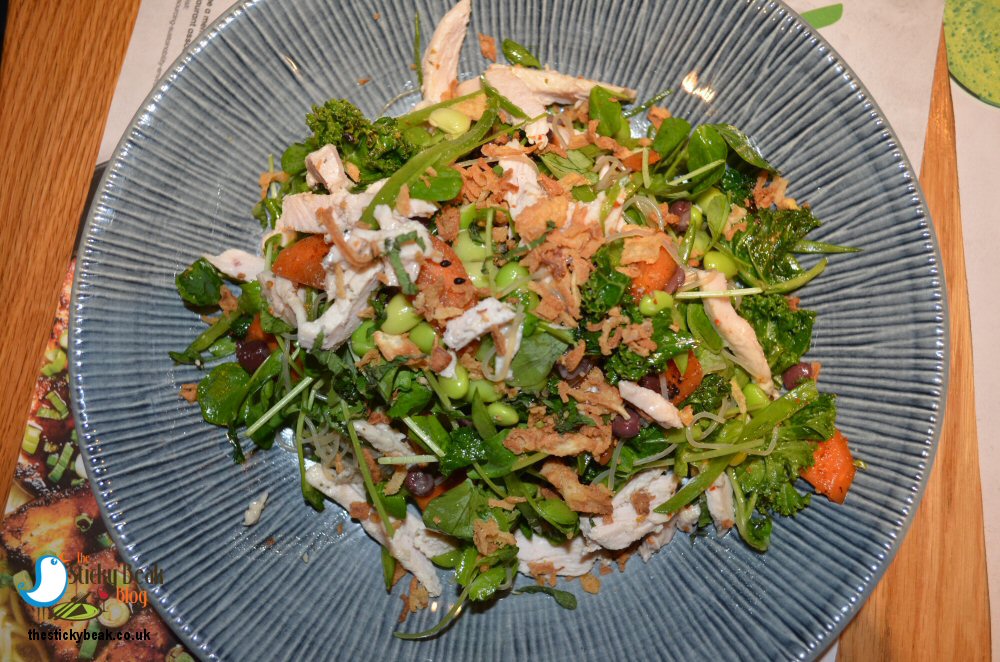 Honestly, the glass noodle salad has all the tastes and textures your palate could possibly crave. Sometimes noodles aren't coated thoroughly in dressing which makes the taste in the mouth a bit inconsistent, but at Wagamama every single one was coated and the result was sublime. The best bit though? The fact that it was such a light textured meal means it wouldn't leave you in a food coma, so ideal to have at lunch or as a pre-cinema meal :)


Everyone has their favourite Wagamama dish, and The Man Bird and I are no exception, although being the greedy piggies we are, we actually have 2 or 3! On this occasion we were just in the mood for one of the Omakase dishes (chef specials) and, after a bit of debate, settled on the Steak Bulgogi.
The steak had been cooked to perfection; still pink in the middle (no blood) and sliced to make it melt on the tongue. Slices of Miso Aubergine were that silkily soft texture with just a lovely seasoned twang to them. Oodles of spicy Bulgogi- and sesame- dressed noodles were piled up on the plate and topped with crunchy spring onions and kimchi, which further added to the zippiness of the dish. A tea stained, soft boiled (free range) egg crowned it all, and I have to say the yolk was wonderfully rich. Cassy was the Chef in charge on this particular night, and she sent out some blooming fab food from the kitchen; not least this Waga wonder!


Ysabelle had been coming to garner our thoughts at various periods through the evening, and she tempted us to try the new soft drinks on the menu by a company called Nix and Kix. Both the Mango and Ginger, and Cucumber and Mint varieties are low in sugar and vegan, and they come in at about 50 calories per 250 ml can – perfect if you're watching your daily calorie count. These little beauts may be low sugar, but they're certainly not low in flavour or refreshment quality.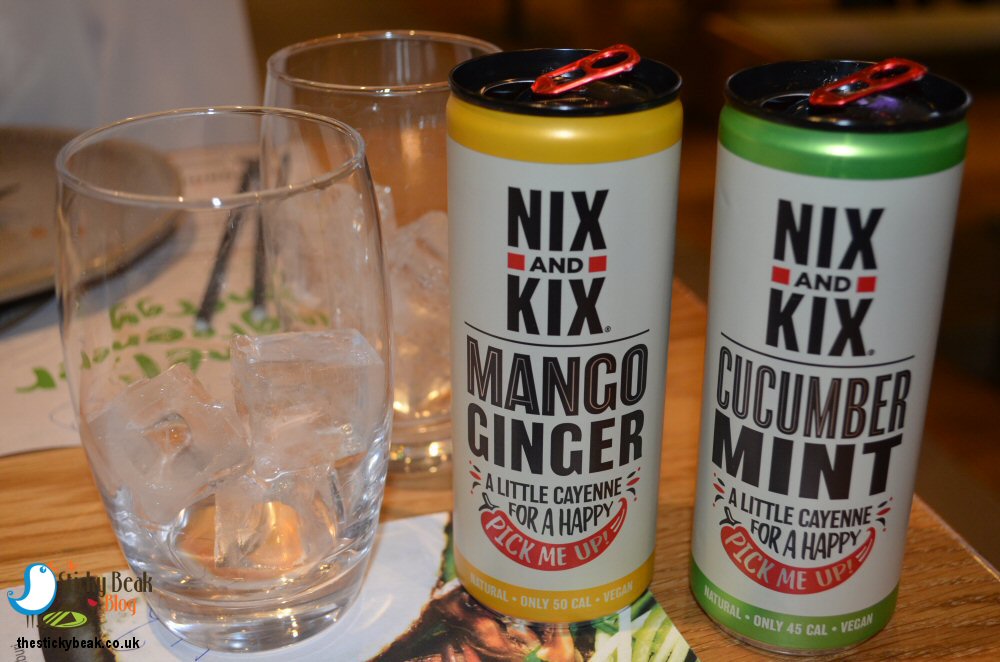 If you have opted for one of the spicier dishes on Wagamama's menu then the Cucumber and Mint version will be your salvation; it not only cleanses the palate, but it takes the heat out of your mouth that spices provide. I thought that this would make an absolutely corking base for a summer cocktail #justsaying WagaJ! The Mango and Ginger is gorgeously fruity, but you get a lovely little hint of warmth from the ginger too; this would go fab with a Yaki soba dish.
As we waited for our desserts to arrive, I had a more detailed inspection of my place mat. If you've never been to Wagamama before, their mats have lots of fun facts on them, which change periodically. My one was telling me that Waga is a member of the Sustainable Restaurant Association, and that all the Wagamama venues are powered by green electricity. Last year, the chain re-used over 1 million litres of cooking oil to make bio-diesel fuel! They have also made the switch from plastic straws to paper ones; much friendlier to our oceans and the life they contain :)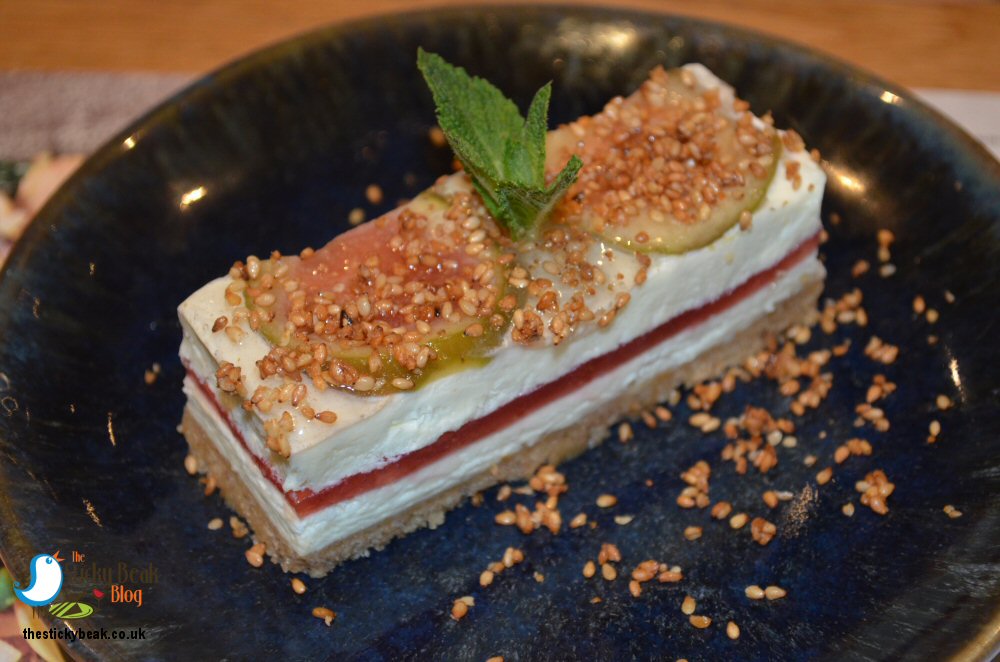 So, back to the desserts; I had the Coconut and Fig Cheesecake, and The Boy Wonder had chosen Banana Katsu to finish his meal with. My dessert was gorgeous - it had a firm biscuit base, but not so hard that it was difficult to cut through with the fork. The cheesecake layer was no less pretty with its two creamy coconut layers sandwiching a rosy coloured Fig gel tier, and the garnish of fresh Fig slices and toasted sesame seeds set it off beautifully. Superb fresh flavours burst onto the tongue and then you got a profoundly aromatic, nutty taste from the sesame seeds as well as some welcome texture.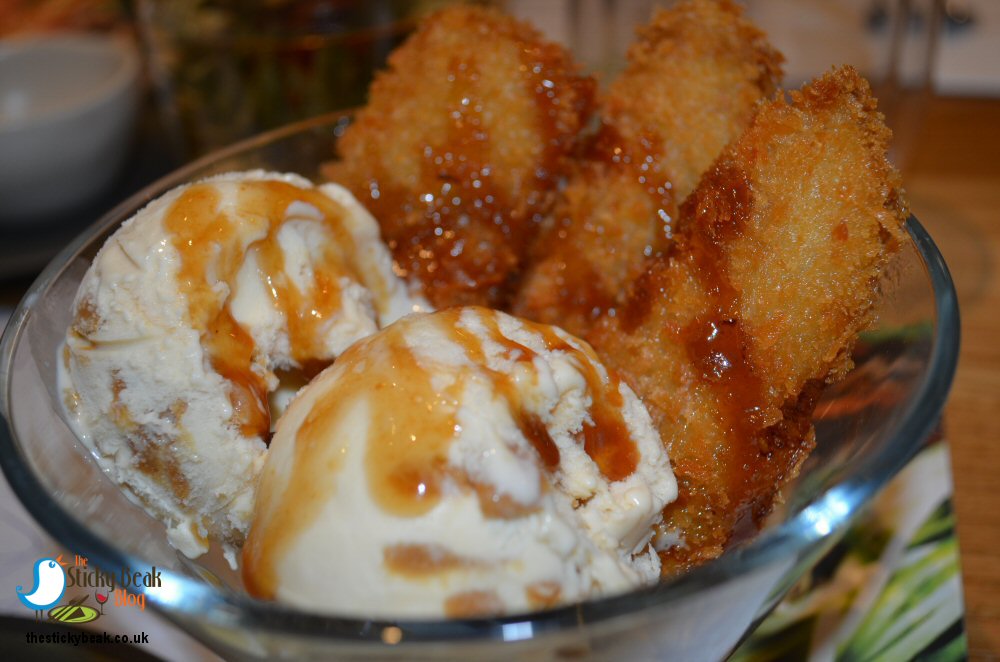 His Nibs was tucking away quite merrily into his Banana Katsu and was really impressed with the contrast between the soft, intensely perfumed banana and the phenomenally crispy outer. This morsel wasn't at all greasy or heavy on the tummy. The Katsu was paired with a salted caramel ice cream, which you could actually taste the salt in, and a Chilli, Toffee and Ginger sauce that imparted a nice heat in the mouth. The whole dessert was a great fusion of flavours; needless to say, the dish was completely clean when he'd finished!
We rounded things off with a hot beverage, but I had the Jasmine flowering tea instead of an Americano. The Japanese love a tea ceremony, and this had a touch of theatre to it as you watched the ball of pressed green tea, lily, and jasmine leaves slowly unfurl as they infused in the hot water. I was absolutely mesmerised by the simple beauty of the leaves revealing themselves, much to His Nibs' amusement; I think he mumbled something about "simple things pleasing simple minds". Cheeky! Anyhow, it was worth the few minutes wait, the green tea was very refreshing and lightly floral on the palate.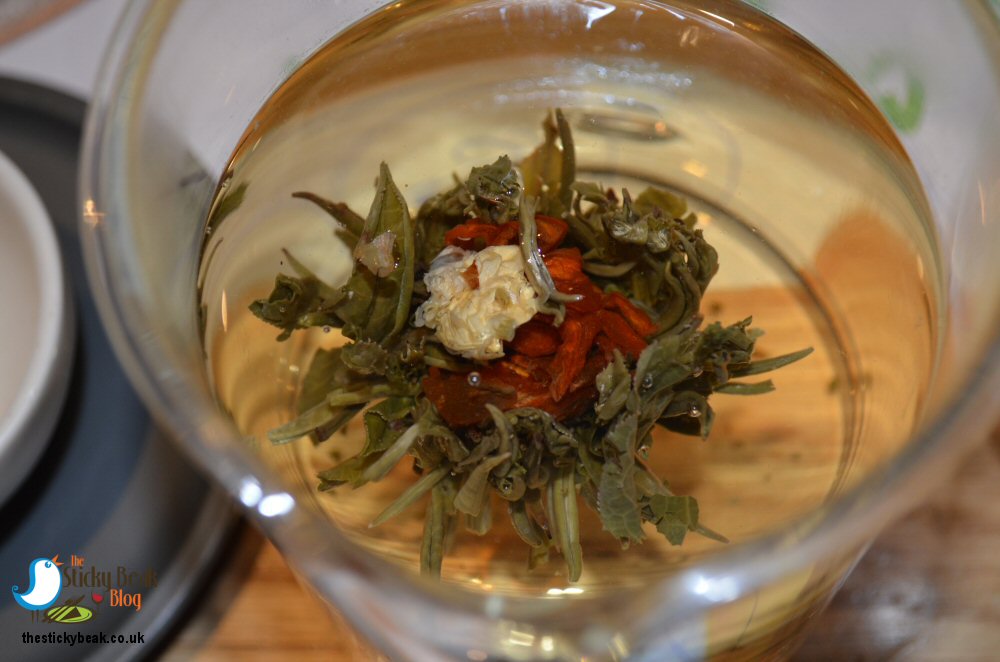 We had a great evening at Wagamama in Derbys' Intu shopping centre, and I think that the new dishes will prove a huge success. If you haven't been before I'd definitely recommend going and trying it; the menu really does offer something for everyone and if you're unsure, the staff are very knowledgeable about all the food. Hot Wings awarded to Ysabelle and the Waga Derby team :)
Some form of incentive was provided to visit this venue
read more