Out For Dinner At The Devonshire Arms, Beeley
---
Published On Wednesday 2 May 2018 by Sticky Beak
See Recent Dining Out Reviews | See All Recent Reviews


The Man Bird and I are huge fans of anything Chatsworth related, as you know dear reader. When we were asked if we would like to sample the new menu at The Devonshire Arms in Beeley (on the Chatsworth Estate), we didn't need asking twice!
There have been a few new faces installed since our last visit to this gorgeous venue, not least the new Head Chef, Lewis Thornhill and Manager, Andy Morris. The front door has a sign at its side proclaiming the premises to be dog friendly, and as soon as we walked in to the bar area there were indeed a variety of canines relaxing as their humans enjoyed a pint. A bowl of water is provided so that dogs can quench their thirst after a good old yomp around Chatsworth's' expansive grounds.


On previous visits we've dined in the Brasserie, which is very sleek and sophisticated; it still has a fantastic ambience but is very different from the traditional feel of the main pub. This time we got to experience the full charm of the pub, as we were seated just off the bar area in a snug room that we've previously walked through to access the Brasserie. Personally, I love this space with all its traditional features; solid stone walls, thick ceiling beams and wooden door frames (which both looked like Oak to me, but I could well be mistaken).


I have to admit to carpet envy at this point; yes, you read that right – carpet envy. The pale straw coloured carpet in the pub has the Devonshire coat of arms woven into it in deep red; very distinctive. I also love the deep tub chairs that accompany the wooden dining tables; they are upholstered in a beautiful berry-toned stripe fabric. The focal point of this intimate space is the massive (and it really is massive, I'm not just exaggerating) solid stone fireplace, with a burner insitu – it had been lit but was nicely warm when we arrived, rather than absolutely roaring.
His Nibs was a happy fella, thanks to the very extensive Gin menu on offer at The Devonshire Arms - approximately 35 of them! The chap behind the bar, Adam, had a great knowledge of them and selected a couple for The Man to go with his starter and main courses. It's this attention to detail that sets the Chatsworth experience apart from a lot of its competitors. The first Gin he had was the Eden Mill variety; a dry Gin with hints of Lemon Balm and exotic fruits - this can also be served with Prosecco apparently. Yum!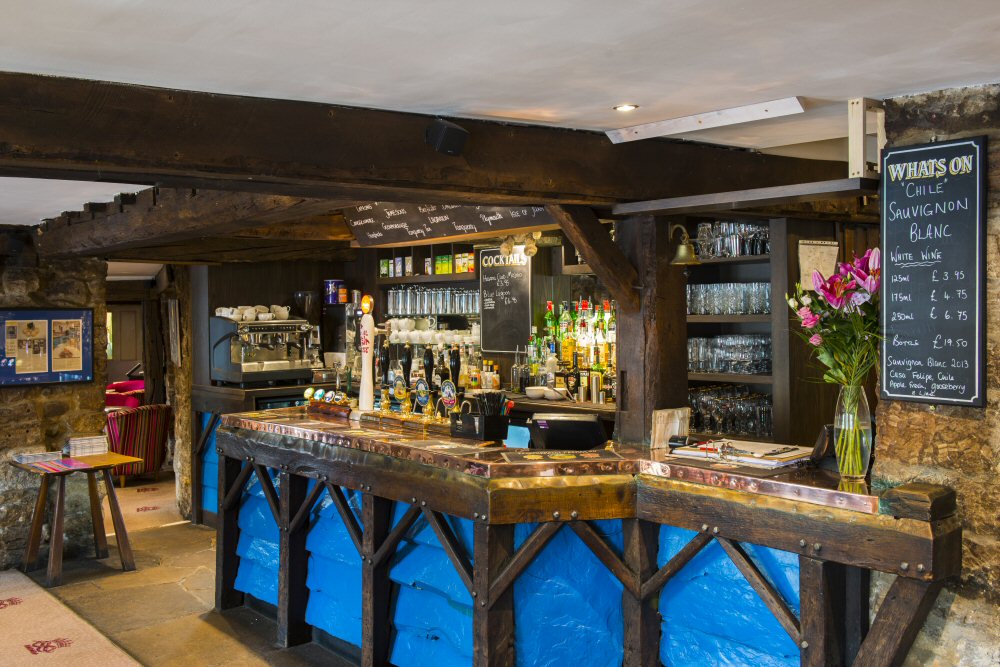 As well as the regular seasonal menu there is a specials menu, and we chose dishes from both of them (a main course and a dessert). I am a complete sucker for Crab, so when I spotted the handpicked Devon crab with Granny Smith Apple, Avocado, Spring Onion, Sesame seeds, and Crab dressing, it was a no-brainer as to what I was having! The Boy Wonder couldn't decide between the Chicken Liver Parfait or the Pork Cheek Fritter with Piccalilli Mayonnaise, and Apple Coleslaw; eventually he chose the Pork Cheek Fritter - a belting choice as it turned out :)
Head Chef Lewis Thornhill is clearly passionate about his art, and my dish was stunning to behold; it really was summer on a plate. Flashes of green and glimpses of sunset yellow could be seen among the creamy white flesh of the Crab, and everything had been carefully placed to maximise the visual impact of the dish. The crab was wonderfully sweet and succulent and contrasted brilliantly with the crisp, tart Granny Smith Apple which had been julienned.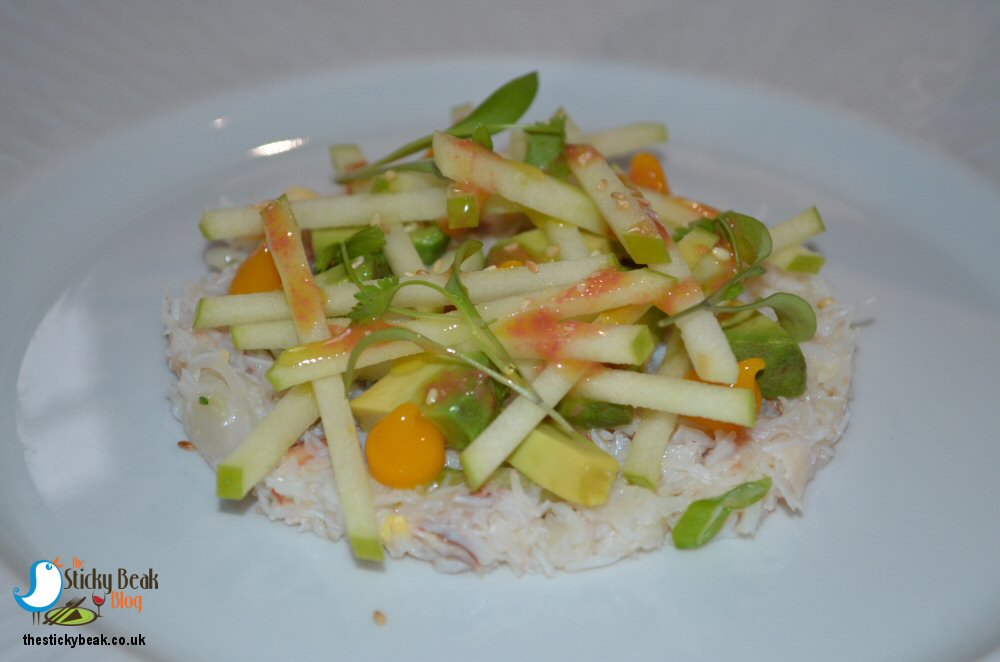 Every great dish has to have a solid foundation on which to build, and the bed-rock here was the creamy Avocado; it allowed all the other elements to really pop against it. A gentle nuttiness came from the Sesame seeds and the Spring Onion gave a lovely textural component to the dish. Obviously the star of the show was the Crab meat, and its flavour was further enhanced by the deeper, complimentary note of the crab dressing; a really, really sublime starter.
Chef Lewis is a keen believer in using every last scrap of food he can, like me he hates wasting anything. To this end he contacted the Chatsworth Farm Shop team and asked what meat cuts they had surplus; he thought that the untrendy cuts could be put to good use in his kitchen. Humble Pork Cheeks have been transformed into something rather good in his hands; behold the Pork Cheek fritter in all its tasty glory!


His Nibs loved the chunkiness of the texture and the deep, rich flavour of the cheek meat; the inclusion of Capers gave the dish a pleasantly salty note, and the more robust nature of the cheek meat could more than stand up to it. A good fritter should always have a crunchy outer, and the one at The Devonshire Arms, Beeley absolutely passes muster on this point - a discernible sound comes from it when bitten into! More crunchy notes came from the Apple coleslaw, which was fresh on the palate, and a nice spicy note was provided by the tangy Piccalilli Mayo. Another brilliantly balanced, multi-faceted starter to get the evening off to a great start :)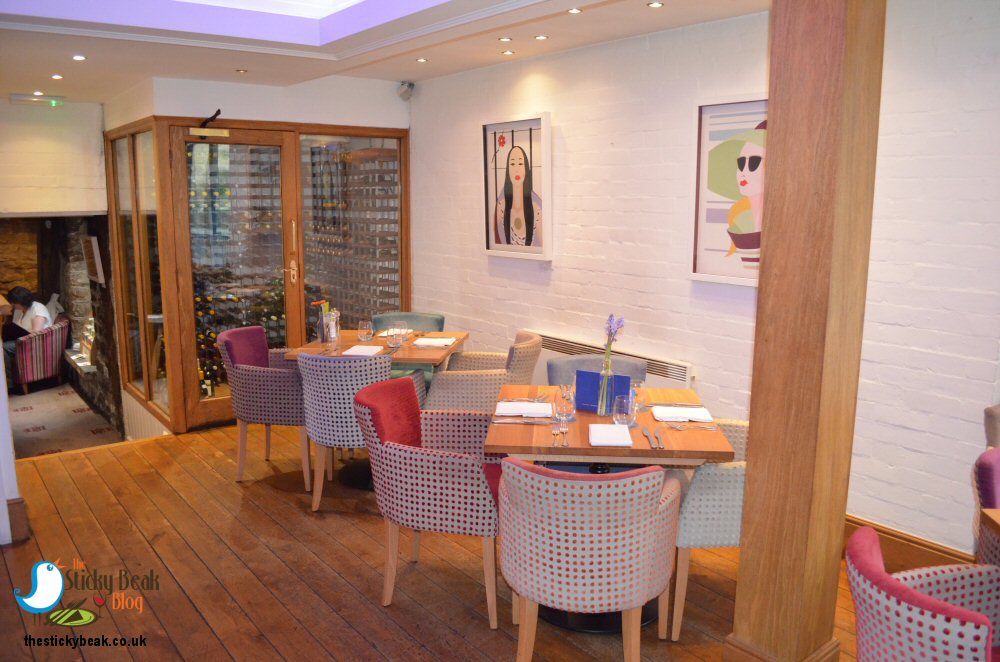 Venue manager, Andy Morris, came over to check our dishes were hitting the mark, and was very happy to hear they were. In the gap between starter and main we were taking in our surroundings and noticed that the "snug" had got quite busy with other diners. There was a range of accents including Scottish, Australian, and American; tourist season had quietly snuck up on us, and it was lovely to see that Chatsworth and its estate were proving as popular as ever.
Adam came over to refresh our drinks; I was still sipping away on my Malbec, but His Nibs had finished his Eden Mill Gin. After a brief discussion of The Man Birds' main course choice, it was suggested that Forest Gins Earl Grey infused offering would go very nicely with his meal, so that was what His Nibs plumped for.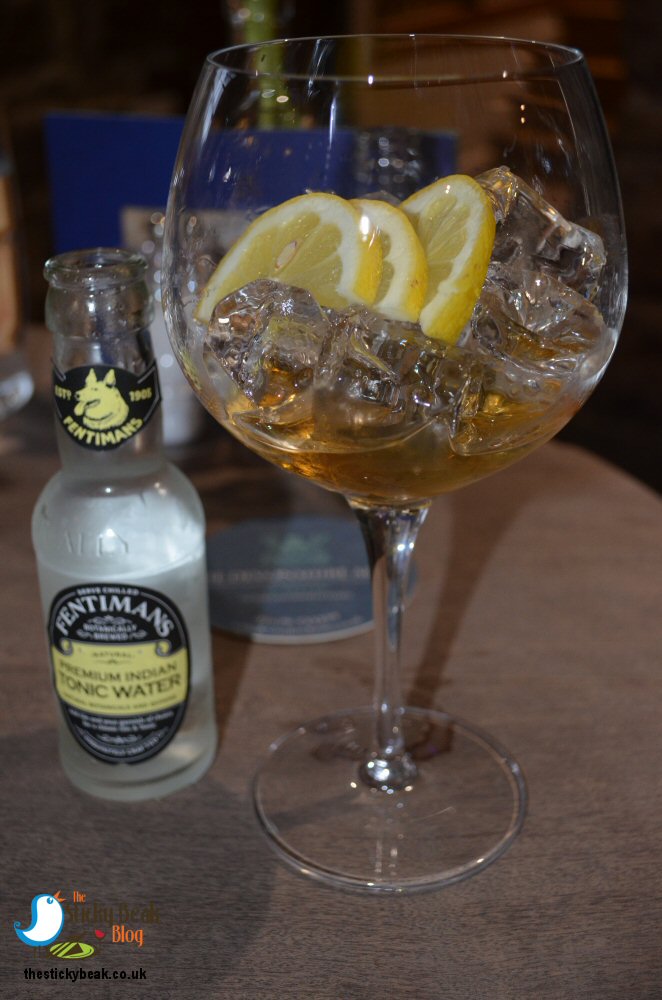 One of the main course dishes on the specials menu was the New Seasons Lamb Chump with Jersey Royals, Green beans, confit baby Tomatoes, and Mint Salsa Verde; this was the choice of The Boy Wonder. I had originally fancied fish for my main course, but having never tried Guinea Fowl before I changed my mind and took the plunge to try it. The Guinea Fowl Breast was accompanied by a Wild Garlic Risotto, Parmesan shavings, and Truffle oil, which sounded like another joyously summery dish to me.


New season Lamb is exactly the same on the plate as it is in the field; bouncy and full of character. The meat itself somehow managed to be dense-but-soft, that is to say that the flesh was dense to cut (although not tough, please don't mistake me) but soft to chew as it melted in the mouth. It was served blush pink, as it should be, and was deliciously moist.
Jersey Royals with their gentle nutty, creamy taste are the classic partners for Lamb as is Mint; the Mint Salsa Verde was a totally triumphant piece of this dishes rich tapestry. Super-sweet confit tomatoes and crunchy, perfectly cooked green beans brought the meal together supremely well. Let's just say that the plate needed no washing after The Man Bird had finished eating!


The Guinea Fowl was delicious. I thought it would be quite gamey (and maybe the dark meat is), but the white breast meat was deceptively gentle and creamy in flavour whilst being pleasingly firm textured. I have to say that I really enjoyed this meat and would definitely have it again in future without hesitation. Something else that I totally love is Wild Garlic; I like ordinary Garlic too, but there's something softer and more rounded about the Wild variety that I think makes it more accessible to a wider audience. It goes without saying that the rice was cooked to perfection with that gorgeous hint of bite to it, but the inclusion of wilted wild garlic leaves within the risotto was delicious, and I loved the crisped garlic leaves that garnished the dish too. The hint of rich Truffle oil and pungent Parmesan shavings lifted the dish magnificently, adding another facet and preventing it from being merely creamy on the palate.
It isn't often you'll hear me complain about having too much choice; in fact, it never happens! I was seriously challenged by the pudding section of the menu though – Head Chef Lewis, you gave me a proper headache trying to choose which sweet treat to have! Thankfully the manager at The Devonshire Arms Beeley, Andy Morris, was my knight in shining armour and eased my dilemma somewhat. I love Bakewell Tarts and Puddings (like every other self-respecting Derbyshire person), but I also get stupidly excited about Cardamom - there's just something about its unique flavour that makes me all a-quiver.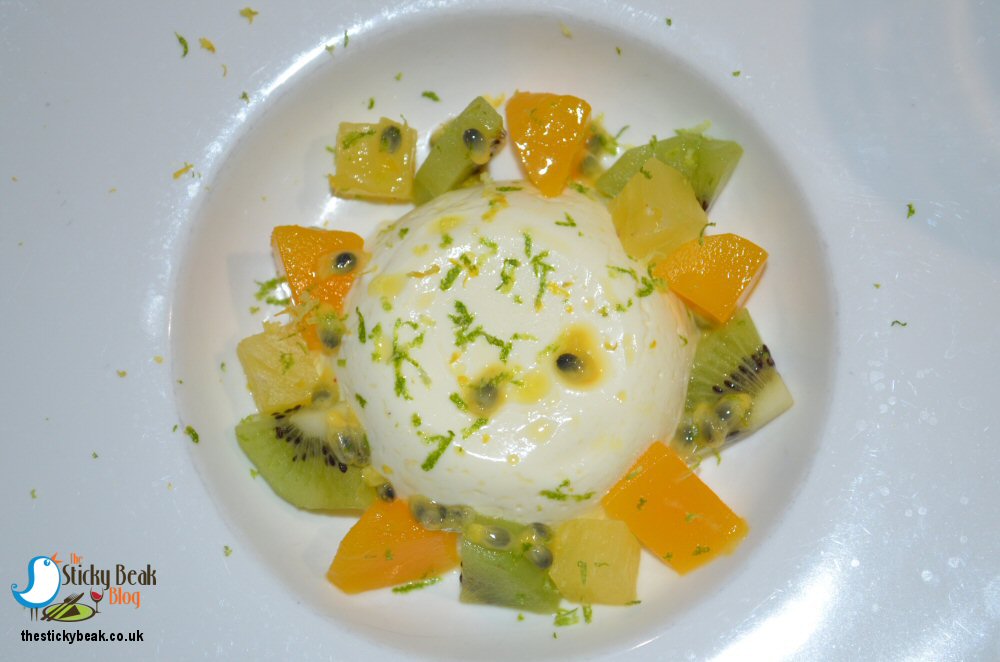 Head Chef Lewis has currently got a Cardamom Panna Cotta with Tropical fruit salad on the specials menu, and I do rather like a Panna Cotta, but I couldn't bring myself to abandon the Bakewell Tart with Poached Rhubarb and Clotted Cream. This is where Andy came majestically and heroically to my rescue; he said I could try both - as long as I shared the Panna Cotta with His Nibs, which I agreed to do :) Thankfully, The Man Bird decided straight away that he was having the Sticky Toffee Pudding with Butterscotch, Rum-soaked Raisins, and Vanilla Ice Cream for his dessert.
The trio of desserts were glorious; each one different, obviously, but champions all. My Bakewell Tart had a gorgeous crisp, buttery pastry case that housed a lovely light Frangipane layer, between which lay a zingy Raspberry component. The sweet cubes of poached Rhubarb melted on the tongue and the Clotted cream added the final decadent touch to this offering.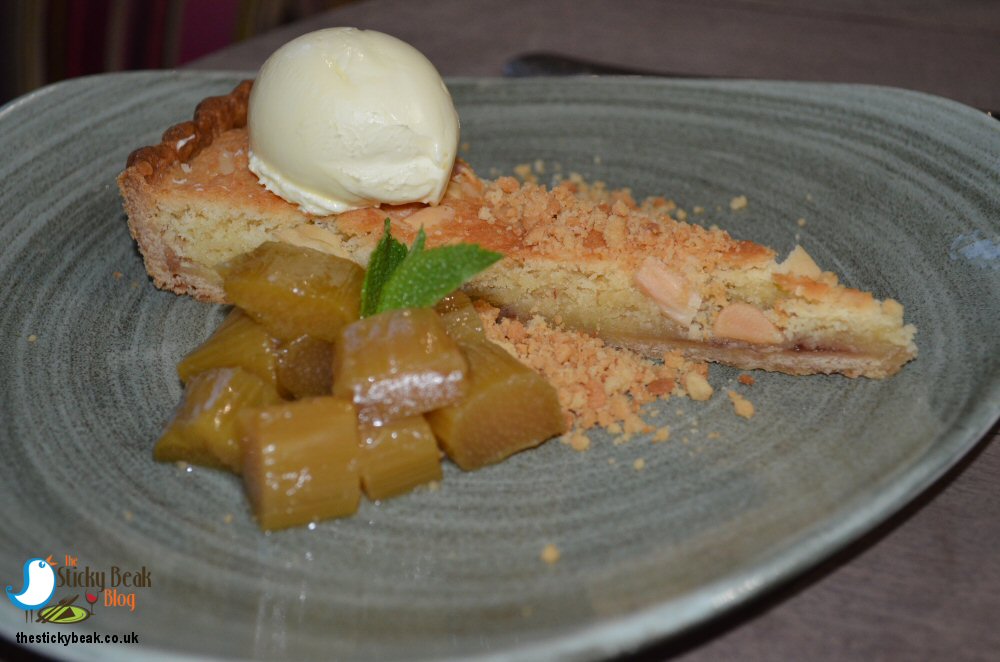 His Nibs was merrily making his way through the Sticky Toffee pud, and was mightily impressed with the lightness of the sponge itself. He also loved the creamy, mellow Butterscotch; it complimented the other elements of the dessert without being too cloying or sweet. There was a lovely layer of Toffee on the sponge which lived up to its sticky reputation, and the rum-soaked raisins imparted their alcoholic warmth gently on the palate. Smooth Vanilla Ice Cream contrasted beautifully with the heated sponge, stimulating the senses very nicely.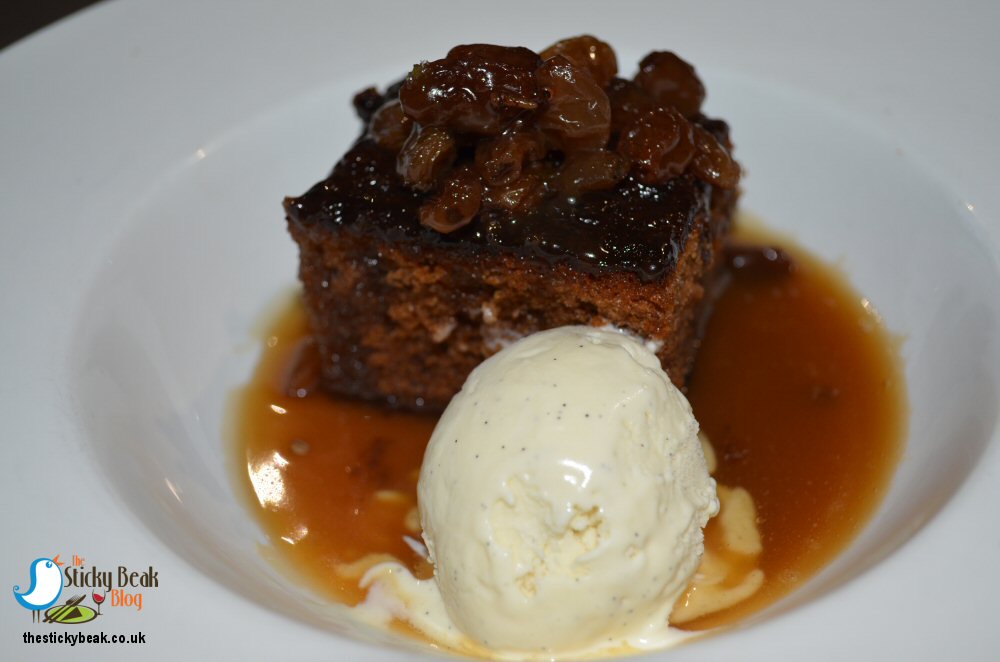 Sometimes you can't help celebrating your own triumph, and clearly Chef Lewis's Panna Cotta was feeling mighty fine as it shook what its momma gave it; wobbling and swaying seductively on the plate. This was a total gem of a dessert; its highly fragrant Cardamom note went brilliantly with the robust flavours of the exotic fruits, and the garnish of zingy Lime zest and Passion fruit lifted it to even higher heights of wondrousness.
With our dishes all cleaned, we sat back with a sigh of contentment and pinched ourselves to make sure we hadn't just dreamed the stunning meal we'd consumed. Head Chef Lewis Thornhill's vision of bringing fine dining quality food to a top-class yet informal setting is definitely coming to fruition - and he's only been at The Devonshire Arms at Beeley since October 2017; a mere 6 months! Clearly, he and manager Andy work supremely well together and inspire the team to deliver impeccable food and service. Hot Wings very happily awarded here :)
Some form of incentive was provided to visit this venue
read more