A Bank Holiday Lunch At The Shepherds Rest, Lower Bagthorpe
---
Published On Friday 27 Apr 2018 by Sticky Beak
See Recent Dining Out Reviews | See All Recent Reviews


Easter has been a bit of a doozie this year hasn't it? The definite high points (from a non-religious view-point) are the chocolate and the 4 day weekend; I haven't been loving the weather quite so much though - snow?!
So having eaten twice my bodyweight in chocolate, which is no mean feat I can assure you, you'd think that I would spend bank holiday Monday on a 24 hour fast. But no, I woke up hungry and determined not to be house-bound, whatever plans the weather had. His Nibs got on't'internet and asked for suggestions for lunch out; thank you to all those who came up with venue names. Eventually we decided to head out Nottingham direction, and went a few miles from home to the village of Lower Bagthorpe where we found the Shepherds Rest pub.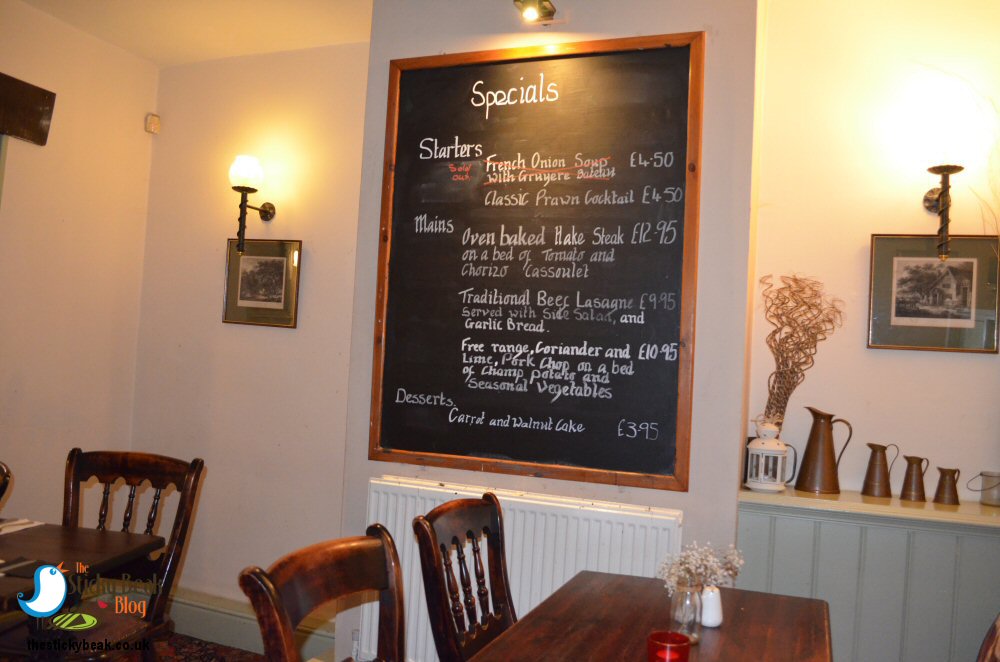 For a village pub it certainly has plenty of parking, which is always nice to see, and we got parked up no hassle at all. Inside it's your average traditional pub; ceiling beams, farming paraphernalia, big fireplace etc etc, and it's got a lovely friendly feel to it. We sat at our table (we'd rung ahead and booked seeing as it was bank holiday) and sipped our glasses of wine; Malbec for me, Chardonnay for him.
As well as the usual menu they have a specials board at the Shepherds Rest, and there was also a roast on with it being a public holiday. In the end we chose from the regular menu; field Mushroom and Stilton melt and deep fried Brie with Cranberry relish to start, homemade Steak and Ale pie with Mushy peas and chips, and Hunters Chicken for mains.


As you would expect on bank holiday Monday, there were plenty of families dining together and there are high-chairs available for smaller family members if neededJ . It was Lego central for the kids Easter competition, and there were some stonkingly good efforts being made. I wanted to have a go myself but got "the look" from The Man Bird – between you and me I think he was scared that I was going to challenge him and didn't want to be humiliated by my superior skills!
Our starters weren't long in arriving and I was surprised by the presentation of my choice; normally you get the field mushrooms upturned and sliced Stilton melted in their gills, but nope, the Shepherds Rest do things a bit different.




The field mushrooms were upturned but they were in a little dish and there was a creamy Stilton sauce covering them. A trio of warm slices of French baguette accompanied them as did a lovely little side salad comprising mixed leaves, Cucumber, Tomato, and sliced Red Onion. The melt itself was piping hot, a good sized portion and utterly delicious. I did my usual trick of dunking my bread into the sauce to mop it up; well it would've been a shame not to finish something so tasty :)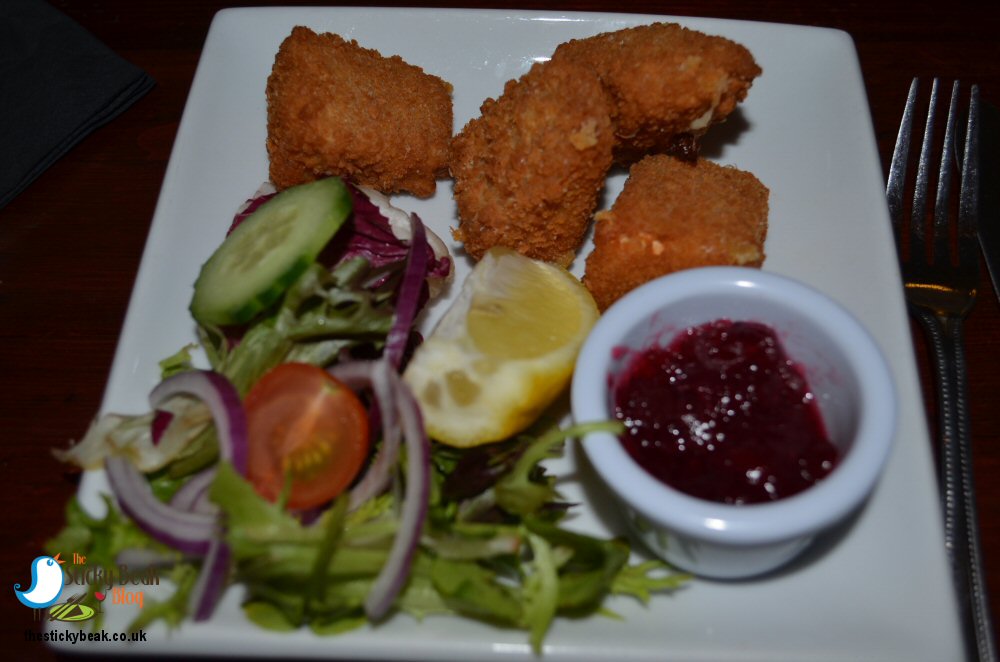 The Boy Wonder was tucking into his Brie wedges with great enthusiasm, and they did look- and smell- good I must admit. The little wedges of cheese had a fantastically crispy fried outer that gave a discernible crunch when bitten into, and their middles were perfectly melted. A lovely, tangy Cranberry relish cut through the creaminess of the Brie really nicely and the side salad was pleasingly crisp, so there was a textural element in there too. This dish came with a fresh Lemon wedge, but His Nibs didn't squeeze it over anything.
One of the serving team had checked that we were happy with the starters, and they were very happy as they cleared away two clean plates :) A steady stream of diners was making their way in and out of the pub, so there was a nice buzz about the place.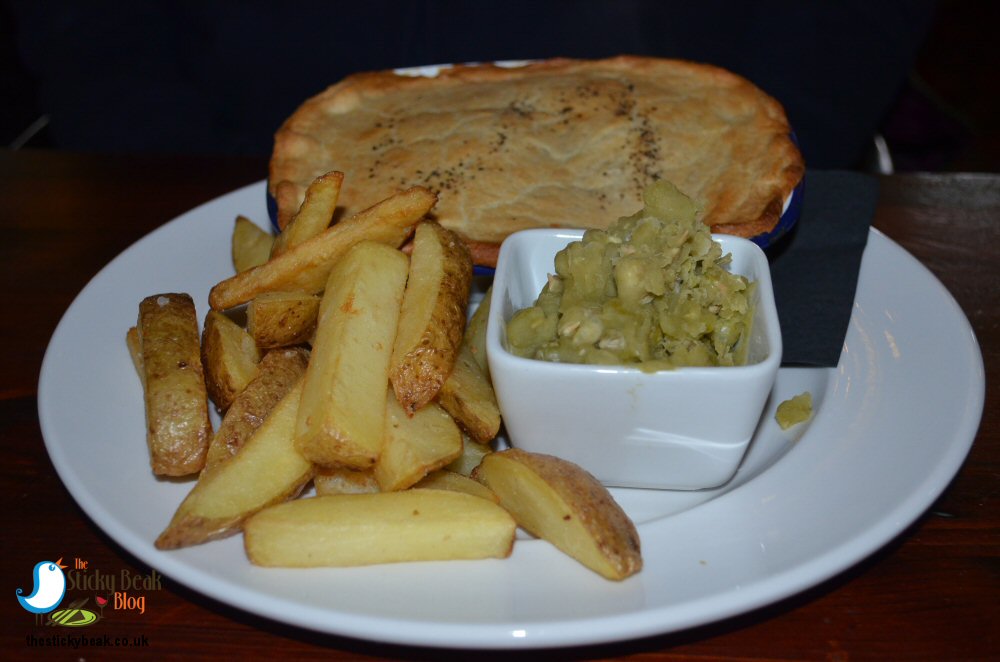 It isn't often that I will choose a pie for my main course but with the weather being so blooming miserable I just wanted some proper comfort food in my belly, and when the plate was put before me I couldn't help but smile. A blue and white rectangular enamel dish held the pie and the pastry top had been sealed directly onto it; pretty much how my Nana would've done it, bless her. Another little dish held the mushy peas that looked fairly substantial rather than a verdant sloppy mess, and then a hearty pile of skin-on chips completed the ensemble.
I broke the pastry top with my knife and steam came billowing out, releasing that wonderful meaty aroma that any self-respecting homemade meat pie should have. The pastry was a nice thickness, not too much, not too little and it had that great home-made texture and flavour to it; do you know what I mean? You can just tell when pastry has been bought in, no matter what you do to try and disguise it; thankfully it isn't the case at the Shepherds Rest. Yet another of my classy tricks came out to play; the mushy peas had a bit of substance to them that just begged to be plonked in the pie with the gravy and meat, so that's what I did! It might not have been posh or pretty, but trust me it was absolutely banging in the mouth – you can thank me later :)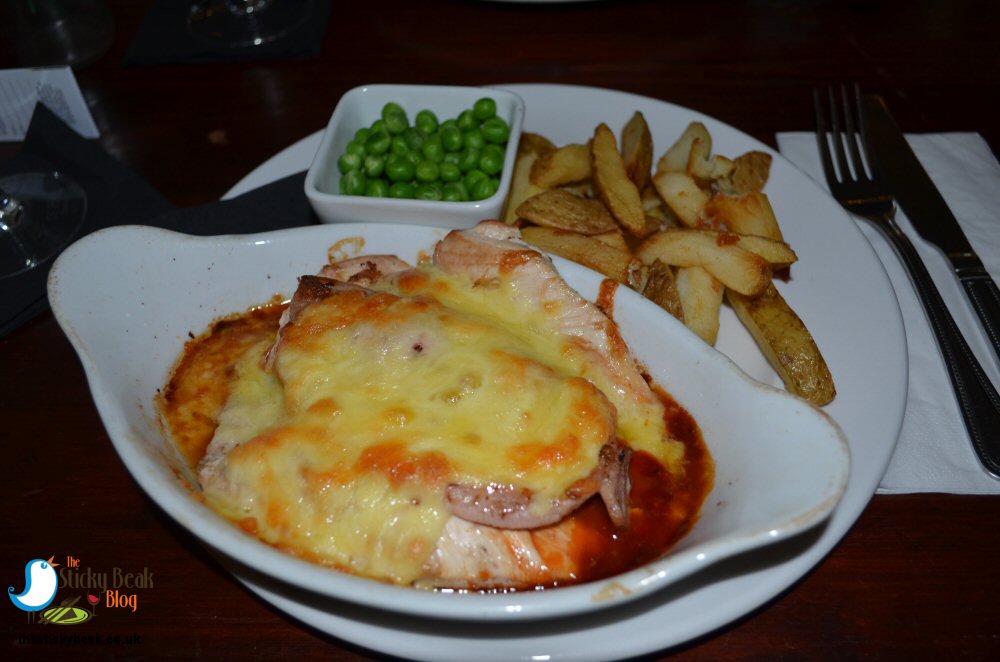 You can't beat seasoned chips, especially lovely, earthy tasting bona-fide ones; and these were complete superstars. They had the perfect tang of sea salt on them, but nothing over-powering- just that nice tinge of saltiness. I sat back with more than a small sense of smugness at my choice of main course, and my tummy was in a state of bliss too – happy days.
The Man Birds' Hunters chicken looked simply fab; the large breast is topped with smoked Bacon, BBQ sauce and melted Cheddar cheese, and it was fair making my little mouth water! His Nibs was dead chuffed with how moist the chicken was and loved the tanginess of the BBQ sauce – it really popped against the cheeseJ. As with my main course, a large portion of skin-on chips came with the chicken and The Boy Wonder thought they were great too.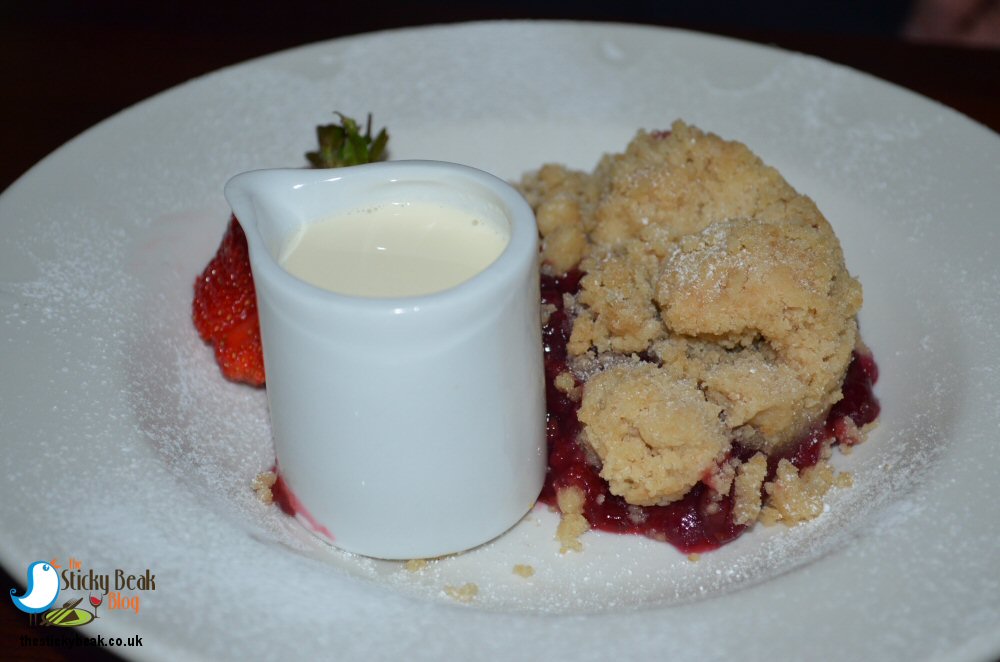 Yet again, two clean plates went back to the kitchen, and our server asked if we wanted any pudding. It would've been rude not to have a peek at the sweet treats on offer at the Shepherds Rest, and once we'd had a gleg at the selection we couldn't resist their charms! I had the Apple and Blackberry crumble with Cream; His Nibs had the Sticky Toffee Pudding with Custard.
My dessert was a proper homemade number; a good crumble topping (no oats or anything fancy in it) kept all the soft fruit contained under it until I burst through with my spoon, and there was plenty of Apple and Blackberries to get stuck into. A little jug contained my cream, so I could add as much or as little as I fancied; all genteelness had long gone out of the window so I just wanged it all on! It was a great, straight-forward pud and I thoroughly enjoyed every mouthful of it :)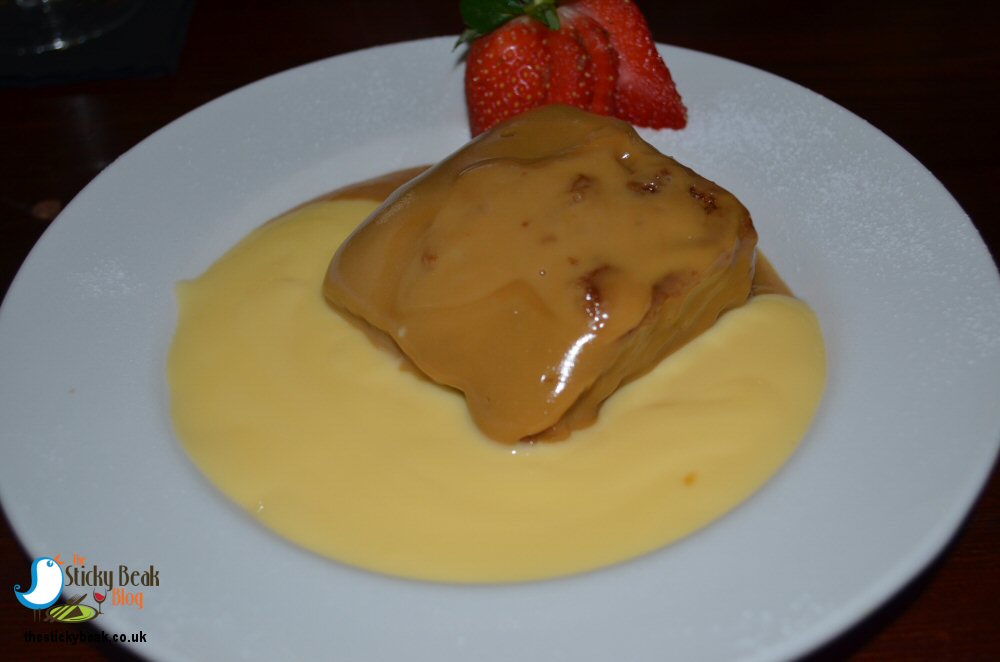 Across the table, The Man Bird was ploughing his way through possibly the thickest, largest wodge of Sticky Toffee Pud that he's had in a long while. It was a beast and a half! He was well impressed with the moistness of the pud and loved the depth of the toffee flavour in it. There was Toffee sauce on top of it as well and when he poured his custard on, they mingled together in what was a truly marvellous partnership. Needless to say, it was a hat-trick of clean plates and dishes leaving our table after we'd finished dessert.
As we left, I noticed the outside of the pub; they have a fantastic beer garden and a huge area for kids to play in, complete with swings and slides. Come on summer, let's be havin' you, there's a lot of family fun to be had at the Shepherds Rest at Lower Bagthorpe!
Bank holiday Hot Wings definitely deserved here, well done guys :)
No incentive was provided to visit this venue
read more