Sampling The Range Of Ajika Abkhazian Chili-Paste
---
Published On Tuesday 24 Apr 2018 by Sticky Beak
See Recent Food Producer Reviews | See All Recent Reviews


It's no secret that I'm a nosy parker, hence the name "Sticky Beak" blog, so I didn't hesitate when His Nibs asked if I fancied coming with him to the Food and Drink show at Harrogate. The Man Bird was there in his day job capacity, so I was left pretty much to my own devices :)
Several exhibitors were there whose products I have previously reviewed (Tanja from The great Stuff Company and Matthew from Marron Liqueurs to name two), so I went to say hello and have a quick catch up before going off to have a shufty at new stalls.
One thing I love about food and drink shows is the sheer volume of things on offer, there literally is something for everyone :) I came across a fantastic smelling stall called Ajika Abkhazian and got talking to the founder, Gunda, who is a really lovely lady. She makes her own range of Chilli and Herb pastes; a Green and Mild one, a Medium, and a Hot paste (both of which are red in colour) which can all be used as a rub or marinade for various fish and meats.
Gunda let me take one of each variety to try at home, and I've tried the Green and Mild one. I followed her instructions to make a dip by mixing a little of the paste with plain natural yoghurt and I had it with fish and chips (probably not what Gunda intended!), and it was delicious. The Green and Mild paste still has quite a kick to it, but the Coriander and Mint in it really comes through beautifully in the mouth so it doesn't tingle :)
You can check Gunda's produce out at www.ajika.co.uk , or look them up on Facebook, twitter and Instagram :)
I also decided to make a Tapas supper, which included Patatas Bravas, Harissa Cauliflower, marinated Chicken Breast, and Meatballs with Tomato based sauce. The star(s) of the show were the medium and hot varieties of Ajika Chilli paste; used in the Tomato sauce for the Meatballs and Patatas Bravas, and massaged into the Cauliflower.
Each month I receive my copy of Women's Health magazine (I subscribe to it) and the March edition had a recipe in for Harissa Cauliflower, which looked gorgeous; now I hadn't got Harissa (a Tunisian chilli pepper paste) in, but I figured the Ajika Hot Chilli paste would be just as good. This dish is baked in the oven after having been coated with the chilli paste, natural yoghurt and fresh chopped Coriander and wrapped in foil. The end result was simply superb! Full of flavour and healthy too – what more could you want?


I had never heard of baked Cauliflower until The Man and I had Humble Cauliflower as part of the Bridge Inn at Calver's Tapas range; obviously theirs is a Spanish dish, and absolutely amazing (I can recommend eating there if you get chance!).
Added to a tomato sauce, the medium Ajika paste makes everything come to life; the tomato seemed to "pop" in the mouth more, and the heat of the chillies was fantastic. Likewise, the chicken breast that I had simply marinated in the medium paste and then baked in the oven was delicious.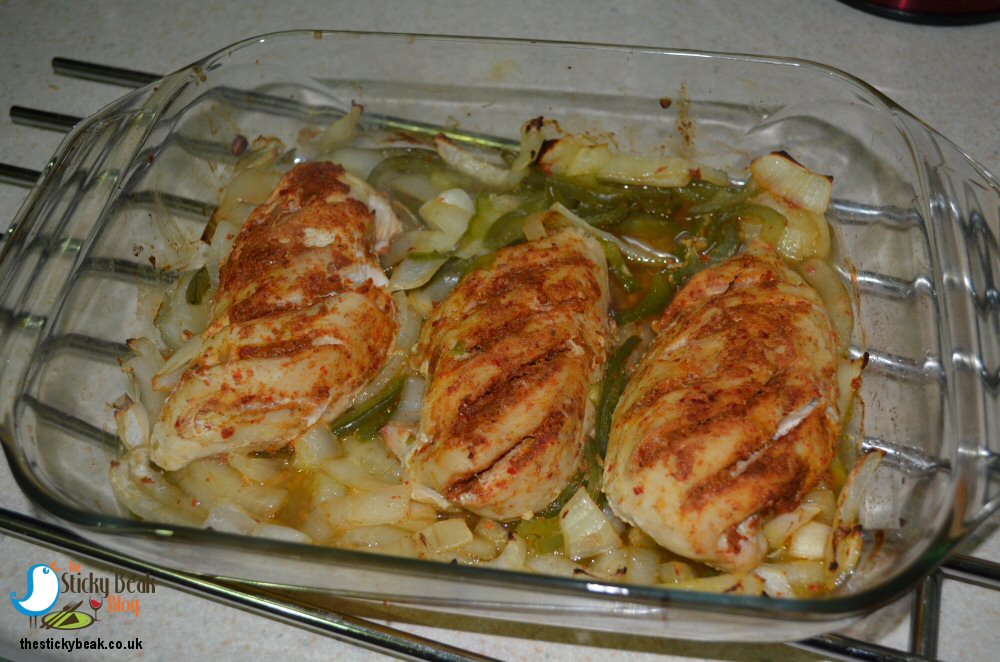 The versatility of these chilli pastes from Gunda is quite remarkable, although at first glance you don't think they'll be quite so valuable in the kitchen. Now I've done a few dishes with them, I can just see more and more uses for them. BBQ season can't come quick enough for me - I want to use the mild green one with some Chargrilled Sea Bass, Trout, and Salmon. I shall also be making a range of dips incorporating fresh herbs in them, to accompany al fresco dishes.
Gunda, thank you for developing your amazing Ajika range, they are wonderful :)