Out With The Tribal Elders At The Young Vanish, Glapwell
---
Published On Friday 30 Mar 2018 by Sticky Beak
See Recent Dining Out Reviews | See All Recent Reviews


It's been a while since we took The Tribal Elders out with us for a fuddle, and bless 'em they have been behaving lately; good behaviour should be rewarded, so we invited them along to the Young Vanish at Glapwell. As it happened, it was also their wedding anniversary, so all the more reason to go out :)
The last time we visited the Young Vanish was when we were kitting the Chick out for her ski-ing trip with school, two years ago! Well, all I can say is "wow, what a transformation!" ;the premises are now a lot lighter and more inviting, and they seem to feel roomier too.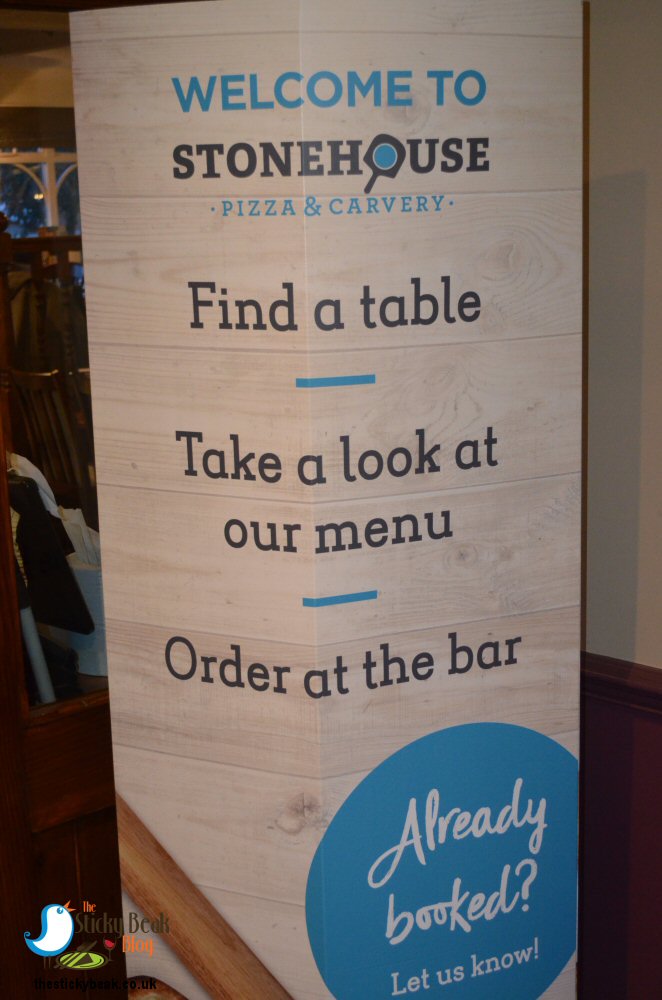 We were seated in a row of back-to-back low height booth tables, the banquette type seats of which had been stylishly upholstered in woollen tartan fabric. Accents of Teal blue and rich Mulberry really popped out against the neutral putty elements of the decor. The lighting was bright enough to give plenty of illumination without being harsh and unwelcoming. The premises were all spotlessly clean, and the staff were vigilant in preparing tables for the next guests when one party had left.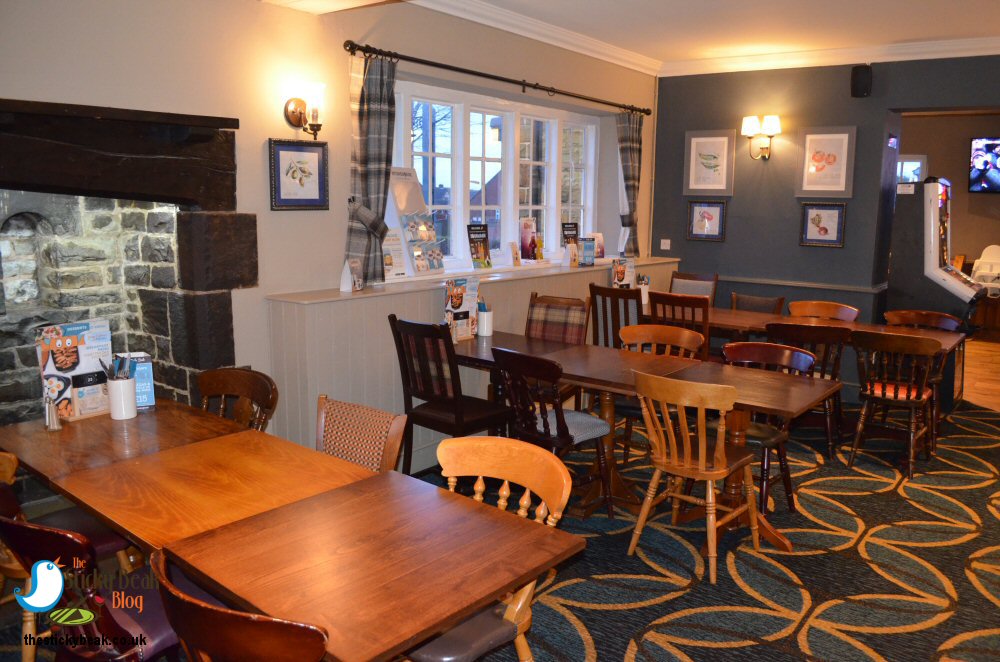 Previous experience at another Stonehouse venue (The Blue Peter at Alvaston, Derby) has taught us that portion sizes are on the generous side so we all decided to skip starters. One factor in old age –wait for The Tribal Elders to start chirruping! – is that appetite lessens, so I thought they were wise in not having a first course.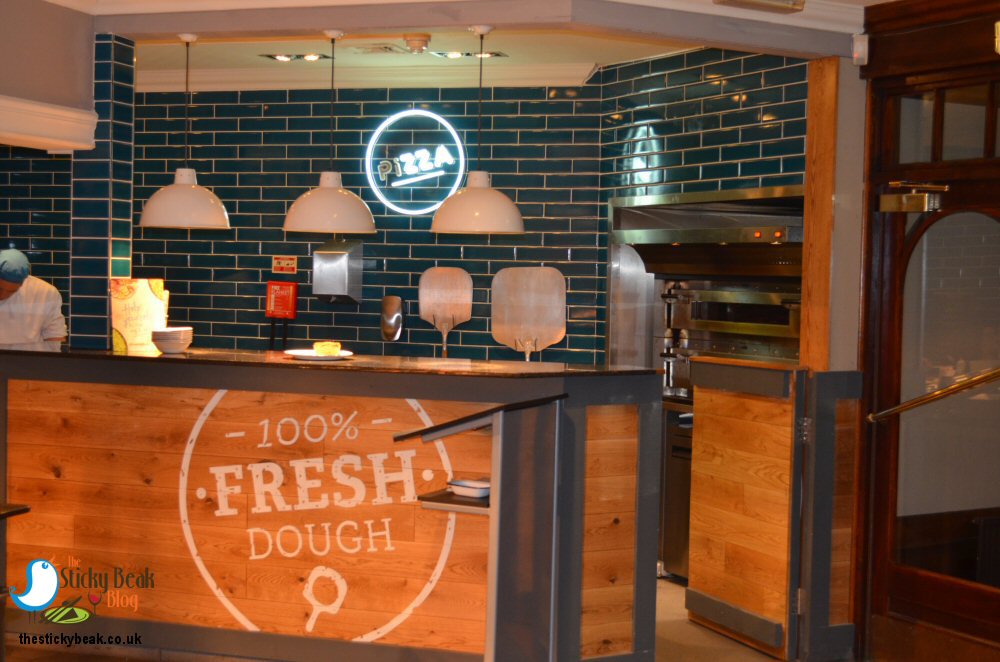 His Nibs decided to have Pizza again as he'd really enjoyed the one at The Blue Peter in Alvaston, I fancied the Stonehouse Hen Party chicken Burger, Mummy Bird chose classic Hand battered Fish with chips, peas and tartare sauce, and Daddy Bird had the Carvery – and went large! Having made a note of our table number, The Man Bird toddled off to the bar to place our order and bring some drinks back :)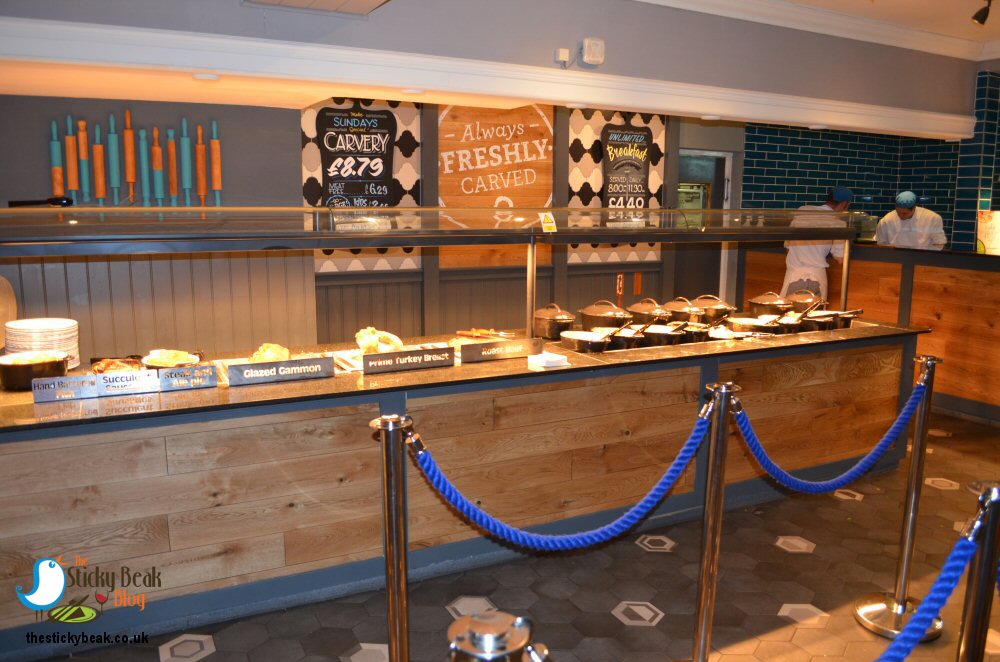 We all sat staring at the buzzer, willing it to buzz and do its little jiggle on the table; this device signals the readiness of your food at which point you can collect it and help yourself to unlimited veggies, chips, and salad. Before long it lit up like Oxford Street at Christmas and jiggled like Beyonce, and we all leapt up and headed to the counter.


I went straight to the salad bar and piled up lots of healthy items into the separate bowl, then promptly smothered it all in Blue Cheese dressing – oops, best do some extra time on the treadmill at the gym next time. Mummy Bird showed more restraint and just got some coleslaw to go with her fish and chips, and His Nibs also surprised me by only getting a small bowl of chips to accompany his pizza.
Clearly, I get my gluttony from my Daddy Bird, who came back with quite possibly a world record-breaking, Everest-like heap of Carvery meat, potatoes, and vegetables! Would he be able to clear his plate though, or had his eyes been bigger than his belly? His strategy of "slowly, slowly, catches monkey" worked. He took time to savour the plentiful meat on his plate, munched his way through an amount of potato that would make the Irish swoon in glee, gobbled up all manner of veg (cooked beautifully, by the way), and cleared every morsel on his plate.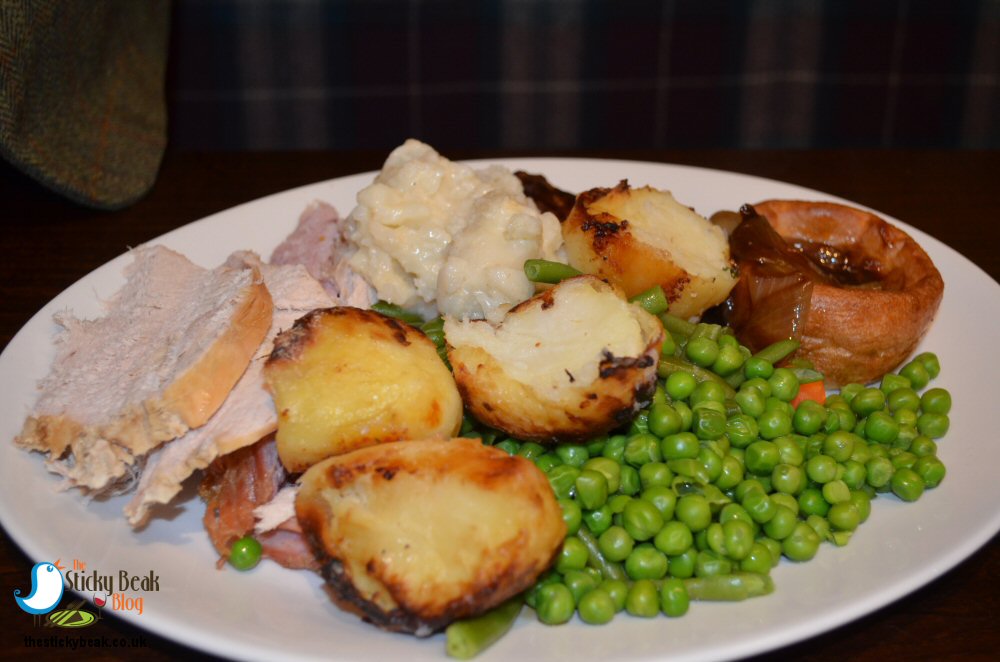 My Mummy Bird was amazed by the quality of her meal, saying it was probably the best fish she'd had in years when eating out. The chips were oven chips, but their good quality meant that they were nice and crisp outside and soft inside; yummy. She loved the creaminess of the coleslaw too and was pleased that she'd put a good spoonful of it on her plate.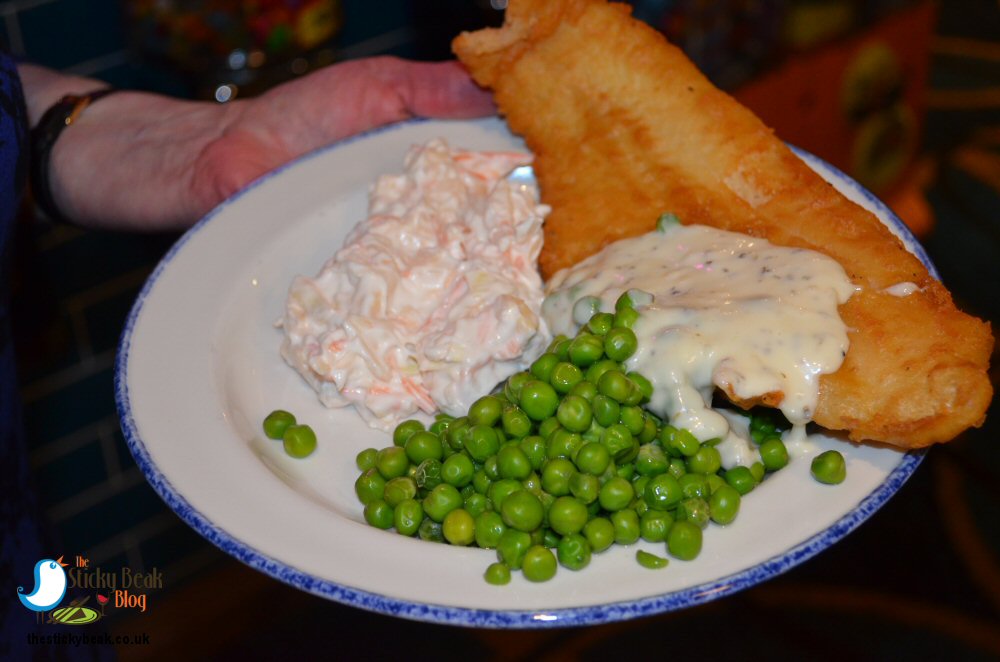 The Boy Wonder had gone for one of the premium pizzas that Stonehouse Pizza and Carvery offers – the Chicken, 'Nduja, and Roquito Pepper variety. Just like the one at The Blue Peter, it had a fab thin, crispy base and had plenty of topping on it. All the chicken pieces were tender and a good size, and the 'Nduja sausage had a fab kick to it. Roquito peppers are dinky little red pearls whose gorgeous appearance gives you no clue at all as to their fieriness; these little devils certainly wake up your taste buds when bitten into!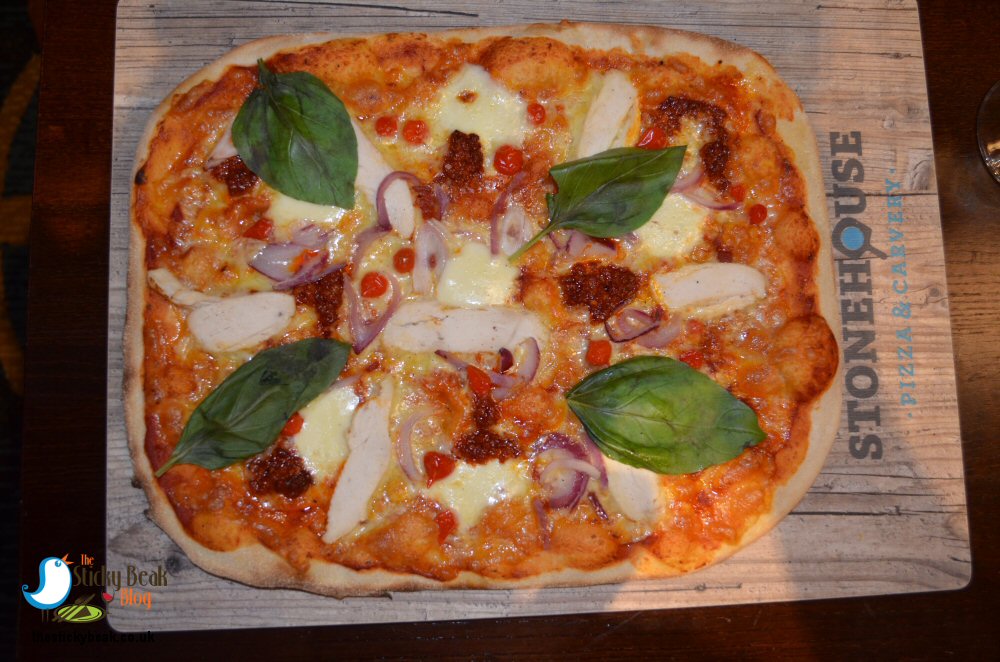 I was quite frankly amazed by the size of my Hen Party burger; it was just about the size of a footie pitch! Seriously, even after cutting it in half to try and make it more manageable, I couldn't open my mouth wide enough and trust me I tried! In the end I took the chicken breast out of the bun, leaving just the buttermilk fried chicken, streaky bacon and usual burger salad bits inside. Even after these measures, the burger was still a good 1" thick. The chicken was all juicy and tasty and I really liked the BBQ sauce they use at Young Vanish in their burgers – it's sweet-yet-tangy at the same time :)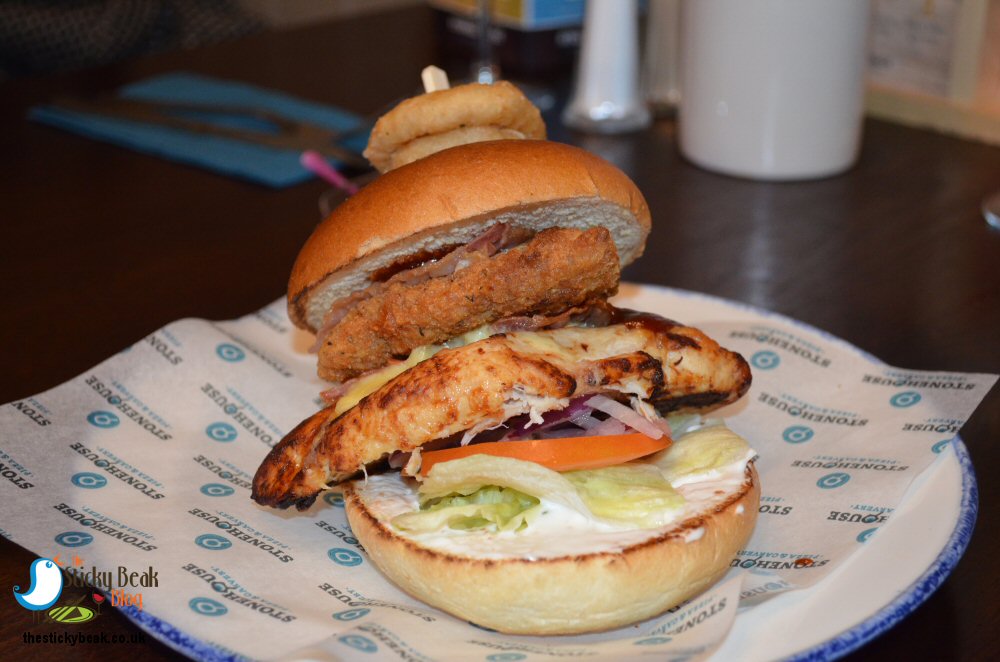 Our lovely server had come up and checked that we were happy with our meals as we'd been eating and was very happy as she took away four clean plates. She came back and asked if we fancied any desserts; His Nibs and I both ordered pud, Mummy Bird had a coffee, and Daddy Bird had had enough so politely declined.
I had the Rocky Road Sundae and The Man Bird opted to have the Chocolate Malt Ball Crunch Pie. There's something about the shape of a proper sundae dish that I just love, it always gives me a warm feeling inside; perhaps it's all the fond childhood memories I have of my granddad treating me to one on days out together :) The brownie chunks in it were gorgeously gooey and chewy, and buttery shortbread pieces gave a fab crunch when bitten into. Creamy vanilla ice cream, chocolate sauce and loads of whipped cream made it a marvellously indulgent finish to my meal.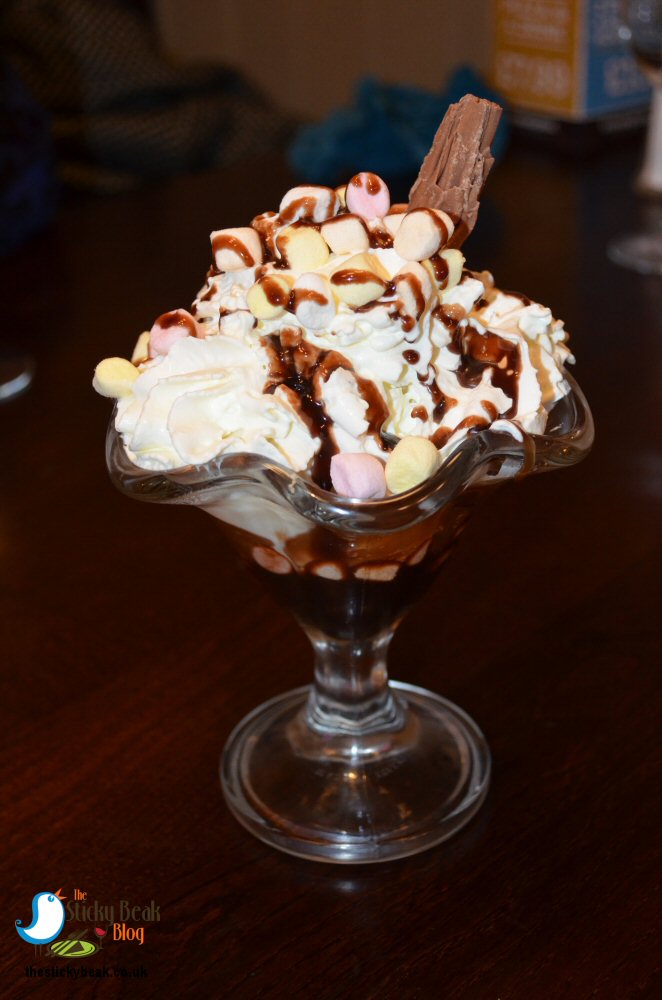 His Nibs was really enjoying the Chocolate Malt Ball Crunch Pie; especially the unusual chocolate pastry case. It was nice and chocolatey in flavour and not at all soggy, and was filled to the brim with malted chocolate mousse and caramel glaze. On top of the mousse were pieces of chocolate cookies and sweets similar to Malteasers; and who doesn't love the honeycomb centre of those when you bite through the choccie? A generous scoop of ice cream on the side was just the perfect partner for this sumptuous pud.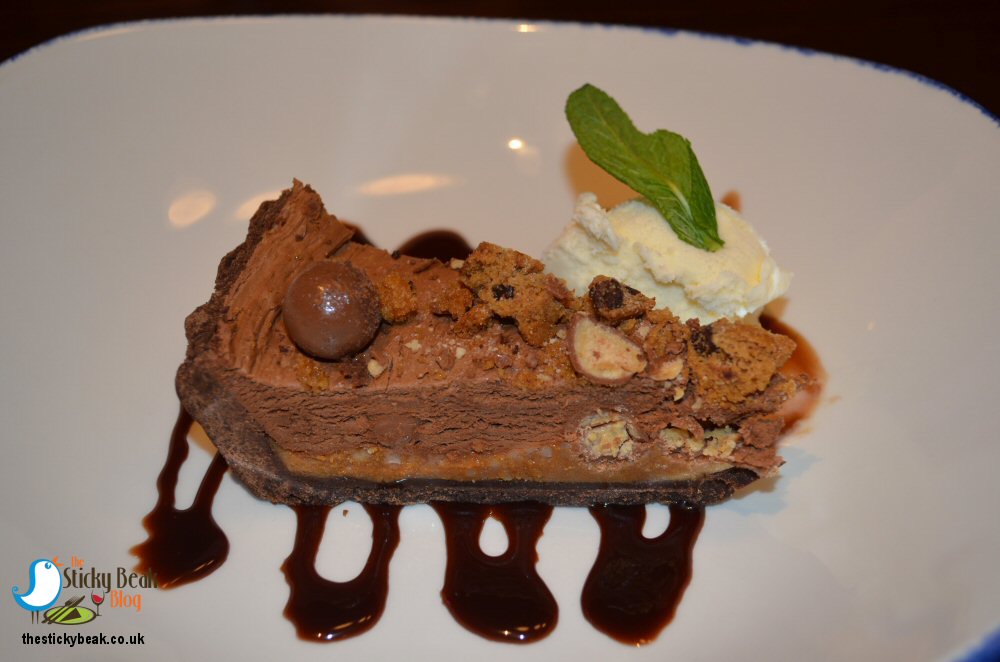 At the end of the meal we all gave a little groan of over-indulgence, but not one of us had any regrets as we rolled like Weebles out to the car park!
At the Young Vanish they have a purse-friendly meal deal all day Monday-Saturday where if you order your pud at the same time as your main course you get it for only £1.75, which is basically half price :) There are five sweet treats to choose from on this offer, including bottomless ice cream – which will no doubt go down a storm with younger family members.


Hot Wings have got to be awarded here, no doubt about it. The service is good, food fab value for its quality and quantity, and nice clean premises. I can imagine it gets packed out on Sundays for the Sunday Carvery, so I would advise ringing ahead for availability. Thank you to all the team for your hospitality, we had a wonderful family evening out :)
Some form of incentive was provided to visit this venue
read more