Dinner At The Plough Inn, Brackenfield
---
Published On Sunday 18 Mar 2018 by Sticky Beak
See Recent Dining Out Reviews | See All Recent Reviews


They always say "New Year, New Beginnings "don't they? Clearly this was the case for the Brough family, who took over the Plough Inn at Brackenfield at the end of January (2018).The Plough Inn itself dates from the 16th century, and was originally a farmhouse; it is now a listed building, and when you go inside you are met with an abundance of original features. For a start there are the hefty (probably) Oak ceiling beams with their natural crookedness to admire, as well as the stone walls. We sat down near the fireplace and sat beside a solid stone trough that probably had a host of uses, including washing the pots and bathing little ones.
In the upper area, there is the bar and also several tables set for dining; another little area past the bar also has tables set for diners. A burgundy, cream, and sage axminster-type carpet is laid throughout, which pulls the areas together nicely. As we sat in our very comfy tub chairs we kept looking around and there were just more and more things to notice; the copper pots hanging above the fireplace, the milk churn in the corner, and the old fashioned hand plough behind my seat on a stone shelf.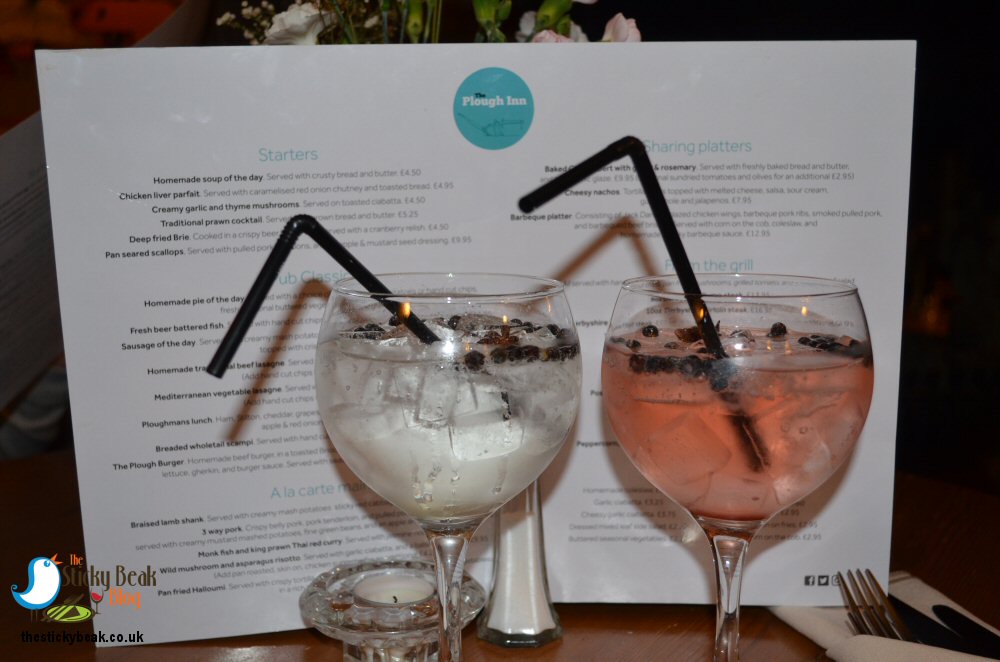 Children of all ages are more than welcome at this family run establishment, and there are several high chairs stacked up just waiting to be usedJ. There was a family dining when we came in but both boys were past high chair age! Other tables were taken by couples, and later on a group of friends came in to dine. The Plough Inn has a Gin Menu that includes Gordon's, Bombay, and Hendricks, as well as Elderflower- and Rhubarb- Gins. One of the family, Laurel, told us that she would love to expand the range, so we suggested she visit Rowley's in Derby to sample a few tipples from their extensive range.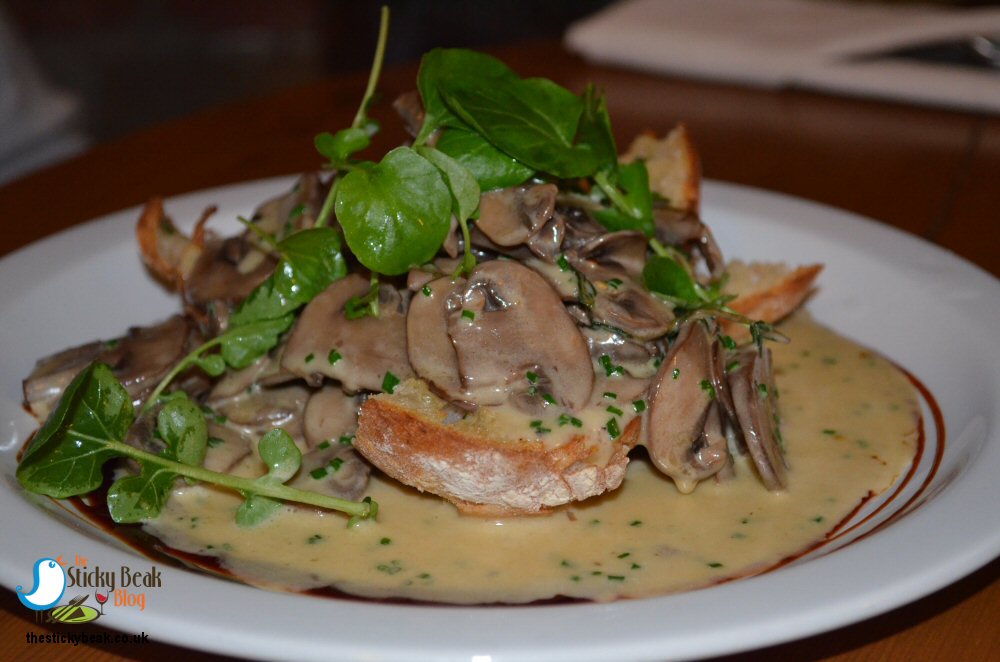 For starters we ordered the Creamy Garlic and Thyme Mushrooms on toasted Ciabatta (me), and the deep fried Brie with Cranberry relish (The Man). Whilst we waited for them to arrive we sipped at our Gin and Tonics; they serve their Gins with Fever Tree tonics, in case you were wondering. After only a short while our starters arrived and we tucked in.


My Mushrooms were in a gorgeous cream sauce that managed to be rich but not cloying, and there was just a hint of Thyme in it. There were several varieties of Mushroom in as well, so I got plenty of different tastes and textures in my mouth. The Mushrooms had been piled on two slices of Ciabatta, which meant there was plenty to mop up all the delicious sauce with :) Watercress had been used to garnish the dish and added a very welcome pop of colour to what would otherwise have been a fairly neutral hued plate. It was a very generous sized portion, which is a good thing because it was so moreish :)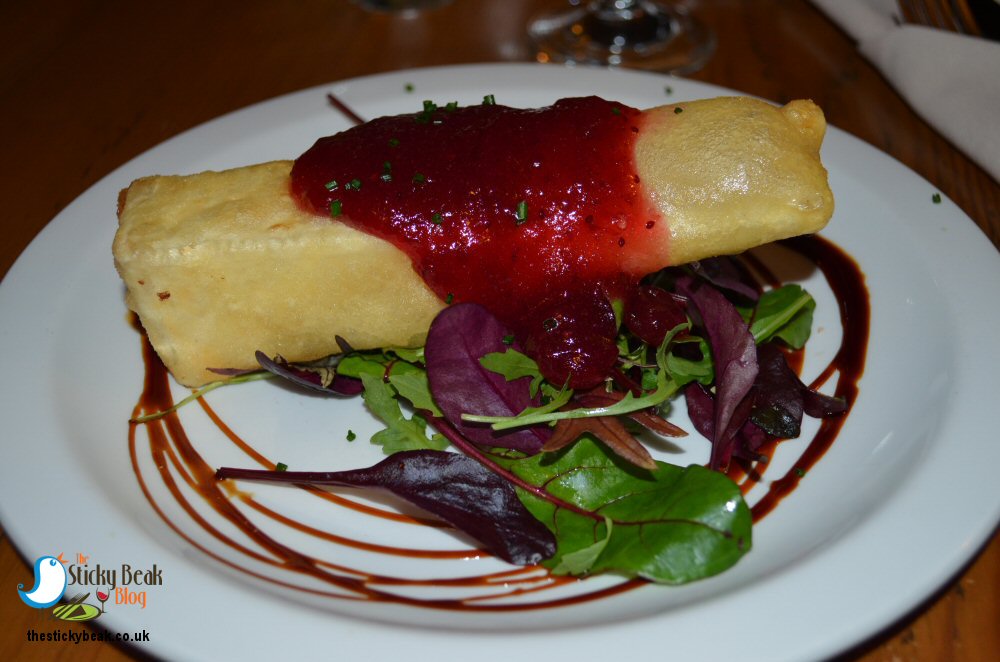 His Nibs was equally bowled over by the size of the portion of Brie placed before him! Rather than small individual pieces of cheese, The Chef at the Plough Inn, Matt, prefers use a single door wedge of Brie. The Brie is coated in a light beer batter and fried and because there are no breadcrumbs involved it feels lighter on the tummy as you're eating it. There was no greasiness to it at all, and neither could you taste the oil that was used to fry the Brie; a double win :)
A large bed of mixed leaves provided a great platform on which the cheese rested and also gave a great crunch in the mouth. The Cranberry relish was wonderfully fruity with a lovely tang and richness to it; this contrasted nicely with the smooth creaminess of the Brie.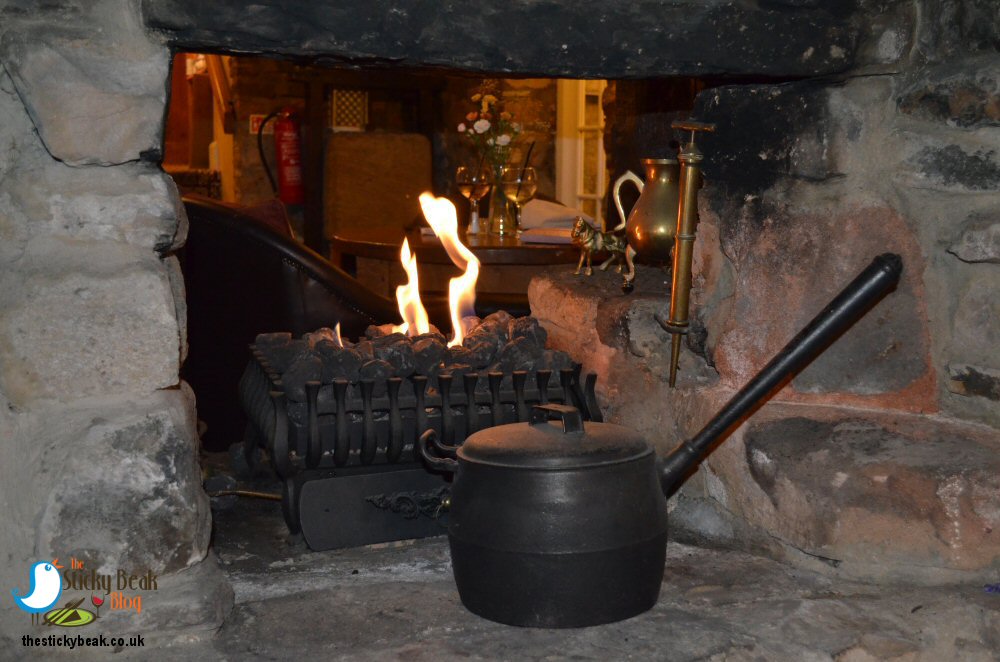 Sometimes the best laid plans go slightly skewiff and so it happened to be the case with The Man Birds' choice of main. He'd planned to try the sausage of the day (Lincolnshire, on this particular occasion), but whilst we'd been yapping to the lovely Laurel, someone had ordered the last portion of it. Chef very kindly said that he would cook the remaining sausage for His Nibs to sample though, which was very kind of him we thought.

The braised Lamb Shank with creamy mash, sticky red Cabbage and minted Red wine jus was duly ordered instead, and I ordered the Wild Mushroom and Asparagus Risotto. I added on a chicken breast to this, and also ordered a mixed side salad.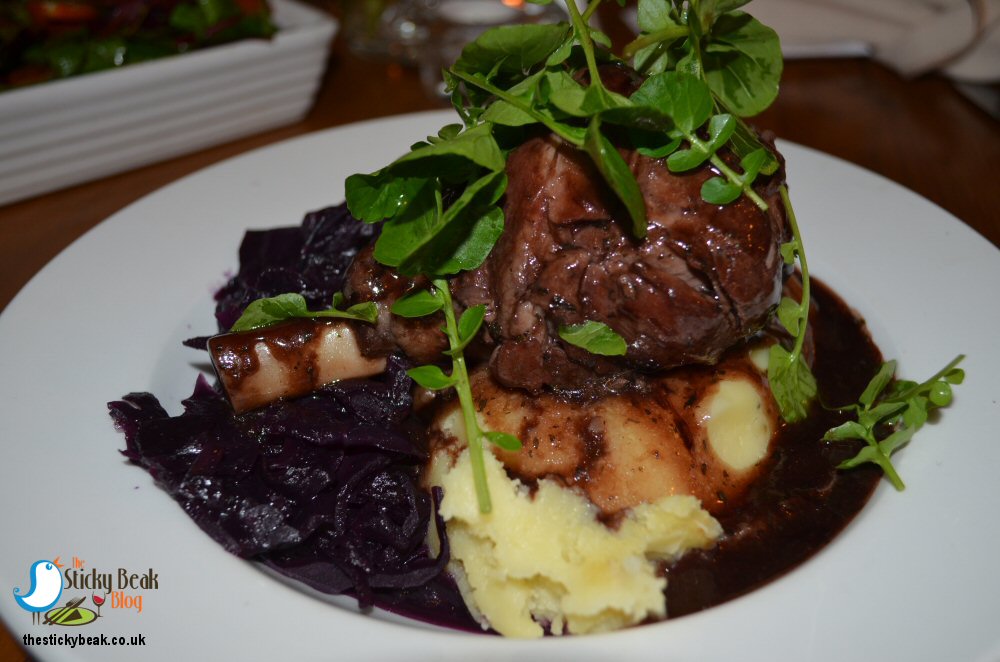 The Risotto was utterly superb; the rice had just a hint of bite left to it and its signature creamy flavour was fantastic. What I really liked though (apart from the fact that it was piping hot) was the fact that both the Mushroom and Asparagus were in abundance throughout the rice. A lovely moist chicken breast had been sliced in two diagonally and carefully placed on the top of the risotto, and this tasted wonderful too. My salad comprised mixed leaves, cherry Tomato halves, sliced Red Onion, and Cucumber; all of which had been lightly dressed so that they had a beautiful glossiness to them.


My nose was twitching like billy-o at the smell emanating from across the table; the Lamb Shank really did smell incredible. The Boy Wonder took his first mouthful and issued a gentle sigh of contentment. The meat was very flavoursome and tender, making the knife pretty much redundant to be honest. Nothing beats smooth creamy mashed Potatoes and the ones at The Plough Inn at Brackenfield are a ruddy fine example of this meal staple. Partnered with sweet, sticky red cabbage that is left to cook for hours and you can begin to appreciate what a fine meal this was. Again, the food was piping hot and a lovely generous portion :)


The Lincolnshire sausage was really tasty too; I'm fussy when it comes to sausage and I will freely admit that this type isn't one of my favourites. I did have a bite though and it isn't as harsh as some I have tasted; I rather liked it, which surprised me a little. His Nibs loved it, and said that he'd definitely have this next time (before he spotted the Steak Night menu!). Crich Butchers supply the sausage to The Plough Inn, in case you wanted to know :)
Our bellies were stretched at this point, but with the food having been so good there was no way we weren't going to go the extra mile and have pudding! All the puds are homemade by the Chefs at The Plough Inn and, believe me, you really can tell that they are.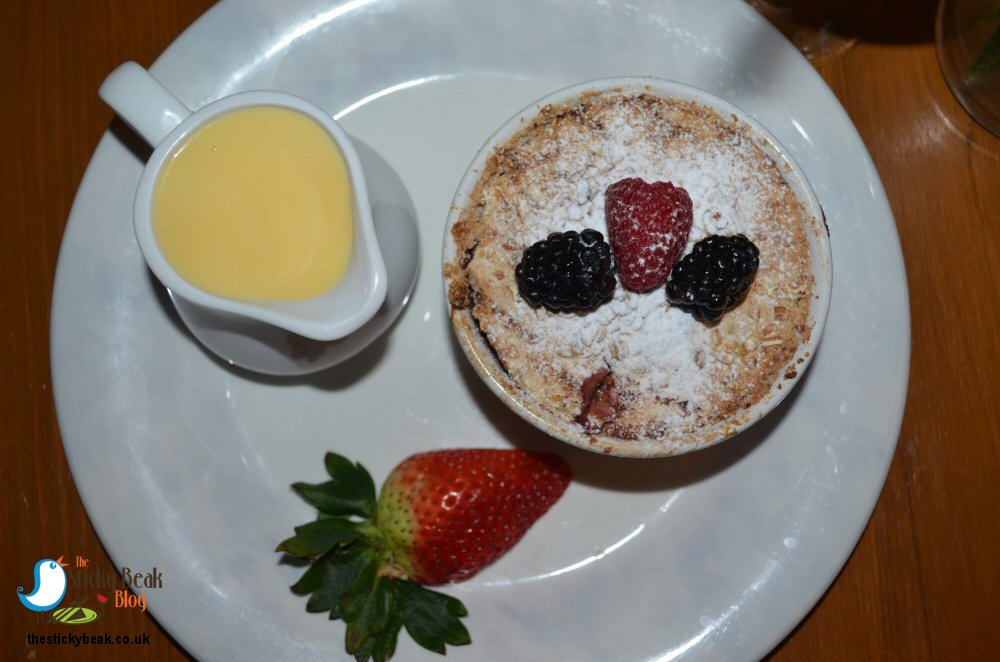 I chose the Apple and Blackberry Crumble with custard for my pudding; His Nibs fancied the Sticky Toffee pudding, again with custard. Now as you know dear reader, my Man is somewhat of a connoisseur of Sticky Toffee Puds, so I was curious as to what verdict he would deliver.
When our desserts arrived there was very little ceremony or preamble involved; we dived straight in. The Boy Wonder was instantly won over by his pud-it was light in texture, yet exceptionally rich in taste; the perfect combination. I had a dib into the toffee sauce and I have to say it was just like homemade molten toffee; in my opinion this needs bottling and selling as a take home product! It was a cracking example of a soul-satisfying, indulgent pud and got two thumbs up from His Nibs :) Also worth a mention was the custard that was in a separate little jug on the side; red-hot, creamy, and plentiful-it was the ideal companion to the pudding.


My crumble came in an individual round dish and the deep crumble topping had got oats within it, so it was more substantial than a lot of ones on offer at other places. What I really liked was the fact that as deep as the crumble layer was, it was matched by a deeper layer of Apple slices and Blackberries; you got the flavour of both elements in the mouth. Huge clouds of steam billowed out as I broke through the top layer, making way for the custard that I poured over the whole thing :) Fresh Raspberries and Blackberries adorned the top of my crumble, so it was nicely presented.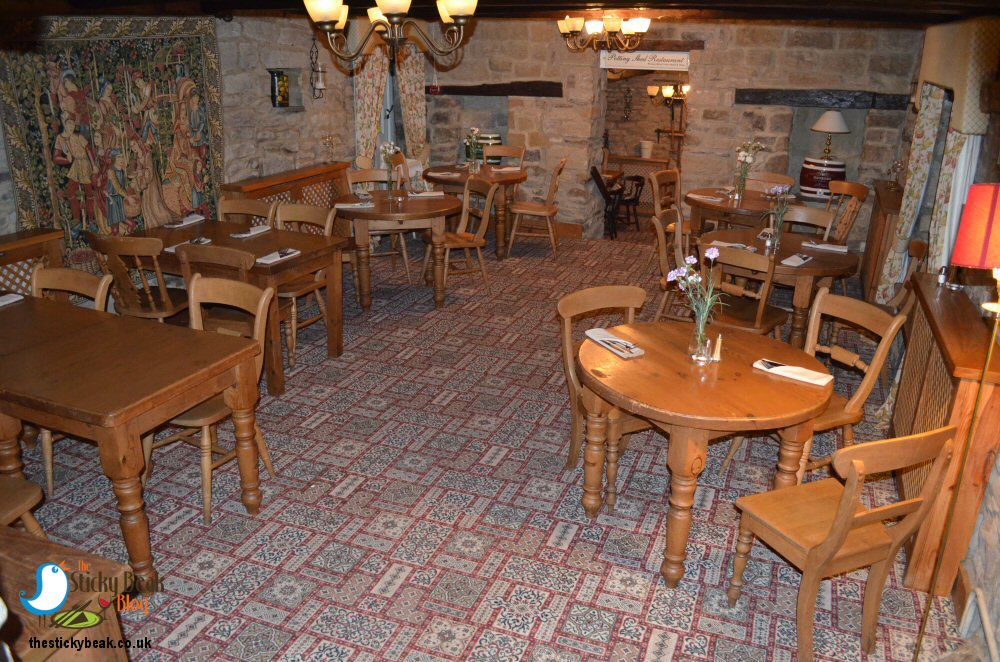 I could happily have whistled for the services of my DeLorean and re-eaten the entire meal again; it was fabulous from start to finish, and the team were all so attentive and friendly throughout the evening. We settled for a couple of black coffees in the absence of said time travelling automobile, and spent a happy period mulling over the experience.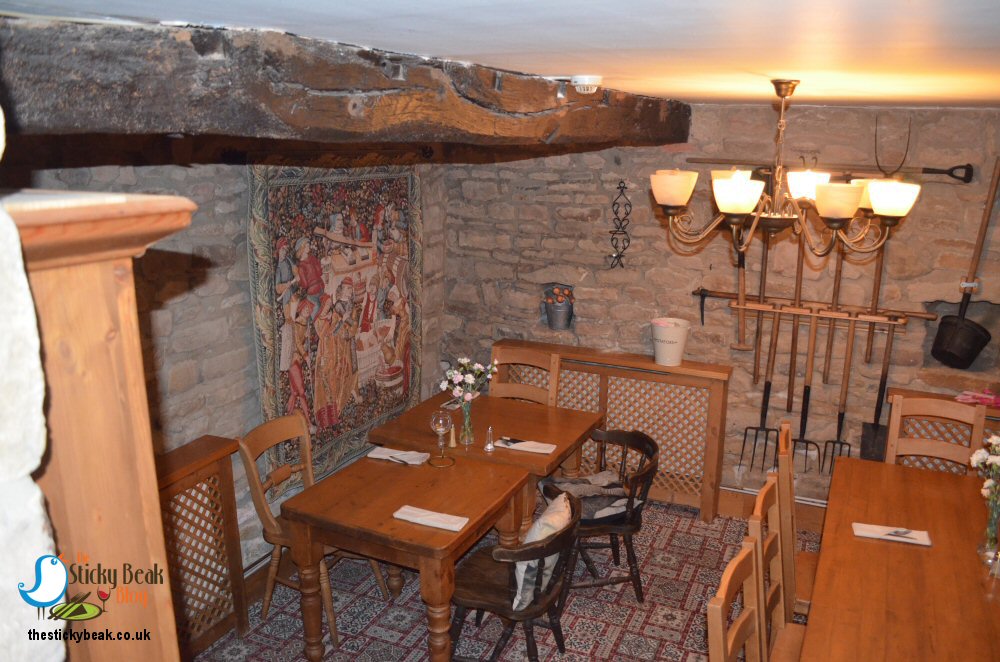 Thursday evening sees The Plough Inn host its Steak Night, the star of which is a frankly jaw-dropping 64oz – yes, you read that right, 64oz!- Rump steak. If you have the appetite or want to share this between two people you do need to give 24hours notice, so please ring on a Wednesday at the latest if you know you want this (not so)wee beastie. His Nibs and I have got this in mind for another time :)


If you have someone who isn't such a lover of steaks, don't panic; there is Gammon, Pork T-Bone steaks, Cumberland sausage rings, and a steak beef burger to choose from too. All meals on this night are served with hand cut chips, and peas or mixed salad; steaks additionally come with mushrooms and grilled Tomato.
As well as evening meals, the Plough Inn also serves a selection of sandwiches up until 5pm; perfect if you've been Matlock or Bakewell way and are coming home along the A615. Tuesday-Saturday the Plough Inn is open 11.30am-11pm (food served until 9pm), Sundays Noon-10.30pm (food until 7.30pm), and it's closed on Mondays – except Bank Holidays.
Hot Wings definitely deserved here to this incredibly friendly, welcoming family team. Thank you so much for your hospitality, we had a wonderful evening :)
Some form of incentive was provided to visit this venue
read more