A Snowy Night Feast With @TasteTheSeasons at The Rice Bowl, Belper
---
Published On Sunday 11 Mar 2018 by Sticky Beak
See Recent Dining Out Reviews | See All Recent Reviews


There's only one thing to do after enjoying a snow day, and that's enjoying a snow night. Our friend Woon at The Rice Bowl in Belper had arranged a few weeks ago for ourselves and Andie from Taste the Seasons and pal Rob to have a meal and general get-together. Obviously we all know about the "beast from the east" but, undeterred, we set off in the trusty jalopy, leaving ourselves plenty of time for the journey.

We arrived safely, only to find Woon struggling with his car on the car park, so it was all hands on deck and we soon got him where he needed to be and parked up snugly. Several diners were already tucking in to some delicious smelling food as we walked through to our table, and we breathed in deeply to appreciate the aromas wafting up.
Stella kindly brought drinks over for us all, and a lovely young lad brought out platters of prawn crackers for us all to nibble at whilst we waited for Andie to arrive from the weight loss club weigh in. I've always said life is about balance so having duly lost weight this week it was time for Andie to re-dress the balance and chow down on some freshly prepared grub!
If you've ever been to the Rice Bowl before you'll know how huge the sharing starter platter is – and how mouth-watering good it is too! We all tucked in with gusto; I started with the won-tons, His Nibs made straight for the meaty ribs, Andie had eyes only for the Thai Fishcakes, and Rob was content with the Chicken Satay skewers.
There were also Sesame Prawn Toasts, Samosas, Spring Rolls, Calamari, Sesame Chicken Wings, and Spicy Chips to savour. The platter came with bowls of Crispy Seaweed, Satay sauce, and Sweet Chilli sauce. Everything was piping hot and freshly prepared, and beautifully garnished as always with vegetable Bonsai and Bamboo leaves.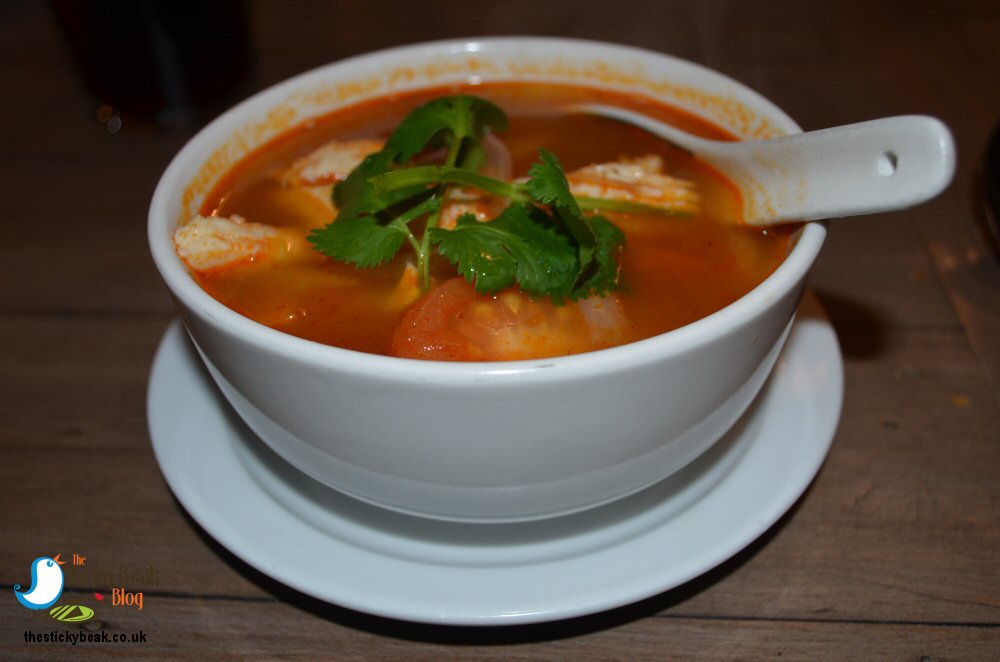 Spicy Tom Yum soup was the next course to be served; two of us had the Prawn version, two had the Chicken variety, and they were all delicious. They say pride comes before a fall and I was saying how my Daddy Bird would be spluttering at the spiciness of this, when I got a good throat-full of the spice and duly starting coughing and spluttering - much to Andie's delight! Yeah, cheers for the sympathy chum! I tell you what though; the Tom Yum soup was just the job for warming the cockles on such an arctic night :)
Stella and the team kept checking that everything was ok for us and topped up our drinks at every opportunity; honestly, nothing was too much trouble for them all. Having cleared the soup bowls away we were told that Shredded Duck and Pancakes were coming next. Now, if you've eaten at Woons restaurant before you'll know that he is most definitely a "feeder"; I deliberately hadn't indulged in my normal lunch as I knew we would be eating rather more than normal at The Rice Bowl in Belper.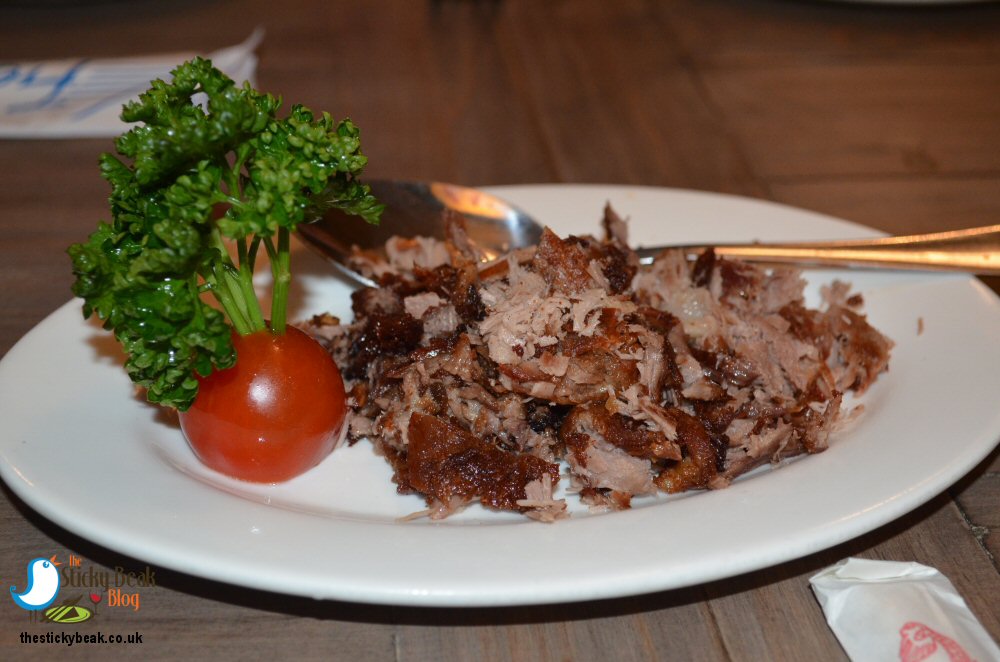 My forward planning definitely paid off; I would seriously have been full to bursting at this point if I'd eaten my usual lunch. The duck was as delicious as ever, we all agreed. I larruped plenty of Hoi-Sin sauce on as I love the stuff, everyone else showed a little more decorum!
Woon really excelled himself on this occasion; I don't think I've ever seen so much food in my life before - and it just kept coming! Although The Rice Bowl at Belper does serve an extensive range of Chinese and Thai dishes, it still remains true to Woons Malaysian heritage by offering a good selection of these dishes.


My favourite Chicken curry with Kaffir Lime leaves was among the "first wave" of dishes to be brought out, so I was a happy little birdie right from the get-go! It doesn't matter what dish you order from Woons kitchen, they are all packed with meat, and the meat is always tender and flavoursome. We were also treated to Chicken curry with Curry leaves; they have an earthiness to them and are milder than you perhaps would think, so you do get a lot of flavour, but not much heat – perfect.


The Beef Curry with Coconut flakes drew sighs of admiration, as did the other signature home cooked curry, King Prawn. I can't tell you how tender the beef was, it was just sublime and absolutely bursting with flavour. A lovely sweet note came via the coconut in the dish and combined with the sauce made a wonderfully fragrant dish to savour. Stella came round with a huge bowl of Egg fried rice to accompany these initial dishes, and served us all with some.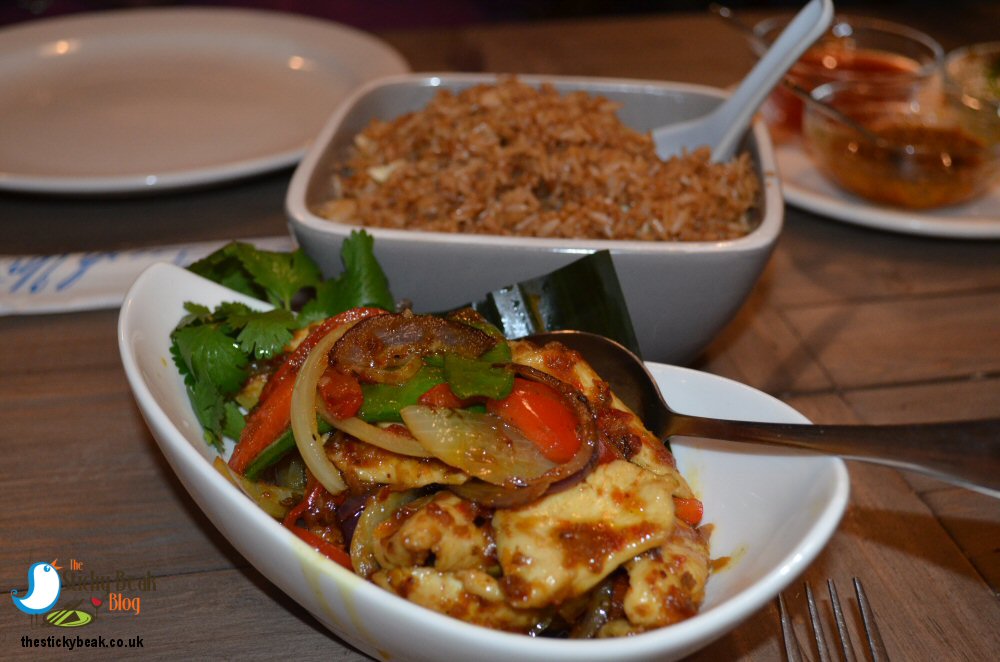 At this point, Rob, Andie and I had all had a few bevies and decided we were going to give the chopsticks a go; His Nibs is fairly adept with them, so he was intending to use them anyway. To be fair, we did blindingly well with them in the main, the only sticking point was trying to get to grips with the rice and noodles; Woon had some free entertainment watching us all try!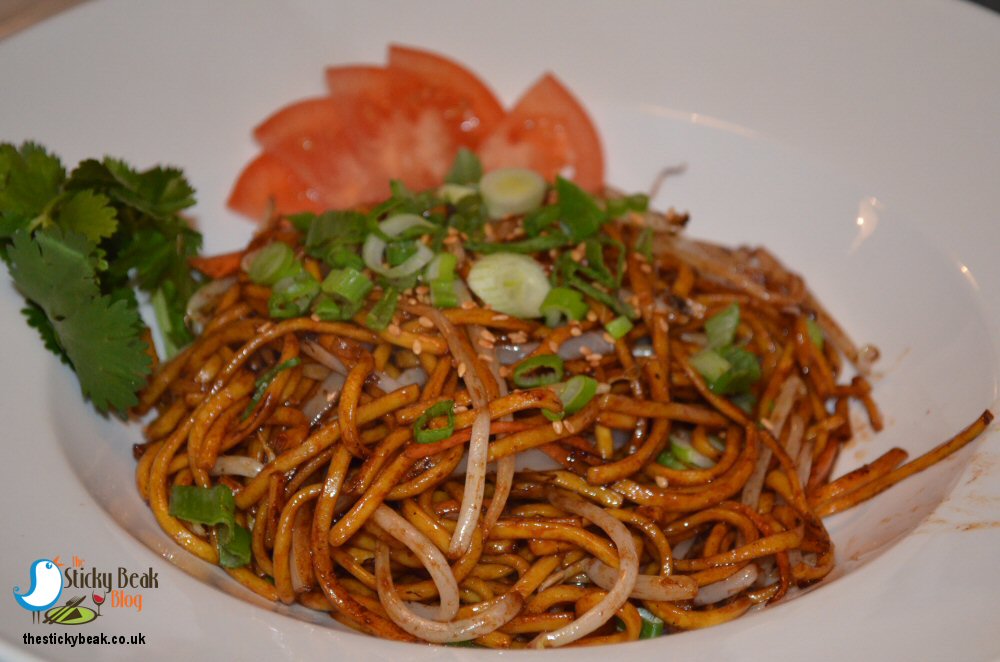 The fried soft noodles were lovely and not overly greasy either, so you got the flavour coming through nicely in the mouth. We all loved the thicker Udon Japanese noodles, and Woon had cooked these with King Prawns for us - delicious! The Man Bird was very happy to tuck into the Chicken with Lemon sauce; you really do get a good citrus kick in this dish and although the chicken is fried and sliced you don't get any taste of the oil at all.


I mentioned earlier that The Rice Bowl does some Thai dishes and we were treated to the superb Thai Sweet Chilli Chicken. You get a great heat from the chilli but the sweetness softens it beautifully, and the chicken is plentiful and tender. All the vegetables are fresh and full of crunch and flavour, making food at The Rice Bowl a real pleasure to eat.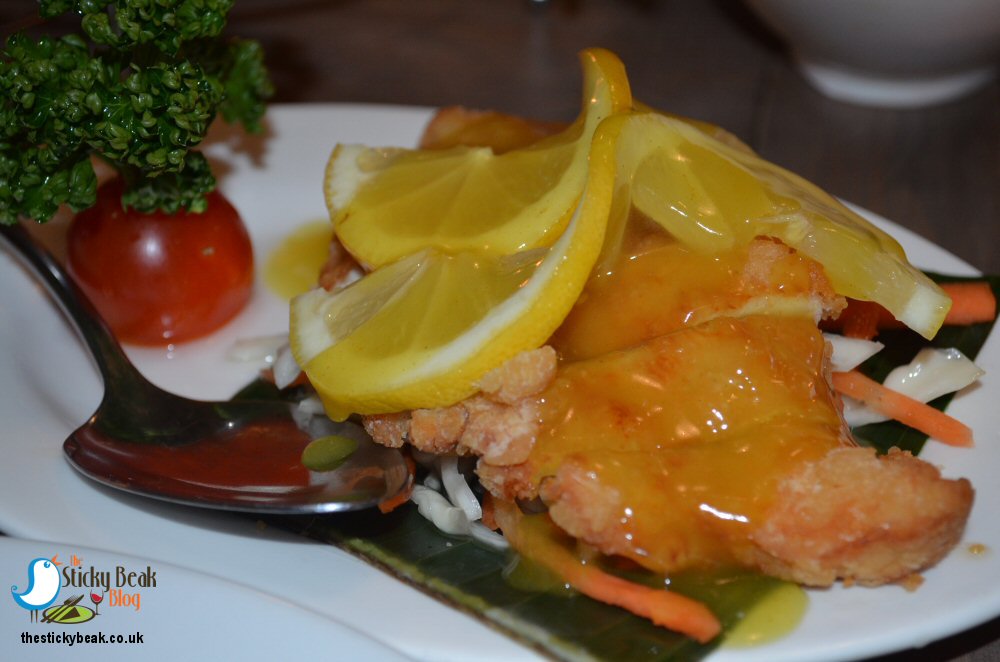 Thankfully, Woon must've seen that we were all completely stuffed and wrapped things up with gorgeous fresh fruit kebabs made with mango and strawberries; fresh oranges had been segmented as well to really cleanse the palate.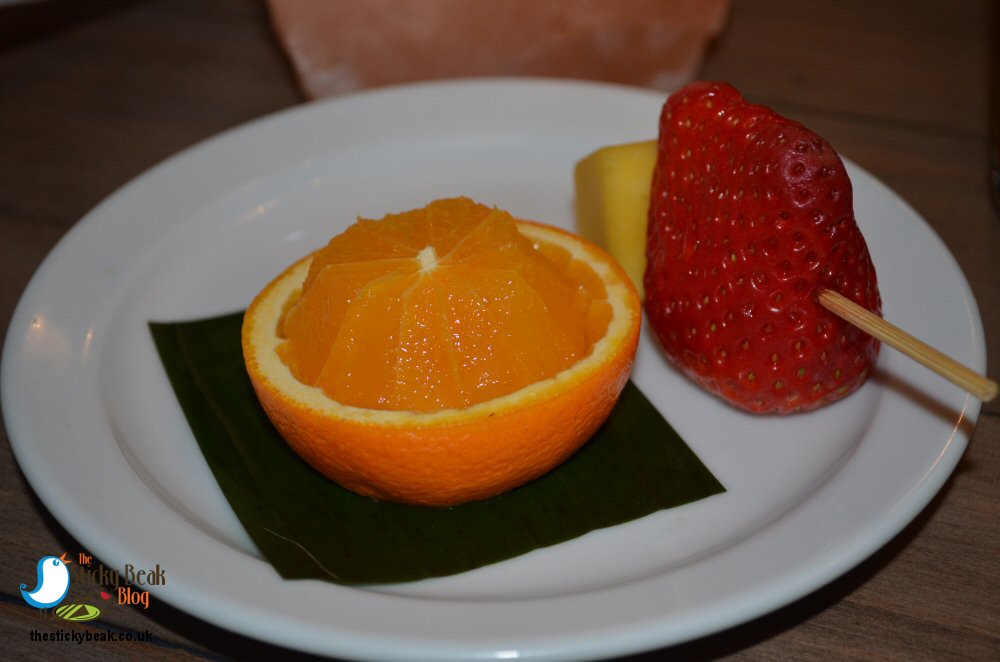 What I love is that the Rice Bowl will happily box up any leftover food for you to take home, keeping waste to a minimum. This means that supper was going to be equally yummy when we got safely back to the nest after a longer-than-usual journeyJ . I can't thank Woon and his team enough for the fantastic evening they gave us, the time just went too quickly; time certainly does fly when you're having fun.
Hot Wings deserved yet again at The Rice Bowl in Belper; if you haven't been yet, you really do need to go and try it for yourselves :)
Some form of incentive was provided to visit this venue
read more