Sticky Beak Out On The Town In Derby City Centre
---
Published On Friday 9 Mar 2018 by Sticky Beak
See Recent Experience Reviews | See All Recent Reviews


Normally when The Boy Wonder and I get to Derby it's either to visit one specific venue, or it's in the daylight hours. We had been invited to have an overnight stay in the Cathedral Quarter Hotel, and thought we'd take advantage of the opportunity to go and explore the city after dark, seeing what the nightlife is like.
We both had a quick change of clothes after dinner in the Opulence restaurant and a spritz of perfume/cologne before we made our way over to the first port of call, Bustler Street Food Market over at Riverlights. Love Derby's Stuart was on the door, so it was nice to have a quick catch up with him as we headed into the throng; at only £1 entry it's not going to break the bank is it?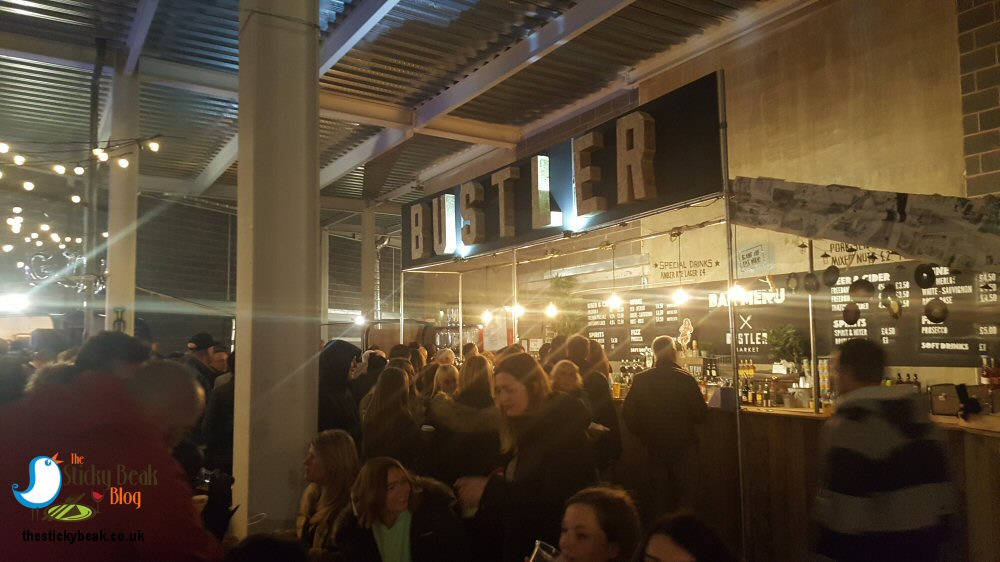 The DJ was mixing up a storm with a cool fusion of upbeat, yet unobtrusive sounds, and the crowd were full of beans, resulting in a lively atmosphere. The families of the daytime had been replaced by groups of older friends coming together for some food after work and enjoying whatever tipple their hearts desired.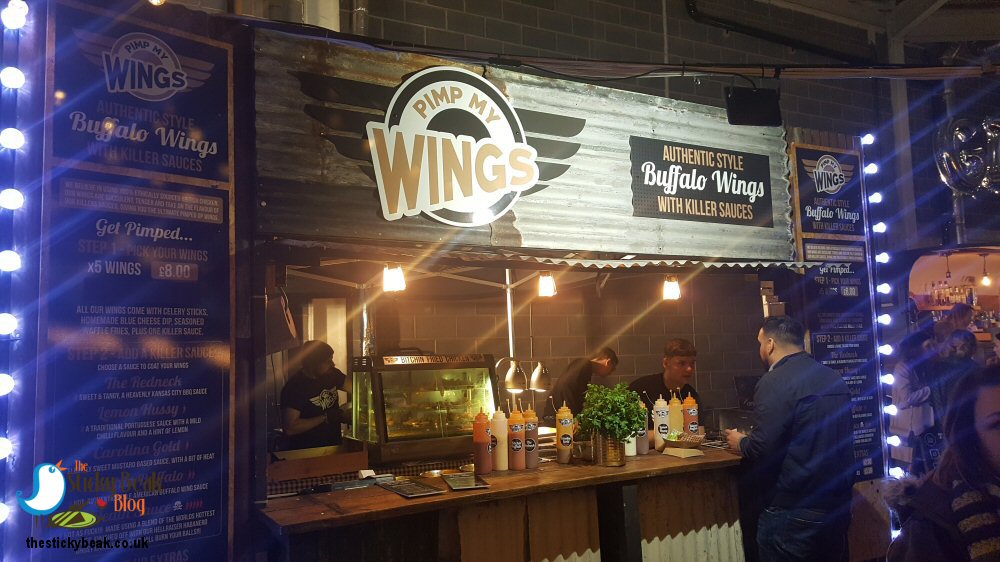 Bustler has its own bar serving wines, beers and spirits and the prices are more than reasonable I think. His Nibs spotted the Gin Kitchen's distinctive converted horse trailer premises - you couldn't really miss it though with its huge silver balloons spelling out "GIN" floating above it! I desperately wanted to sample some of the amazing food on offer; the room was filled with nostril-twitchingly good smells, but I was mindful that we were having supper at Bodega later on (and I had just eaten a 3 course dinner!).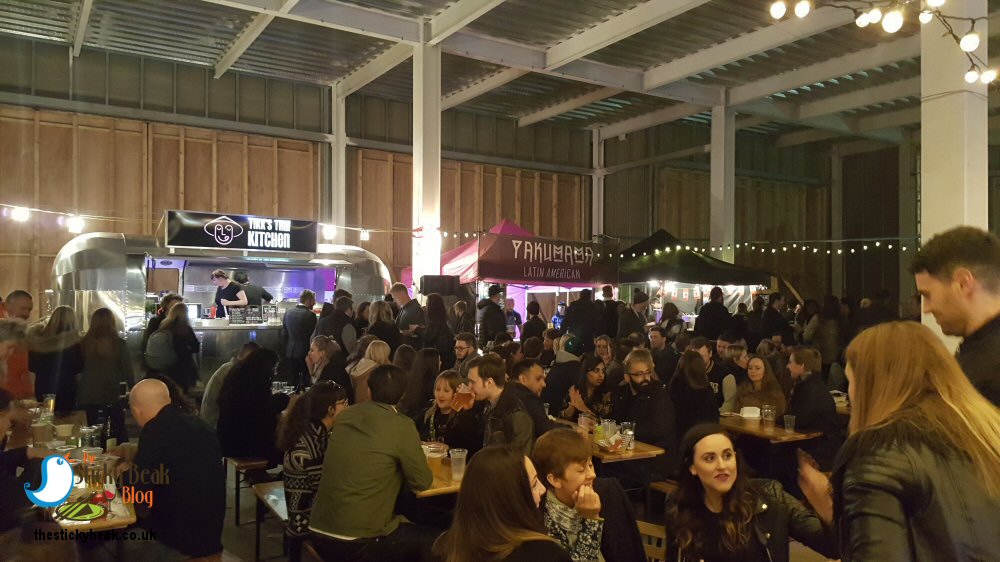 Cosy Club was the next stop on our night time happy trail and as we walked up the staircase you could already feel the buzz! Derby's residents were clearly in the mood for socialising in the elegantly cool surroundings of this venue; all the seats were taken and there were groups standing together, chatting away animatedly. We were greeted by the very nattily dressed David, who we met at the opening of Cosy Club. This serious man-about-town had been off gallivanting in chi-chi Cheltenham in the intervening period of time, and had only recently come home to roost. Get your hands off Cheltenham, this handsome chap is Derbys!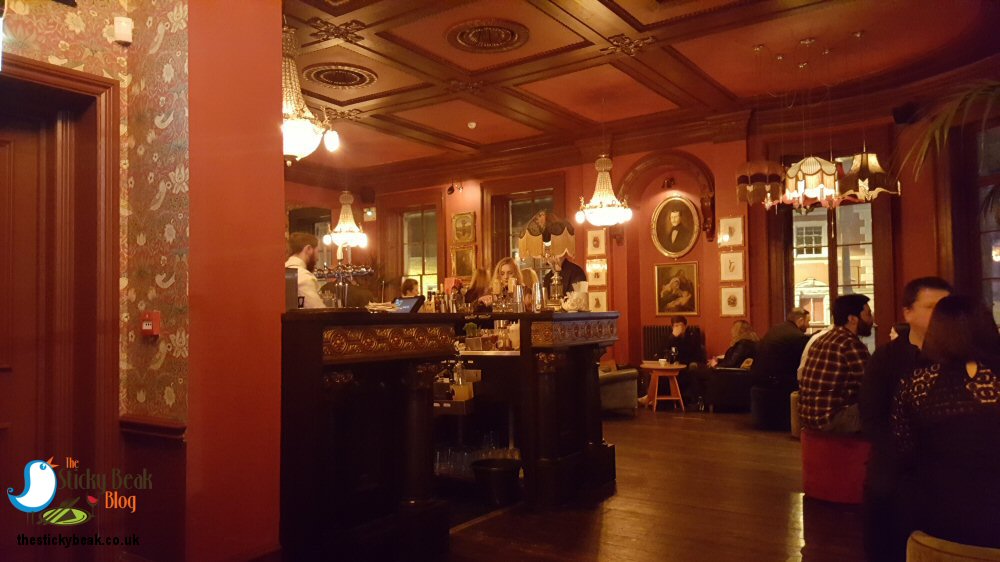 In the blink of an eye, David had mixed up a couple of cocktails for us to try; Vanilla Espresso Martini, and a Rum and Vanilla Old Fashioned. One thing I love about the Cosy Club is the glassware they use; it's as stylish as the decor and the smartly dressed clientele. The Old Fashioned was served in a weighty crystal tumbler, the Martini in a coupe glass (which is now commonly interchangeable with the iconic cocktail glass to serve Martinis in).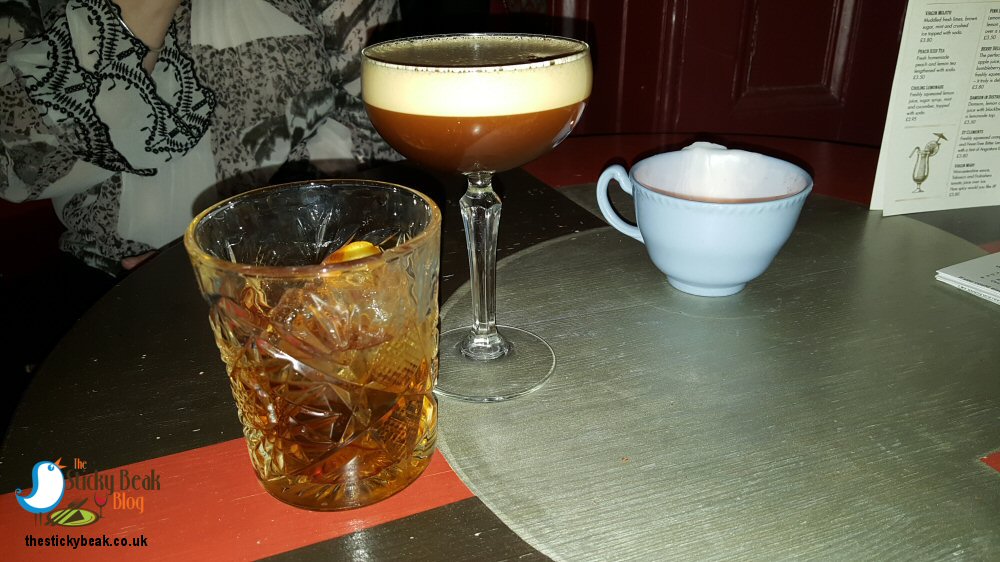 The Rum and Vanilla Old Fashioned is based around Appleton Estates reserve spirit, with vanilla syrup and orange bitters playing supporting roles. The Orange zest garnish serves to further enhance this shaken-not-stirred tipples appeal, both visually and olfactorily. Equally delicious was the Vanilla Espresso Martini, looking very swish in its monochrome come-hitherness. Vanilla vodka combines with Tia Maria and a dash of Chocolate bitters to make a wonderful partnership of smooth creamy vanilla with robust, slightly bitter espresso.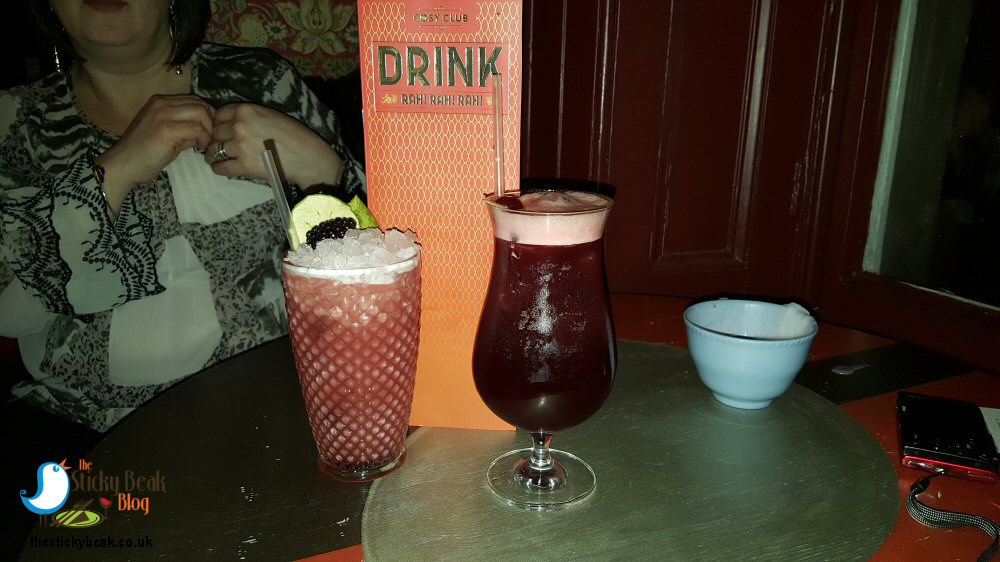 Next up were two long drinking cocktails; Orchard Crumble and Cosy Club's signature, The Cherry Bakewell. All I can say is "wow!" It really is a liquid version of a Bakewell Tart! Rum, Cherry juice, Amaretto and caramel syrup blend together in an elegant waltz, producing a drink that slips down easily (all too easily in my case :) Now, the Orchard is quite simply the only way to get your 5-a-day quota in one fell swoop; just bear with me as I explain how I sold it to myselfJ! Alongside the Chase GB Rum, there are Apple, Plum, Damson, and Blackberry juices (that's 4 of the 5, right there); add in some vanilla and cinnamon for extra smoothness and garnish with a Lemon twist – that was the fifth fruity element. You can thank me later for my nutritional genius input (!).


I really need to mention the young man going around collecting empty glasses up. He was unerring in keeping the tables spotlessly tidy, and very efficient in collecting used glasses; probably the unsung hero of the evening :)
If you can't make it to Cosy Club on Fridays or Saturdays don't panic, they have a fantastic offer Sunday-Thursday of any two cocktails for £9.95 between 4-8pm. Enjoy a quality tipple or two in superb surroundings? Don't mind if I do!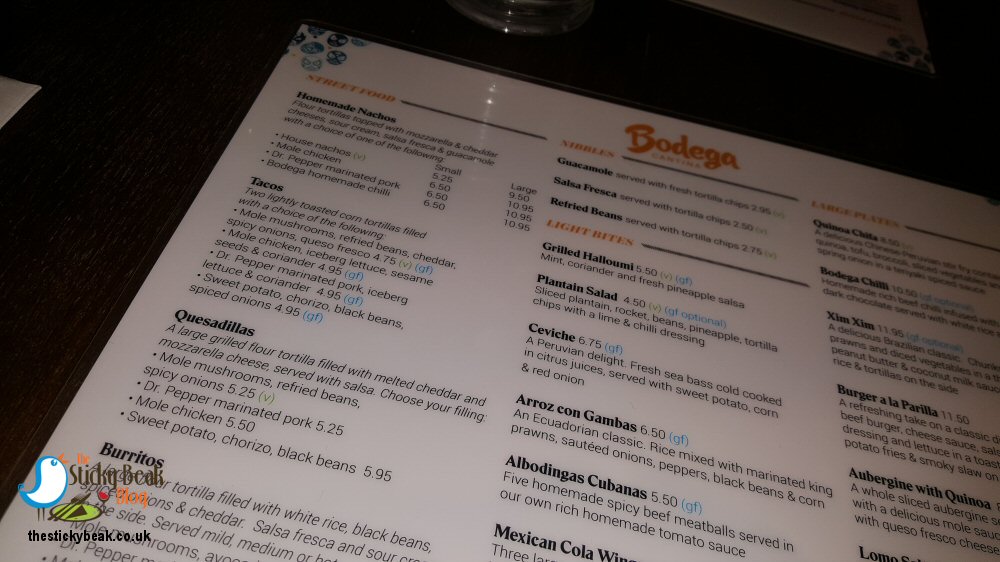 A quick glance at the clock told us that we needed to hustle if we were to keep our supper date at Bodega. The lovely Sam was on duty again, we'd popped over for morsel tasting a few days earlier as Bodega have changed their menu, and he'd been mixing up some cocktails for us then.
Whilst we were chatting away he made us a Porn star Martini and Peruvian Cobbler to sip at; the Cobbler has Pisca ABA, Sauvignon Blanc, Lychee liqueur and Apple juice in. I haven't had a cocktail with wine in before, and this one had a fab spicy note to it, as well as a noticeable dryness.


As if by magic, plates of Bodega's homemade Chilli, Dr Pepper marinated Pork, and Mole Chicken appeared, with crispy nachos peeking out from underneath the meat. We'd tried both the Pork and Chicken at the menu tasting event and their deliciousness flooded our mouths, eliciting grins of joy from us. I was absolutely blown away by Bodega's Chilli; it had a fab texture to it and a surprising depth of flavour. Obviously it had a spicy bite to it, quite a large one actually, but it didn't tingle the lips or mouth (and I couldn't work out how it managed that!) so it was hugely enjoyable.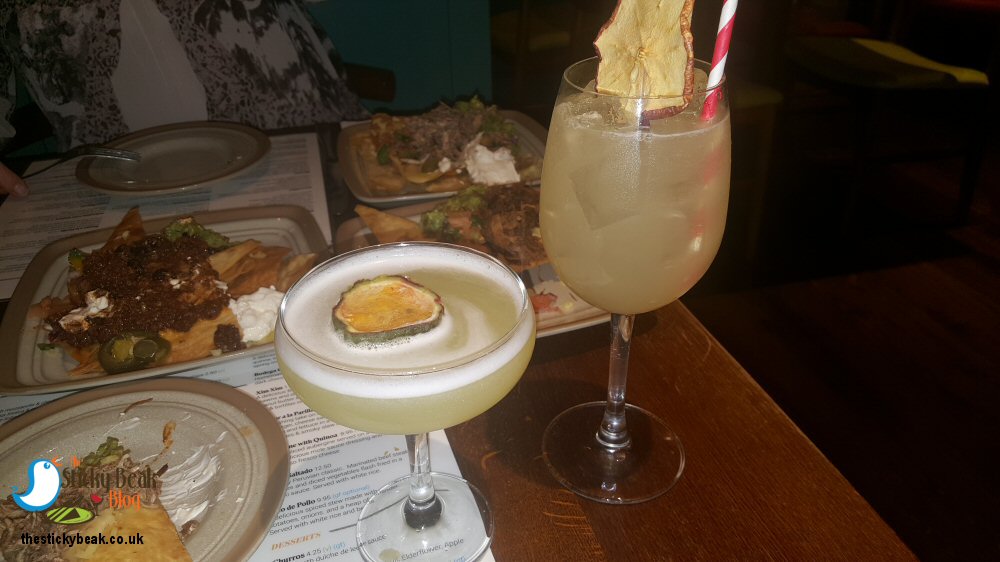 In the course of chatting and munching away at our supper, Sam brought us a couple more cocktails; Pisca Sour and a Paloma-esque! The sour was beautifully decorated (with Chuncho Amaro bitters) and the combination of Pisca ABA, egg white foam, Lime juice and sugar produced a gorgeously sharp, zingy cocktail. Instead of Tequila the Paloma-esque contains Mezcal, and this is partnered with fresh Lime and Ting Grapefruit soda to produce a zingy, refreshing cocktail that is absolutely superb.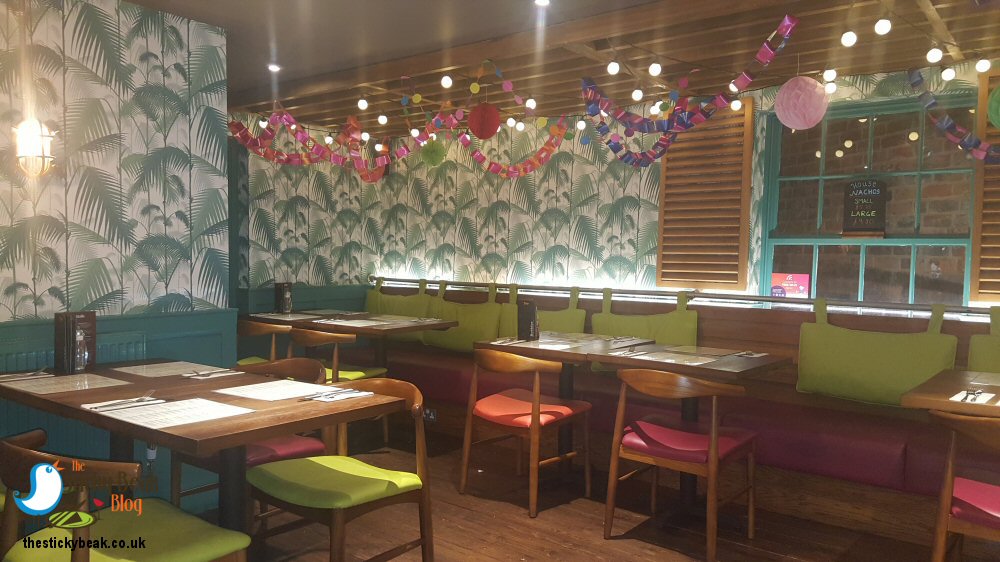 Bodega also host their own Happy Hour event where you can enjoy 2 cocktails, from a selection, for £8 all day on #ThirstyThursday, or 4-7pm and 10pm-close every day. So head down to the Bodega Cantina to take advantage of this great offer!


The night was really in full swing now, so we headed off to our final destination - Revolucion de Cuba (RDC)! There was never going to be anywhere else to party hard whilst in Derby - you can't help but be seduced by the combination of bangin' tunes, massive dancing area, glitter balls, and superb drinks selection :) Clearly, this is the "go to" place for good times; it seemed that the entire population of the city was in attendance! Queues of would-be revellers gazed wistfully through the windows as the good times were rolling for those of us lucky enough to already be inside.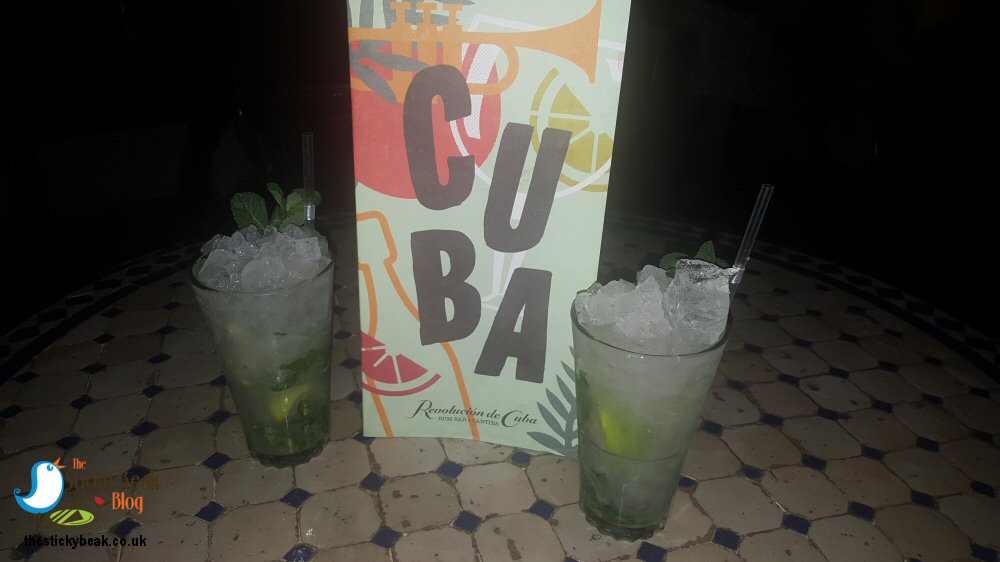 Erin and her team were working their socks off, ensuring that waits were minimised at the bar and that everyone was getting their Latino groove on. You can't go to RDC and not have a Mojito - they are just crazy good here! Fraser was clearly in the mixology zone and kept mixing up a storm for us; after the magical Mojitos we had a Brazilian Bramble. The Brazilian Bramble is a fruit sensation, pure and simple. Velho Barreiro Silver cachaca is mixed with Chambord Black Raspberry liqueur, sugar and a smidge of Lime; the result is out-of-this –world! And all too easily drinkable!
Another absolute corker of a cocktail is the brilliantly named "Mangoes to Cuba". This stunner is made from Bacardi Carta Blanca rum, Lime, Mango, Mint, Raspberry, and Ting soda. Again, it's a little minx that is supremely quaffable!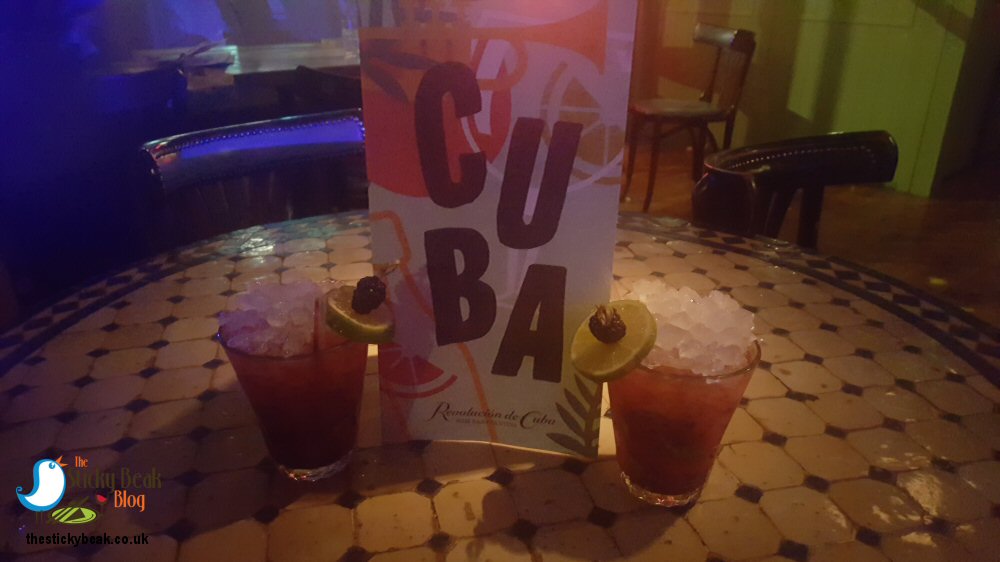 Current offers at Revolucion de Cuba are "Happy Hour" Monday-Friday 3-7pm, Saturday 5-7pm where you can get 2-4-1 cocktails, teapots for £12 and Mahou lager for £3 and "Havana Good Time" where it's 2-4-1 on Tapas, Cocktails and Coffee all day every Sunday.
Derby, we had a complete blast sampling what I'm sure is only a small part of your incredible night scene. We'll definitely be back!!