Dinner At The Slice Of India in Derby
---
Published On Thursday 1 Mar 2018 by Sticky Beak
See Recent Dining Out Reviews | See All Recent Reviews


The Man Bird had some lieu time owing at work, so we decided to have a chillax day. I wanted to go see Fifty Shades, so bless him he booked tickets and sat with me as I drooled over Jamie Dornan (mind you, I think Dakota Johnson managed to hold His Nibs' interest quite nicely!). You would think that having chomped our way through some popcorn, nachos and choccies that we'd be stuffed; but no, we then made our way over to Slice of India which isn't far at all from the Odeon cinema.
Slice of India is one of those places that you always pass and mean to pop into, and we've been meaning to go for ages, so it was lovely to finally get there. It has a huge car park, so no worries about finding a spot, even at 6.30pm on Friday evening :) There's a spacious reception area where you book in, and also where you pay at the end of the night, and you see the vast space that is the restaurant itself. What caught my eye as we went to our table were the different stations all with Chefs dressed in their smart whites, and I couldn't wait to get stuck in.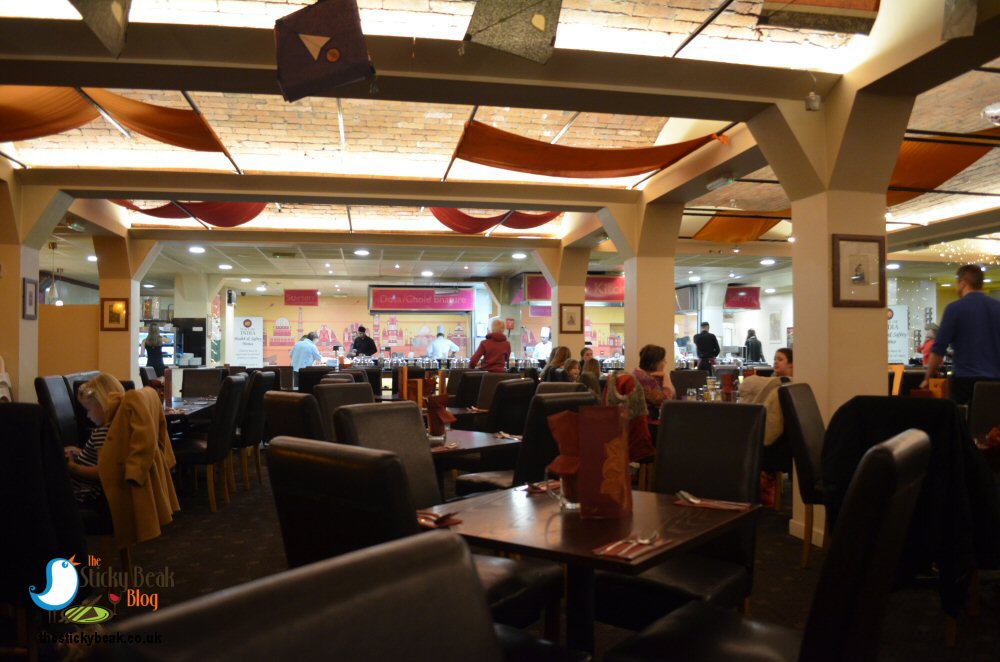 Our server talked us through the different areas after we'd said it was our first time, so we vaguely got our bearings and formulated our route through the culinary smorgasbord. Slice of India offers banquet style dining, so you can choose your own dishes and help yourself as and when you want. I should just point out that at peak times they do reserve the right to limit tables to two hour time slots; in all honesty though this is more than enough time to enjoy a good, relaxed meal.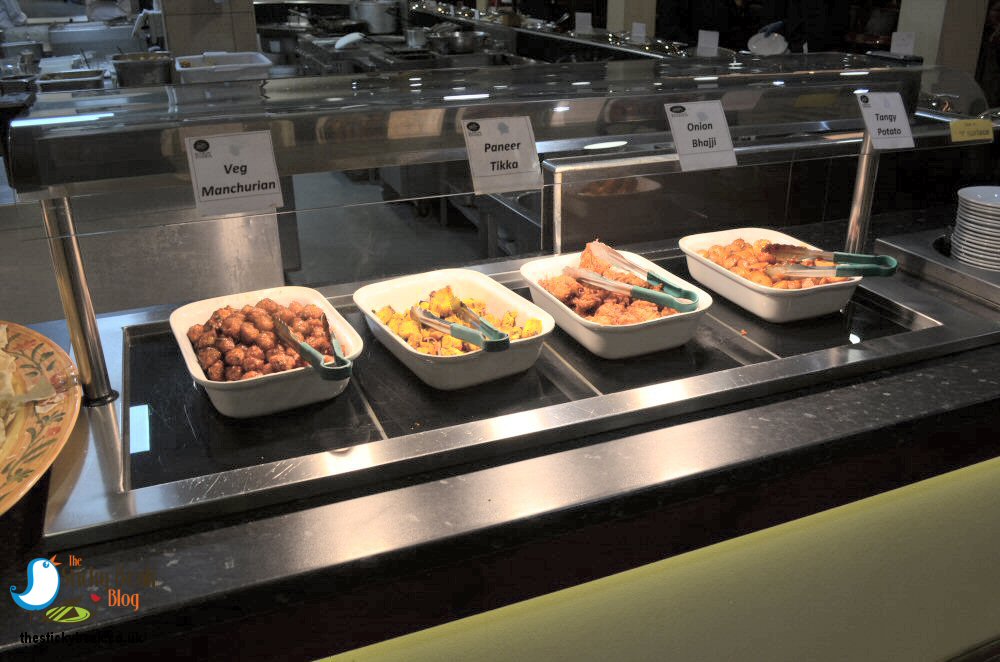 The Man Bird set off first and came back with a plate laden with all manner of delicious smelling morsels including fresh Onion Bhajis, Seekh Kebabs, Chicken Tikka bites, and Poppadoms. I started with Fish Amritsari and paired it with a fresh Coriander, Garlic, and Chilli chutney; the combination of fresh, bright spices and sweet, succulent white fish was superb. I had some Paneer Tikka and Chana Chaat too, both had a lovely kick to them that got my mouth watering in anticipation for the main dishes that were waiting to be tried.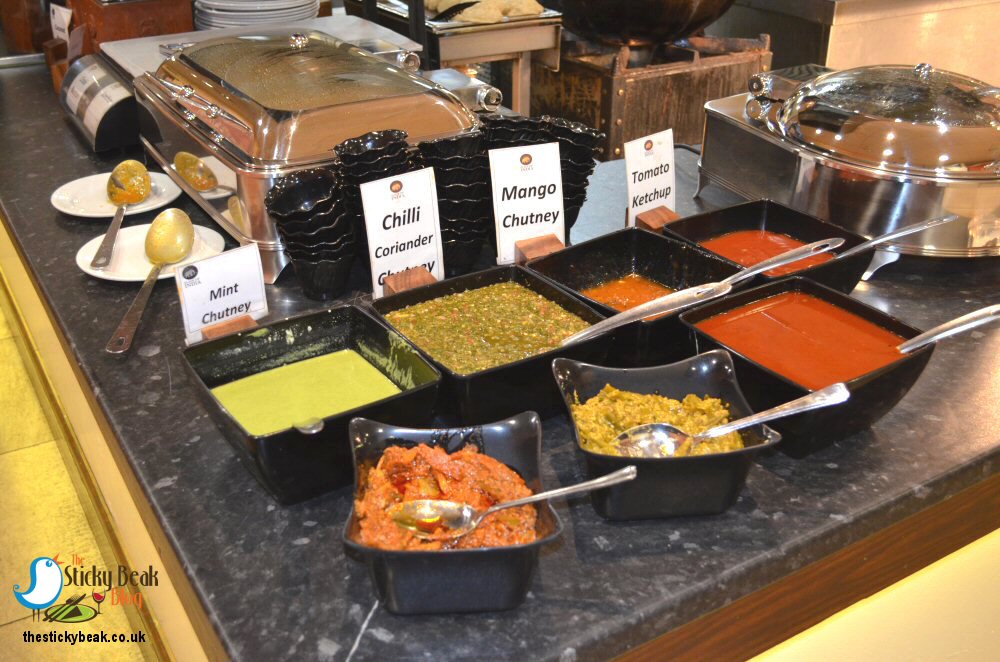 His Nibs remarked how crispy his Bhaji had been, not greasy in the slightest, and the batter had a nice seasoning to it. The Chicken Tikka was lovely and flavoursome, and the meat was moist and succulent. Alongside the starters was a selection of dips and chutneys to help yourself to, and there were little pots that you put them in rather than plop them on your plate.


The main courses were calling to us, so we headed off in search of what our hearts desired; I went to the Wok Kitchen, The Man Bird went to the Curry section. Chef Surjeet heads up the Curry section, and his considerable experience and previous 5 -star hotel knowledge really shines through in his magnificent Lamb Rogan Josh. The Boy Wonder was bowled over by the tenderness and flavour of the Lamb in this dish, and loved the deep, rich spices in it.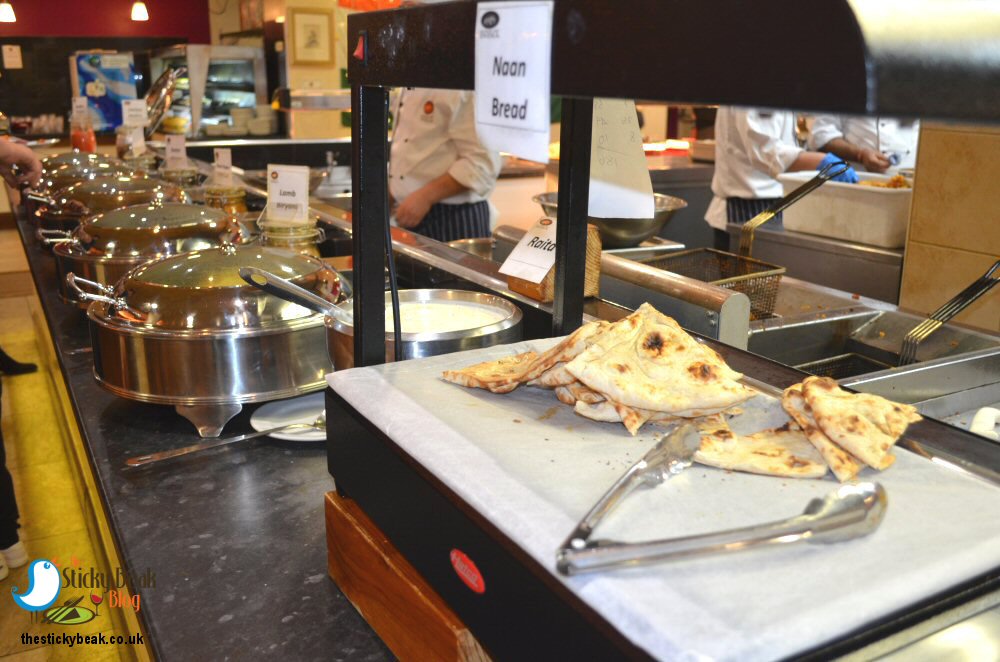 The Indo-Chinese Wok section is Chef Om Prakesh's domain, and watching him at work is mesmerising. This counter truly allows you to create your own bespoke dish; there are rows of containers with all kinds of fresh vegetables, bean sprouts, and noodles in to help yourself to. I chose Mushrooms, peppers, Bok Choi and Spring Onions to accompany my King Prawns. There was also Chicken pieces and Lamb to choose from, and these are then cooked in a sauce of your choosing or you can pick one from the selection on the board. I opted to have mine in a medium spiced sauce, and it was amazing :)


For our second round of mains we went to different sections again, although we'd both visited Chef Rajesh at his Dosa and Chaat counter. A Dosa is an Indian crispy, savoury pancake and Chef Rajesh makes them fresh to order before your eyes; personally I would liken them more to a thin crêpe than what we Brits would call a pancake, but the end result is totally scrummy. We paired ours with Coconut and Tomato chutneys, and they went really well with the Sambal Chef Rajesh puts in his Dosas.


His Nibs had also got freshly made Naan bread from the Tandoor oven, and we dipped the hot bread into Dal Tadka and Dal Makhani. The Dal Tadka is not unlike the version s you make at home with red lentils and yellow split peas; it has a familiar texture and mild/medium spice level to it. The Dal Makhani was something a little different; for a start it was a finer texture. It was also made with darker lentils and had an earthier, punchier flavour to it as it had different spices in to the other Dal.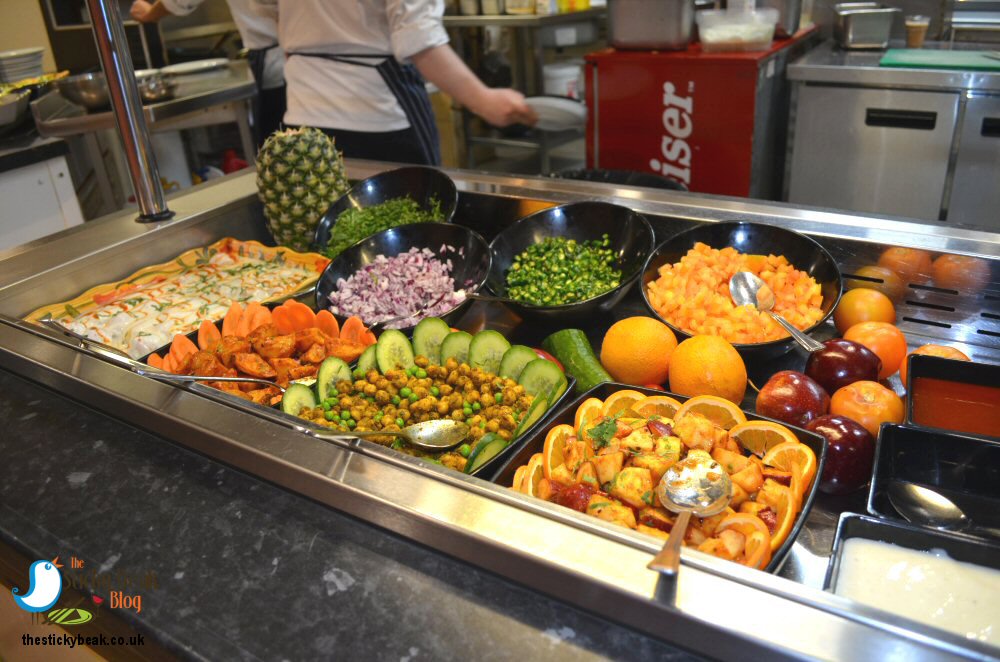 All that remained was to visit the dessert counter, and what a treat this was for the eye to behold! There is a chocolate fountain that grabs your attention straightaway, and as well as marshmallows there is a selection of fresh fruits to dip into it. As you can imagine, this was very popular! Another popular place was the ice cream machine; lots of people were waiting to help themselves to the soft, whippy style ice cream.


The Man Bird and I helped ourselves to balls of Gulab Jamun - we just love the sticky, gooey treat! I fancied some of the Gajar Halwa too; the idea of a carrot based dessert intrigued me if I'm honest. I have to say that it was delicious! Due to it being cold outside the Slice of India team serve it warm, and the sweetness of the carrot mixture and crushed nuts was a surprisingly good combination :)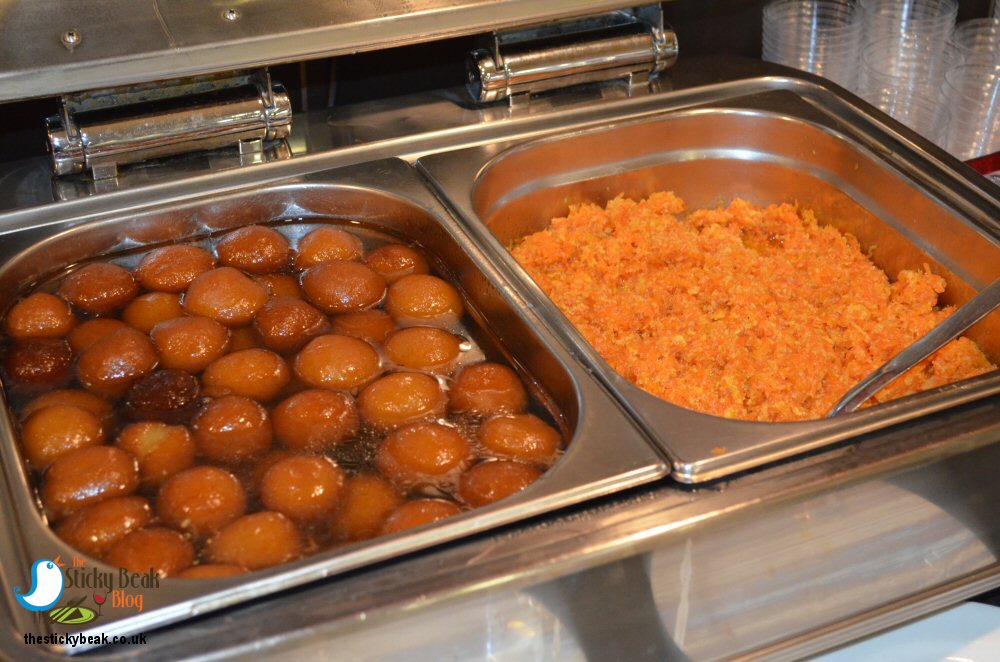 Throughout the evening various members of the serving team kept checking if we wanted more drinks and cleared any used plates and cutlery away discreetly. I have to say that for a venue so busy, and it was getting busier as the evening wore on, it was kept spotlessly clean.
Another good marker of venues credentials is to observe the type of clientele they attract. The Tribal Elders have some lovely Indian friends who always said that if there are Indian families eating in a restaurant then you can be confident the food is good there. Suffice to say that a large proportion of Slice of India's customers fit that description; clearly they have good taste because we thoroughly enjoyed our experience there. Hot Wings happily awarded here :)
No incentive was provided to visit this venue
read more