Dinner At Gusto West Bridgeford To Celebrate Their 1st Birthday
---
Published On Sunday 11 Feb 2018 by Sticky Beak
See Recent Dining Out Reviews | See All Recent Reviews


The Man Bird and I love to celebrate (we're happy little souls) so when Kat Galvin, Gusto West Bridgford's business development manager, invited us to celebrate their first birthday, we jumped at the chance. Finding the venue was no problem as it is located directly opposite the West Bridgford Library, and the adjoining car park provides ample spaces.
Gusto has a very chic feel to it, and on this occasion a DJ was spinning some upbeat tunes to get everyone in the mood. On the ceiling there was lovely foliage and branches from Olive trees, a nod to the Italian roots and cuisine served at Gusto. Personally, I loved the matte brass wall sconces with their globe shades; simple but striking.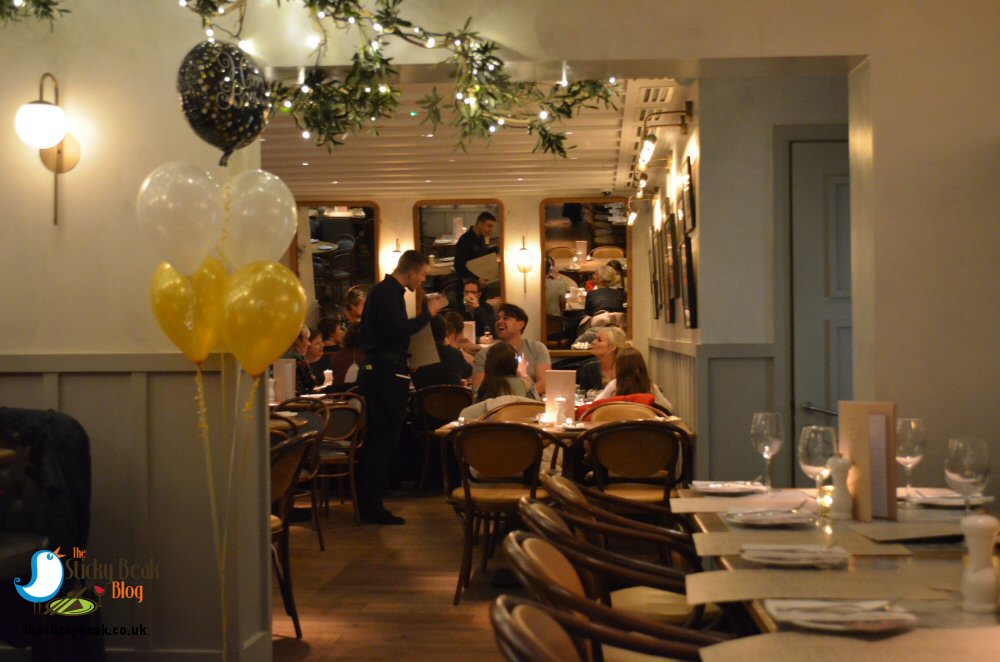 Wood floors, marble effect tables, generously padded banquette seats, and modern mid-back chairs were understated and uncluttered giving a relaxed vibe to the space. Pillars and carefully thought out table arrangements broke up the floor nicely, so that it didn't lack personality. The monochrome attired staff members were all very polite and friendly; Nino was our server for the evening, and what a total gentleman he was!
Lovely weighty glassware was on the table, and I was pleased to see that Gusto use good quality, thickly woven, disposable napkins with their logo on, rather than cheap paper things. In the background we could see the contemporary bar and hear the wonderful sound of cocktails being shaken.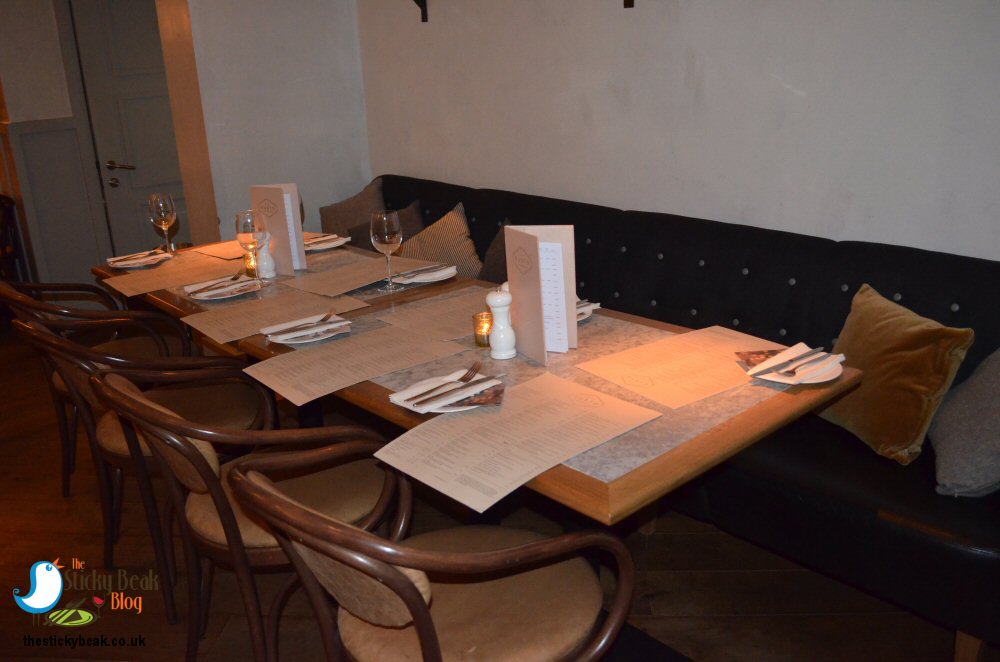 Having brought over our complimentary glass of fizz to toast Gusto's birthday with, Nino brought over our drinks that we'd ordered and recommended we start our meal with some Dough Petals to nibble at whilst we decided on our starters and mains. The Dough Petals were delicious; fashioned from pizza dough, rolled and shaped into petals these little gems are filled with garlic butter and served with more herbed butter. His Nibs and I were licking our fingers with glee as the butter dripped on them.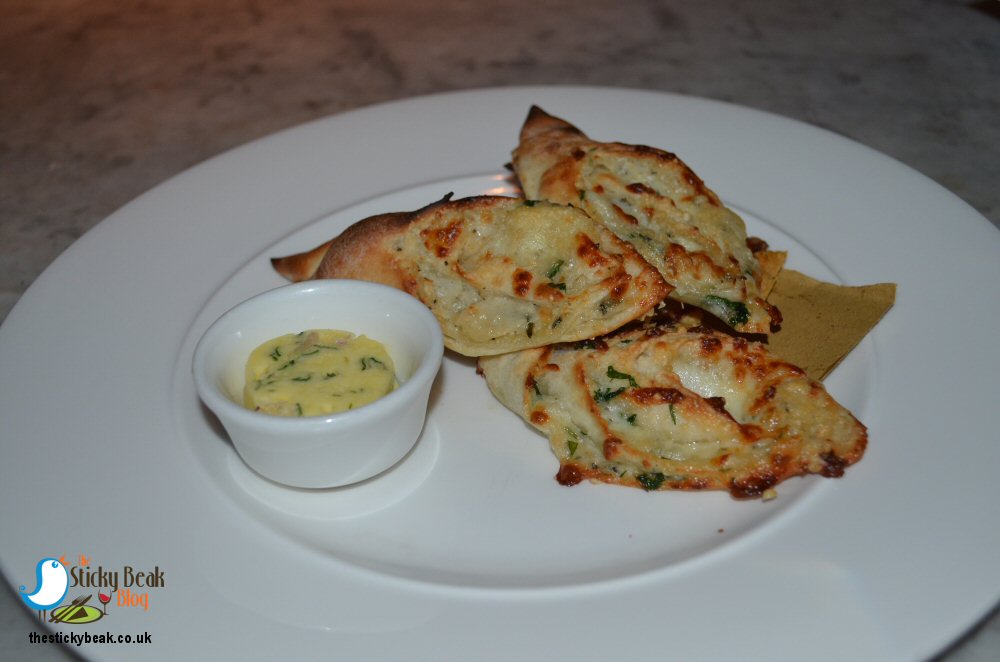 For starters we ordered the hand rolled Meatballs in Tomato sauce for The Boy Wonder and Tiger Prawns in a Garlic, Tomato, and Cream sauce for me; both of which came with Chargrilled artisan bread.
My Tiger Prawns were gorgeous; fat, juicy affairs that had a lovely firmness when I bit into them. The sauce was a perfect balance of flavours; nothing jarred or took dominance over the other, and it was a delicious, surprisingly light starter. I put the bread to good use, scooping up as much sauce with it as I could manage.


His Nibs was chowing down on his pleasingly dense meatballs, remarking at how lovely the seasoning to them was. The meat had a spicy note to it that partnered the rich, robust Tomato sauce brilliantly. Clouds of steam were billowing from the dish as it arrived, and noses at the adjoining tables twitched as it wafted their way. The Man isn't one to share and hastily scooped up his sauce with the Chargrilled slices of bread, gobbling it up greedily!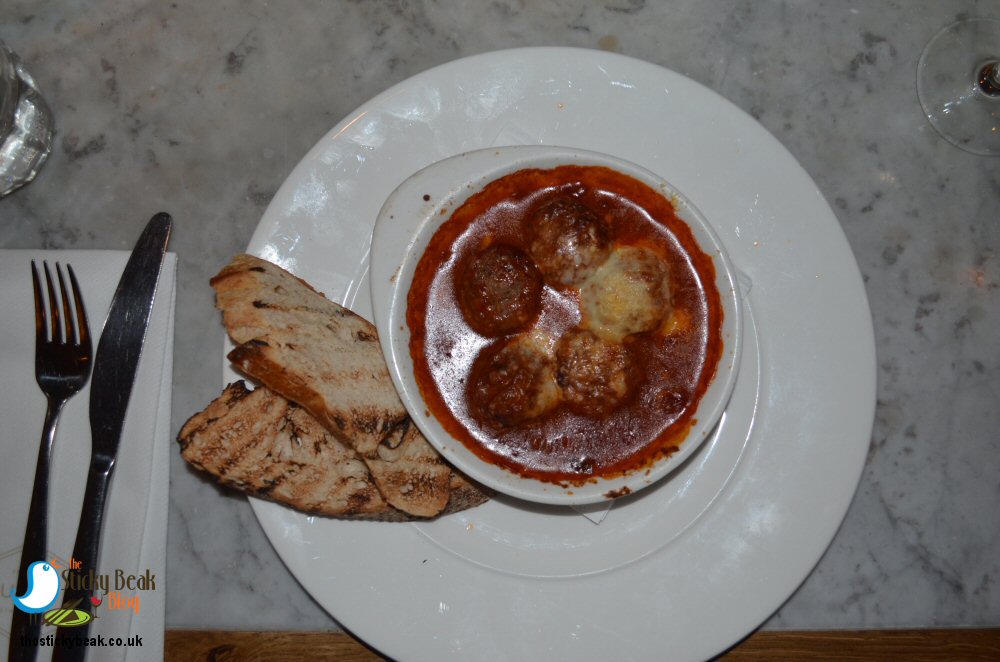 Having come up with a great recommendation for nibbles, I listened to Nino when he suggested the White Crab, Chilli, and Garlic Spaghetti for me. His Nibs fancied the sound of the Lamb Cacciatore in Red wine and herbs, served with charred Sweet Potato; again Nino was very helpful, pointing out that it is more of a stew rather than a whole piece of Lamb :)
The Lamb was tender-as-you-like and in good size chunks; the flavour to it was nice and rich, which was perfect for the red wine sauce in which it had been cooked. Sweet Cherry Tomatoes popped in the mouth, alongside slices of onions that had softened in the sauce. The Chargrilled slices of Sweet Potato had retained enough firmness as to be a useful tool in mopping up any remaining sauce from the bottom of the bowl.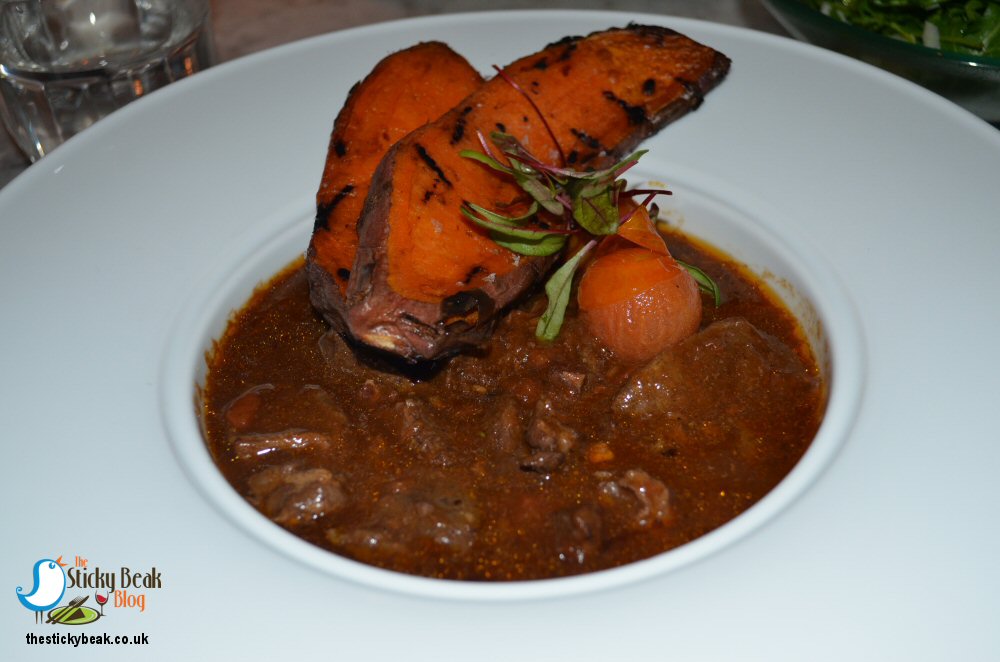 As you know from previous blogs, His Nibs is a total Potato fan; so you won't be surprised when I tell you that he also ordered a portion of Truffle fries with Grana Padano on the side. The fries were (and I quote) absolutely magic! They had a nice truffle hint to them and having their skins on gave them that extra bit of texture in the mouth.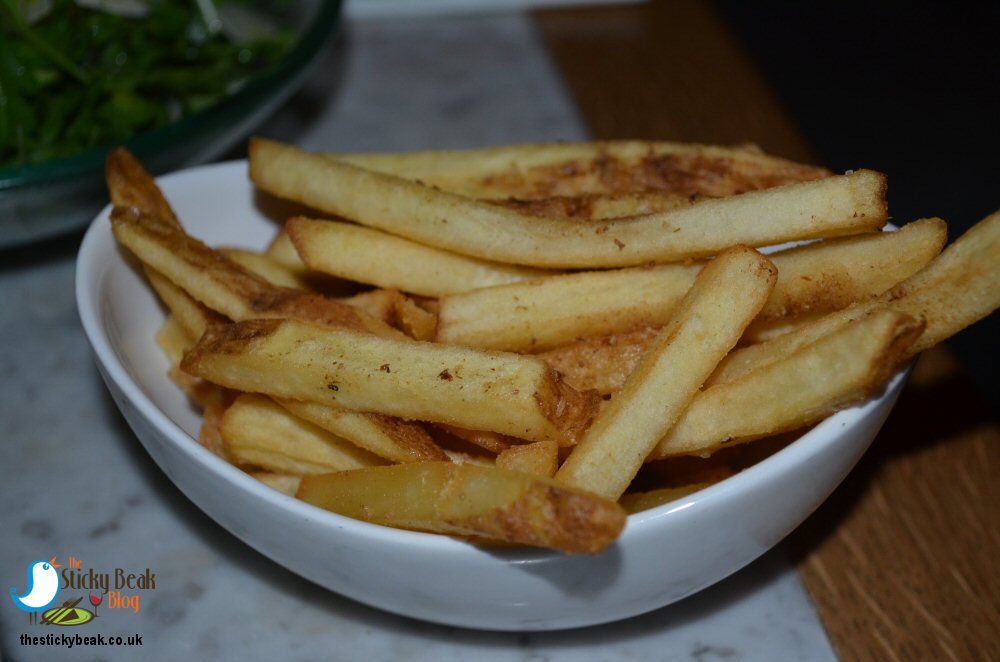 My Spaghetti dish was superb; Nino had excelled himself with this recommendation. The White Crab meat was still in nice bite sized chunks so you really got their delicious sweet taste coming through on the palate. Chef at Gusto clearly has serious skills when it comes to balancing the Chilli in his dishes; you could appreciate the warmth from them but they didn't drown out the delicate seafood in the dish, nor did the garlic. The Spaghetti was perfectly al dente so it just had that hint of chewability to it in the mouth - superb.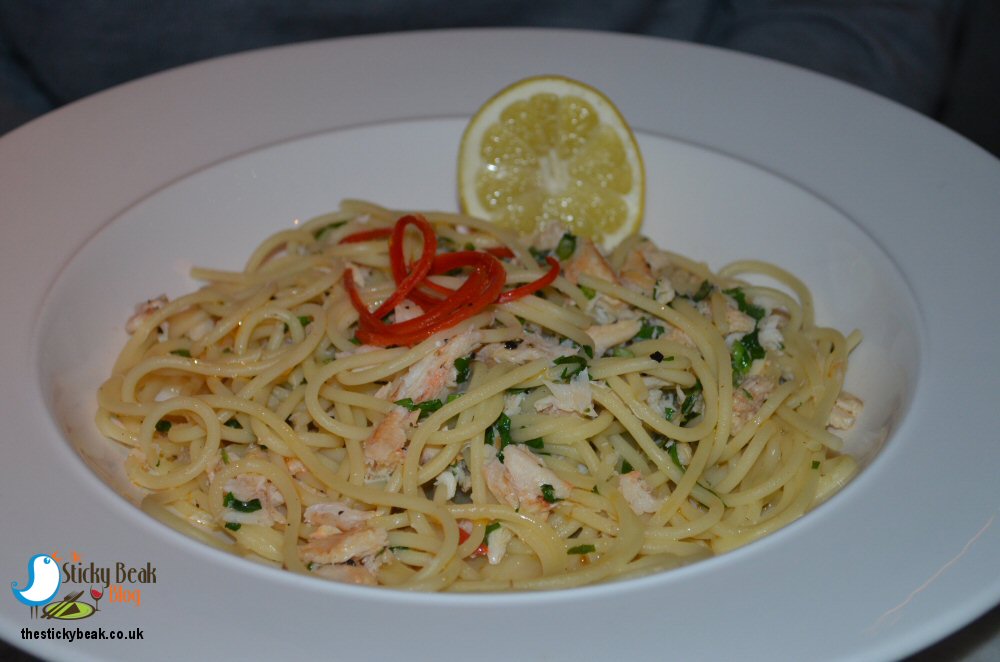 I do like a bit of salad on the side with pasta, so I ordered a classic Rocket and Grana Padano salad as an extra. The peppery Rocket went brilliantly with the Chilli note in the spaghetti sauce and the firm textured Grana Padano cheese had a fantastic salty note that worked well with the other ingredients.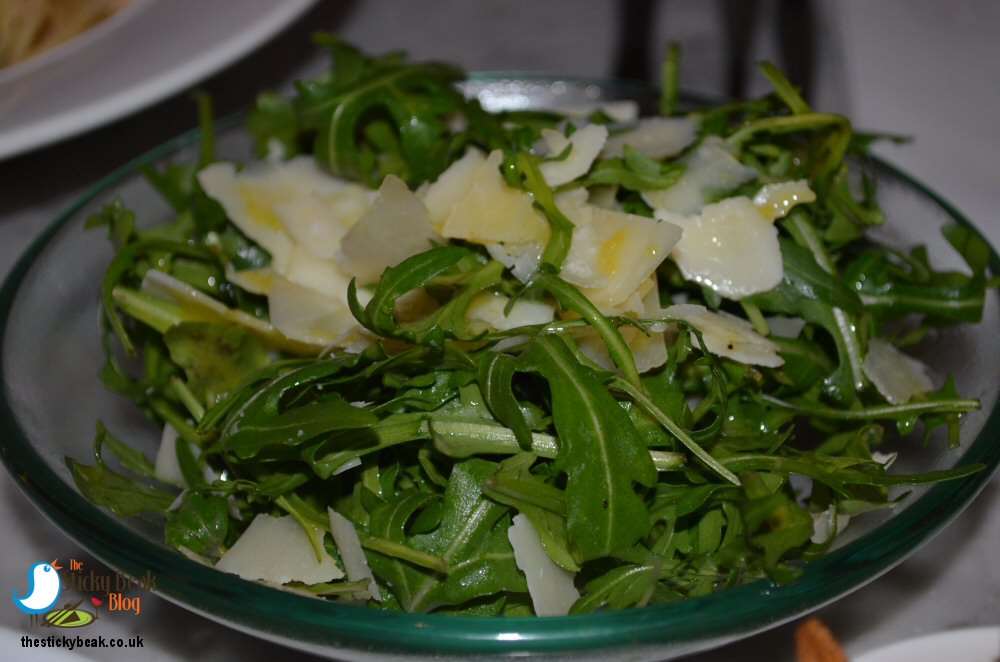 Having been a superstar all evening, Nino really came into his own for the puddings. As you can imagine, our tummies were more than a little full at this point and we were unsure as to what to have for the final course. Nino came up with several suggestions including sharing the Nutella and Mascarpone Calzone, and gave hints as to which were richer options that we may struggle with. Eventually we decided to have the Tiramisu (me), and Bombolini (The Man).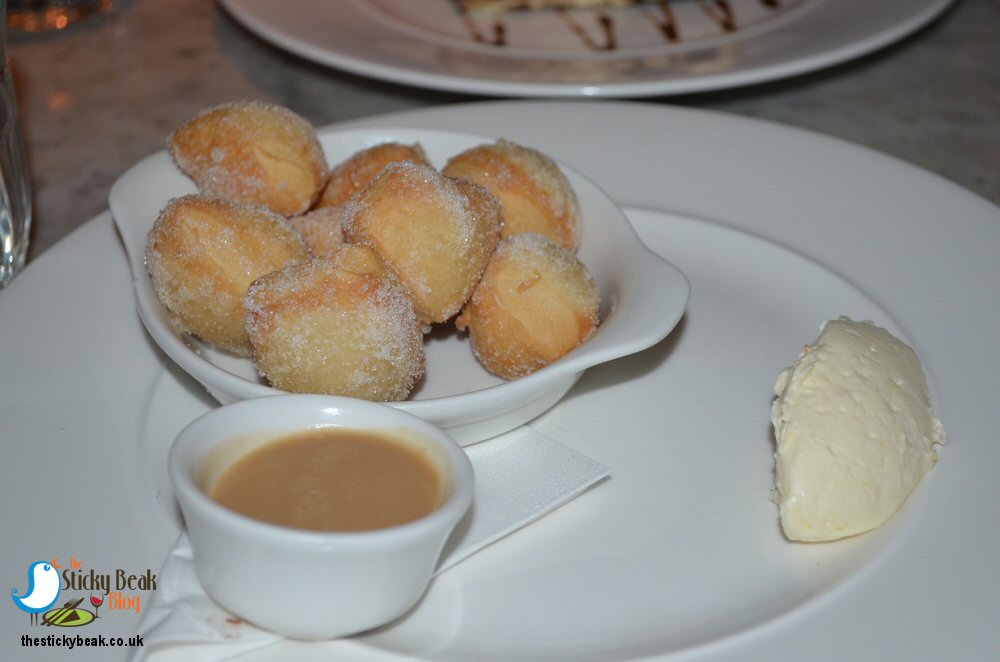 Bombolini are lightly sweetened dough balls that are dipped in sugar and served with warm, caramelised Biscoff dip and Chantilly cream. They are the perfect size to pop into your mouth whole (well, they are if you're The Boy Wonder!), and have a lovely texture and taste. Gusto know the importance of serving adequate amounts of dip to accompany their items, so there was plenty of Biscoff to coat the Bombolini with :)


Nino and I were having a good old discussion about the finer points of Tiramisu and family recipes for them and when I tucked into my dessert his words rang true. Tiramisu translates as "pick me up" so you want something light rather than a heavy dessert, and Gusto's version is divine. As I cut into the Tiramisu I could see a multitude of layers and it had a lovely lightness in the mouth. The Cream, Chocolate, and coffee elements were all clearly identifiable; it was a wonderful finale to the meal.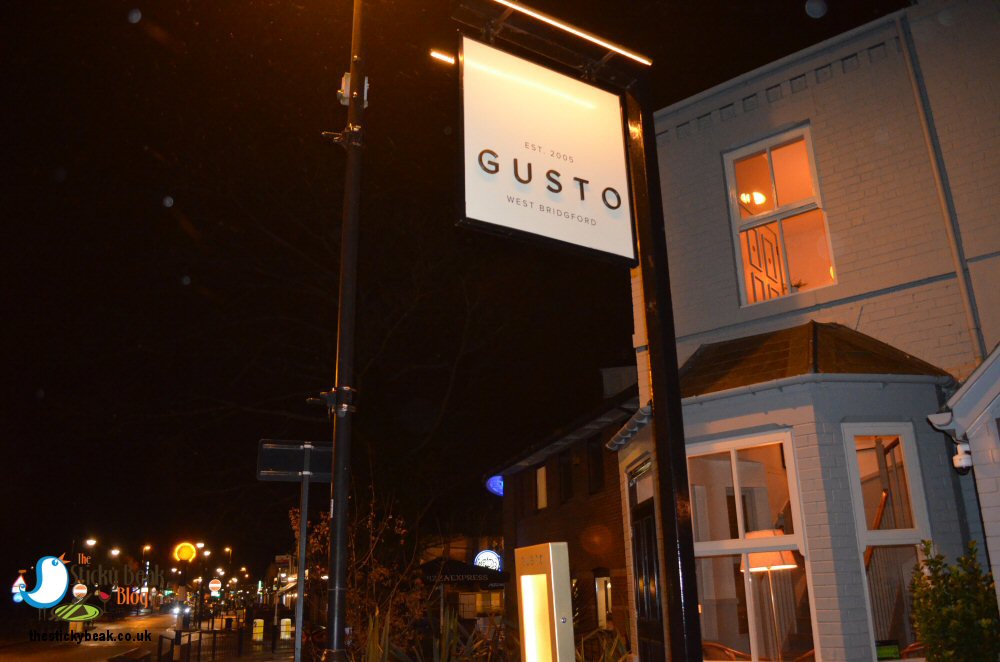 We had a couple of black coffees to finish up, and it goes without saying that it was a good variety; Italians simply don't do mediocre coffee! I spied that Gusto do a two- or three-course lunch menu, priced at £12.95 and £14.95 respectively as well as offering a separate childrens menu between Noon-6pm daily. If you haven't been before and fancy trying somewhere different, you won't be disappointed with Gusto at West Bridgford. Hot Wings deserved here; Happy 1st birthday guys :)
Some form of incentive was provided to visit this venue
read more