Sunday Lunch At The Bridge Inn, Calver
---
Published On Friday 2 Feb 2018 by Sticky Beak
See Recent Dining Out Reviews | See All Recent Reviews


Lady Luck was shining down on this little bird a few weeks ago; I entered a competition on The Bridge Inn at Calver's Facebook Page and won a Sunday Roast Lunch for four people! Boom! More often than not The Chick is off doing her own thing at weekends, so having checked that she didn't want to come with us we asked The Tribal Elders if they fancied a jaunt out.
Unsurprisingly, they jumped at the chance so off we tootled. The Bridge Inn is a lovely venue and has one side for drinking only, and the other side for dining; there's features a-go-go, such as flagstone floors, wooden beams and stone walls. We were seated at the former cattle stall where we'd been on previous visits, and I love the cosiness of this booth style table and seating. I especially love the deeply padded banquette back-rest :)


It was fairly lively as we got there at 1pm, and it really got busy at 2pm! You can order starters from the Tapas menu, and they are the perfect size for this. The Tapas menu is pretty extensive so there is something for everyone, and of course they're perfect for sharing – which is the whole ethos of "Social Sunday" at The Bridge Inn. It was decided to skip starters, have the roast, and see if we had room for pud after.
Our server informed us that the meats on offer that particular day were Pork and Chicken, so we opted for two of each and would then share them out amongst ourselves. The Roasties, Yorkies, and Pigs in blankets were on the meat platter; the Vegetables are all served family style in separate bowls in the middle of the table.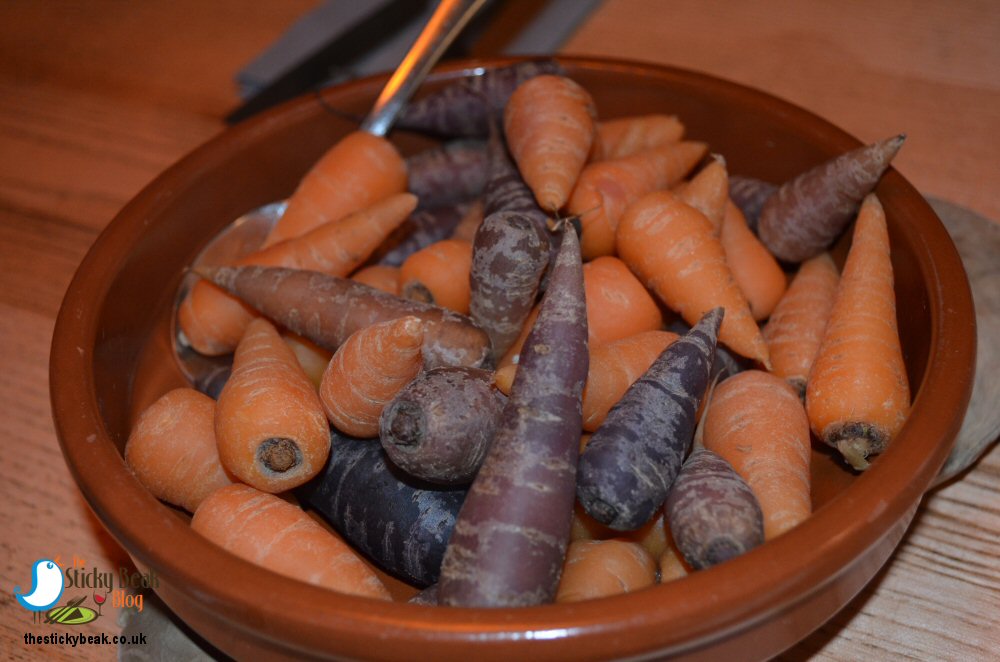 We didn't have to wait long before two large platters bearing the meat and trimmings were placed in front of us, and we eagerly divvied up the spoils. The Pork was still on the bone and must've been at least 2" thick and the Chicken was in quarters. Being the fab wifey that I am, I let His Nibs have my Pig in Blanket; to be fair I probably owe him a morsel or two along the way! There was a jug of meaty gravy on each platter too which helped cut down on reaching over fellow diners no end :)
There was Cauliflower and Broccoli Cheese in one dish, whole baby Chantenay and Heritage carrots in another, and yet another bowl had Braised Red Cabbage with Golden Sultanas in. We all helped ourselves to what veg we wanted, and you can have your vegetable dishes re-filled as many times as you want – it's only the meat that is a single helping portion.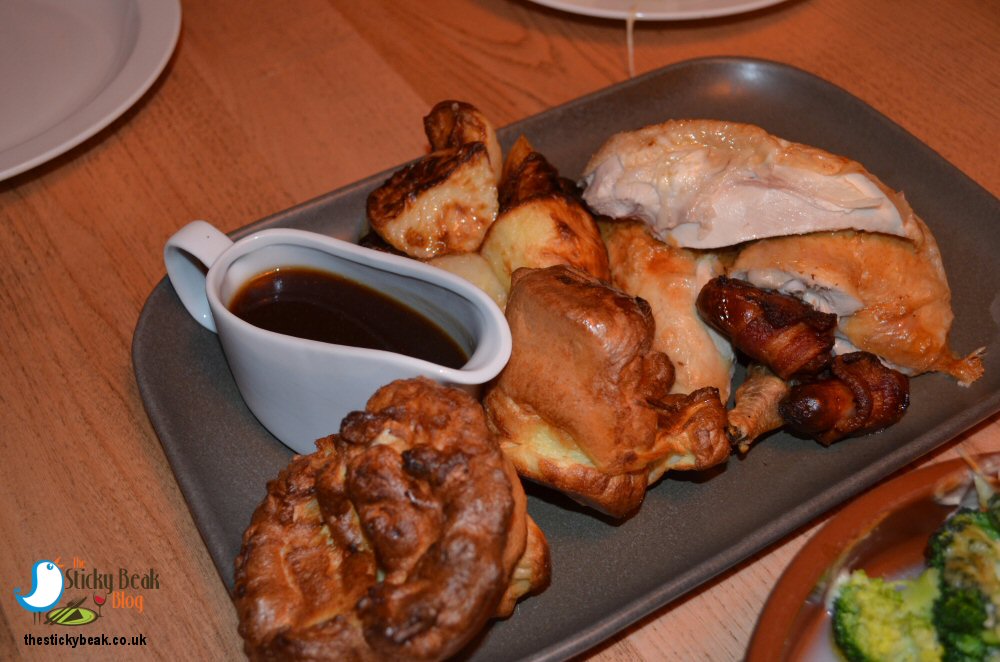 We like our Roasties in this flock, and there were plenty of them to go round for seconds too. Mummy Bird thought they'd been roasted in Duck fat, I wasn't paying particular attention if I'm been honest; I was too busy shovelling them in, they were that tasty! The Yorkshire puds were superb and a brilliant size - I love to see a Yorkie standing tall and proud on a plate :)
The braised Cabbage had been spiced slightly and it was deliciously sweet and very, very moreish; the second bowl of it got emptied just as quickly as the first one had! Even my veggie-dodging Man Bird was tucking in to it :)


The Pork was wonderfully creamy in flavour and really succulent, clearly Chef is experienced cooking large sides of Pork. Mummy Bird is a huge fan of crackling on Pork so she grabbed a piece of it and spent a good few minutes chomping away on it, happy as a pig..... (Sorry, Mr Pig, but you were very tastyJ). The Chicken had been cooked with its skin left on so the juices were running out as we cut into it and the flavour was gorgeous, the bones were cleaned of every possible scrap of flesh.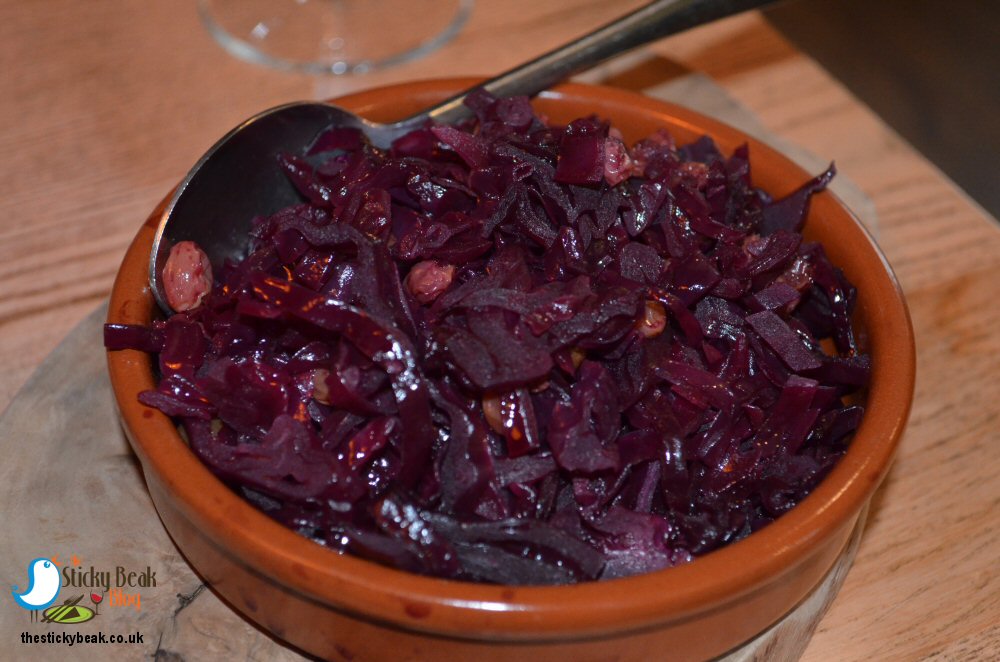 When we first began eating we'd all thought that we'd have room left in our tums for pudding, but as it turned out the meal was more filling than anticipated. The Boy Wonder was the sole member of our group that could find a smidgen of room for a sweet treat, so he ordered the Milk Chocolate Mousse with Blackcurrant Sorbet and Berry compote.
The dessert was very nicely presented and I have to say it was an absolutely spectacular Chocolate Mousse, so velvety and rich. Yes, I admit that I purloined a little bit!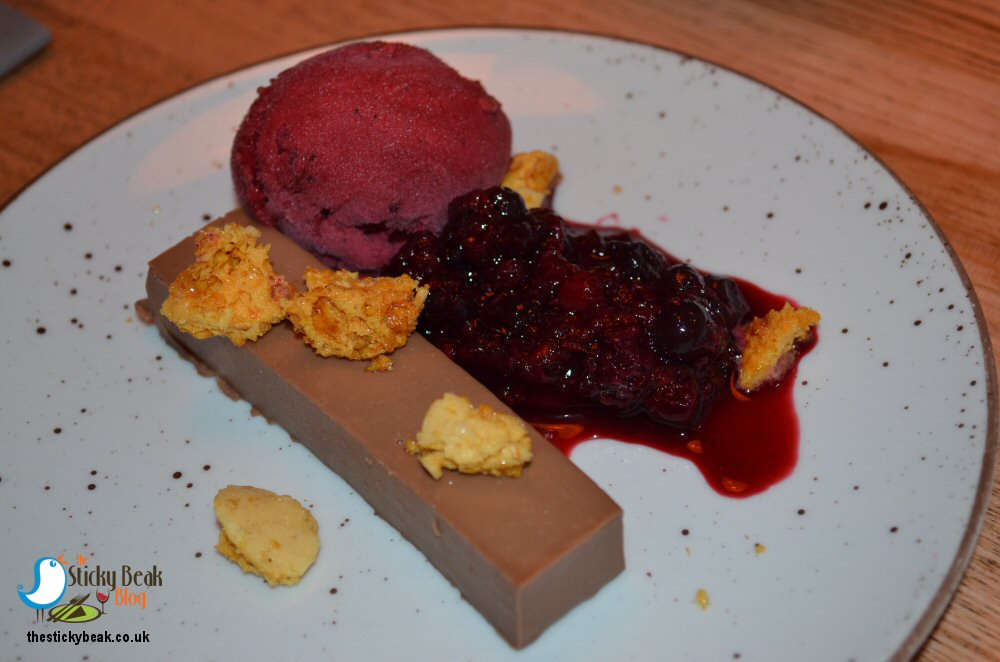 When we were making our way out there was a lovely little spaniel sat adjacent to the fire, making the most of a lazy Sunday afternoon. Along with the chatter of children, the presence of dogs made the atmosphere at The Bridge Inn most pleasant, and a really great example of how weekends should be spent :)
We had a lovely lunch, and I would quite happily have paid the £14.50 per person that it normally costs. Given the fact that it got really busy, I would heartily recommend that you ring ahead and reserve a table if there is a specific time that you want to eat, or if there is a large group of you dining together. :)
No incentive was provided to visit this venue
read more