Dinner At Mercia Restaurant in Wirksworth
Published On Sunday 28 Jan 2018 by Sticky Beak
See All Recent Reviews
It was definitely a case of déjà-vu dear reader as we headed to Wirksworth; only a couple of days earlier we had traversed the same roads as we'd made our way up to Brassington. Luckily there was a distinct lack of snow on this evening, which made the journey a lot more pleasurable.
Mercia occupies what was the post office back in the day and has a lovely view of the main road through, so it's a great place for people watching. Actually, it's a great venue - full stop. Some places just have that wonderful vibe to them, almost like the space is giving you a hug; Mercia feels just like that :) The stripped wood floor, black lead range fire , and eclectic mix of lighting styles cosset you in a warm welcome, something that is echoed by the superb team members. Not bad for a business that isn't even 2 years old yet!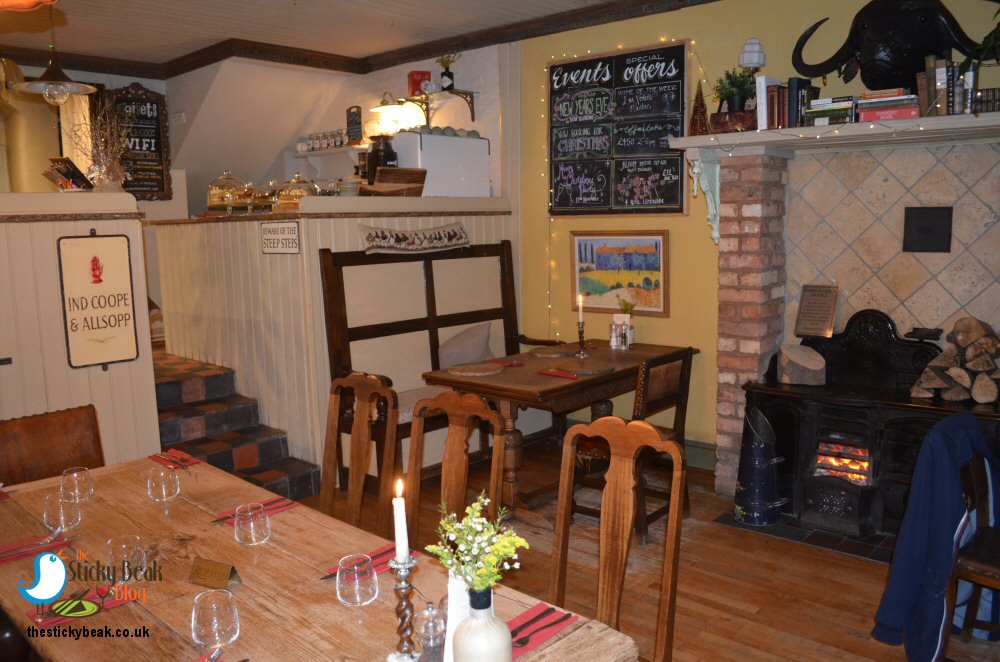 Ayesha and David make a point of using suppliers within a 30-mile radius of Wirksworth, believing it's vital to support local farmers and producers. Their motto is "Fresh, Honest, Local"; meat comes from Pig's Tale farm in Alderwasley, and salad leaves come from a grower in Kniveton. All the food is cooked fresh to order in the kitchen by Mercia's passionate Chefs, so hot dishes are just that – hot.
A brunch/ lunch menu is available Tuesday-Saturday 9-5pm, and Sunday 10-3pm; dishes on this menu change approximately every 8 weeks to make the most of seasonal produce, thereby maximising the flavour in the dishes. Dinner is available Tuesday – Saturday from 5-9pm. Children have their own menu to choose from, and this is available 9-9pm; some dishes are only available until 5pm (brunch style dishes) .You can also just pop in for a drink (and maybe some nibbles) if that's all you fancy.


We sat ourselves at a window table and ordered some drinks to kick things off; His Nibs had a bottle of Peroni and although I had wine, there is an extensive Gin menu at Mercia. On each table there was a little arrangement of fresh flowers and an elegant white candle stood proudly in its brass candlestick. Heavy cloths covered the table, upon which were placed circular marble "placemats".
We ordered some Breads, Oils and Olives to nibble at whilst we decided what we fancied for starters; for only £2.50 you get slices of Sundried Tomato and herb Focaccia, breadsticks, pots of herbed oil, mixed Olives, and a dish of Sundried Tomatoes in their oil. Fantastic value for money, and a wonderful way to get the digestive juices flowing, I think.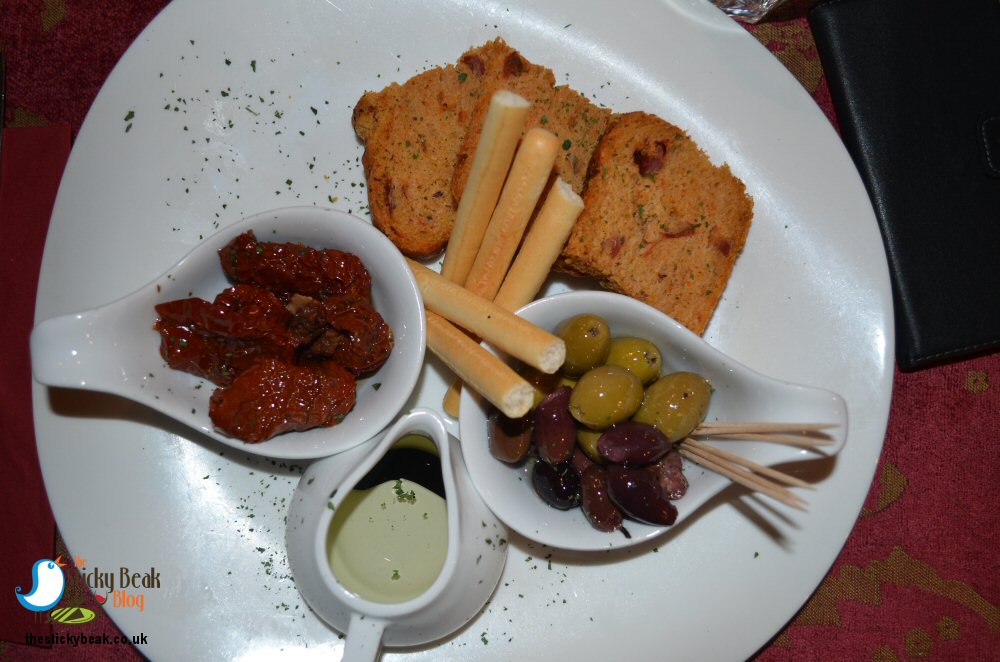 For starters, we ordered the Pan-fried Pheasant and Black Pudding, and Goats Cheese & Sicilian vegetables. His Nibs' Pheasant and Black Pudding is accompanied with a plum jus and topped with julienne Carrots and Spring Onion. The game was cooked very nicely to preserve its moistness and flavour, and a good quality, robust Black Pudding gave the dish some oomph. Texturally, a superb crunch was provided by the vegetables and both were nice and bright on the palate, as was the Balsamic glaze. The Man said it was a lovely example of a winter starter.


My Goats Cheese and Sicilian Vegetable dish was composed of a medley of Carrot ribbons and slices of Courgette that were topped with a round of Goats cheese and Pumpkin seeds, and ribbons of Courgette wrapped around it all to form a tidy little "parcel". There was a fantastic balance of flavours in the dish and I loved the nice contrast between the soft, warmed cheese and the crunchy vegetables. To me, this starter had an air of optimism to it that hinted of spring's approach not being far off.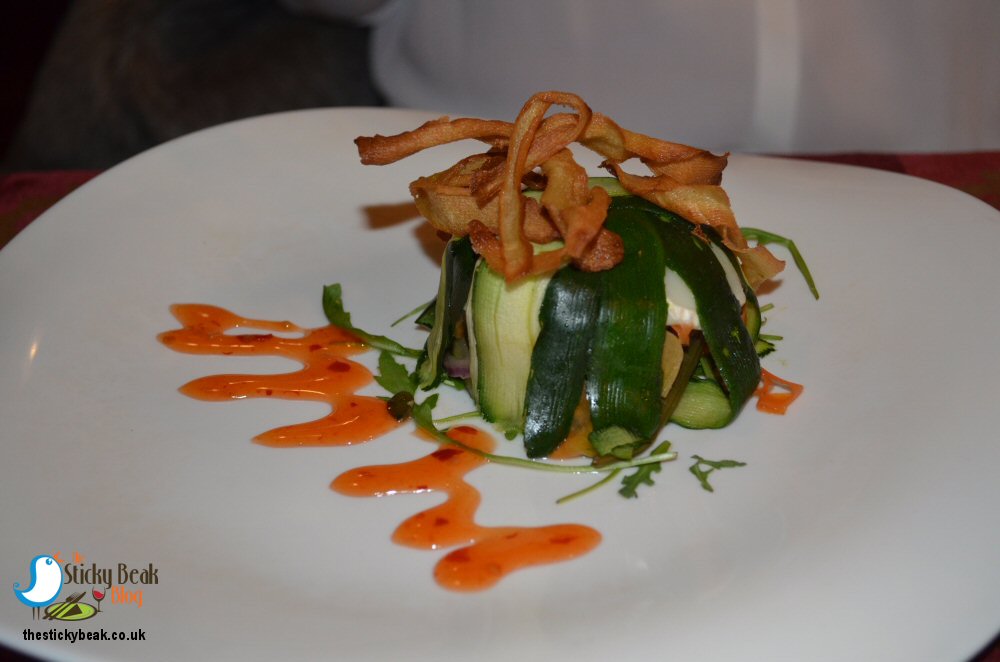 For main courses we had pan seared Duck breast (me) and the Lamb rump Tagine (The Man); His Nibs also ordered an extra side of skin on, hand cut Chips. Both dishes came out of the kitchen billowing with steam and the smell emanating from them fair made my mouth water, I don't mind telling you!
My Duck breast was a sumptuously thick specimen and sat regally atop a bed of wholegrain Mustard mash. Wilted Pak Choi gave a visually beautiful, verdant note to the plate, and the Cranberry jus had a wonderful piquancy to it. When cut into, the breast wasn't pink inside, but please don't mistake this as the meat being over-cooked (as the chap at the next table did!). Duck isn't served pink universally, and indeed not everybody likes to see pink meat.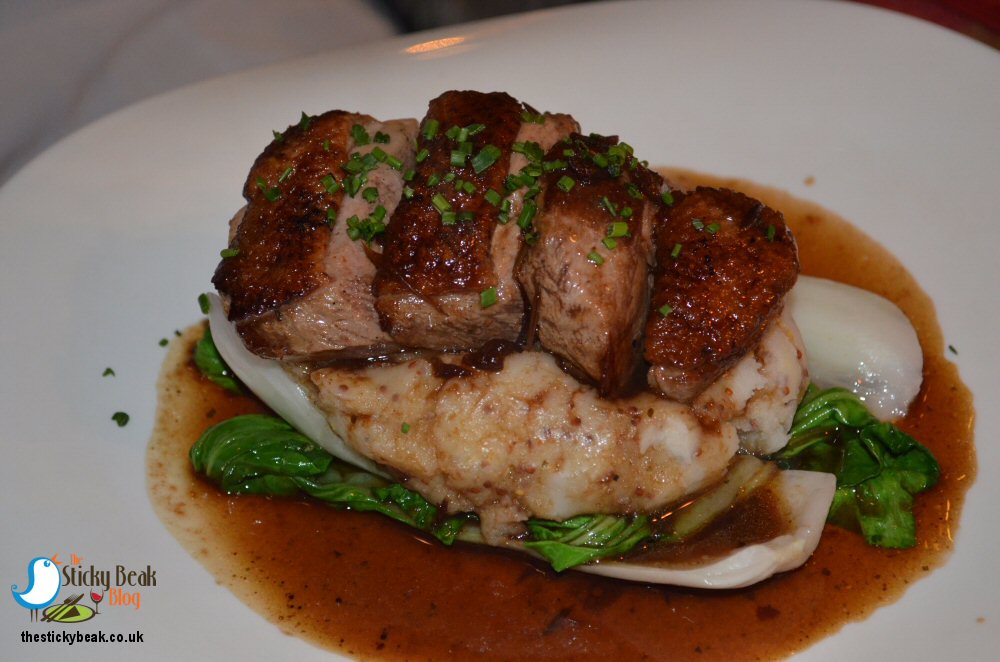 Believe me when I say that in no way, shape, or form was the Duck breast over-cooked; it was deliciously moist and flavoursome. No pressure at all was needed from my knife to cut into it, and it yielded nicely as I chewed this tender morsel. A great crunch was supplied by the Pak Choi and also by the mustard seeds within the mash; I always savour the warming "pop" that mustard seeds give when they're bitten into :)
Across the table, The Boy Wonder was tucking into his fragrant Tagine. The medallions of Lamb rump were lovely and deep in flavour, and Mercia interpret the North African influence wonderfully well with their Tagine sauce. You can't beat a thick, tomato based sauce to accompany Lamb, and the addition of Cumin and Cinnamon gave it a superb, robust edge. Softly cooked Apricots and Chick peas added a sweeter, gentler element to the dish. The meat and sauce were served with a timbale of cous cous that was layered with sundried Tomatoes and wilted spinach, to give a lovely look to the whole dish.


Good Chips appeal to everybody; there's something about them that seems to evoke warm fuzzy feelings in us all. Mercia do a spankingly good chip, it has to be said. Divinely gooey inners are partnered with crisped skin so that they have a nice substance to them that simply surrenders when bitten into. You find yourself sighing with delight; more so when you discover that the potato used also has a superb flavour of its own that can be savoured. To complete this cherubic chip is a pleasing amount of seasoning and a scattering of herbs - quite wonderful.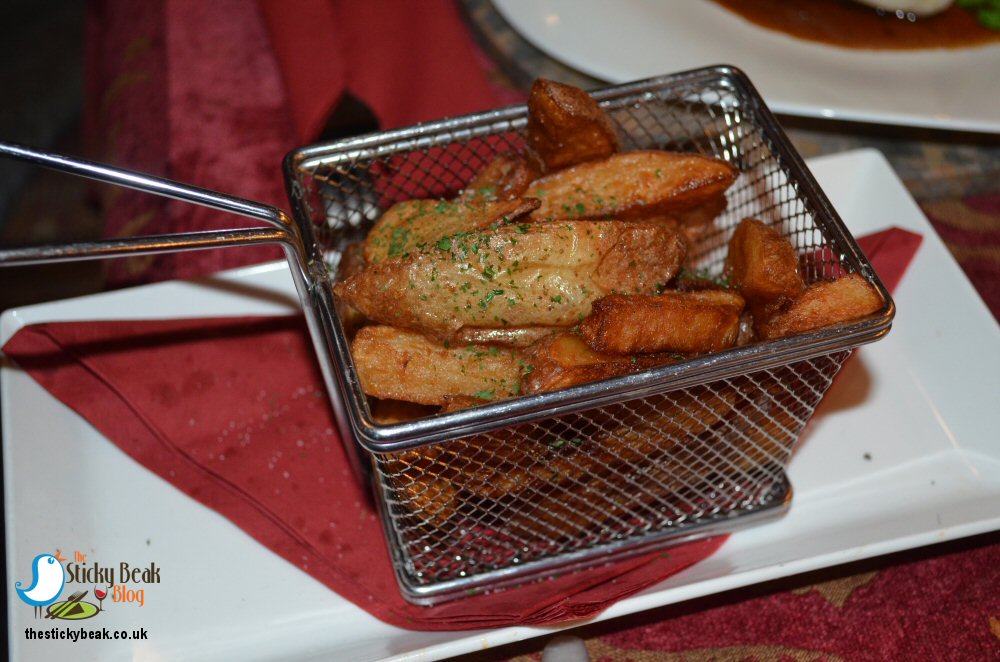 As you know, The Man Bird fancies himself quite well informed when it comes to Sticky Toffee Puddings; he's walloped enough of them down, trust me! Mercia serve their individual gooey Sticky Toffee Puds with a sticky Toffee sauce and a scoop of Dalton's Ice Cream, so His Nibs was really looking forward to sampling his dessert:)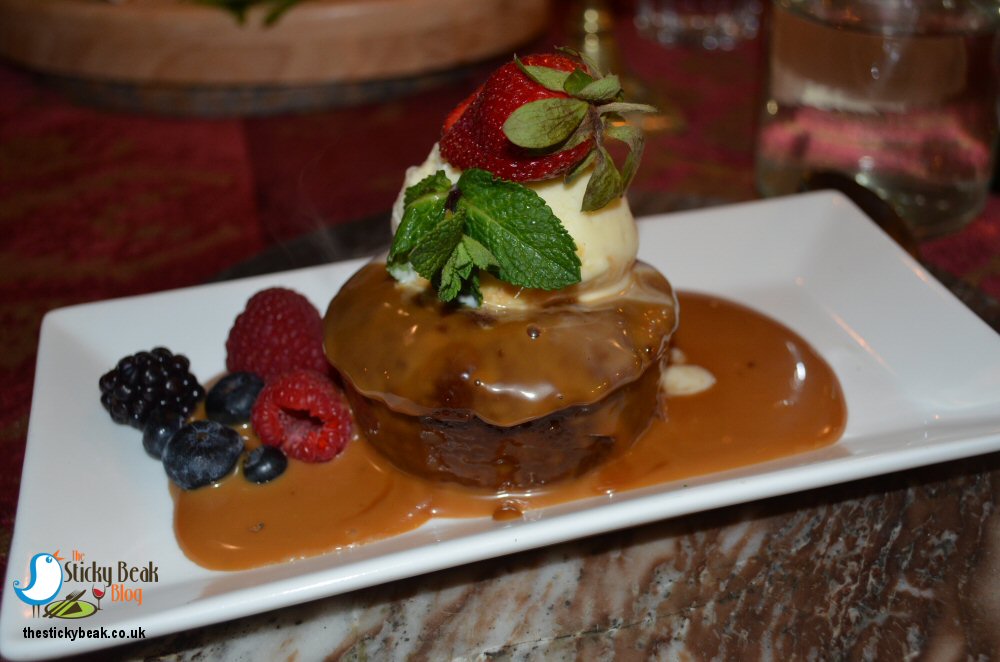 The pud was satisfying dense in texture to announce its tummy-filling capability, but wasn't at all stodgy; it was nice and moist, with a rich toffee taste to it. His Nibs' eyes lit up when he tasted the thick toffee sauce; apparently it was like molten slab toffee, so intense was the flavour. The creaminess of Daltons Ice cream added another marvellous dimension to the pud, and fresh Strawberries, Blueberries and Raspberries balanced the richness out with their zingy taste.


I love cheese and was just in the mood for the Cheese board to round my meal off, although I did skip the dram of Port that comes with it usually. There were four cheeses to nibble at, supplying an excellent variety of textures and taste strengths; I really enjoyed the cheeky little Sage-infused number I must say. Two chutneys were in separate pots; one was a sweeter caramelised Onion choice, the other a tangier, brighter fruit-based one. Sliced green Apple, Rocket leaves and a selection of crackers and biscuits completed the ensemble. My taste buds were bouncing around with excitement at the plethora of textures and flavours contained in this platter, and I was very happy with my choice.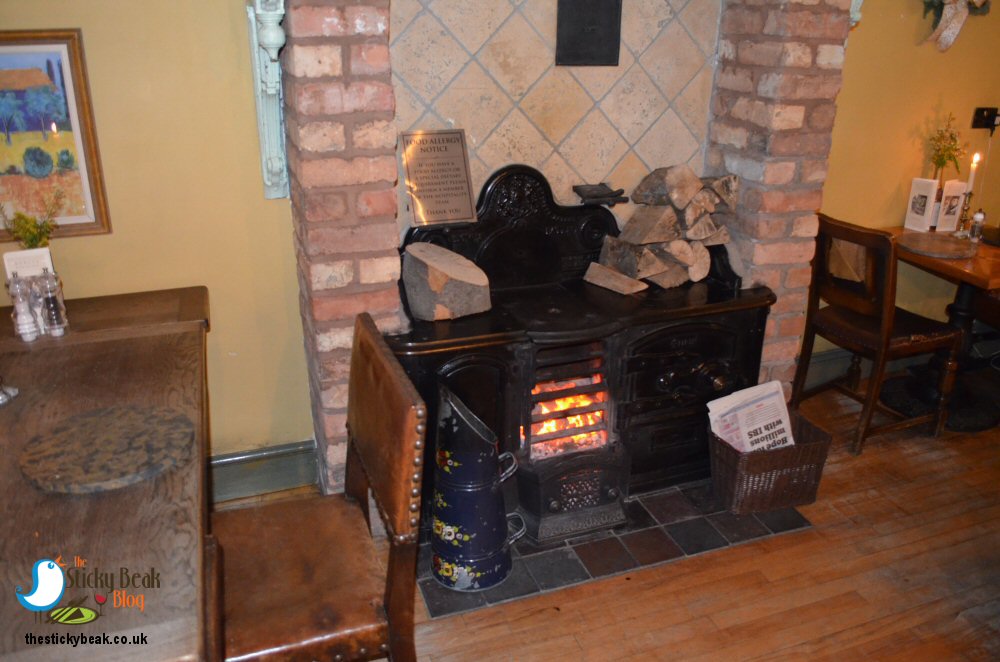 In keeping with their commitment to using local suppliers for their food, Ayesha and David use a Wirksworth coffee business for their coffee. We had a Colombian coffee to round our meal off and this had been roasted only the day before! Not going to get much fresher than that!
Whilst we were dining at Mercia there was a steady stream of diners coming in; one group was seated downstairs with us, the other group were having their Christmas Party in the hidden room upstairs. There were also several other tables of couples dining alongside us, but no children were in on this particular evening.
You don't need an excuse to visit the picturesque town of Wirksworth really, but if you did then I can heartily recommend a visit to Mercia. Hot Wings are definitely awarded here :)
Some form of incentive was provided to visit this venue
read more