Dinner At The Plough Inn, Brackenfield
Published On Thursday 18 Jan 2018 by Sticky Beak
See All Recent Reviews
The Plough Inn at Brackenfield is one of those places on our doorstep that we've been on about visiting for an absolute age, and we have finally got around to it! We did have lunch there once, a few years back when they were hosting a craft fair on their lawns, and really enjoyed it so we always said we would go back for dinner.
When I mentioned it to the Tribal Elders they said that it has had a great reputation locally in the past but they didn't know how it was recently; sounded like some investigation needed to be done, perfect excuse!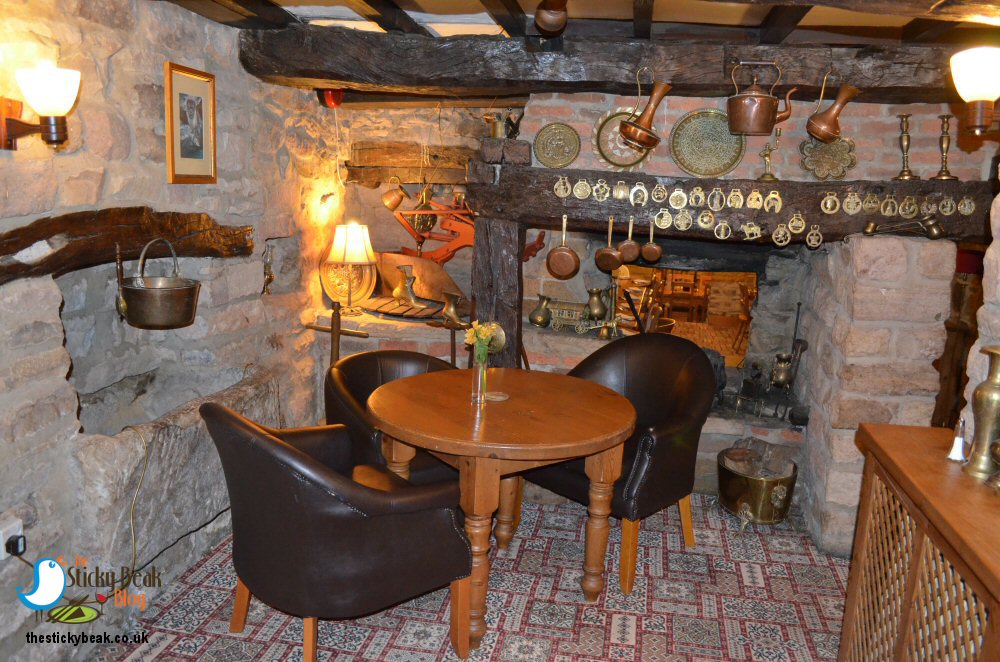 It has a very traditional feel to it in keeping with its country pub nature and the age of the premises. Stone walls, beamed ceilings, solid chunky wood tables and chairs gave a lovely welcoming feel to the interior. This cosy ambience was further added to by a traditional Burgundy, Cream and Sage patterned carpet and prints of hunting scenes on the wall; the tablemats were also of horses and hounds, and there were fresh flowers on the tables.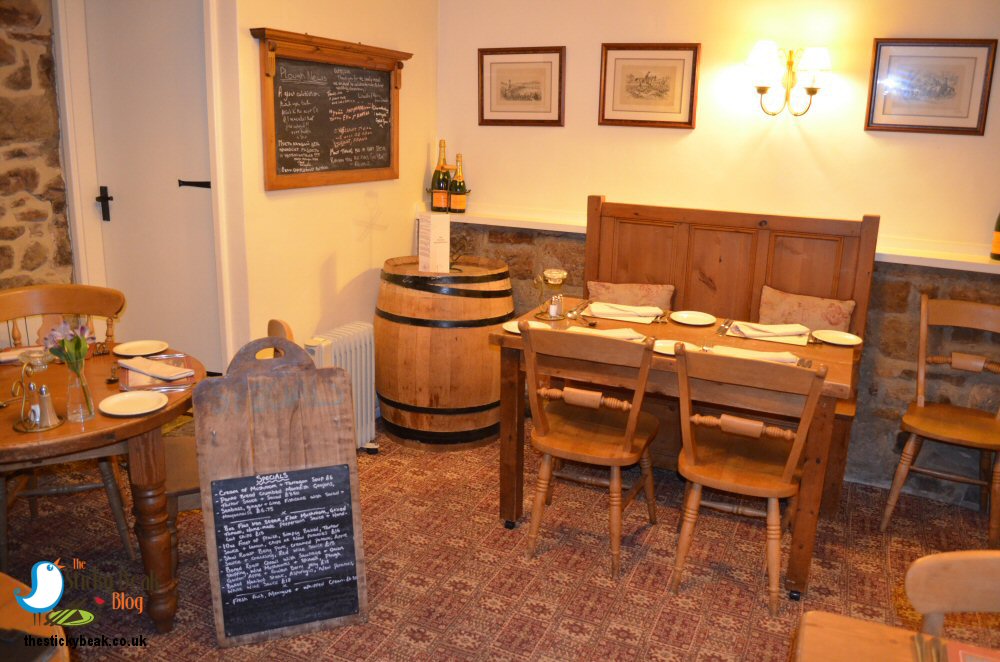 The young lady greeted us warmly and took us over to our table, bringing the wooden specials board with her. Whilst we cast our eyes over the morsels on offer a basket containing freshly baked, muffin shaped bread rolls was placed on the table for us to graze on. I love the smell of fresh warm rolls when you break them open and get further pleasure watching the butter melt and ooze on them. We sipped on our drinks (Merlot for me, a pint of Amstel for Him) and munched happily on our rolls.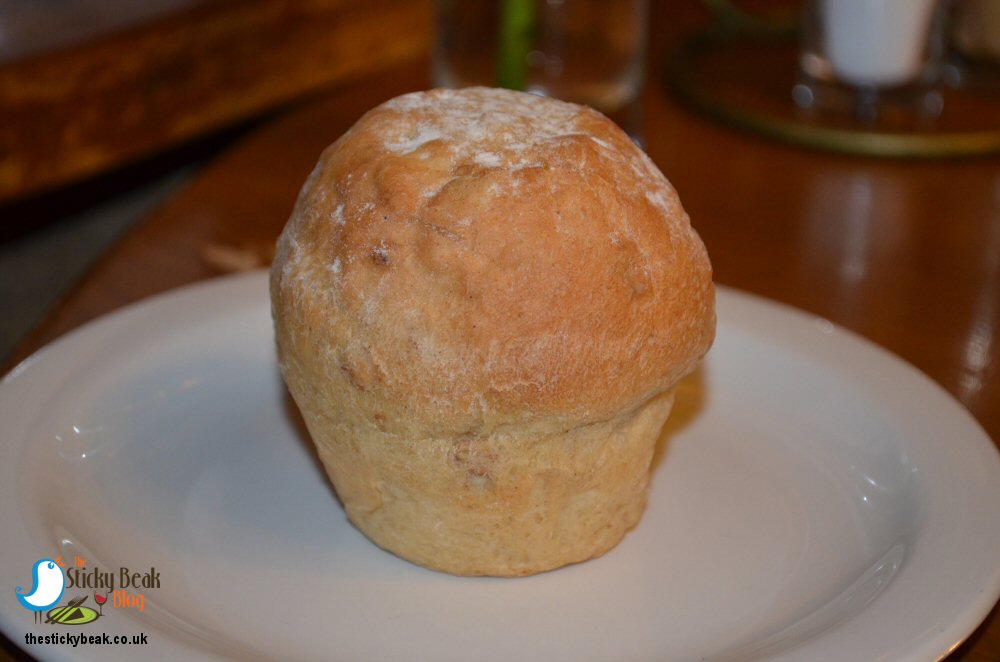 To begin our meal we both chose dishes from the specials board; I had the Seabass, Ginger and Lime Fishcake with Salad and Mayo, His Nibs had the Panko- bread crumbed Monkfish Goujons with Tartare sauce and Salad. Before long our starters were being placed before us, and they looked lovely.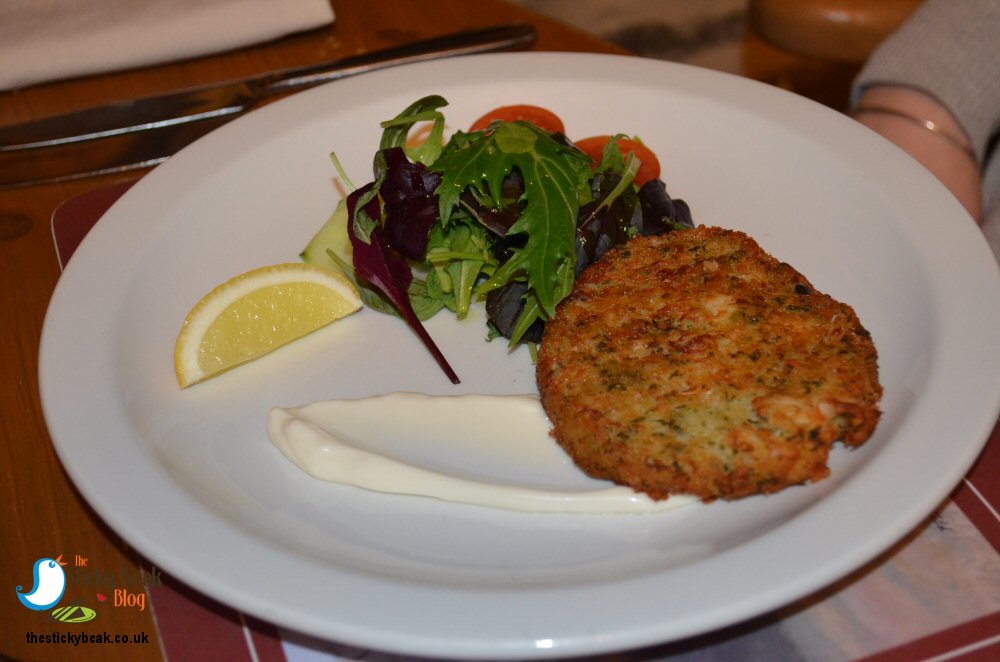 My fishcake was wonderfully textured, with juicy flakes of fish easily discernible; I don't like those completely smooth fishcakes, they seem to be just mush in the mouth, so I was really pleased to have texture to chomp at! There was a gentle Citrus edge to the fishcake and a warming Ginger hint helped to season the dish. A thin, crisp outer held the contents nicely and didn't dominate the flavour of the dish. I thought the wedge of fresh Lemon was a nice touch, and I squeezed the juice over the fishcake as I like the tart note it gives. The Mayonnaise added a pleasing creamy element to the dish.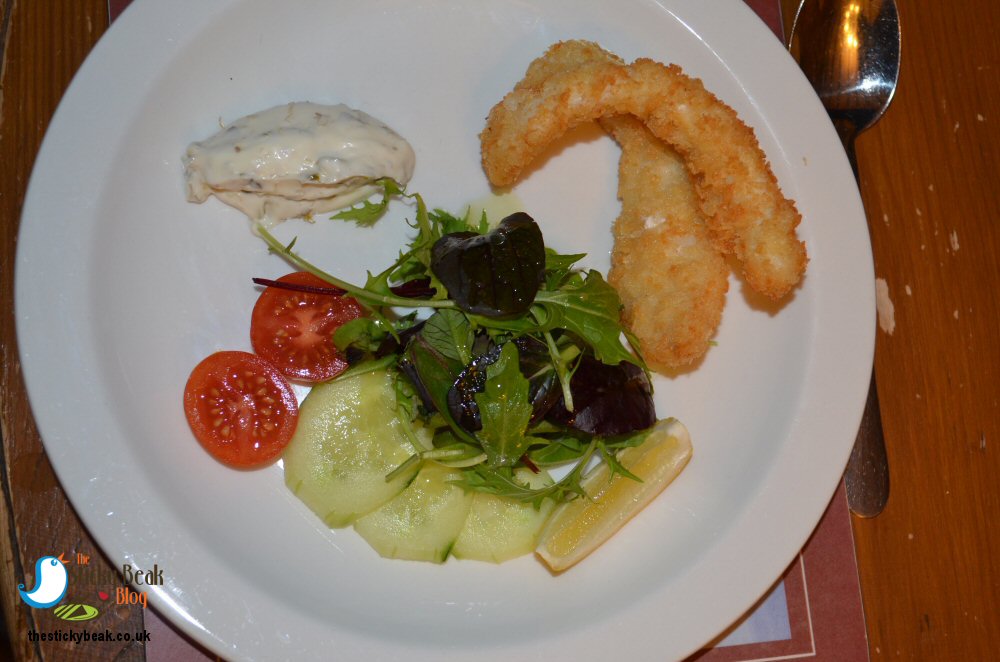 The Man Birds Monkfish Goujons were both a very generous size, taking up the lions' share of the plate they were on. Panko is noted for giving texture and crunch when used as a coating and it certainly did its job very well here; a good crunch could be heard when The Man bit into his goujons, and they weren't at all greasy. The Monkfish itself was lovely and moist, and it had held its firmness well so that it really gave something meaty to bite into; combined with a zippy Tartare sauce it really gave the taste buds some entertainment.

Both accompanying salads were a nice size and comprised of a mixture of leaves, Cherry Tomatoes, and Cucumber slices. They had been carefully arranged on the plate so that all the different colours could be appreciated by the eye, and they definitely added a super visual element to the starters.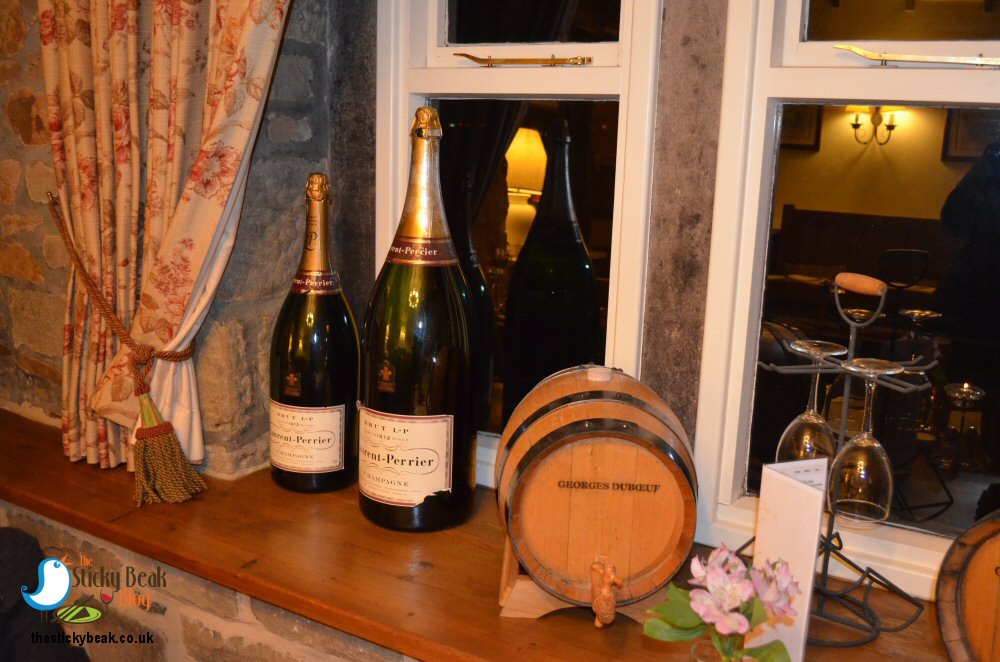 Prior to visiting The Plough Inn at Brackenfield we had had a neb at their menu online and thought we'd got our mains sorted. The delights on the specials board scuppered these plans again! The Boy Wonder fancied the sound of the 8oz Flat Iron steak with flat Mushroom, grilled Tomato, home-made Peppercorn sauce and hand cut Chips, so that's what he ordered; initially he was going to have the roast Loin of Lamb from the regular menu. I had come with the intention of ordering the Vegetable and Feta crumble Tart, but got won over by the boned Roast Quail with Sausage and Onion stuffing, Wild Mushrooms and Spinach, and Plough Inn Garden Apple and Rowan Berry jelly.


We could hear Chef bustling about in his kitchen freshly preparing and cooking our meals, and this is something the Plough team pride themselves on - cooking food fresh to order. As you know dear reader, one off my pet peeves is lukewarm food and there was absolutely no chance of our food being anything other than piping hot at The Plough Inn. Plumes of steam were issuing from both plates of food as they were placed before us, and the same applied to the bowl of vegetables that the young lady brought out for us to share. Talking of those same vegetables, there were no less than 6 different sorts to eat: Florets of Cauliflower and Broccoli, Brussels sprouts, shredded Savoy Cabbage, and Batons of Carrot and Swede; all of which had been perfectly cooked to retain their texture and flavour.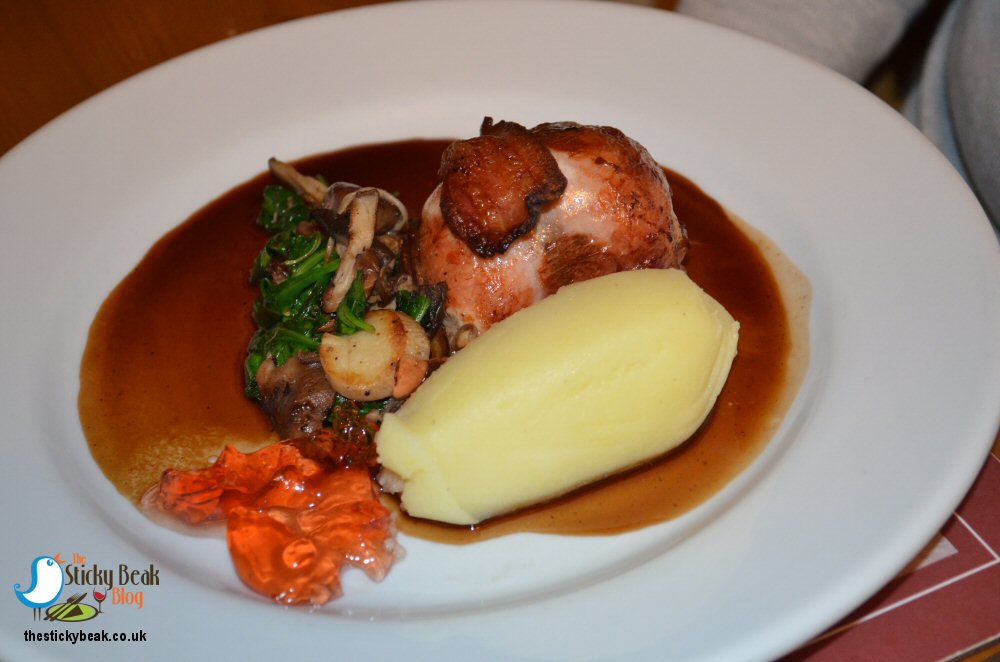 My Quail was wonderfully moist and had a superb flavour to it. Its skin had been left on, so all the natural juices were retained and lent their character to the dish. The stuffing hadn't been faffed about with, so it really was just the two clean flavours of minced pork and onion that shone through on the palate. I loved the deep earthy taste of the wild Mushrooms and the fact that there was a contrast between them and the clean notes of the wilted Spinach. Some jellies can be overly sweet and drown out other notes within a dish but the gorgeous, delicately rose hued Apple and Rowan berry version served here managed to be just sweet enough without being cloying. To say Quails are small in size their meat manages to be very satisfying; my tummy was registering its fullness quite nicely as I took my last mouthful.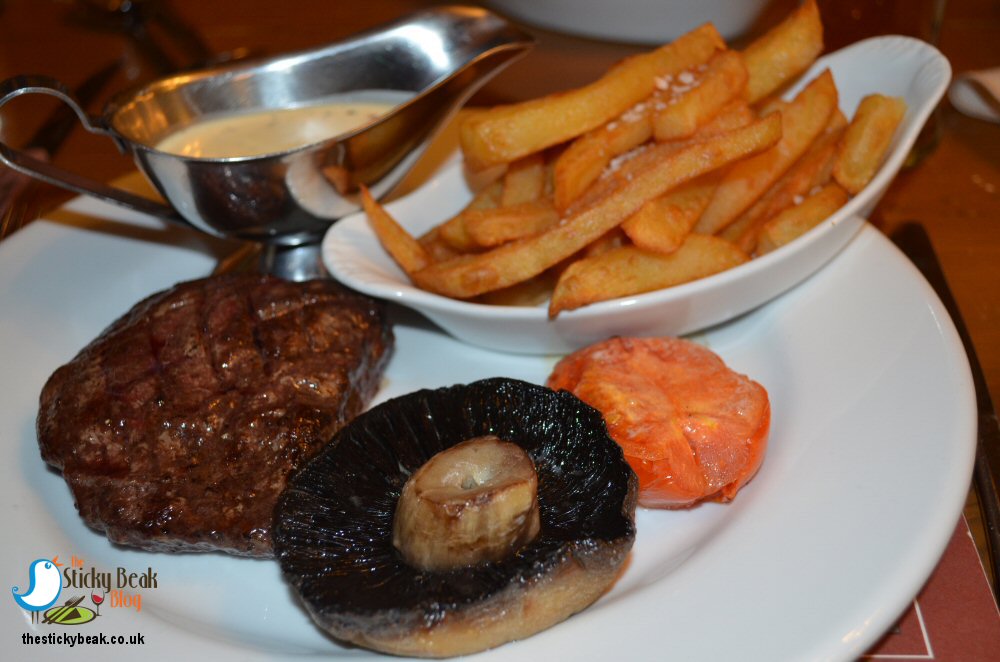 The Man Bird was certainly enjoying his perfectly medium cooked Flat Iron steak; the smile on his face said it all! It was amazingly rich in flavour and very tender - no pressure at all was needed from the steak knife. Nothing goes better with a steak than a properly grilled Tomato that's slightly softened and warm to bite into, and a juicy rich-flavoured Mushroom. Nothing, that is apart from plenty of sea-salt seasoned chunky chips; the Plough Inn Chef uses good flavoursome potato varieties, so you get their taste in the pillow soft inners of his Chips. They had a nicely crisp outer to them that held up really well when dunked into the boat of Peppercorn sauce. I had to chuckle as His Nibs was shovelling it in, saying how mild and creamy it was; as he got to the bottom of the jug the peppercorns were waiting to ambush those final mouthfuls, and he was soon puffing-and-blowing with that wonderful peppery heat!


Two clean plates went back to the kitchen and we told our server how much we'd enjoyed our main courses.
Despite it being so soon after Christmas there was no way I was passing up the opportunity to have pudding! I had spotted a traditional Rice Pudding with Jam on the regular menu, and that was what I was having. The Boy Wonder was tempted by the fresh fruit, meringue and whipped cream offering on the specials board, but the lure of the Warm, Rich Dark Chocolate Brownie and Toffee Crunch Ice Cream was too strong to resist.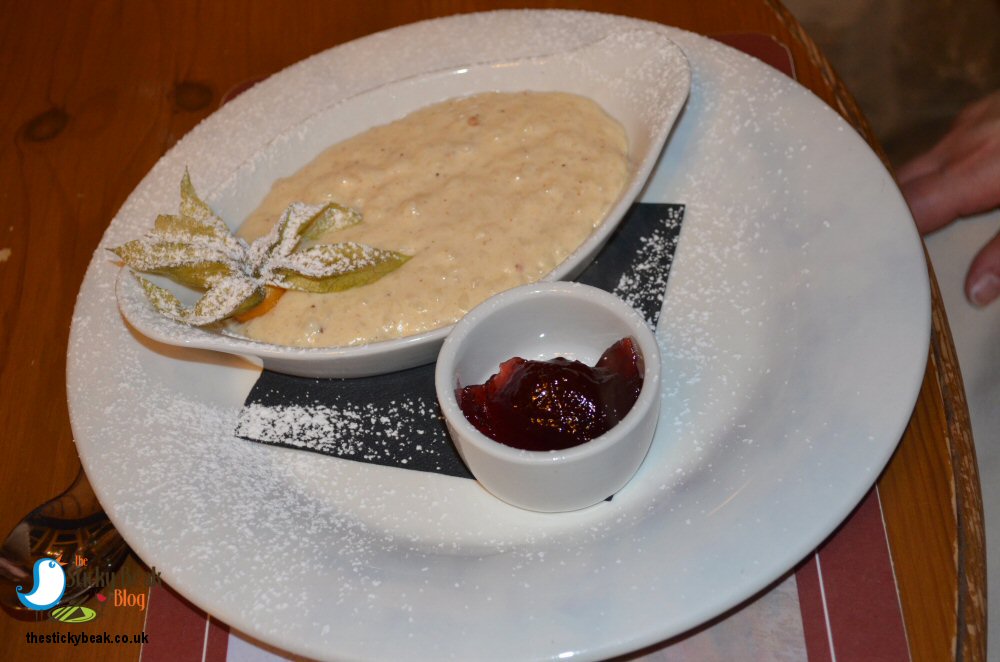 My Rice Pudding really was a traditional little number; it had a proper "rib-sticking" texture to it and a good Nutmeg taste too. The only difference from the one my Nana used to make was the absence of that much fought-over skin on top, but at least it stopped His Nibs and I quarrelling over who would have it (me, obviously!!). There was a good dollop of jam in a separate pot and that soon got plonked in the middle of the Rice Pudding; you can't beat softened, melty jam in Rice Pud :)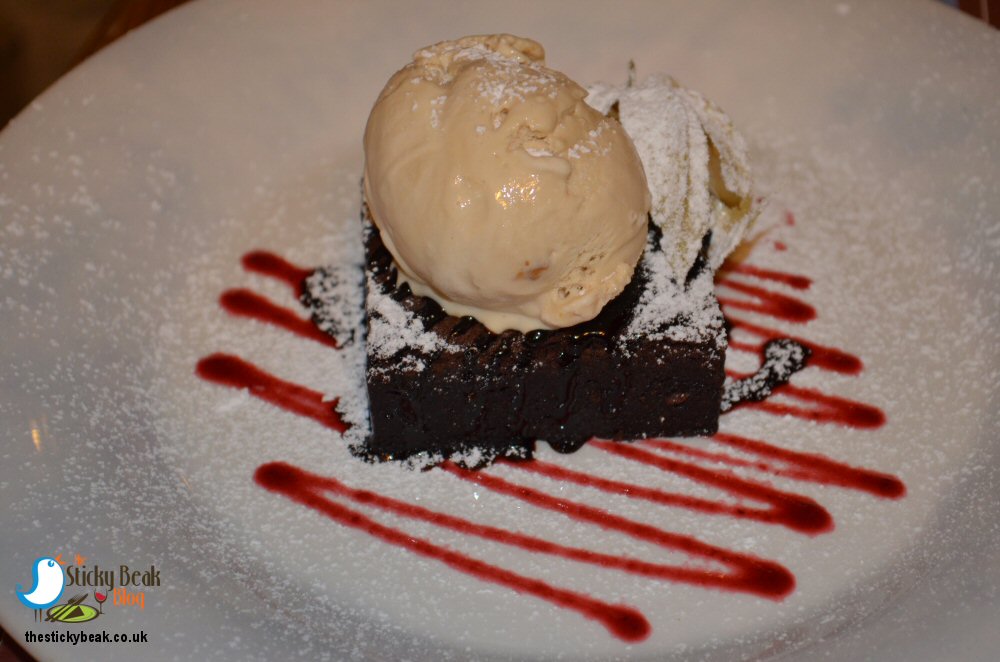 The Boy Wonder was dead chuffed with his Brownie; it wasn't claggy or cloying at all, despite its richness. The dark Chocolate satisfied the pleasure centre in my beloveds' chocoholic brain and it was gorgeously gooey thanks to being warmed perfectly. A fab crunch was provided from the Toffee Crunch Ice Cream and the toffee taste partnered the chocolate beautifully. Yet again clean dishes were taken back to the kitchen :)
We'd had a superb evening out at The Plough Inn at Brackenfield; we were kicking ourselves for not having visited sooner, but at least we had finally made it and it was well worth the trip. Hot Wings deserved here, I'm happy to say.
No incentive was provided to visit this venue
read more