Afternoon Tea At The Newly Opened Patisserie Valerie, Chesterfield
---
Published On Sunday 7 Jan 2018 by Sticky Beak
See All Recent Reviews


Patisserie Valerie in Chesterfield closed in July 2019
The New Year is starting on just the kind of note I like; filled with food!! As you know dear reader, I swear by the "see food" diet, and this was the perfect example of a balanced diet too with both savoury and sweet elements included.
I am of course talking about the quintessential Afternoon Tea and where nicer to go than the newly opened Patisserie Valerie in Chesterfield? His Nibs and I were kindly invited along to sample the cuisine, so we treated Mummy Bird and Chickadee to their Afternoon Tea experience and combined it with a spot of retail therapy beforehand :)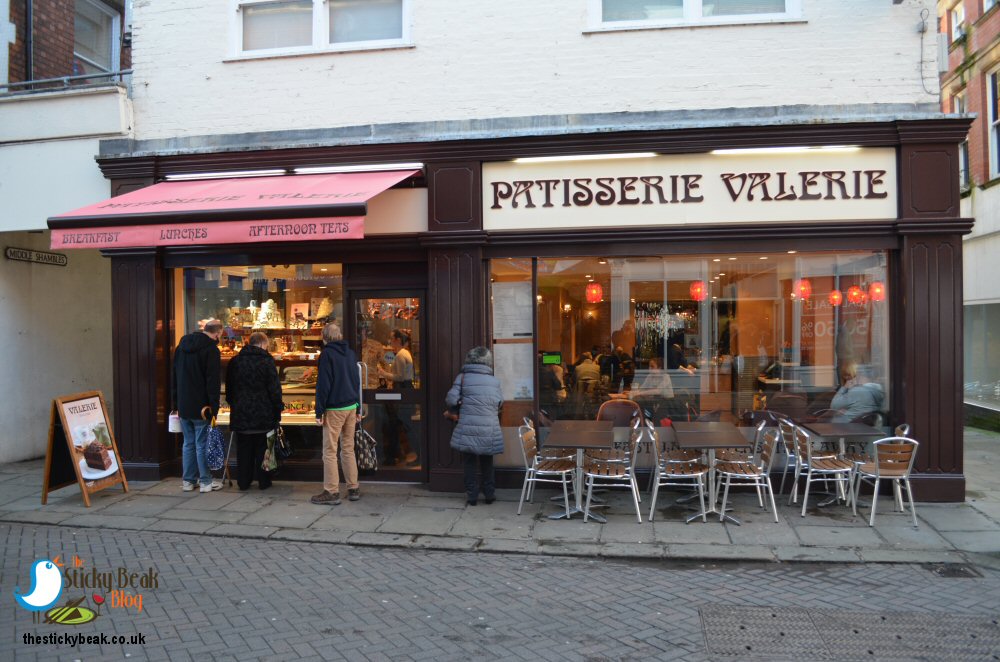 It was super-busy when we arrived, but we didn't have too long to wait and we managed to snag the very swanky, burgundy upholstered corner table complete with mirrored wall and black shaded glass chandelier. Result!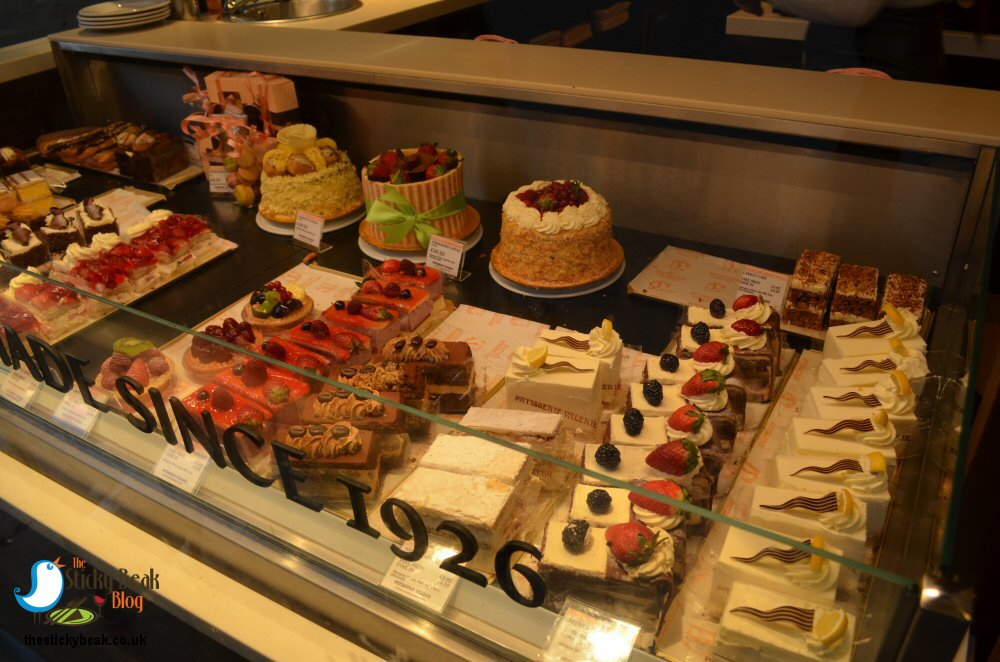 Patisserie Valerie was established by a Belgian lady called Madam Valerie, determined to introduce the British to fine Continental Patisserie and style. To this day, the quality and style remains true to its beginnings, and you can definitely see the continental influence in the Chesterfield premises.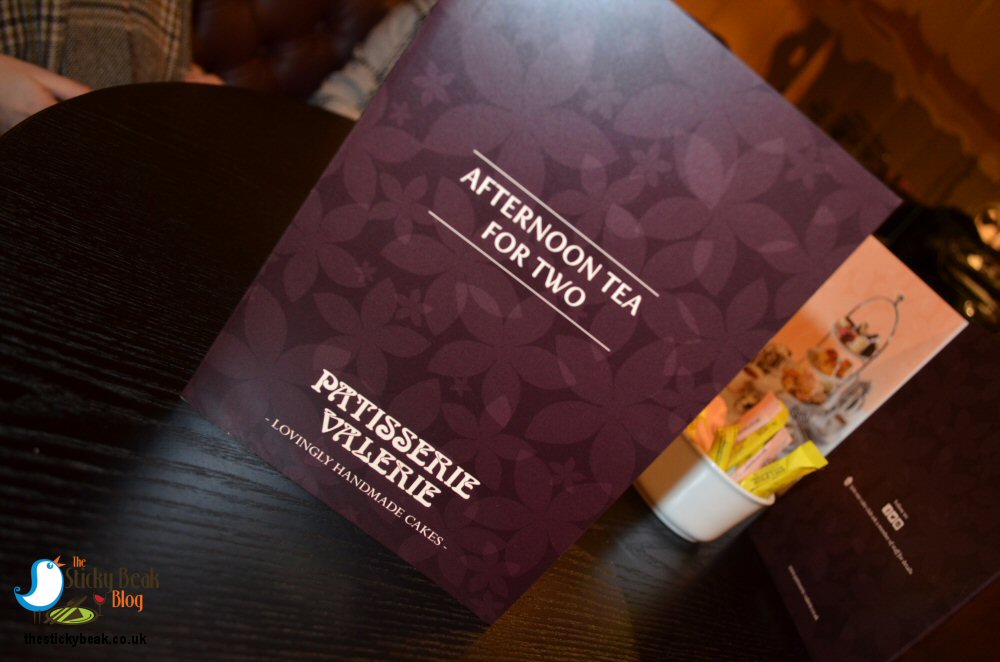 The staff members are all uniformed in monochrome outfits and have a wonderful calm manner about them. All through the afternoon we were treated like royalty and time seemed to slow down to a more refined, genteel pace. It isn't just cakes, pastries and Afternoon Teas that you'll find at Patisserie Valerie; they serve everything from continental breakfasts, lunches and even dishes for those wishing to grab an early dinner after work (Chesterfield is open Monday-Saturday 8.30am-6.30pm, Sunday 10am-5.30pm).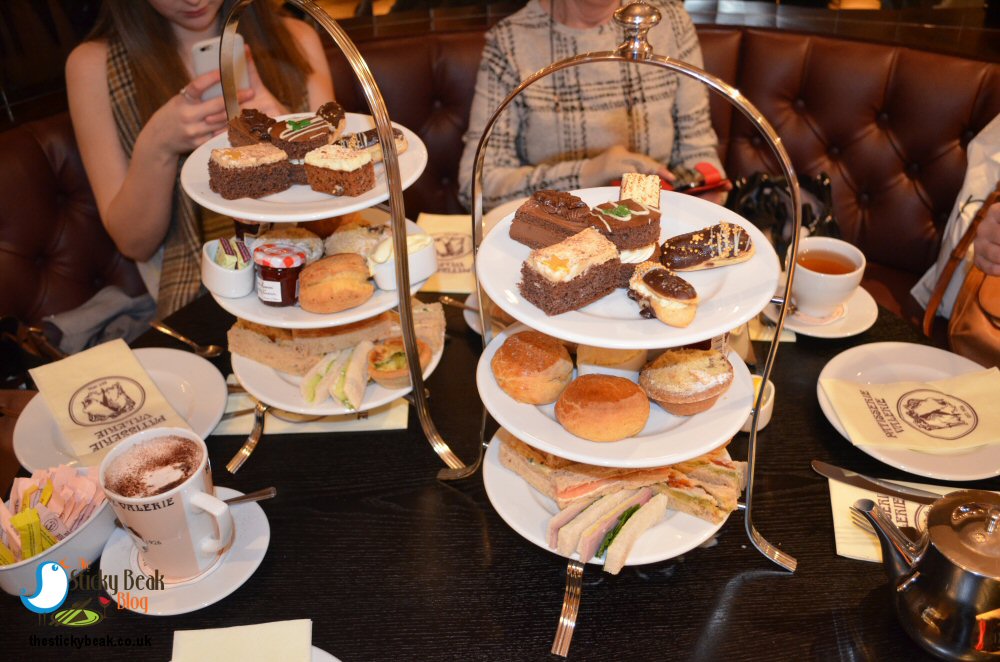 I mentioned that the premises were very busy and almost every table (it seemed) had opted to have the Afternoon Tea. As a result, they had run out of "normal" cake options, so we had the Festive Afternoon Tea selection for our sweet treats but the sandwich component of the regular version. We all thought that everything was delicious, whichever menu it came from!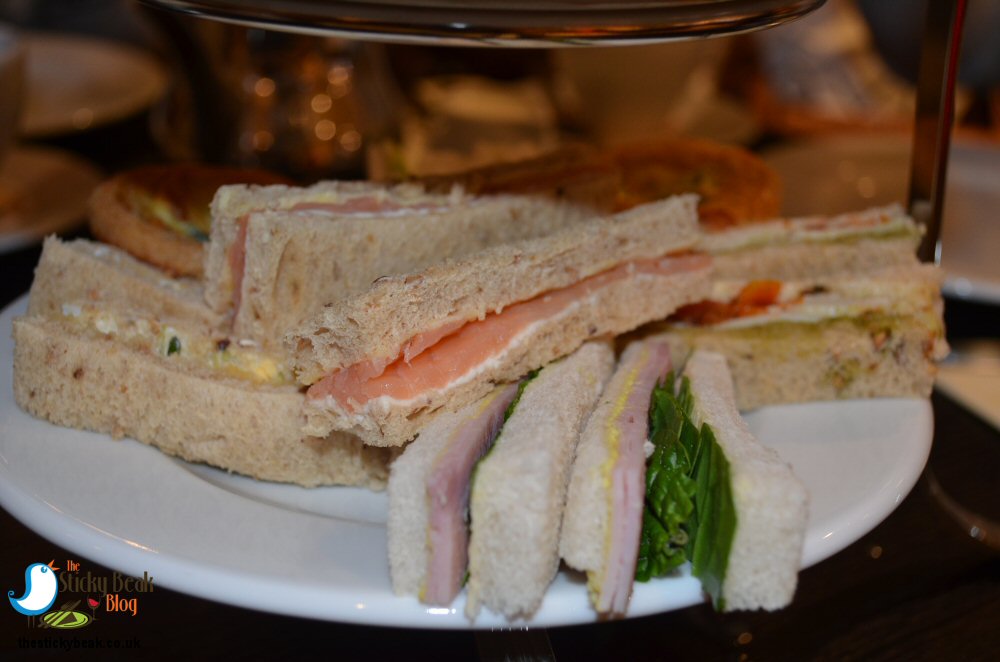 Every respectable Afternoon Tea serves Cucumber sandwiches and these were eagerly tucked into by Mummy Bird and me, whilst Chickadee was chowing on the Egg Mayonnaise ones, and The Man was snaffling the Ham, Spinach and Mustard ones. Another thing Mummy Bird and I have a particular fondness for is Smoked Salmon, so the Smoked Salmon and Cream Cheese finger sandwiches had our names all over them! Meanwhile the Chicken, Pesto, and Sunblazed Tomato morsels were being given very good accommodation in His Nibs' and Chicks' tummies :)

We were all smitten with the lovely warm, mini Vegetable Quiches; the pastry on them was sublime and melted on the tongue instantly – pure heaven.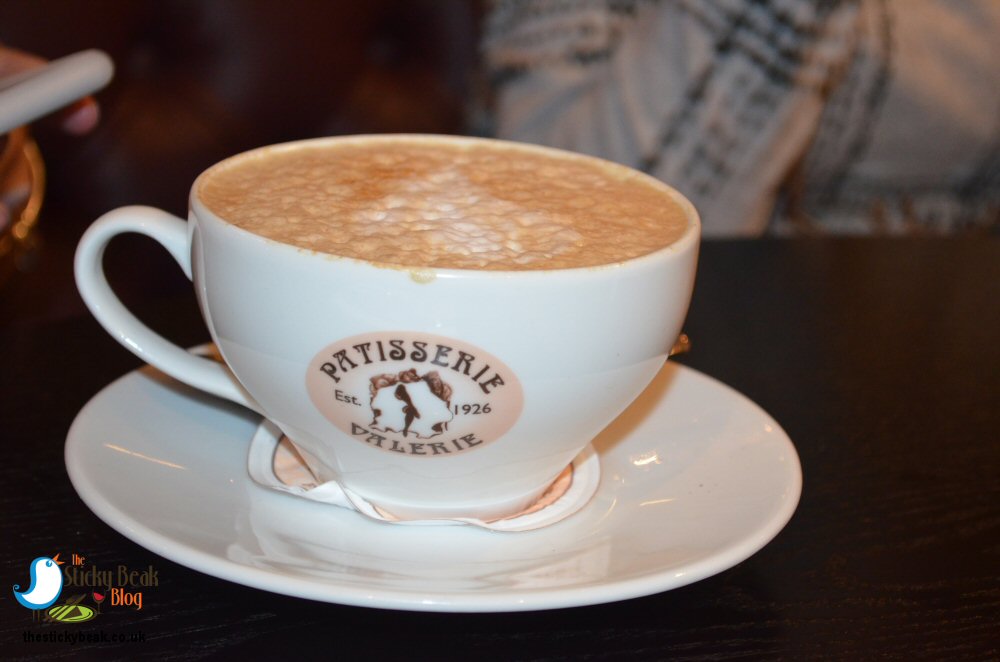 I seriously can't wax lyrical enough about the patisserie section of the afternoon tea; given that Patisserie Valerie have built their reputation on cake excellence, it will come as no surprise to hear that "douze points" was awarded from the UK judging panel. In particular, the mini double chocolate mousse slice was divine, and the crumbly, warm mini mince pie was enthusiastically received. Another cornerstone of a classic Afternoon Tea is the inclusion of scones with Jam and Cream, and the team at Patisserie Valerie certainly don't skimp on the amount of Clotted Cream they serve!


One thing we loved about the Patisserie Valerie Afternoon Tea is the fact that Teas, Coffees and Hot Chocolate is unlimited and you can swap and change as you fancy, rather than having to stick to one choice of beverage. Surprisingly, The Man Bird had Hot Chocolate with his food; I couldn't tell you the last time he had this, normally he is a self-confessed coffee fan.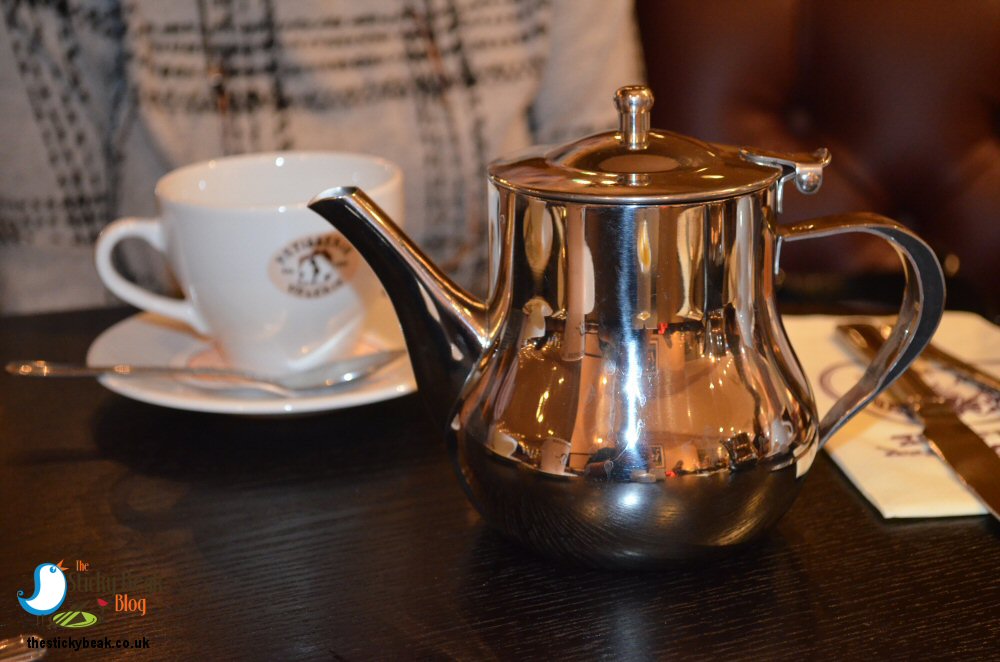 Before we knew it, a good couple of hours had passed and the daylight was slipping away. As we stood up, a collective "stuffed tummy" sigh came from us all, and grins lit up our faces; yep, it had been a fantastic experience for us all :) Our servers really couldn't have done enough for us, and this attention was given to everybody in the venue. If you haven't been before, it is well worth ditching the diet for (just for the day!).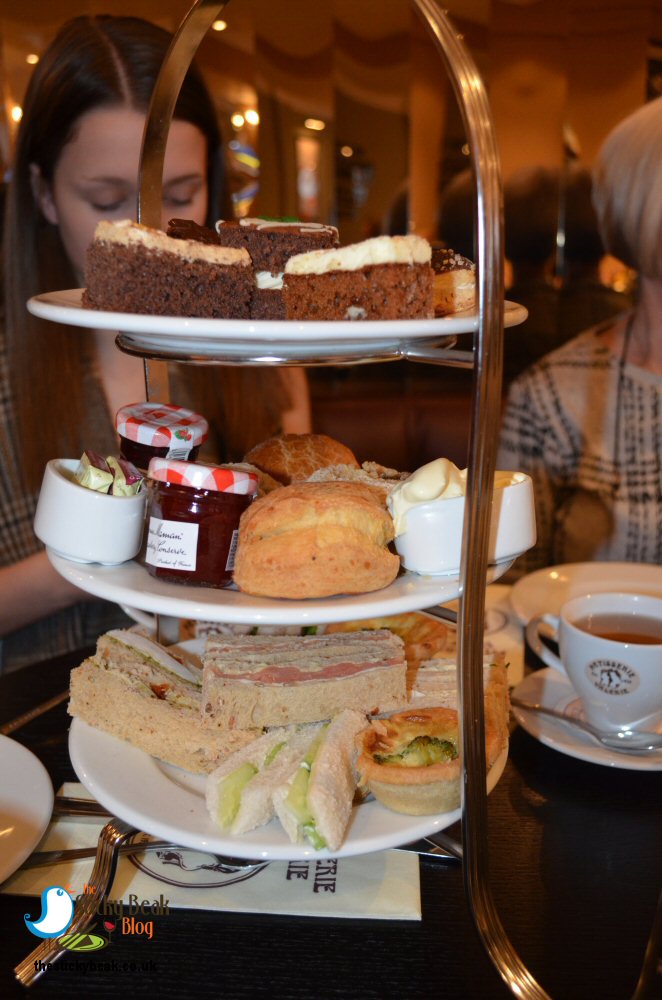 At the time of writing (January 2018) Groupon have an offer for Afternoon Tea for two people at Patisserie Valerie for £19, instead of the usual £25, so it's the perfect excuse to sample it for yourselves dear readers J Hot Wings very well deserved by the Chesterfield wing (no pun intended) of the Patisserie Valerie team!