Sunday Lunch At The Old Bell Hotel, Derby
Published On Saturday 16 Dec 2017 by Sticky Beak
See All Recent Reviews
December has got off to a flying ('scuse the pun) start for The Man Bird and I; after Friday's private chef experience we were making our way down to Derby for Sunday Lunch at The Old Bell Hotel. One of my favourite things in life is a traditional Sunday roast and all the trimmings, and to be honest I like pretty much any meat so I'm easy to feed!
His Nibs and I have eaten in the upstairs of the Old Bell Hotel, in The Belfry Steak house (very tasty meal) and also at Zest for fine dining, so you don't need me to tell you again all about the fantastic history of the building. What I will say though is that The Old Bell Hotel is equally stunning. When you step inside it's as if the hustle and bustle of the modern world has halted completely; as I looked out of the leaded windows and watched the people scurry by, it seemed far removed from the moment I was experiencing. The wonderfully cosy, olde world ambience comes from the high, wooden beamed ceiling, exposed brickwork, and a floor comprised of flagstones and solid wood.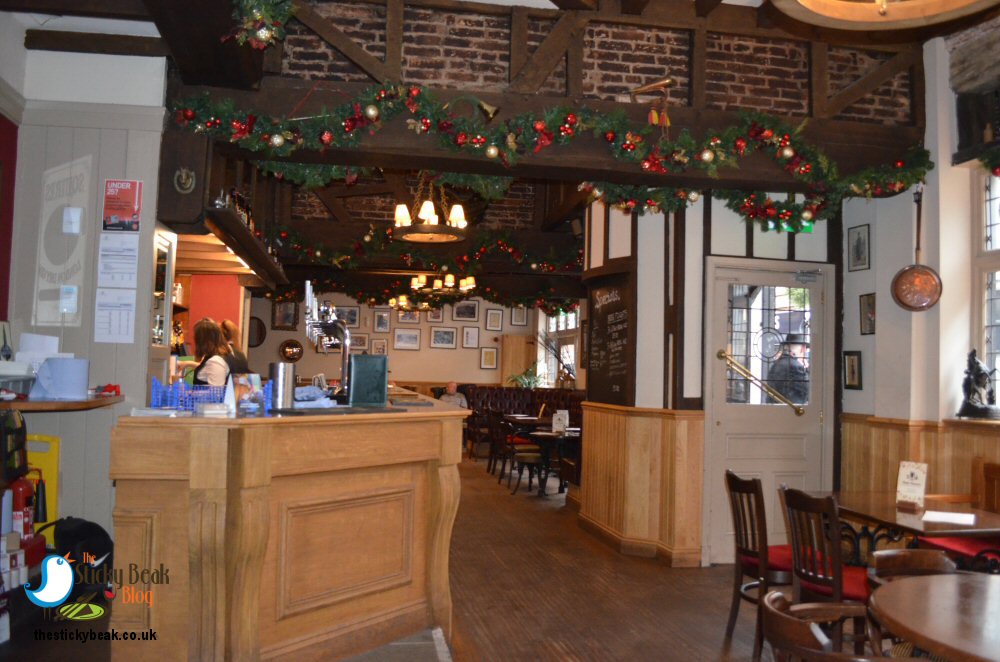 The bar area has been sympathetically fitted out to be in keeping with the rest of the room, and stocks every drink known to man (well maybe not actually, but you get what I mean!). We approached the bar staff and were greeted warmly and asked what we'd like to drink before being taken over to our table.
Rather than offer a Carvery Sunday lunch, which is available in a plethora of venues, the team at The Old Bell Hotel have chosen to do a plated Sunday roast with your usual restaurant dining table service. There was a choice of three meats, a vegetarian option, and Roast Cob for those that want something a little different; the Sunday roast is served between Noon and 5pm. The Boy Wonder went for his favourite Topside of Derbyshire Beef (served pink) with Sausage and Sage stuffing, crispy roasted Potatoes, seasonal vegetables, Yorkshire pudding, and pan gravy; I had the roasted 8oz Lamb rump with Sausage and Sage stuffing, Roasties, seasonal veg, Yorkie, pan gravy and green sauce.


When our meals were brought out the meats, Yorkie pud, stuffing, mashed Potato, Roasties and pan gravy were on the plate; the seasonal vegetables were on a separate platter along with more gravy in a jug.
His Nibs' plate was crammed with numerous slices of perfectly medium beef topside, which he said was wonderfully moist and bursting with flavour. My own Lamb rump had been cut into lovely thick slices which nestled cosily next to each other as they showed off their rosy middles; the meat was ridiculously tasty and super-moist, and it melted on the tongue.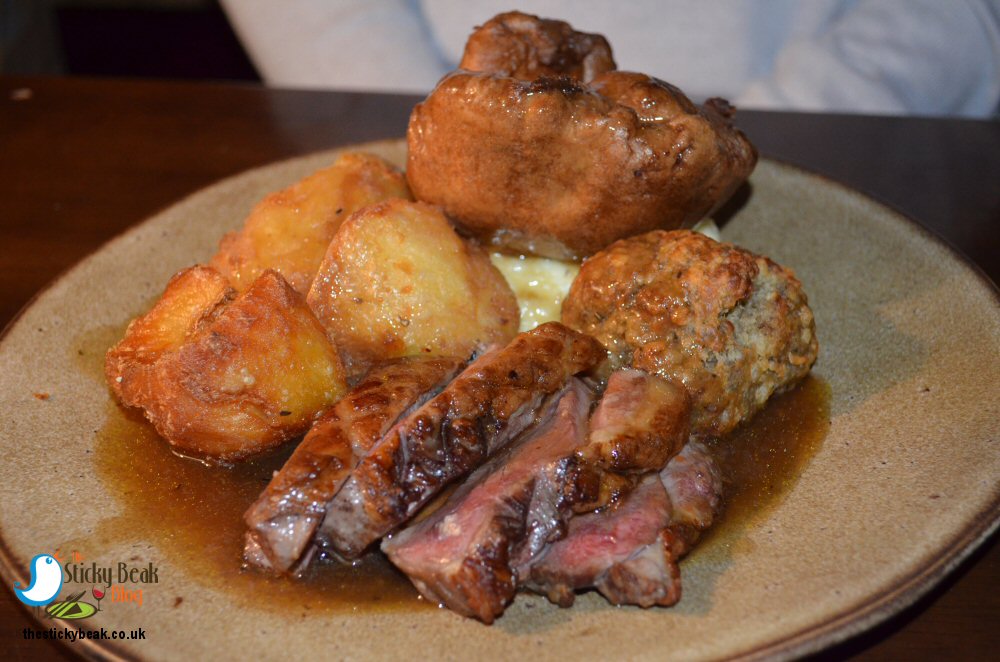 The mash was deliciously creamy and smooth, a complete contrast to the Roasties which had perhaps the thickest, crunchiest outers I've ever seen! And the size of the Roasties was breath-taking - they were ma-hoo-sive! One of the cornerstones of a fabulous British Sunday roast is the humble Yorkshire pudding; this morsel can literally make-or-break a dining experience. Luckily the one at The Old Bell Hotel ticked all the boxes: high rising, crispy outer, and pillow soft, feather light inner, and no stodginess at all.
Stuffing is something that families either include or omit from their domestic roasts; My Mummy Bird for instance only serves stuffing when it is Pork for lunch, Beef and Lamb are left bereft of this item. Lovely large balls of Sausage and Sage stuffing accompany all the meats served at The Old Bell Hotel and the outside had a nice crisp layer to it that was thin enough to bite through easily, but thick enough to make its presence known. It had a very satisfying depth of flavour and seasoning to it, making it a standalone item to be appreciated on the plate in its own right.


Winter is simply the best season to serve spiced Red Cabbage and the version that came from The Old Bell Hotels Kitchen was fabulously warming and nose-tinglingly tinged with Cinnamon and Clove. Another dish held buttered greens: button Brussels sprouts, Peas, and Broccoli florets - I scoffed all the sprouts because The Man doesn't like them (personally, I LOVE them). When lady luck shines..... :) The final vegetable dish was a marvellous Cauliflower Cheese bake that oozed class from every mouthful. The cheese was nice and mild with just enough creaminess to it to make it rich but not claggy when eaten, and the Cauliflower still had a lovely amount of firmness left to it. In fact,

I have to say that all the vegetables were cooked wonderfully well to preserve their natural texture. The only thing I missed about my meal was Carrots - they're one of my favourite vegetables so their absence was noticeable to me. On reflection though, there was more than enough on my plate already without them, so it was perhaps my waistlines' (non) gain that they weren't served!


We looked at the dessert menu that was printed out on the table, but our lovely server said that they were offering desserts from The Belfry Steakhouse's kitchen on this day, so we studied that too. We settled on Salted Caramel Roulade with Rum and Raisin Fudge for me, and The Boy Wonder had White Chocolate and Honeycomb (deconstructed) Cheesecake with Winter Berry compote; both of these are The Belfry offerings.
The cheesecake was decadently rich and satisfying; a buttery crumb base had a generously deep layer of the White Chocolate and Honeycomb confection on it, and zingy fruit compote was placed in opposing corners of the wooden serving platter. His Nibs was thrilled with the creaminess of the White Chocolate, and was very pleasantly surprised by the fact it didn't lay heavy in his tum for something that was so indulgent. Sometimes cheesecakes can be overly sweet, but the compote's tartness counter-acted this brilliantly.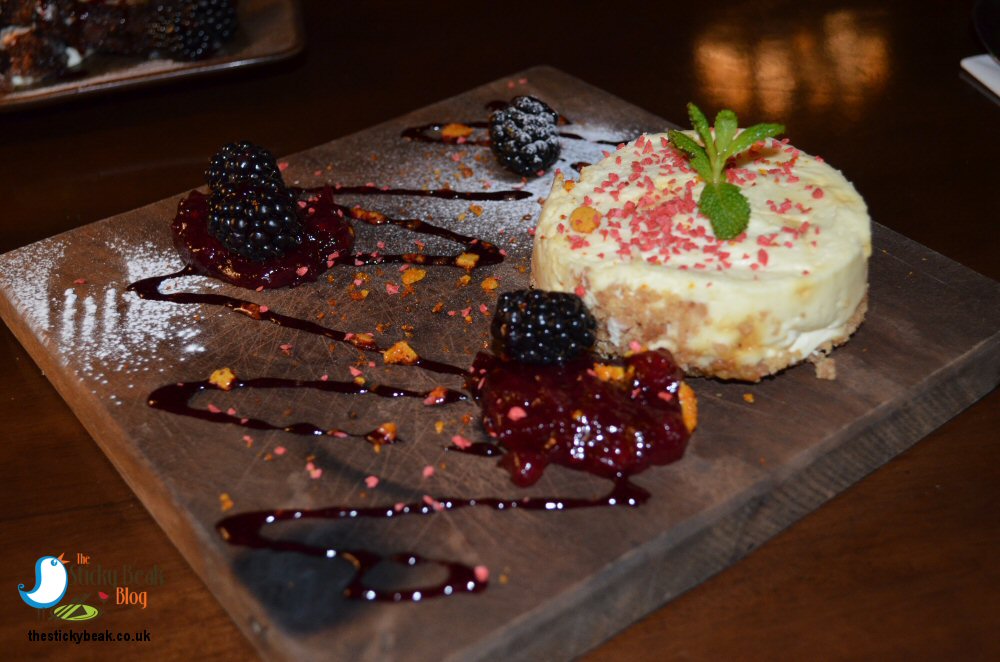 My roulade was delicious in every way. The light, airy Salted Caramel sponge was interspersed with fresh whipped cream and the two elements worked wonderfully well together, not only in their different textures, but also in the balance of their proportions. With puddings, too much cream can dilute other flavours and make a pud a bit bland, and too little just seems stingy in the mouth.

The addition of Rum and Raisins was a genius idea – props to the Chef! Dark Rums, Brandy, and Whisky all have magnificent belly-warming properties which is just the ticket in winter if you ask me. So, the raisins had had a generous sousing in Rum and their heat was most welcome in my tummy. Let's just say that there wasn't a single crumb left on my plate – even if you'd put it under an electron microscope you wouldn't have spotted anything :)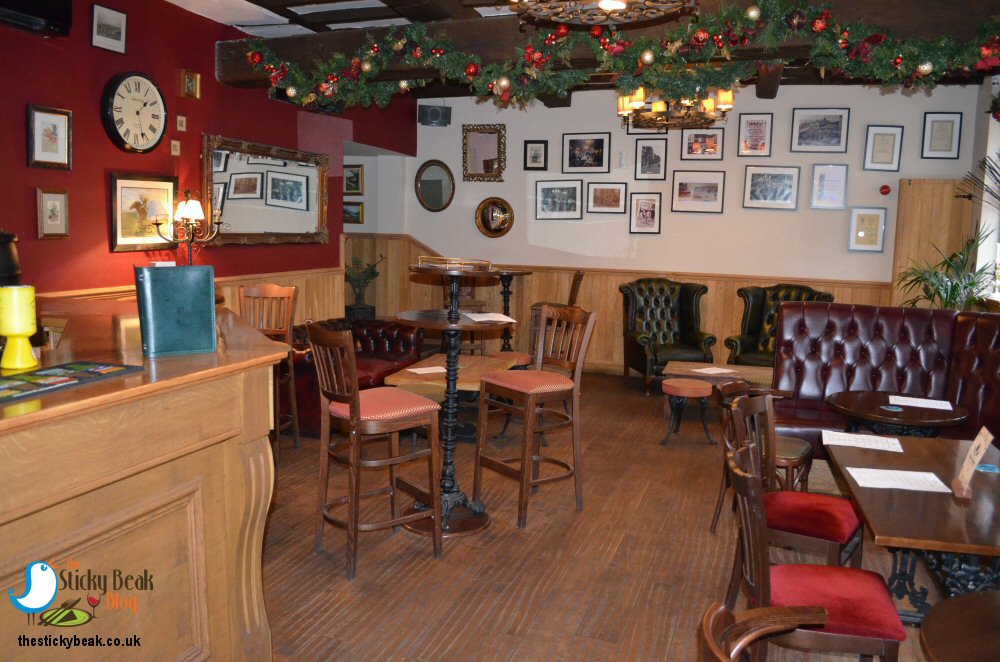 We left The Old Bell Hotel feeling very happy and content; every aspect of our experience there had been lovely. If you haven't been before and fancy a home-from-home plated Sunday Roast, this is well worth a visit - but do take your appetite (and don't faint at the size of the Roasties or the Yorkie!). Hot Wings for the team at The Old Bell Hotel :)
Some form of incentive was provided to visit this venue
read more