Christmas Caribbean Style at Turtle Bay, Derby
Published On Thursday 23 Nov 2017 by Sticky Beak
See All Recent Reviews
We've all wished we were somewhere nice and warm, when our own weather is anything but, haven't we ? Luckily The Man Bird and I were allowed to imagine we were in the Caribbean, thanks to the team at Turtle Bay in Derby; they've launched their Caribbean Christmas menu and invited us along to sample its delights.
We literally sat under a sky full of (pop) stars, as Shannon escorted us to our table on the elevated deck which has a funky ceiling of suspended vinyl records. The first thing to sort out was some cocktails as it was 2-4-1 until 7pm - bonus! I opted for the Marley Mojito, and His Nibs had the Classic Mojito.
The Caribbean Christmas menu is available 11.30am-11pm, from 13th November – 31st December 2017 (excluding Christmas Day, when all restaurants in the chain are closed) and is priced at £24 pp for 4 courses. Don't bother trying to get in on any Friday or Saturday evenings as there are NO SPACES left. Sunday-Thursdays are still available though and it's up to you whether you want to ring ahead and reserve a table or chance it and just turn up. Personally, for groups of 6 or more I would ring ahead - but that's just me :)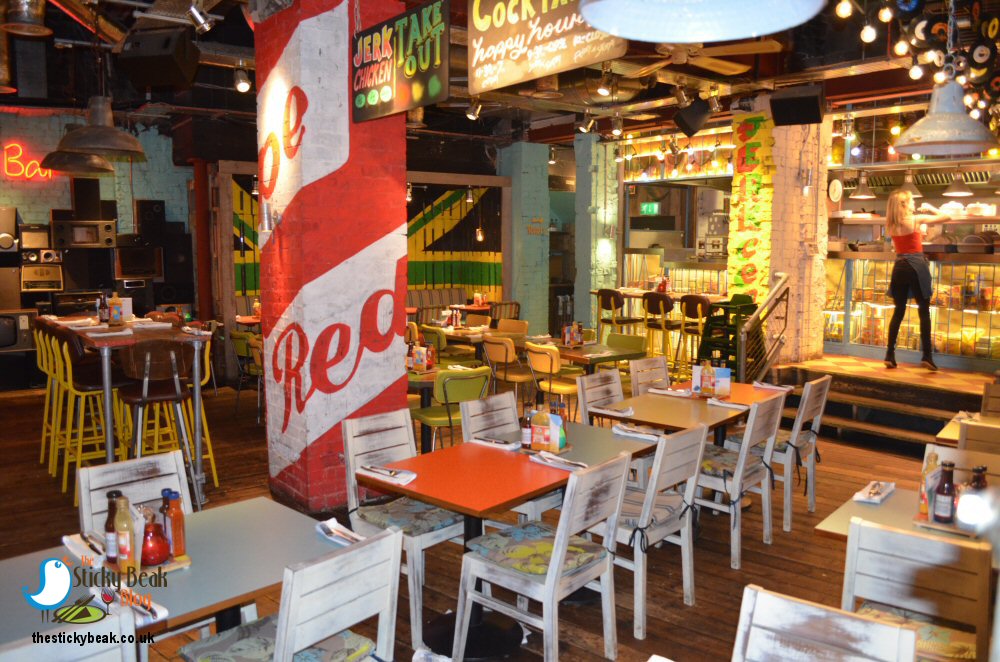 Shannon brought out our arrival nibbles which keep hunger at bay whilst you peruse the rest of the menu and make your choices. The platter laden with Garlic n Herb Flatbread, Trini Chickpeas, and Spicy Pork Rinds looked and smelled amazing, and we both pounced eagerly on the assorted morsels.
We were both surprised by how light and fluffy the Pork Rinds were; I guess we were expecting something more akin to Pork Scratchings – and these are nothing like that! For a start they aren't at all greasy, and the texture is completely different. Add to that a gentle meaty flavour from the Pork and some heat from the spice dusting applied to the outer, and you've got a really rather nice morsel in your mouth.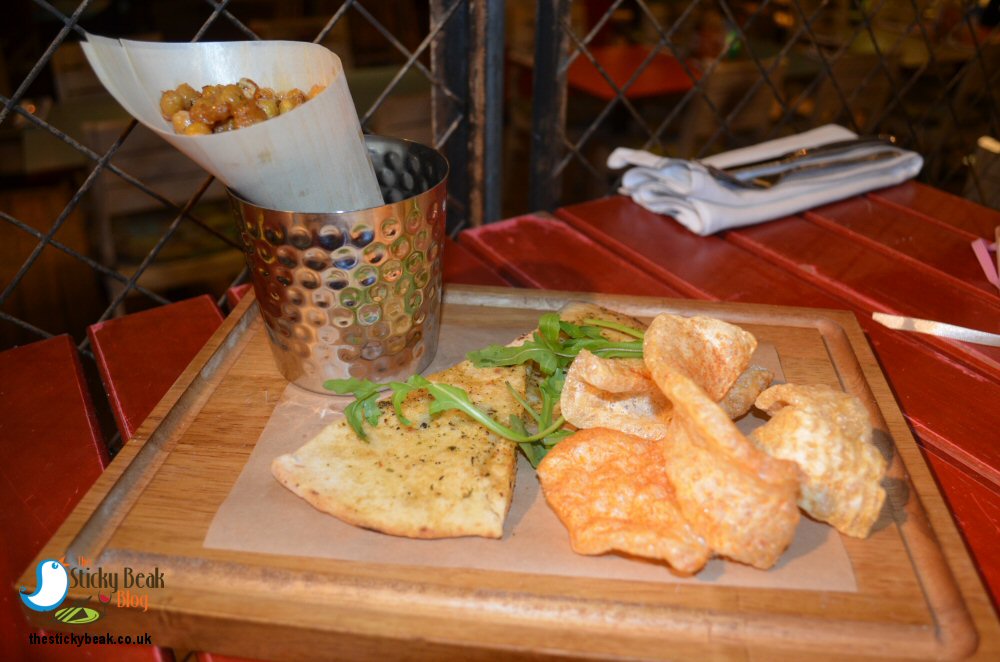 The Trini Chickpeas are warm, baked Chickpeas that have got their own "fake tan" from the spice and Thyme dusting they've been given, and I have to say that these were my favourite appetiser. Thanks to the baking they had, their outers had a super crispy edge to them and then the peas themselves were pillow soft.
As its name implies, the Garlic and Herb Flatbread was garlicky and herby to taste. Crushed Chilli is added to the garlic butter, and this gives it a fab kick that makes your taste buds tingle. Peppery fresh Rocket leaves garnish the Flatbreads, adding another layer of heat on the palate.
This arrival platter just whets the appetite and staves off any immediate hunger, but it doesn't fill you up in a way that will curtail your enjoyment of the other three courses.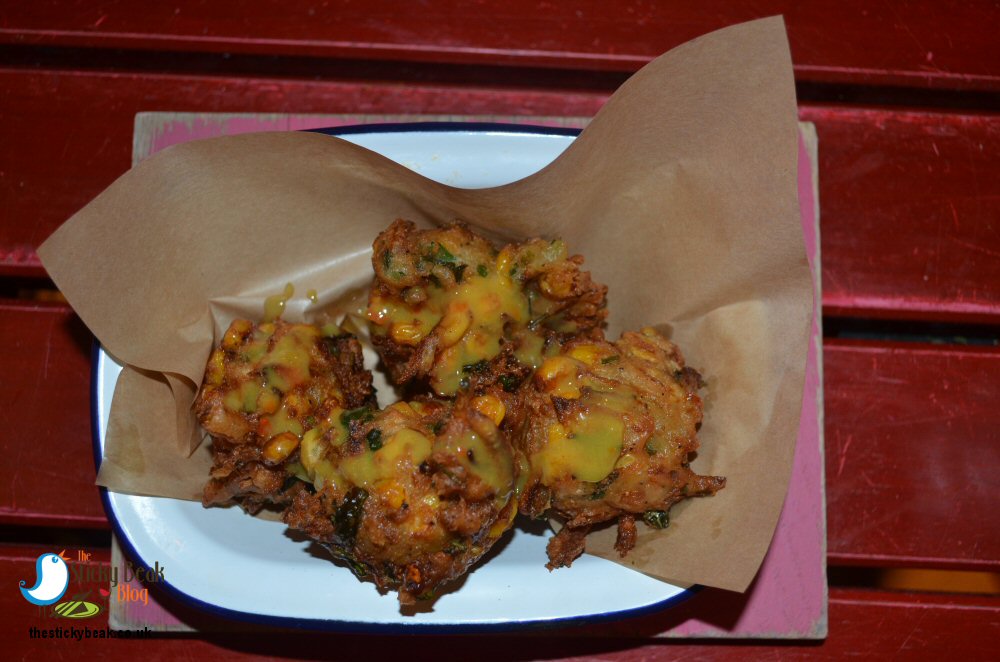 For starters I had the Sweetcorn Fritters (I nearly gave in to the Garlic and Chilli Pit Prawns - only £1 extra) and The Boy Wonder had Duck Rolls. My fritters are made from Sweetcorn, Spring Onion, and Scotch Bonnet Chillies; before you think"crikey she's brave" I'm just going to say that they weren't that fiery. That said, they do strut their spicy stuff like Ri-Ri, but not in a "Get me water!!" way; thankfully. They are a fairly coarse texture thanks to the whole kernels of Sweetcorn in them, but they are soft to chew on and had a fantastic crispness to their exterior. There were four decent sized fritters and I managed them all, no surprises there!
His Nibs' Duck Rolls are made by stuffing toasted, rolled Flatbread with sweet Onion, Soy sauce and Chilli, and slow-roasted Duck; delicious sounding sour Orange chutney comes with the rolls too. We were both taken aback by the amount of duck in the rolls; each one could've fed an army! Again, this dish was nicely spiced to get the juices flowing but not at all over-powering. OMG, the sour Orange chutney is the absolute bomb; it's Christmas all wrapped up, right there! The combination of Orange and Allspice gives you that lovely warm feeling in your tummy, and because of its slightly sour edge it complements the duck brilliantly.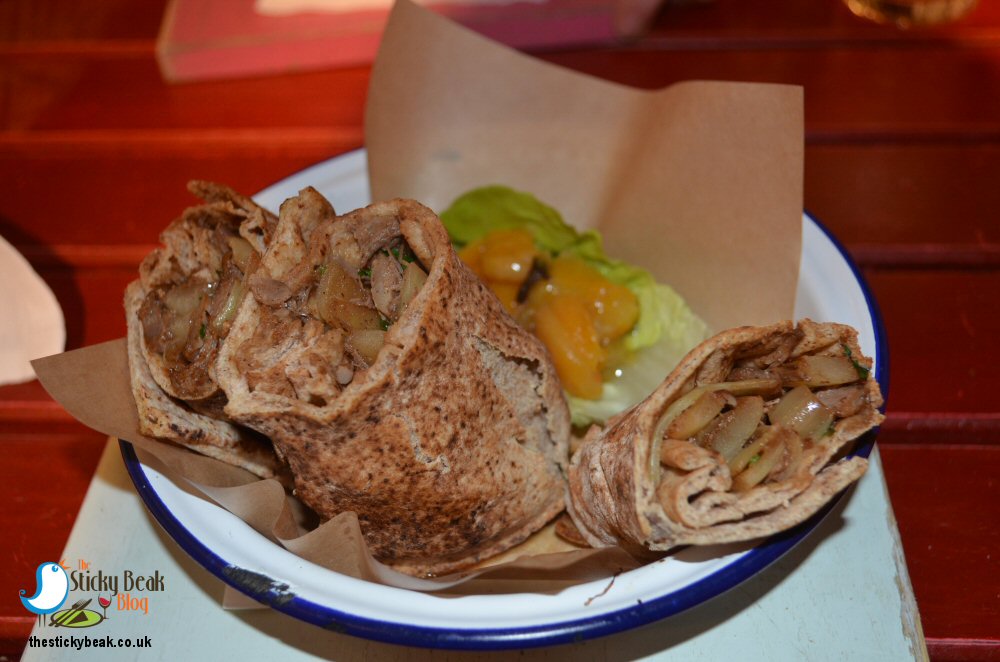 The Allspice and Scotch Bonnet accents were getting us far away from Blighty and into the Caribbean isles jolly nicely – good work Turtle BayJ Next up, were our mains; Turtle Bay's Curry Goat for The Man and the half Jerk Chicken for me with Coconut glaze and coconut rice n peas (you can swap for fries if you prefer).
My Jerk Chicken was ridiculously juicy and its flesh had taken on the flavour of the marinade so it had a fab wallop to it. The skin was left on and had visually appealing charred strips on it which gave its own smokiness to the dish. As if the amount of chicken wasn't going to be able to satisfy my appetite, there was a very generous amount of Coconut rice and peas to go with it which had a hint of allspice to it.

Every dish needs a textural element within it to stop it becoming blandly homogenous, and the deliciously crunchy Caribbean 'Slaw played its part magnificently. Jerk Chicken is synonymous with Caribbean cuisine, so I really couldn't have selected a finer dish to celebrate Christmas Caribbean style :)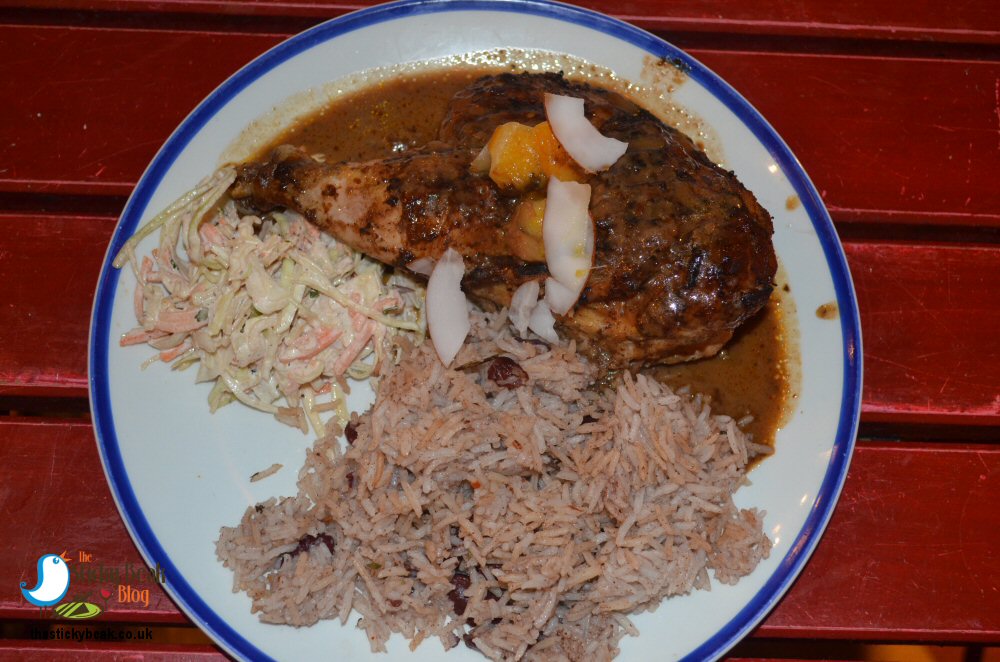 Across the table, His Nibs was chowing away merrily on his Goat Curry, scooping up the sauce with pieces of Johnnycake (similar to a dumpling, but not put in the cooking liquid). The blend of curry spices and Scotch Bonnet was fairly lively, and in The Man Birds' opinion, this dish isn't for those faint-of-hearts in the spice business. A definite "tingle factor" is detectable on the tongue and in the mouth, much to His Nibs' delight :)

Spice aside, there is plenty of Billy Gruff in the curry that's been nicely chunked and cooked until tender. There was a nice amount of Onion chutney and coconut rice n peas in the serving pot/dish too, so again this dish is great for satisfying even larger appetites.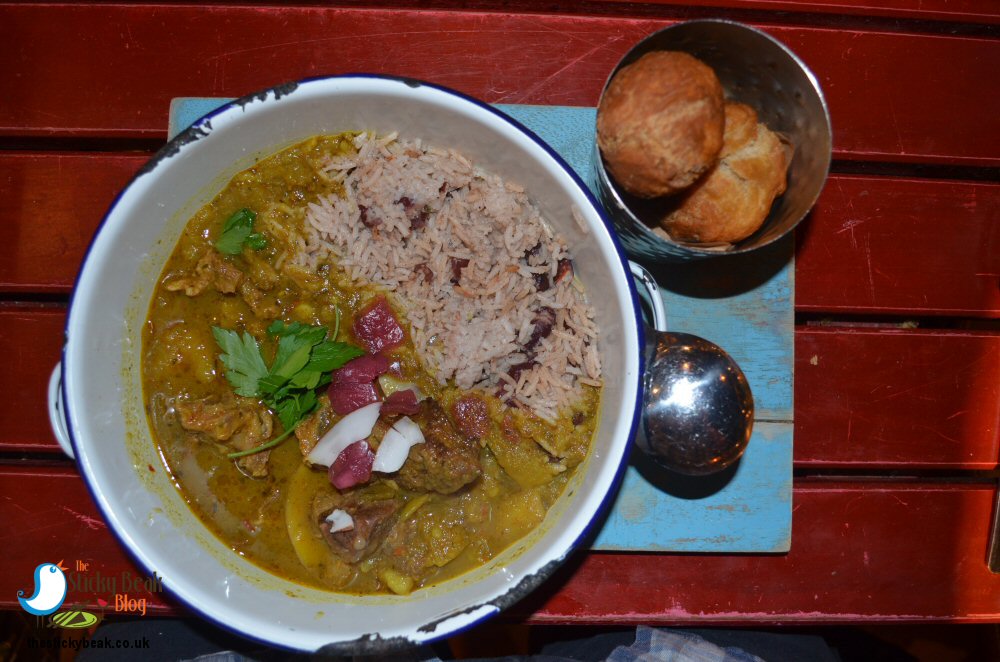 Throughout the evening both Shannon and Tom (the manager) came up to garner our opinions on the dishes and check that our drinks were filled up. I nabbed the other classic Mojito from The Man as he was driving that night – unlucky, fella lol!
I have had the Caymanas upside down Rum Cake before, and thoroughly enjoyed it, so I was pleased to see this little gem on the Christmas menu. That was my pud sorted; His Nibs took a few minutes to make his choice. Eventually he settled on the Sticky Black Treacle pudding, although he was still tempted by the Dark Chocolate Brownie.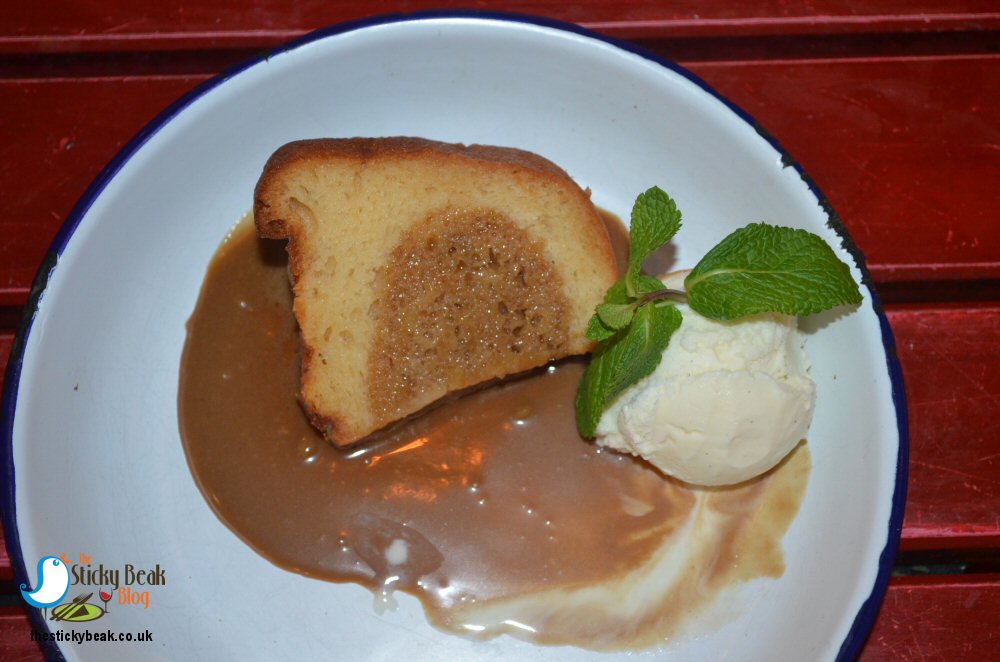 What I particularly like about the Caymanas Rum cake is the fact that you get a real taste of the alcohol and your belly gets a hit of its warmthJ. The cake is nice and light textured, so it doesn't sit heavy on you at the end of the meal; there's nothing worse than that Weeble feeling is there?
Black Treacle is a richer, deeper flavour than Golden syrup and this translates very nicely in the pudding served up at Turtle Bay. As with my dessert, the sponge was nice and light texture-wise so the richness came from the Black Treacle; Salted Caramel sauce was absolutely the perfect partner for this pud. The Mans' taste buds were in heaven as they processed the salty, smoky, and sweet notes that this dessert supplied, and the creaminess from Vanilla Ice Cream was the proverbial cherry on the top.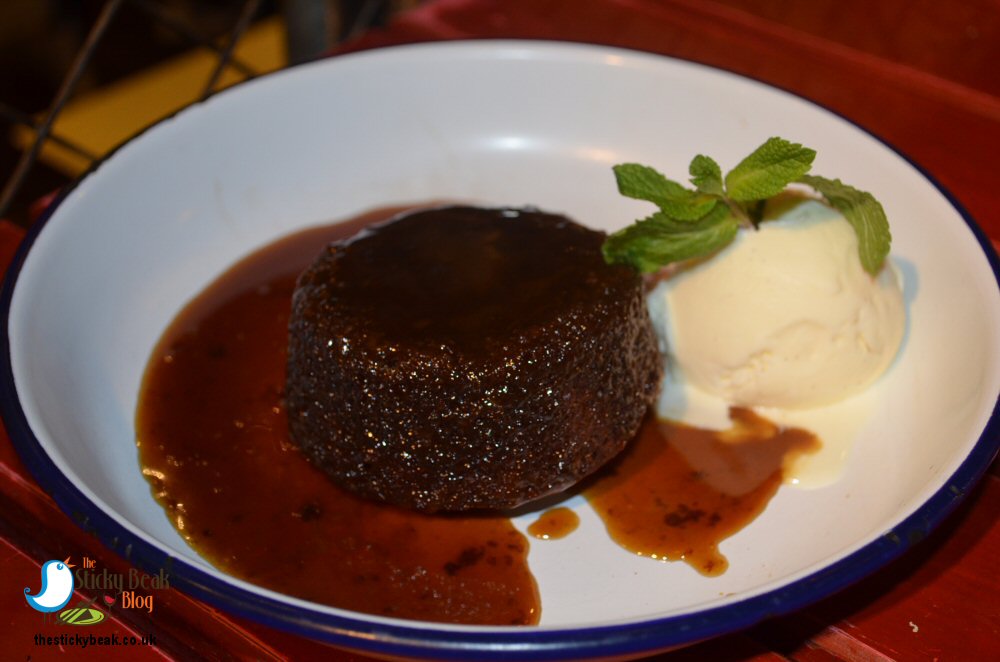 Shannon brought over a couple of coffees for us to round things off and took a moment to tell us about the Turtle Bay Gift Cards that are now available. These have only been around a few weeks, but are proving to be very popular - and not just as gifts either! Savvy diners are buying them as gifts for friends for Christmas, but purchasing another as a way to have a treat in the New Year themselves when money is perhaps going to be a bit scarcer. In effect, you could use them as a foodie savings scheme!

They are available to buy all year round from this point in time and can be topped up at any time, so they are re-usable (which is better for the environment if you re-use them).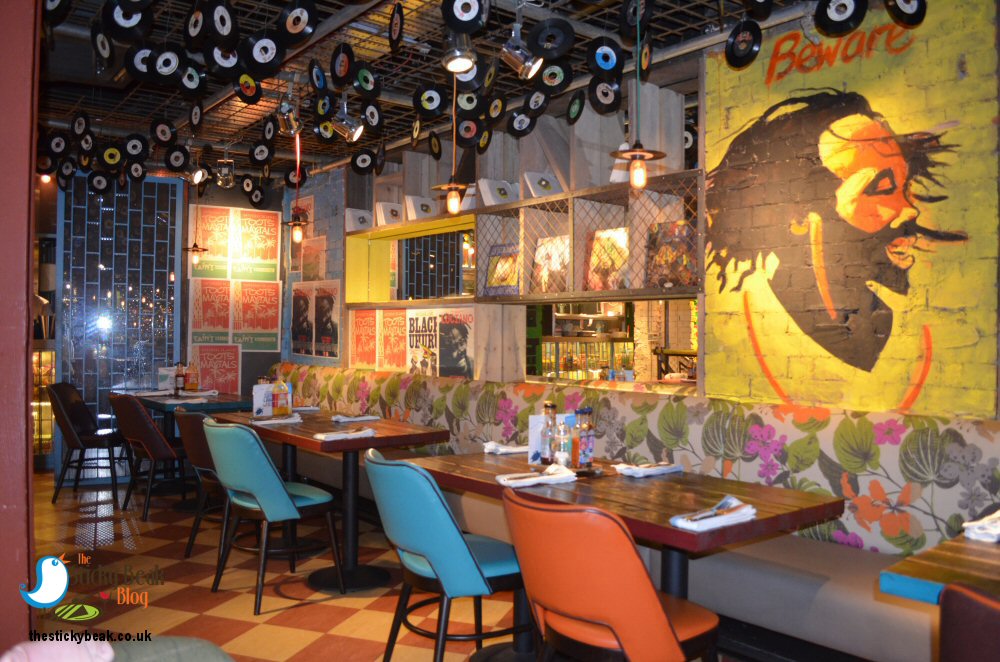 The combination of great food, mellow music and friendly efficient service made this a top-notch way to celebrate Christmas beak-style. Thank you to Turtle Bay for inviting us to try your Caribbean Christmas Menu - we think it totally deserves Hot Wing status :)
Some form of incentive was provided to visit this venue
read more