Flavours Of Indian Night At Rowley's Village Pub and Restaurant
---
Published On Sunday 19 Nov 2017 by Sticky Beak
See Recent Dining Out Reviews | See All Recent Reviews


Well dear reader, it can never be said that The Man Bird and I lead dull lives; it's been a busy few weeks for us at SBHQ :) Last night was another stonkingly great occasion - the Flavours of India night at Rowley's Village Pub and Restaurant, running in conjunction with Curry Life and Kingfisher.
Rowley's enjoys a fantastic reputation locally for good food; credit due to Michelin starred Chef Rupert Rowley who has tutored Head Chef Adam Harper in the art of cuisine. Nowadays Rupert himself heads up the kitchens at Fischers, but remains co-owner of Rowley's along with Max and Susan Fischer.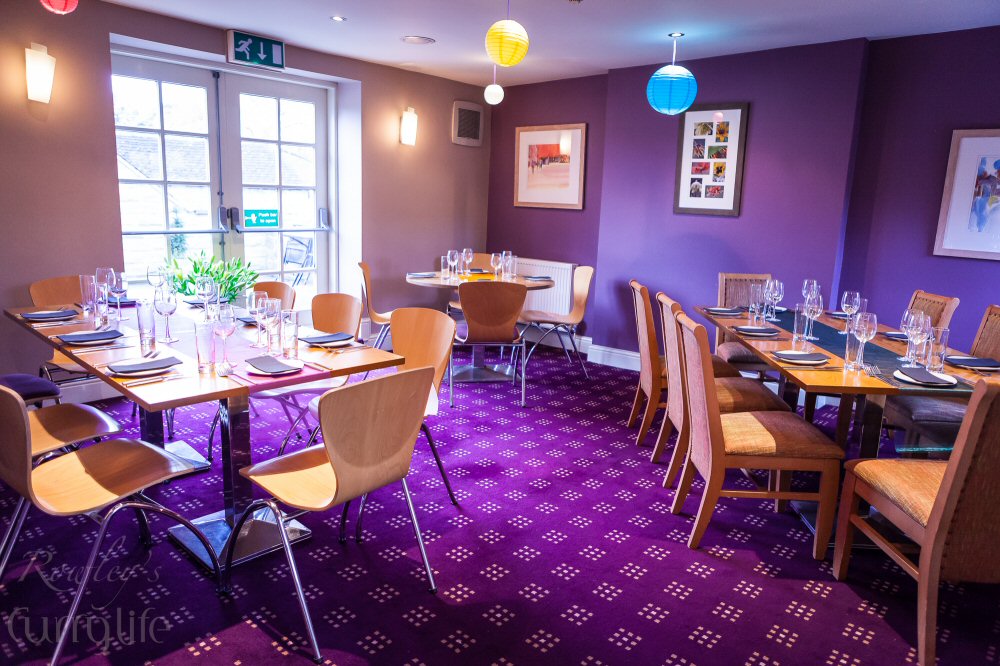 The quirk of country pubs in Derbyshire, and I'm sure country-wide, is their "compact" car parking; luckily we managed to snag the last free spot, doing a little fist-pump of triumph as we did so. The exterior of Rowley's has a very traditional look, essentially your typical old British Pub; you walk inside however, and it is surprisingly modern, light and airy.

I loved the stunning photo canvasses depicting wildlife scenes, and am really kicking myself that I didn't snaffle the fighting Cock Pheasants one whilst I was there. Doh!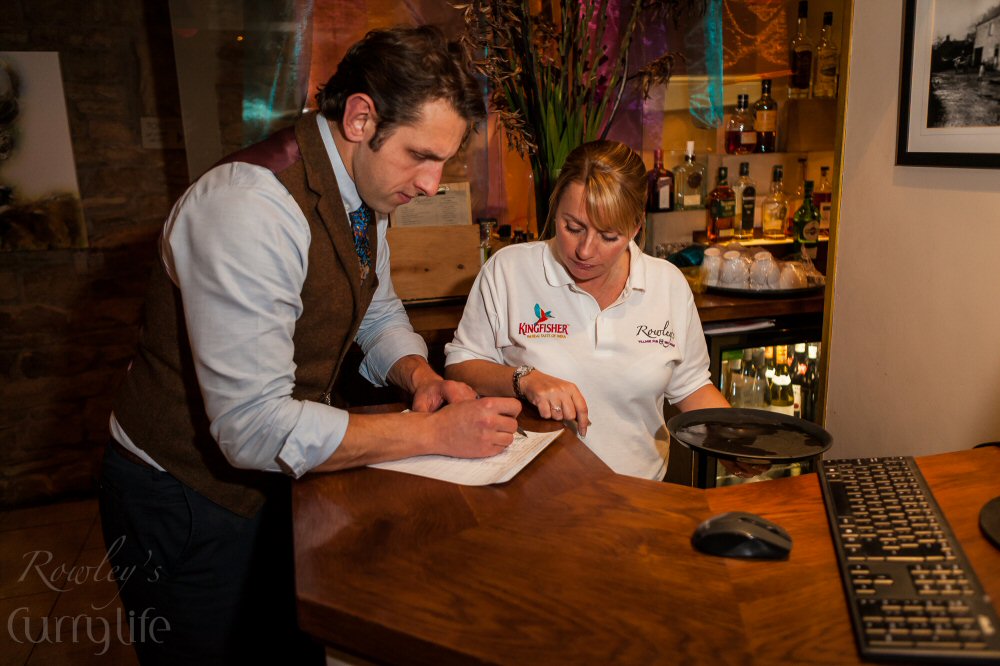 The uber-dashing Neil Fischer came over to say hello and graciously took our coats away to be hung up. There was already a lively buzz in the air with plenty of people attending this inaugural Flavours of India event. Rowley's manager, Tom, showed us to our table which had an incredible view of the pass and kitchen itself.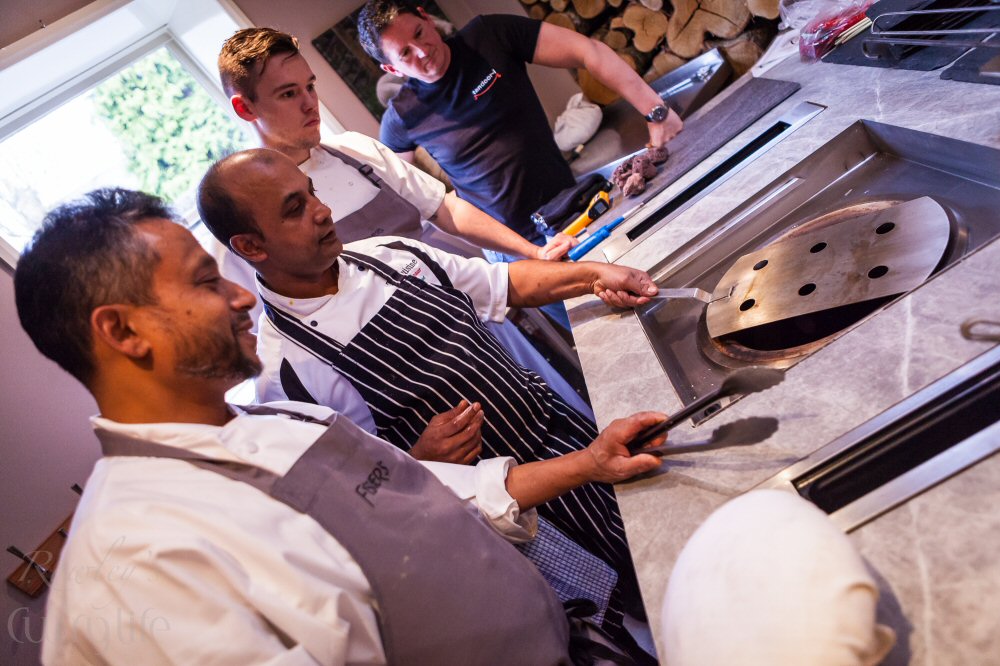 Just down the trio of steps was the Tandoor-i, developed for keen amateur home cooks whose passion is Indian cuisine. This amazing vessel was all fired up and raring to get on with producing the Naan bread for all the diners and there was to be a plain version as well as a garlic and herb laden variety. In charge of this exquisite oven was its inventor, Nick Jones. Given that Rupert Rowley and Abul Monsur had been making the dough for the Naan at 2am that morning, there was doubtless more than a smidge of pressure not to put the cosh on their efforts! No worries, Nick more than delivered - details later on.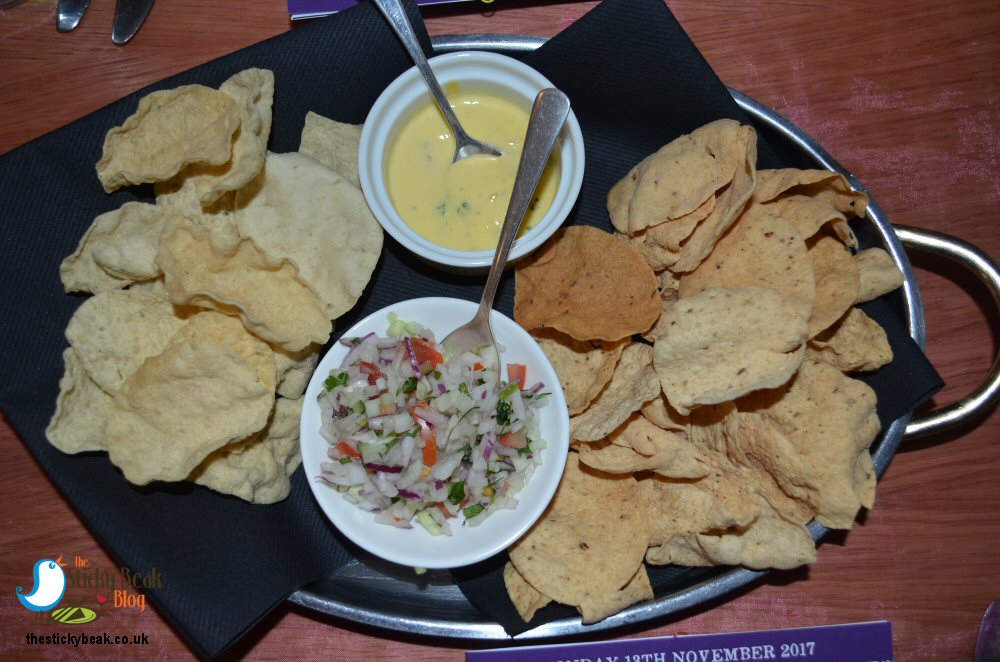 First out of the culinary starting gate was a platter of Pappadums and Chutney. We munched away happily on the mini, plain- and lightly spiced- pappadums and spooned on the onion, tomato and herb salad, and the yoghurt sauce. Platter after platter was lined up on the pass and a legion of efficient staff distributed them seamlessly to all the tables; there were 114 diners booked for the evening's event, so team work was going to be crucial.

A short while later and the trinity of starter dishes began to issue forth from the kitchen, with Chef Rowley calling "service" regularly. The King Prawn had been marinated in herbs and spices before being grilled and served with a lime and coriander chutney. I was smitten with the juicy sweetness of the King Prawn and its soft-yet-firm texture, and the chutney partnered it superbly; citrus and seafood is a winning combination without doubt.


The Onion Bhaji was quite possibly THE best Bhaji in the world! The slices of onion had been formed into spheres and then coated in slightly spiced chickpea flour batter. A symphony of flavours hit my mouth, all the better appreciated in the absence of any oiliness, and I took great pleasure in the few seconds delay that the spices took to reveal their heat.

Pieces of boneless, skinless Chicken had spent time languidly relaxing in their marinade of spices, yoghurt infused with Oregano before getting a metaphorical suntan a la Tandoori Oven. This oregano chicken Tikka was wonderfully moist and tender and the gentle herb and spice character had been preserved very nicely.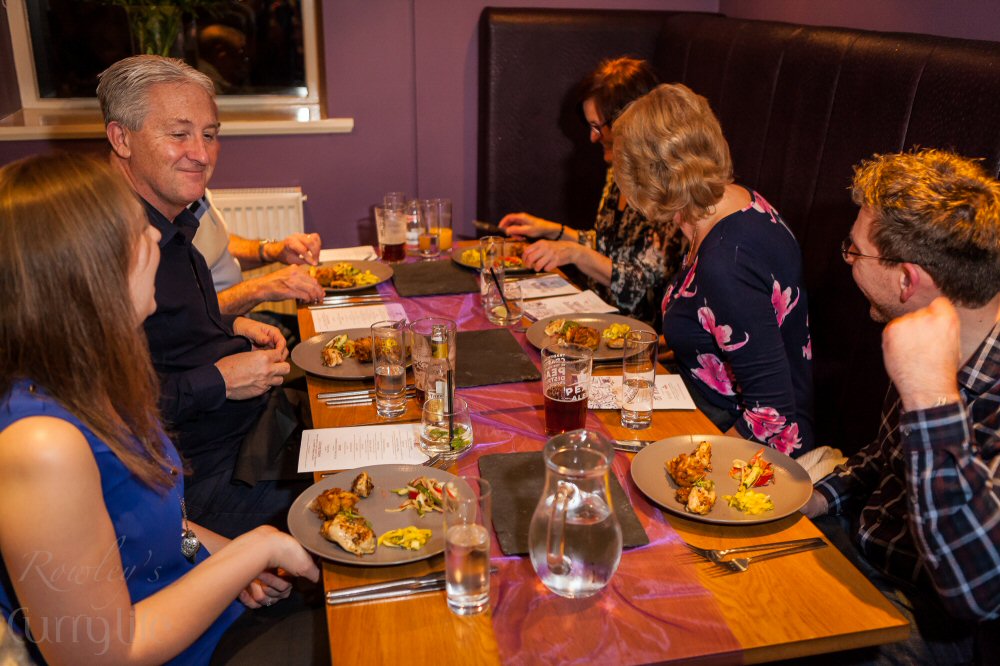 Fine slices of onion and peppers had been quickly cooked to warm them, and their crunch gave a lovely element of texture to this first course. His Nibs and I sat there smacking our lips after such a stunning display of skilful spice use, and couldn't wait to delve into the main courses.
I have a confession to make here and no doubt some of you will tut at me, which I fully accept. I have never considered Chicken Tikka Masala to be an actual curry; to my mind it is a (dubious) hybrid of Chicken Tikka that has a venue's particular interpretation of Masala sauce added to it. On past occasions I have had many an underwhelming experience when partaking of this "curry"; usually their lurid colour gives you an indication of what lies ahead. They tend to be fairly insipid and definitely over sweet; I don't mind sweetness in curries as I've really enjoyed ones with mango and lychee in, just Tikka Masalas have never ended well for me.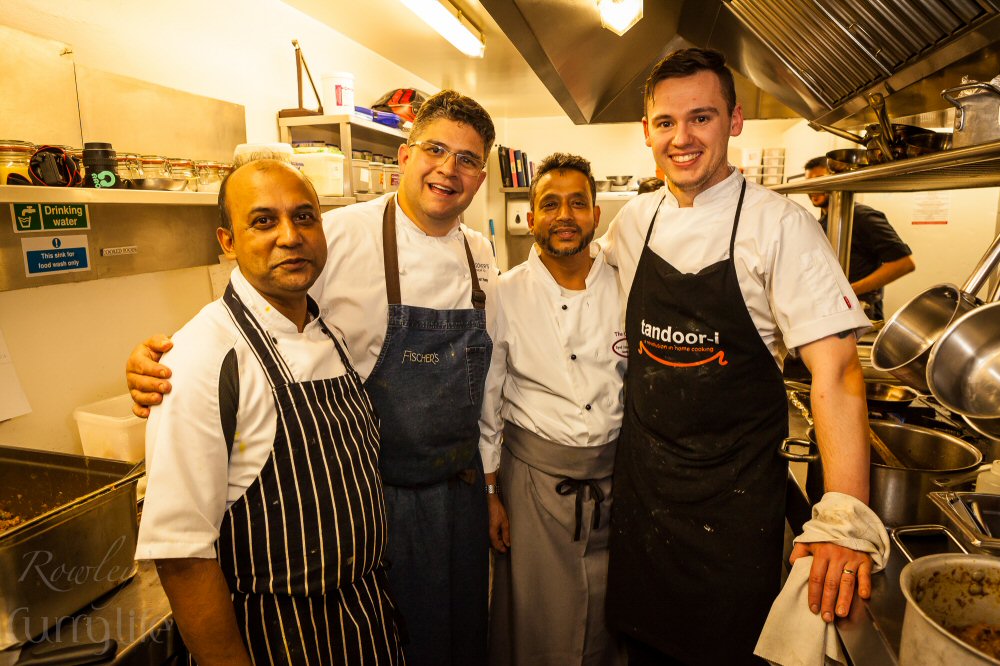 Chefs Abul Monsur (Head Chef at Taj Cuisine group, Kent), Syed Zohorul Islam (Head Chef, The Capital Restaurant, County Durham), Adam Harper (Head Chef at Rowley's Village Pub and Restaurant, Derbyshire), and Rupert Rowley (Head Chef, Fischers at Baslow Hall, Derbyshire) completely turned my opinion on its head with their interpretation of this Bangladeshi dish!

The succulent pieces of Chicken were encased in a surprisingly robust Tomato sauce that had a creamy, not sweet, edge to it and light spices. It danced around in my mouth revelling smugly in its glory with a justified *raspberry*. Flaked Almonds and swirls of yoghurt garnished the curry very nicely and the crunch from the nuts was lovely.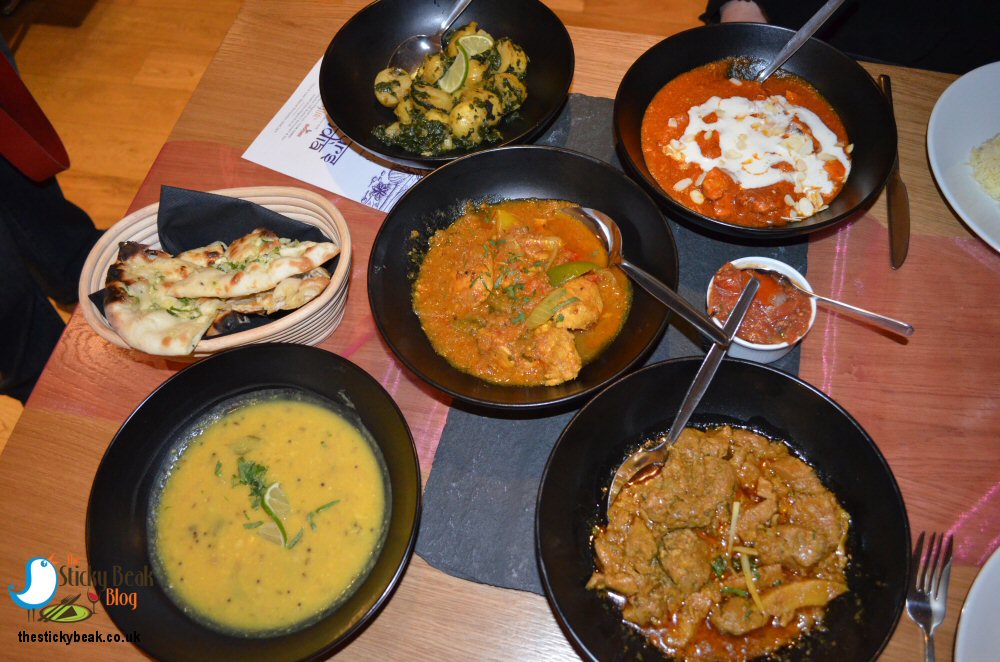 The Northern Indian dish of Chicken Karahi was the next thing to pass our lips. Compared to the Tikka Masala this dish is more astringent in nature due to the inclusion of green chillies, garlic and ginger; onions, tomatoes, peppers and fresh coriander also feature in this popular curry. Again, the chicken was superbly moist and tender and very plentiful.
Whenever The Man Bird and I dine out I order Sag Aloo; there's something about the combination of Spinach and Potato that I personally find irresistible. I have had some distinct misses with this dish, usually due to an over-abundance of butter that drowns any other flavours out. Obviously this was never to be the case at the Rowley's hosted Flavours of India night!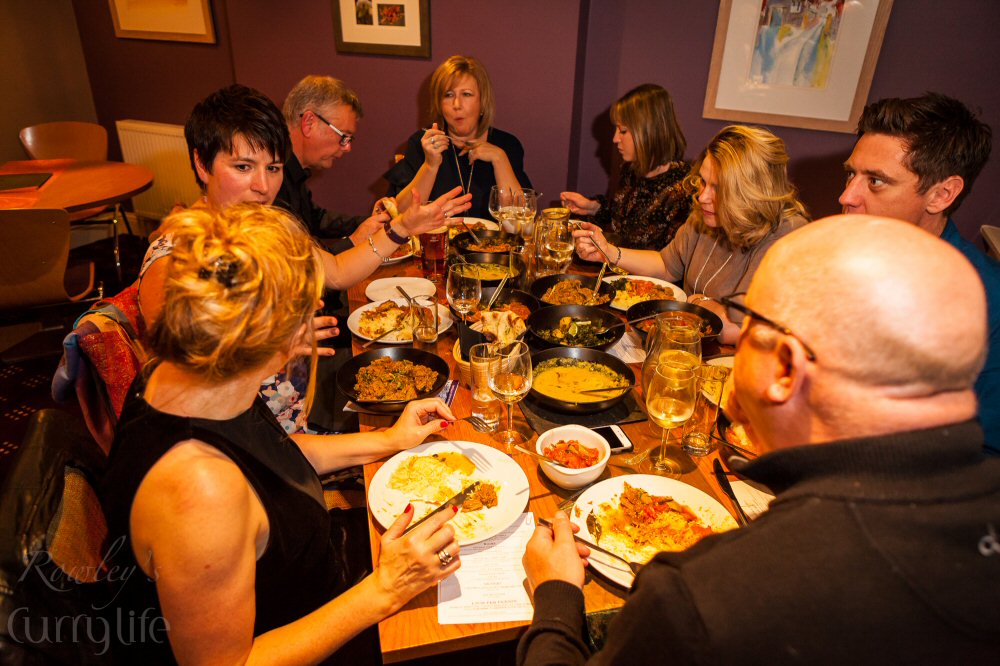 The inclusion of Jersey Royal potatoes was truly wonderful; you can't beat their gentle sweetness and waxy texture. It's the waxy texture that makes the Jersey Royal perfect to cook with because it doesn't break up and go "bitty"; something you definitely wouldn't want in Sag Aloo. The delicate spicing was just enough to be detected amongst the other ingredients.
Decadently butter-dripping Naan bread was torn up and scooped into the Dal a la Kent rather greedily by yours truly and my partner-in-crime. The mix of red and yellow lentils had retained their chunkiness and the inclusion of red kidney beans was a pleasant surprise on all fronts. In the nest I make my Daal smooth but fairly thick so it was a nice change to have it more textured and slightly thinner. The Naan bread was marvellously light in texture and the garlic laden one packed a fab punch. The melted ghee dripped onto our fingers, so we licked it off and allowed ourselves to savour one of life's simple pleasures :)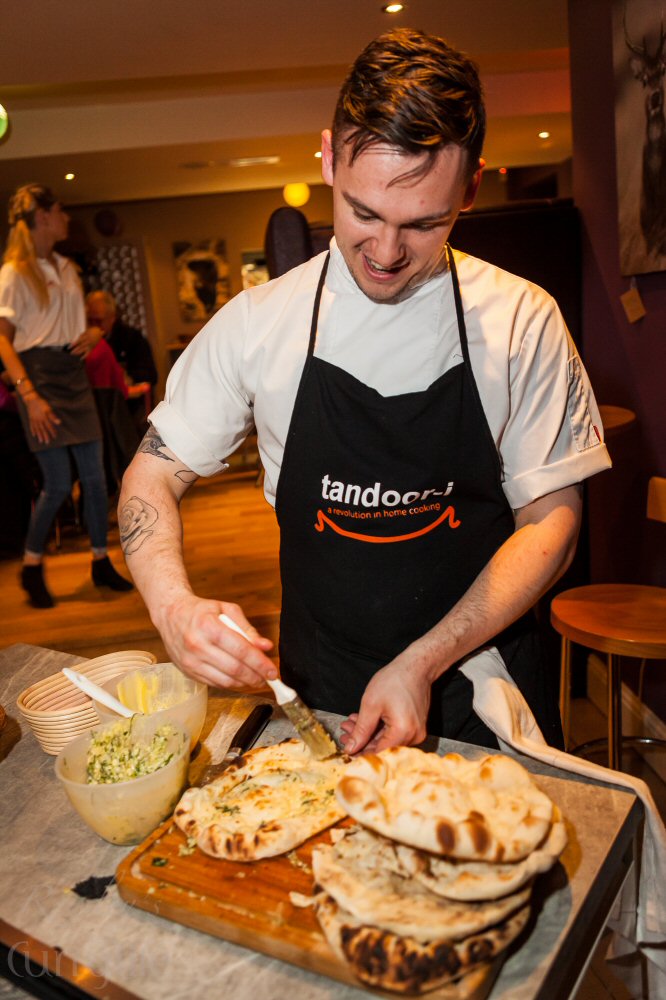 During the course of our meal both Chef Rupert and Chef Abul took the time to come and chat to us, enquiring as to our thoughts on the evening and the cuisine. Their passion and dedication absolutely shone from every pore and fibre of their being. I had been enthralled by their activity in the kitchen all evening; they never stopped, and worked together in a seamless choreography that would make the Bolshoi weep with jealousy. This truly was poetry in motion and joyous to behold.
Saffron infused Saahi Pilau rice had been in an elegant timbale when our plates had first been placed before us, but its prettiness soon got ruined by our eager forks as we scooped it up alongside the curries on offer. Talking of curries, there was a third one to immerse ourselves in; the Shatkora Lamb.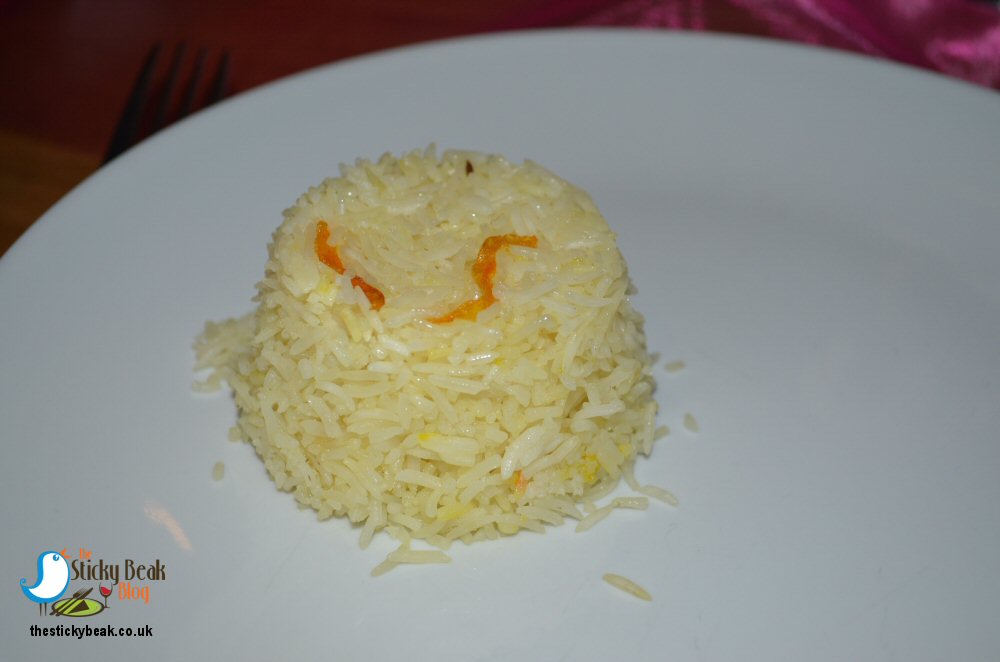 The Lamb in the Shatkora curry was simply stunning, both in terms of taste and texture. Lamb is a Sunday Roast favourite of mine, so I've eaten a fair bit of it in my life, but the sheer depth of flavour in this specimen was other-worldly. Due to the medium strength of the spices in this dish a heartier meat was necessitated and the lamb certainly stepped up to bat; it partnered the spices and citrus elements beautifully before melting on the tongue. Both His Nibs and I were in agreement as we declared this to be our favourite dish.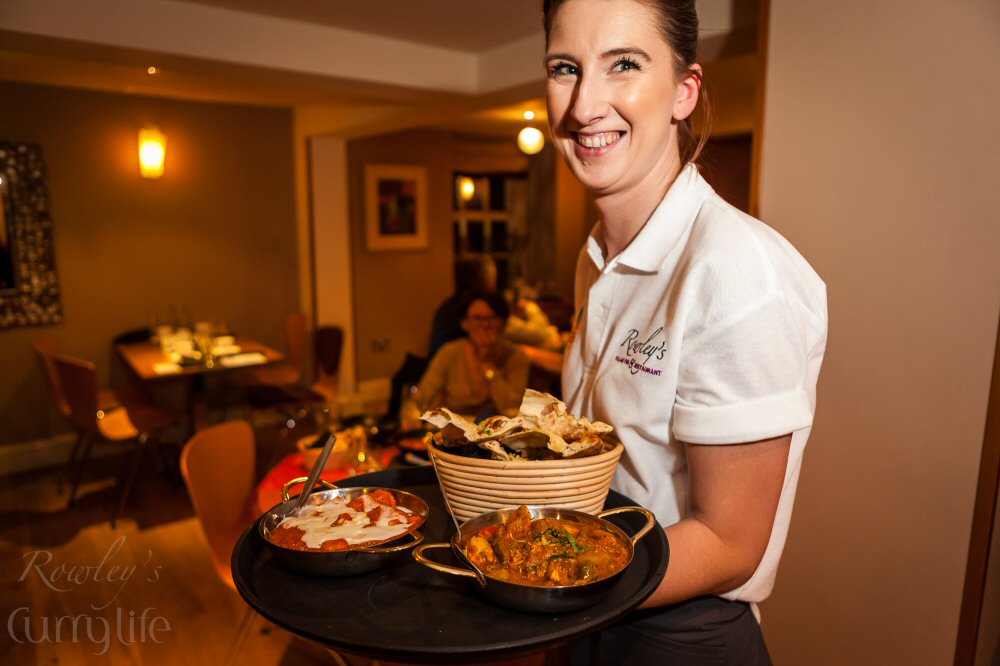 Trying its best to hide amongst the plethora of dishes was a little bowl of Tomato salsa. Not much gets past my beady little eye and I swooped in and grabbed it, Naan bread at the ready! Plum tomatoes are brighter in flavour than their "normal" counter-parts, and this salsa had a wonderfully vibrant flavour that engulfed my mouth. A scattering of onion and fresh herbs ensured that this little gem really popped in the mouth in a refreshingly straight forward manner.

Manager Tom came over to winkle out of us which curry we had enjoyed most, chuckling when I shared my previous thoughts on Tikka Masala! He was in total agreement with our choice of Lamb Shatkora though, and it seems we weren't the only diners to have formed this opinion. Calls were being made for this to be a quarterly event, although when I mooted this to Rupert he assertively said that holding it annually was enough. Given that he was the one still up at 2am making the Naan dough, I guess he has the final say but a bit of "pester power" might convince him otherwise so watch this space!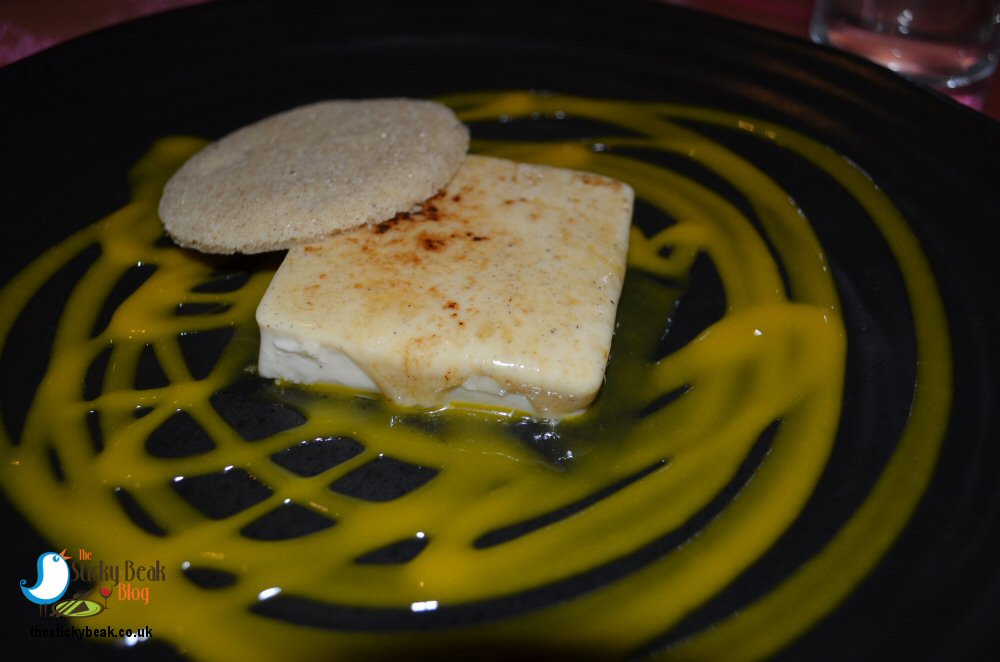 Dessert was the magnificent sounding Cardamom and Honey Crème Brulee with Masala sable and spiced shortbread round. This creation was the doing of Rowley's Head Chef, Adam Harper, and this modern twist on the classic French dessert truly was magnifique :) The honey was beautifully perfumed, (almost like an acacia honey) and worked in harmony with the fragrant notes of the Cardamom.

Cardamom is a tricky spice to use precisely because of its distinct flavour; just a smidge too much and the balance of a dish has been ruined. I wonder how many attempts had been made in the development of this stunning dessert. If ever you need a taste-tester Adam, just holler! There was a whisper of caramelised sugar on the top that merely hinted at its presence on the tongue; too much sugar would've added to the Honey's sweetness and ruined the dessert, so again the Chef's skill shone through. Crumbly, spiced shortbread just lifted things up a notch on the palate, playing nicely off the sweet notes of the crème.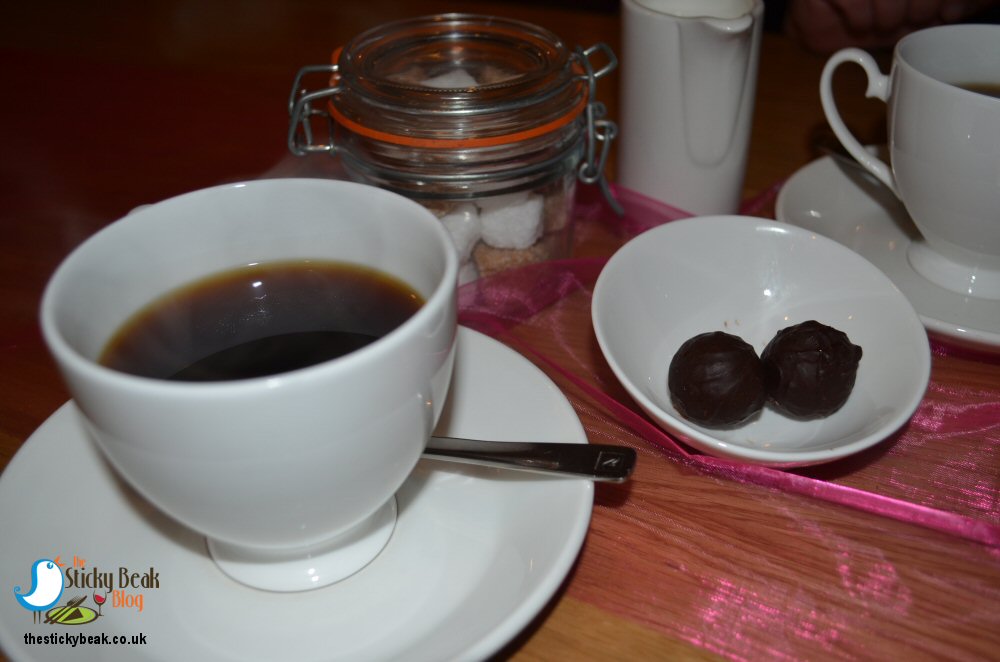 The Man Bird and I both selected coffee to end the meal and a stylish dish containing homemade mint chocolates accompanied it. These bijoux bombs were, quite literally, "the bomb"; excuse the pun. The dark chocolate shell hid a liquid minty centre whose purity had me tapping my toes in delight. Neither too sugary sweet nor burningly intense, the mint element just hit that soprano note of glory. All too soon the delightful evening came to a close for us, and we passed on our thanks to every member of the team that had tirelessly worked to bring this event to fruition.
At Rowley's Village Pub and Restaurant in Baslow class and sophistication ooze from every dish that leaves the pass, and the team are incredibly friendly as well. To my mind it would be an impossibility that anyone could leave feeling less than fabulous. Hot Wings unequivocally awarded for this maiden Flavours of India night; I have everything crossed for another one soon (pleeeeeeeeeeease Rupert).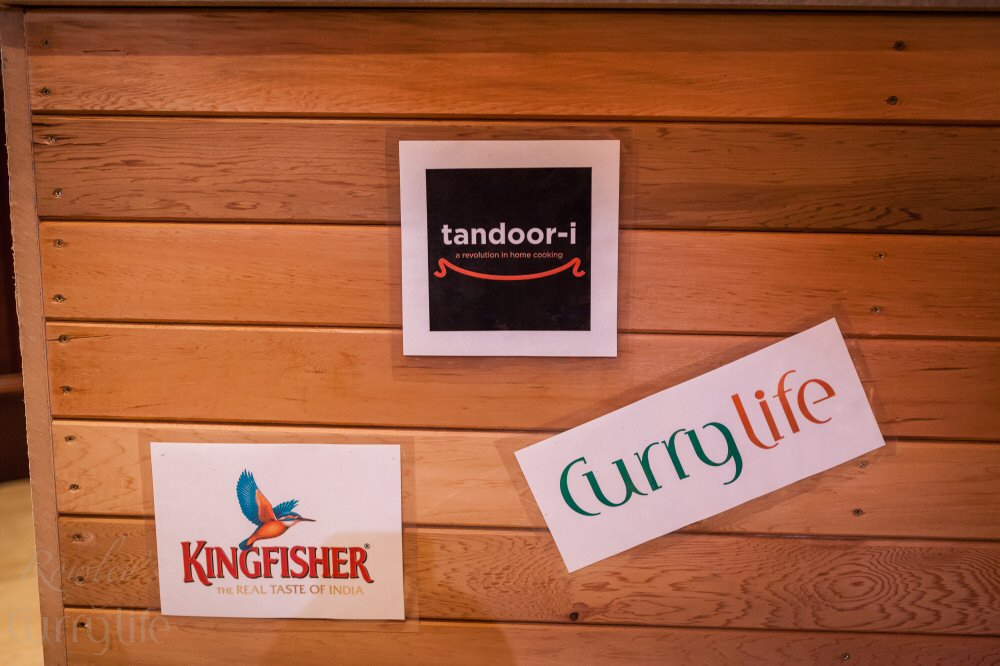 As well as serving dinner, Rowley's is an ideal spot to meet friends for a coffee as it opens from 10am. If you fancy a light lunch this is served Noon-2.30pm Mon-Fri, and Noon-3pm Saturday and Sunday; why not have a glass of wine or hand crafted beer from a local brewery to accompany your food. A superb choice is available on the dinner menu, served from 5.30-9pm Mon-Fri, and 6pm-9.30pm on Saturdays; the kitchen is closed Sunday evenings. To reserve a table simply contact the team on 01246 583880.
Some form of incentive was provided to visit this venue
read more