Dinner At The Yard Restaurant, Derby County Football Club
---
Published On Thursday 16 Nov 2017 by Sticky Beak
See Recent Dining Out Reviews | See All Recent Reviews


There could be a hint of a rift between myself and my Daddy Bird, who is a life-long follower of "The Rams" a.k.a Derby County Football Club. The Man Bird and I were invited along to sample the food on offer at The Yard, D.C.F.C's new bar and restaurant, just a table-a-deux, so no way was Daddy Bird cramping our style. The information was met with a glance in my direction and a gentle *sniff* - jealousy is not a good look Daddy Bird, just saying.
So with a spring in our step we set off for the bright lights of the city and Pride Park (yes, I know it has a fancy new name but it'll always be Pride Park stadium to me!). The car park was relatively quiet with it not being a match day, so we managed to park nice and close to the restaurant entrance.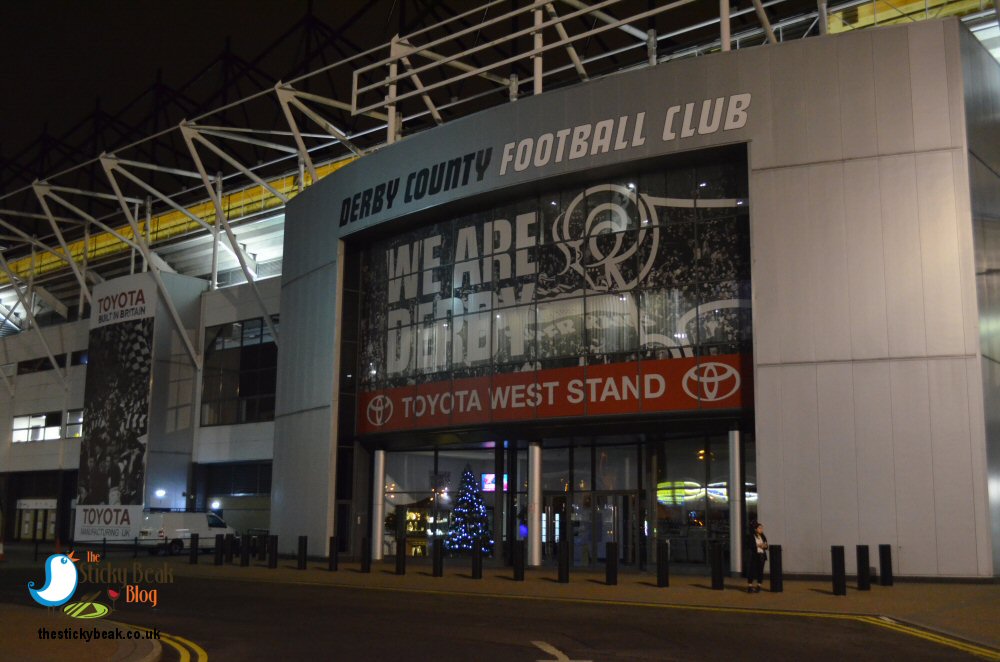 The venue itself has no shortage of kerb appeal, with its expansive windows, topiary displays at either side of the door, and faux-grass terraces with canopied seating. Stepping inside, the interior was equally distinct; very modern and open-plan. Sleek and stylish is probably not what most people would automatically think of finding at a football ground, but I've said it before; Derbyshire folk do it best :)
We were greeted with a lovely warm welcome and smile from a member of the team who took us over to our booth table. As we took our seats we noticed the fantastic view we had of the open kitchen and the pass, perfect for a pair of sticky beaks!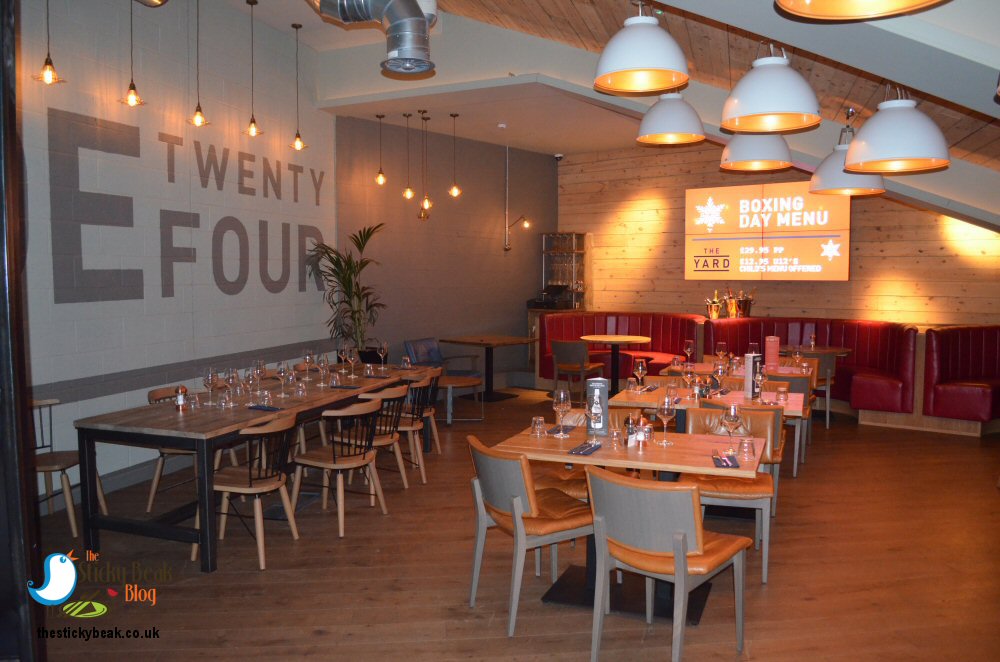 The bar area is very modern too, all clean lines and arty lights. Most importantly though it boasts a very impressive selection of draught and bottled beers, ales, wines, spirits and mixers, sparkling wines, and Champagne (for celebrating home wins, obvs!). There is a great selection of soft drinks too for non-drinkers, kids, and designated drivers.
The booths at the front side of The Yard have an eye-catching birdcage style to them with their ornate "roofs" and there were plenty of diners occupying them as well as other booths and tables further in the restaurant. For a midweek evening it was lovely to see the venue so well patronised; there was a mix of diners ranging from couples, groups of friends (both female and male), business people, and families with children of all ages.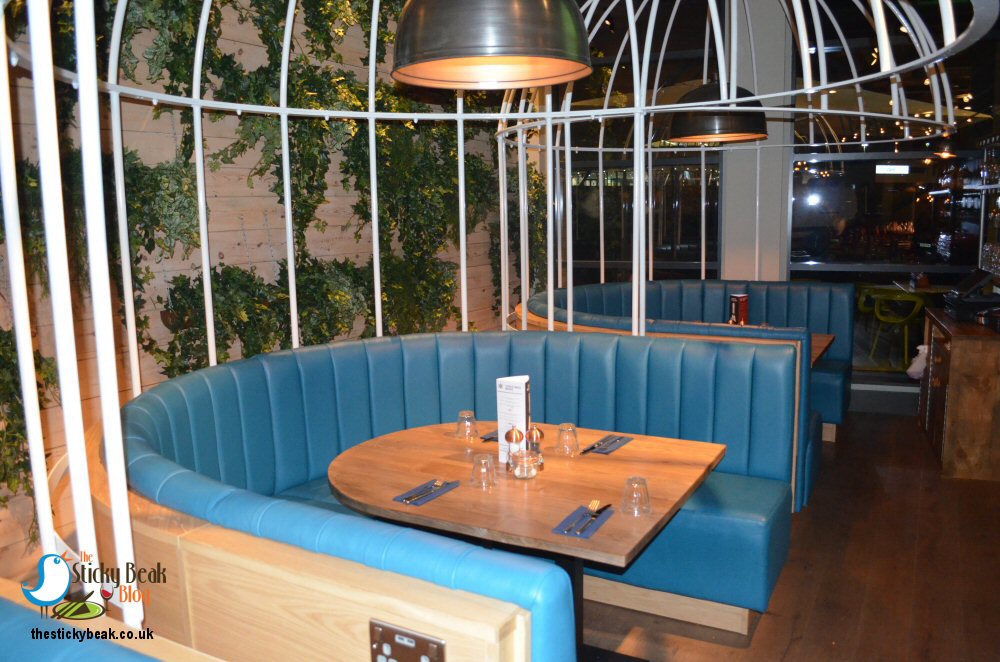 A central lattice of lighting is a great talking point and the other supplementary light fixtures help create a welcoming atmosphere, definitely nothing harsh or brash here. The back area of The Yard has a sloping roof and this was accented with clever use of light fixings; there was a deep red colour scheme to the booth tables seating here, and lovely warmth exuded from this area.
The Yard is a new build and as such has the rather nifty feature of USB points at each table; essential for modern life! Despite the modernity of the restaurant, it manages to have a lovely atmosphere to it, rather than a coldness that can sometimes blight a la mode venues. One feature that contributes to the relaxed feel is the plethora of train and railway paraphernalia, a nod to the fact that Pride Park was built on the old railway yards' site.


The menus all change regularly, in fact the menu is set to change next week in readiness for the festive season kicking off – pardon the pun. All six starter options sounded delicious, but it was the Chick, Chick, Chicken sharer platter than won His Nibs and I over. Chicken Yakatori skewers, baked Buffalo wings, Chicken Shawarma with Hummus and Salad, and Chicken Tenders with BBQ sauce were all nicely presented on a wooden board and placed carefully before us.
Piping hot wings with a spicy mayo were the first morsel I grabbed, greedily sucking every last bit of flesh from the bone; they really were tasty. The Yakatori skewers were lovely and succulent and the perfect size to get your teeth into, which is exactly what the pair of us did :) Nothing partners Chicken strips/tenders better than a tangy, smoky BBQ sauce and the one at The Yard had us both licking our fingers clean with our customary gusto.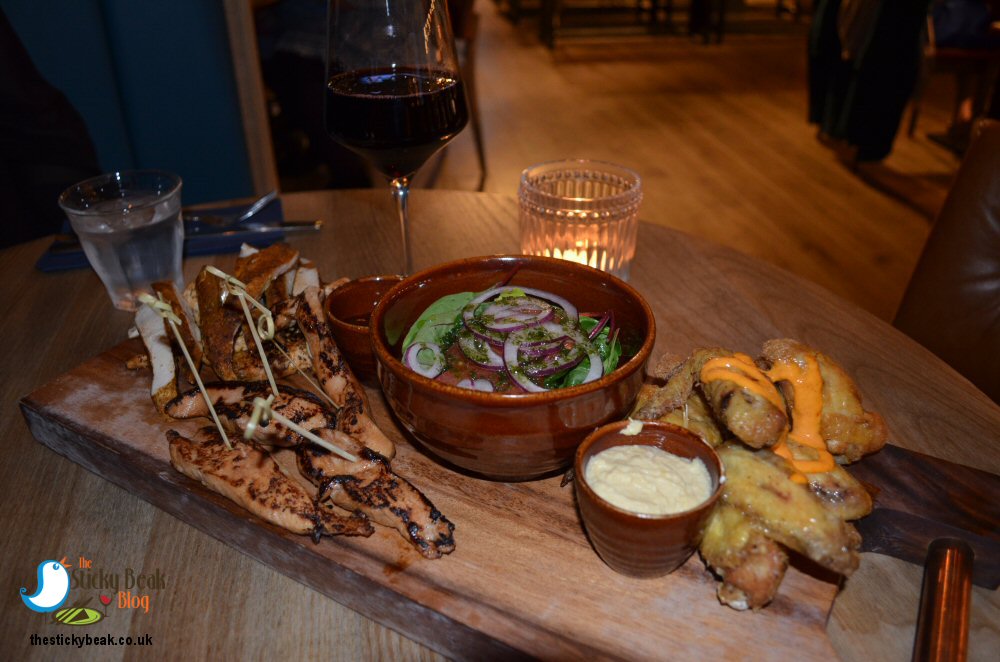 It was nice to have some salad to pick at with the starters, the cool temperature contrasted with the warm meat and the texture provided by the crisp salad veggies was much appreciated. I am rather partial to a good hummus and this one had a lively citrus note to it that made a pleasant change; paired with the Chicken Shawarma it brought out the spicy hints of the meat.
For my main course I really struggled to decide between the C+C Marrakesh Burger, Courgette Risotto, Beef Tataki salad or the Poppy Seed crusted Cod with Fennel salad. Eventually I chose the Cod and ordered a Rocket and Parmesan salad on the side too. The Boy Wonder had his "burger" hat on, so he ordered the B2B Burger, adding grilled cheese and smoked Bacon as extras on it.




This morsel comes with seasoned fries in the price and is served in a toasted Brioche bun laden with Mayo, Ketchup, Lettuce, and Onion. I always love it when His Nibs orders a burger because they inevitably come with gherkins (either sliced or baby whole ones) and I get to pilfer them due to him not liking them. What is it they say; one man's loss is another man's gain? Greedily, he also asked for Onion rings on the side – let's hope his waistband was elasticated!
It wasn't long before our server James and duty manager Chelsea were bringing over large plates of loveliness to our table. His Nibs was thrilled with the meaty beast that was the B2B; although he did wimp out and cut it in half with his knife. Apparently this was for photographic purposes, to demonstrate its size. Yeah, righto.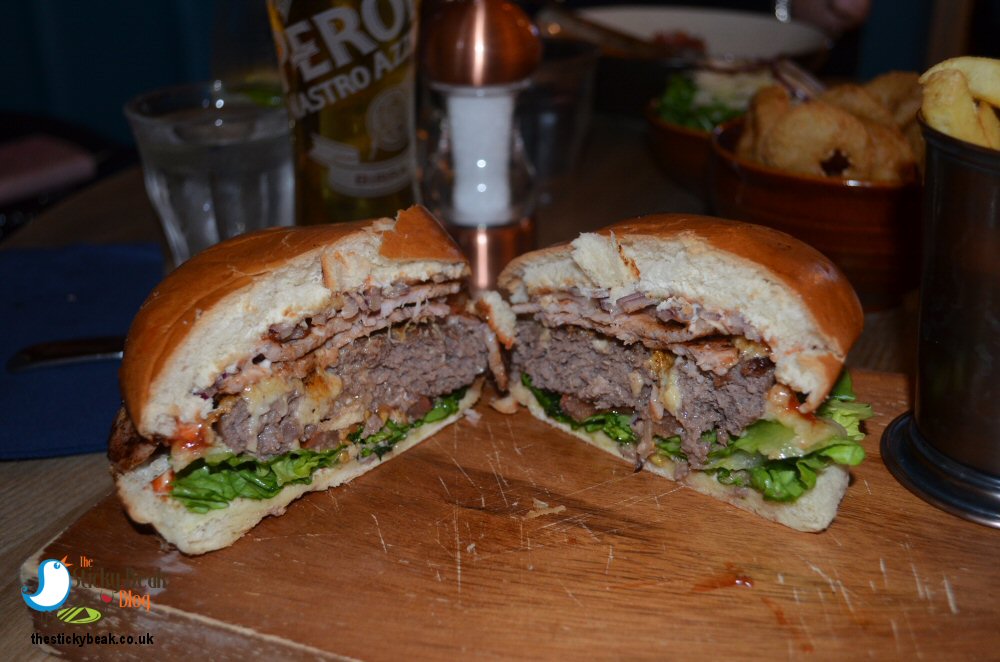 You can't go to a restaurant at a football ground and not put a few puns in the back of the net, so I'm going to indulge myself and risk the penalty of your wrath dear reader. The Man rated this burger as worthy of a premier league title, so no chance of it being relegated to the Vauxhall Conference league! It was full of flavour and several slices of thick, smoked bacon and a snug blanket of melted cheese crowned it.
The Onion Rings were cheeky little rascals; their dense batter had been nicely seasoned and fried to make them wonderfully crunchy. They weren't oily at all, so referee Man Bird didn't have to issue any penalties or cards to these chaps.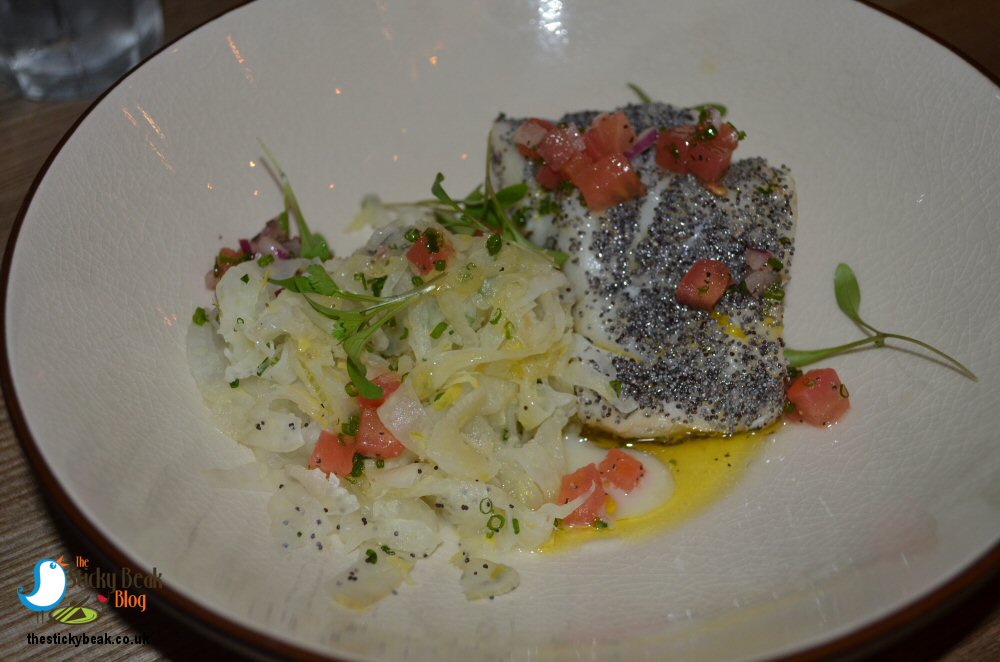 My Cod was a good couple of inches thick and incredibly juicy. The Poppy seeds not only gave a gentle hint of crunch as I munched them but their delicate nutty flavour didn't overwhelm the mild character of the fish. There was just a nice amount of Fennel salad on the side to tuck into; I relished the fresh anise hint of the dressed slices and the subtle crunch they gave in the mouth.
The Rocket and Parmesan salad I ordered came in a perfectly sized bowl, almost as if the salad gods knew my wishes. I love the peppery character of Rocket leaves, and the baby ones used here have this in a slightly more concentrated form than their larger, older counterparts. Parmesan has a distinctive, robust taste to it that stands up well against the Rocket and its firm texture provided something to get stuck into.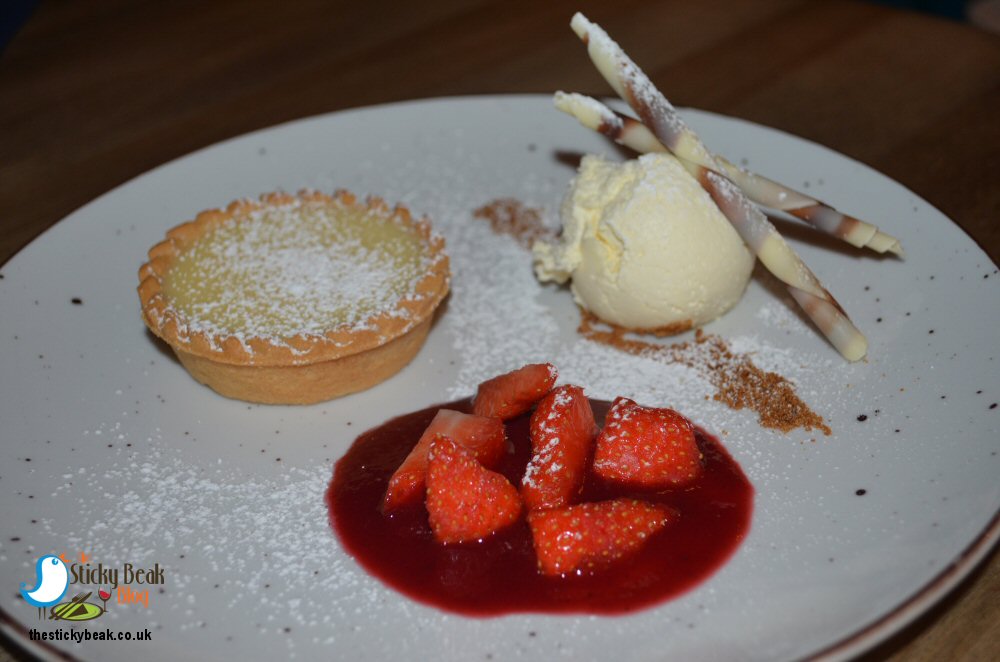 For pud I had The Yard White Chocolate and Strawberry Tart and The Man tackled the Sharp Lemon Posset, Vanilla Cream, and Honeycomb. The presentation of the Posset was different (in a good way!); the pot containing it stood on a miniature wooden pallet, just something a bit quirky I thought. This bad boy could get you in trouble quite easily with its wonderfully tart edge that makes your eyelid quiver in a way that could easily be mistaken for a cheeky, flirty wink!

The Posset had a nice light texture to it and there was a great portion of it too. There was also cream-a-plenty that had pieces of Honeycomb scattered all over it that gave fab crunch when bitten into.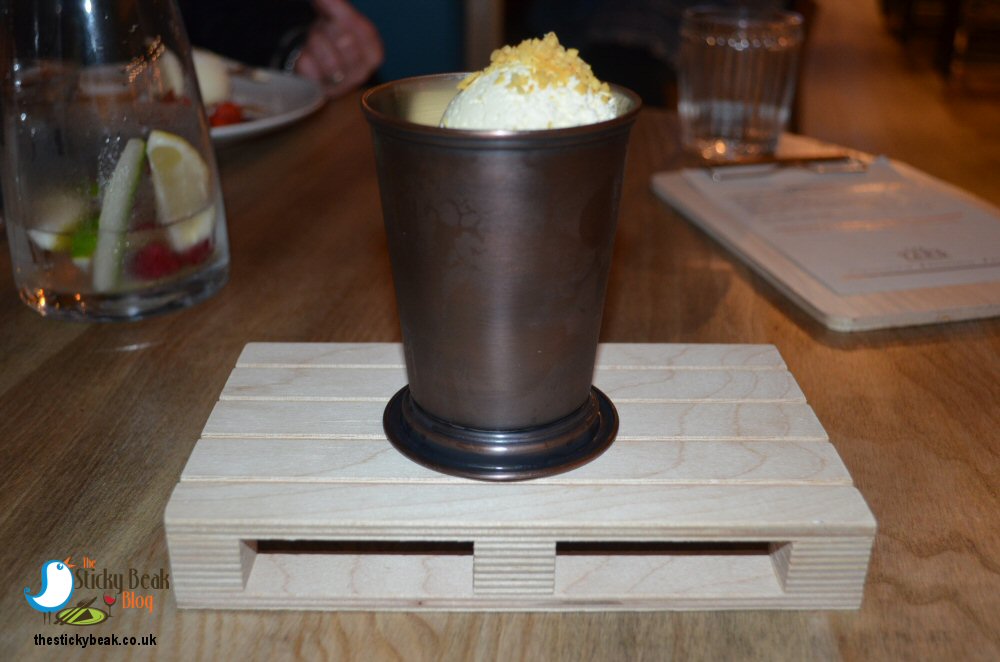 My dessert consisted of a lovely, dinky white chocolate tart enclosed in a buttery pastry case with slices of fresh Strawberries and coulis on the side. There was an ice-cream scoop sized mound of fresh cream to delve in to too. The only thing I personally would've liked was a dessert fork as well as a spoon; at times I had to use my finger to entice the tart onto my spoon. It wasn't a problem, but it's the little things that can make a difference. I should mention the lovely, thick napkins that The Yard uses, no messing about with these substantial items :)
As we sipped our coffees we kept chatting about what a great venue The Yard is, especially since it is very much in its infancy. It opens 8am-10pm Mon-Weds, 8am-11pm Thursday and Friday, 11am-11pm Saturday, and Noon-8pm on Sundays. This all day restaurant and bar serves food all day and has brunch, express lunch, dinner, and bar snack menus to choose from, as well as a dedicated childrens menu.


On Derby County's home match days, The Yard will be open before and after kick-off for casual dining and the bar will be open. Due to the unreserved nature of the tables, they recommend early arrival to secure seating. On Saturdays with a 3pm kick-off time tables can be reserved from 8pm onwards until close.
With the festive season closing in all too quickly upon us, I must tell you about The Yards' Christmas Menu; you can have 2 courses for £19.95 or 3 courses for £22.95. As well as the traditional crowd pleasers there are other delicious sounding morsels to choose from; click on The Yards website (www.theyardderby.co.uk) for more information or phone the team on 01332 821001.
Hot Wings well deserved by The Yard :)
Some form of incentive was provided to visit this venue
read more