All You Can Eat Oriental Buffet At The Rice Bowl, Belper
---
Published On Sunday 12 Nov 2017 by Sticky Beak
See Recent Dining Out Reviews | See All Recent Reviews


Ok, I'm just going to say it. I'm a complete gutso, piggy wiggy, walking dustbin, and all the other gluttony related descriptions you can think of. I would also like to be able to blame The Man Bird, but no, this was entirely all my own doing. In mitigation, however, I had been up early to do shopping in two places, visited a D.I.Y store, AND done a full days' graft in the garden pruning the hedges, conifers, and holly bush that looked like a huge triffid.

I think, therefore, that I had earned the right to a night out. Initially I fancied some good old pub grub but didn't know where I wanted to go, then changed my mind in favour of the "all-you-can-eat" buffet at The Rice Bowl in Belper.
You may recall the The Man Bird and I visited Rice Bowl when it was first taken over by new (and present) owner Woon - it was previously called New Ming Court. We loved the fact that it wasn't just serving Chinese dishes; there are Indonesian and Malaysian dishes too on the menu. To cut a long story short, we had a brilliant evening eating the food there, so that was what I decided I wanted to eat again.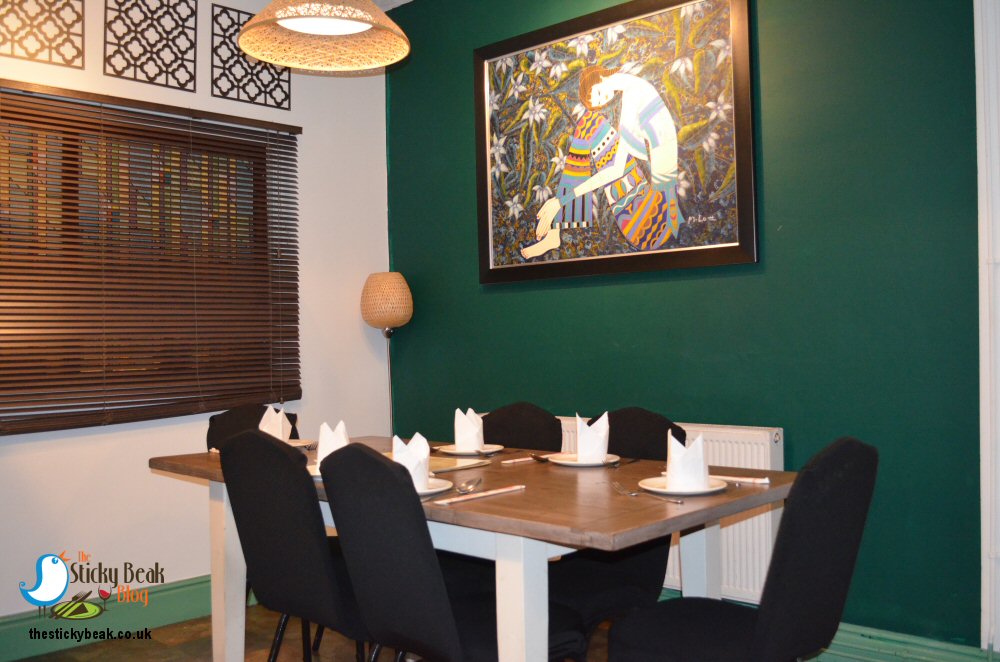 It was already busy when we strolled in a little bit early for our table at 7pm; there was a family group coming to the end of their meal, a couple of groups of middle aged friends dining together, and a couple on the table adjacent to ours. The Boy Wonder and I aren't particularly heavy drinkers, normally sticking to a single drink with our meals, but even so it's nice to see plenty of choice on a drinks menu.

Chinese restaurants aren't generally renowned for their wine choices; usually they veer towards the oriental lagers, and there is a good selection of these at the Rice Bowl (Asahi, Tiger, and Tsing Tao). White wine drinkers have Chardonnay, Sauvignon Blanc, Pinot Grigio or house white to choose from, there is a Rosé Pinot or Zinfandel to quaff, and a Merlot, Shiraz, or house red to choose from if that's your poison.

For the record, I had a large glass of the Shiraz (which was lovely) and His Nibs had a bottle of Asahi, and then a bottle of Tsing Tao later on. The alcohol prices are very reasonable too; the bottled lagers are £2.50 each (pedigree is £3.50), wines come in at £4 for 175ml, £5 for 250ml, or £14.50 if you fancy having a bottle.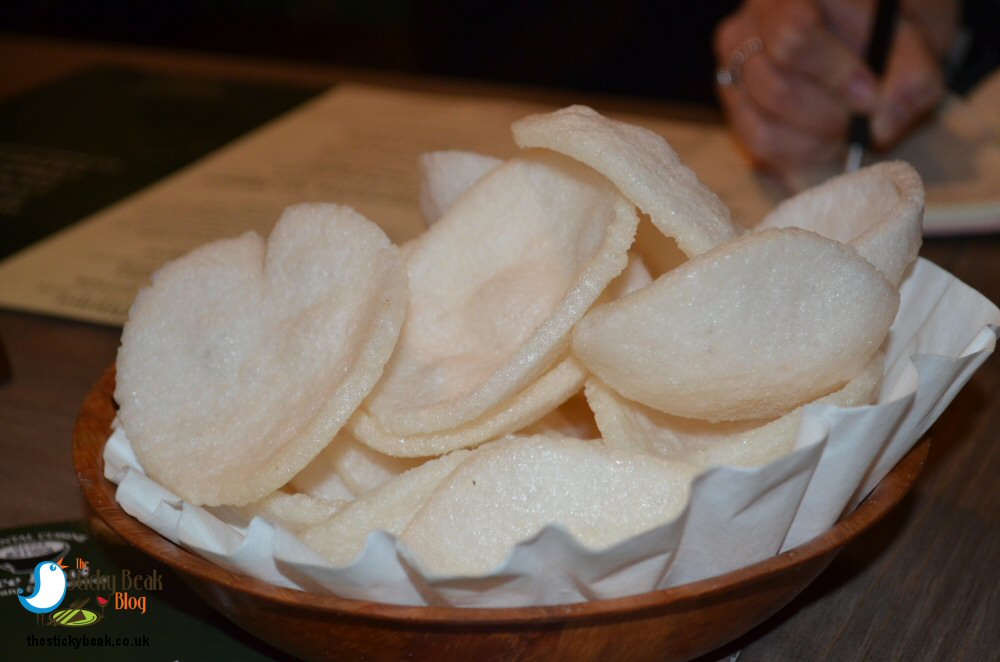 Takeaway is available from the Rice Bowl and the phone was ringing off the wall, so plenty of folks clearly rate the food, but fancied staying at home. If you want a job as a delivery driver, you won't be twiddling your thumbs that is for sure!!
As well as the "all you can eat" style of buffet that we had, Woon also offers diners a set dinner (for a minimum of 2 people) priced at £19.80pp, and there is a cracking vegetarian option too at £14.90pp. Our buffet is priced at £18.95pp on Fridays and Saturdays, £16.95pp on Monday, Wednesday, Thursday and Sunday.
This is another thing very much worth mentioning; The Rice Bowl caters fantastically for vegetarians and vegans. As well as Tofu, Woon does mock Chicken, duck and Prawns; he fashions them from bean curd - genius. To me this is the perfect solution for mixed groups of friends who all eat differently; everyone can indulge in whatever tickles their fancy and no-one has to make do with a limp lettuce leaf.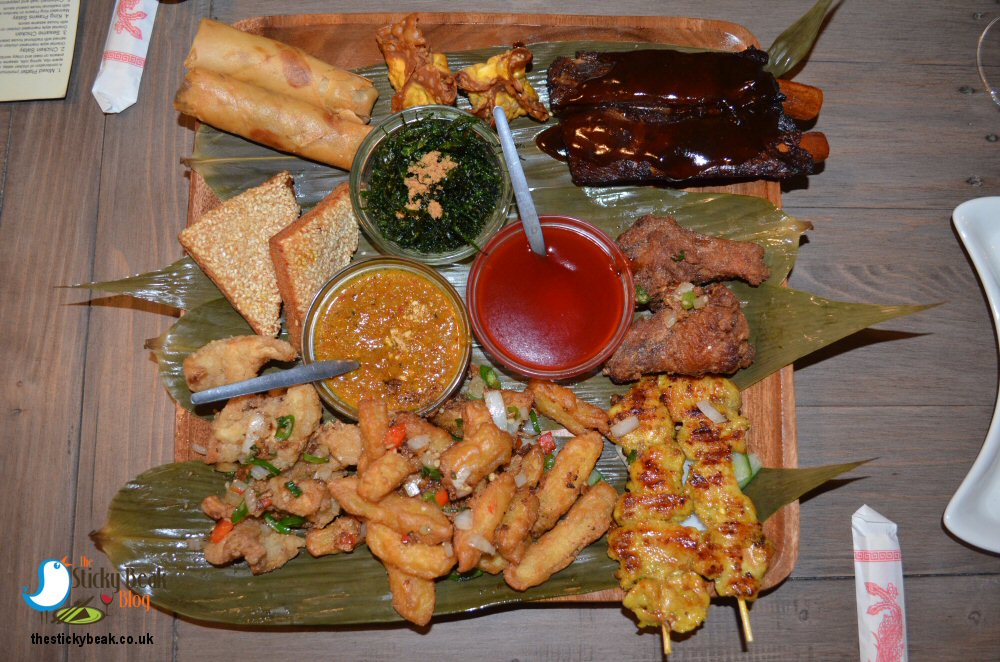 We kicked proceedings off with the mixed platter, which has chicken Satay, sesame chicken wings, spare ribs, spring rolls, sesame minced chicken and prawn toasts, crispy wontons, and seaweed. We also ordered the salt and pepper Calamari and spicy chips to go with our platter (they're very good, trust meJ ). The spare ribs were meaty, piping hot, and slathered in a delightfully sticky glaze that begs to be licked off fingers; the staff thoughtfully provide a finger bowl and extra napkins for precisely this eventuality. Chickadees Boyf is an absolute spare rib addict, and we have no doubt that he would go nuts for Woons version. I tucked greedily into the chicken and prawn toasts, savouring the crunch of them and the nuttiness from the sesame seeds; these ones are thicker than average so I really got stuck in :)
Chefs at The Rice Bowl marinade the chicken skewers so they are very tender and have a great spicy hint already; when you spoon Woons chunky Satay sauce on them they really come to life though, imparting a superb heat in the mouth that has that peanut edge to it. Perfect. His Nibs was chowing down on the spicy chips as if his life depended on it! They are rather good though, all chunky, crunchy loveliness that have fine pieces of fresh chilli and onion sticking to them. Again you get a wonderful "pop" of heat in the mouth, but never tongue or lip tingling.


Lovely plump wontons were calling my name, tempting me with their ample filling. They were delicious and not at all greasy; in fact, all of the dishes we had at The Rice Bowl weren't greasy or oily in the mouth. For someone who doesn't do dark meat, The Man was chomping away quite happily on the sesame chicken wings, really smacking his lips on the thick, crunchy coating.
As well as Woons magical Satay sauce, there is the ubiquitous sweet and sour dipping sauce to accompany the morsels on the platter. Seriously, it just wouldn't be an oriental meal if you didn't have this unctuous condiment to dip your meats into would it? With a total lack of decorum, myself and The Boy Wonder dunked our Calamari pieces in to the sweet and sour sauce and murmured words of appreciation. It was left to yours truly to dispatch the crispy seaweed; it's green, which must mean it's healthy in the Mans eyes so he avoids it like the plague. Tut tut.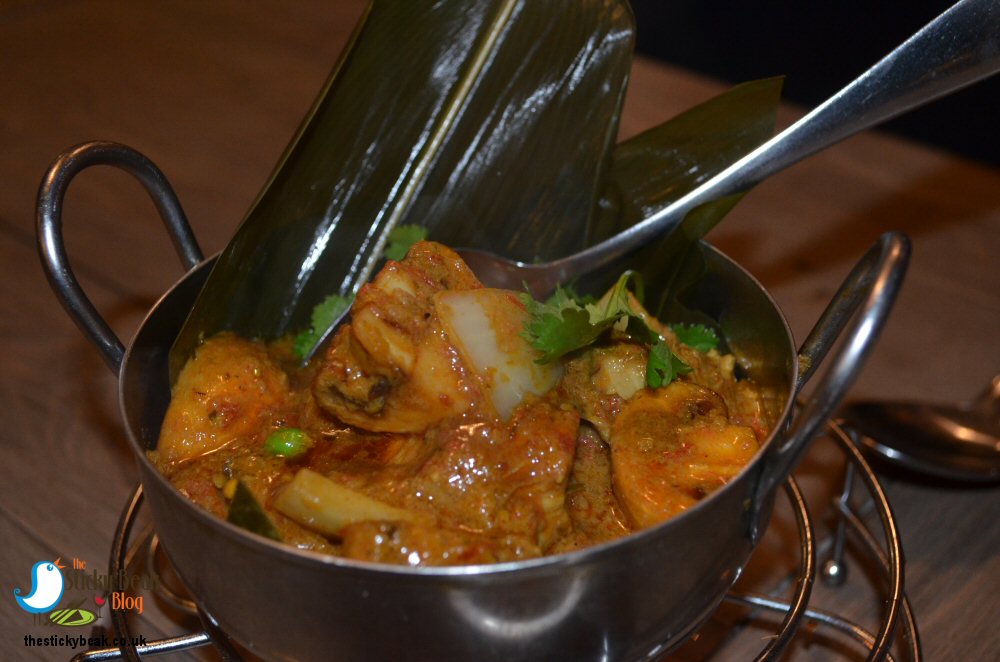 Our next course was crispy shredded Duck with Pancakes, another cornerstone of any Chinese banquet. The Rice Bowl offering comprises a plate of tender shredded duck, little side bowls of sliced spring onion and cucumber, a pot of smoky Hoisin sauce, and a stainless steel steamer of beautifully warm, soft pancakes to wrap it all in. There was more than enough meat to stuff generously into the trio of pancakes that we each had; in fact we picked up left over duck with our fingers and polished every last bit off!
I can't resist the total gem that is Woons signature home cooked curry with Kaffir Lime leaves; you can have it with duck, but I prefer the chicken option. The secret homemade curry sauce marries perfectly with the Coconut milk and shredded Kaffir Lime leaves to produce a smashing flavour in the mouth. It isn't "coconutty" in a way that would put people that don't like coconut off; its addition gives creaminess to the dish that the spices can bounce against. The chunks of chicken were bounteous, so much so that I think I had an entire breast in this one dish, but they were lovely and tender as I bit into them.


Another temptation that The Rice Bowl does incredibly well is the Tamarind Prawns. I particularly like Tamarind and its sweet-yet-sour character, its curiously bipolar nature has me (and my taste buds) intrigued. If you haven't tried it before I would definitely dip your toe, well your tongue, into this territory; it won't have you reaching for the water to quench any fire, but it will set your lips smacking with its dual sharp but sweet nature. Partner Tamarind with plump juicy King Prawns and you have something beautifully simple but delicious, and the addition of crunchy slices of Peppers and Onion make it a superb dish to savour.
Every time we go to a venue that serves oriental food does His Nibs order crispy shredded Chilli Beef with sticky sauce, it drives me crazy. It's like his own personal siren call that he is powerless to resist. I have to say though that the plateful he got from the Chef at The Rice Bowl in Belper left him speechless! Under the snug blanket of sticky sauce, the beef strips had a fantastically crispy coating that crunched most satisfyingly when bitten into. The sauce was lovely and tangy but not at all over-powering, and batons of carrot and celery gave some pleasant texture to the dish.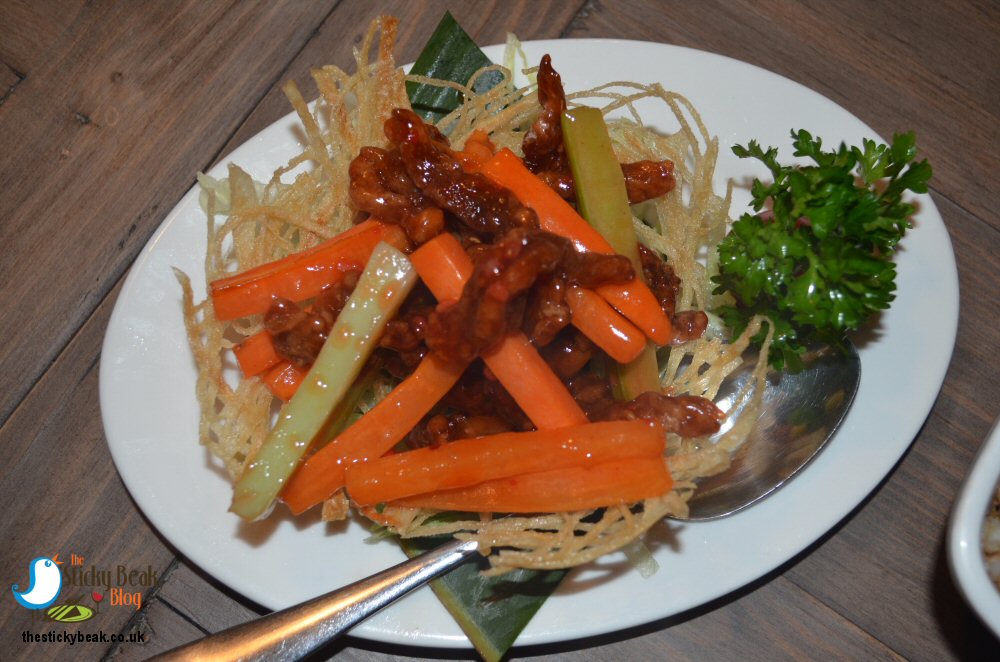 One of Chefs' specialities is Thai Sweet Chilli Chicken, so The Boy Wonder decided to order that too. The lightly battered pieces of tender chicken are cooked with onions and Thai sauce and topped with fresh coriander and sesame seeds. It is a perfect mix of sweet and spicy notes that delight the palate, and not a single morsel remained on the platter.
All the different dishes we had eaten were extremely tasty and none of them were searingly hot to make the lips tingle. I always think that the skilled use of spices allows them to maintain an air of intrigue that captivates the palate and allows the diner to appreciate the true nuances and character of them. At the Rice Bowl they don't over complicate dishes with a plethora of different spices in every dish; rather they employ them to give a subtle layering of flavours that can be discerned clearly.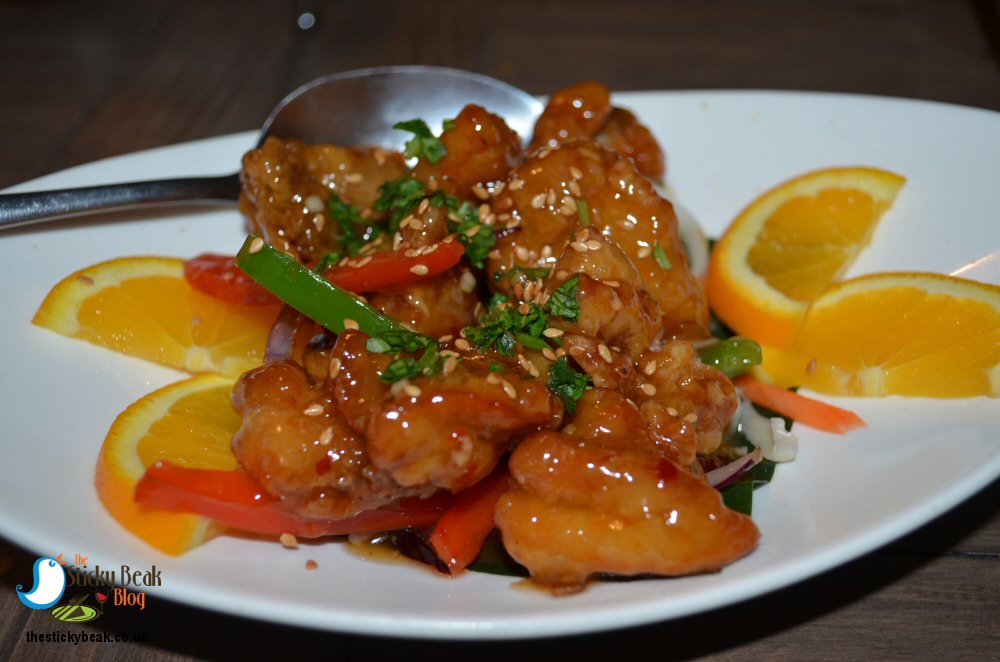 We skipped dessert and instead had a rich after dinner coffee, courtesy of the nifty Nespresso machine that Woon now hasJ. Throughout the evening a steady stream of diners came and went, the vast majority had either the set dinner or the buffet due to the extra-ordinarily good value it represents. If you haven't been before, I can only say "what on earth are you waiting for?"

Should you by chance happen to eat the Lemongrass Chicken or the Roast Duck with Mango and Thai Sweet Chilli sauce, would you be kind enough to let me know how it was please? I sorely wanted to try them, but my tummy was waving the white flag of podged surrender, so I had to pass. I suppose it's a good excuse to visit again soon! J Hot Wings awarded again to Woon and his team; a team who were very attentive in their customer service it has to be said :)
No incentive was provided to visit this venue
read more