Sampling From The Christmas Gift Selection At Il Gusto
Published On Tuesday 7 Nov 2017 by Sticky Beak
See All Recent Reviews
I have finally found the secret to popularity dear reader; do you want to know what it is? Trust me, you'd never have guessed in a million years. Alcohol! Not just any old stuff though; yummy, indulgent tipples that need to be caressed and savoured. And wait until you see what they came in - seasonal and stylish glassware only for these little minxes. I'm talking fancy pants containers that are the Kim K of their ilk; mine were a swanky Christmas tree containing Amaretto di Saronno, and some chic, stackable numbers that held "Vanilla Dream" and "Chocolate Cream" liqueurs within them.
So first off I want to say a ma-hoo-sive thank you to Il Gusto for making my kudos sky-rocketJ His Nibs was dispatched to fetch the ice cubes and crystal glasses to swirl the amber coloured Amaretto di Saronno in, and I carefully removed the stopper from the (fairly hefty weighing)Christmas Tree bottle that housed it.
With the tipple duly poured out I took my first sniff of it and that wonderful Almond note drifted up to my nostrils. Our initial sip revealed a very pleasant sensation; that lovely warming in the mouth that goes into the throat as it's swallowed. The Man Bird has always shied away from Amaretto, thinking it to be sickly sweet and over-powering, so he was very happy to discover this wasn't the case with Il Gusto's sample. This premium Amaretto isn't overly sweet and cloying at all; its Almond tones are nice and gentle so that it imparts a nice rounded, honeyed taste in the mouth.


It was going to be a tough job to follow such a great drink, but the Vanilla Dream cream liqueur more than held its own. Having washed the glasses and put fresh ice in, I poured this beauty over and relished the delicate glug it yielded. It isn't dissimilar to another well known cream liqueur in its colour, but it tastes completely different (in a very good way). The best description I can give you of this fine tipple is that it was like drinking a delicious liquid Vanilla Fudge. Honestly, it was that goodJ. Despite its indulgent creamy taste and texture this also managed to avoid the "claggy" pitfall; delivering smoothness and silkiness on the palate.
The final star in this Alco-holy trinity was the Chocolate Cream Liqueur. And what a total bobby dazzler this was!! I don't think I've seen His Nibs' eyes glaze over with utter rapture like this for ages. It was a case of "lights on, no-one at home"; at least no-one that wanted to come to the door, they were too busy supping top notch tipples :) Without doubt, this was The Boy Wonders favourite, which completely blew me away as normally you wouldn't catch him drinking this sort of drink AT ALL.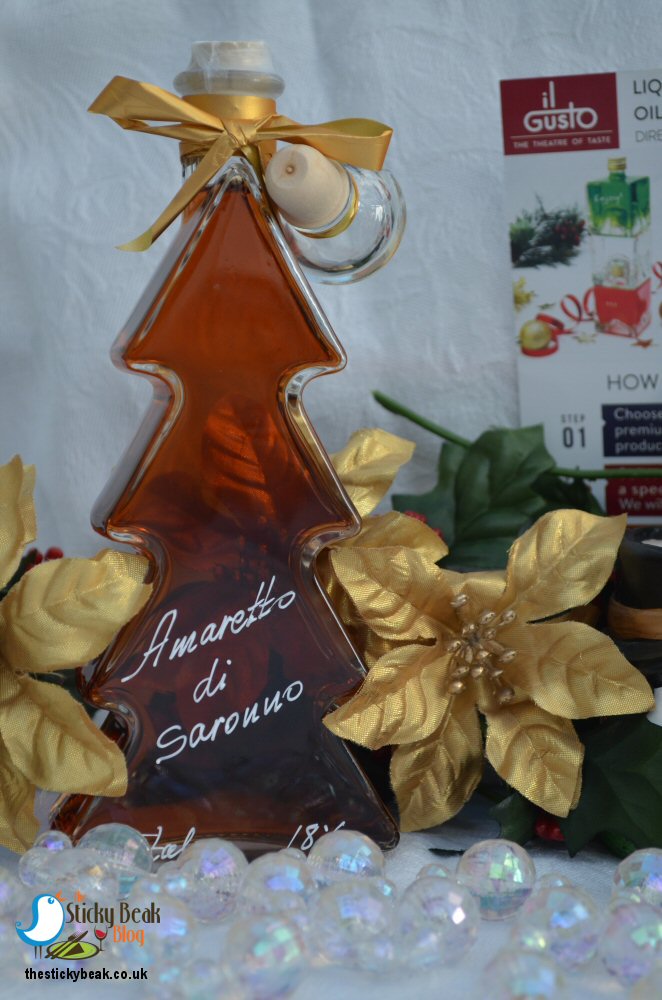 Chocolate Dream slinked out of the bottle in a very Marilyn Monroe-esque way, all seductive wiggle and slow tease due to its more curvaceous consistency. Thankfully, it tasted every bit as good as it had smelled and looked with a superb deep chocolate flavour to it. All true goddesses have their secrets and Chocolate Dream is no exception; Chocolate is most definitely detectable, but it doesn't taste alcoholic at all, so beware! I am going to try this superstar in my Hot Chocolate next time I have one in the evening; I might just have to add mini marshmallows, sprinkles and a Cadbury Flake too!
Il Gusto has permanent stores in the Midlands; located at Leek and Trentham in Staffordshire, Sheffield at Meadowhall, and in Selfridges store in Birmingham. They also have an annual kiosk for Christmas at Nottingham's' Victoria Centre. They have something for literally everyone; Liqueurs, Spirits and Wines, as well as Oils and Vinegars. Sending the ultimate personalised gift is easy-peasy, all you have to do is follow the simple following steps: Choose your product from Il Gusto's premium quality selection, Select a bottle and Special stopper (they will fill it for you), Your personal message and gift wrap is done free of charge for you. Step 4 is my favourite one though - return and have your bottle refilled, paying only for the contents as you've got your bottle already :)
Not sure what to get for your special person? Don't panic you can sample any of Il Gusto's products in store prior to purchase, and you can buy them in any size and mixes, with prices starting at under a tenner for 40ml. There are normal shaped bottles as well as stars, high heels shoes, gingerbread men, and Christmas tree shaped ones for the festive and party season.
Talking of parties.... If, like moi, you love entertaining then you've just got to have the wow factor for festive and New Year shin-digs, right? Il Gusto yet again is your party hero with their eye-catching range of 22 carat gold leaf-infused Gins, Vodkas and Sparkling Wines. Party in style dahlinks :)
Some form of incentive was provided to visit this venue
read more