Sunday Lunch At The Red Lion, Alnmouth
---
Published On Sunday 5 Nov 2017 by Sticky Beak
See Recent Dining Out Reviews | See All Recent Reviews


For those of you who haven't visited Alnmouth before, it's one of those chocolate-box perfect towns that are quite common in Northumberland. When the Flock visit Geordie Bird (mum-in-law) we always take her out for Sunday Lunch as a thank you for putting up with us; looking for somewhere new each time is something we love to hunt out.

The most important thing is that the venue does half size portions for smaller appetites as Geordie Bird could eat off a thimble. As soon as we mention the fact we're going out for a meal she's like one of those ruddy dolls that you pull the string in their backs, except her mantra is "do they do small portions?, do they do small portions?"... ad infinitum. Drives me nuts, it really does; has the woman not heard of doggy bags? Do they not exist in Geordie land? Good job I love her to bits!
So, having checked that The Red Lion at Alnmouth does indeed cater for more delicate appetites we proceeded to book a table. Which brings me to another idiosyncrasy (seemingly) of Northumberland; the fact that you can book a table for any day of the week, any time - except for Sunday Lunch. Don't ask me why, but it's like hunting for Rocking Horse doo-doo! Anyhow, The Red Lion lets you book ahead which given how popular it was at 2pm is perhaps as well; both the bar area and restaurant were chocka.

The building itself dates from the 18th Century and offers a small number of rooms for guests to stay in; there's also a beer garden for warmer days and the kitchen serves traditional food. There were plenty of folks dining in the traditionally styled bar area, but our table was in the quieter restaurant with its solid stone walls, exposed brickwork, and leaded windows with red lions standing proudly in the middle of them.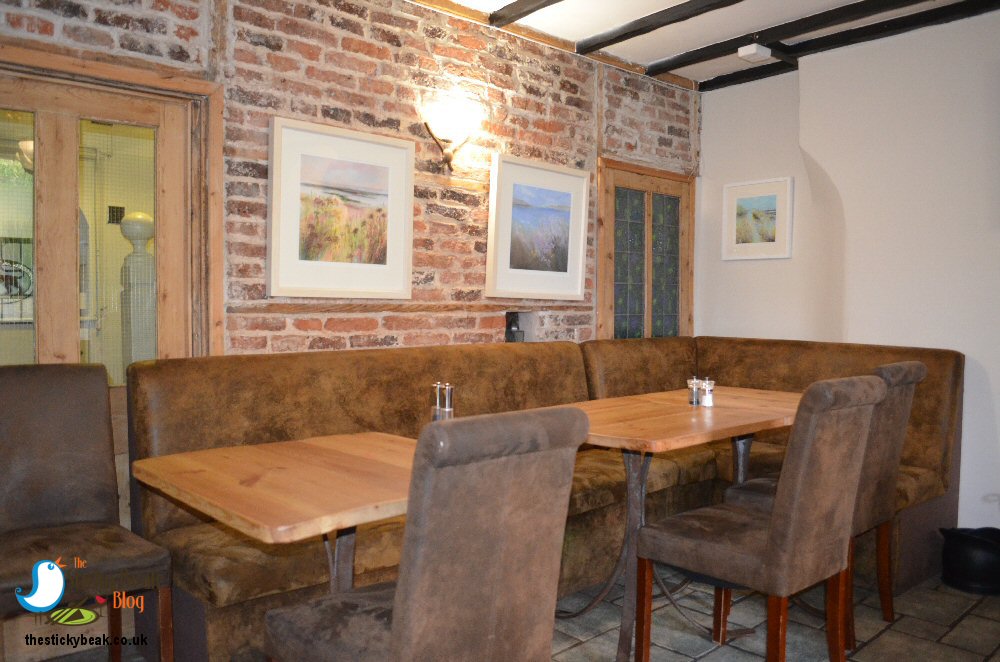 Sunday lunch at The Red Lion is a plated affair rather than a help yourself Carvery format, so a lovely young girl came over to take our orders from the menu. Geordie Bird had the half portion of Northumberland Pork, His Nibs had the trio of meats (Beef, Lamb, and Pork for him – you can also have Chicken as an option) and I chose the Steak and Ale Pie with Sunday trimmings.
It didn't take long for our meals to be brought out, and first up was GBs choice. Um, I think someone forgot to tell Chef it was a half portion; even I thought it was a standard dish, with its two thick slices of Pork and a boat sized Yorkie pud! The look on His Nibs' mums face was one of those so-called "MasterCard moments" - priceless; it was a mix of shock, horror, and OMG! Credit where it's due though, she composed herself and gave her Yorkie to me (my pie didn't come with one) and duly began to tuck in. The Pork crackling was brilliant, exactly as it should be; crunchy, thin, crispy, and not dripping in grease. All the veg were cooked perfectly and I got passed hers and The Boy Wonders' Parsnips, bonus :)


Next to me His Nibs was chowing down on his whopping amount of meat, and there was only one tiny bit of fat that he discarded out of all of it. Fair to say that the Chef at The Red Lion, Alnmouth only uses the best meats in his dishes. The Man Bird said that all his meats were full of flavour and deliciously moist and tender in the mouth. One thing His Nibs has always loved is the iconic Yorkie, so he's a bit of a connoisseur, or so he thinks anyway. Given its mountain-esque proportions he was a very happy camper, and even more so when he savoured its superb texture. They clearly make their own puds at The Red Lion, and I can also say that they are jolly good thanks to GBs generosity.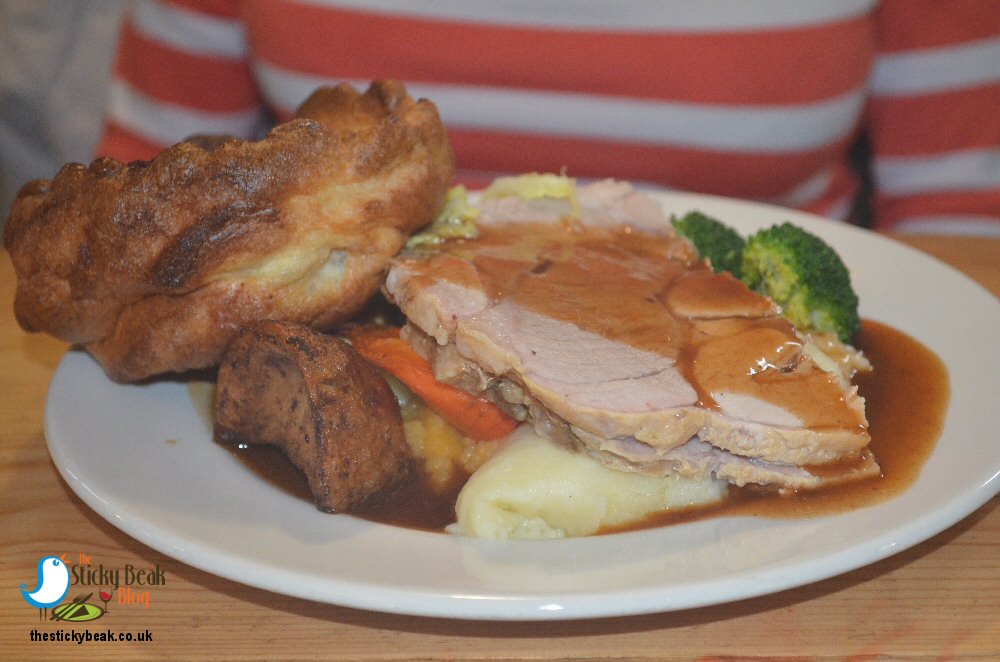 My Steak and Ale pie was beautiful to eat. The chunks of Steak were lovely and tender, and the rich, ale-enhanced gravy lingered just nicely in the mouth. I loved the buttery short pastry top as, for me personally, it was the right thickness to appreciate it in its own right without it dominating the dish and drying it too much. At my own peril I mentioned the chunky texture of the coarsely mashed Swede. Big Mistake. Yet again, I opened the debate as to whether the yellow root vegetable is Swede or Turnip; to my mind it's Swede, but Geordie Bird vehemently calls it Turnip. To-mar-to, To-may-to; Brown Sauce with Bacon Butties, or Ketchup - everyone swears they're right so we'll agree to disagree, ok?


As well as the Swede, I had mashed Potato, Broccoli, Savoy Cabbage, Carrots, Parsnip and a Roastie (which I swapped with His Nibs for his Parsnip), all of which were cooked wonderfully al-dente to retain their flavour and texture.


Being the gluttons that we are, His Nibs and I ordered pudding; White Chocolate Panna Cotta for him and Lemon Cheesecake for yours truly. Now I have seen some outré presentations before but even I looked twice when my (deconstructed, by the way) Cheesecake came in a small brown plastic plant-pot. Yup, the kind that you grow seedling veggies in. Clearly Chef had been at the Sherry when creative inspiration struck for that dessert! Thankfully it tasted gorgeous, especially when combined with the mixed berries and Vanilla Ice cream. The biscuit base had been scattered a la "soil" around the plate and was lovely and buttery to taste.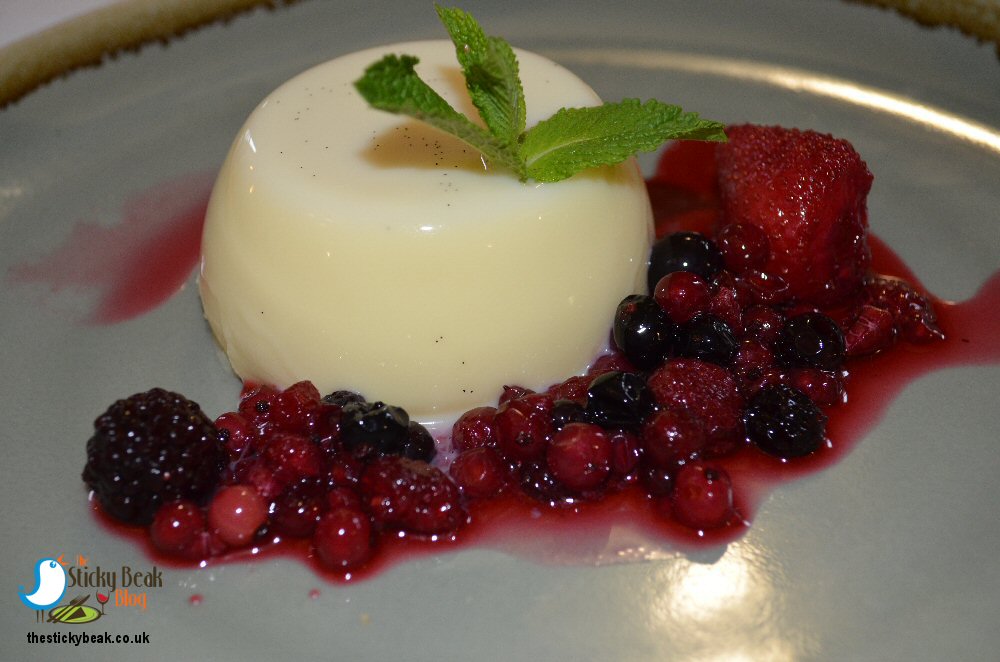 The Boy Wonder was a smitten kitten with his creamy, light textured Panna Cotta, and best of all, it didn't lay heavy on his tum after the gargantuan portion of meat and veg he'd demolished for his main course. A fantastic mix of Blackcurrants, Redcurrants, Strawberries and Raspberries gave a zingy lift to the dish; the perfect close to a super meal.
If you haven't been to The Red Lion at Alnmouth before, I can definitely recommend it. Bear in mind that they are feeders, so if you don't have the heartiest of appetites order the half portions (or take any leftovers home in a doggy bag).
No incentive was provided to visit this venue
read more