Dinner At The Old Boat House, Amble
---
Published On Wednesday 1 Nov 2017 by Sticky Beak
See Recent Dining Out Reviews | See All Recent Reviews


The novelty of going out for dinner sans child never wears off, even when your Chick is on the point of fledging in the near future. Geordie Bird had stepped up to the plate and did her Granny duty as child watcher, so The Man Bird and I went to The Old Boathouse at Amble to sample their wares.
It literally is an old boathouse right on the marina, and as we walked down to it we could see fishing boats moored up for the night, no doubt having been out at sea in the day. Due to the time of day it wasn't possible to have a clear view, but from what I could see it was a pretty little harbour.
To say the Old Boathouse is bijoux is perhaps the biggest understatement I could ever make – it probably seats 40 people at one time, maximum. What it lacks in square footage it more than makes up for in atmosphere and charm.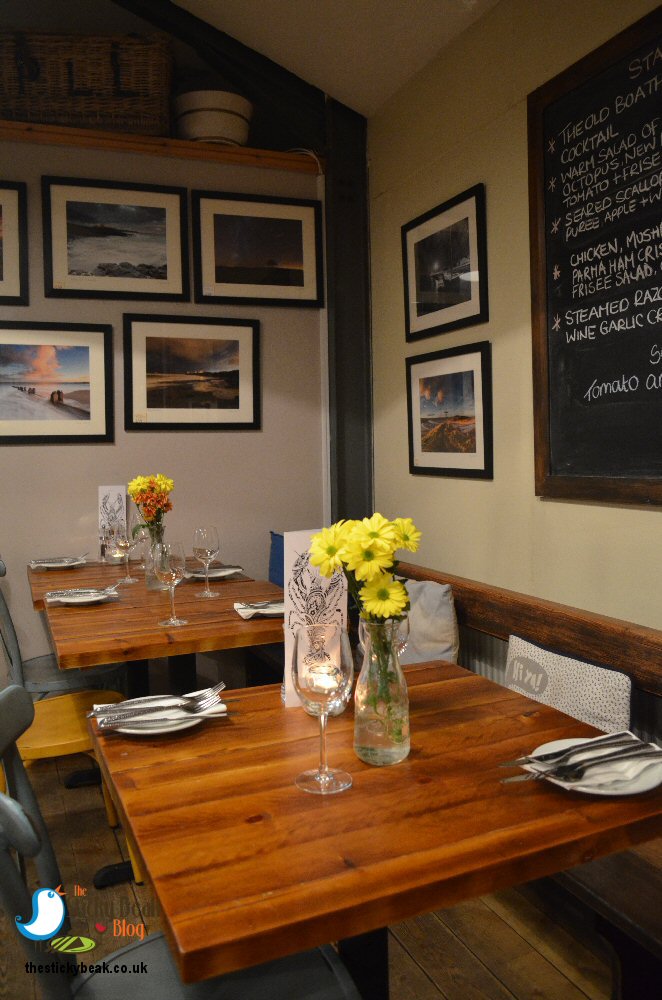 Wood floors are the order of the day, upon which are square tables and basic kitchen-style chairs. I sat on a large church pew type bench that thoughtfully had small cushions for you to place in the small of your backs for comfort.
The staff are very pleasant and went out of their way to ensure everyone was having a good time. At one point every single chair was occupied and there were several groups of hopeful diners putting their heads round the door to see if there was a chance of getting a table. So I would definitely reserve a table in advance if you want to eat there.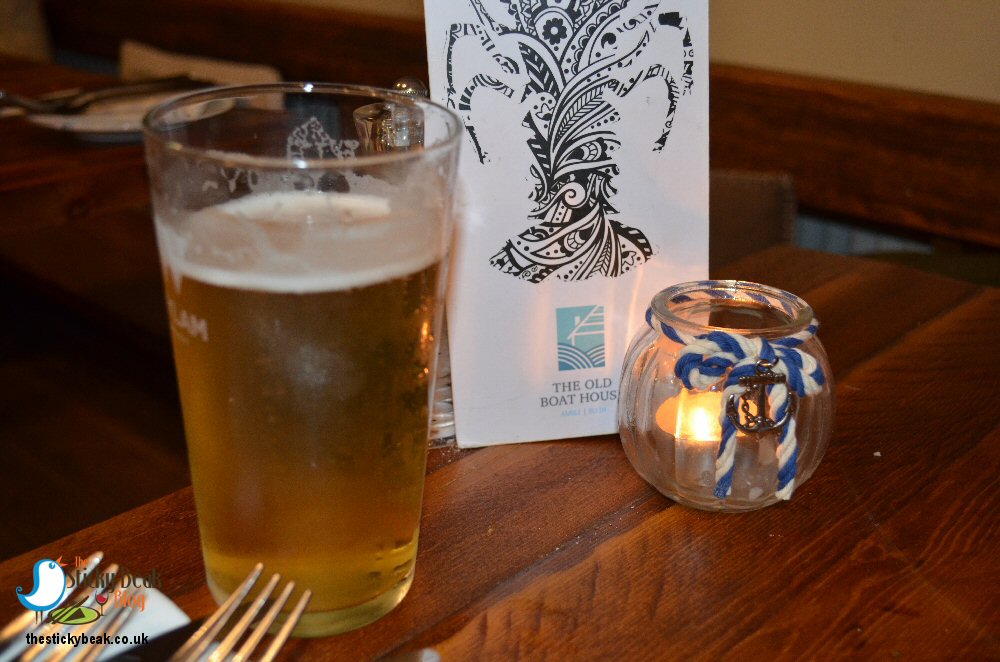 The saying "less is more" is definitely applicable, and appropriate, at The Old Boathouse due to its compact size. It would be very easy to get carried away with fixtures and fittings, and swamp the small space; but luckily a compact collection of clean-lined accessories had been used. There is a lifebuoy on one wall and some wooden fish carvings grouped together in a simple- but- stylish arrangement. Another wall plays host to a boat oar and a range of photos showcasing the local coastline was lovely to look at.
It would be remiss of me not to mention the fact that not only is The Old Boathouse a coastal restaurant, it is a multi-award winner having scooped the accolade of "Best Coastal Restaurant of the Year" in 2016 and 2017!


Having got our drinks already in our eager mitts we cast our eyes over the specials board and the regular menu. I spied some delicious sounding Razor Clams with a White Wine, Garlic and Cream sauce on the specials board which were calling my name, and The Man Bird wanted the Salt and Chilli Squid with Napa 'slaw and Chilli Jam to kick things off.
My Razor Clams were the Sumo's of their ilk; twice the size of ones that I've had before, but I guess when you are a local coastal restaurant you get pick of the catch from the fishing boats :) They had a great meaty texture to them that belied their tenderness to eat, and the accompanying sauce was exquisite.
The trick to a great shellfish sauce is to enhance rather than drown the delicate flavour of the star attraction and thankfully Chef has got it spot on in this dish. The superb sauce wasn't overly creamy to dominate the dish, but it managed to be thick enough to coat the Clam meat and lingered nicely in the mouth. Garlic danced gently on the palate and a liberal sprinkling of fresh Parsley added a brightness that was wonderful to taste. You all know what I'm like when it comes to my sauces, so it won't surprise you to discover that I ate every scrap of the uber-fresh, springy bread that I'd used to soak up the excess liquid.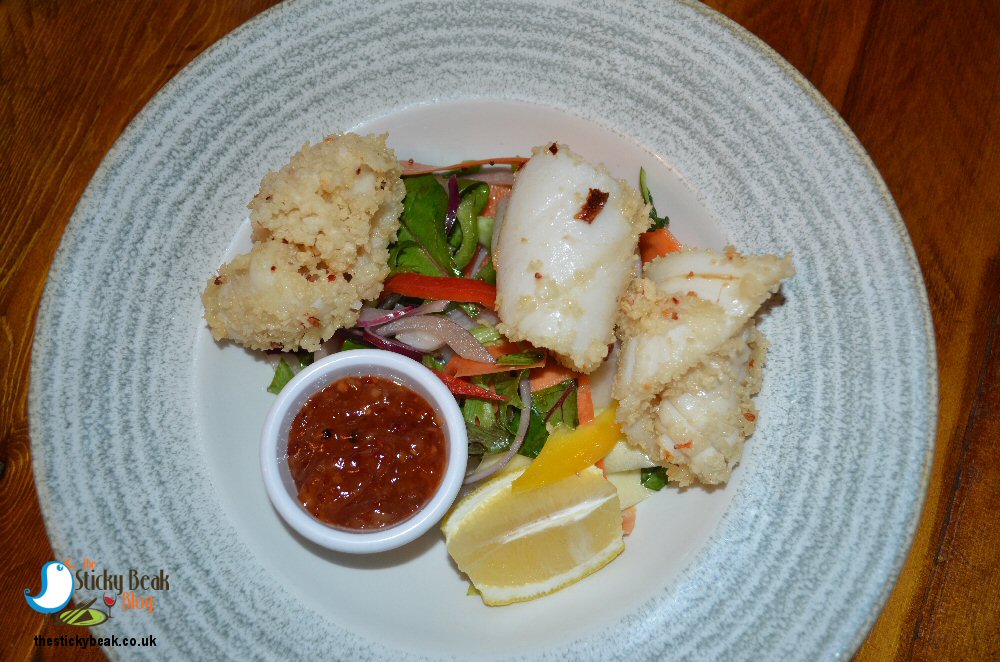 The Man Birds' Squid was equally impressive in size as my Clams yet the pieces managed to be delightfully soft when bitten into. Lesser Chefs or those not au-fait with the knack of cooking seafood would perhaps have fallen prey to over-cooking the Squid, rendering it rubbery and chewy; no such concerns at The Old Boathouse in Amble.
A whisper light coating of crumb adorned the Squid tubes and this seemed to give the Chilli Jam something to cling to when pieces got dunked into the pot. Again, the Chilli jam didn't overwhelm the gentle flavour of the seafood even though it had a detectable heat to it. The Napa 'slaw consisted of thin ribbons of Carrot, Cucumber, and Courgette with slices of Peppers and Red Onion; all of which had been lightly tossed in a mustard seed dressing and placed on a bed of mixed salad leaves.
Our server was mightily pleased to hear how much we were enjoying our first course when she came to check on us. We weren't the only ones appreciating the efforts of the Chef and his kitchen team; hardly any food was going back on plates to the kitchen.


One of my favourite foods is seafood and it would've been daft to pass up the chance to sample some when it was fresher than fresh. To this end, I had the Shellfish Steamer for my main course with the much-welcomed surprise addition of Crab claws, generously offered up by Chef (who I suspect was hoping to have them himself after service!). It truly was a breath-taking dish to behold. The metal steamer looked impressive on its own as it came to the table, but when it was opened a true treasure trove of Shetland Mussels, Carpet Clams and Shell-on Tiger prawns was revealed, topped with four huge Crab Claws.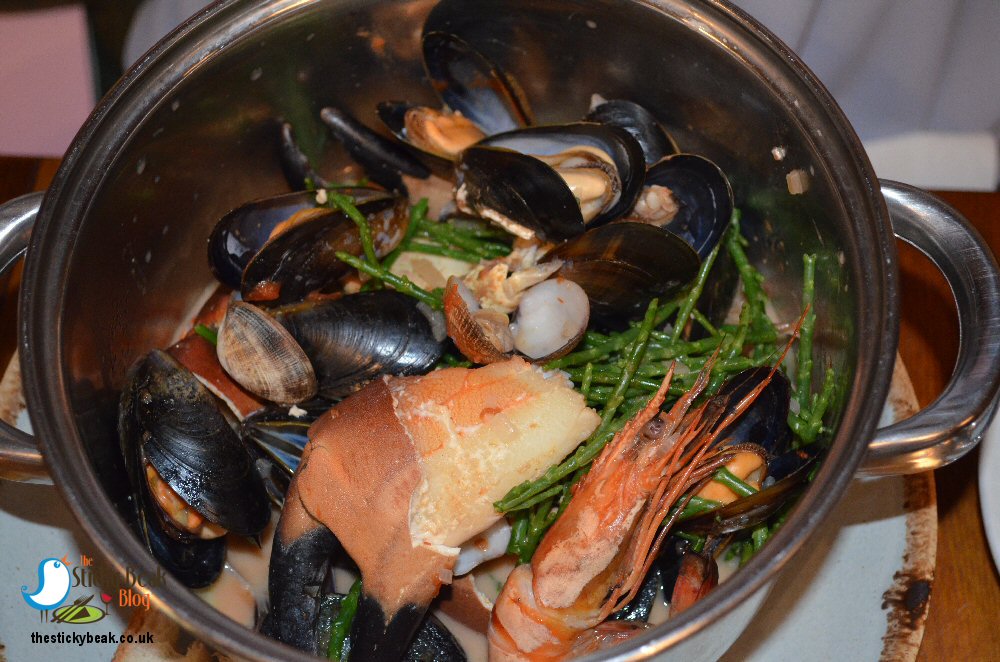 A lot of folks eschew shellfish thinking that they're gritty, especially things such as Clams and Mussels; the ones I had didn't have a single bit of grit at all that I could discern, and by golly were they magnificent. Again, they were larger than your average bear. The Clams and Prawns were ridiculously sweet on the tongue and the Mussels were pillow-soft and creamy textured.

You simply can't beat fresh Crab; it's sweet, fragrant and moreish and I was in my element digging every last bit of flesh out of the claw depths! His Nibs laughed when the plethora of "tools" had been placed on my side plate before the steamer was brought out. Alongside the usual knife, fork and spoon was a claw cracker and a long handled, tiny pronged claw fork; plenty to keep me occupied and out of mischief!


This dish comes with more slices of bread with which to soak up the terrific, fragrant crab bisque that bathes all the shellfish in the steamer. When I'd used all that up I resorted to using my spoon to enthusiastically slurp up all the bisque; anyone who has this dish would do the same. Trust me, it's that good :) Presentation-wise, the gentle coral hue of the crab bisque allowed the verdant young Samphire fronds to really pop; they popped on the palate too with their salty sea tang. Perfect.
The Boy Wonder had chosen the plump breast of Chicken (yes that was how it was described in the menu), and sure enough, it was a generous and succulent chicken breast that was brought out to him. At The Old Boathouse in Amble, Chef simmers this breast with brilliantly large Lardons, wild Mushrooms, and heritage Potatoes in a Tarragon and Madeira sauce. The result is a soul-satisfying dish absolutely chockfull of taste and texture, added to by the fact that the breast is bone-on, so any flavour from this is absorbed into the cooking sauce too.


Lardons have a lovely smokiness to them and this had infused gently into the sauce as well as the meaty cubes of bacon itself. Heritage Potatoes keep their natural texture well when cooked, and the slices were al-dente in the mouth and had drawn the flavours of the sauce into their flesh. The subtly anise notes of the Tarragon worked in harmony with the cream and tempered the richness of it very nicely.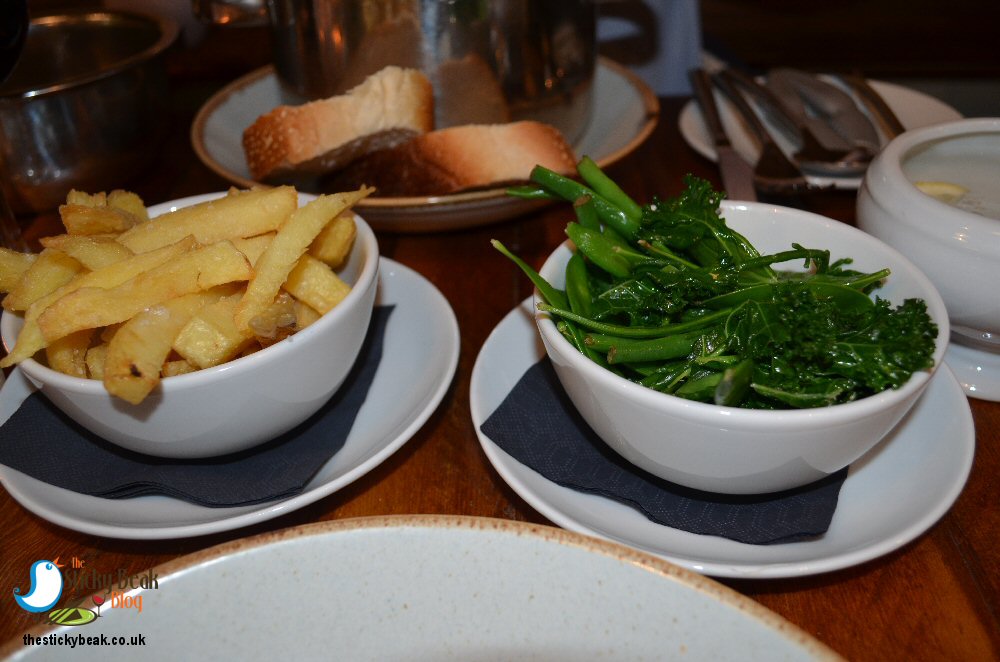 We ordered sides of buttered greens and twice-cooked homemade chips; in all honesty we could've managed without them, but it's always hard to gauge when you're visiting a venue for the first time. The chips were lovely; not greasy at all and a great flavour from the potato variety used - no doubt grown locally. Kale, Mange Tout, fine Green Beans and Samphire all gently glistened in their jacket of melted butter, and all had been cooked to perfection to allow their flavours and textures to explode in the mouth.
I've said before that autumn and winter are the perfect seasons for hearty puds and I did a little jig of glee when I saw a Plum, Ginger, Pistachio, and Almond crumble on the menu! This beauty had my name plastered all over it, and came with Vanilla Ice Cream for a twist, rather than the usual custard. The Man Bird also likes a pud that "sticks to your ribs" as my Nana Bird (bless her soul) used to say, so he ordered the Sticky Toffee pudding with Butterscotch sauce and Vanilla Ice Cream for his final course.


No shock that both desserts were belly busters size-wise; they're definitely feeders at The Old BoathouseJ. Mercifully, despite its gargantuan size, the Sticky Toffee pud didn't lay heavy on His Nibs' tum, thanks to its lovely light texture. A properly done Butterscotch sauce has a soft-yet-substantial character and flavour to it and judging by the size of The Boy Wonders' grin (which would account for the moon's temporary eclipse in Amble - joke) it was the real deal. The Vanilla Ice Cream was just the cherry on top of this pud, so to speak.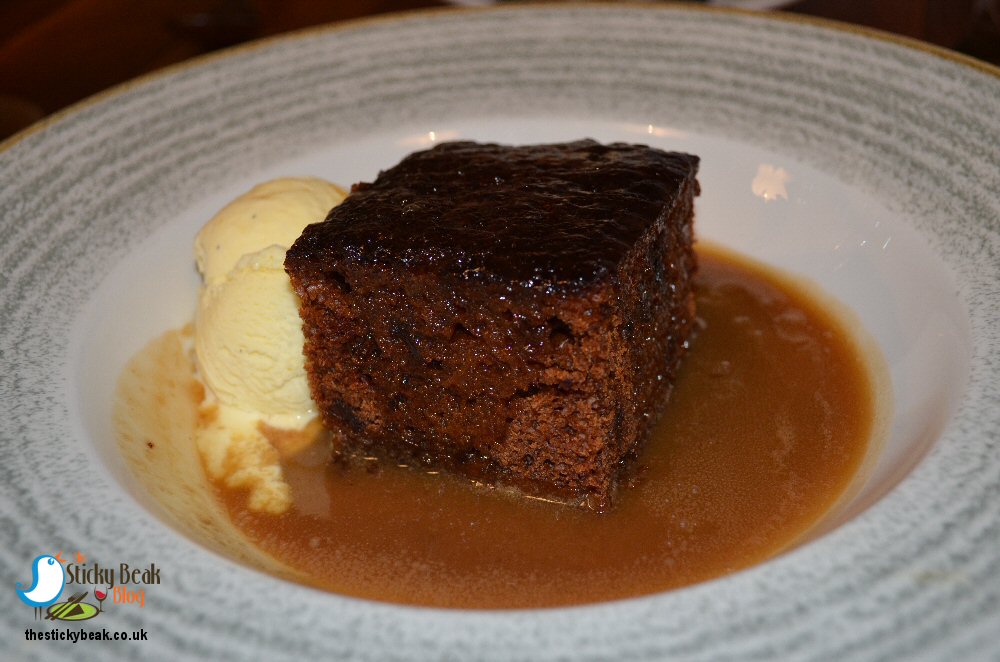 I shouldn't really poke fun at The Man Birds' pud-face, as I'm sure mine was even stranger as I tucked into my total gem of a crumble. Thick slices of sweet, rich plums were firm enough to retain their shape but softly yielding when bitten into. A warm ribbon of Ginger tiptoed on the palates periphery, another triumph in this wondrous pudding. Using the Pistachio and Almond pieces as the "crumble" kept it nice and light, so that I too had a pleasant end to my meal rather than feeling sluggish. I loved the contrast of piping hot fruit against the cold Ice Cream; it provided a real conundrum for the senses that kept them engaged until the very last mouthful of the meal.
Without hesitation," Hot Wings" are awarded to this quaint venue, it is one of those places that when you stumble across it, you thank your lucky stars. If you're lucky enough to live close by, then make it your regular haunt; I would if I had the chance! Just remember to book in advance!!
No incentive was provided to visit this venue
read more