Dinner At Sourced Restaurant At The New Bath Hotel
---
Published On Sunday 15 Oct 2017 by Sticky Beak
See Recent Dining Out Reviews | See All Recent Reviews


Matlock Bath holds a lot of good memories for me, as I'm sure it does for a lot of you all too. One of the most historic buildings in the town is The Bath Hotel and its spring water-fed pools. Last year after a lot of renovation, it once again opened its doors as a Hotel and Spa; renamed The New Bath Hotel and Spa.
Located just off to one side of the hotel lobby is the restaurant, Sourced. A lovely lady showed us through to the restaurant and handed us over to a young man who took us to our table and took our drinks order.
To say it is very modern in design, which is in complete contrast to the historic building in which it's set, Sourced has a lovely feel to it. The flooring is a very dark wood; wider than the normal modern flooring and with a demi-matte finish to it, and there are angular side tables and cabinets that echo this hue.


On the ceiling there is some striking circular artwork that is subtly lit by the recessed lights. Pale marble effect tables were set very classically with shiny cutlery, substantial glassware and pristine cloth napkins. The colour scheme is greys and blacks with accents of colour coming from the canvasses on the walls, flowers on the tables, and Orchids in pots around the room. There are a couple of slightly elevated dining spaces which give visual interest to the room, as well as a couple of stone clad arches that break the area up nicely.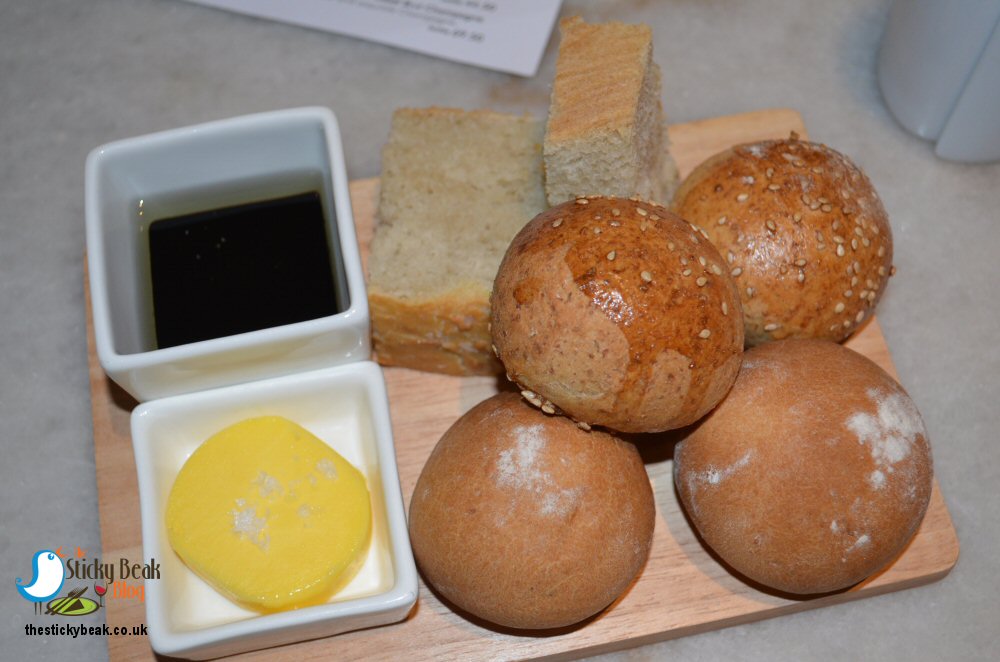 As we were looking through the menu a platter of warm, homemade breads with Olive Oil and Balsamic vinegar, and pats of room temperature Butter, was brought over for us to nibble on. The bread was warm and soft so it melted wonderfully in the mouth; a couple of the rolls had nice crusty outers so they made a satisfying crunch when bitten into.

For starter I had the Coronation Chicken Terrine, Mango, and Soft Shell Crab; having never had a Coronation Chicken Terrine beforFe (usually it comes as a sauced dish), it had me intrigued. The Man Bird fancied the soup of the day which on this occasion was curried Sweet Potato.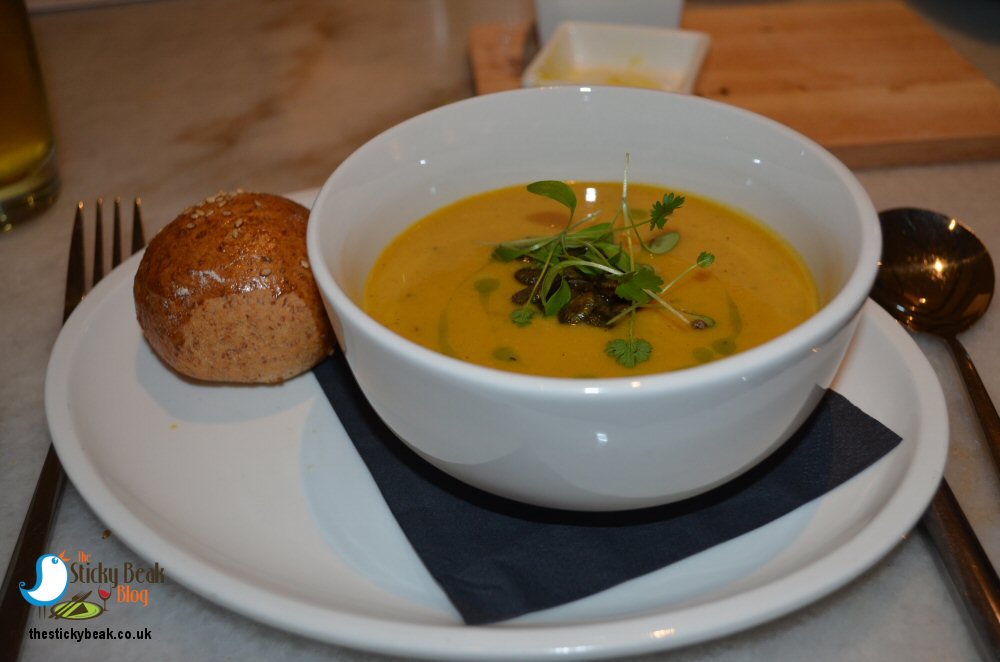 The soup was a lovely creamy texture and had a nice warming quality to it; there was a nicely rounded curry flavour to it that was distinct but not over-powering. Crunchy toasted Pumpkin seeds gave a wonderful textural contrast against the smoothness of the soup itself and also imparted their superb nuttiness when eaten. This nuttiness worked nicely with the mellow, slightly earthy flavour of the Sweet Potato.
My Turmeric-hued terrine was served on a duck egg blue plate, which really let the colour of the food "pop". I loved the way the white meat had been layered on the bottom, graduating to the deeper colour of the dark Chicken meat at the top. The chunky terrine was quite mild in flavour (as the dish itself would be) and nice fruity, sweet notes came from the juicy sultanas within it.




A delightful hint of crunch was provided by the slices of Almond that were combined in the layers. The wonderfully fragrant Mango puree worked well with the spices in the coronation sauce and partnered the succulent, sweet crab flesh brilliantly too. My starter had the extra element of different temperatures within it as well; the Terrine was cold, the soft shell Crab was warm.
Our very smartly monochrome-attired server checked that things were to our liking and brought over a jug of water for the table that had slices of Lemon and Lime in it.


I had chosen Char-grilled Tuna Nicoise for my main course and ordered a mixed leaf salad to go with it; The Boy Wonder opted for Derbyshire corn-fed Chicken cooked three ways with Spring Onion mash, and Carrot flavours as his main course. He also ordered a portion of hand cut chips to go with it.
My perfectly cooked Tuna steak had been seared and sliced and was served on a bed of warm New Potatoes and just-firm Green Beans. Other accompaniments were a semi - runny yolked soft boiled egg, deliciously vibrant tasting sunblush Tomatoes, Green and Black Olives, and Anchovy fillets; all bound in a light, zesty dressing. There was a nice size portion that was filling on its own, but I also managed to finish most of the salad I had ordered as extra!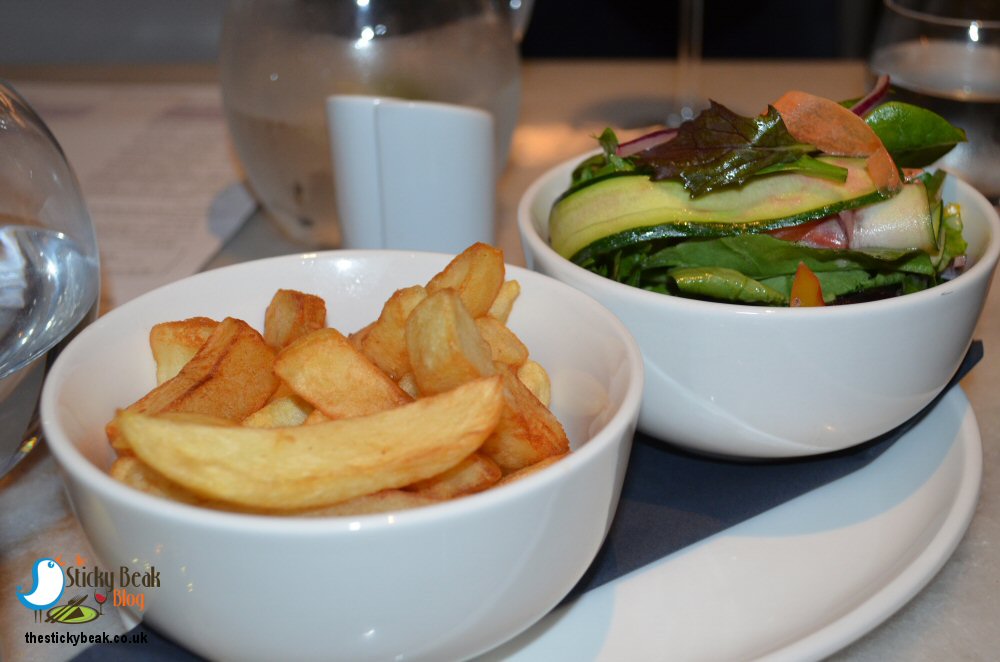 That's the thing when you visit somewhere new; you're never quite sure whether you will need a little something more. As it happens, it isn't necessary at Sourced, but at least you know for future reference :)

The Man Birds' Chicken dish saw the chicken presented as a Mousse, in rounds of breast meat, and lightly fried chunks of dark meat. "Melt in the Mouth" was the description of the mousse and the breast meat was moist and juicy (nothing worse than dried out, over cooked chicken – bleurgh), and needed only the lightest pressure from the knife. Chef Jordan had crisped the chicken skin to reveal a very tasty morsel that not only had a deeper-than-usual flavour but gave a brilliant crunch when bitten into too. Satin smooth mashed Potato gave the perfect base in which to chop Spring Onion, and it had been seasoned wonderfully well.


You always wonder what you're going to get when you see a vegetable described as "flavours or textures of...", and the Carrots at Sourced were pureed, roasted Batons, and whole boiled baby ones. The boiled ones still had a great firmness to them and that superb sweetness that baby vegetables have; the roasted batons were not only sweet but they had a more intense flavour to them. The hand cut chips were midway between French fry and chunky size-wise, with a terrific soft fluffiness to them.
Our exceptionally polite server came to check we were enjoying our meals and enquired if we needed any more drinks. Throughout the evening all the team members checked discreetly to see if we needed drinks refreshing and efficiently cleared plates away without any unseemly haste.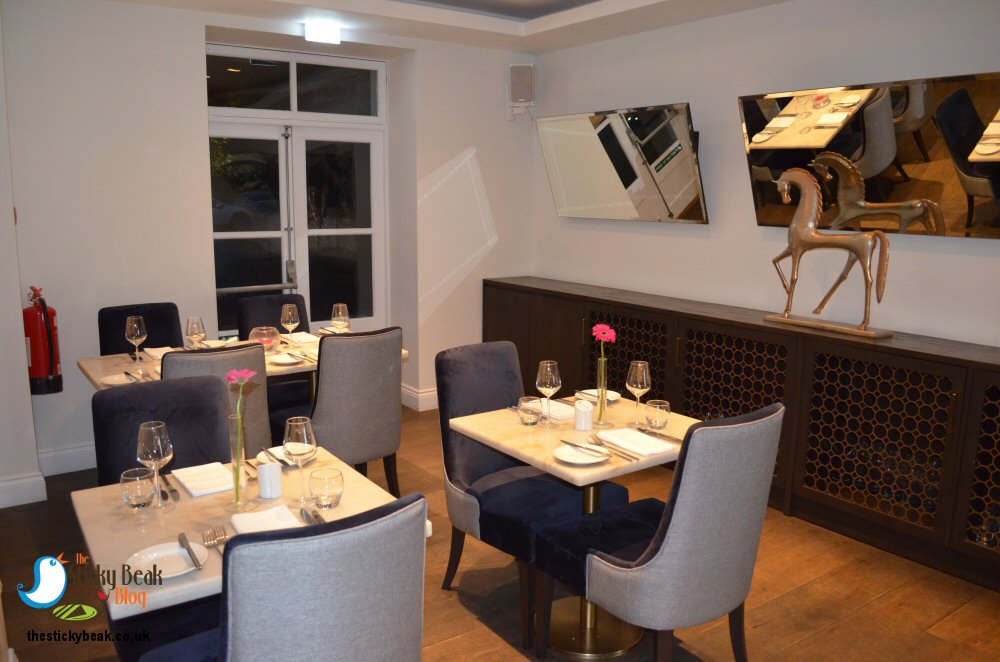 For pudding His Nibs was thrilled to see one of his favourites, Treacle Tart, on offer; along with Raspberry Ripple Ice Cream and Raspberry flavours. I chose the deconstructed Lemon Cheesecake with Ginger crumb, and Strawberry textures as my final course.
There was heartening amount of Ginger in the ginger crumb that warmed the tongue; all too often with desserts the bases are insipid and lack-lustre, never tasting of any flavour that has purportedly been added to them. Thankfully, Jordan doesn't fall prey to this easy trap and the spice was nicely detectable on the palate. In contrast to the Ginger element was a superb lemon mousse that had such clarity of taste I could imagine the Lemon being plucked from the tree only hours earlier. Fresh Strawberries, puree of Strawberry, and a set jelly were the textures showcased in my dish, and jolly nice they all were too.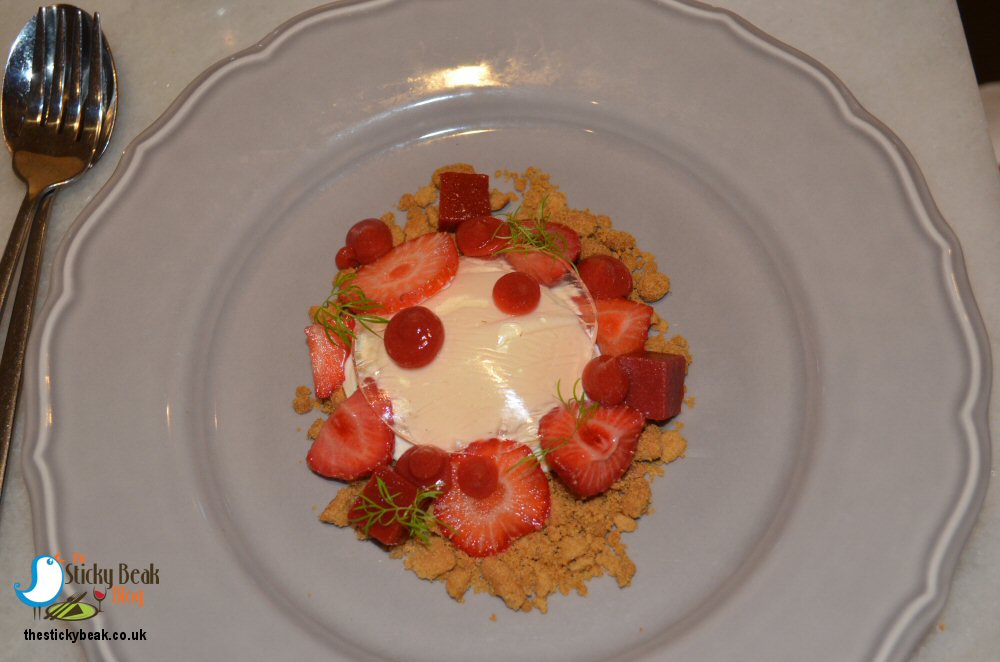 Across the table The Boy Wonder was getting stuck in to his Treacle Tart with much gusto. The warm tart was satisfyingly sticky and gooey but had a nice bit of crunch on its top to keep the mouth interested in proceedings.

A nice, firm pastry base had a lovely buttery flavour to it, and there was no soggy bottom anywhere! The Ice Cream was deliciously creamy with just a whisper of natural Raspberry in it, so that fruit and cream were working in harmony. Raspberries were presented four ways in this dish: fresh fruit, a refreshing sorbet, zingy puréed fresh Raspberries, and intensely tasting freeze-dried pieces.


Empty dessert dishes were taken back to the kitchen by a happy server, and a few minutes later Chef himself came over to have a few minutes with us. Those of you who have dined at East Lodge will be familiar with Chef Jordan's talent in the kitchen; he only joined the New Bath Hotel team from there five months ago. Jordan likes to change the menu seasonally to make the most of produce that is at its peak in terms of taste and texture, and in fact the menu will be changing this Saturday (14th October 2017) to reflect this.
Having been given a sneaky peek at the new menu I can tell you that there are some fantastic combinations to try; one that caught my eye on the main course section was the pan roasted Hake with spiced Lentils, Coconut, Lime, and Coriander oil. There is also a fruit crumble for those who are into proper warming, comfort food as the nights close in and temperatures drop :)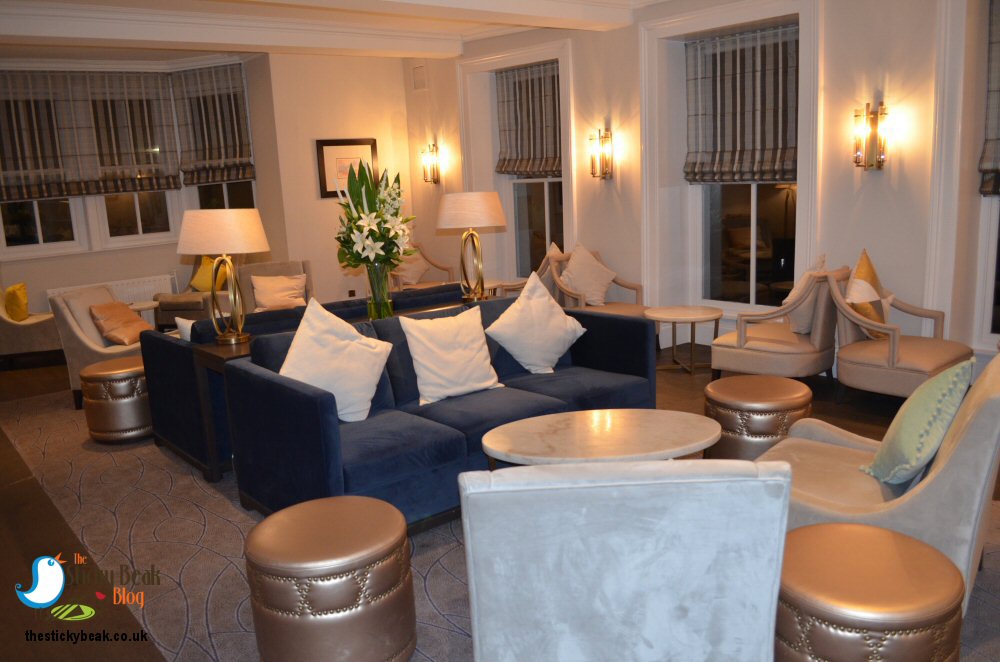 The a la Carte menu is available every day from 6pm, with last tables at 9pm. Starters range from £5-£8, mains £16-£19, and puddings are £7-£9. A complimentary sorbet of the day is served to those dining a la carte.
We savoured a black Lavazza coffee before taking our leave, having thoroughly enjoyed ourselves. Sometimes being a blogger has its advantages; on this occasion it led to us having a guided tour of the building, including the magnificent ballroom with its eye-catching glass roof.


If you haven't dined at Sourced restaurant within the New Bath Hotel and Spa at Matlock Bath I can say you won't be disappointed when you do go; the service and food were both excellent. Hot Wings awarded without hesitation.
With the festive season hastily closing in upon us I am quickly going to mention that there a number of packages available at the New Bath Hotel. Party nights on Friday and Saturday nights start on 2nd December 2017 priced at £39 pp including 3 course dinner and resident DJ, and there is a 70's & 80's night with 2 course buffet on Thursday 21st December 2017 at £29 pp. Christmas Day lunch is available from Noon priced at £69 pp (children under 12 eat for half price), and there is a New Years Eve Sparkle Ball at £79 pp including a 5 course banquet and Champagne and Canapés on arrival.
Some form of incentive was provided to visit this venue
read more