Dinner At The Thorn Tree Inn, Woodlinkin near Codnor
---
Published On Wednesday 11 Oct 2017 by Sticky Beak
See Recent Dining Out Reviews | See All Recent Reviews


Being totally honest and I doubt I'm alone in this; sometimes, I really cannot be faffed to cook. It was one of those days where Chick had gone off to the Tribal Elders for tea; well, Boyf Bird had just passed his driving test and they wanted to go over and revel in their happiness, so His Nibs and I were (yet again) left to our own devices.
I didn't really want to get all dolled up and put a face of make-up on, so we opted for a more relaxed setting; still nice, but not fancy fancy, if you know what I mean. We've been meaning to go to The Thorn Tree Inn at Woodlinkin for an absolute age, so that's where we went to.
It has a lovely large car park adjacent to its outdoor garden and patio areas, and you can't help but notice the impressive feature steps up to the front door; they're very eye-catching. The young lad behind the bar greeted us with a big smile and said hello, before booking us in; they have recently started using an online table booking system and he wondered how we'd found it. I have to say that it was a really smooth system to use, so no issues there.


We were offered a choice of tables in the main dining area or in the conservatory, and opted for a window table in the main area. The decor is a mix of muted, relaxing earthy tones; stormy greys, moss greens, rich browns and lovely heavy checked drapes dress the full length windows very stylishly. A couple of lantern style wall sconces and lamps cast their light over the tables to nice effect, but the main source of lighting comes from recessed ceiling lights that are discreet in nature.
In the main dining area there is an exposed brick fireplace (no longer in use) whose space was artfully filled with hardwood logs of varying sizes; it gave a cosy, country feature to what is a fairly ample room.
The front of house hostess came over and said our server would be Charlotte, before telling us a bit about the menu options and pointing out where the facilities are; very handy to know. It wasn't long before Charlotte came over and took our drinks order and left us to peruse the menu.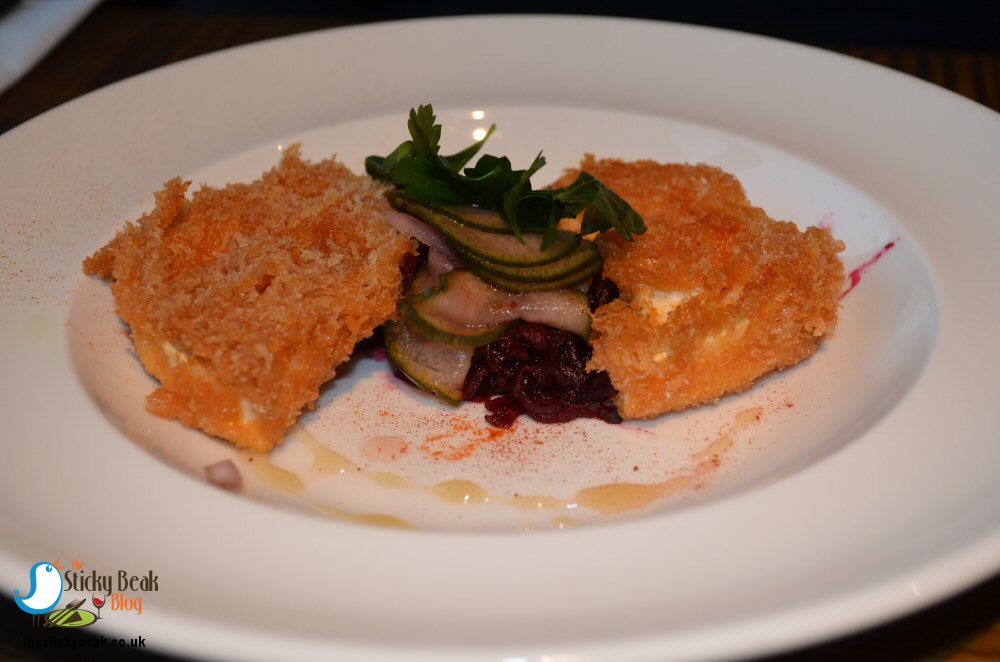 Some of you may know the chip shop there called George's Tradition; it is quite renowned locally, so it will be no surprise to hear that fish appears quite a bit on the restaurant menu. However, the breaded Goats Cheese tempted me away from the Cod Pakoras and The Boy Wonder was a-goner when he spied the Thorn Tree Runny Yolk Scotch Egg, so that was starters decided on.
My Goats Cheese slices were delicious. I loved the super-crunchy coating of smoked paprika batter and Panko breadcrumbs; the contrast between that crispness and the smooth cheese centres was superb. The Goats cheese itself was a fantastic balance of slight saltiness and creamy texture too. Very thinly sliced house Pickles, Beetroot chutney, and Parsley salad drizzled with Honey gave the dish a wonderful variety of textures and flavours; very enjoyable.


His Nibs' Scotch egg had a nice thick Sausage meat coating that had been fried until nicely crispy. There was a great taste of Pork, Leek and Ginger on the palate and the egg yolk had a delicious creaminess to it. The colour of the egg yolk was marvellous; a real deep sunset yellow hue which stood out against the other ingredients of the dish. Zingy, crunchy Piccalilli was a great addition to this starter as well, giving it a healthy dose of texture.
For main courses we chose the Steak, Ale, and Henderson's Pie with chunky chips and homemade Onion gravy (The Man), and Lemon, Tarragon, and Garlic grilled Chicken with Salad leaves, confit button Mushrooms, charcoal grilled Cauliflower with wholegrain Mustard, Tarragon, and Honey dressing (my choice).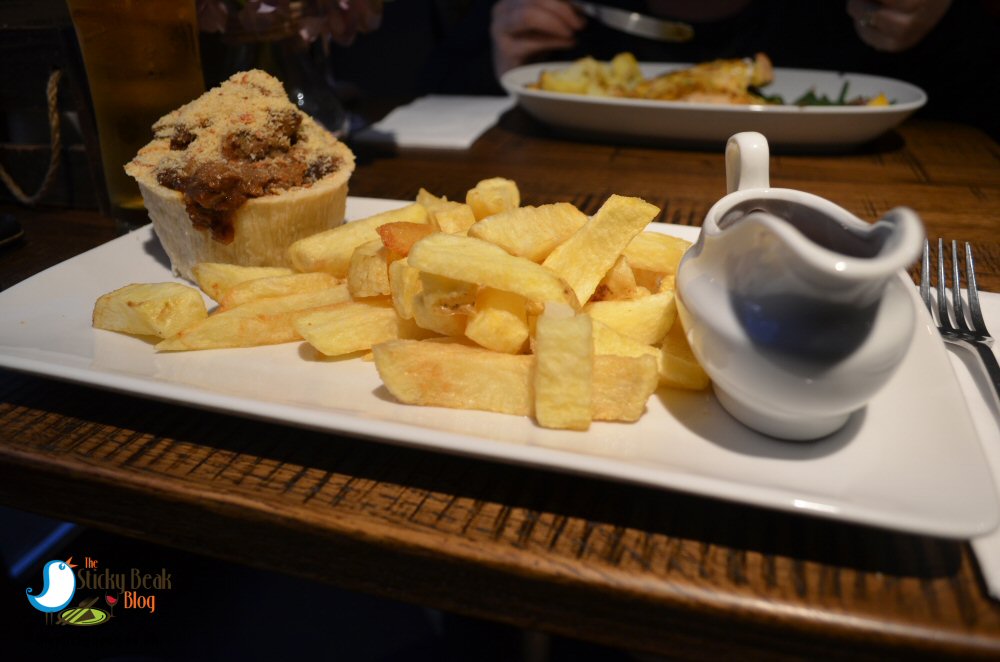 The Boy Wonders' pie was a lovely size and he got stuck in straight away. The pastry was nice and light textured and wasn't overly thick in depth either so this meant that you got all the flavours coming through in the mouth. At the bottom of the pastry case was a layer of fluffy, creamy Potato and Swede mash; on top of that was plenty of tender, chunky Steak meat that was bound in a rich ale sauce that had a fab kick to it courtesy of the Hendo's relish.

A lovely roast Onion and Herb crumb crowned it all beautifully, the onion note being enhanced further by the abundant slices of Onion in the Onion gravy. The Thorn Tree Inn isn't stingy when it comes to their sauces; there was plenty of gravy to dunk their traditional chunky chips into, so my man was very happy :)


My own main course was equally tasty. Having been marinated in Tarragon, Lemon and Rapeseed Oil the butterflied Chicken breast is then gently grilled; this retains all the natural juiciness of the poultry, which was evident when I bit into it. The Mustard, Honey and Herb dressing was nicely balanced; sometimes a venue can go a bit over-board with the mustard and it takes over the dish, but thankfully this wasn't the case at The Thorn Tree Inn.

I was pleased to discover that the Green Beans still had a bite to them, as did the smoky flavoured Chargrilled Cauliflower. The confit Mushrooms were quite possibly the teeniest, tiniest ones on the planet; their flavour was lovely and earthy, and they were deliciously sweet. A variety of baby salad leaves gave a nice mix of colours and textures to the dish, and I liked this cool element of the meal as it contrasted with the heat from the other ingredients.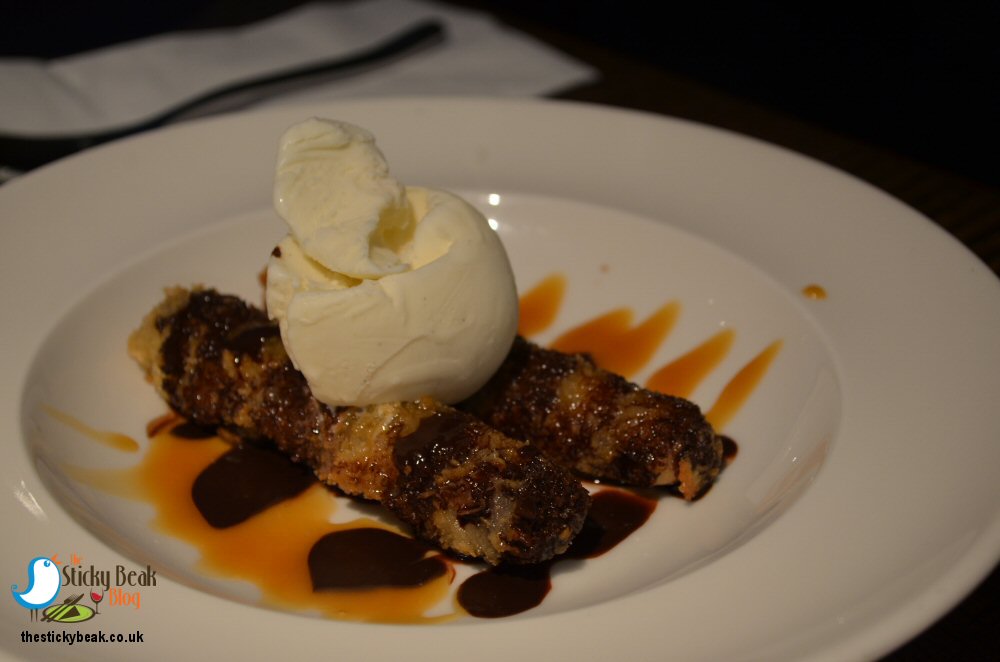 Having been impressed with our previous two courses we couldn't bring ourselves to leave The Thorn Tree Inn without sampling their scrummy puddings. I fancied the warm Cadbury's Fudge finger rolls and The Boy Wonder liked the sound of the Steamed Sticky Ginger Pudding filled with Vanilla mousse and served with Vanilla Custard and homemade Golden Syrup Ice cream.
My dessert is comprised of two Cadbury's Fudge fingers (one of my fave childhood sweets) that have been coated in Panko breadcrumbs and deep fried so that they are crispy outside but the fudge has gone gooey inside. Vanilla Ice cream and Salted Caramel and Chocolate sauces are the other pieces of the dessert. The fudge was indeed gooey; a semi-melted marvel that went really well with the crunchy outer. I cut a bit of the fudge up and combined it with a spoon of the Ice Cream and both the sauces; total gluttony I know - but so good!


As you know dear reader, His Nibs is rather partial to a good sticky pud, and he was pretty impressed with this Ginger one. It really was lovely and sticky; proper comfort food. He said it had a super ginger taste that warmed the belly nicely, which is no bad thing as Autumn is kicking in solidly now. A gentle Vanilla hint came through, both from the mousse and from the piping hot custard (which is in a separate little jug). The Man Bird also really liked the Golden syrup Ice Cream; you actually get the flavour of the syrup coming through. He said that this dessert was a great mixture of temperatures, tastes, and textures; terrific.
A couple of black coffees brought the evening to a conclusion, and a most enjoyable evening it had been. As well as serving good portions on your plate, The Thorn Tree Inn keeps its prices very competitive. Our starters were around the £5 mark, puds were £4.95 each, my main was £11.95, and His Nibs' main was £8.95. Drinks (of which there is a wide selection) are also sensibly priced; my large glass of Merlot was £5.75 and The Mans' Peroni was £5.25. If you haven't been before, it is definitely a place I would recommend; Hot Wings awarded here :)
No incentive was provided to visit this venue
read more