Tapas For Two At The Bridge Inn, Calver
---
Published On Thursday 5 Oct 2017 by Sticky Beak
See Recent Dining Out Reviews | See All Recent Reviews


I love Tapas. It hasn't always been this way though. There was a time when I thought that Tapas wouldn't fill me up; that it was a convenient way for venues to chuck out their leftovers, spice them up a bit and then charge me an over-inflated price for them. Having been and tried several restaurants' offerings, I have happily changed my mind. Sadly, this misconception still lingers in a lot of peoples' minds when it really isn't the case anymore.
Through the blog, The Man Bird and I have sampled Tapas at several venues; both in chain restaurant and independent trader settings. Our Chick has thoroughly embraced the laid back ethos of Tapas style dining; to her it represents being able to indulge in lots of what you fancy, trying new things without there being a large risk attached (one Tapas dish you don't like won't ruin the meal) and sharing dishes between friends informally. Think of it as modern, sociable eating.
Wherever we've been for Tapas, there has always been a friendly vibe to the venue. Last night saw His Nibs and me paying The Bridge Inn at Calver a visit, and this really is a stunning location for a restaurant. Originally the building was a coaching inn, and a lot of the original features still remain; in fact the only new bit is the kitchen!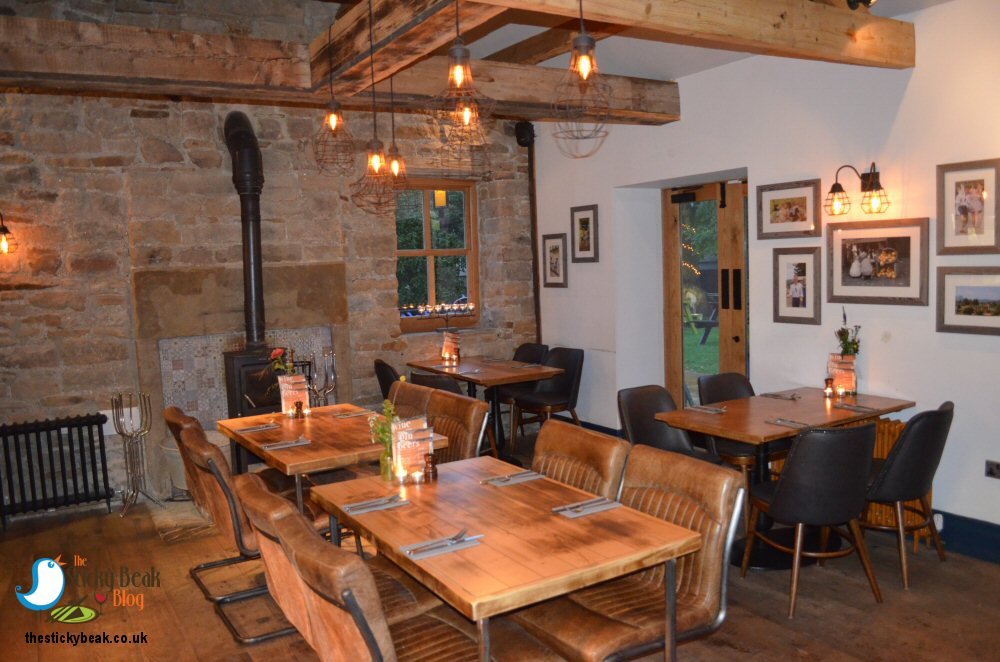 It will come as no surprise, therefore, that when we walked through the door there was a plethora of exposed brickwork, stone floor, wooden flooring, ceiling beams and open fires to appreciate. The lighting was modern, but subtly so; not in a brash, stark sense at all. The bulbs used had a honey tone so that the light cast from them gave a warm glow to the space, which we ladies always appreciate for its flattering quality :)
Inside, The Bridge Inn is a very spacious setting and it could easily have been cold and characterless, but the owners gave a great deal of thought to their venture and cleverly made several little spaces in which to dine. Not only does this break up the area and make everything cosier and more intimate, but it allows different styles of decor to be indulged in. The fixtures and fittings are all very chic and stylish in a very "stealth wealth" way; nothing is showy, but you can tell it is good, top quality stuff.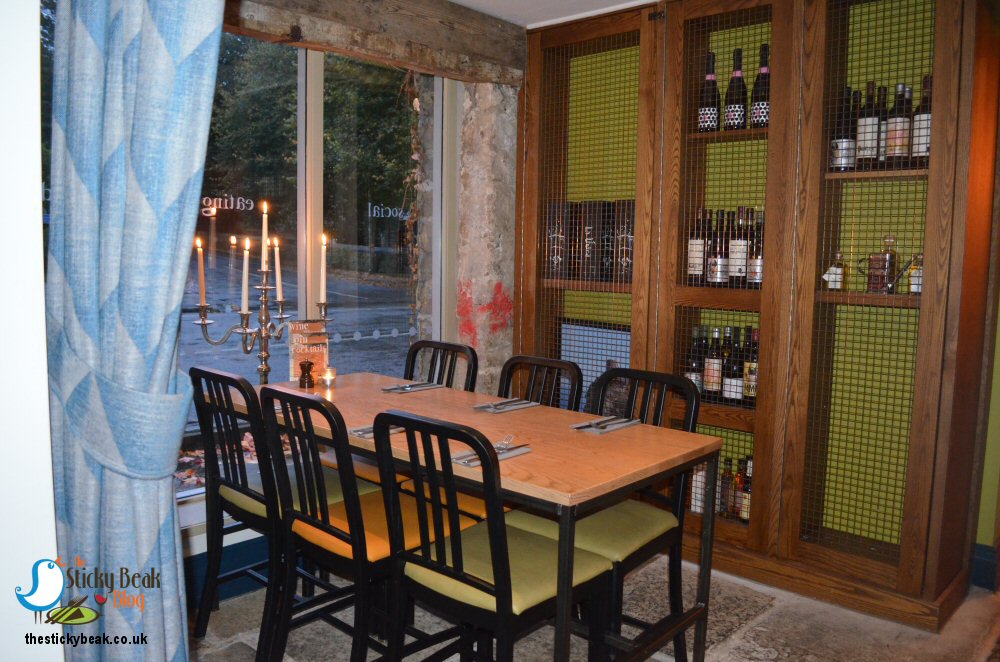 Samantha, the owner, came and gave us a tour of the Inn before seating us in a booth located in the original stables. The partitions were still there, having been treated and re-installed, so it was character a go-go in our section of the restaurant. Having settled in at our table the first thing to do was order a couple of drinks. All the wines are sold by the glass, great news for a Malbec fan such as me. There is a wide selection to choose from as well, all at reasonable prices mercifully. His Nibs had a pint of lager. For those that just want a drink at The Bridge Inn, there is a separate bar area for you to relax and enjoy your libation in.
As I took stock of my surroundings I noticed that were a couple of large family parties in, one with smaller children in that were snugly seated in high-chairs. Being involved in sociable gatherings is so important for children I think, and it was nice to see this ethos being encouraged. Mediterranean culture is so much more family orientated and the dining experience slower-paced and relaxed; although I think us Brits are slowly beginning to appreciate this.


Clearly the relaxed vibe was rubbing off on The Man Bird and I, as we said that we would go with the flow and let Ben Naylor (the Chef) take us on a gastro mystery tour.
Our first morsels to try were from the Pinchos (Bites) section of the menu; four mini bruschettas had been arranged on a wooden tray and were all beautifully displayed. The Pea and Mint one was lovely, clean and fresh on the palate and was in contrast to the punchy Tapenade Pincho with its vibrant Anchovy and Guindilla flavours. Third on the list was a superb Goats Cheese bruschetta with red pepper and a Pedro Ximenez reduction; I love Goats cheese and this one was wonderfully creamy and smooth with a slight salty tang that perfectly showed the sweetness of the pepper off.




The final Pincho was the Chicken Liver Parfait and Red Onion jam variety; and what a way to end this first course! His Nibs commented on the exceptional smoothness of the parfait and its richness. There was just a hint of garlic detectable (no doubt from it being rubbed onto the bruschetta) that cut through this richness nicely, and then the onion jam provided the final note to this morsel.
You may recall earlier that I mentioned the quiet attention to quality. The napkins used at The Bridge Inn, whilst single use ones, are the nice thick variety that stands up to heavy use and don't disintegrate at the hint of going near your mouth or fingers, and the glasses for the table water are reassuringly weighty to hold.


It wasn't long before the first of the Tapas dishes were being brought out to us; at this stage little did we know what a feast was to come. And in case I forget, I'm just going to say now that every single mouthful we ate was exquisite. As the evening progressed we felt like a couple of kids in a sweetie shop, there was an incredible amount of simply amazing food.
As you know, I love the simple pleasures in life, so I was a very happy soul when Pan con Tomato was placed before us. There is something so delightful about super fresh tomatoes chopped, mixed with herbs and layered on top of fresh bread. Our palates were singing with joy at the clean flavours coming their way and I especially loved the fact that because we took our time to enjoy them, when we got to the last piece the juices had softened the bread and made it moist and gooey so that we had to really delve in with fingers.


Alongside the Pan con Tomato was a platter laden with Iberico, in this case Bellotta 36 (aged for 36 months) accompanied by homemade mini bread twirls. Now, the key to really appreciating the layers of flavour and texture in Iberico ham is to let it simply melt in the mouth and gently chew it rather than speedily munch at it. The Man Bird and I took our time and the meat developed an almost pâté like richness as it began to break down in our mouths; well worth the patience.


The next two dishes were Prawns Pil Pil and Padron Peppers. I absolutely love the combination of King Prawns with Chilli and Garlic, and these prawns were absolute meaty monsters so when I bit into them I got a very satisfying resistance from their flesh. There was a nice amount of heat from the Chilli to get the taste buds dancing, but not enough to make the tongue or lips tingle; perfect. Local producers Brock and Morten have their oil used in this dish and I always like to see businesses supporting each other, so I was happy on this count too.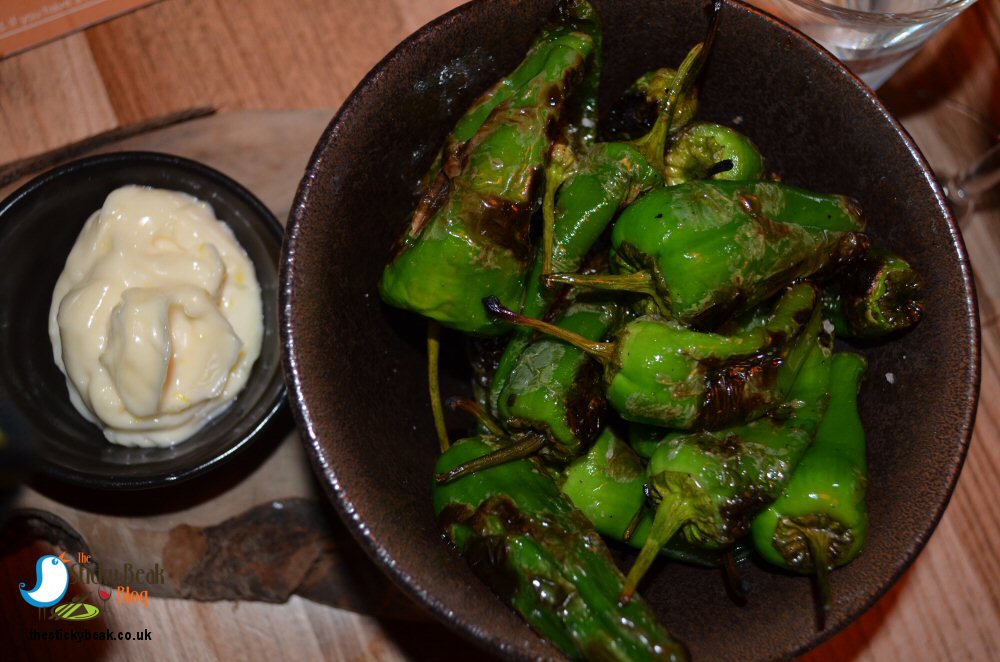 Verdant Padron Peppers were simply charred and piled high in a bowl and served with the Bridge Inn's Lemon Mayo, and we greedily dived in. This particular pepper is fairly mild in flavour when gently roasted (although you do get the odd rogue one that has fire in its belly!) and the Lemon Mayo really brought the sweeter note of them out; unaccompanied they have a slight sour/salty character on the tongue. The charred flesh gave a lovely smoky hint to the dish as well.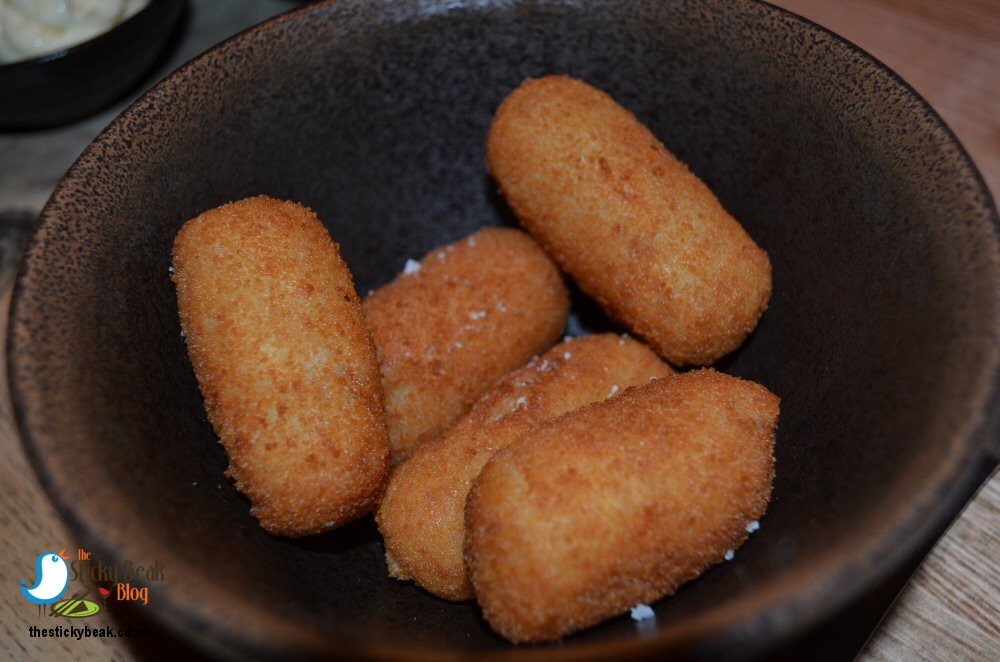 It was the turn of two meat dishes to shine next; Jamon Croquettes and one of that days special, Braised Oxtail with charred Pear, Peach purée and Chive Mash. The outer of the croquettes was incredibly fine, almost like Polenta, so that there was a wonderful crunch as you bit into it; and when bitten into, a satin smooth ham inner was revealed that had a beautifully rich flavour to it. Another simple, uncomplicated dish flavour-wise, but no less delicious for its purity.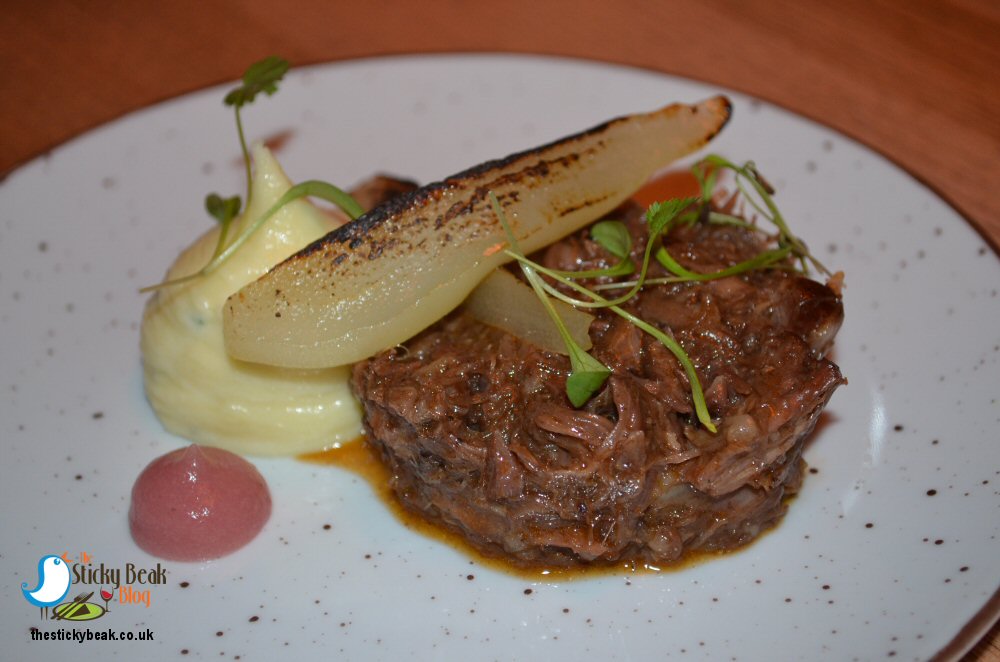 In our nest we rather like deeper, gamier flavours in meat and as a young chick myself I was often served Offal by my Mummy Bird, so I will always enjoy richer notes. Oxtail was one of the staples served up by my Grandma and is enjoying a bit of a fashionable moment in many culinary kitchens. At the Bridge Inn, Chef Ben simply braises the oxtail and shapes the meat into perfect circles before pairing it with ripe, aromatic charred Pear quarters, perfumed Peach puree and the most divine Chive Mash known to man. The combination of these two fruits with Oxtail isn't one you commonly encounter, but by golly it's good!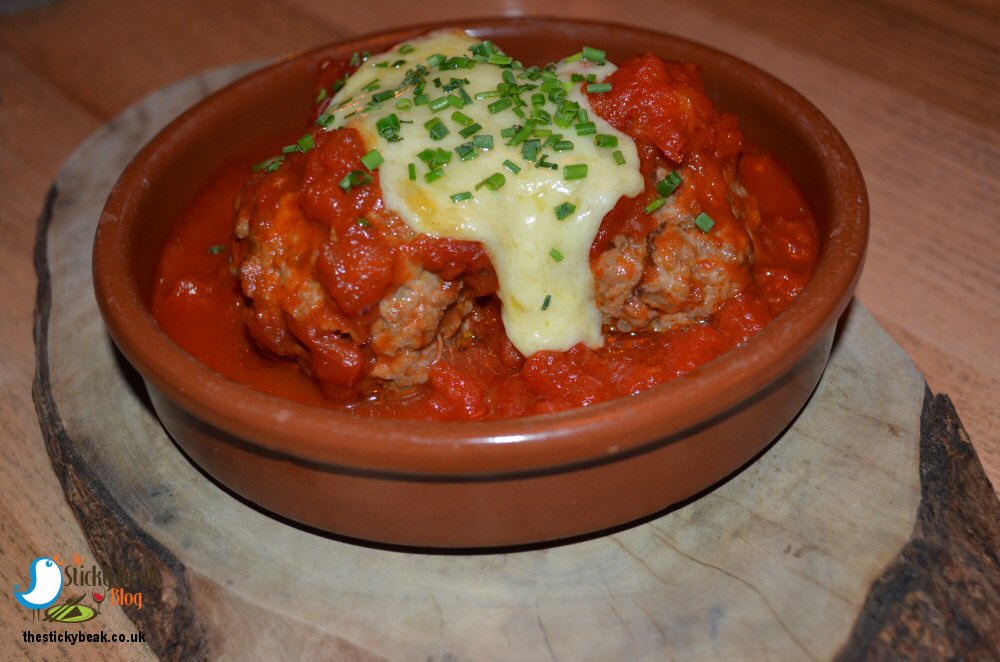 We munched our way through some superb meatballs that were in a fantastically vibrant tomato sauce and topped with gooey, melted Smoked Applewood Cheese. Just like some of the higher-end burger establishments, the meat in these was just pink in the middle, but cooked through. The depth of flavour of the beef stood up marvellously to the robust tomato sauce and the smokiness from the cheese was a lovely whisper on the palate.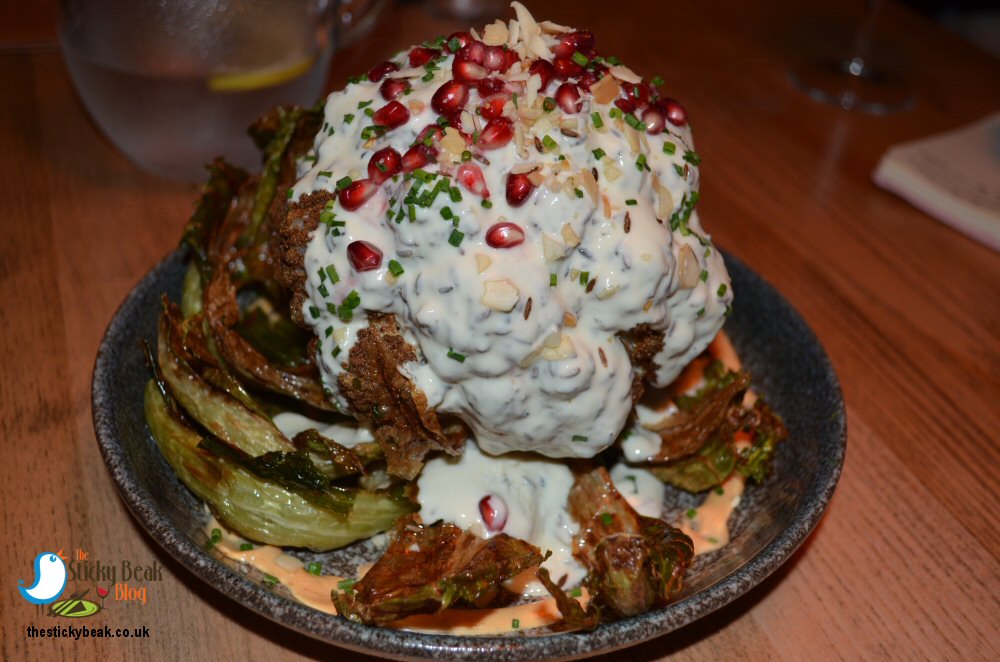 Tapas is a great way to combine parties of meat eaters and vegetarian diners due to its pick-and-mix nature, and the next dish we had was an absolute traffic stopper in terms of size, colour and presentation; Humble Cauliflower. A whole head of Cauliflower (complete with outer leaves) is dusted generously with Cumin, roasted and charred; a liberal smothering of natural Yoghurt, Almond Flakes and Pomegranate seeds is applied, along with a drizzle of Chipotle oil. Result? An immensely satisfying, flavoursome dish that explodes onto your tongue; earthy Cumin, zingy Pomegranate and mild, creamy Almonds; what more could you want?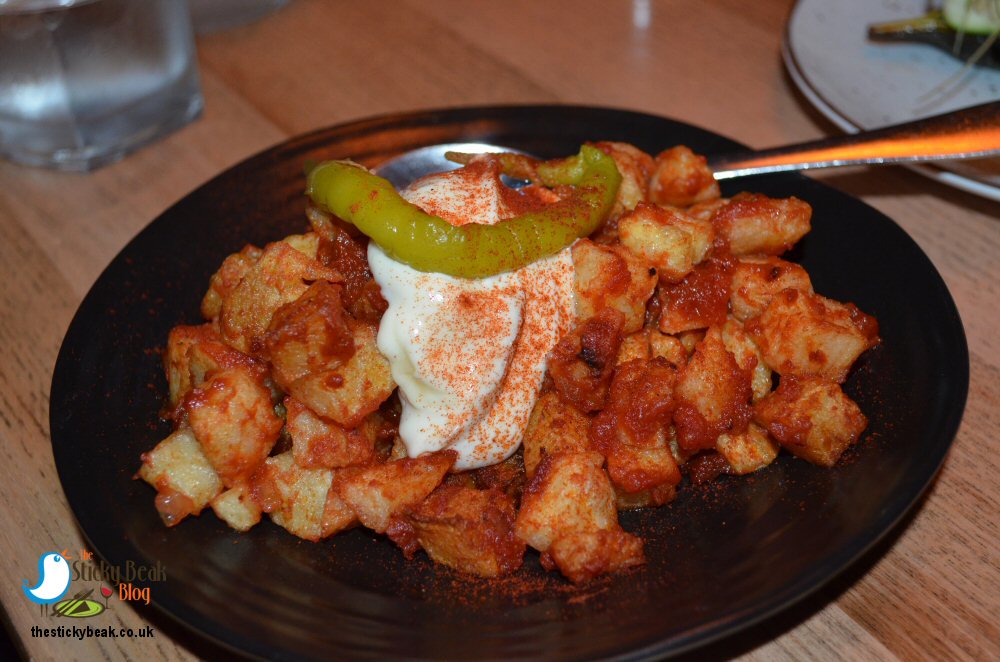 Another couple of vegetable dishes were served to us next; the iconic Tapas staple Patatas Bravas, and Baked Aubergine with Feta, Sun blush Tomatoes, and Courgette. The cubes of Potato were nice and firm to bite into, not at all soggy or mushy and the Tomato sauce they were paired with was enough to be tasted but not enough to drown out the potatoes. A wonderfully Garlicky Aioli was also part of this dish.


All the dishes had been presented beautifully, but the Aubergine dish was really lovely to see. The Halved Aubergine acted as a kind of "boat" on which sat longitudinal slices of Courgette that encased crumbled Feta and pieces of Sun blushed Tomato with their wonderfully concentrated taste. It was the contrast of the bright tomato and salty tang of Feta against the smooth, smoky taste of the Aubergine that really got me excited though; simple again, but very effective on the palate.
By this time our tummies were protesting strongly against the constraints of waist bands and belts, but Samantha and Ben had one last dish for us (savoury-wise anyway, there was still dessert to get to grips with!). The Bridge Inn do a Market Fish and Chip Tapas dish comprised of a bed of Minted crushed Peas on which a good thick white fish fillet sat, tangy Tartare sauce and straw Chips.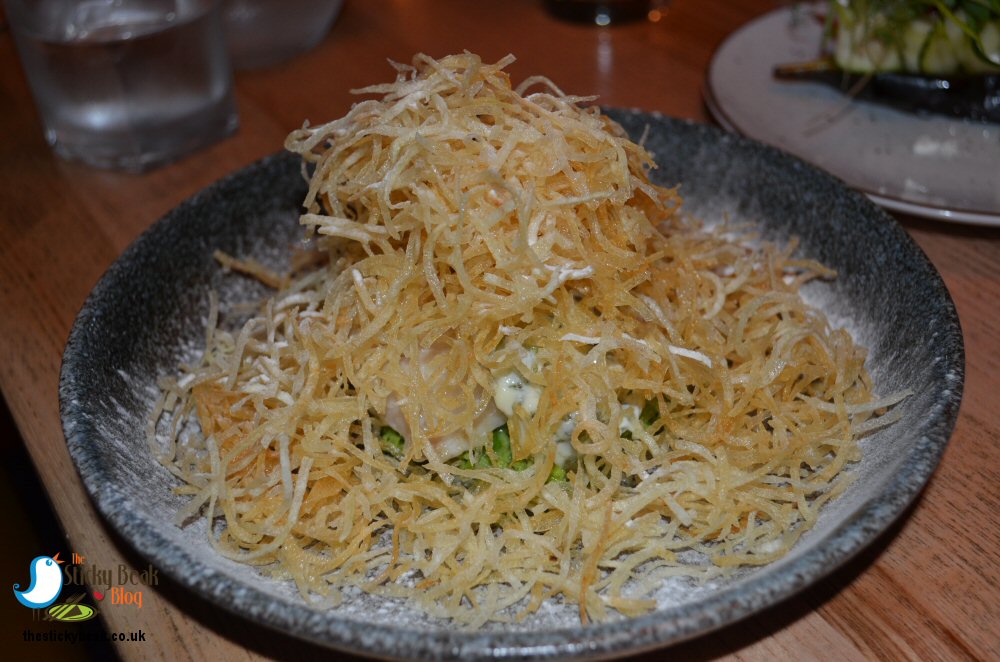 When this came to our table the incredibly fine straw chips had been arranged in a mound, so part of the fun was delving in to discover the fish, sauce and peas. I should just mention the incredible smell of this dish too. It smelled just like a wrapped meal from a good quality chippy, complete with vinegar and salt notes thanks to the use of vinegar powder (!) and a scattering of salt flakes. Now, I don't know about you dear reader, but one of the things that really gets my mouth watering is the smell of fish and chips; I was drooling!
The fish was succulent, the peas were sweet and minty; a great zingy note came from the Tartare sauce and the vinegar powder. What really blew me away though was the lightness of the straw chips, and the fact that there was absolutely no hint of greasiness to them. You really got the flavour of the potato coming through, which was lovely.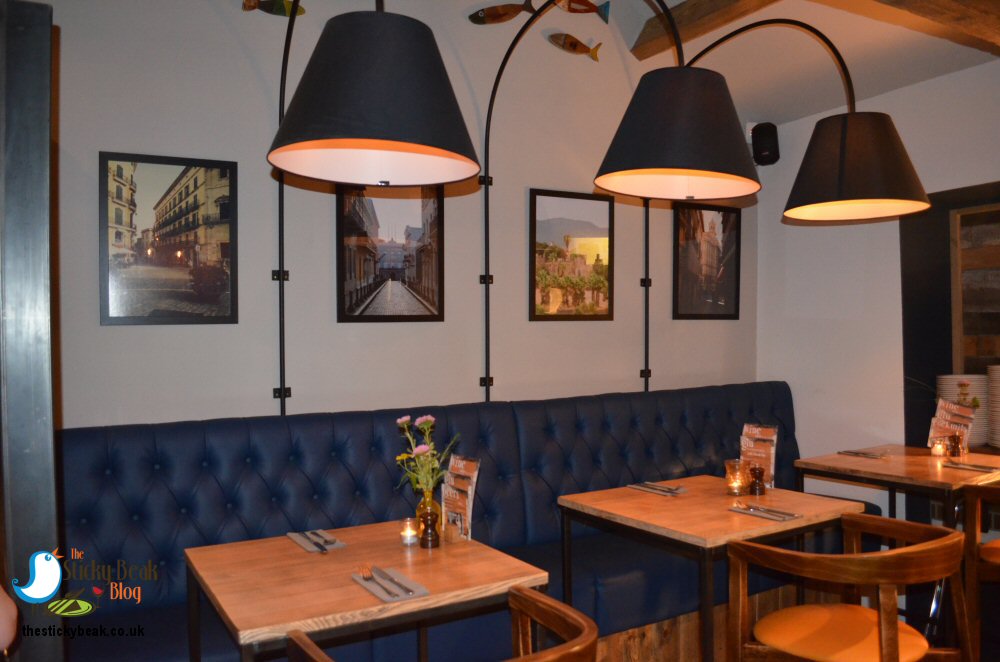 Throughout the evening there had been a steady stream of diners coming and going. The families with younger children had left and later evening diners such as couples and groups of (child-free) friends were the dominant demographic in the restaurant.
We allowed ourselves a little breather before ordering our pudding choices; Honey Panna Cotta with Strawberries and Verjus (a sour juice from unripe grapes, in case you were wondering) for me and Glazed Lemon Tart with Raspberry Sorbet and Chocolate Soil for His Nibs.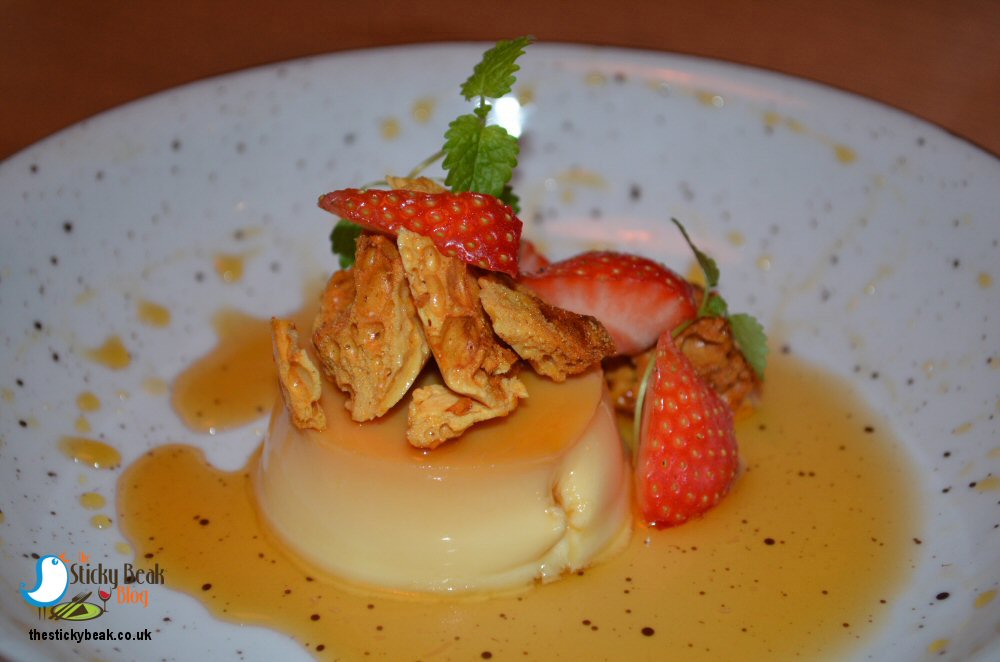 My Panna Cotta was pleasingly firm, and had a thick, dense texture to it that resisted the spoon nicely. A lovely Honey layer crowned it and had been scattered with chunks of Honeycomb, yummy! As you can imagine the sweetness of the fresh Strawberries and Honey paired wonderfully with the sour Verjus, and this element stopped the dessert from being sickly and cloying.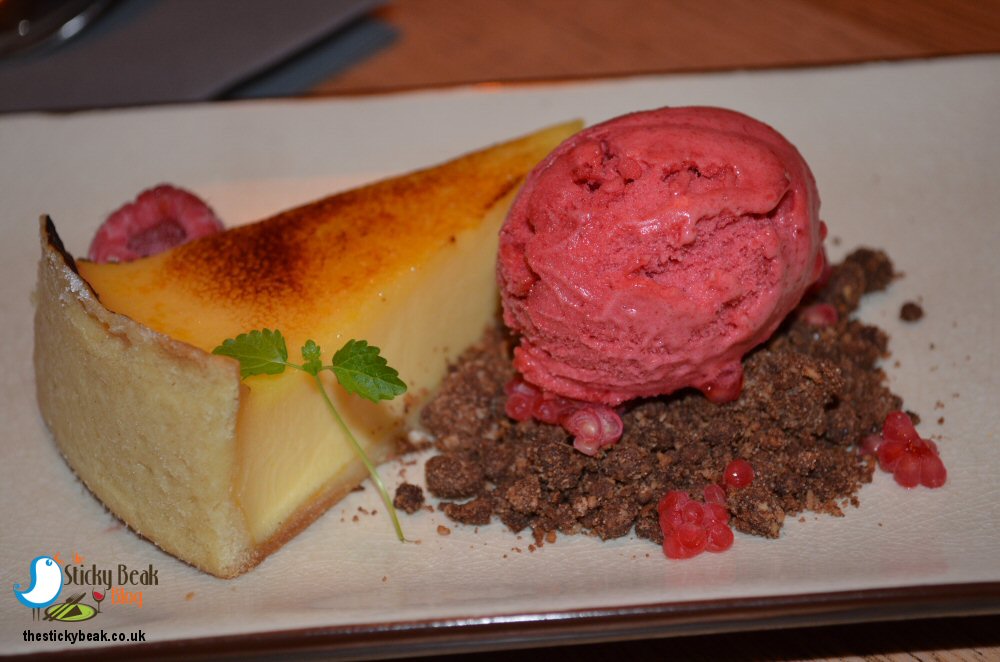 His Nibs' glazed Lemon Tart had a lovely thin, crunchy caramelised sugar top that he couldn't resist thwacking with his spoon; can't fault him, I would've done the same thing! He loved the zingy Lemon flavour of the top layer and the base of the tart was nice and firm, not at all soggy. There's nothing worse than a soggy bottom after all, or so he says! The sorbet was amazing, showcasing the natural flavour of Raspberry in all its splendour. A great textural layer was provided by the crunchy chocolate soil, so he was a very happy chap with his dessert selection.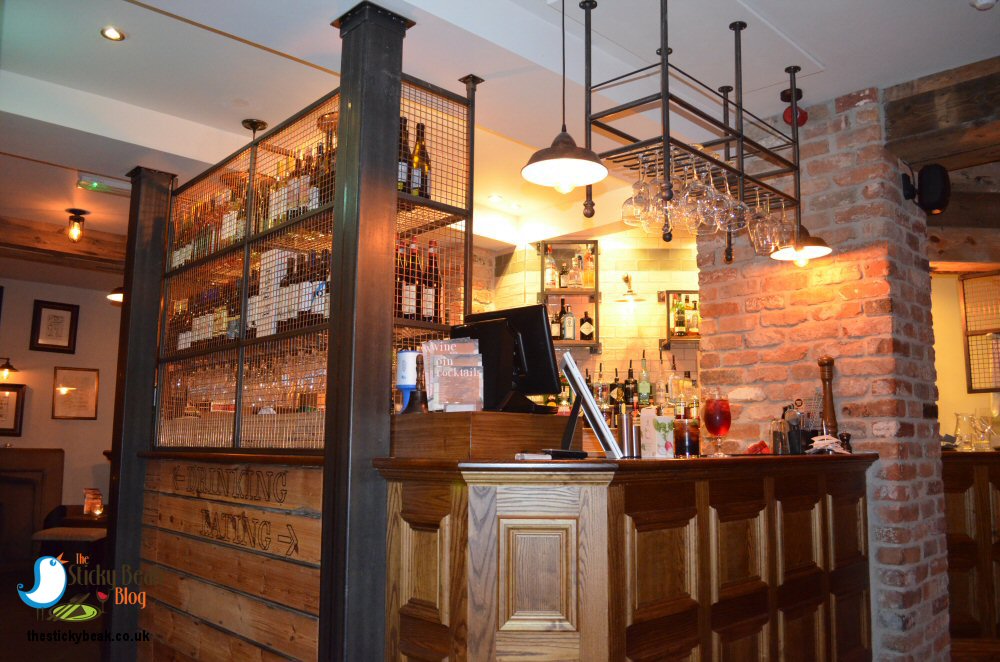 We finished things up with a couple of coffees that we took through to the fireside in the bar area, relaxing in comfy deep chairs. It was nice to be able to have a chat with Samantha again at this point and listen to the story behind the Bridge Inn and the plans they have for its future.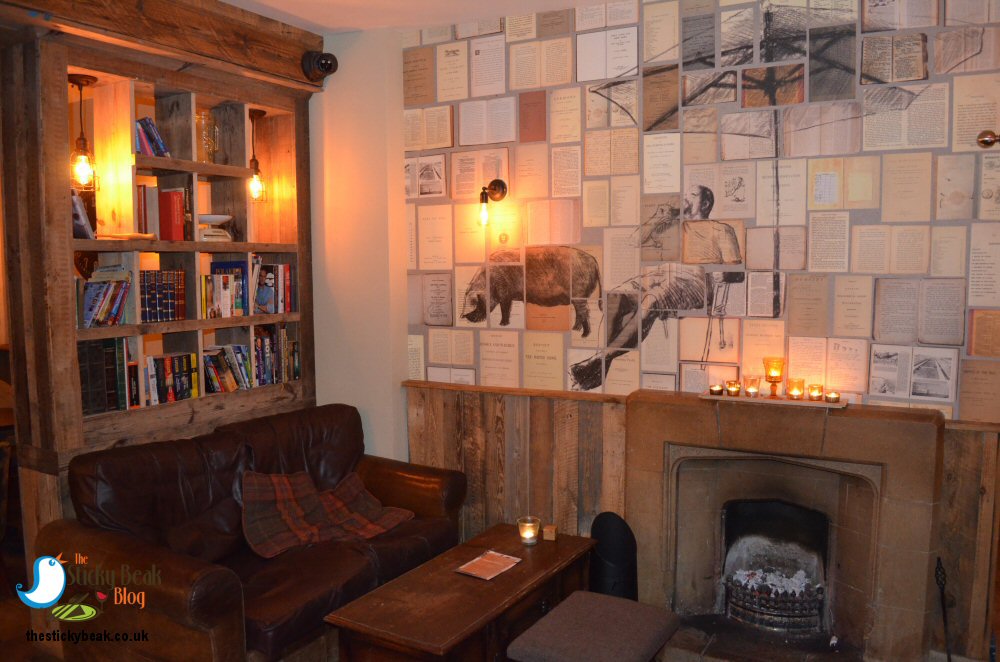 It goes without saying that Hot Wings are making their way to this talented, passionate team. The Bridge Inn is a doddle to find as it is on the main road, and there is plenty of parking too :)

If you haven't been before, I can heartily recommend it to you. Vegetarians will be more than happy with the selection on the menu, and there is a great range of Gins and Cocktails too (just saying!).
Some form of incentive was provided to visit this venue
read more