Dinner At Fahrenheit, Genting Riverlights, Derby
Published On Sunday 1 Oct 2017 by Sticky Beak
See All Recent Reviews
Okey dokey folks, before I get started on the food there's something that really does need re-iterating. You DON'T need to be a member of the Casino to access the restaurant; you can literally rock up to the premises, go upstairs, have a quick piccie taken, and go up to the restaurant. Simple as that.
So, it's been a while since The Man and I were last at Fahrenheit Bar and Grill and there were a few changes to the menu. The restaurant itself hasn't changed though; it still has that stylish-but-relaxed feel to it and of course the view across the gaming floor. Manager Josh seated us at our favourite booth and guided us through the changes (and there are some more seasonal changes to come in the next few weeks too, so look out for our update) and left us to make our choices.
A large bottle of chilled water was placed on our table almost immediately, and I do think that it is the small touches that make all the difference to the dining experience. We also decided to have a bottle of Rosé wine with our meal as neither of us was driving for a change!

For starters we chose the Salt and Pepper Squid and Duck Hirata, with the agreement that we would share them between us. We've had the popular steamed buns before on visits to Yo!Sushi with Pork in them, so we were curious to see how Fahrenheit's Duck version would stack up. Very favourably is the answer.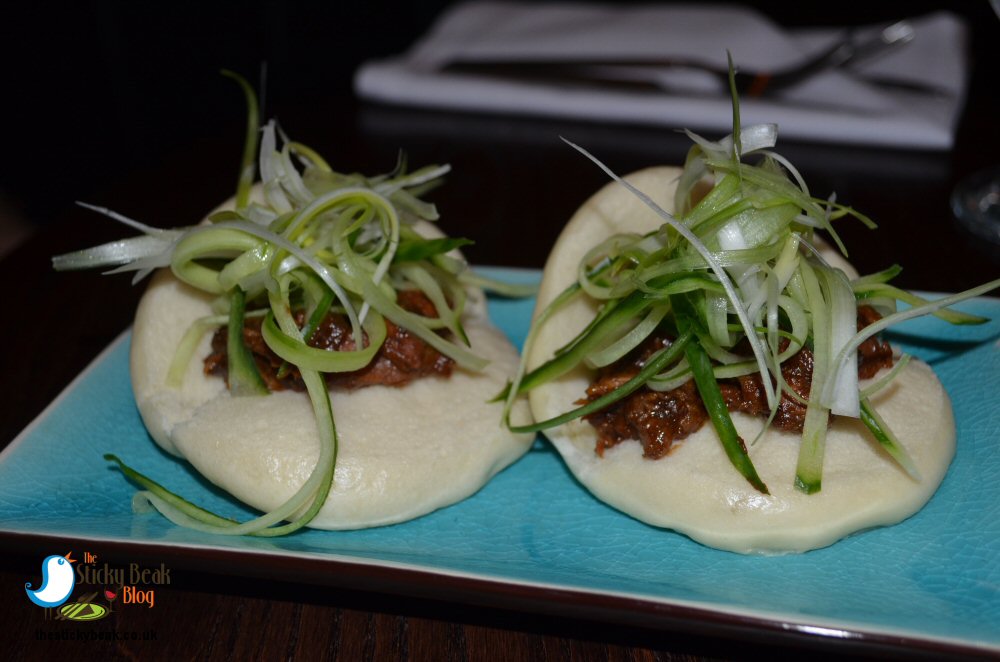 Before long we were presented with two gorgeous looking platters, both laden with delicious smelling morsels. The Duck Hirata was superb; pillowy soft steamed buns had been stuffed with moist shredded Duck, Hoisin sauce and julienned Cucumber and Spring Onion. There was plenty of meat to tuck into and I especially liked the Hoisin sauce because it had a particularly rich note of 5 Spice seasoning detectable in it. The vegetables provided a great crunch to the dish which could otherwise have been a bit soft in the mouth.
The Salt and Pepper Squid was another winner with us both, thanks to its generous chunks not being over-cooked. We found ourselves biting into firm, but not rubbery, Squid that had been coated in a brilliantly crispy batter. Thankfully there was no hint of greasiness to the batter, just a lovely salt-and-peppery note to savour. On the side of the platter was a wedge of fresh Lime to squeeze over the chunks, and this really gave a "pop" on the palate and seemed to enhance the clean flavour of the seafood. We both tucked into the small salad garnish of Spring Onion, fresh Red Chilli slices, and Samphire and loved the mix of tastes and textures it contained. Brilliantly punchy Tandoori ketchup was the piece-de-resistance in this beautiful starter dish.


Josh had come over to check how we were getting on and was a happy chap when we told him how much we'd enjoyed the starters. A couple of other tables had come to sit down and dine at this point and the casino floor was starting to liven up; a lucky punter gave a little whoop of joy, so obviously Lady Luck was shining down on him! As we sipped our chilled wine, life was feeling jolly nice and conversation was bubbling along between us.
I had opted for Teriyaki Salmon, warm Crab and Potato salad, and Asian 'Slaw salad for my main and His Nibs went for the Smoky Pork Ribs, having briefly glanced at the Burger (as you do). Josh came over to take our orders and The Men got chatting (as they do!) and before I knew it, The Boy Wonder had changed his mind and was having the 12oz, yes 12 oz, you did read it right, Aberdeen Angus Beef Burger. His Nibs had thick cut skin-on Chips as the accompaniment for his burger which took me a bit by surprise; I thought he would go for the Sweet Potato fries. Anyhow with our orders placed we settled back and smiled at yet more diners coming in to the restaurant.

Our eyes popped out on stalks when we saw the size of the burger; it was ma-hoo-sive, a real colossus! In typical man style, His Nibs just had to remove the buttermilk bun and see what was "under the bonnet" as he put it. Each 6oz beef patty was topped with melted cheddar and crispy Pancetta slices and there was lettuce and sliced Tomato in there as well.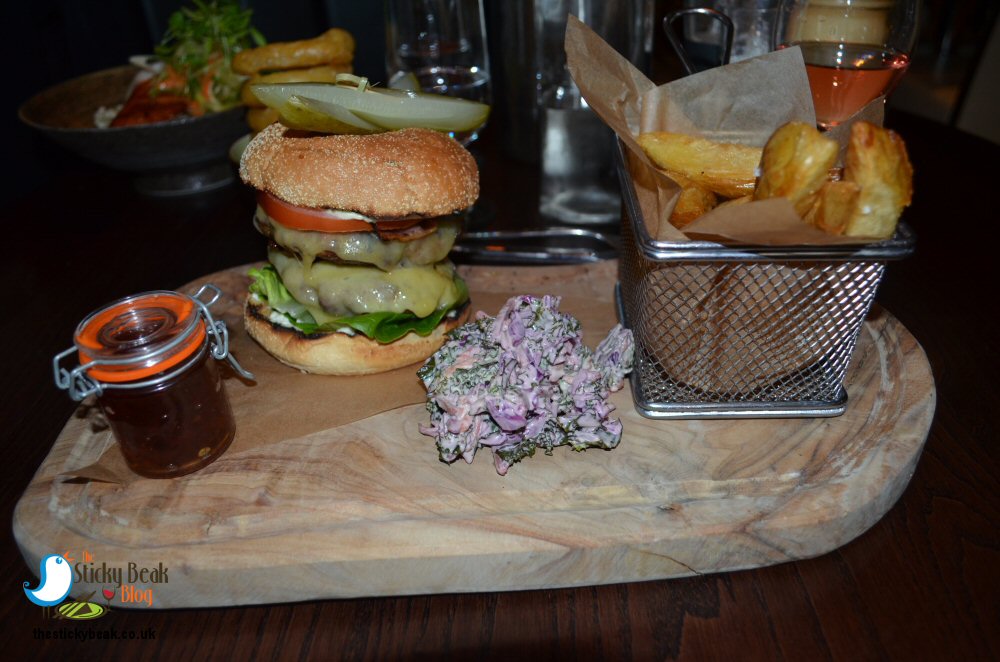 A separate little pot held the smoked Chilli jelly, which was nice as it meant you could add as much as you wanted on to your burger, or dunk your chips in it a la Boy Wonder. A crunchy, colourful Kaleslaw was also on the side and soon got demolished; I had a little bit myself (purely for research purposes you understand ;).
The stars of the show, the beef burger patties, were perfect; moist, juicy, and chockfull of flavour. My Man didn't manage to finish his entire main course, but there was no way he was leaving the burger, so some of the (very tasty) chips got sacrificed and left on the plate.
I have had Salmon before at Fahrenheit Bar and Grill, but had forgotten just how substantial the fillets they use in their kitchens are; seriously, it must've been at least 2" thick, and it could easily have fed two people! The Chef clearly knows his stuff and despite the Salmons' thickness he managed to cook it perfectly without drying it out. I thought that the sticky Teriyaki glaze partnered the fish superbly; there was enough of it to clearly discern its taste without it drowning out the flavour of the fish.


My warm Potato and Crab salad was another joy to eat; the potatoes were still just-firm so they didn't turn to mush in my mouth and I love Crabmeat anyway, so I was thrilled to see that there was more than a mere whisper of it on my plate. The final element of my dish, The Asian 'Slaw provided texture by the bucket-load and was cold, in contrast to the rest of the meal.
My regular readers will probably be thinking "what, no Onion Rings?" as they know how much The Man Bird and I rate Fahrenheit Bar and Grills offering. Don't panic. There was no way on earth that we were dining here and not indulging in the absolute glories that are Chefs Onion rings. I still have no idea how he gets that batter so ridiculously light and crunchy, but I'm blooming glad he does! My first bite had me grinning like a loon – and frankly I didn't care. The loud crunch, no greasiness, just firm onion and hint of seasoning were like a cup-winning teams' homecoming; full of unbridled happiness. Ah, how we've missed these absolute beauts!
Josh kept coming over to check we were enjoying our meals and was chuckling at our responses, especially to the Onion ringsJ. Where applicable, all the food was piping hot so I was a very happy birdie.
For pudding I fancied the baked Vanilla Cheesecake (this is Gluten Free for those that need to know) with slow roasted Peaches and Raspberry purée, and The Man Bird had Chocolate and Salted Caramel Tarte with a Blood Orange Sorbet.
I must confess to being very cheeky and having the first bit off His Nibs' dessert; it was very nice I must say. The Chocolate layer was lovely and rich with a lovely bitter edge to it that comes from a good quality Dark Chocolate, which provided the perfect contrast to the sweet, salty Caramel layer. His Nibs really liked the opposition of the two layers; it was one of those strange effects where you can discern both flavours at the same time as they combine together. A very cleverly thought out dessert. Where there had been a bitter note in the Tarte, there was a deliciously sweet element as well, courtesy of the Blood Orange Sorbet.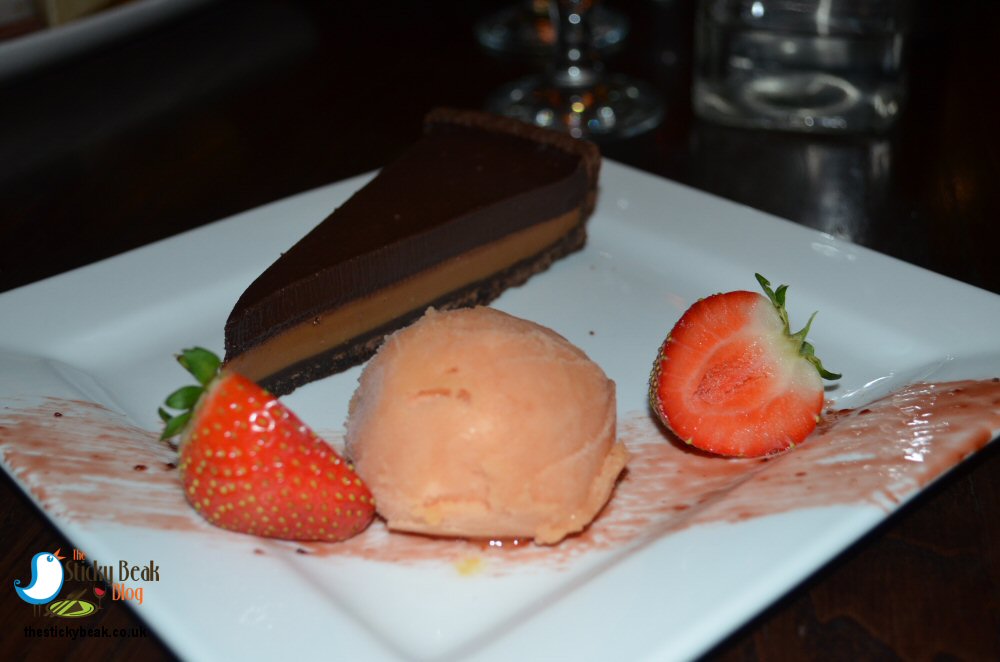 My Cheesecake was surprisingly light given how rich and creamy it tasted in my mouth; it certainly wasn't one of those desserts that lay heavy on the tummy. If it hadn't been labelled as such, I would never have thought that the base was gluten free because it was nice and moist, not at all dry which is the common perception of Gluten free stuff. The natural sweetness of the peaches had really been brought out to shine centre stage through the careful slow roasting of them; in the mouth they were unctuous and soft, the fruit equivalent of velvet. Peach and Raspberry are always a great partnership and in this dessert, where the peaches were sweet the Raspberry was bright and vibrant on the palate and they worked brilliantly together.


We had a couple of black coffees to finish the meal and it was a robust dark roast that did a great job of cleansing the palate. Yet again, we had a wonderful time at Fahrenheit Bar and Grill located in the Genting Riverlights Casino in Derby. Hot Wings awarded to Josh and his team, who all took great care of us.
I'm going to mention a couple of the cracking offers currently on as well, both of which are valid Sunday- Thursday. First up is the 25% discount when two or more dishes from the a la carte menu are purchased, and the second is that a bottle of house red or white wine can be bought for £10 when a main meal is purchased. I have it straight from the horses' (well, Josh's') mouth that these offers can be used at the same time; so if you were planning to have a meal from the a la carte menu (rather than at the bar) you not only get the discount off the food but you can indulge in a bottle of vino for a tenner!
Don't forget, YOU DON'T NEED TO BE A MEMBER OF THE CASINO TO DINE AT FAHRENHEIT!!! Let's put that myth to bed once and for all!
Some form of incentive was provided to visit this venue
read more