Sunday Lunch Carvery At The Marquis Of Ormonde, Codnor
---
Published On Thursday 28 Sep 2017 by Sticky Beak
See All Recent Reviews


The Marquis Of Ormonde Closed In Late 2019
Ahead of what was going to be (and is proving to be) a heavy few weeks, The Boy Wonder decided that he would take me out for a Sunday Carvery. The Marquis of Ormonde has been on our radar for ages, but when something is on your doorstep it's all too easy to keep pushing it back..and back... Anyhow, he rang ahead and booked a table, which given how busy it gets was definitely the right move; even at 3pm it was still very lively.
The Marquis has plenty of parking, always a big tick straightaway in my opinion, so we got parked with no hassle at all. Inside, the pub has a lovely homely feel to it with exposed brick feature walls and knick-knacks dotted around. There is a nice mix of seating options; armchairs, booths or dining tables, so there is always a comfy spot to eat or drink at.
As well as wines, spirits and soft drinks there is always a great selection of real ales, bitters, ciders and Guinness to choose from at the well stocked bar. I have to say the lady behind the bar was very, very nice and friendly; we purchased our Carvery tickets from the bar at the same time and were shown to our table. On this occasion we opted for the standard portion Carvery, but there is also a larger option too :) and the Carvery is available midweek on Wednesday Noon-3pm as well as on Sundays 12-4pm.
With us going a bit later on in the afternoon there wasn't a queue at the counter so the lovely young server had soon carved up our choices of Gammon and Beef; both of which looked very tasty, and they were nice thick slices too. I don't know about you dear reader but nothing ticks me off more than stingy, measly slices of meat at a Carvery; luckily the team at The Marquis of Ormonde are feeders, so the meat was pleasingly abundant. They also support the local village butcher, C.N Wright by having the three meats on offer at the Carvery from them.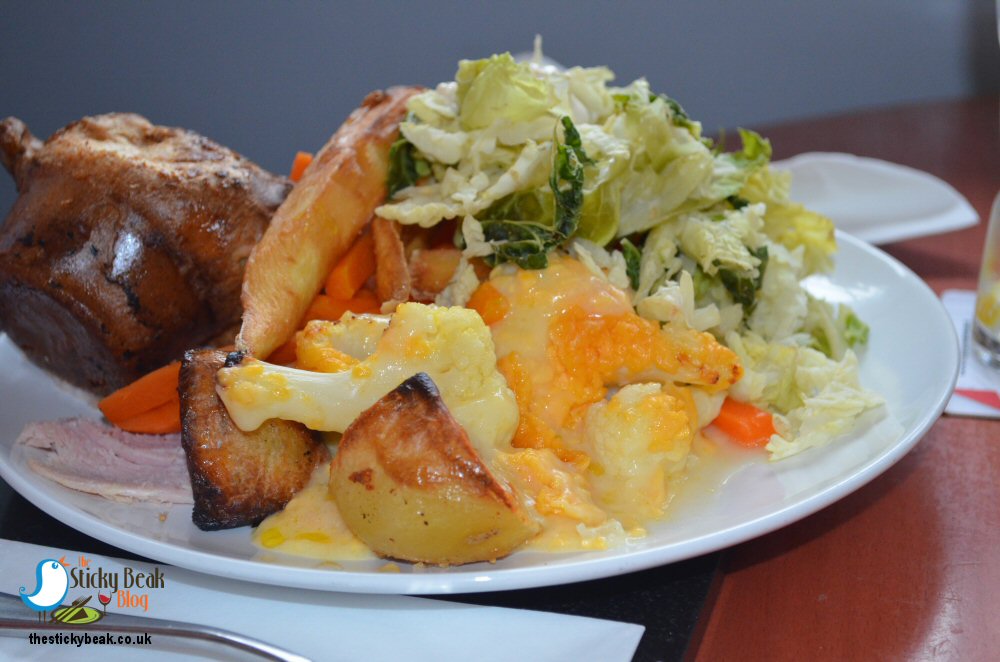 Alongside the meat, a huge Yorkshire pud, stuffing ball and a pig-in-blanket were all placed on our plates before we made our way down the counter to pile whichever vegetables we wanted on our dishes. I'm always a sucker for a good homemade Cauliflower Cheese, and the one here really did look the business; tasted it too, happily :) Roasties are another thing that is an absolute must on Sundays, so three or four of those found their way onto my plate; I won't embarrass His Nibs by telling you how many of those crispy morsels he gave a good home to!
There was a fab selection of seasonal veg to choose from and they had all been cooked nicely, no sogginess in evidence here. Parsnips are one of my favourite vegetables but because The Man and Chickadee aren't fans we don't tend to have them in the nest very often; needless to say I got quite giddy at the chance to indulge, and they were delicious.


You can't have a Sunday roast without good gravy made with meat juices, it's just inconceivable. The Marquis team obviously feel the same as their offering had a fantastic rich, meaty flavour to it that just caressed the tongue and taste buds beautifully. With our plates obscenely laden and over-flowing with all sorts of yumminess, The Man bird and I went back to our tables and proceeded to fill our greedy tums.
As we started to eat our food mountains people were still coming through the doors to take advantage of the classic that is the Great British Sunday Roast; clearly The Marquis' version has quite the local reputation for quality and quantity. In all honesty I can't fault a single thing about our experience at The Marquis of Ormonde, and on the back of this I would quite happily go again during the week to sample their every day menu.

If you haven't been before it's somewhere that's worth a punt, and the prices are very reasonable; our carveries were £8.95, which is maybe a quid or two above some other places but it was still good value. We decided not to have pudding as our bellies were full and we didn't want to spend the afternoon in a food coma! Remember to err on the side of caution and ring the Marquis of Ormonde team on 01773 745222 if you're planning on visiting them for the Carvery on Sundays. Hot Wings well deserved to this team :)