Dinner At The Hotel Van Dyk's Southgate Grill
Published On Sunday 17 Sep 2017 by Sticky Beak
See All Recent Reviews
One of the things I love about this Blog is the opportunities it's given The Man and me to gad about Derbyshire and eat in many different locations. In our early days of "courting" we lived in Worksop and often drove past the Van Dyk Hotel at Clowne as we went to visit the Tribal Elders
We pulled into the very spacious car park a little early, but it wasn't a problem for them to seat us at our table. A wedding was in full swing, so there was a great atmosphere as we walked in and everyone looked very smart. As we sat at our table I noticed there was a range of tribute act evenings scheduled for the year; Van Dyk has always had a great reputation for these evenings of dining, dancing, and entertainment so I was happy to see that they're still continuing.
The Southgate Grill is located in a beautifully appointed room with detailed cornicing, window swags and stylish lighting. There is a nice amount of privacy between the tables which are all classically laid out with pristine cloths and cutlery. A lovely young lady in monochrome uniform came and took our drinks orders (Malbec for Moi and a pint of Peroni for His Nibs) before handing us the menus to look at.

Whilst we were deciding what to have, I was indulging in a spot of people-watching; several tables were already full with diners of all ages including families with young children, older couples and groups, as well as younger pairs and groups of friends.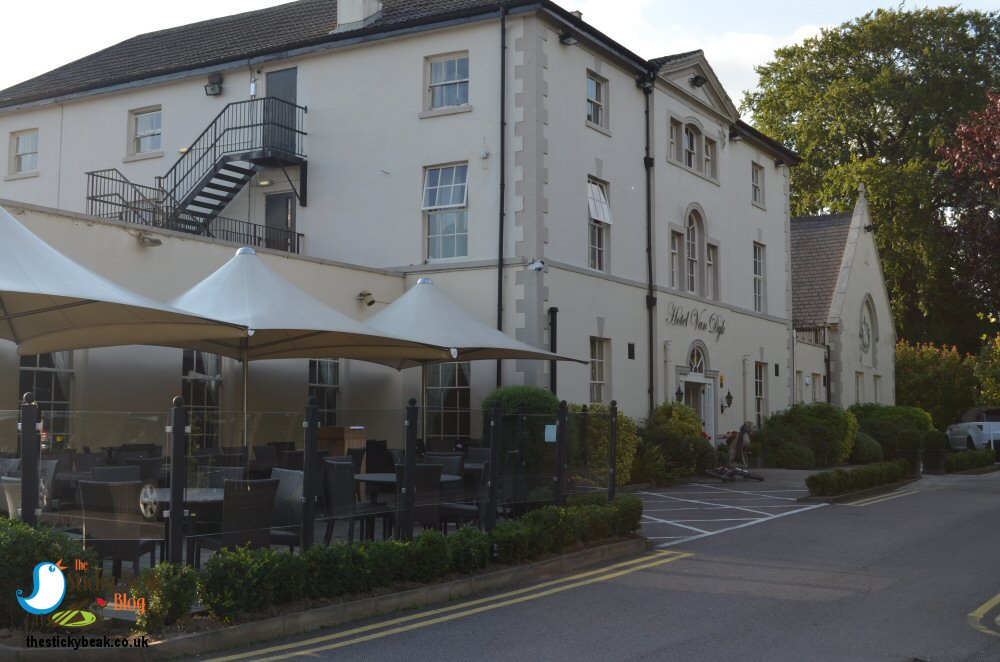 It was whilst I was gawping around that I spotted what would become something of an obsession (much to His Nibs' amusement!). The entire room was very sleek and stylish and I loved it; then I spotted the front of the bar, which to me looked like white-painted, jumbo-sized breeze blocks.

I'm sure that I wouldn't even have noticed them if we hadn't been sat smack in front of them, but once I'd noticed them I couldn't "un-notice" them. They just didn't look as stylish as the rest of the room and it bugged me. Obviously this is just a girl thing as The Man Bird hadn't noticed and when I pointed it out he just couldn't see what I was on about!
Having fixated on something daft, I now got into full glutton mode and turned my mind to the important thing; food. For my starter I fancied the Posh Crayfish Cocktail and The Boy Wonder wanted the Ham, Egg, and Peas. The Crayfish Cocktail is served on a bed of shredded Iceberg lettuce, with Avocado Mousse, Bloody Mary, Smoked Paprika and bread Croutes, and is presented in a gorgeous cocktail glass.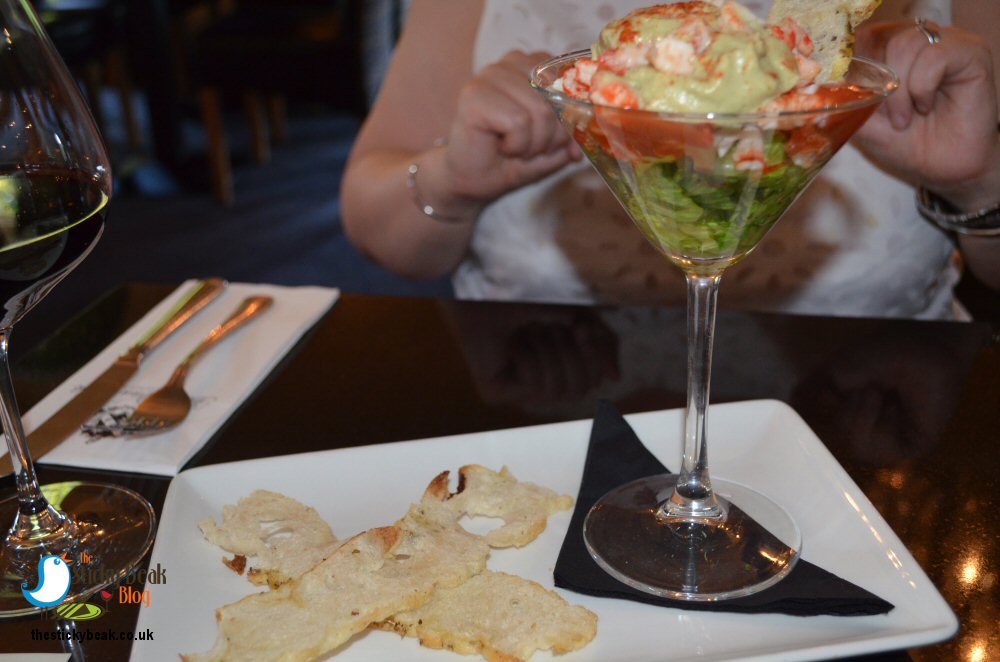 For such a simple sounding starter the Ham, Egg, and Peas was spectacularly presented; the shredded Ham Hock lay on a toasted English muffin, was topped with a perfectly round poached Egg, and a sea of fresh Pea Veloute surrounded it all. It looked beautiful and this was further enhanced when His Nibs cut the egg to reveal its sunshine coloured yolk; the contrast of this and the verdant Veloute was really stunning.
The Crayfish tails in my starter were deliciously sweet and juicy, pairing excellently with the tangy Bloody Mary sauce. Crunch was provided by the fresh, crisp Iceberg Lettuce and the bread croutes and there was just a nice hint of smokiness from the Paprika dusted on the top of it all. I was very pleased by the amount of Crayfish tails in the Posh Cocktail; they certainly hadn't skimped on them in the Van Dyk Hotel kitchens. Creamy Avocado mousse assuaged the heat from the Bloody Mary sauce brilliantly and all the elements of this classic starter came together harmoniously in the mouth.
Across the table, His Nibs was munching happily on thick pieces of meaty, tender Ham Hock. He liked the texture and flavour of the muffin, saying that you could tell it was fresh bread. Nothing pairs good quality meat better than a rich, creamy egg yolk and the one in his starter was certainly that; its flavour shone through in the mouth.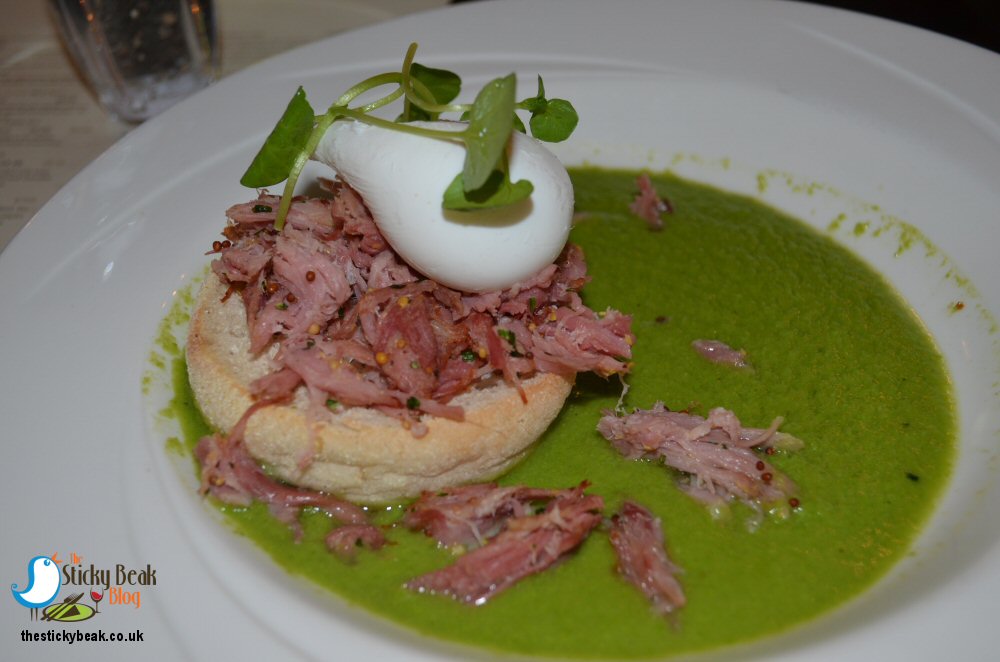 The distinctive flavour of fresh Pea was heavenly in this starter and the aerated veloute danced on the tongue, much to The Boy Wonders' delight. He thought that this was a fantastic starter, and was more than happy with the size of the portion too. At £8.45 it was one of the more expensive starters, the average price would be about £7.50, but he felt it worth the price.
We were asked if we were happy with our starters, and another member of staff came to clear our plates away a little later. The Van Dyk team were working very well together to provide a slick-yet-unhurried service to those dining with them; one team member would carry the food out on a large tray and another person would accompany them to serve the food.

This meant that there were minimal intervals with groups of diners each receiving their meals; we've all experienced delays in everyone eating together when dining in large groups at some point haven't we, and it isn't nice. Van Dyk staff are clearly used to dealing with large parties of diners and have the seamless delivery of courses to groups down to a fine art.


For my main course I had one of Chefs recommendations; the Lemon Sole which is served as a warm salad along with baby Spinach and Rocket, roasted Celeriac, Chorizo, Fennel, Chive Potato Gnocchi, and Chorizo oil. The Man Bird was tossing up between a couple of dishes, but eventually settled on the Mexican Burger; this classic burger is topped with Chorizo, Cheddar Cheese, Jalapeños, Pink Peppercorn Mayo, and served with hand cut chips, Rocket salad, and salsa burger relish.
My fish was wonderfully moist and there were four nice fillets of it to enjoy, all nestled on a bed of the Rocket and baby Spinach. The peppery notes of the Rocket stood up to the spicy Chorizo chunks very nicely and the delightful aniseed notes of the fresh Fennel slices were gorgeous. I liked the Chive flavour in the Potato Gnocchi, it was just enough to savour without it over-powering the other tastes, and I liked the texture from the Fennel, Spinach, and Rocket. To say I was happy with my choice of main would be a huge under-statement, it was superb; something I told the lady who enquired whether my meal was satisfactory.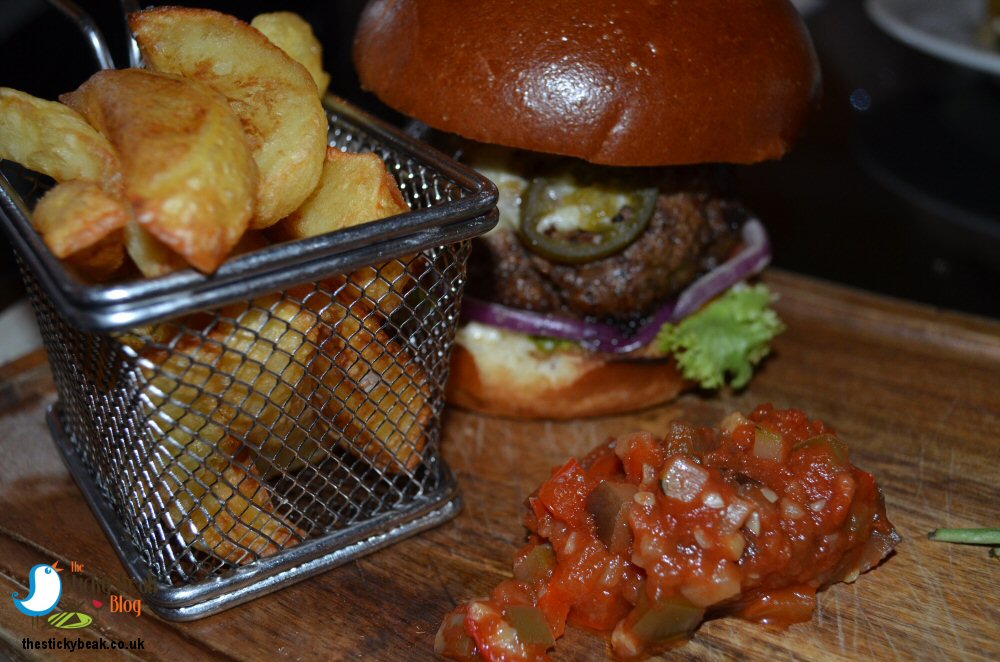 The beef for Van Dyk Hotels' burgers and Steaks comes from Oaklands Farm in Harthill (a village that is about 3 miles away) and the Brioche buns that housed His Nibs burger are made at the Welbeck Bakery, another local business. We both gasped a little at the size of the handmade beef patty, it was a good 2" thick!

The Man Bird grinned with happiness as he took his first bite, always a good sign. The meat itself had a great depth of flavour that comes from quality animals and the seasoning was such that it enhanced this flavour, rather than dominating it; texturally it was a great burger too, providing a satisfying bite. Thankfully the chips were equally tasty; there's nothing worse than having a great burger partnered with lack-lustre chips, and happily the chef at Van Dyk Hotel appreciates this point :) A nice chunky, tangy salsa was teamed with peppercorn Mayo and both of these joined the Jalapenos in providing a rounded heat to the dish.
We sat at our table, happily replete, when the guest journey manager came to enquire whether we would like to see the dessert menu; predictably we answered in the positive and it didn't take long for us to make our choices. I opted for the White Chocolate Bavarois with Dark Chocolate Brownie, Passion Fruit Cream and Kiwi Sorbet and The Man chose Strawberry Cheesecake with Basil Curd, Pepper meringue, and Berry Compote.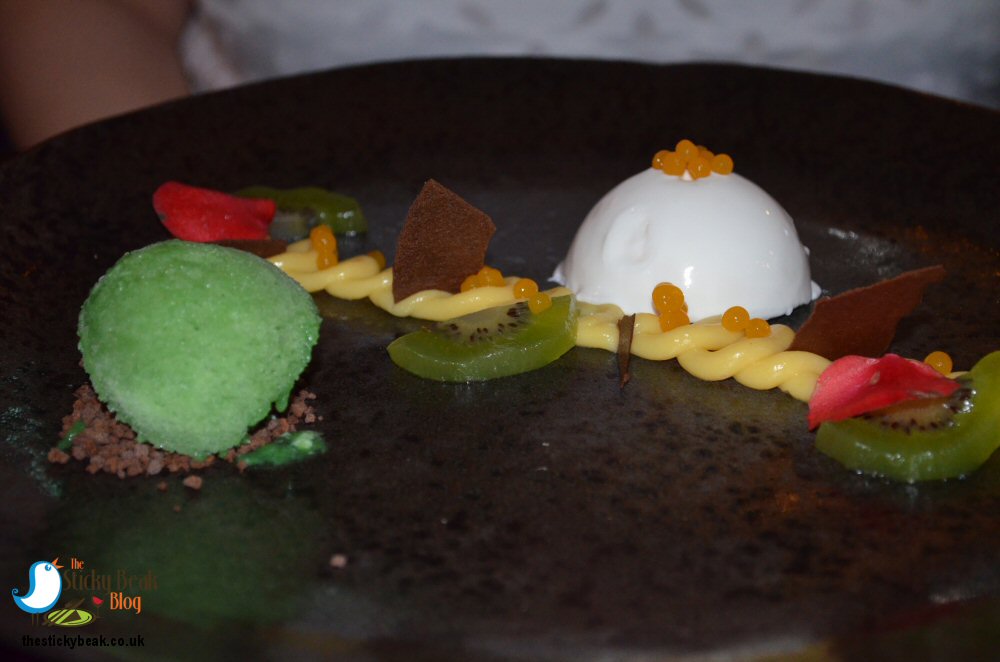 My Bavarois was silky smooth and intensely creamy; nicely rich without being cloying. The Passion Fruit Cream was piped in a wavy pattern and scattered with thin slices of fresh fruit; I loved its sweet, fragrant taste as I'm a huge fan of Passion Fruit anyway.

Chocolate Brownie is normally in slices or cubes, but on this occasion it had been reduced to crumbs and surrounded the jewel-coloured Kiwi Sorbet. All great desserts are based around contrasts whether it is in colour, texture or tastes and you couldn't get a clearer contrast than the one between the Bavarois and the Sorbet, believe me.
Picture the White Chocolate Bavarois as a refined, classy lady (not hard given my description of it) and then imagine the Sorbet as the boy from the wrong-side-of-the-tracks, full of confidence and swagger, brazen, confident, and full-on. Bright, punchy fruit flavour hit my palate like Mike Tyson in his glory days; unmistakeably Kiwi in flavour and definitely not shy about it! It was a fantastic dessert that somehow managed to pull all the different tastes and textures off, leaving me feeling more than satisfied.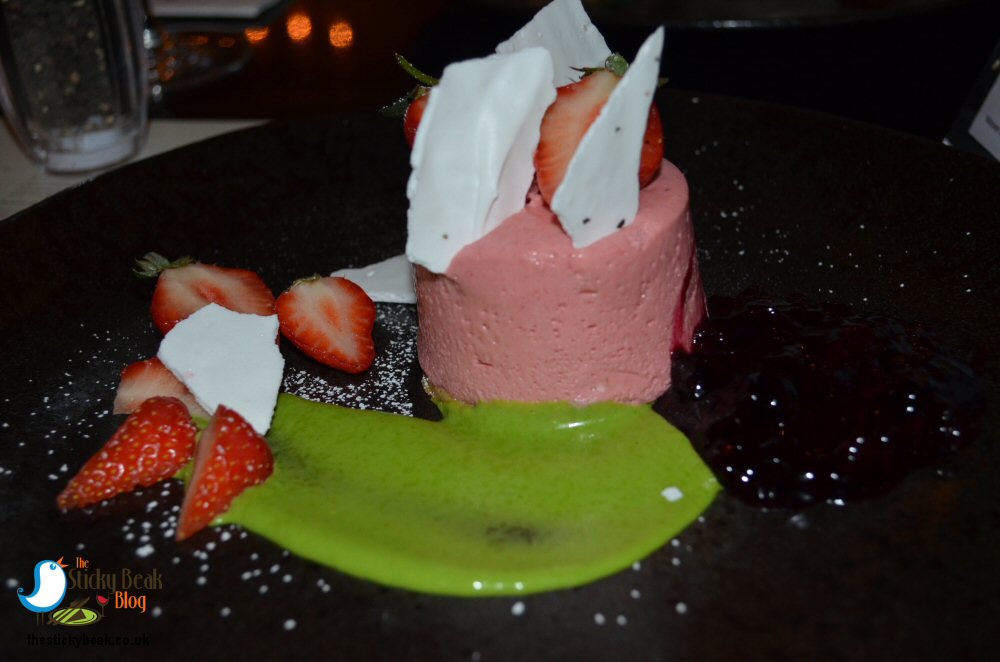 His Nibs' Strawberry Cheesecake was no less impressive. The cheesecake itself was divinely light in texture (almost mousse-like) and sat atop a dense biscuit base; a subtle yet noticeable contrast. The Basil Curd had that distinctive bright, aromatic flavour of the herb which stood out from the sweet-fruity notes of the Strawberry and then there was the sharp Pepper note in the sweet Meringue; the third contrasting element in the dessert. Zippy Blackcurrant compote just provided the final crowning flavour to this amazing pud.
Although we had enjoyed all three courses of our meal, both The Boy Wonder and I were in agreement that the puddings were the stand-out part of the evening. The young lady who had come to check our desserts were to our liking came back to clear away our spotlessly clean dishes, and we were full of praise for Chef.
The Van Dyk Hotel may seem some distance away but it is an easy journey; we just made our way up the M1 motorway, got off at J30 and it is only about a mile or so up the road. Easy peasy. It's definitely worth going and having a meal there, and don't skip pudding whatever you do! Hot Wings well deserved here :)
No incentive was provided to visit this venue
read more