Second Day in Niagara Falls, time to really explore
---
Published On Sunday 16 Jul 2017 by Sticky Beak
See Recent Holiday Reviews | See All Recent Reviews


We all had a fantastic nights' sleep thanks to the supreme comfort of the beds in our Radisson Falls View Hotel room and the amazing sound-proofing it has. Chickadee was primping and preening, so The Man and I headed over to IHOP (International House of Pancakes) for our breakfast.

He had the breakfast sampler of Bacon, Eggs of your choice, Sausage, homemade Hash brown (which was apparently "the bomb") and a couple of signature Pancakes. I had the double Blueberry Pancakes which not only has Blueberries in the batter mix, but also has them in a compote to top it all off; mega serving of yumminess! The glasses of freshly squeezed orange juice were also a great size; you got a lovely large glass which was a great start to the day.
Our first stop of the day was back at the Falls for the "Journey behind the Falls" tour. A series of tunnels and viewing points allow you to get a unique perspective of Niagara Falls; you only get a little bit wet, but the noise is really something to behold!


When we had come back up to ground level we went into the visitor centre to see "Niagara's Fury", which is basically a journey-through-time geography of how the Falls evolved and shaped the surrounding landscape of the area. However, the difference between this and other run-of-the-mill presentations is the Niagara's Fury has motion and sensory elements to it, requiring more poncho wearing. This is well worth going and having a look at and it only takes up 20-25 minutes of your schedule; perfect for even the most time-poor traveller.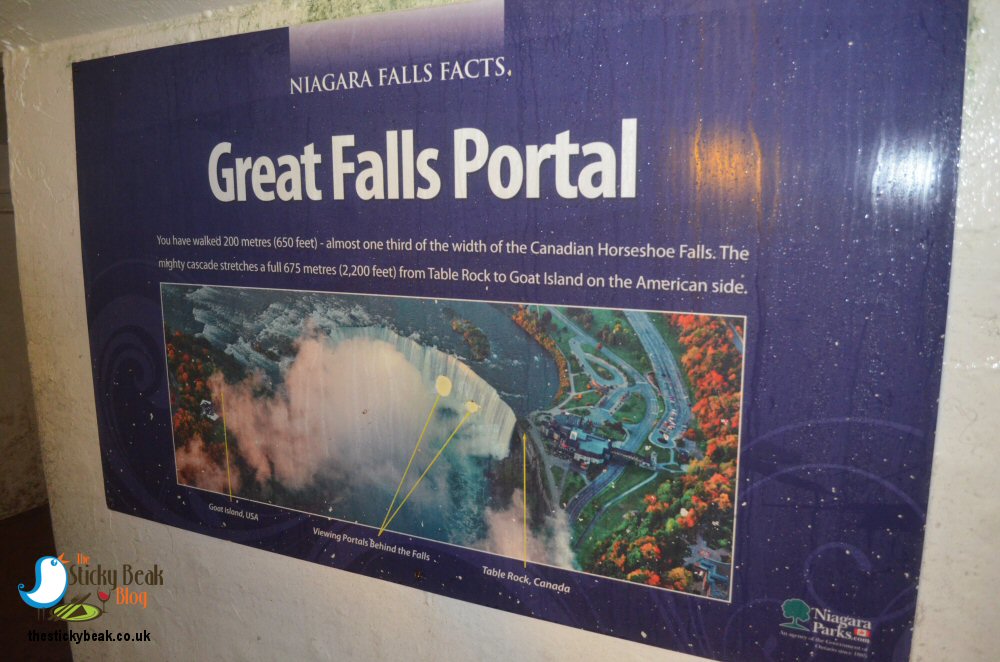 After Niagara's Fury we went across to the We-Go bus terminal to head down a few stops to Hornblower Cruises Niagara all set to see the Falls in daylight. One of the things that both Canada and America do is reduce the flow of water over the Falls at night to maximise their hydro-electricity output and it wasn't until we approached the heart of Niagara that we realised how lightly we'd got off on our night-time "light mist" tour. We got drenched! I have to say that the ponchos are made of stern stuff; they don't let you get wet where their protection is. I tied mine at the side so that the wind didn't blow it up too much. I also tied it tight enough around my face so that it didn't blow back down, but not so tight that I looked like Kenny from South Park!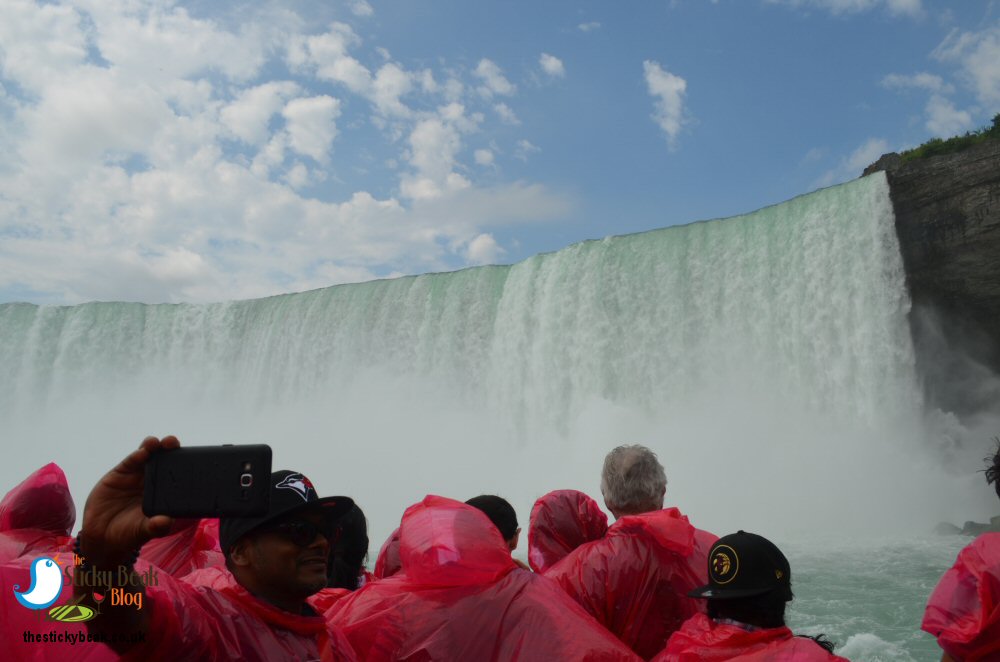 We hopped back on the We-Go bus and went down to the White Water Walk to see the class 6 white water rapids on the Niagara River. The swell of the waves created is between 3-5 metres high, and the ferocity of the water is breath-taking. I thought the waves were created by underlying rocks but it is just the sheer volume of water running through the narrowing gorge, the other side of which is New York State in America. Believe it or not the noise of the water was even greater than at the base of the Horseshoe at Niagara. We all just stood there gawping to be honest; it was quite extraordinary to witness this natural display of power and beauty, and there are a couple of platforms where you do get very close to the water.


Our next stop was up to Ripley's Louis Tussauds centre to collect some tickets that Anne Marie Cammelli had arranged for us to pick up. This is located on Clifton Hill, and what a contrast this is to the area of Niagara we've been staying in. All the shops and attractions have vibrant fronts to them, some with music and sounds, which makes it more akin to the energy of New York than Niagara. At every twist at turn there was something new to see and do, and we fully immersed ourselves in the experience. There is an observation wheel, not quite on the scale of the London Eye but impressive nonetheless and this gives you great views over the resort.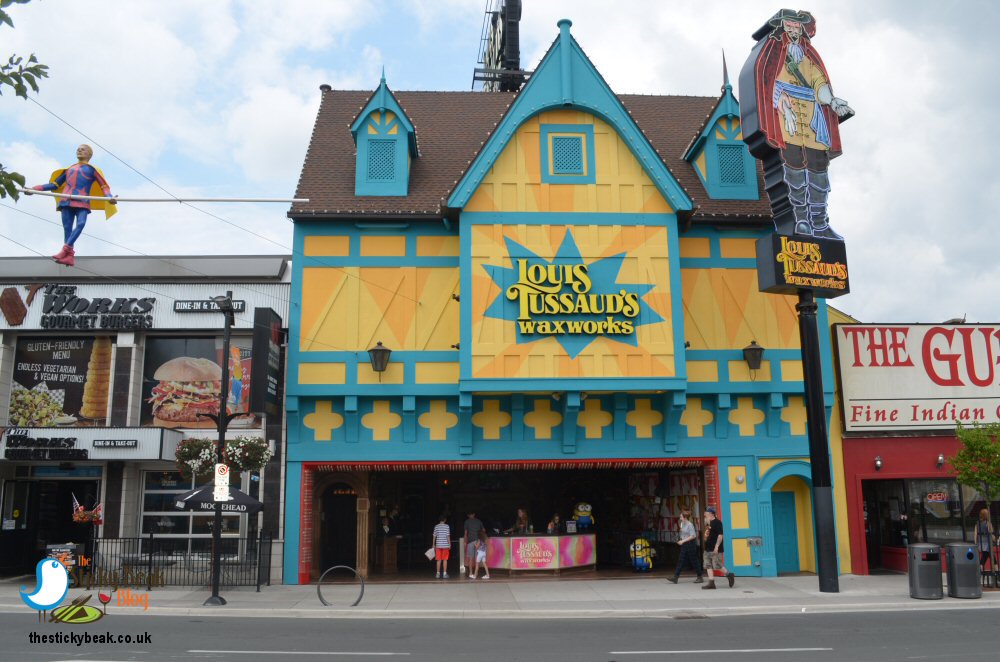 Louis Tussauds has some brilliant wax works, all in different themed areas; I actually sat in a DeLorean, and you know how many times I've wished for one! The horror section got me a couple of good ones; Freddy Krueger from the film "A Nightmare on Elm Street" has always scared me witless, and there was also Jack Nicholson's' character from "One Flew over the Cuckoo's Nest",Randle McMurphy. The next exhibit was a pod from "Alien" and it emitted gas as I went near it; well, I squealed and ran forward and round the corner only to be confronted by mummy Alien! I did a little scaredy cat wee, I couldn't help it; it was so life-like and the film was one of those that messed with me when I watched it :)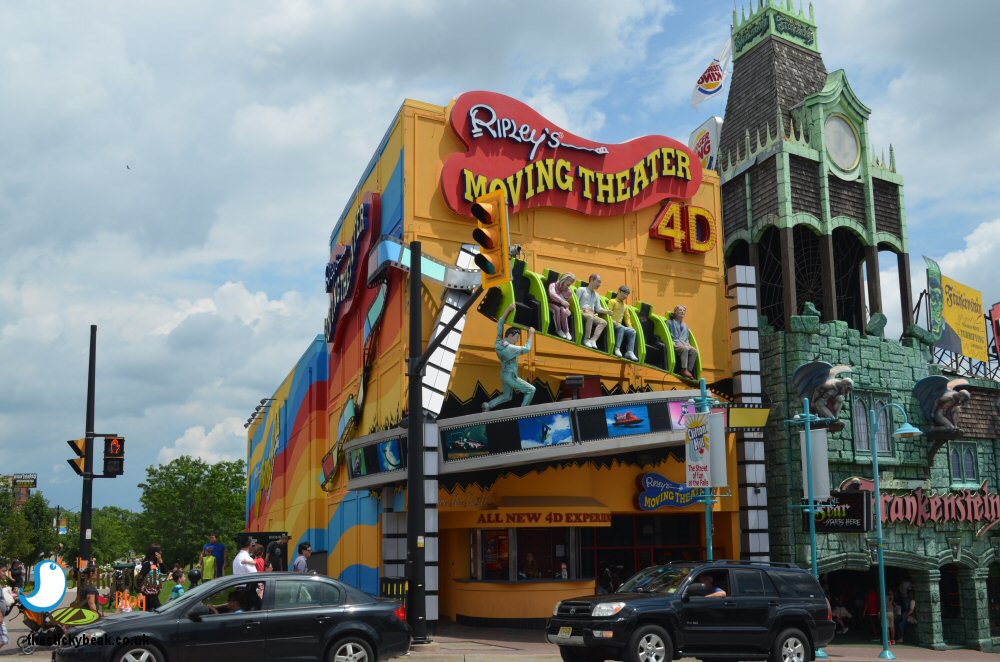 We went over to Ripley's 4D Cinema next and experienced "Angry Birds" and "Looney Toons" with 3D, motion and effect experiences; it was brilliant I have to say. There's also an option to re-live the films for only another $5 if you want to do it again.
Our last Ripley's experience of the day was a visit to Ripley's "Believe it or Not Odditorium" which is a veritable cave of all things unusual. There was the world's tallest man sculpture, and his shoe outlines to put your feet in to compare; lots of tribal mask collections from Robert Ripley's travels around the world were on display too. I loved the unusual artwork sculptures, there was dress of paper to admire and various sculptures from odd bits of plastic that the artist had just gathered over time and turned into something mesmerising. You could make your own pin art at four columns of those large pins that mould themselves against objects pressed to them, and lots of people were having fun doing that together.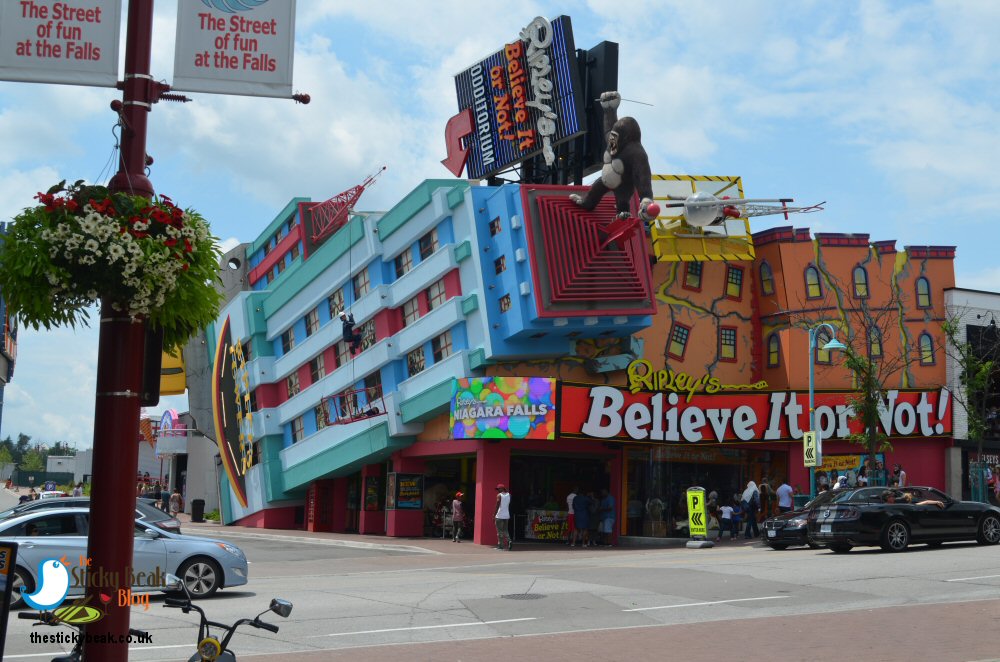 We spent ages just gawking at all the exhibits and had a great time doing so; there's no rush to do it all quickly and it has a lovely relaxed atmosphere. Lots of families with kids of all ages were interacting at various stations and the rooms were filled with chatter and laughter. There is something for all ages, so it's well worth going and seeing all the weird and wonderful exhibits for yourself.


Having done so much, my tummy gave a little growl of hunger and as luck would have it there was a Beaver tail stand just on a side street so we headed over. I had the classic Cinnamon and sugar version, His Nibs had Chocolate sauce and Maple Syrup spread on his. For those of you that don't know what a Beaver tail is, it's a pastry. The easiest way to describe it is as a flattened out doughnut (no jam in the middle obviously) that has the topping of your choice spread on one side and you eat them freshly made and hot. Although they're fried, they aren't dripping with grease and they make a great snack; ours certainly filled a gap and kept our energy levels up.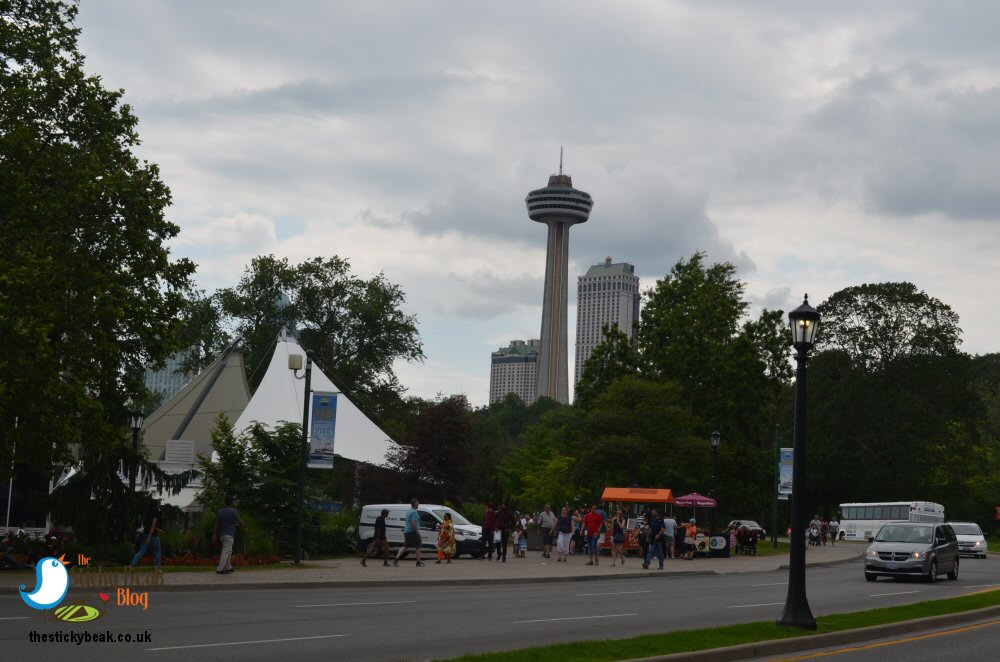 We nipped over the road and caught the We-Go bus back into the area our hotel is in; I was more than ready for a dip in the whirl-tub bath! Tonight we are dining at the Skylon Tower and having a look at the Falls from their amazing viewing platform. I can't wait!
Having got ourselves changed for dinner we harangued The Man Bird into hailing a cab; it isn't a long walk but when you've got heels on every foot seems a mile! We rocked up at the reception desk and were expecting to be able to access the observation deck before having a leisurely dinner in the rotating restaurant; but no, apparently you get access to the observation deck AFTER you've eaten. You can pay separately to go up the Skylon Tower at anytime, by the way; if you choose to eat at either to the tower's facilities then the elevator ride and observation deck access is free.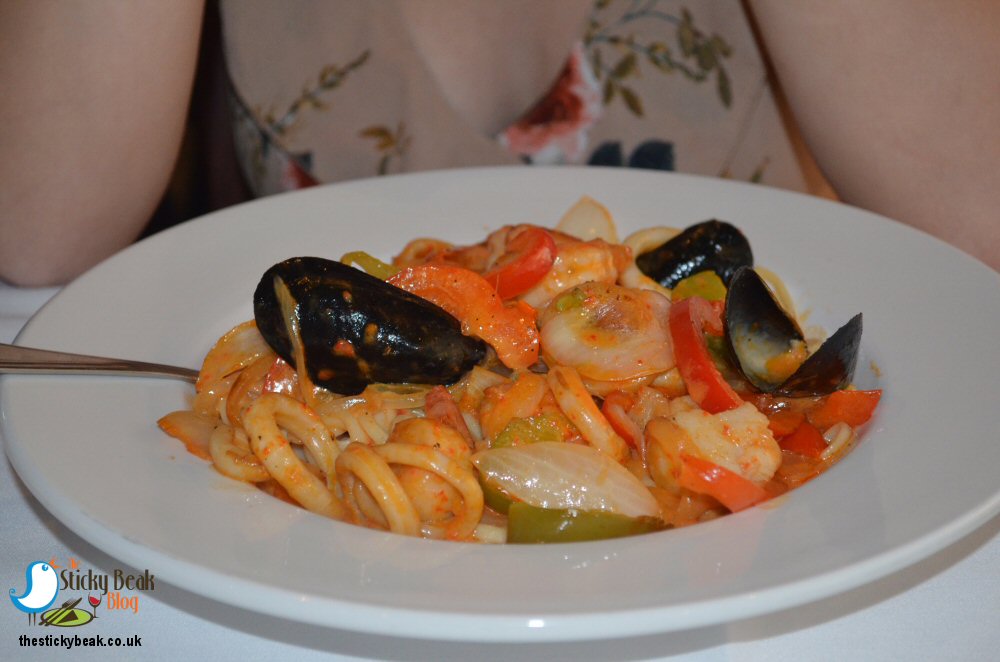 The restaurant menu is very extensive and the food we had was delicious; nicely presented and good size portions. What grabs your attention though is the revolving floor which does a circuit of Niagara every hour. We got great views across both the American and Niagara Falls just as daylight was fading and also as they were illuminated in the darkness.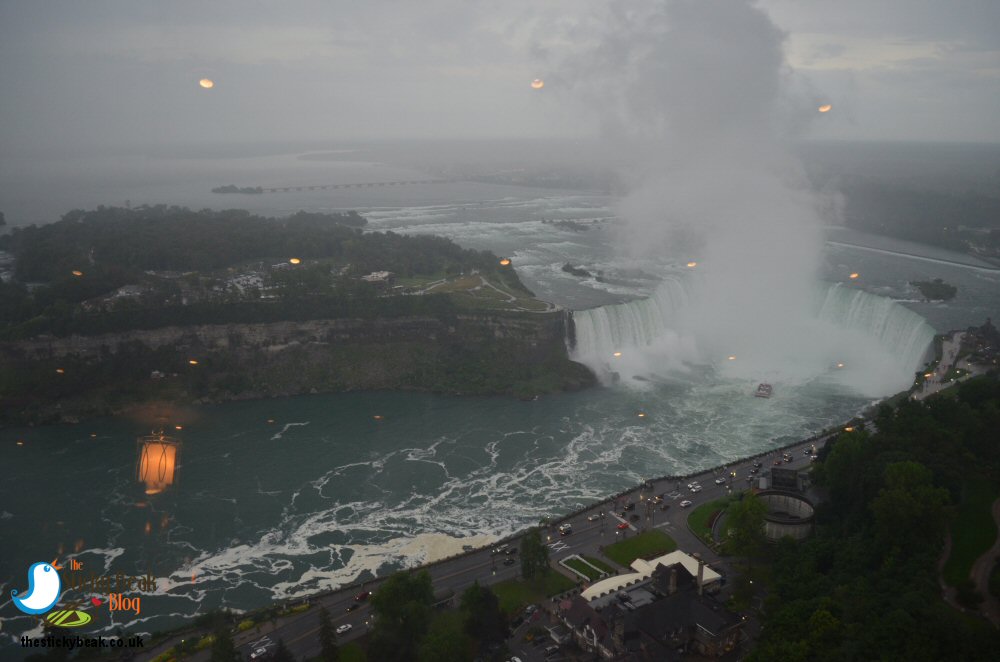 Further along the resort we could see Clifton Hill all lit up in various colours and the centre of the Ferris style wheel. From up in the Skylon Tower you get to fully appreciate just how large a resort Niagara is.
Tomorrow is our last day, and we have a visit to Marine Land planned and a feeding experience with the Beluga Whales; can't wait for that!