Dinner At The Batemans Mill Hotel, Old Tupton
Published On Sunday 10 Sep 2017 by Sticky Beak
See All Recent Reviews
I like to think of myself as a multi-tasker, so when the chance to do 2 reviews in one visit came up, I took it. Part of my "secret squirrel" task was to have three courses and a drink and rate the venue, staff, and variety of food and drink etc. Having never been to Batemans Mill Hotel at Old Tupton before I thought that if The Man Bird came with me, we could also do a Sticky Beak Blog review. Clever thinking or what?
The Hotel and restaurant has plenty of parking and is nice and easy to find (although our SatNav said it was on the left when it was on the right!). As we walked through the door we could hear the gentle sound of water running, which piqued our interest. It wasn't coming from a well, it appeared to be a small underground stream and presumably this is where the "Mill" part of the venue name comes from; I think it was the site of a watermill in times gone by?.
The downstairs bar area is airy and spacious and dotted with a variety of sofas and chairs, including a couple of very comfy looking Chesterfield chairs. A lovely chap behind the bar welcomed us and we said that we had got a table booked, before ordering a couple of drinks. I have to say that for an out-of-town venue it had an extensive range of wines, ales and lagers on offer; I was mightily impressed by the prices too, my large glass of Sauvignon Blanc was only £4.60, His Nibs pint of Peroni was £4.20.
There is a dining area downstairs in the bar, but we were taken upstairs to another area used for eating. This room was again a large size and used for functions as well; the wooden dance floor in the middle was a giveawayJ. The exposed wooden ceiling beams had been decorated with twinkling fairy lights and this gave a nice gentle lighting to the room. Throughout the venue the decor had a gentle country theme to it (nothing too modern or flashy) and it very much suits the character of this traditional stone building.


The menu was a good mix of meat, fish, and vegetarian dishes both on the regular menu and also on the specials one. I changed my mind several times but eventually settled on the Thai style Fishcakes with Wasabi Coleslaw and a Mango, Chilli, and Lime dipping sauce to start, and His Nibs had the Arancini Risotto balls with Mozzarella, Sunblushed Tomato, and Roasted Red Pepper, served with Aioli and Pesto. For our mains we chose the full rack of Pork Ribs with Smoked BBQ, Bourbon and Maple Syrup glaze served with Chips, Salad and 'Slaw (The Man) and grilled fresh Mackerel and Scampi tails with oven dried Tomatoes, Avocado Mayonnaise, charred Cucumber, and Tomato and Chive Vinaigrette (mine).
It wasn't long before our starters were being brought out and they smelled wonderful. I had two good sized fishcakes on my plate and they were both a nice balance of fish and potato along with the Thai seasoning. Thai spices (typically coriander, lemongrass, garlic, galangal, red and green chillies, and Lime) give a lovely heat to the dishes they're in, and my fishcakes were a great example of this.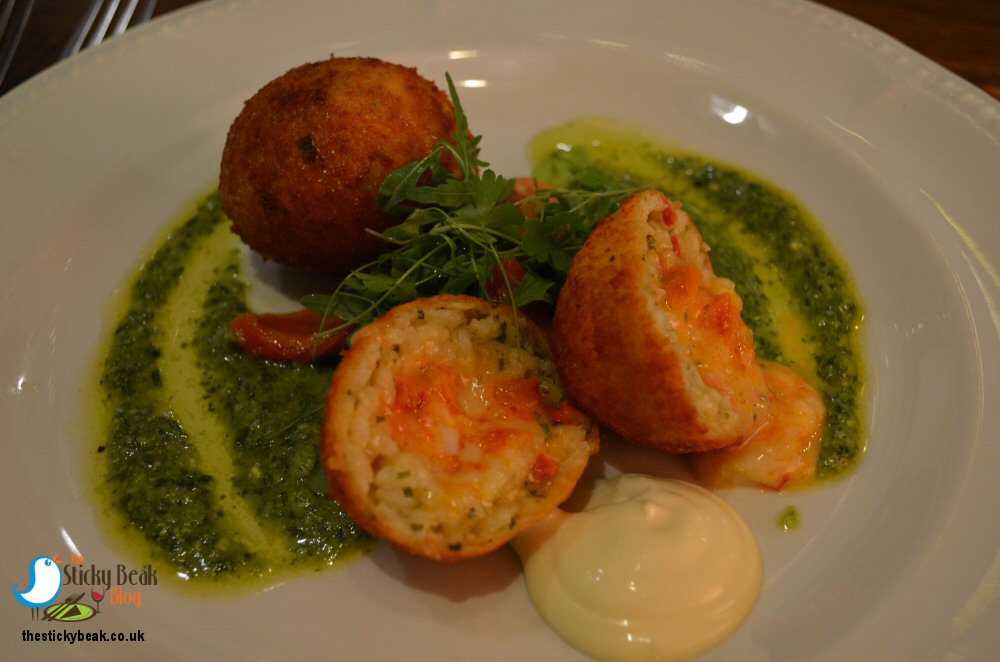 Wasabi is another pungent taste that I enjoy in small amounts; too much makes me sneeze, due its potency! In the Batemans Mill coleslaw that came with my fishcake there was just a nice hint of it to lift the coleslaw from out of the ordinary, without over-powering the fishcake flavour. The crunchiness of the coleslaw also gave a different texture in the mouth, contrasting with the smooth fishcake. I really liked the dipping sauce too; sweet Mango was juxtaposed with tangy citrus from the Lime and Heat from the Chilli component.
His Nibs has had Arancini on a couple of occasions, but this was the first time he'd had them warm. Both Arancini were a generous size and the crispy coated, fried rice outer held a gorgeously flavoursome core of melted Mozzarella, Sunblushed Tomato, and roast Red pepper. They had a lovely delicate taste to them that paired well with both the Aioli's garlic notes and the vibrancy of the Pesto. The Risotto rice had retained some bite in the mouth, so there was a nice textural element to this starter.
The lovely gentleman who had served us downstairs in the bar came to check that we were enjoying our starters and when a young lady came to clear our plates away there wasn't anything left, save a couple of salad leaves on The Man Birds plate.


When our mains came out both The Boy Wonder and I were speechless; never have either of us seen such a massive rack of Pork Ribs as the ones at Batemans Mill! Seriously, they were literally taking up the entire platter; the chips were nestled partially under them and the coleslaw was in a little separate pot, balancing on the salad. As well as being enough to feed an army, the rib meat was so tender it was falling apart in ribbons as it left the bone perfectly clean. It had a nice creamy flavour and super texture as well, and the glaze went perfectly with it; not too strong a flavour as to drown the meats own taste, but enough to entertain the taste buds. The chips were a good quality pre-pared variety that His Nibs said were nice, but he only had a handful of them because he had all-on eating the meaty ribs themselves!
We ended up asking if we could take a doggy-bag home with us; despite taking his time, The Boy Wonder couldn't defeat the full rack of Ribs (which came from Mainstream Meats at Stonebroom).


Luckily, I managed to finish my Mackerel and Scampi tails. The portion size was generous, but I think the fish would've had to be Blue Whale size to compare with His Nibs' ribs! The fish was lovely and moist and had a wonderfully delicate taste to it, with a lightly crisped skin underneath. I was expecting the Scampi tails to be breaded but they came out "naked" and they had a gorgeous sweet flavour to them. The Avocado Mayonnaise had been arranged in little whirls around the plate, interspersed with angled slices of delicious charred Cucumber and intensely tasty Tomato pieces. Artfully drizzled vinaigrette gave a lovely lift to the dish, and I enjoyed every morsel.


Again our servers had checked we were satisfied with our meals, and had a little chuckle at The Boy Wonders brave attempt to eat all the ribsJ. We waited a while to have the dessert menu brought to us; in all honesty I was expecting to be eating pudding solo.
It's always nice to see seasonal influences on a restaurants' menu and as well as the seasonal salad and vegetables in the savoury dishes there were plenty of seasonal fruits showcased on the dessert menu. I chose the Lemon Tart which comes with Clotted cream and fresh berries (Redcurrants, Raspberries, Blackcurrants, Strawberries and Blackberries on this occasion) and The Man had Italian Chocolate cake which comes with Clotted cream and Raspberries. His Nibs asked for the Clotted Cream to be omitted from his dessert; I don't think he could cope with the thought of it after so much indulgence with his main course!


My Lemon Tart had a superb, thin pastry case that tasted nice and buttery and had a delicately citrus filling. I loved the caramelised top on the Lemon filling, especially the crack it gave as my spoon cut its surfaceJ. There was a very pleasing scoop of Clotted Cream to dig into and as the berries burst in my mouth I got a hit of summers' tasty bounty.
The Man Birds' Italian Cake was delicious and you would never guess that it contained no wheat flour, making it gluten free. I assume that it contained Semolina instead, but forgot to ask! Fresh Raspberries are a classic partner to Chocolate as their zingy flavour tempers any excessive richness, and this was a master class in balancing these two wonderful ingredients.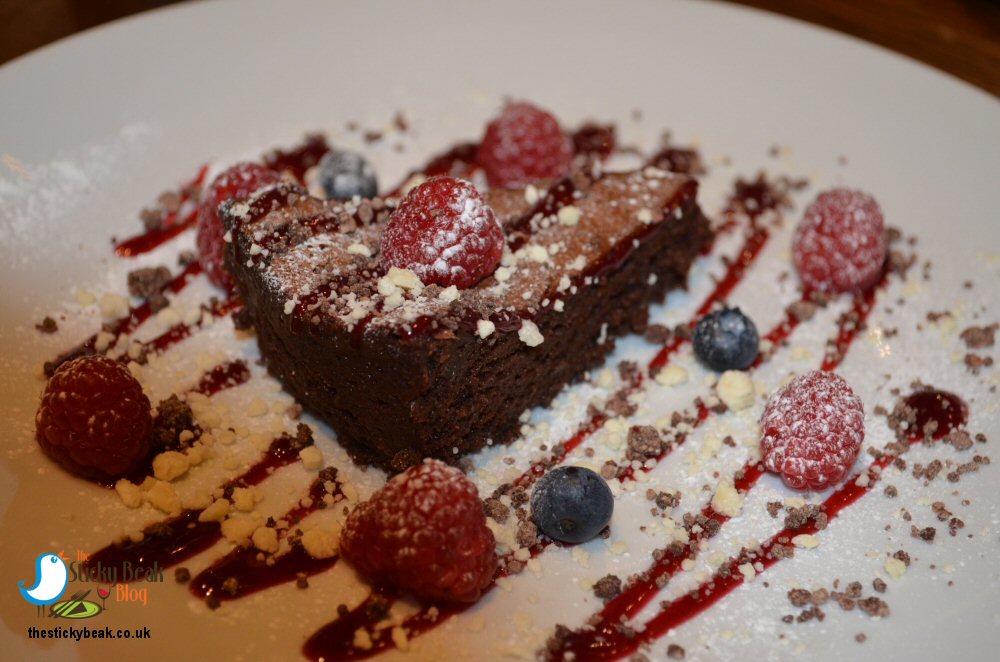 Throughout the evening the staff had been superb; not only carrying out their professional obligations but also taking time to have little chats as they cleared plates away and when they brought the bill out. It's definitely worth paying Batemans Mill Hotel a visit but remember to take your appetite with you! There were several tables of other diners in the upstairs area with us and the dishes I saw going past were all laden to the brim. Hot Wings earned by this lovely team :)
No incentive was provided to visit this venue
read more