Brunch At Browns Tea Room, Bar & Bistro, Mansfield
Published On Sunday 3 Sep 2017 by Sticky Beak
See All Recent Reviews
Yet again The Man Bird and I were abandoned by The Chick as she and The Boyf Bird (BB) gadded off around town. We have been wanting to visit Browns Tearoom, Bar and Bistro in Mansfield for ages and never quite got around to it, so our Fledglings' desertion gave us a perfect excuse!
Browns' is set in a little row of shops with plenty of parking, so we found it easily enough. When you step inside it is like stepping back in time to a slightly faded, eccentric country home; this type of shabby chic, eclectic decor has definitely been enjoying time in the spotlight over recent years and Browns have done it very well. The bar area has stools to sit on as well as more substantial booths if you fancy perching yourself there to enjoy some nibbles, and the young man gave us a very warm welcome.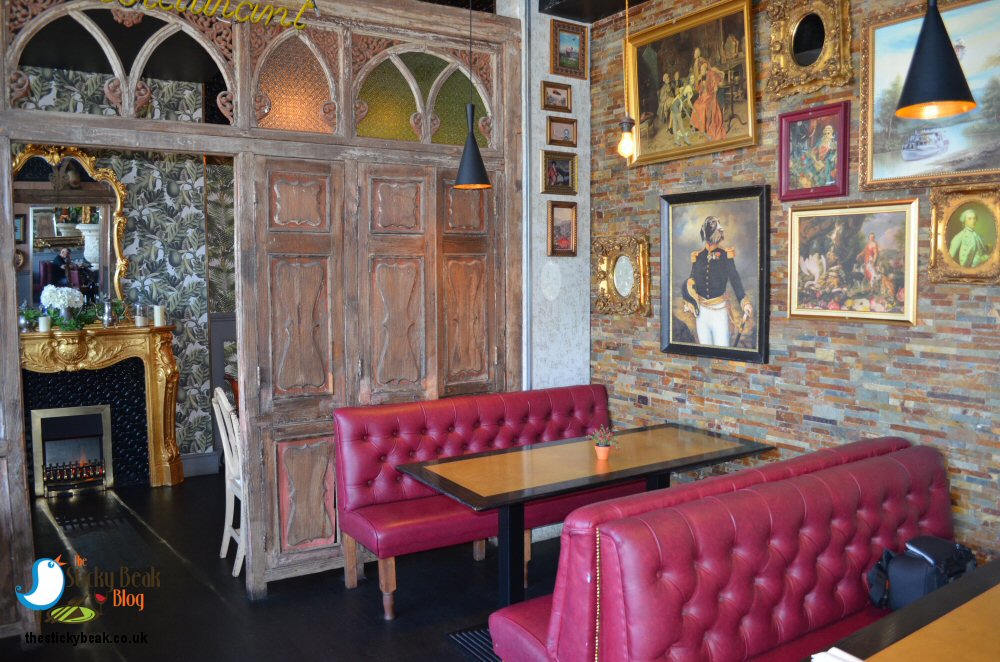 We decided to step further inside to the middle room where the tables were a little more generous in size, although we could also have sat on one of the very comfy looking Chesterfield sofas. At the back of this area is the restaurant which probably caters for about 40 covers, and we just had a quick sneaky peek (sticky beak) in here as we waited to place our orders.


I liked the fact that Browns don't mess about when it comes to tea; the pot I ordered gave me three and a half good sized cups of tea, and it was a good sturdy brew too. His Nibs had a Black Coffee to kick off with and again it was a good size vessel, no piffly little cups to try and hold.
The menu is nicely laid out and easy to navigate; the Breakfast, Brunch and Sarnies sections' items are all available until 2pm, so there was plenty for us to choose from. We both ordered from the Brunch selection; Steak and Hash for The Boy Wonder, Benedict Cumberbatch for me (I wish!).It wasn't long until the young man came to take our orders and he did so with a lovely smile on his face.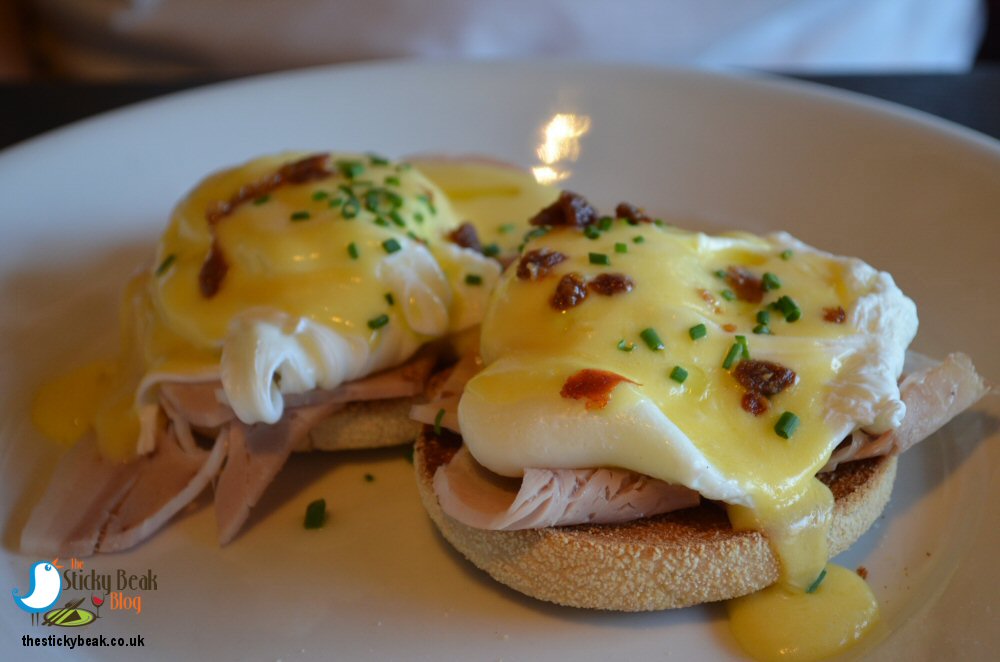 My Benedict Cumberbatch consisted of Ham and Poached Eggs with Hollandaise sauce, Truffle oil and Bacon rain on a toasted Muffin and the Steak and Hash was a 6oz Rump steak (from Owen Taylors) cooked to your liking, 2 fried Eggs, and 2 Hash Browns. Cutlery and good quality single use napkins were placed on the table, and The Man Bird ordered another Black coffee at this point.
Our food was soon winging its way over to us and it looked and smelled delicious! My Muffin was lovely and warm and nicely toasted and the Ham was plentiful; the eggs had been perfectly poached and revealed gorgeously deep yellow yolks when I cut into them. As you know dear reader, one of my pet peeves is lukewarm food, there's just no excuse for it in my opinion; thankfully Browns scored top marks from both me and The Man Bird, all our items were hot.

The Bacon pieces used to construct the "Bacon Rain" had a superb flavour to them and were all fantastically crispy. Not a single scrap remained on my plate, and I told our lovely server how tasty it was when he checked we were happy with our food. For £7 it was a marvellous plateful and jolly good quality too, so I was a happy little Birdie :)


Normally The Man would go for a full English Breakfast, but on this particular morning the wind had changed direction and so he ordered the Steak and Hash. Turns out it was an inspired choice, and one that left him very happy, and his tummy very satisfied. The Steak was cooked perfectly to order and was full of flavour; it had a fantastic texture to it and was nice and tender, needing hardly any pressure from the knife to cut into it.

The fried eggs were nice and hot, and not at all crispy, so they had clearly been done fresh too. Hash Browns can sometimes be the neglected member of the Full English party, either being lukewarm or partly soggy, or even worse being greasy (Yuk!). Yet again, the Browns' team pulled the rabbit out of the bag on all counts; piping hot? Tick. Crispy, crunchy outers? Tick. Not a smidge of grease in sight? Tick, tick, tick. The Holy trinity of a good Hash had been metJ As with my plate, not a trace remained to be taken back into the kitchen.


We liked the fact that the service was attentive without been claustrophobic and the fact that we weren't at all rushed. I don't know about you, but I'm not exactly Usain Bolt-like in the mornings; it takes a while to get all the cogs turning and the pistons firing, so I was very grateful for the more genteel pace of things at Browns.
They do some fantastic offers during the week too; Early Bird is available noon until 7pm Tuesday to Friday, until 6pm Saturday then all day on Monday (with a fixed price 2 and 3 course menu), 2-4-1 Burgers from Noon on Tuesdays (they range between £10-£12 and come with fries, 'slaw and onion rings!), 2-4-1 Pizzas from Noon on Wednesdays, Social Sundays mean 2-4-1 Pizzas from 6pm and cocktails for a fiver, and between 4-7pm on Fridays you can grab a bottle of house Prosecco for £15. If cocktails are your thing then between 4-7pm and 10.30pm until late EVERY DAY, the Classic Curious cocktails are an incredible £5 each.
Browns also do a range of Afternoon Teas from a straight-forward Cream Tea to the all-singing, all-dancing Tipsy Tea; prices range from £6 -£18 per person (minimum of two people), but they do advise pre-booking for Afternoon Teas.
We are already planning our return visit to sample the burgers and Pizzas! If you haven't been before it's well worth paying Browns Tearoom, Bar and Bistro a visit, Hot Wings definitely deserved here :)
No incentive was provided to visit this venue
read more