Dinner At The Littleover Lodge Hotel near Derby
Published On Sunday 27 Aug 2017 by Sticky Beak
See All Recent Reviews
It's been a busy old week for The Man Bird and I, but what a fabulous one too! The Sticky Beak Blog is 4 years old, and we still pinch ourselves at our good fortune in getting invited to amazing venues and sampling some delicious meals. Our latest foray was to The Littleover Lodge Hotel to try the new menu under Head Chef Guy Edwards' stewardship; Guy has only been with Littleover Lodge for 5 months, and Head Chef for a mere 5 weeks.
We were greeted warmly at the front of the dining room and taken over to our table, before being handed the cocktail menu by our server, Emma. I had a fruity little number called the Cherry Goose Fizz, on the bartenders' recommendation, and His Nibs had a classic Long Island Iced Tea. Having settled ourselves back into the lovely, comfortable chairs it was time for me to take stock of our surroundings.
The dining room has a modern, sophisticated- yet- relaxed atmosphere to it; a baby grand piano draped in fairy lights takes centre stage, casting a warm glow over the room. Large circular lightshades diffuse lighting nicely so that there is no harsh effect to jar your senses, and warm toned wooden floors enhance this inviting ambience. We found the tables to be of a nice size with plenty of room for the candles, cutlery, glasses and water bottles, as well as for the array of dishes that were soon to be added.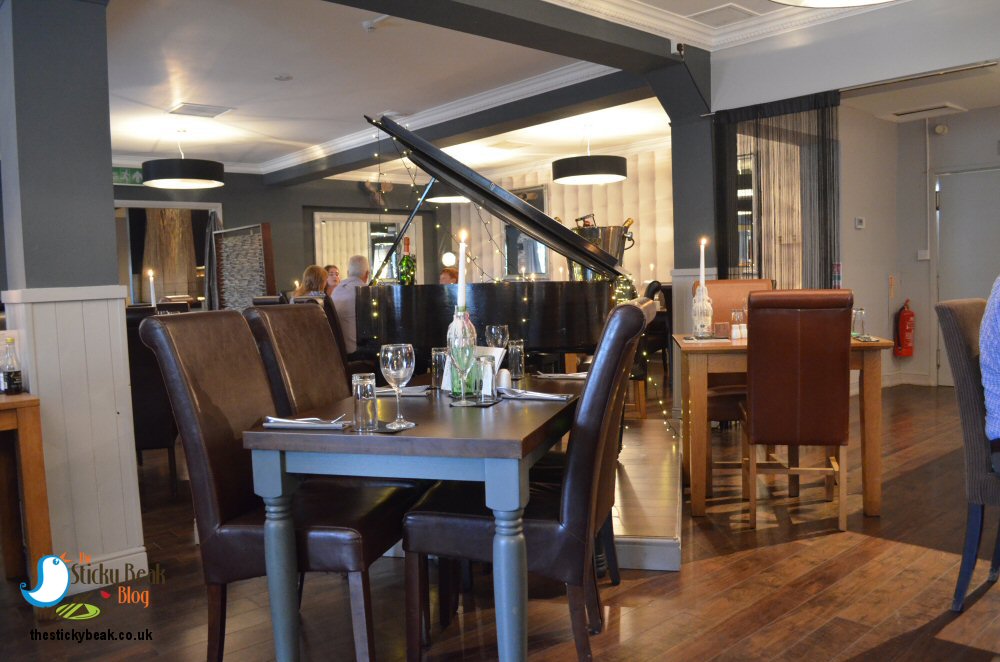 As well as the regular, and pizza, menus there is also a specials menu on offer at Littleover Lodge. However, we decided to stick with the regular menu ordering Lime-cured Seabass and Poppy seed batter Tiger Prawns for me, and Paprika and Chilli marinated Beef Skewers for The Boy Wonder.
Both starters were very nicely presented and after photographing them we dived straight in. My Seabass was lovely and moist with a superb tang from the fresh Lime juice that had cured it; finely grated Lime zest imparted the rounder notes from the essential oil contained within it to further add to the citrus element of the dish. Feather-light batter encased large juicy Tiger Prawns, whose sweet flesh burst into life in my mouth, and I loved the slight nutty hint and texture that the Poppy Seeds provided. Petite rounds of smooth Guacamole and a zingy Honey and Ginger vinaigrette both complimented the fish and seafood very nicely.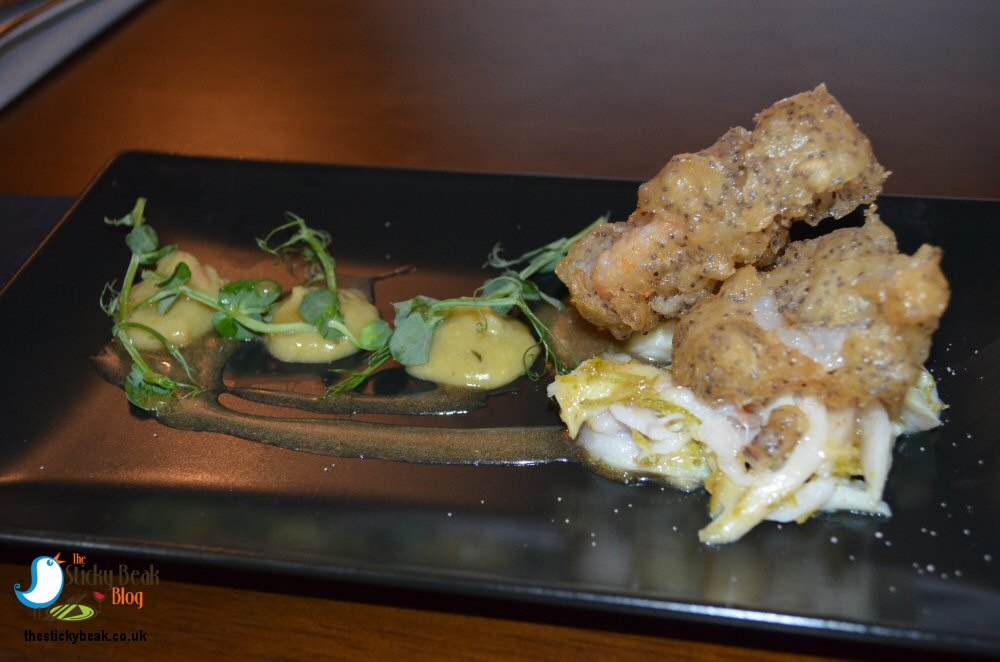 Two generously sized skewers of medium-cooked beef chunks and pepper slices were placed before The Man Bird, and he was highly delighted with the full flavour that the tender beef had. The peppers had been lightly charred and were still slightly crunchy so that they provided a nice texture when bitten into. A bed of mixed leaves not only gave a lovely visual aspect to the dish, but they tasted great too; Radicchio was a lovely bitter contrast to the sweeter Frisee leaves, and a coulis of red pepper was the perfect thing to dip the skewers into.


Emma came to check that everything was to our liking and was happy to hear it was. Although it was early in the evening the restaurant was pretty full; there were families with young children in, as well as large adult groups and couples, so Littleover Lodge has a universal appeal to all ages. The serving team was young in age, certainly compared to a lot of other places we've dined at, but they were working very smoothly together as a whole to deliver good service.
For main courses we opted for the Slow Braised Daube of Beef with Horseradish Pomme puree, roasted Asparagus and garden Carrots, and a red wine jus for The Boy Wonder; I decided to have a vegan dish of Grilled Artichoke hearts, Spinach and Potato cakes, grilled Aubergine slices, Beetroot puree and Olive crumb. Sometimes I just feel like a change and this dish sounded nice and summery (unlike the weather it has to be said!), and I haven't had Artichokes for a while. We also ordered sides of Salad and Sweet Potato fries.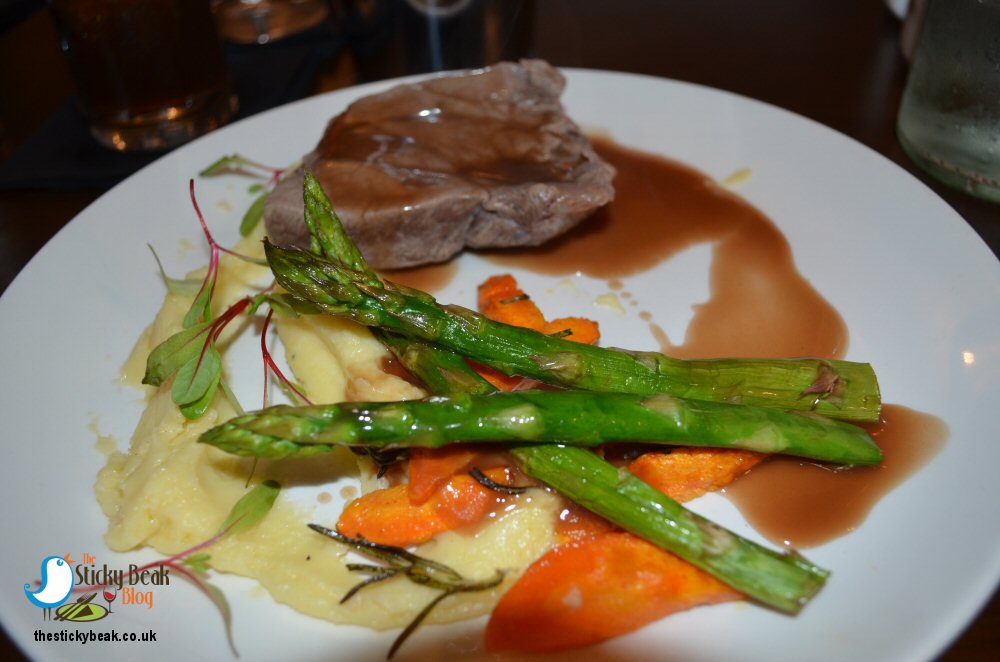 The Man Birds' Beef was satisfyingly dense in texture, yet managed to be whisper-light to cut into and tender to eat. It was a lovely sized piece of meat, packed full of flavour. The Horseradish Pomme puree was glass smooth and had just the perfect amount of heat from the Horseradish to be appreciated on the palate without over-powering the other parts of the dish. His Nibs thought the carrots were cooked perfectly in order to retain some of their natural crunch and they were lovely and sweet to taste. Asparagus is coming towards the end of its season, but the roasted stalks were still nice and tender even though they're no longer thin, early season ones.
I was busy chowing down on the wonderfully fresh, crunchy salad and nibbling on some of the Sweet Potato fries when Emma came over to the table and apologised for the small delay on getting my dish out. In all honesty I hadn't noticed, busy as I was with stuffing myself with the other yummy morsels! It was only a couple of minutes until my meal was being placed before me and although it was a relatively simple dish it looked lovely with the ruby-hued Beetroot puree and the verdant Spinach in the Potato cakes.


The Artichoke hearts were subtly sweet and very tender to bite into; I think a lot of people assume Artichoke will be tough and woody when in fact if the young hearts are used this isn't the case at all. Wonderfully smoky slices of Chargrilled Aubergine melted in the mouth and I loved the sweet note from the Beetroot puree. The Potato and Spinach cakes had been fashioned into domes and had a great seasoning to them, which intensified their individual flavours beautifully. I think there is also a misconception that vegan and vegetarian dishes aren't going to be particularly satisfying, but this dish certainly filled me up and as you know, I don't exactly have a small appetite!
The Sweet Potato fries were served in a dinky metal bucket which ensured that they stayed lovely and hot right down to the last one, genius; not they lasted long I should point out! I loved the mix of chopped and sliced vegetables and the variety of leaves and herbs in the salad; it made for a great rainbow of tastes and textures.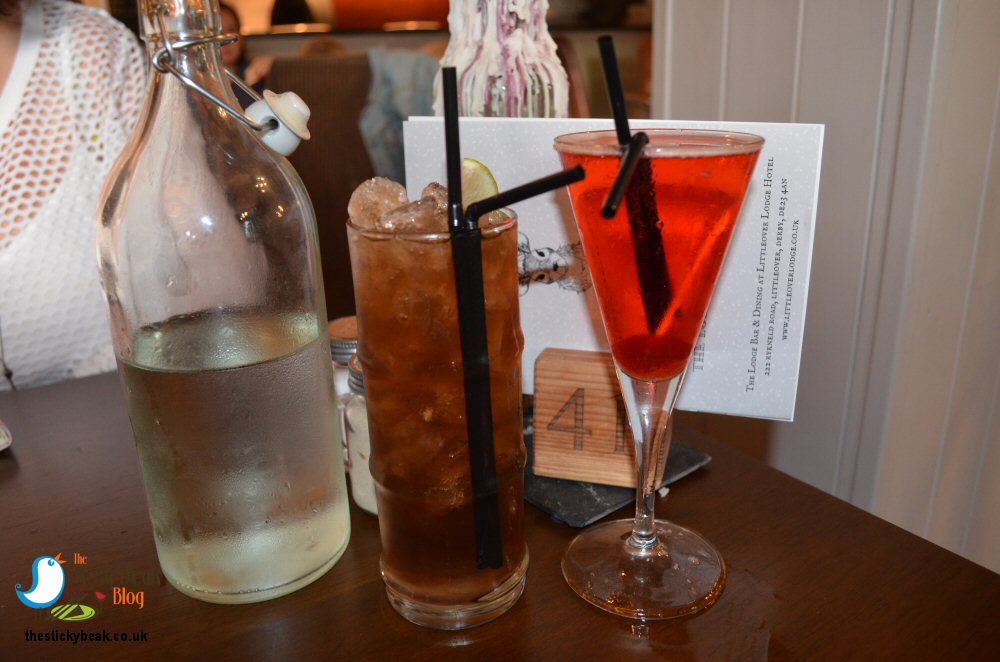 Once again Emma had come to check back on us to make sure we were happy with our meals, and also asked if we needed anymore drinks fetching. The Littleover Lodge has its own Pizza oven and the two Pizzaiolos were working non-stop to keep up with demand; seeing and smelling the various Pizzas, Calzones, and Garlic Breads going past our table it wasn't hard to work out their popularity. The thought of ordering a Garlic Bread to take home for supper did cross The Man Bird- and my- mind; naughty gluttons that we are! :) But they really did look, and smell incredible.
Anyhow, once we collected our thoughts and managed to distract ourselves from the pizzas we had a look at the dessert menu. Head Chef Guy (and Sous Chef too, as he hasn't got one at the moment!) had come over to have a chat with us earlier in the evening and happened to mention that in addition to the clearly marked Gluten free, Vegetarian, and Vegan options on the savoury menu they do a rather nifty gluten- and dairy-free Alabama Fudge Cake for dessert. His Nibs has an intolerance to dairy and Gluten, which he wilfully ignores (much to my chagrin), so he decided to try this out for his pudding. I was seriously tempted to have the Chocolate Crème Brulee, having seen it go to a table adjacent to us, but I instead got swayed by the Raspberry and Prosecco Cheesecake.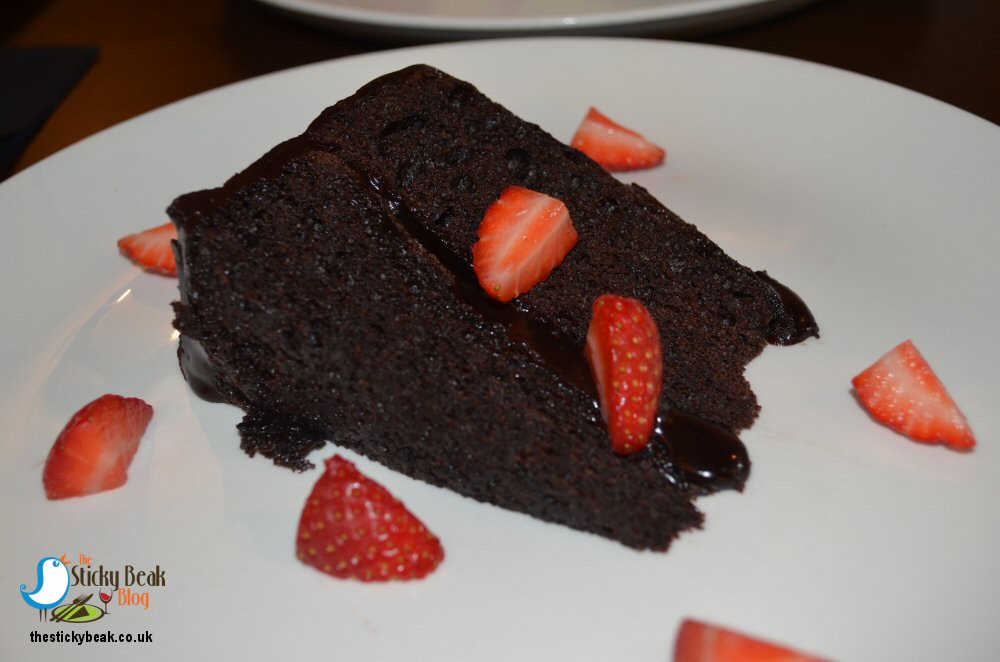 The Boy Wonder couldn't believe that his Alabama Fudge Cake was both Dairy- and Gluten- free, it was delicious. I tried a small bit and to be honest it was every bit as rich and chocolatey as its regular counterpart. It had a lovely texture to it, not stodgy or lacking in lightness at all and when paired with fresh Strawberry slices it made for a pleasingly satisfying dessert. Its moistness meant that there was no need for any cream or Ice Cream to "wet" it, a definite benefit for those who can't indulge in dairy.
My cheesecake also had a lightness of texture that belied its richness, and I think this perhaps had to do with the bubbles from the Prosecco within it. It had a great creamy taste to it without being cloying, and the raspberry in it gave it a wonderful vibrancy on the palate. Visually it looked gorgeous, with ripples of fresh Raspberries (and a coulis of them) breaking up the neutral cream hue. The top of the cheesecake was decorated with White Chocolate shavings and freeze-dried pieces of Raspberry and the plate was scattered with piped dots of fresh whipped cream and more fresh Raspberries.


Two dark, rich, after -dinner-roast coffees brought the evening to a marvellous conclusion and we sipped them as we reflected on what a pleasant time we'd had at Littleover Lodge Hotel's restaurant. Price-wise I have to say that it is excellent value for money; my starters and main were £7.50 and £10.50 respectively, the Man Birds were £6.50 and £10.95. Pizzas range from £6.50-£10 with garlic breads priced at £3.50 and £4.50 depending on whether you want them with cheese or not. Desserts were all around the £5 mark.
Throughout the evening there was a steady stream of diners coming in and the team were quickly and efficiently turning tables round to accommodate this demand. I would definitely recommend coming here for a meal; we are planning to come and have a family pizza night in the not-too-distant future. Hot Wings well deserved by Guy and his team :)
Some form of incentive was provided to visit this venue
read more