Celebrating Byron Burgers 10th Birthday at Derby Intu Centre
Published On Thursday 24 Aug 2017 by Sticky Beak
See All Recent Reviews
It's a well known fact that my Flock love a good burger, so when the team at the Derby INTU branch of Byron Burger invited us to celebrate their 10th Birthday we jumped at the chance. As soon as The Man Bird and I walked through the door we were greeted in the customary warm style and taken over to our table. I love the modern vibe in Byron Burger, it combines a great buzz and energy with friendliness and a quality of service that instantly puts you at ease; our servers couldn't do enough for us.
There were several familiar faces from the blogging scene also attending Byrons' event, and it was lovely to catch up and see them again. We were seated next to some new faces; the beautiful Jules and her husband Ian, from Butcher Baker Baby blog. It didn't take us all long to strike up a conversation; in fact, once we'd started chatting we didn't stop all night (apart from when we were eating)!


To kick things off I had 6 of the Spicy Buffalo Wings with Blue Cheese Dip and His Nibs had the Nachos with Cheddar, Jalapenos, Salsa, Guacamole, and Sour Cream. The thing I love about Byron Burgers food is that you get exactly what is described; my spicy wings were just that – spicy, and the Blue Cheese dip had a fab chunkiness to it that I adore.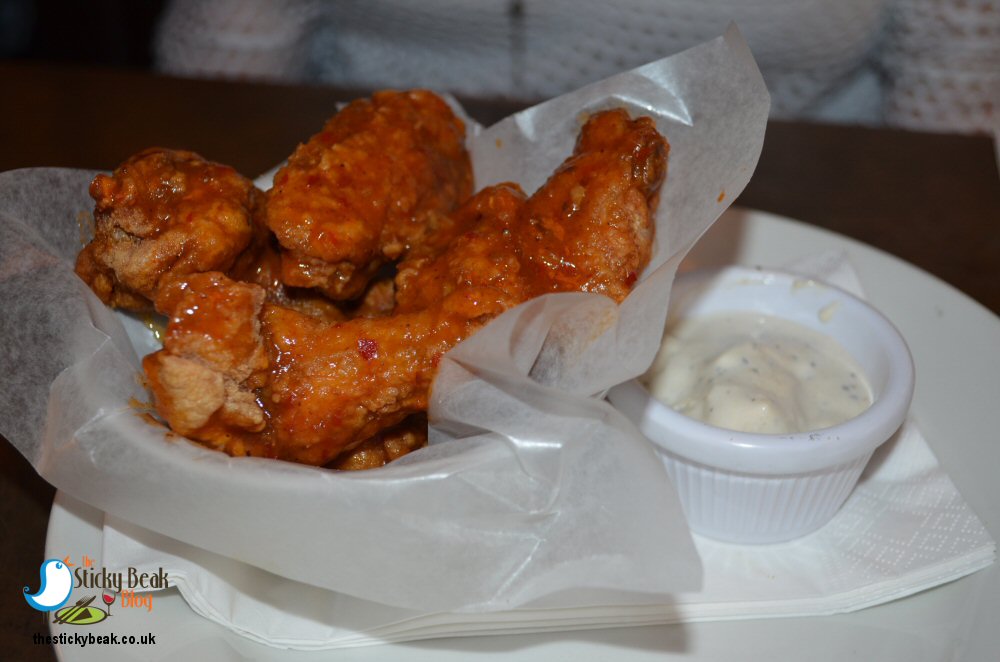 My Man Bird was more than happy with the mountain of Nachos that were placed before him and dug in with his usual enthusiasm. As well as there being plenty of the Nachos there was plenty of each of the accompaniments; you often find that you could do with a little more of something, but at Byron Burger they make sure you have ample amounts of everything.


The Man Bird, myself, Jules, and Ian had all chosen differing drinks to have with our starters, but when it came to the main course we wanted to try the specially created "Little Furry Animal" IPA from Beavertown Brewery. Now, I'm not an expert in beers and lagers but I have to say that it was quite a quaffable brew, especially when served with a burger :).




Described as "zesty, tart, and tropical" by its brewers (Beavertown) I could definitely see what they were going on about; Jules and I thought it smelled a bit like Lilt soda! To my palate it tasted quite wheaty, which probably makes no sense at all?
All four of us ordered the limited edition "Gizzmo" burger which was originally created by Chef Gizzi Erskine for Byron Burger back in 2011. This little minx of a burger only makes an appearance once-in-a-blue-moon now, so if ever you see it on the menu, GRAB IT!


Byron is really going to town in the year they hit double digits; there have been a series of 6 special burgers brought back to the menu for limited time periods. July saw the "Uncle Sam" and "Miami Slice" (with its hot sauce, yum!) shine like the stars they are, August began with "The Ronaldo" and the "Gizzmo" is served until the 28th, and September will see the "Roquefort" and "Bunzilla" burgers take centre-stage.
With the Gizzmo, Byron Burgers' signature 6oz beef patty is topped with Welsh rarebit fashioned from Barbers' Cheddar, Smoked Applewood cheese and a good glug of Stout, crisp Lettuce, a juicy slice of Tomato, Red Onion, and Mayonnaise.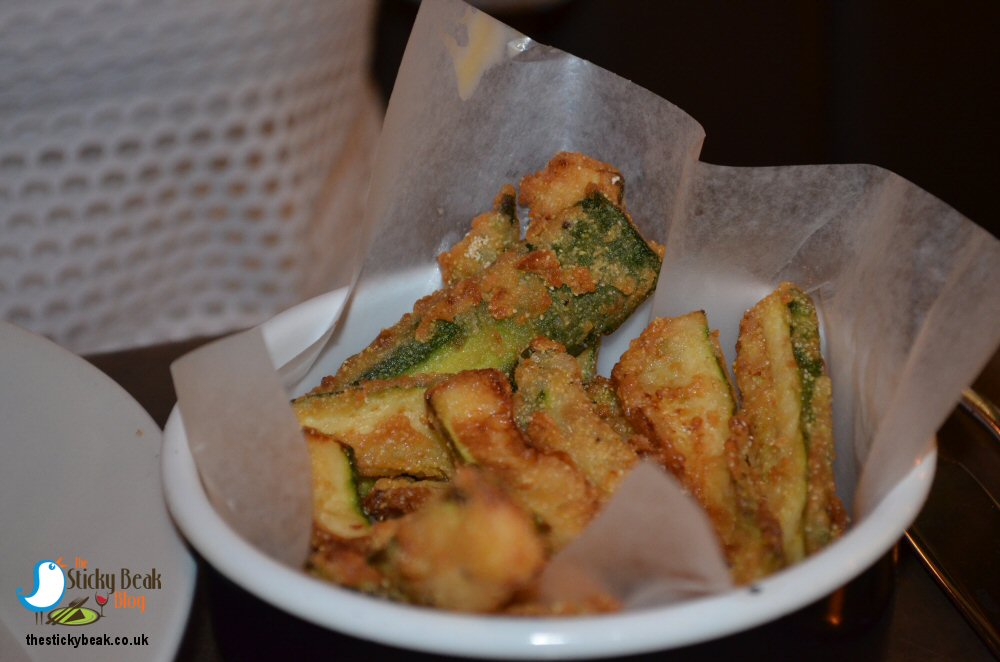 The Burgers at Byron Burgers are always juicy and flavoursome thanks to the quality, and cuts, of beef used in them and this is further enhanced by the Chefs cooking them mediumly pink rather than cremated brown.
Cheese in a burger is always a good thing in my opinion, but the Welsh rarebit was something just extraordinary; tangy, gooey, deeply moreish. We all sat in referential silence as we savoured each mouthful of Gizzis' genius creation, smiling in our gluttonous conspiracy.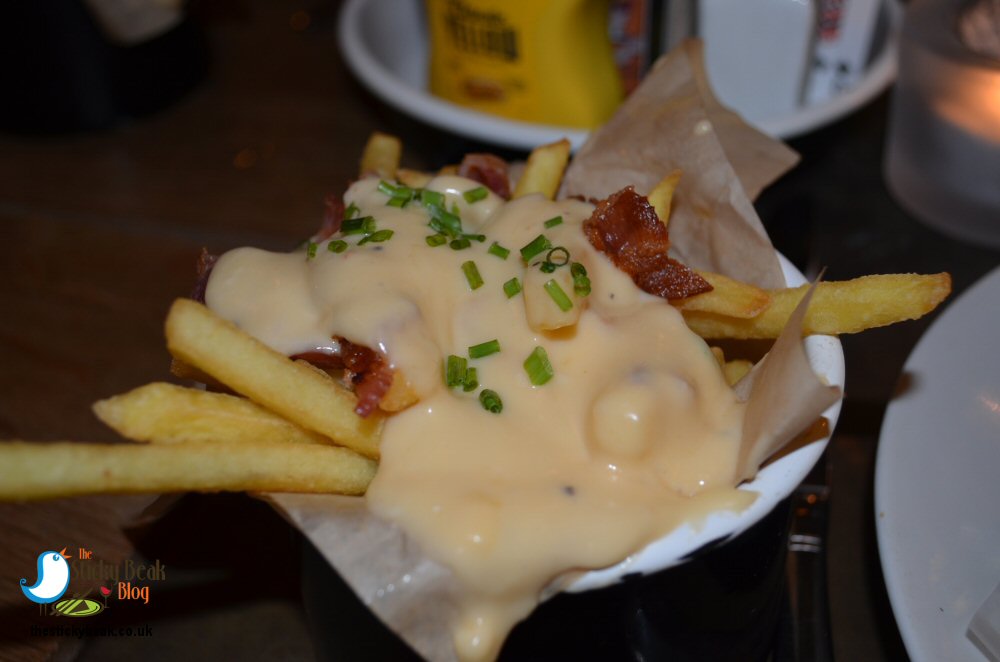 There was a range of accompaniments on our table; Bacon Cheese fries, Sweet Potato fries, and Courgette fries. Just as with their burgers, the sides at Byron are crafted carefully to ensure they're crispy, crunchy and tasty.
Jules had been waxing lyrical about Byrons' Oreo Cheesecake for dessert (quite rightly so, it is very yummy), so we were all in the zone for this morsel to round things up. Unfortunately it didn't work out exactly to plan as there was only one piece left in the kitchen. Ian and His Nibs both opted for the Chocolate Brownie, Jules had the Oreo Cheesecake, and yours truly settled for the Oreo Freakshake :)


The Men had their work cut out with the Chocolate Brownie; the slices were huge! However they did manage to polish them off, saying how rich and chocolatey they were.




My freakshake had a large triangle of the brownie topping it off, and it really is super rich and tasty. Milkshakes are filling on their own but add in a scoop of Ice Cream, oodles of Oreos and milk blended together, cream, brownie, and another whole Oreo and you can appreciate how filling it was! Jules managed to see off the Oreo cheesecake too; no mean feat as it looked another rich, filling affair.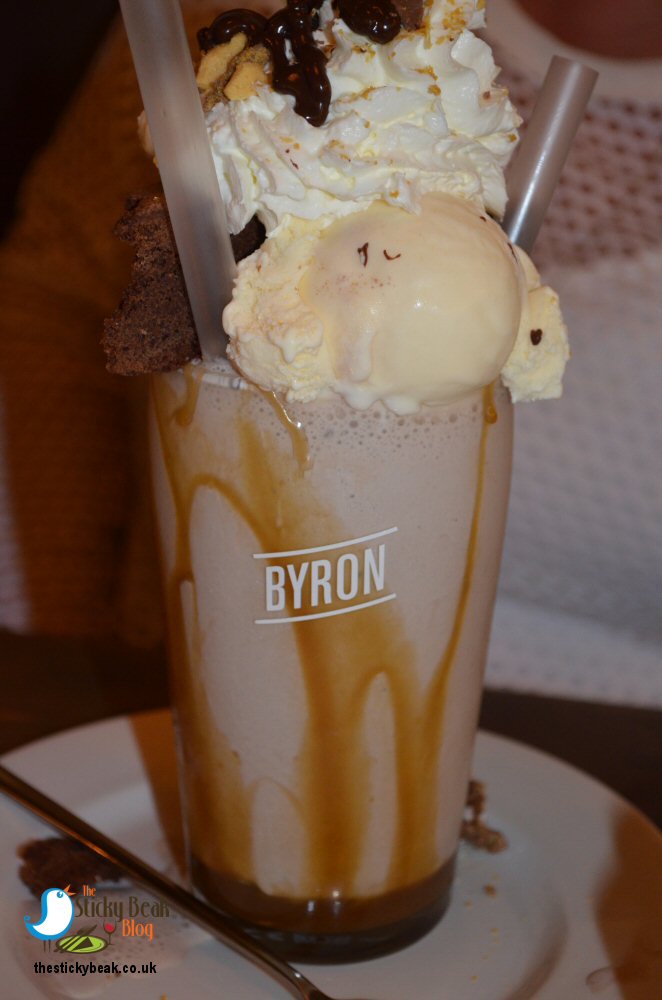 All too soon the bloggers evening had come to end and our table was the last one to leave because we'd been so busy chatting and having fun. All the staff at Byron Burger in Derbys' Intu centre took the time to ask if we'd enjoyed ourselves and wish us goodnight.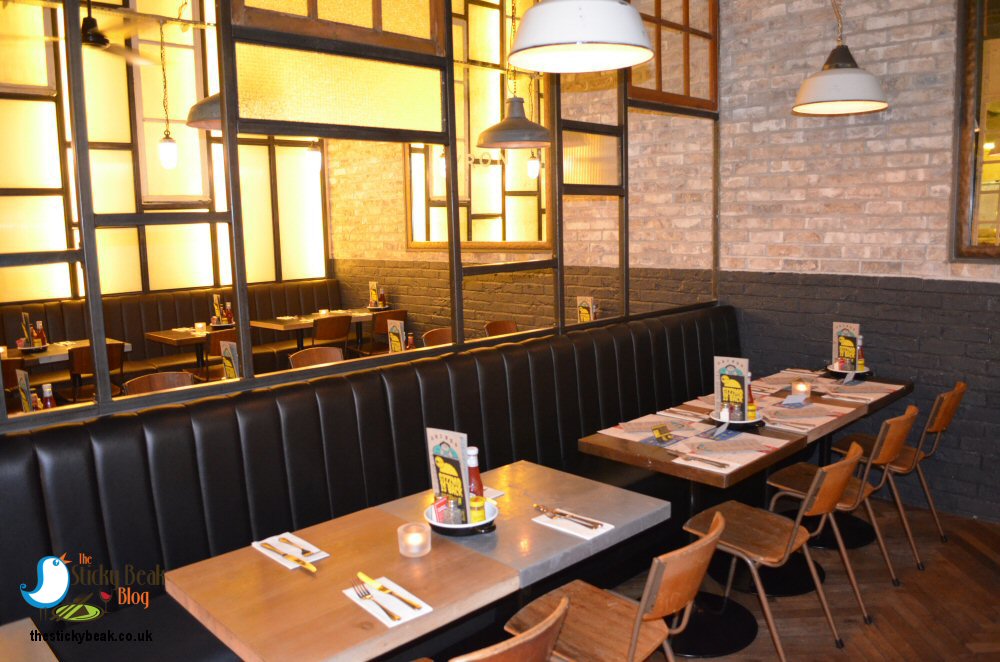 Thank you Byron for inviting us to celebrate your 10th Birthday with you, we had a great time; well, we did until we told The Chick what we'd had to eat and she started sulking!!

Don't forget folks, it is National Burger Day today which just happens to coincide with GCSE exam results day! So if you want to go out for a celebratory meal then why not head over to Byron? :)
Some form of incentive was provided to visit this venue
read more