Dinner At The Rectory in Chesterfield
Published On Sunday 20 Aug 2017 by Sticky Beak
See All Recent Reviews
Brace yourselves dear readers, what I am about to tell you will shock you to your core. Last night, the white flag of surrender made its first appearance this year; yep, that's right The Man Bird and I were fed into comatose states. I can count on one hand the amount of times that I have not ordered pudding since the Sticky Beak Blog began 4 years ago, but it happened at The Rectory in Chesterfield yesterday.
Locals may know The Rectory more commonly by its former name The Crooked Spire pub; so named because of its location right next to the church of St Mary and All Saints (the Crooked Spire).

The interior of The Rectory is superb and there are many references to its spiritual origins, not least the carved crosses on the slatted chair backs and the prayer book shelf under each one. It's a fantastically quirky building with lots of nooks-and-crannies within; perfect spaces for social or more intimate occasions; the "Confession Box" (because "even Sinners have Souls") houses a table-a-deux with drapes that can be drawn for privacy. Wicked!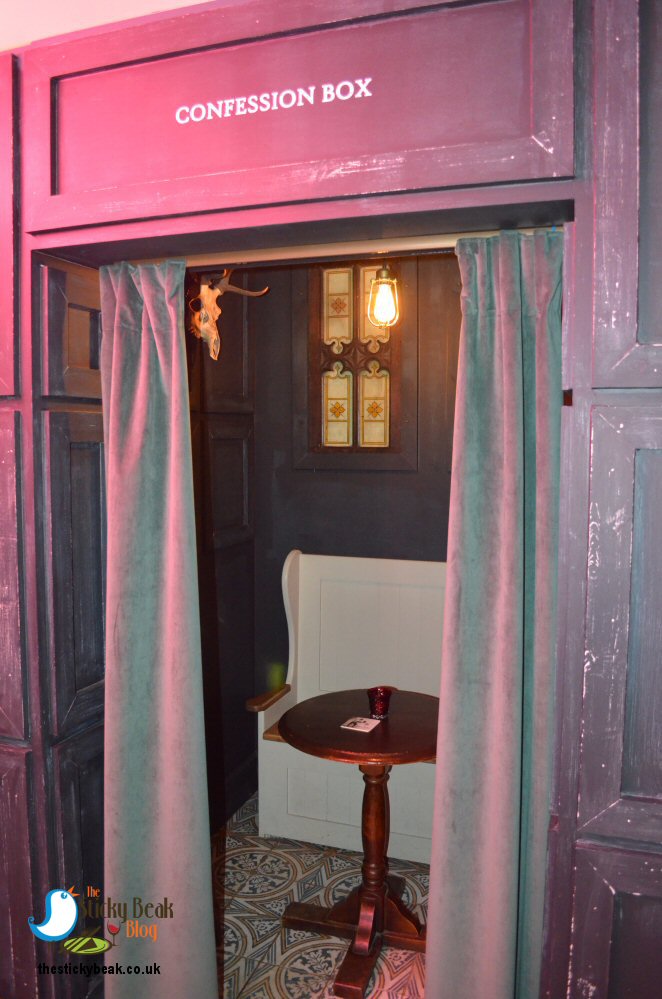 The snug is an eclectic mix of styles with a huge Stags Head staring at you as you walk in, a boar statue in the window and a Bulldog guarding the fireplace.

Squishy sofas and quirky lighting create a space that invites you to recline and enjoy some peace from the world outside. Just inside the entrance, adjacent to the bar, there is a full length window seat that is strewn with jewel coloured cushions which provides another great spot to relax in.


The team at The Rectory have cleverly separated off the dining areas in order to minimise the noise from the bar, and it also affords diners a little more privacy from those just wanting to have a drink.

We were seated in the first dining area in a booth table and were able to see all the action as it happened at the kitchen pass. There is a great range of lagers to choose from at The Rectory so His Nibs had something a little different; a German lager called Warsteiner which had a great taste to it in his opinion. I stuck to a classic New Zealand Sauvignon Blanc, and jolly nice it was too.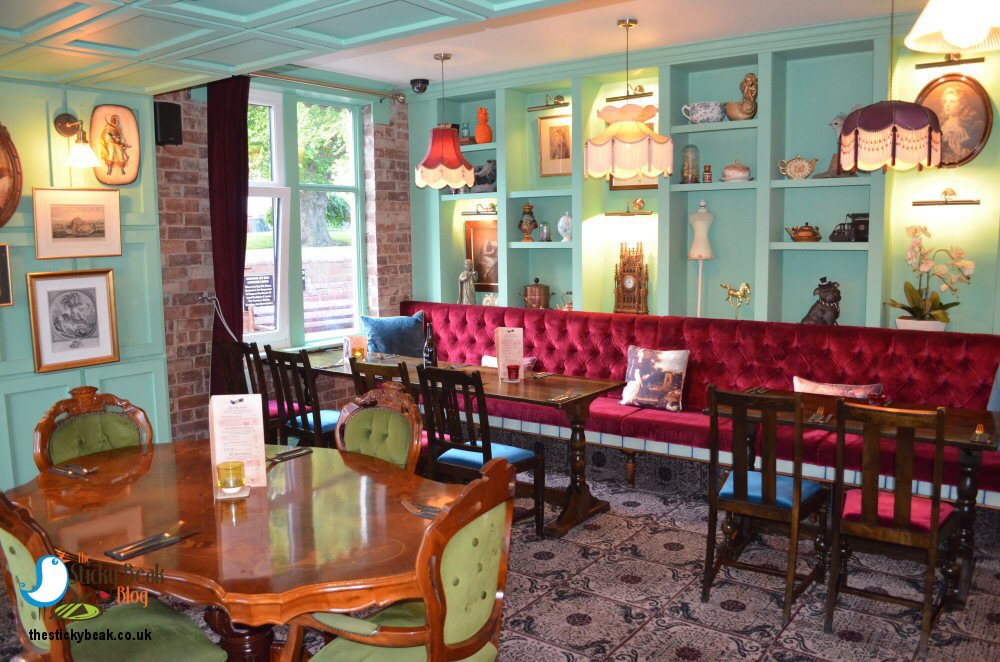 There is a really good menu at The Rectory; actually it's split into two sections, Casual Clerics and Divine Dining. For starters we had the Forest Floor Fondue and the Pig Hash - no prizes for guessing who chose what!
My fondue was a foraged Mushroom and Gruyere number served with Rosemary and Garlic Ciabatta dipping bread (made by Welbeck Bake house).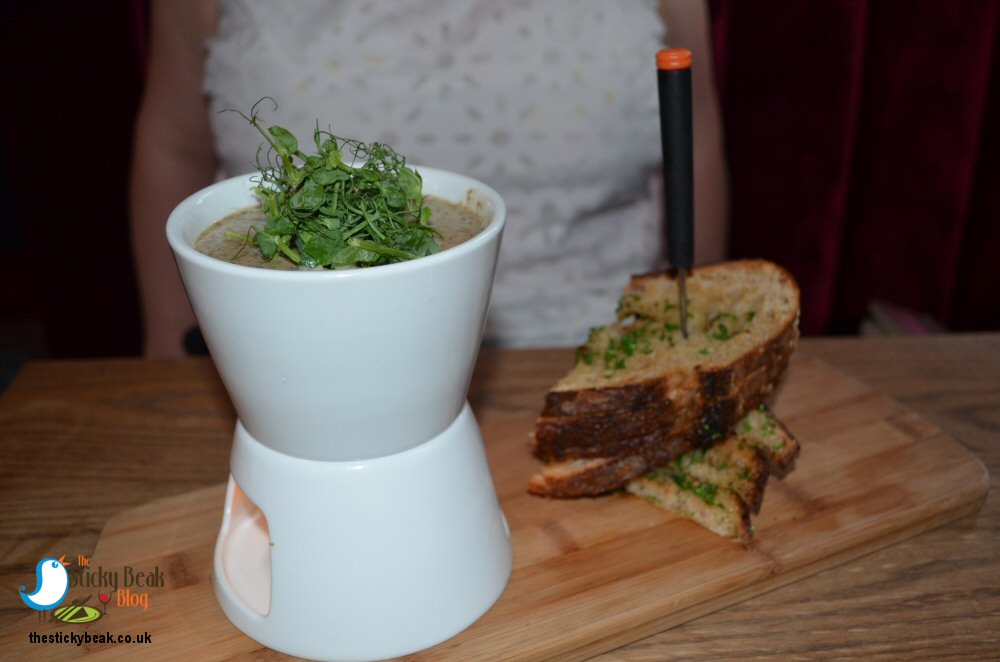 The fondue was served in a little pot set over a tea-light that kept it gooey and hot and the plentiful thin slices of bread were cut into manageable size slices. I thought the fondue was perfectly executed; its balance of mushroom and gruyere flavours was absolutely spot-on, and there was more than enough Ciabatta to dunk into it. Every single mouthful was a pleasure to eat.
The Pig Hash is a wondrous concoction of Black Pudding, Pulled Pork, Owen Taylors best Sausage and glazed Ham all coated in a nicely spicy BBQ sauce and topped with a soft fried hens' Egg. It was a meat lovers paradise, a proper stick-to-your-ribs affair that was stuffed chock full of meaty chunks.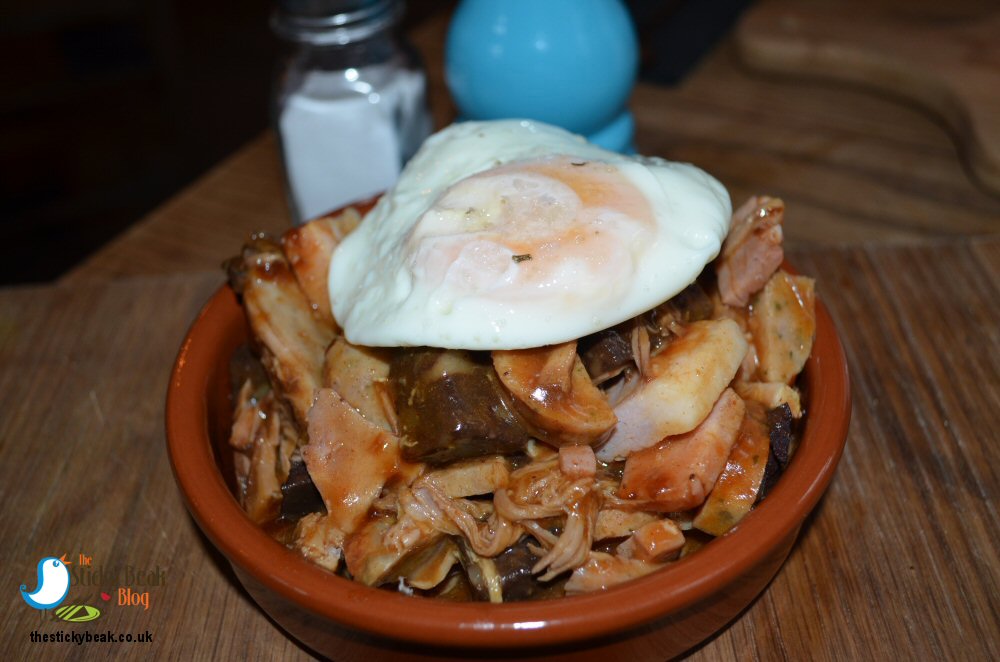 Each meat added its own unique note to the symphony and the sauce was enough to coat it all nicely without drowning the dish and over-powering it. The lovely rich hens' egg yolk gave a creamy edge to the dish that was cosseting The Man Birds' mouth.
Both of us were a little surprised by the size of the starter portions, they were very generous. Naively, we didn't really register this fact and had pretty much polished off all the contents without thinking that there were 2 more courses to get through; a rookie mistake that was to cost us dearly later in the evening. The Man Bird enquired where the meat was from, other than Owen Taylors' Sausage, and Mainstream Meats of Stonebroom was the name given. These guys supply a lot of Derbyshire venues, and given the quality of their produce, it's not hard to see why :)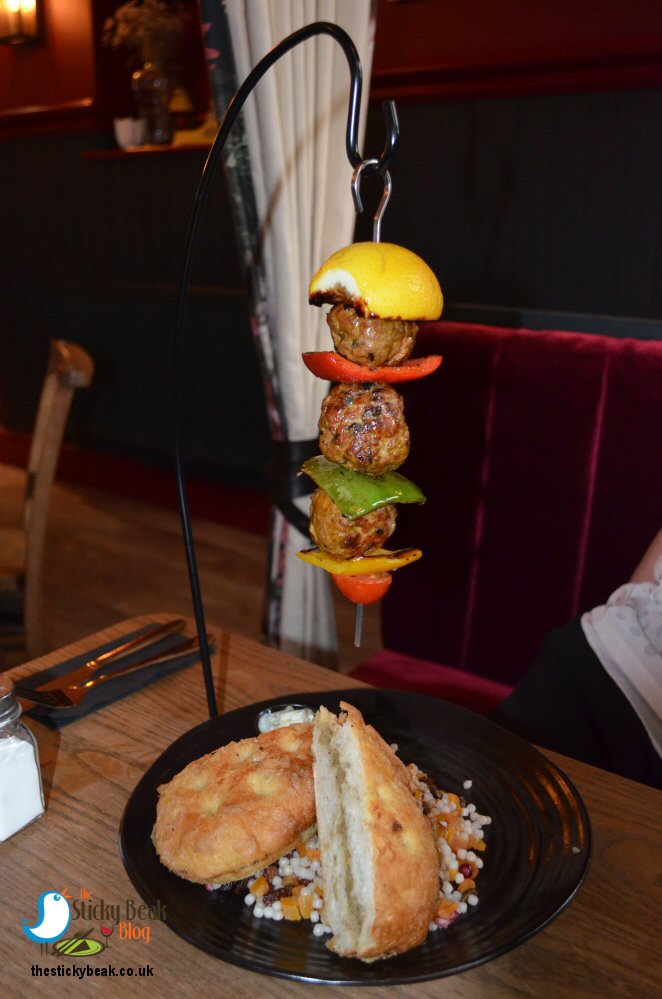 For my main course I had gone for the Hanging Kebaba; minced Lamb Koftas served with giant Pearl Cous Cous, cucumber Yoghurt, and Baba Ganoush filled Flat bread.

The Man Bird was tossing up between a couple of dishes, but the lure of Chef Rob Allen's Hand formed Poachers pie with its Beef Steak, Sausage, and Wood Pigeon was too great to resist. The pies come with a choice of Mushy Peas or buttered Cabbage and Bacon with hand cut chips; His Nibs had the Cabbage and Bacon.

We also ordered side portions of the Allotment Salad and Ginger Beer braised Onion Rings to go with our choices. Neither of us registered the little smirk on our servers face at the time, but all was revealed later in the evening!
Both dishes were carefully presented; my kebab was suspended on a hook above a plate laden with fruity Cous Cous, spicy Aubergine dip-filled flat bread halves and a pot of Yoghurt dip. The long skewer was full of Lamb balls and charred vegetable chunks; a Lemon half had been Chargrilled too, so it spilled its contents easily over the Kebab when gently squeezed. I was bowled over by the spiced Lamb Kofta balls; they were full of flavour without being overly hot in the mouth.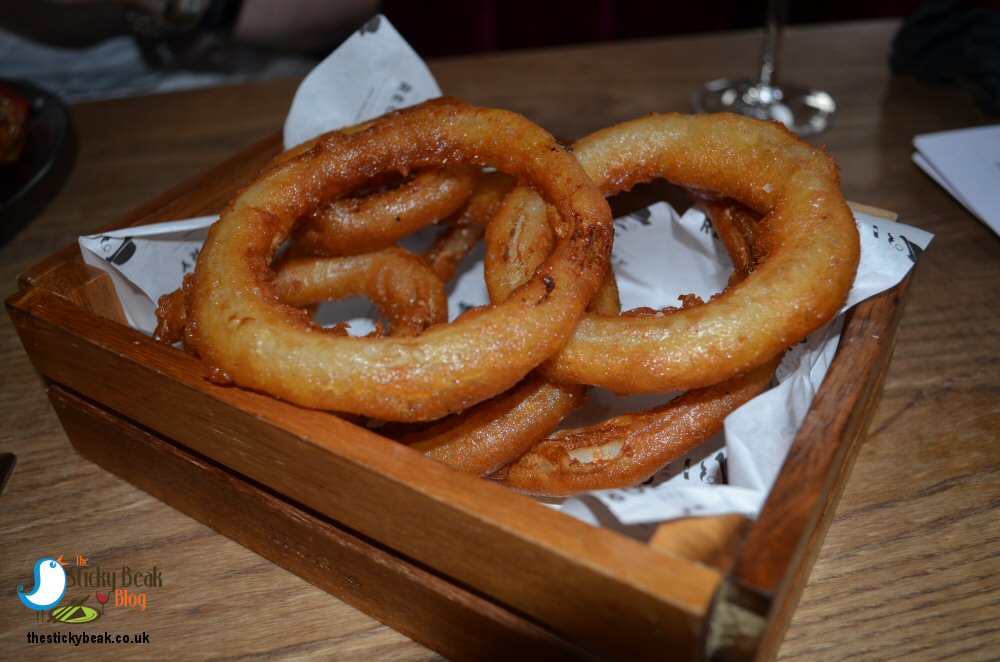 I loved the smoky flavour of the Baba Ganoush and the flat bread was a perfect consistency too, so that it wasn't stodgy; perhaps it was this factor that allowed the meal to creep up on me before I realised I was stuffed –to-the-gunnels. Anyhow, I was smitten with the Apricots, Sultanas, and Pomegranate seeds in the pearl Cous Cous and kept gobbling that up like it was going out of fashion :). Very often, it is the smallest detail that brings a smile to your face and the fact that Chef had salted the Cucumber Yoghurt brought a happy grin to my chops; any Yoghurt dip should have a hint of saltiness to it in my opinion.
I liked the fact that the Allotment salad with its mixed leaves, herbs, red onion, tomato and onion, was chilled and crunchy; all too often salads can be room temperature and uninspiring, but The Rectory version was superb.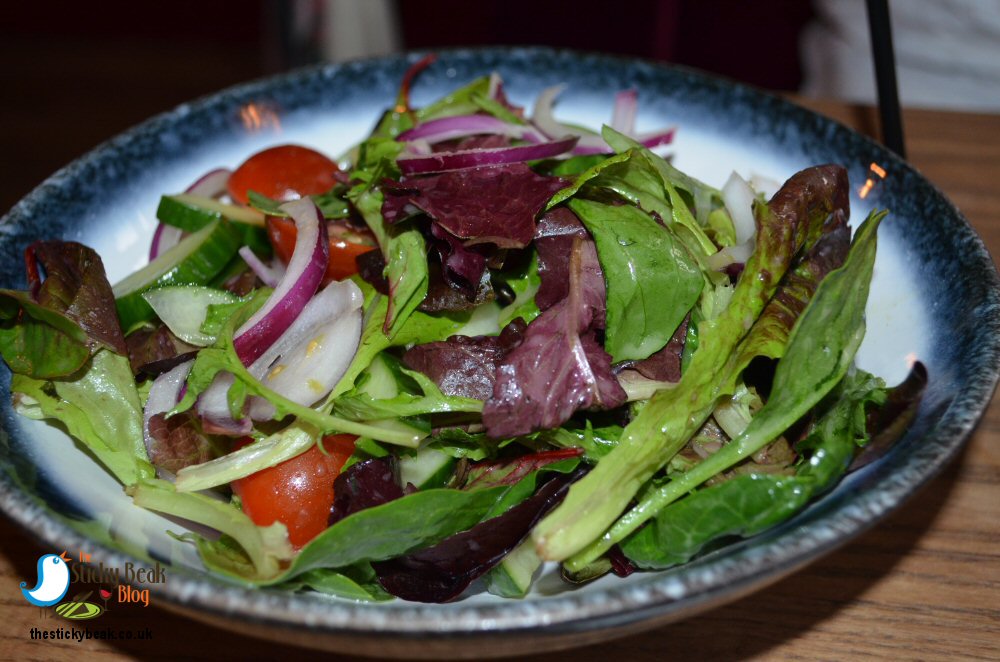 I managed to eat all of the Lamb Kebab, eat one half of the Flat bread filled with Baba Ganoush and was wending my way through the Cous Cous when, Bam, my tummy went "Whoa Nelly!" My appetite got well and truly ambushed, and much as I wanted to carry on eating I just couldn't. Shamefully I conceded defeat to this magnificent dish, but with happiness mixed in there too at its quality.
The Boy Wonder was chuffed to bits with his pie; a superb pastry encased the meat mix, and it really was just meat and pastry - nothing more, nothing less. Proper meat-juice gravy was in a separate little pot; my Mummy Bird would've been happy to serve this at her table on Sunday, it really was that good. The Cabbage was still firm to the bite and plenty of lardons accompanied it, imparting their salty edge. Nice chunky, skin-on chips were piled on one side of the plate and these beauties got dunked in the gravy too! All the meat was magnificently flavoursome and cut into pleasingly hearty chunks.


A bowl of homemade, super-crunchy onion rings were also getting our attention (well, I managed a single one!). The batter on them was brilliantly crispy and not at all greasy and you actually got a hint of the warm note from the Ginger Beer; delicious.
His Nibs was giving his meal a good effort when he let out a big sigh, and STONE THE FLIPPIN' CROWS he came to a halt too! We looked at each other in disbelief; how on earth could both of us have got blind-sided?! Clearly, executive Chef Wayne Rodgers has trained his team in the art of "stealth-stuffing"; fair play to you Sir, we bowed to your skill.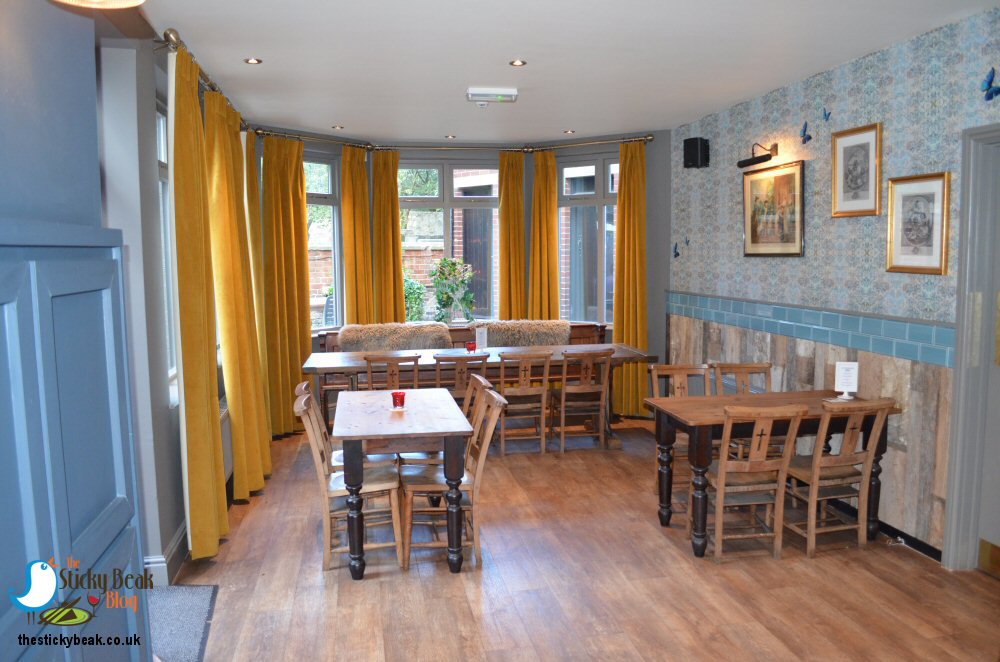 Our server was full of mirth as we told our tale of woe, apparently we weren't the first souls to surrender at The Rectory's tables and she was a bit surprised that we'd ordered as much as we had. Mercifully we were given a stay of execution (i.e. a short interlude) before we were asked if we wanted to see the dessert menu.
I have to confess that I could quite easily have skipped pudding, but His Nibs girded his loins and puffed out his feathers as he said that we would share a dessert between us. So it was, a few minutes later, that a rather fine looking wodge of Chocolate Rolo Brownie with Vanilla Ice Cream and Hot Chocolate sauce found its way to our table.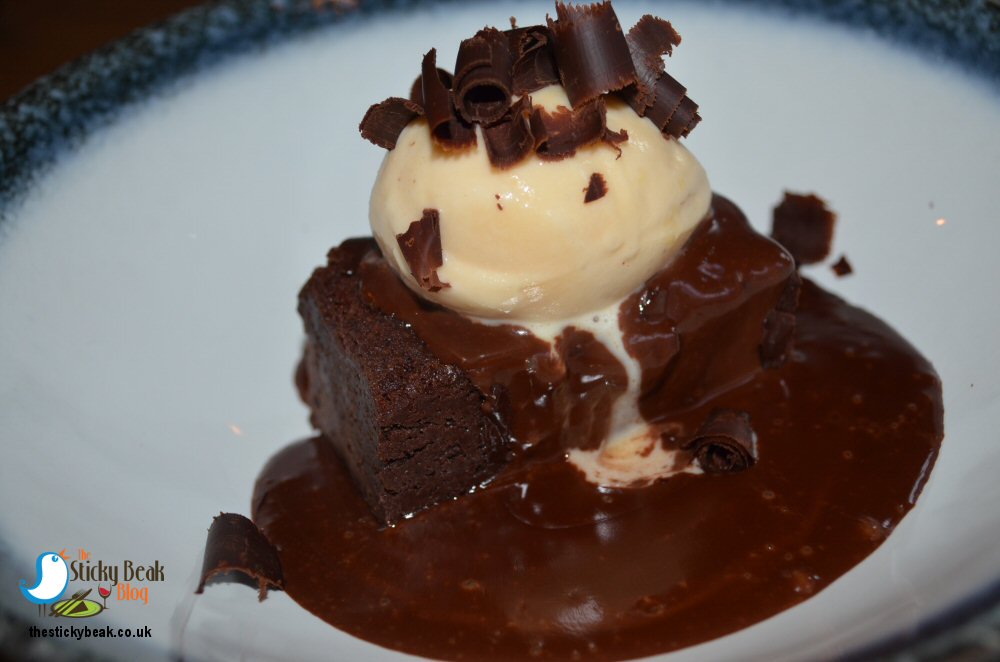 Unsurprisingly, this ultra-gooey brownie was just sublime. The wickedly rich Chocolate brownie hid chunks of Rolos with their caramel centres, and these had softened so that they oozed over the tongue as you bit into them. We both loved the bitter edge that the Hot Chocolate sauce had; I think that this stopped the dessert from being cloying and sickly. The inclusion of opposite temperatures (cold Ice Cream and the hot sauce) was a genius move; it bamboozles you but keeps your mouth in a state of high alert so that you notice all the flavour nuances.
Respect to My Man, he stepped up to the plate and had the lions' share of the pudding; I was being a bit of a wuss if I'm honest! We finished up with a couple of black coffees and its rich, deep flavour was very welcome in light of all the indulgence we'd just had.


Throughout the evening our servers had been very attentive; each course had been checked back on and we were asked if we wanted any more drinks. They were happy to engage in conversation and were very knowledgeable about the provenance of the produce they use.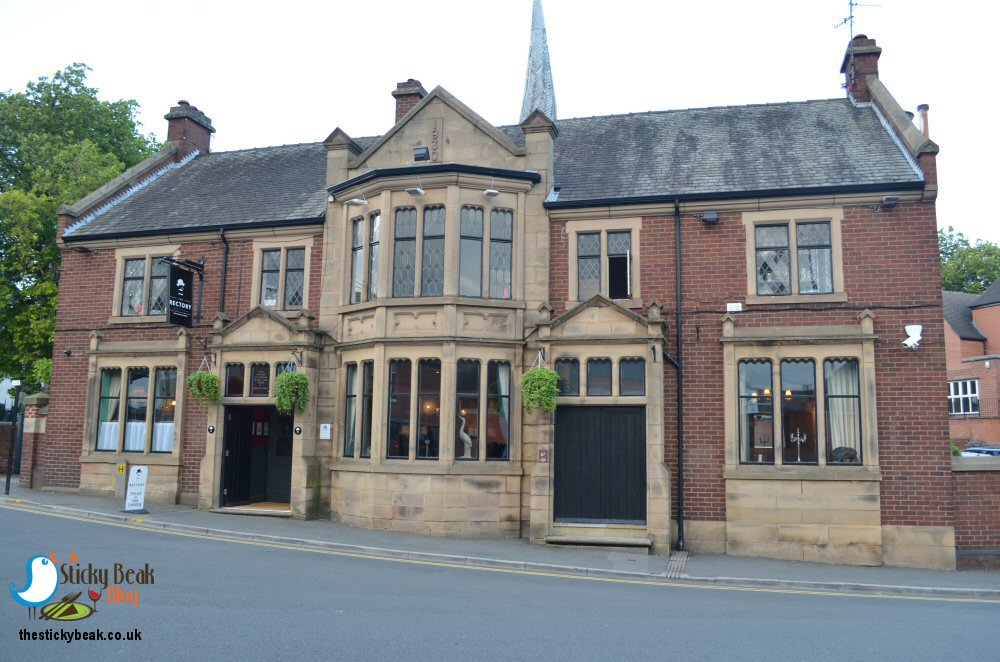 Good Luck with your entry in the Chesterfield Food and Drink awards in the Gastro Pub category, team Rectory, we wish you every success.
If you haven't been to The Rectory before it is more than worth the effort; we had a superb time and couldn't fault a single thing. Remember to take your appetite though! Hot Wings undoubtedly awarded here :)
Some form of incentive was provided to visit this venue
read more