Dinner At The Palfrey, Blacksmiths Yard, Derby
---
Published On Friday 18 Aug 2017 by Sticky Beak
See Recent Dining Out Reviews | See All Recent Reviews


At the weekend The Man Bird and I were in Derby reviewing another venue and found ourselves partaking of a Frosé (a slushie of Merlot, Strawberry Gin and Grenadine) in Blacksmiths Lounge which is located at the front of Old Blacksmiths Yard on Derbys' Sadler Gate. A couple of nights later we found ourselves back at the Old Blacksmiths Yard to try out the food on offer at The Palfrey.
The Palfrey is a relatively new kid in the yard, being under its present ownership since October 2016. We walked over the cobbles of Old Blacksmiths Yard and The Palfrey is just on the left hand side; its terrace seating is bang on trend with its re-use of wooden pallets, over-size parasols and heaters. Inside, the lower level of the venue is no less stylish, with leather Chesterfield sofas and tub chairs to relax in as you have drinks and nibbles.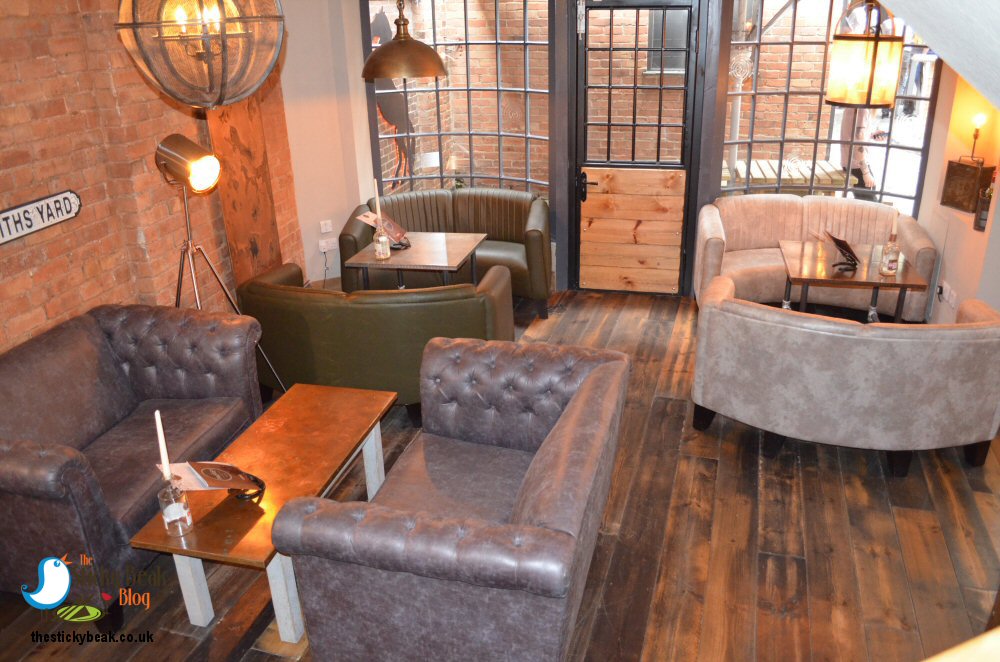 The drinks menu is supported by a holder fashioned from metal horse-shoes that are lacquered Black; a nice nod to the location I thought. As well as a great selection of wines there was wide choice of cocktails, beers and spirits to choose from too; I settled on a Sauvignon Blanc and His Nibs had a pint of Estrella.
We had arrived a little early for our reservation, but the team said it was no problem for us to go upstairs to our table. The upstairs dining area is quietly stylish and chic, being very sympathetic to the original character of the building. Lovely dark wood floors have been laid down and there are weathered copper table tops partnered with dark, distressed leather chairs; I particularly loved the bronze/copper toned cutlery, it seemed to fit better than standard silver items would've done.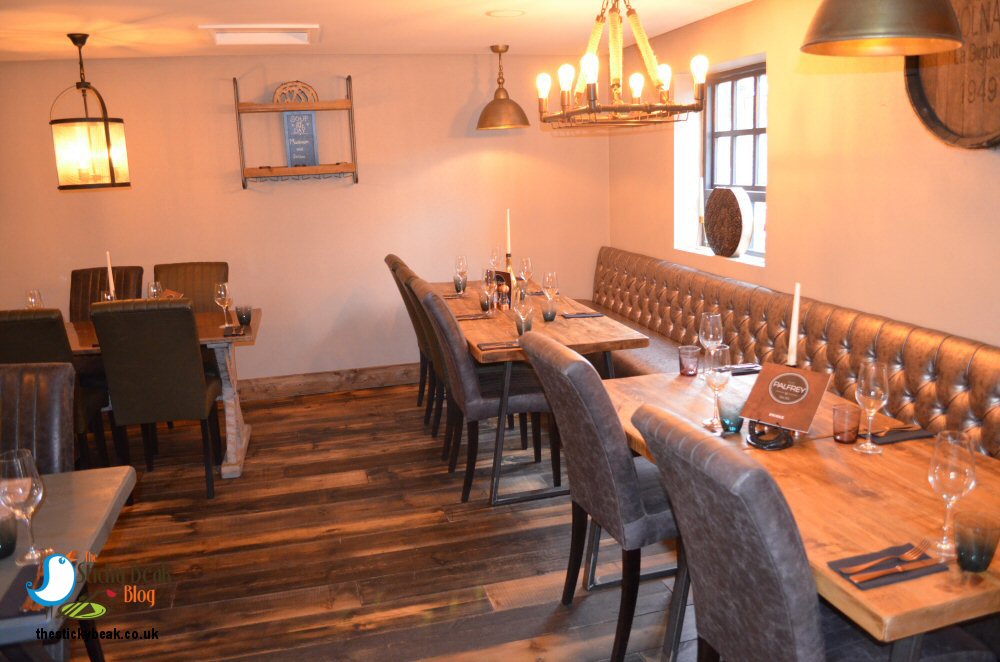 A lot of the brick walls had been left exposed so that their natural warm tones could create a welcoming ambience, and the sash style windows still had their panes divided into squares by metal strips.
Other walls were decorated in a textured coating and painted in a subtle putty colour and had simple bare wood skirting boards to them that blended seamlessly into the wooden floors. A nice atmosphere was created by the use of similar, but not homogenous, metal light fittings that contained exposed bulbs.


For our starter The Boy Wonder and I opted for one of the sharer Deli Boards, The Butchers Board. This gem offers Harissa Chicken, Korean spiced Brisket, cured Meats, Pickles, Olives, Tzatziki, Palfrey Salad, and crusty bread. The platter was very attractively set out so that each element was showcased nicely, and I loved the mini colander that housed the salad. Sweet yet spicy pieces of chicken were delicious, as was the Korean spiced Brisket beef which pulled into ribbons of deliciousness and melted in the mouth.
The homemade Tzatziki had a lovely chunky texture to it which was far more satisfying in the mouth than shop bought varieties and it partnered well with the wafer thin Parma Ham. We both really enjoyed the Salami, not only was it mild in taste but it was cut nice and thickly too so you could get stuck into it properly. Both pitted- and unpitted- Olives had been marinated in garlic and mixed with herbs and this was a lovely light, refreshing element of the platter. Another thing that impressed us both was the bread; there was plenty of it, and it was about half a centimetre thick so it didn't overfill us.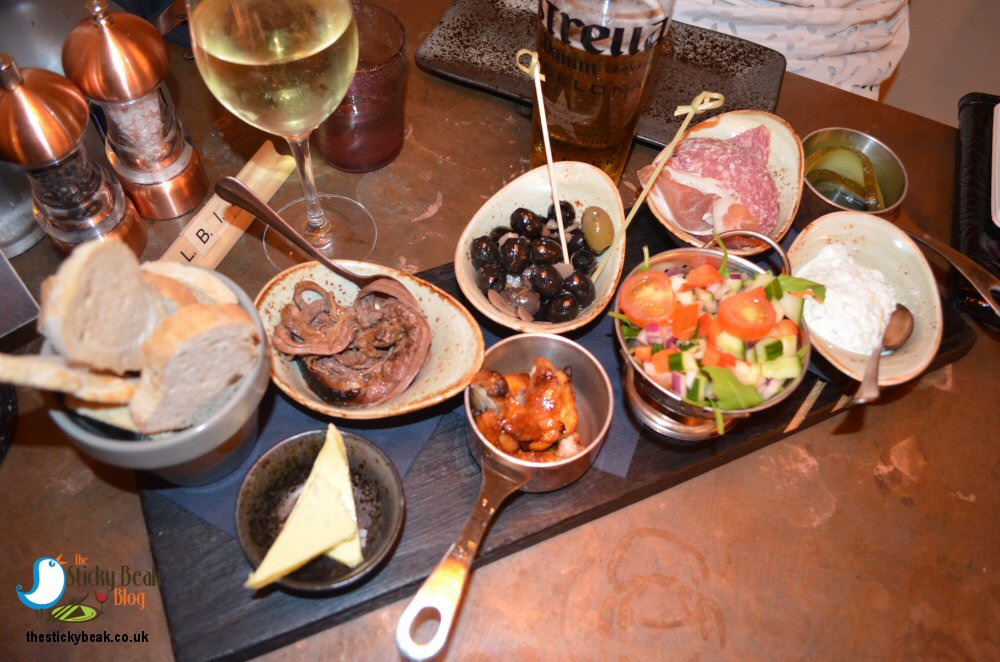 Gherkin slices sat proudly in a little copper pot and I was soon scooping them up into my eager mouth, and dipping them into more of the Tzatziki. The Palfrey salad was a pleasing mix of chopped peppers, red onion, cucumber and tomato, all accompanied by fresh, peppery Rocket leaves. Across the table, My Man was polishing off the last of the bread and slathering it with fresh Butter. The Butchers Board was a superb selection of items that gave us a great range of textures, temperatures and tastes to experience.
For my main course I chose one of The Palfrey specials, Salmon en Papillote with Laksa style seafood sauce, crunchy vegetables, noodles, and crispy sea greens; The Boy Wonder had the Koagie Burger, a 6oz steak pattie, braised Korean spiced Brisket, pickled green tomato salad, American cheese, all in a toasted Brioche bun and served with Cajun spiced Aioli and either skinny or Sweet Potato fries.


I was presented with a lovely thick wodge of Salmon that sat atop a bed of noodles and had assorted greens shredded on top of it. A sea of spicy Laksa sauce surrounded the fish and contained fat, juicy King Prawns and crunchy Bean sprouts within it. I loved the Laksa sauce, it had a great zing to it, but for me there was a little too much of it in the bowl. I also would've liked it to have been hotter temperature wise – as you know I like my food piping hot, almost to the point of it burning my tongue, and this fell a little short of my personal ideal.

The Salmon was perfect in all ways; moist, flavoursome and cooked fantastically well. A mix of greens had been finely julienned and gave some beautiful texture to the dish. I felt very happy in my choice of main course; the only thing left on my plate was the excess Laksa sauce.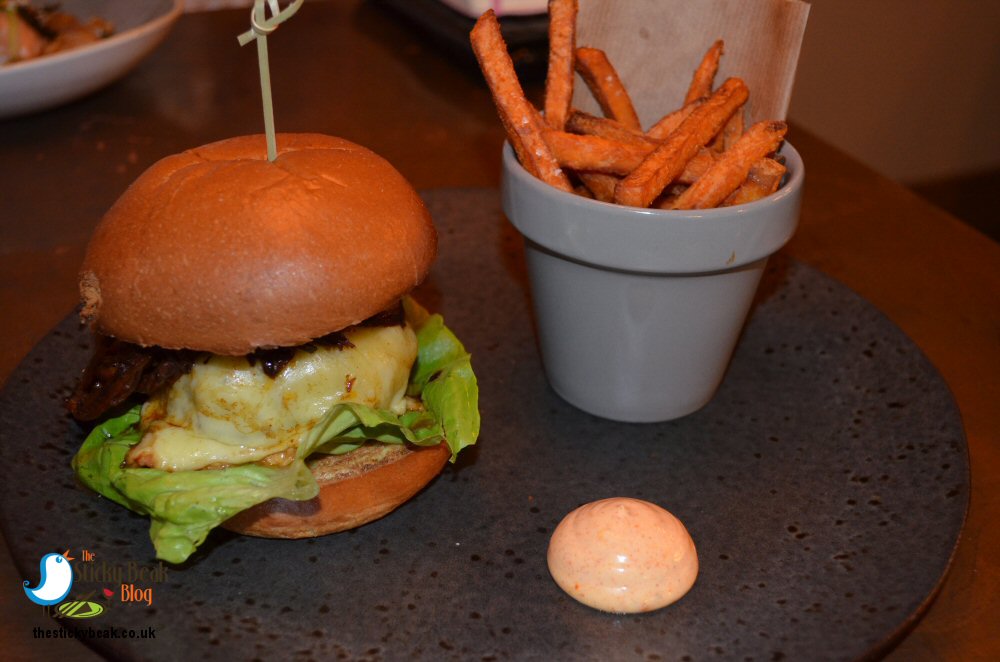 His Nibs had a "wow" moment when he saw the whopper that was his Koagie burger. This is a total beast of a burger and the quality of the meat shines through in every bite. What The Man really liked was the fact that it had a slightly chunkier texture than most burgers and this meant that it commanded a bit of respect when it came to being eaten; you couldn't just gulp it down. Chef had seasoned the steak pattie expertly so that it enhanced its flavour and really brought it to life in the mouth.

The spiced brisket sat proudly on the top of the pattie and added subtle warmth to the meal, and the green tomato salad gave a bit of crunch to savour. Sweet Potato fries had been the Man Birds' choice of accompaniment, and he was enthralled by their crunchy outers. He couldn't resist dunking them into the tangy Aioli, grinning as he did so!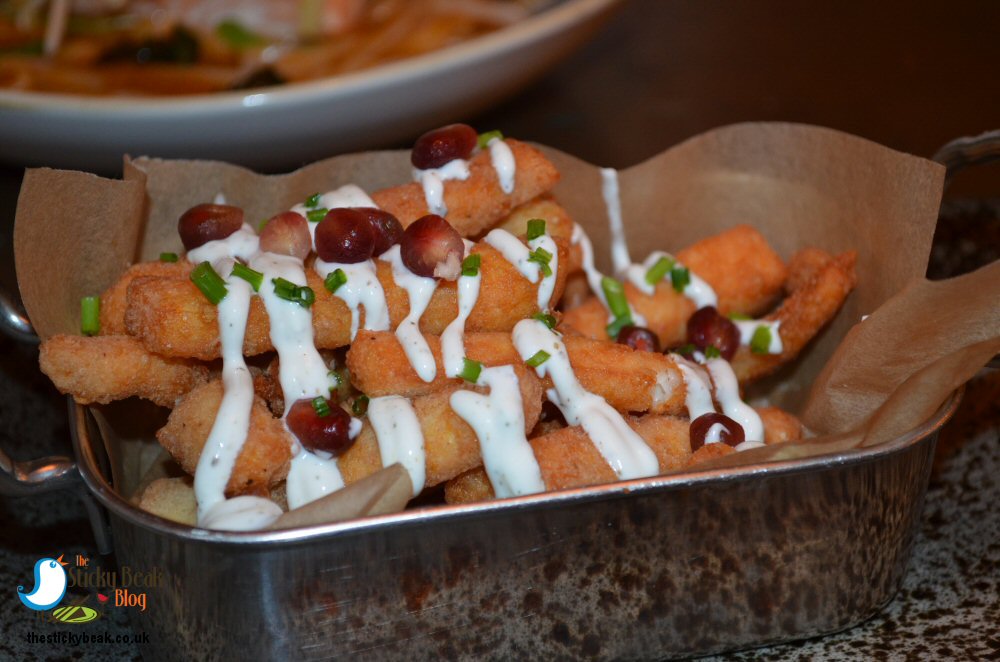 We had ordered an extra side dish of Chef Danny's Halloumi fries and these were superb, I have to say. At The Palfrey they cut the Halloumi into French fry proportions and give them a wickedly crispy coating that is great when bitten into. A zippy Zaatar and Lime yoghurt is the perfect partner for them and tasted great in the mouth; crunchy fresh Pomegranate seeds were just the crowning glory to this side item.
All that remained was to sample the puddings on offer at The Palfrey, and there are plenty of delicious morsels to choose from. I settled on the Iced Pineapple Parfait with Rum soaked Pineapple, Mango and Coconut shot, and Coconut Tuile, and The Boy Wonder had his favourite; Sticky Toffee Pudding with Salted Caramel sauce and Vanilla seed Ice cream. The great thing about the desserts on offer at The Palfrey is that they're all one price, £5.95, or you can choose taster versions at £2.95. I stuck to just one choice, although I was seriously tempted to try them all!


I loved the vibrant Pineapple flavour in the parfait, and the Rum soaked slices of the fresh fruit were gorgeous. The Mango and Coconut shot came in its own little jug and rather than drink it, I chose to pour it over the parfait and it went really well with it. A fantastically crunchy, coconutty Tuile gave the dish a textural element in the mouth, along with the fresh Pineapple. Not a speck was left on my plate :)
His Nibs loved the dense texture of his Sticky Toffee Pud; it managed to be very satisfying without being stodgy, and had a great Toffee flavour to it. The Salted Caramel sauce was lovely and warm and had soaked into the pud, making it a real gooey, comforting end to the meal; you know, one of those desserts that just satisfy the soul.




Some fresh Raspberries not only looked beautiful on the plate, they gave a lovely contrast to the other flavours and some crumbled shortbread provided a pleasing crunch in the mouth. On this occasion The Boy Wonder chose to not have the Ice Cream and didn't feel that the dessert was lacking in any way for this omission.
We rounded things off with a couple of coffees, and it was a lovely after dinner roast that finished our evening perfectly. If you haven't been to The Palfrey before (which is entirely possible given it's less than a year old) then it's worth going and seeing what's on offer.

Just remember to take your appetite if you order the Koagie Burger! I will just point out that it is National Burger Day on Thursday 24th August 2017, so it's the perfect opportunity to try it :)
Some form of incentive was provided to visit this venue
read more