Food Returns To Rowley's Gin Bar & Wine Cellar In Derby
Published On Sunday 13 Aug 2017 by Sticky Beak
See All Recent Reviews
The last time we visited Rowley's was to sample their fine dining, tasting menu just before Christmas 2015. A lot has changed since then; the fine dining element was dropped and Rowley's concentrated on being a destination venue only for Gin lovers.....up until now, that is.
Jon, who owns Rowley's, invited The Boy Wonder and I along to try their latest concept in dining. Although the Gin and Wines are still very much centre stage (with twice monthly expert led Gin tasting events happening in the cellar) they are once again being joined by amazing food. Fine dining can sometimes be a little too formal and confined for modern society, but people still want to experience that buzz of quality dishes. Rowley's know Derby and the people that dine there incredibly well, so they came up with a genius solution; plates of fine-dining quality dishes that people can order on an individual basis whilst relaxing with drinks.
His Nibs and I rocked up mid afternoon on Saturday (the kitchen is open Noon-5pm) and were greeted very warmly by Jon and his team. Thankfully the weather was playing nicely; there had been a couple of drops of rain as we were walking up to the Cathedral Quarter, but the sun had decided to bathe us all in its glory as we stepped over Rowley's threshold :)


We perched ourselves at a window table, not only to get the benefit of the summer warmth but also to indulge in my favourite hobby; people watching. It was surprisingly busy; folks were coming up to see the Cathedral as a wedding was in progress, going home after shopping, and going for drinks with friends. Actually, Rowley's was getting its fair share of social drinkers as several tables came in to sample the wide range of cocktails and drinks on offer.
The Man Bird and I settled in with a cheeky Bathtub Gin and Fever tree Mediterranean Tonic and let the chilled vibe of Rowley's wash over us. There are an incredible 76 (yes, 76!) different Gins available at Rowley's; literally something to suit every preference. Bathtub is an award-winning Gin from Ableforths infused with ingredients such as Orange peel, Coriander, Cinnamon, Cloves, and Cardamom and it was a very nice tipple I must say :)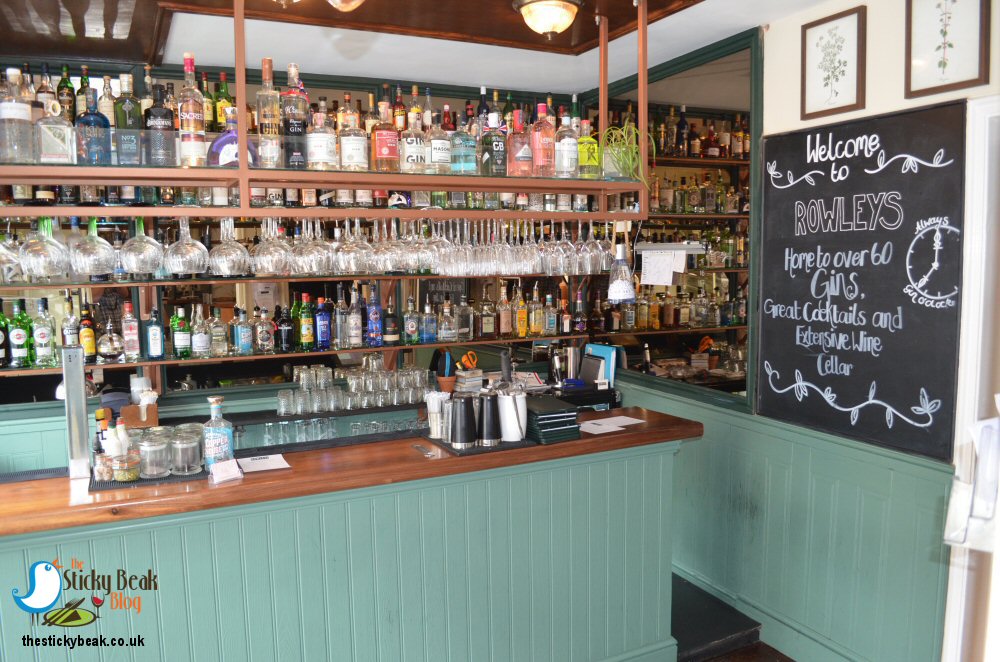 Before long the first plate of yumminess was winging its way over to us, and what a vision of Summer it was! A simple salad of Heritage Tomatoes, Goats Cheese and Basil Ice Cream was the perfect start to our afternoon. As well as being visually stunning with the myriad colours to behold, this dish was packed with light, fresh flavours. Every element worked well together; the juicy sweetness of the Tomato bounced off the bright Basil notes and then the tang of the Goats Cheese kicked in, making the palate really sit up and take notice.

Head Chef Lee Coates (who was previously Sous Chef in Rowley's fine dining days) had crumbled some Almonds on the dish and their gentle taste and texture was another superb element in this plate. This lovely, light morsel would be perfect as a mid-afternoon nibble just to take the edge off any hunger pangs, or simply if you just crave a little something to accompany a drink.


Next up was another beauty; Seared and Raw Tuna with Galangal, Lime, Mooli and Sesame. At one time The Man Bird wouldn't have touched Tuna (never mind Raw Tuna) so I was very pleased to see him tuck in and give this one a go. I'm a massive fan of fish, so I dived straight in, excuse the pun. The key to a dish such as this is to use only the freshest fish, and Jon and Lee certainly source their produce carefully; the Tuna was exquisite.

I loved the firm cubes of Tuna on their own as they had a wonderful delicacy, but when I teamed them with the vivid, spicy, sharp mooli cubes, they sprang into life in my mouth. This vibrancy was further enhanced by the Lime in the dish and a marvellous textural angle was provided by the Black and White Sesame seed crisps. Again, this was light and fresh on the palate and was perfect for sharing; interestingly, this dish seemed to enhance the Clove note within the Bathtub Gin to me.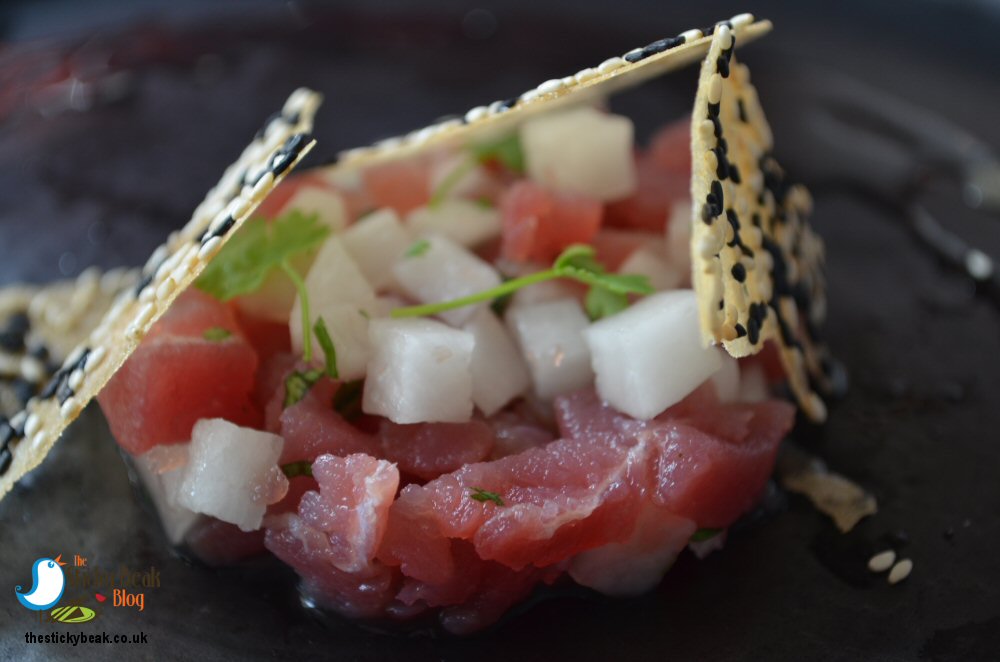 An establishment such as Rowley's with its fine dining reputation simply couldn't do plate style dining without including Moules Mariniere, and this was beyond tasty I have to say. The Cream and White wine sauce had plenty of Parsley in it, as well as a hint of Garlic; thankfully Chef Lee hadn't been heavy-handed with the Garlic so that it just stayed on the periphery of the palate. In keeping with the relaxed, simple ethos of plate dining the Mussels had been removed from their shells so there was no faffing about or mess to deal with.

The Mussels themselves were very large, meaty specimens that really can satisfy deeper hunger quite nicely. Simply toasted slices of Sourdough bread were the only accompaniment this dish needed. I had to stop myself from lifting the dish up and drinking the last of the sauce though, I must confess!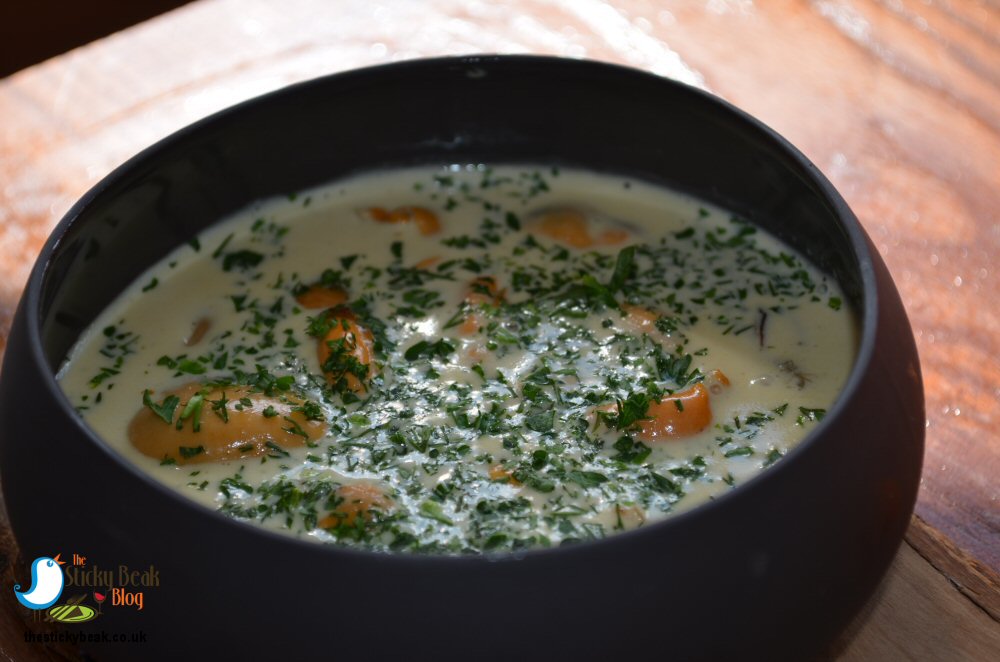 Our fourth dish was the intriguing named Leek and Artichoke "Lasagne". I had wondered why the Lasagne was in commas and it soon became clear when this morsel was set before us. There aren't any actual pasta Lasagne sheets in the dish; the effect is created by blow-torching the Béchamel, Blue Cheese, and Pecorino sauce to create an al dente layer. Generous amounts of just-firm shredded Leek is mixed in with the rest of the white sauce and Artichoke slices provide a gorgeous base layer on which all this deliciousness sits.

Subtle seasoning brings all the flavours to the fore-front of this heartily satisfying plate that somehow manages to not leave you feeling stuffed. Lovely crusty bread was just the ticket to dunk into this wonderful sauce and not a trace was left in the bowl!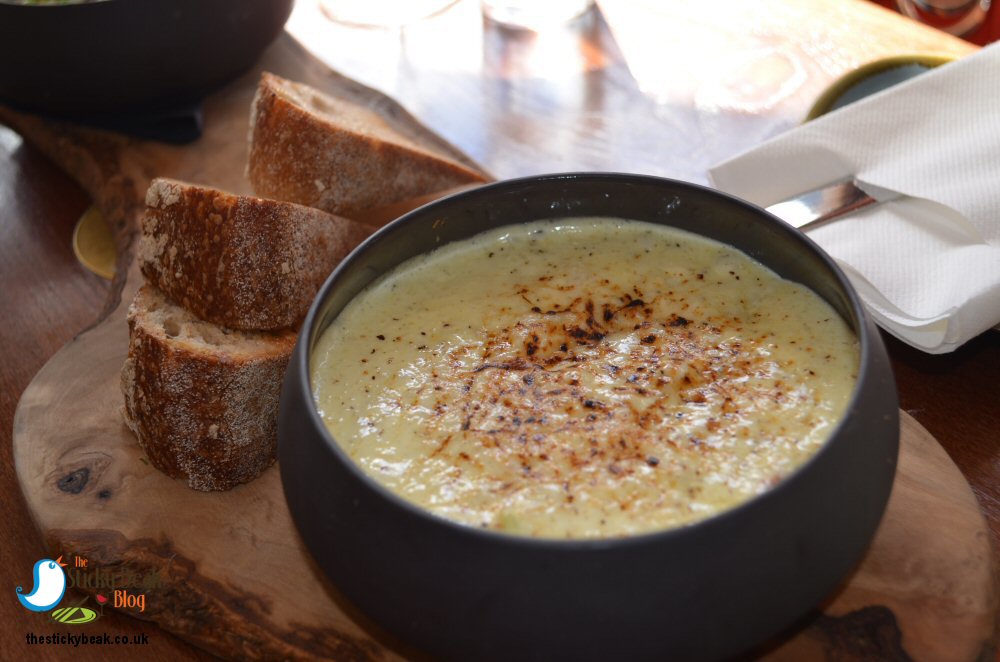 Having covered Vegetarian, Fish, and Seafood dishes it was now time for meat to take centre stage in the guise of Wood Pigeon Breast and Derbyshire Lamb Rump.

The Wood Pigeon Breast came out from Lee's kitchen first and was beautifully pink; having been properly rested meant no blood was oozing from it. Personally I love the density and rich, earthy flavour of this gamier bird (as does The Boy Wonder) and I thought the Horseradish foam partnered it fantastically well. Fresh Blueberries had been carefully halved and their lightness worked nicely alongside the other notes; a crunchy Granola really gave some texture and structure in the mouth too.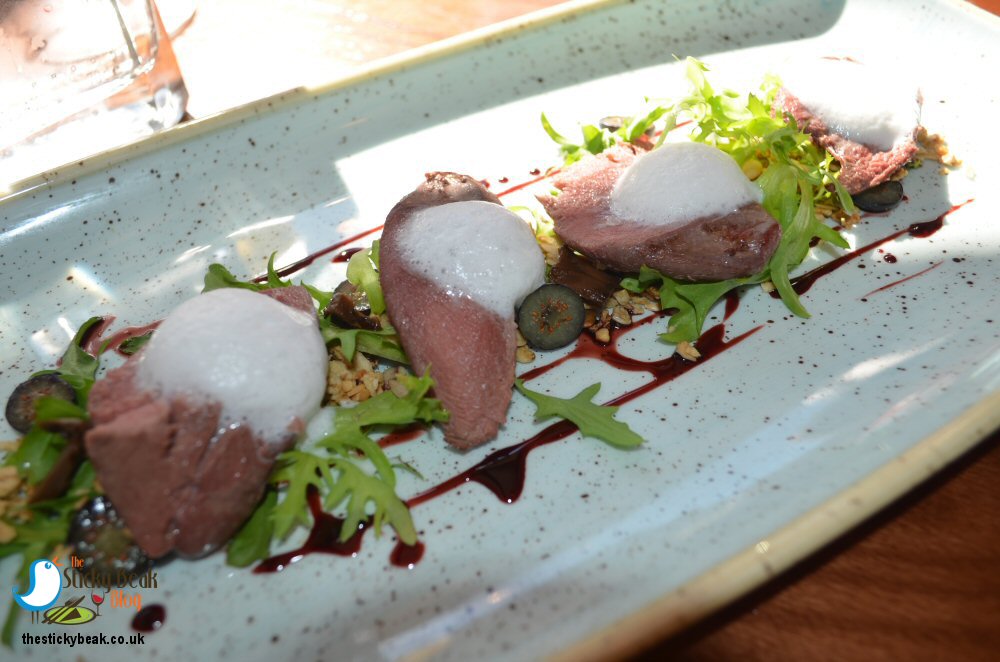 I've said it previously, and I'll say it again; you can't beat a nice bit of Derbyshire Lamb. Our hills and pastures are just the best place to build lean muscle, and give a great taste to that muscle, which is what we eat; and boy does Rowley's showcase this taste tremendously well. As with the Wood Pigeon, Chef Lee Coates serves the meat pink, which allows this wonderfully flavoursome Lamb rump to be fully appreciated. Buttery tasting, nicely firm Cornish Potatoes cut into generous slices made a lovely companion to the Lamb and their gently browned outers yielded softly in the mouth.

Broad Beans are currently in season and their lovely fresh taste was another hit with our palates, as was the salty tang from cubes of Feta cheese that had been scattered on the dish. The vivacious note of Mint made an appearance in an Emerald-hued jus that had been spiralled with the cooking jus of the Lamb. Crunchy pea shoots not only looked beautiful as they garnished the plate, they tasted beautiful too.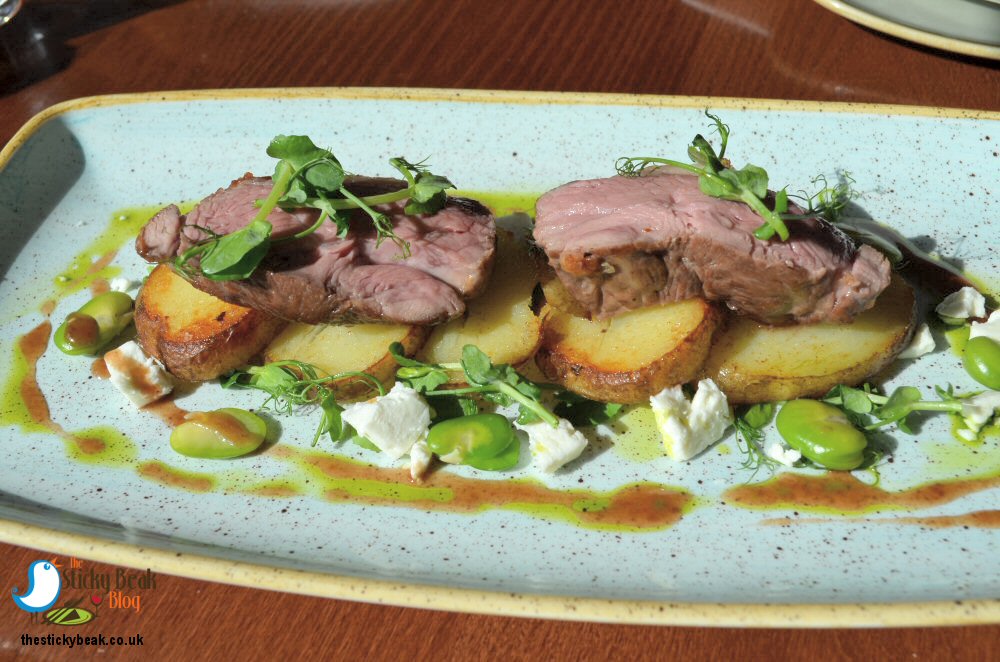 Both the Wood Pigeon and Lamb plates would satisfy you as stand-alone selections, or work just as well within a larger amount of Rowley's plates for groups of friends or couples. Having sampled six plates of food which equates to half the amount on offer currently, The Man Bird and I struggled to pick out an outright favourite; not something we normally grapple with.
After much deliberation we said that the warm weather really allowed us to appreciate the clean, bright, refreshing character of the Tomato Salad and for lazy, late afternoon dining it was perfect. Having said that, I am a total sucker for Moules Mariniere and the ease of the "sans shell" version at Rowley's epitomised informal, relaxed plate style dining to me.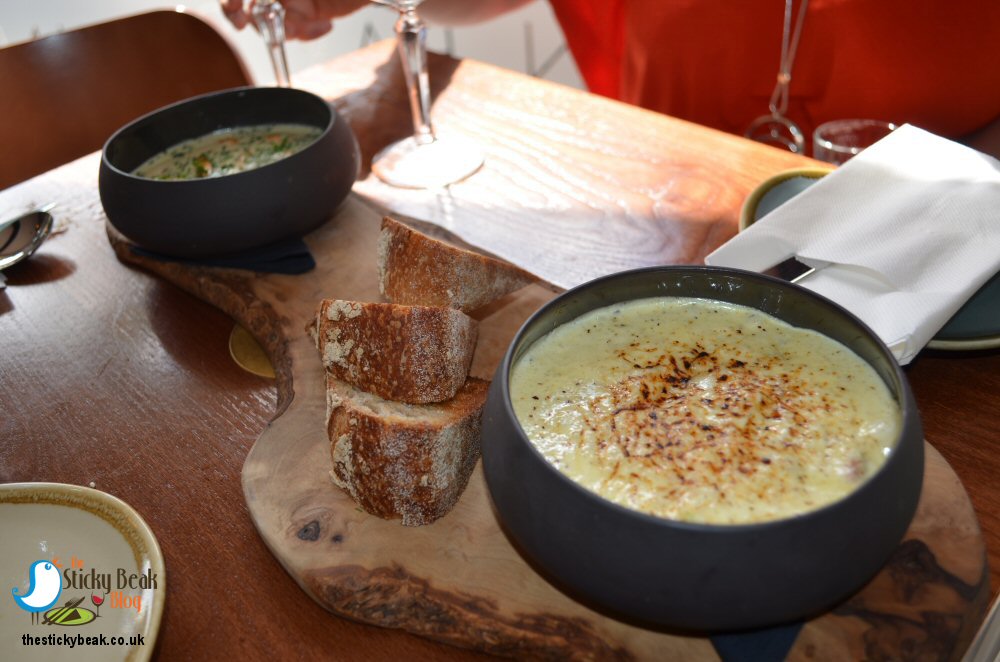 For a fully paid-up member of the Carnivore Club (a.k.a His Nibs) to say that he was bowled over by the Leek and Artichoke "Lasagne" really takes some doing, so I think it fair to say that Jon and Lee created something unique in this delicious dish. Whenever you eat quality meat and game there is something special about it; it not only tastes great, it has a texture that satisfies the appetite on a primal level and Rowley's dishes did this brilliantly.
The plates at Rowley's vary in price from £6.20 - £9.90, with the exception of the 5-cheese cheeseboard which comes in at £12. Given the quality of the dishes, I would say this is a fair price to pay; certainly a couple of them together would make a nice meal when accompanied by a good calibre drink at a price that won't have your bank manager groaning!
As a concept, plate style dining is great I think. It allows you to eat as much or as little as you want, depending on your mood; you can see how the afternoon/evening is panning out and just go with the flow, so to speak. Impromptu get-togethers with friends are perfect for this sort of dining as well because they can just turn up mid-munch and join in with no hassle or fuss, or simply have a drink if they're short on time.


Whilst Jon is very passionate about what he does and the quality of food and drinks that he serves, Rowley's remains stylish but not stuffy or pretentious. Upstairs used to be a more formal environment for dining, but it has now been transformed into a very chi-chi lounge with sofas and chairs in which to recline. The far wall is entirely mirrored which is perfect for not only checking yourselves out, but also fab for surreptiously watching other peopleJ. A calming atmosphere is created by the use of greys and deep greens and thoughtful lighting; I can imagine some great evenings being spent up here.
Opening times for the kitchens are as follows: Sunday and Monday closed all day, Tuesday-Thursday open Noon-3pm and again from 5-9pm, Friday and Saturday open from Noon-5pm.


The Gin Bar is only closed on Mondays, Tuesday-Thursday open from Noon-12.30am, Friday and Saturday Noon-2am, and Sunday 3-9pm. I am just going to mention the twice-weekly, expert led, Gin Tasting events in more detail, as I think a lot of you dear readers will love this!

Held in Rowley's 250 year old cellar this Gin-tastic event is on Thursday evenings or Sunday afternoons and you sample a variety of different Gins as you nibble on sharing platters for the fab price of £30 per person. Places are strictly limited to 12 per event so it is essential to book; simply call 01332 988194 during Rowley's business hours or visit their web site www.rowleysderby.co.uk
Thank you Jon for inviting us to sample your plate style dining menu; it is lovely to see Rowley's doing great food once again in a modern, innovative way. Hot Wings are yours again; it's a pleasure to award them :)
Some form of incentive was provided to visit this venue
read more