Family Lunch At The Wheatsheaf In Bakewell
---
Published On Friday 11 Aug 2017 by Sticky Beak
See Recent Dining Out Reviews | See All Recent Reviews


As you know dear reader I'm a "glass half full" type of person, so when the weather and Bakewell Show dealt us lemons we booked ourselves and the Tribal Elders in at The Wheatsheaf pub for lunch.
We took a leisurely stroll from the show ground parking, going across the bridge and along the banks of the River Derwent. The river was full of wild Trout of all sizes and ducks that followed us along the water hoping for some bread; unlucky chaps!
The Wheat sheaf is a large premise with several areas to sit in and our table was in the rear area, which was a bit quieter when we went at Noon. A very pleasant lady came and took our drinks orders and we sat at a very spacious round table.


I was surprised at how extensive the main menu is; it covers everything from sharing platters, Sandwiches, Burgers, Salads, and several pub classics. There is also a specials board that had Liver and Onions, Ham Egg and Chips, Cajun Salmon, and Chilli Nachos to choose from on the day we visited.
With it being lunchtime (and the fact that we had all scoffed Bacon and Egg Cobs for Breakfast!) we opted to have a single course only.


I had the Yorkshire Smoked Chicken and Avocado salad with toasted Pine Nuts, His Nibs had the BBQ Pulled Pork Burger, and Chickadee wanted the baked Mushroom and Yorkshire Blue Cheese Macaroni with Garlic bread and house salad. My Daddy Bird fancied the Large house Roast and had Beef as the meat, although Pork was also on offer. Mummy Bird had one of the specials; Ham, Egg and Chips.
When our server brought them out all the hot dishes were exactly that; hot. My salad was a very substantial bowlful and there must've been at least half a large Avocado sliced in it, if not more. I had three thick slices of moist Smoked Chicken breast that had a drizzle of Balsamic glaze on them and the deep bed of mixed leaves were all crisp and fresh. A generous scattering of crunchy toasted Pine nuts completed this lovely, tasty lunchtime treat and I really enjoyed every mouthful.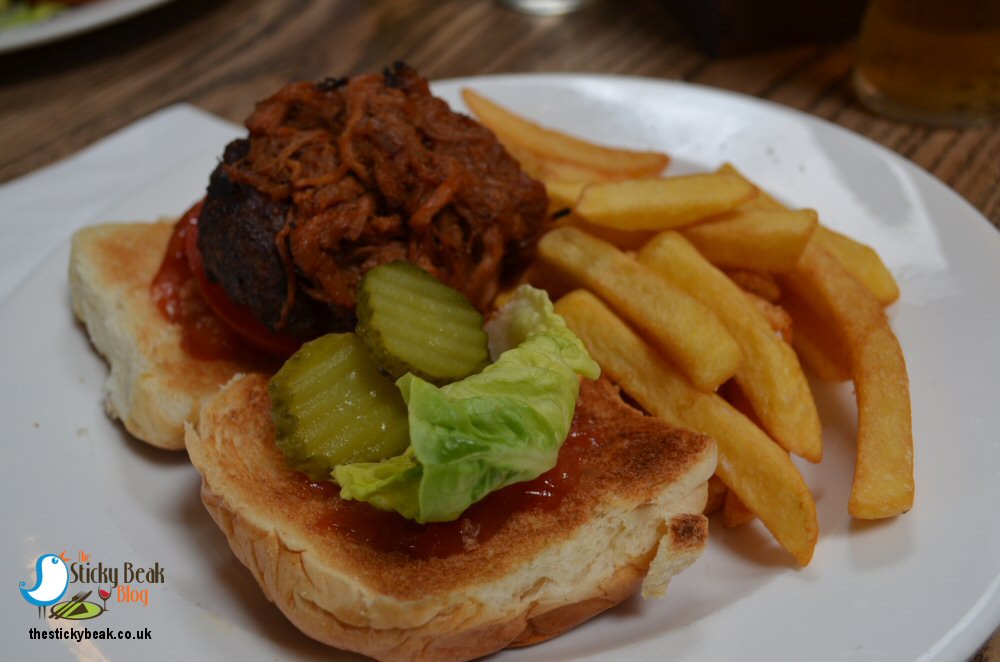 His Nibs burger was a whopper! The main beef patty had a wonderful rich flavour to it, in part thanks to the blend of Cheek and Beef mince and also in part to skilful seasoning. A generous layer of smoky BBQ Pulled Pork sat on top of the burger that was beautifully deep in flavour. The only thing in the Brioche bun that got discarded was the gherkin slices (The Man Bird really can't stand them); not bad to say that only a short time ago the Tomato and Lettuce would also have been left.
The Chick couldn't believe the size of the bowl that had her Mushroom and blue cheese Macaroni in; to be fair we all did a double-take at it, it was huge! She gave it her best shot but couldn't finish all the Mac n Cheese as well as the slices of yummy Garlic bread. All she said though was "I really wish my tummy was bigger, so that I could've finished that, it was gorgeous".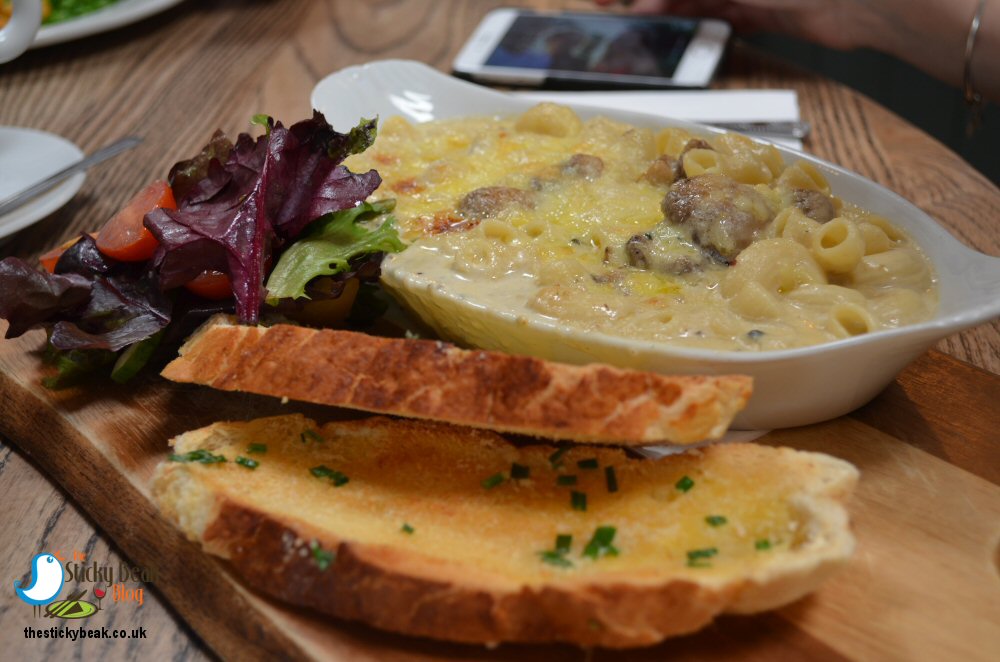 Mummy Bird was walloping down her Ham, Egg and Chips with some gusto and kept saying how tasty the thick slices of "proper "Ham were. The Egg had been fried so that the yolk was still runny; perfect for dunking the Ham and Chips into. My folks know a good egg when they eat one and this had one of those satisfying rich, creamy yolks to it; nothing disappoints more than an insipid tasting egg. Whilst the Chips weren't homemade they were a very good quality pre-prepared variety that were lovely and crisp outside, fluffy inside and not at all greasy.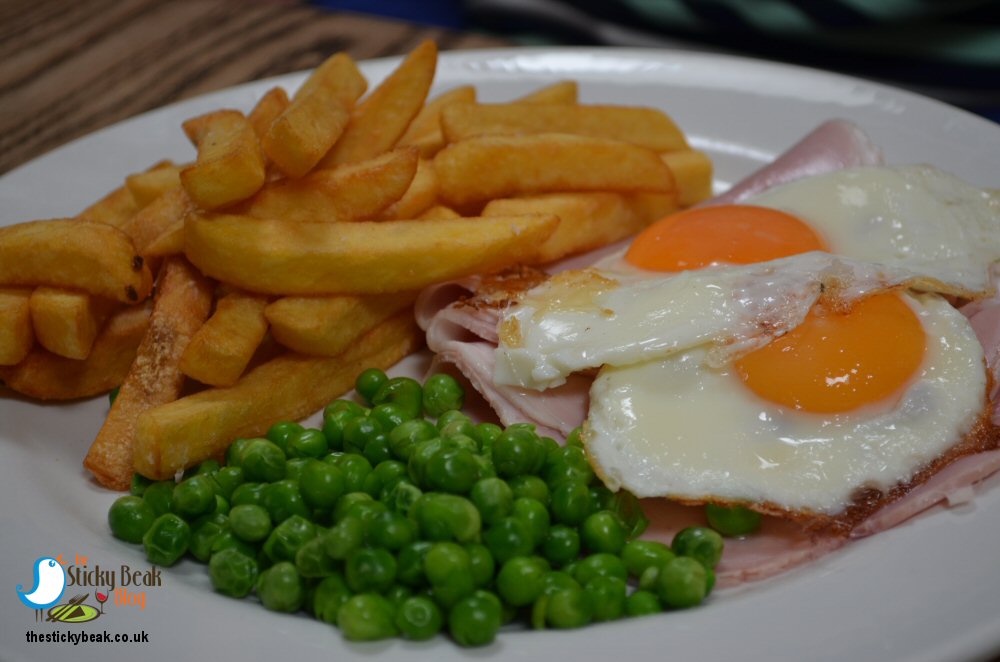 The Wheatsheaf house roast comes with roast Potatoes, seasonal vegetables and a Yorkshire pudding that was so big it should've had its own postcode! My Daddy Bird was digging in whole-heartedly to lovely thick slices of tender beef, looking very happy as he did so. Again there was a belly-busting portion to get through, but slowly he managed to emerge triumphant! He did concede that he wouldn't be having dinner that night though, perhaps just a light supper bite to tide him over until breakfast.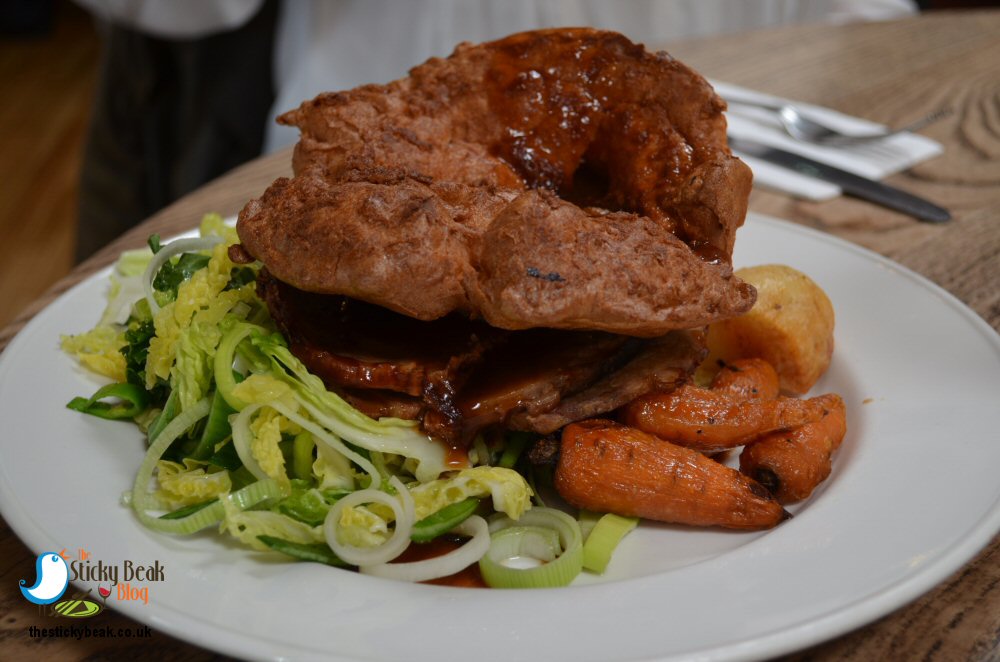 We weren't the only ones who had thought to go and have some food and /or a drink in the Wheatsheaf; muddy Wellington boots were very much in evidence as we looked around. There were mixed parties of customers, from families, couples and groups of friends which was nice to see.
Having rescued what was frankly a dismal day, we managed to regain our usual bounce and we were chatting merrily away in the car about what a lovely lunch we'd had in smart surroundings.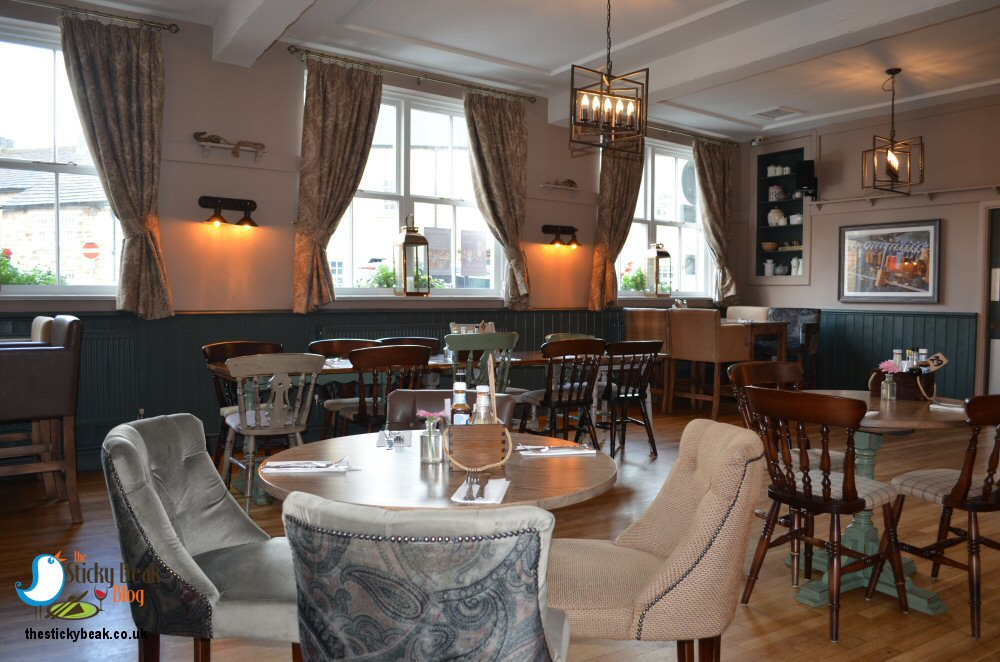 There is a nice, relaxed vibe to the Wheatsheaf; it's well worth popping into next time you find yourselves in Bakewell. They also do hot drinks, breakfasts, and dinner in addition to lunches so you can rest your feet at any time of day. Hot Wings well deserved at this Pub that does (good) Grub :)
No incentive was provided to visit this venue
read more