Dinner At Miller and Carter Steakhouse, Wollaton, Nottingham
Published On Thursday 3 Aug 2017 by Sticky Beak
See All Recent Reviews
The Man Bird reached his half century last month but with us planning our America/Canada odyssey we didn't really do much to celebrate. Our dear friends Susan and Drew (he of Treehugger and Sons fame) decided that this really wasn't on and took matters into their own hands by booking us in at Miller and Carter Steakhouse in Wollaton. Some of you familiar with the area may recognise it as the old Toby Carvery site.
Obviously there is a massive car park on site, so no problem getting parked (essential when donning high heels) and the interior is very swish. Although it is a very spacious premise they have cleverly broken up the space into smaller, more intimate sections so that it gains more ambience and character. What caught my eye was the sleek lights with their ruby hued shades; very decadent. The seating was nice and comfy and we had plenty of space on the table due to it being a generous size; there's nothing worse than a four person table being too small and everyone constantly knocking elbows with their companions.
Alex was our server for the evening and a jolly nice chap he was too. The first order of the evening was to get some cocktails on the go; Blackberry and Cucumber Collins' for us ladies, a Long Island Iced tea for the Birthday Boy and a Blackberry and Basil softail for that evenings designated driver (Drew, Mr Treehugger).

We ordered the Bread Board Platter to nibble at whilst sipping our cocktails and deciding what to have for starters and mains. The lightly toasted bread came with a variety of morsels including pitted Green Olives, an Olive oil and Balsamic combo, a wonderfully vibrant Pesto, and hearty smoked Beef Dripping butter.
Miller and Carter do offer Pasta, Salads and Fish dishes as well as other meats, but their focus is the different cuts of Steak. The meats come from specially selected breeds of cattle from British and Irish farms and all the steaks are cut by hand by skilled expert butchers. After the steaks are cut they find their way into the hands of Miller and Carters' specially trained chefs who all have to graduate from "Steak School". On the menu it recommends the perfect cooking time for your steak choice, something that Alex was completely au-fait with when I veered off the usual track (I wanted my Ribeye rare, not the recommended medium).
Anyhow, I digress; back to starter and mains choices. I had the Hoisin Sticky Duck Wings, Susan had Sticky Chipotle Chicken, His Nibs had the Pulled Brisket Croquettes and Treehugger Drew had the Black Pearl Scallops (having never tried Scallops before!). Our main courses were the 12oz Ribeye for Susan and I, 8oz Bistro Rump for The Birthday Boy, and the 18oz Ribeye on the Bone for Drew.




All of Miller and Carters' steaks are served with parsley butter, seasoned fries, a slice of Onion loaf, a Balsamic –glazed Tomato, along with your choice of Iceberg Lettuce wedge (and dressing) and Steak sauce. Drew and I were in the market for a couple of extra sides; Lobster Mac n Cheese for me, Creamed Spinach and Fried Egg for Drew.
It wasn't long before Alex came to our table laden with all our starters, and they looked amazing. We all dug in, eager to see if they tasted as good as they looked; they did. I was really surprised at the size of my Duck wings; I wasn't expecting them to be quite so generous in size although I'm glad they were because they were delicious. I loved the Hoisin glaze it was a proper sticky version that just begged to be licked off your fingers.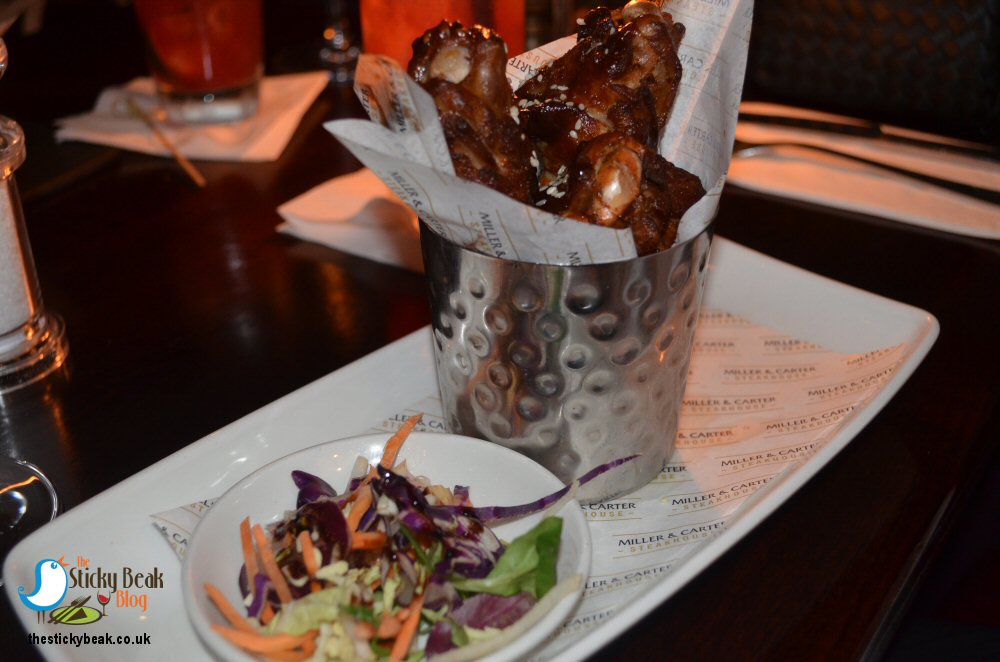 Given that Duck is a more deeply tasting meat (especially dark meat like that found on the wings) the more robust flavour of Hoisin and its smoky note pairs brilliantly with it. A lighter, more refreshing element is provided by the Pineapple and Ginger dressed 'slaw that comes with the wings; it cleansed my palate superbly.
Susan had chosen the Chipotle Chicken bites and they had a lovely coating of Sesame seeds on them that not only adds texture to the dish, but also imparts its own nuttiness into the meal. The sweet, smoky Chipotle glaze was lovely and its Chilli partner gave a great heat to the Chicken bites.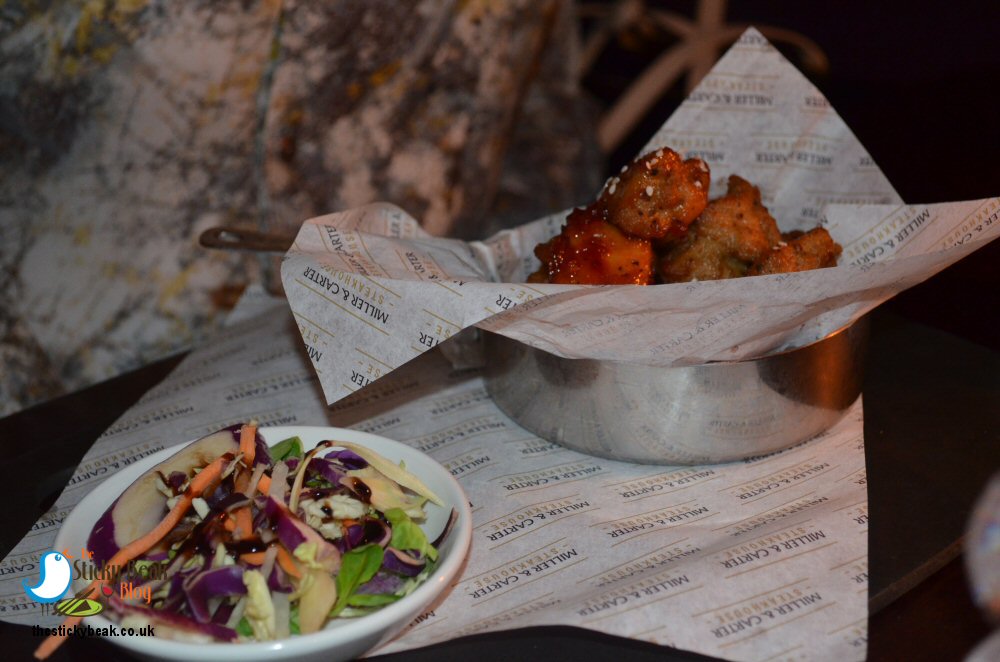 Across the table Mr Treehugger was enthusiastically chowing down on his Scallops. He loved the flavour of them, but also thought their firm, meaty texture was great too. A nice fresh pesto, and a fresh Tomato salsa partnered them and neither flavour overwhelmed the delicate Scallop taste. All too often Scallops get partnered with either too many other flavours or ones that are too strong for them; Miller and Carters' version was deemed to be lovely.
My Man was smitten with his Brisket Croquettes; although there were only two of them on the plate they were incredibly substantial; to be truthful any more than two would've been a struggle to finish. The flavour of the croquettes was lovely and deep, very satiating. To contrast with the tender, satiny meat a coating of Panko-style breadcrumbs coated them and its crunchiness was perfect; the Lemon aioli lifted the flavour in the mouth so that each mouthful was a joy to eat.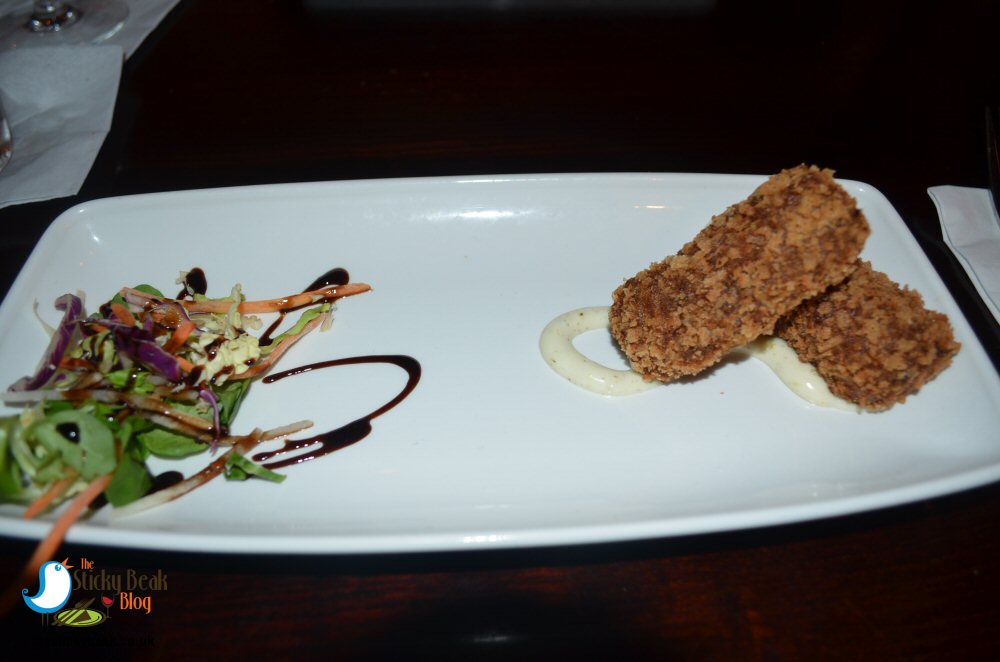 Treehugger had also ordered a rather cheeky bottle of Chablis and it was slipping down all-too-easily, especially with me and Mrs 'Hugger! Conversation was flowing as easily as the wine; we'd got lots to catch up on. Alex had cleared the starter plates away very unobtrusively and just as slickly placed our main courses before us (as well as another bottle of that ridiculously quaffable Chablis :) ).
The steaks really didn't take much pressure from the steak knives at all, they simply eased apart and we all steadied ourselves for that first glorious mouthful. Without exception we agreed that the flavour of the meat was divine; rounded, deep and fulsome. If we had to nit-pick it would be that Mrs Treehuggers' steak was more medium-rare than medium, but it wasn't oozing onto the plate so it wasn't a problem that couldn't be lived with.


Our steak accompaniments were also delicious; His Nibs didn't hesitate for a nano-second when Treehugger offered him his Onion loaf slice, and before you could giggle it had vanished into the deep dark depths of The Man Birds' tummy! Personally I loved the Balsamic glazed Tomato thanks to its sweet-yet-sharp character that just tweaked the tongue at the end.
I had opted for the Stilton and Blue Cheese dressing on my lettuce wedge and thoroughly enjoyed the contrast of creamy, tangy dressing against the crisp, crunchy lettuce. There is a trend for these Lettuces wedges at the moment and I love them, long may it continue; my waistline (such as it is!) is probably thinking "lose the dressing for the love of God , woman!".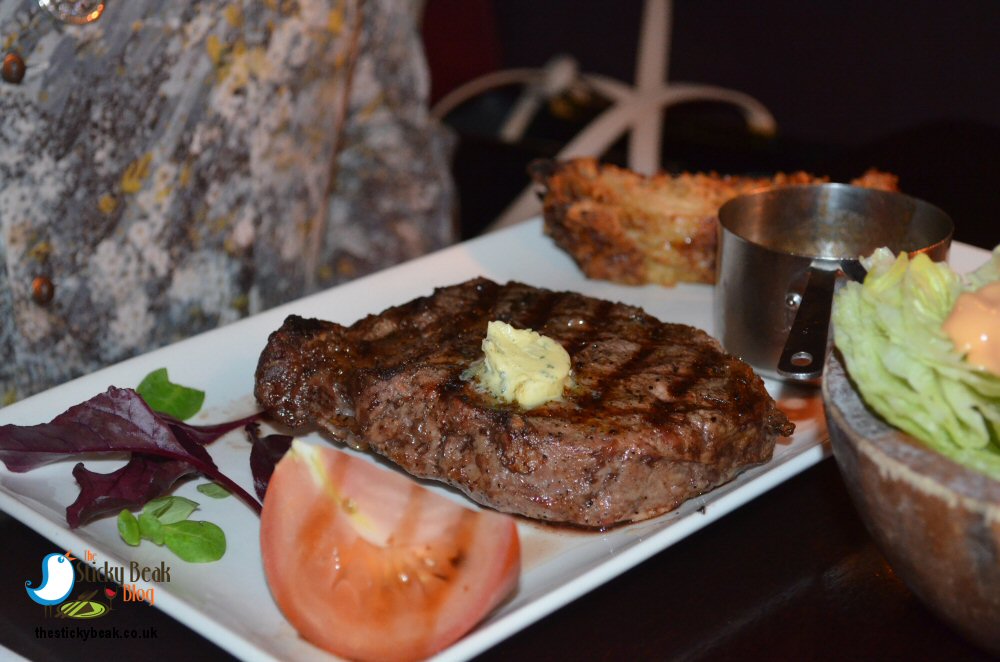 The Lobster Mac n Cheese I'd ordered extra was a real smasher too. This little minx was served in a separate little bowl and was piping hot; cheese smothered Macaroni tubes had been generously interspersed with sweet Lobster meat. All the components had been put together in such a way so that each could be discerned on the palate with no single element over-powering the others.
Drew Treehugger was tucking into his creamed Spinach heartily and the fried egg just had to have its yolk pierced and be allowed to run on the greens too, yum! At Susans' behest I had ordered the Porcini mushroom and Black Garlic sauce to go with my Ribeye; turns out it was an inspired choice :)


We all liked the fact that the steak sauces came in their own little pots too, allowing each person to add as much or as little as they wanted. Little touches can so often be over-looked and yet they make all the difference to a diners' experience. Alex came to check that we were all happy with our meals, he'd been very attentive all evening to be fair.
Despite having been a gluttonous little bunch, none of us hesitated when Alex asked if we would like to see the dessert menu. So busy chatting were we that when Alex first came back to see what we wanted for pudding we hadn't even glanced at it! Team Treehugger decided to share the Indulgent tasting plate, I had the Miller's Chocolate Orange, and Birthday Boy had the Chocolate Brownie.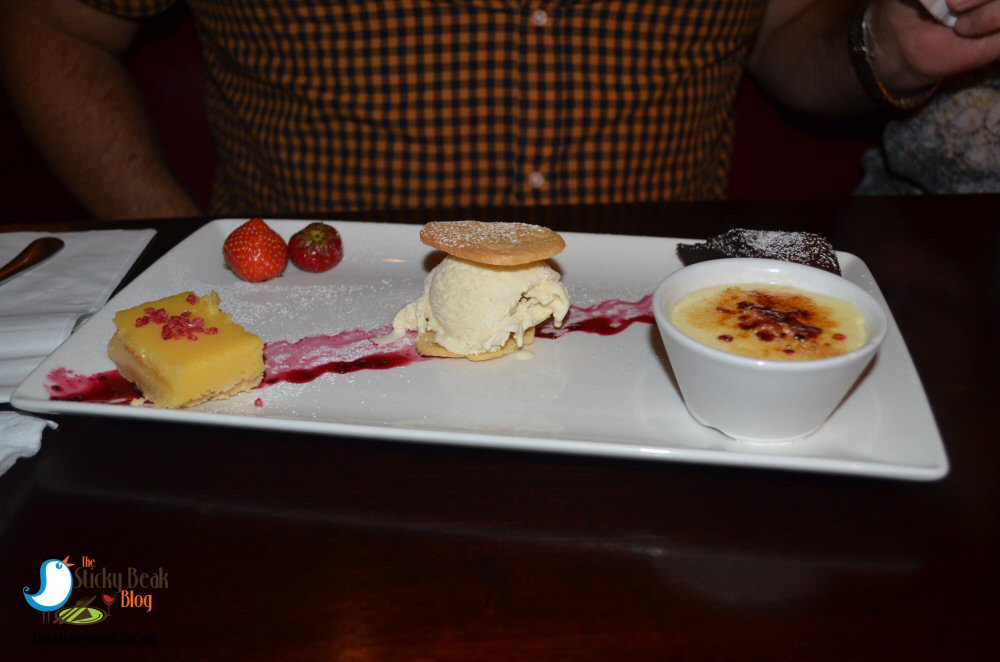 When they came, all the desserts looked gorgeous and we grinned at each other like ninnies! The tasting plate consists of a Chocolate Brownie, Raspberry Crème Brulee, glazed Passion fruit tart with Mint and fresh Berries; all served with Vanilla bean Ice Cream and home-baked biscuits. This was declared to be a"fruity, creamy, chocolate-y wonderland" full of different tastes and textures.


My own Chocolate Orange was nothing short of gob-smackingly good, there really is no other way to describe it. In the menu it is described thus:" a shimmering golden globe made from rich chocolate ganache with an orange toffee centre". The ganache was superb in its richness; divinely dense and with a wonderful hint of orange in its middle. It was served with an Almond and Hazelnut nougatine, peanut butter crumb, zingy orange curd and a palate cleansing orange sorbet. These lighter pieces of the dish ensured that it didn't become too heavy or clarty and they did their job well.
Throughout the evening we had been toasting The Boy Wonders' birthday and Alex must've seen this because His Nibs Chocolate Brownie had been put on a large platter, along with "Happy Birthday!" piped in chocolate. Freeze-dried Raspberry pieces and fresh Strawberries added a shot of colour to the platter and a single candle in the brownie illuminated its arrival. We all sang Happy Birthday to the Birthday Boy, much to his embarrassment I think :)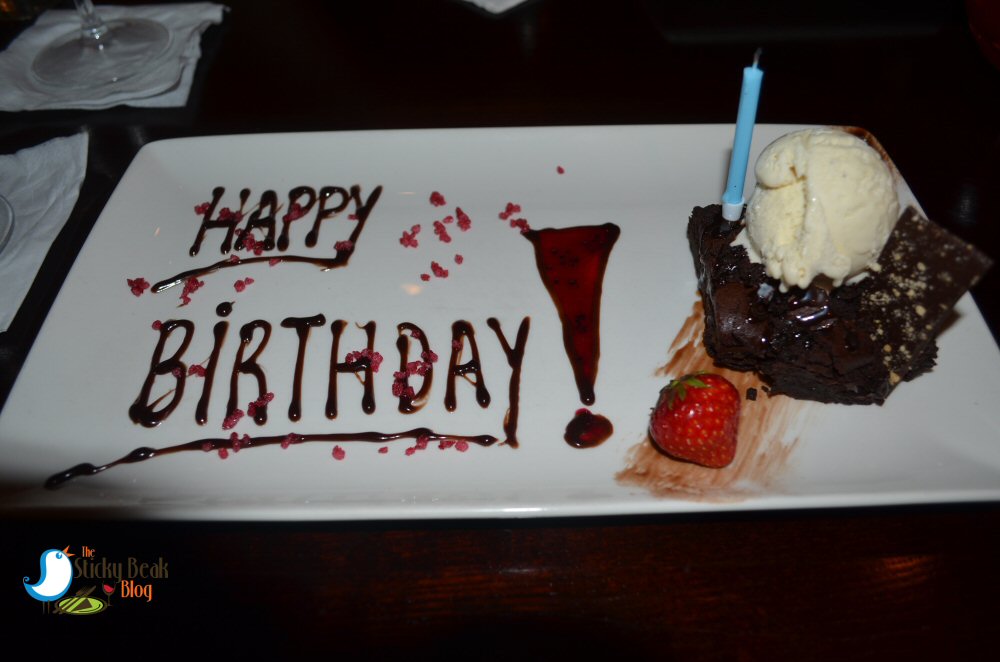 It was mine and His Nibs' first time at Miller and Carter Steakhouse and it certainly won't be the last; we had a fantastic night there. If you're already familiar with this establishment then perhaps now is a good time to reacquaint yourselves with its delicious offerings; and if you haven't been there before, what are you waiting for?
Hot Wings definitely deserved here :)
No incentive was provided to visit this venue
read more