Steak Night At The Durham Ox, Ilkeston
Published On Sunday 30 Jul 2017 by Sticky Beak
See All Recent Reviews
The Man Bird and I are fledgling-free for a long weekend (thanks Y Not festival!), so we decided we were going on a foray for dinner. The Durham Ox at Ilkeston has been recommended to us in the past by one of the Blogs' readers and Thursday just happens to be their "steak night"; clearly this was an omen, and meant to be our destination!
The Durham Ox describes itself as a Country Inn and I would say this is a fairly apt description. It has that easy charm of an older style establishment; ceiling beams, coal fire paraphernalia etc etc. It also has some of those old style pub manners and etiquette too, a case in point being the girl behind the bar pouring a sample of ale for a chap to try before he committed to buying a pint of it.
I liked the way that the dining areas were all fairly intimate in size; rather than one big homogenous room they have three or four spaces for dining that probably each seat 15-20 diners. Whilst we were there a group came in to celebrate a family occasion, but because they were in a different dining area they effectively had their own private party area and us casual diners weren't disturbed by them at all.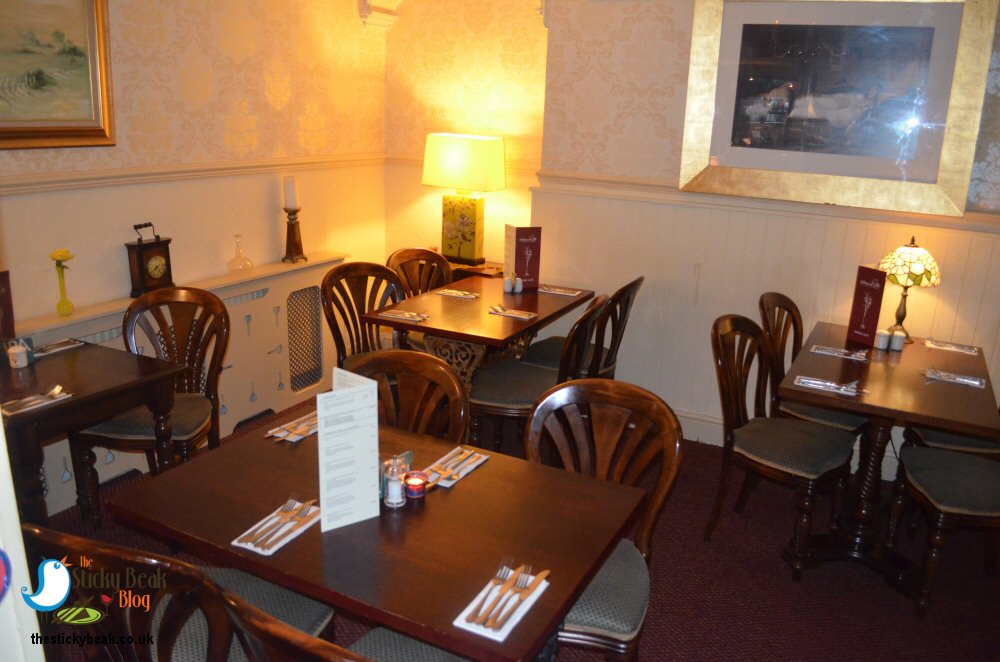 The Steak night deal is made of 2 x 8oz prime rump steaks served with baked mushrooms, roasted tomatoes, a choice of homemade chunky chips or French fries, and salad garnish; you can have a bottle of either house red, rose or white wine or drink equivalent to the value of £10. All this will set you back the sum of £29.50, cracking value for a couple we thought :)
We ordered starters from the a la carte menu to kick things off; Deep fried breaded Brie for His Nibs and 3-cheese stuffed mushrooms for me.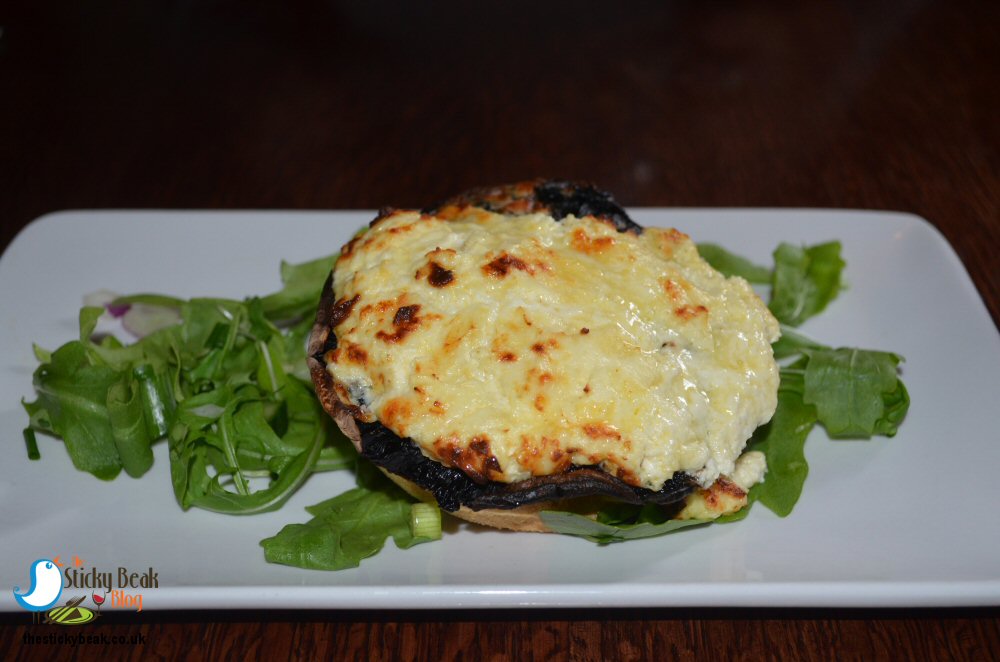 Our starters were brought out and had been presented nicely and with care. The Boy Wonders' Brie was a proper wedge and had that fantastic ooziness to it inside, and he was soon tucking in with his customary enthusiasm. There was a lovely Mango coulis with the brie and the contrast between the mild creaminess of the cheese and the vibrancy of the Mango was just heavenly on the palate. Some green salad leaves as a garnish just gave a little texture to the dish too.
My huge field mushroom had been stuffed with cream cheese, parmesan and cheddar and was delicious; its naturally firm texture was intact and this contrasted nicely with the soft gooey cheese. There was a slice of fresh beefsteak tomato under the mushroom and a round of toasted bread at the bottom, so presentation-wise it was easy on the eye; it tasted as good as it looked too, and I enjoyed every mouthful.


One of the young ladies on the serving team asked if we were enjoying our starters and was very happy when she cleared away two clean plates. After a short while our two steaks arrived and they were very good sized plates filled with all sorts of yumminess. The Durham Ox use a local farm as their supplier of beef and all the steaks come from Hereford or Angus cattle; the meat is left to age for 28-35 days in the farms own cold room using the dry hanging process.
I should point out that if you wish to have any other cut of steak as part of the steak night offer you can do so; you just pay the difference in price on the menu. Easy peasy. Same goes for the wine; if you fancy a more up-market tipple then you simply pay the difference. I like it when a venue gives you the freedom to choose and keeps it straight forward :)
There is a wide variety of dishes on the menu and some of them do require advance ordering, such as the Lobster Thermidor (requires 3 days notice, and is subject to availability) and T-Bone and Tomahawk steaks which both require 48 hours notice.


Anyhow, back to our main courses. I had requested my steak be cooked rare, whilst His Nibs asked for his to be medium. Both steaks had been cooked perfectly as per our instruction, and the meat was incredibly juicy and flavoursome. We had both opted to have sauces as an extra accompaniment; I had a wonderfully creamy but robust Stilton sauce and The Man Bird had a 3 peppercorn sauce which apparently had a great heat to it, but not a set-your-mouth-on-fire heat.
Both of us chose the triple cooked beef dripping chunky chips to go with our steaks; personally I can't be doing with skinny, runty French fries with a steak, I think a good steak partners proper thick chips perfectly. The chips were lovely, everything you want in a good one; pillowy soft inside, nice outers that carry a hint of the dripping on them, and a mouth-filling size.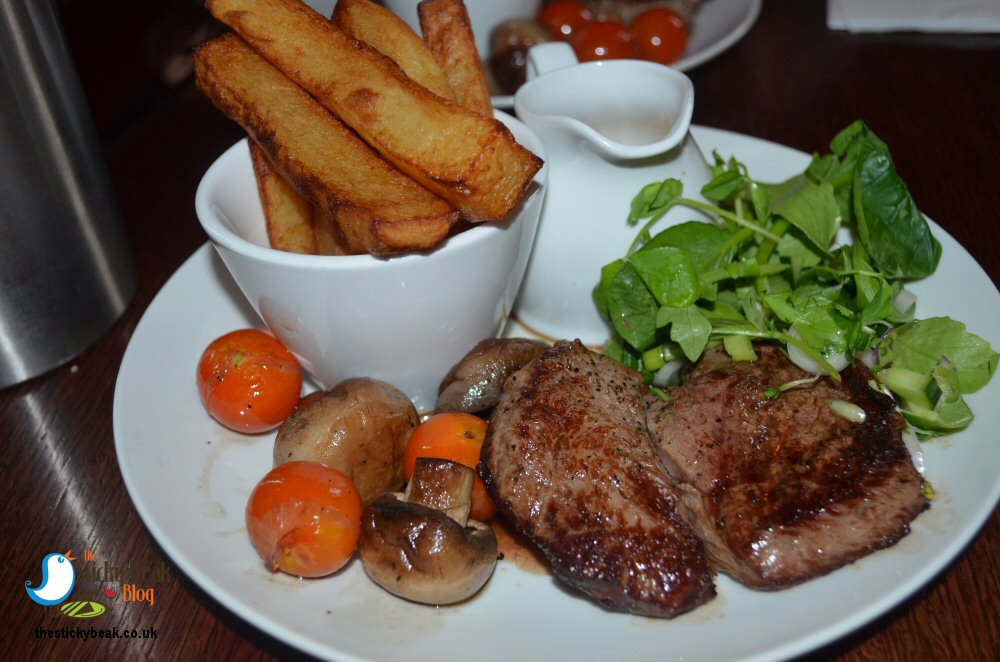 The roasted cherry tomatoes were gorgeously sweet to bite into and the button mushrooms had a great earthiness to them which I love. There was a nice sized salad garnish on both plates and the mixed leaves were crisp, adding texture to the dish (as did the slices of raw Red Onion). All in all the dishes were very well put together, and the only evidence left on our plates was the outer layer of fat on the steaks that give them their juiciness whilst being cooked.
I should say that the Zinfandel rose wine we had was going down rather well; more on my part as His Nibs was driving. For a house wine it was more than adequate, some might find it a little on the sweet side; I personally like a drier wine, but didn't find this one to be unpleasant in any way.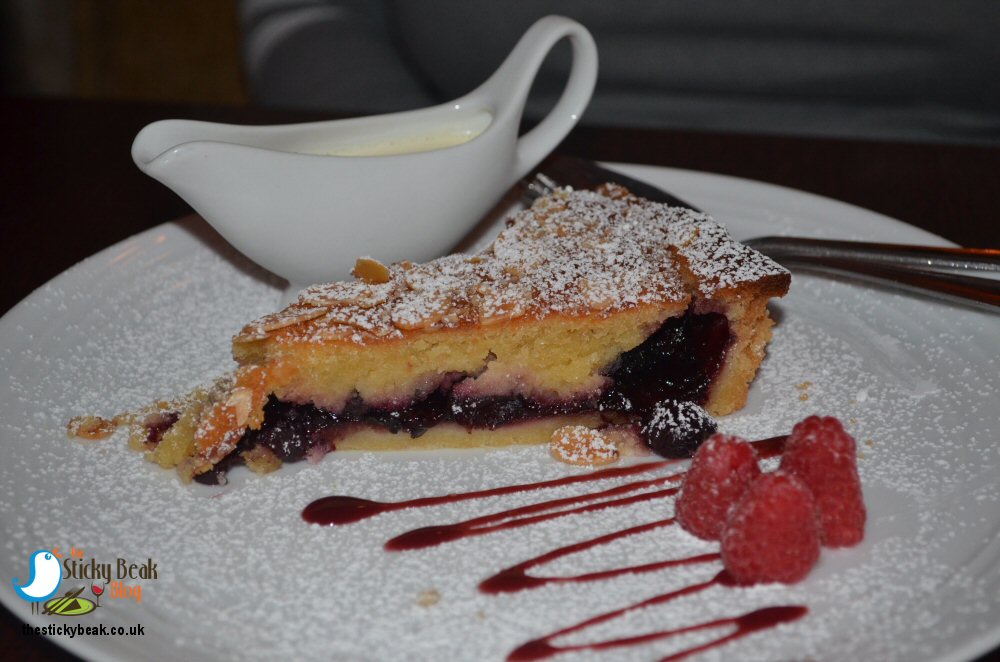 It will come as no surprise that we ordered pudding, although my choice may well shock a lot of you so let me explain. I am a bit of a purist when it comes to Derbyshire's beloved Bakewell pudding, to my mind it is a pudding not a tart; although if you must have a tart at least don't succumb to one of those ghastly icing topped things. I saw a Black Cherry Bakewell Tart on the Durham Ox menu and thought "eh? Black Cherry, it should be Raspberry"; however, my curiosity got the better of me and I thought in for a penny, in for a pound and ordered it anyway! The Boy Wonder went for the cheesecake of the week, a White Chocolate and Raspberry one on this particular week.
Both desserts were nicely presented, not in any flashy sense, but just cleanly and classically. The cheesecake had a nice thick but crumbly base that was topped with the pleasingly dense, rich and creamy cheesecake itself. In the midst of this creamy yumminess was a layer of whole fresh Raspberries. The balance between all 3 elements was brilliant; you got the flavour of them all distinctly in the mouth when eaten as a whole.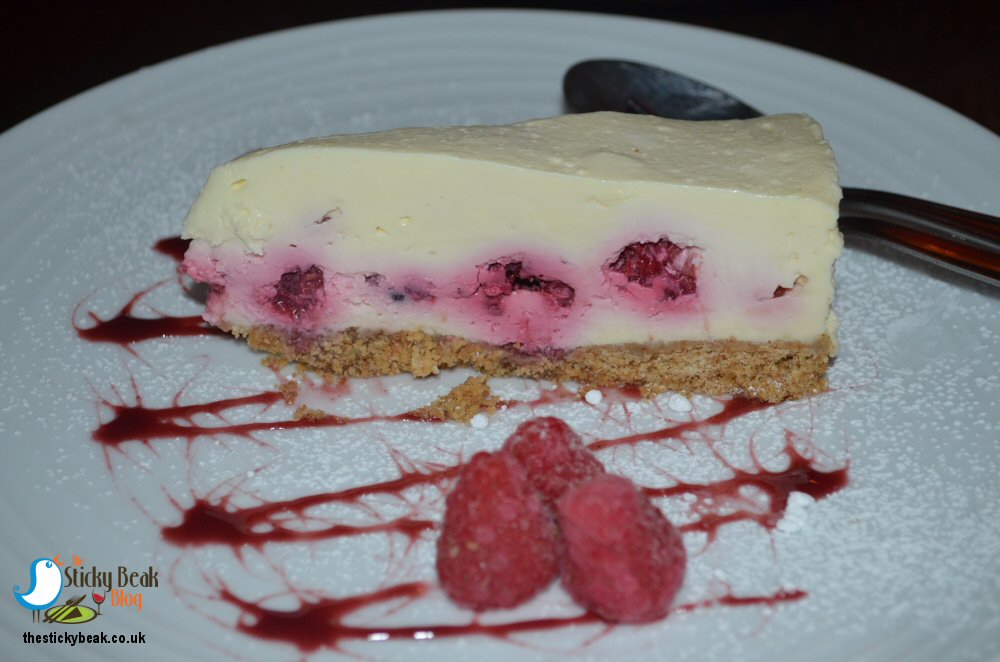 My Black Cherry Bakewell was surprisingly good; now don't misunderstand me, nothing can touch a proper Bakewell Pudding but for a dessert with a different take on a classic it could've been far worse. It was served warm which gave the frangipane layer that wonderful unctuousness that coats the mouth and the whole Black Cherries were perfectly tart-yet-sweet. The pastry case was nice and buttery and there were a nice amount of toasted Almonds on the top to add texture and taste. Whilst it won't take the crown in my own personal opinion on what a Bakewell pud should be, I have to say that it was a great end to my meal; fair play to you Durham Ox :)


A couple of black coffees ended our time at the Durham Ox, and we were pleasantly surprised when a Cafetiere of freshly brewing coffee was brought over. I'm probably showing my age here, but I do like a good Cafetiere; there's something about the ceremony of letting it brew to your taste and then gently depressing the plunger down as far as it will go. It was a nice coffee as well.
Hot Wings to The Durham Ox team, your steak night gets the thumbs up from this Bird :) If you haven't been before, it's well worth a visit. I would ring ahead and book a table just to be on the safe side, and obviously there are certain dishes that need advanced notice as I mentioned, so don't forget that either.
No incentive was provided to visit this venue
read more