Dinner At Angelo's At The New Inn, Milford
Published On Sunday 23 Jul 2017 by Sticky Beak
See All Recent Reviews
It was lovely to finally make it through the doors of Angelo's restaurant at The New Inn, Milford, Belper; we had firmed up a date before we went away to America and Canada so it had been a few weeks to wait.
Angelo's was worth waiting for though, I have to sayJ. The car park is nice and large and the walk up the steps to the restaurant is; well, it's a great way to work up an appetite! As we walked through the doors we were greeted warmly by a lovely young lady; we had arrived a little early but were given the option to have a drink at the bar or go through to our table.
The restaurant has a light, airy feel to it and there is some lovely artwork on the walls to admire. Medium hued wooden floors add to the warmth of the space and the tables have a nice amount of privacy between them. I liked the chairs, they were very comfortable to sit in, and the tables themselves were set out in shades of cream and truffle with sparkling cutlery.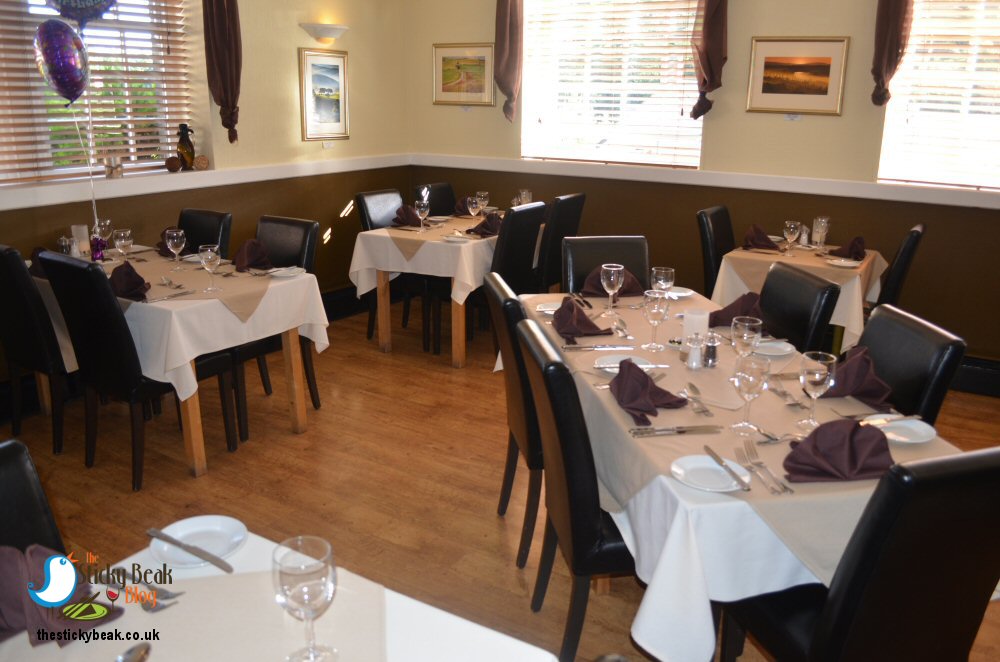 Having been in America where customer service is perceived as being excellent (which it was, don't get me wrong) it was refreshing to have genuine warmth and friendliness from our servers. The young lady offered us water for the table and then came over with a bread basket for us to nibble at whilst we looked at the menu.
In addition to the regular menu there was also a specials board offering even more delicious options to choose from. Whilst we were deciding what to have another member of the team came over with some Bruschetta for us both. I must admit to being rather partial to a nice Bruschetta and the one at Angelo's was gorgeous; crisp, warm bread that had been rubbed with Garlic was topped with chopped fresh, sweet Tomato and a smattering of fresh Parsley. Nice, clean notes hit my mouth and the juices started flowing in anticipation of what was to come later in the meal.


We weren't the first diners to be in the restaurant and throughout our time there a steady stream of people trickled in; at one point every single table in our side had been taken, and the other side was bustling too. Celebrations of all kinds were taking place, both within families and also groups of friends.
Eventually we settled on the Meatballs (His Nibs) and the Parmaggianna di Melenzane (my choice) for starters. When they came, both dishes were very nicely presented. The Meatballs were a lovely size for a starter dish, probably about an ounce each in weight and four in number; no encouragement was needed for The Man Bird and he tucked straight in!




What he loved about his choice was the fact that the meat had been nicely seasoned and was melt-in-the-mouth texture-wise. A rich, velvety Tomato sauce partnered them brilliantly and so good was it that he pinched my spoon to scoop up every last bit of itJ. Our lovely server had also brought a dish of freshly grated Parmesan over and spooned some extra on the top at his request.


My dish was slices of Aubergine and Parmesan baked in a Tomato sauce; I haven't seen this dish in quite a while and I do like Aubergine I must admit. This was a super starter comprising creamy baked Aubergine, gooey cheese and a deliciously rounded Tomato sauce that was sunshine personified. Every mouthful paraded itself on the palate and I revelled in its piping hot deliciousness; it wasn't a complicated dish, but I've said on many occasions that the simple things are often the best.
I had decided to have a dish from the specials board for my main course, King Prawns and Monkfish in a cream and white wine sauce; The Boy Wonder had Pollo Cardinale, Chicken breast stuffed with cheese and Prosciutto Ham. Both dishes come with a selection of fresh vegetables and choice of Potatoes and I ordered a mixed side salad in addition.


Again, the presentation was very nice, and both meals were piping hot. The size of the King Prawns in my dish was astonishing; I think they had been in cahoots with Joe's Seafood, Prime Steak and Stone Crab restaurant in Washington D.C and had them shipped over specially! I loved the juiciness of my Monkfish fillets; it really allowed all the flavour of their sweet, firm flesh to shine through. The delicate taste of the white wine and cream sauce enhanced rather than over-whelmed the fish and seafood components and there was just enough of it to be enjoyed without it drowning the plate.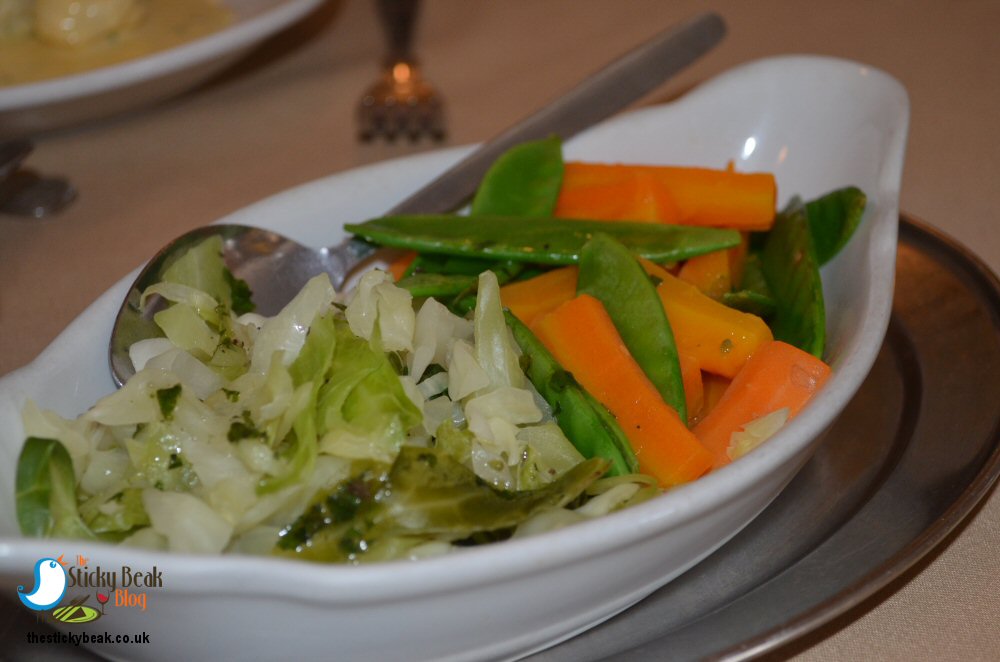 I dipped into vegetables, mainly having the perfectly firm Cabbage for myself with a couple of Carrot Batons and Mange Tout as well. His Nibs doesn't like Cabbage much so he tucked into the other choices and the Potatoes. The herby Potatoes were lovely, a perfect balance of crispy, soft, and herbiness. Homemade chips were the other Potato choice we selected and these were packed with taste and had a lovely texture to them.
The Man Bird was presented with a massive Chicken breast that had a lovely core of melted cheese and slices of Prosciutto. He said that the chicken was lovely and moist and the flavours worked nicely together. This dish came with a creamy Tomato sauce that was very silky and provided a great contrast to the other flavours. It took some effort to polish off this sizeable beauty but he did mange it eventually!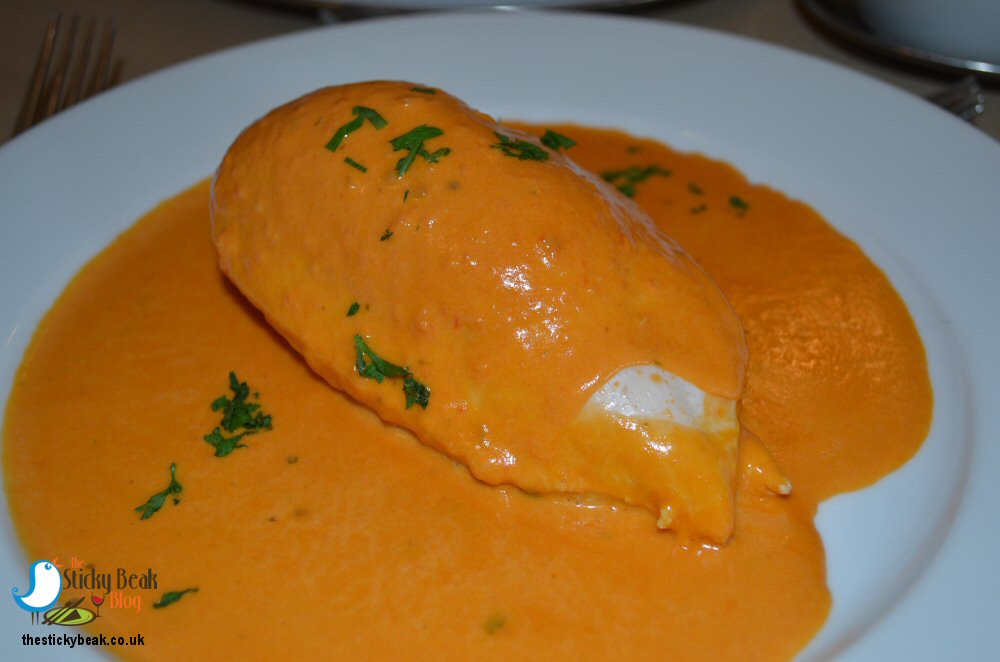 My mixed salad was dressed with a Balsamic Vinaigrette and was made up of Black and Green Olives, Red Onion slices, Tomato wedges, and mixed leaves. All the elements were fresh and crisp, and bursting with flavour, so not much went begging on either of our plates.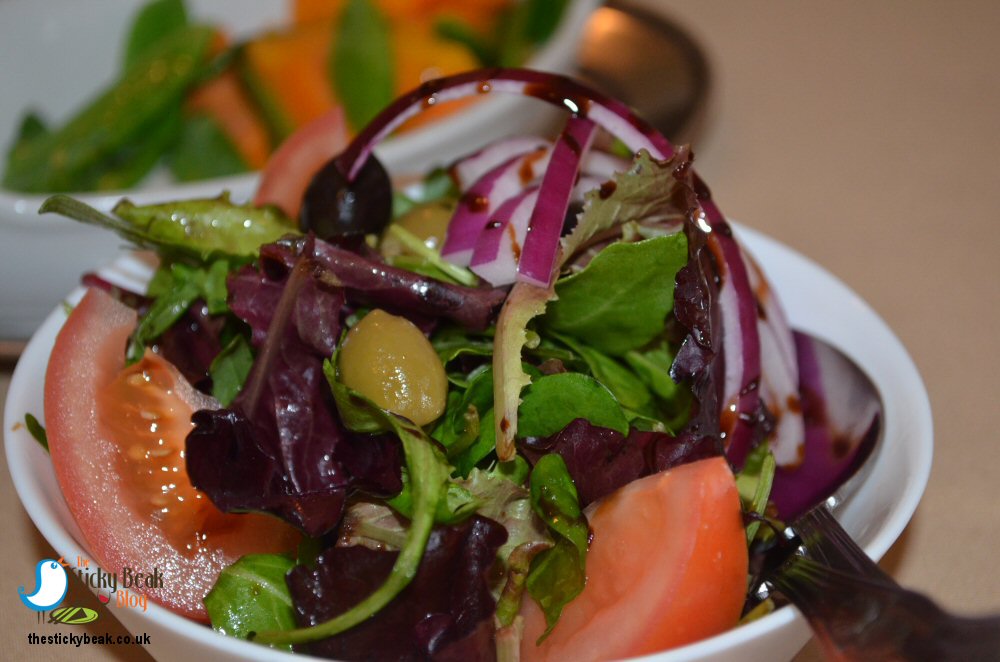 The standard of service from the Angelo's team was very high throughout our meal and several servers came to check that we were happy with the food over the three courses that we had. There was never a rushed feel to the time we were there but neither did we have long periods to wait for the food to come.
For pudding I had the Cheesecake of the day, which was Lemon, and chose to have cream with it; The Boy Wonder had the Syrup Sponge and had Custard to accompany it. All I can say about my Cheesecake is "Wow!" It was bright, fresh, tart on the tongue, and bursting with Citrus.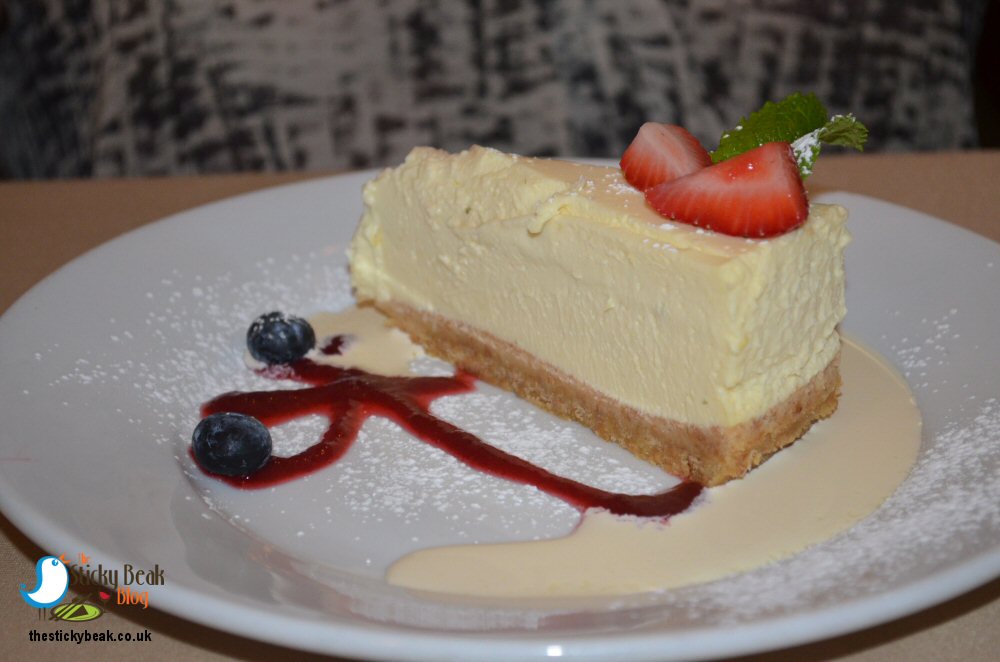 The thick layer of Cheesecake sat on a deliciously firm, buttery base that wasn't overly thick so as to overtake the taste and texture of the topping. I loved the superbly firm texture of the filling; it was firm against the fork and spoon but instantly melted on the tongue, perfect. Again there was a nice amount of cream to enhance, rather than overwhelm the dessert and I liked the garnish of fresh Blueberries and Strawberry.
Nothing rounds a meal off better for The Man bird than a light, airy sponge and the one at Angelo's was the business. A gorgeously gooey layer of syrup on top of the sponge had him grinning like a kid in a toy shop! The custard was wickedly creamy and there were lashings of it, so it was a real comforting morsel to enjoy.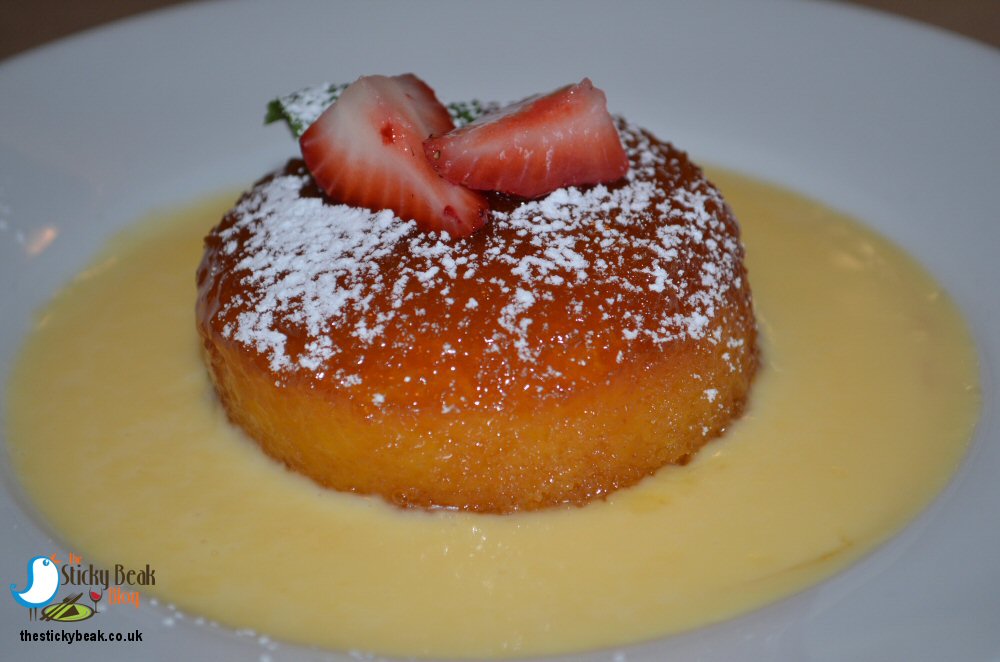 We ordered a couple of black coffees to finish up with and I was very happy to see those iconic after dinner mints, After Eight's, on the side. I don't care what people think, I love those squares of mint fondant-filled dark chocolate; you can keep your Elisabeth Shaws or whatever you have at home, I know what I like :)
Thank you to Angelo's for inviting us over we had a delightful evening with you. If you haven't eaten at Angelo's at The New Inn at Milford, Belper yet, it's well worth going and trying their wonderful food for yourselves. We went on a Thursday evening, and given how busy it was I would definitely recommend you ring ahead and reserve a table. Hot Wings well deserved here :)
Some form of incentive was provided to visit this venue
read more