Stay At The Sheraton Skyline, Heathrow En-Route To The USA
---
Published On Sunday 2 Jul 2017 by Sticky Beak
See Recent Holiday Reviews | See All Recent Reviews


As you know dear reader, my little Flock are off on an American and Canadian adventure; the first stop on this journey is a night at the Sheraton Skyline Hotel at Heathrow airport. We set off after filling our tummies with My Mummy Birds' delicious Sunday Roast lunch, and actually made really good time.
A little over 2 ½ hours saw us pulling into the hotels car park having found it straight away. The Man Bird went and found a member of staff just to check that we had parked in an allowed area; he came back with a lovely gentleman who put our cases onto a trolley and took them into the lobby.
The check in process was a doddle thanks to the very efficient, professional chap on reception and before we knew it we were in the lift and opening the door to our room; and what a room it was. Our beds were a fantastic size and kitted out in pristine white linens; I've got to be totally girly here and mention the pillows, they are the plushest, softest ones I have ever encountered! There were drinks making facilities in the room as well as a decent quality hair dryer that would actually do the task in minutes rather than hours or days.

A gentle knock at the door revealed the staff member with our luggage, whose smile was wider than the Cheshire Cats' in Alice in Wonderland. We took the opportunity to check out the bathroom with its generous sized bath and shower combo, and I was impressed with the range of toiletries available.


The Sports Bar menu is lovely and varied with something for everyone; I chose Chicken skewers with Peanut Satay to start, Chickadee had the Bruschetta, and His Nibs had the Calamari with sweet Chilli dip. All the starters were delicious and piping hot, as well as being very generously sized and we all thoroughly enjoyed them. Our server Lydia brought over our drinks; Pimms for me, water for my Chick, and a pint of Stella Artois for The Boy Wonder.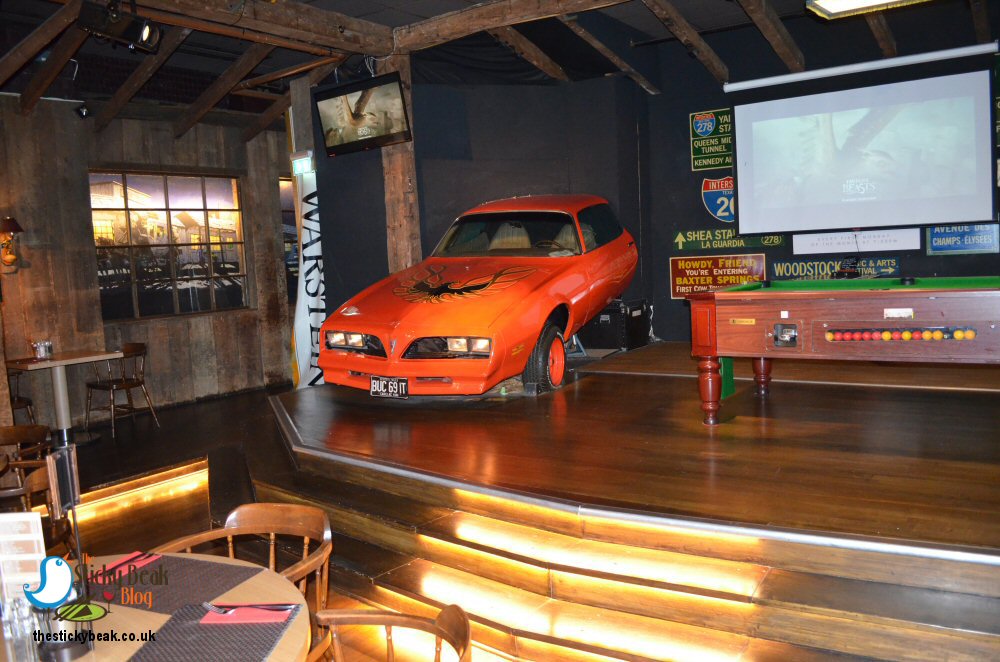 Romel (the restaurant manager) and his team were making sure all the diners were happy, keeping drinks flowing and serving food very expediently. It wasn't long before our main courses were gently being placed in front of us and boy did they look fantastic. The Chick and I had both chosen salads, Chicken and Bacon Caesar for her, and Salmon Nicoise for me; His Nibs fancied the California Hot and Spicy Burger which came with fries included. Both the salads were huge bowlfuls of deliciousness and they had just the right amount of dressing on them; enough to be tasted but not too much that the salads got drowned. There was Salmon, Chicken and Bacon in abundance in both dishes and our taste buds were dancing in delight at all the different tastes and textures in them.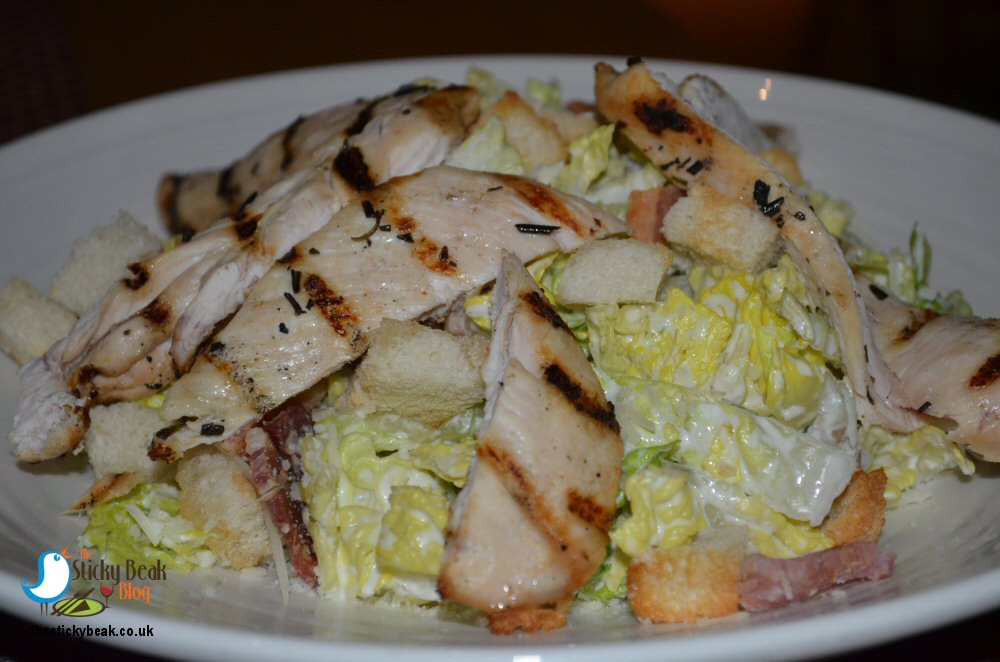 The Man Birds' burger was a proper belly busting affair and the patty itself was nicely seasoned and had a brilliant dense, satisfying texture to it. Jalapenos and a spicy sauce kept the palate on high alert, with melted cheese providing that all-important finger licking factor that is essential to any quality burger meal. The fries were lovely and crispy on the outside and superbly soft inside; they may not be homemade but they are very tasty which is what counts.


I was the sole member of the flock that could manage any dessert and I wanted the fresh fruit salad, just on its own, no cream or ice cream to accompany it. Very often it is the simple dishes that can tell you most about an establishment, as the saying goes "you can't make a silk purse out of a sow's ear"; basically you can't disguise the quality of fruit in a plain salad, it's either fresh or it isn't. Lydia set me up for dessert and when the fruit salad came I was very pleasantly surprised. I had crisp green apple, red and green grapes, fresh pineapple, cantaloupe and galia melon, raspberry, and strawberry in a large bowl and it looked so tasty and pretty. Every single piece of fruit was delicious and nicely chilled but not so cold that it tingled your teeth or gave you brain freeze; so annoying when that happens.


Another knock at the door took us a little by surprise; a very smartly attired young gentleman had brought us a trio of plates filled with all sorts of yummy looking sweet treats. My Chickadee absolutely loved the half chocolate covered biscuit and the ultra gooey Macaroon, whilst I couldn't get enough of the Lemon Tart and Chocolate Torte. His Nibs was enjoying the shortbread rounds with their fruit sauce garnish, especially when he paired them with the fresh Raspberries and Strawberries.


We unpacked our swimwear and headed down to the indoor pool with its lush tropically-inspired landscaping. Towels are provided and there is plenty of comfortable seating to relax on if you don't fancy getting your toes wet. The Man Bird and I were both ready for a stretch out and when we spotted an inflatable ball in the pool we couldn't resist having a session of water volley ball; just the ticket to unwind after a long drive and work up an appetite ready for dinner.


If we hadn't had My Mummy Birds awesome roast lunch we may well have chosen to eat in Madhu's Restaurant as its menu sounded superb. As it was we didn't fancy feeling over stuffed and headed over to the Sports Bar and Grill; this venue has a fantastic laidback atmosphere to it and its dimmed lighting enhances the chilled out vibe. You can watch whatever sports happen to be on via the plethora of screens dotted around and have a refreshing drink, or you can play a game or two of pool on the pool table, or do as we did and enjoy a family meal together.
With our tummies filled up we headed back to the room and sighed with happiness as we reclined on our uber-comfy beds to watch a bit of T.V. I really can't tell you how amazing those pillows are; phenomenal is probably the best way to describe those bad boys. If I could, I would smuggle a pair of them back to the nest let me tell you!


If you ever find yourselves looking for a hotel at Heathrow airport, you definitely need to book in at the Sheraton Skyline. Without exception the staff have all been so friendly and polite and every question we've asked has been answered without hesitation, even down to the exact time and number of the "Hoppa" bus that shuttles you to the terminal you require.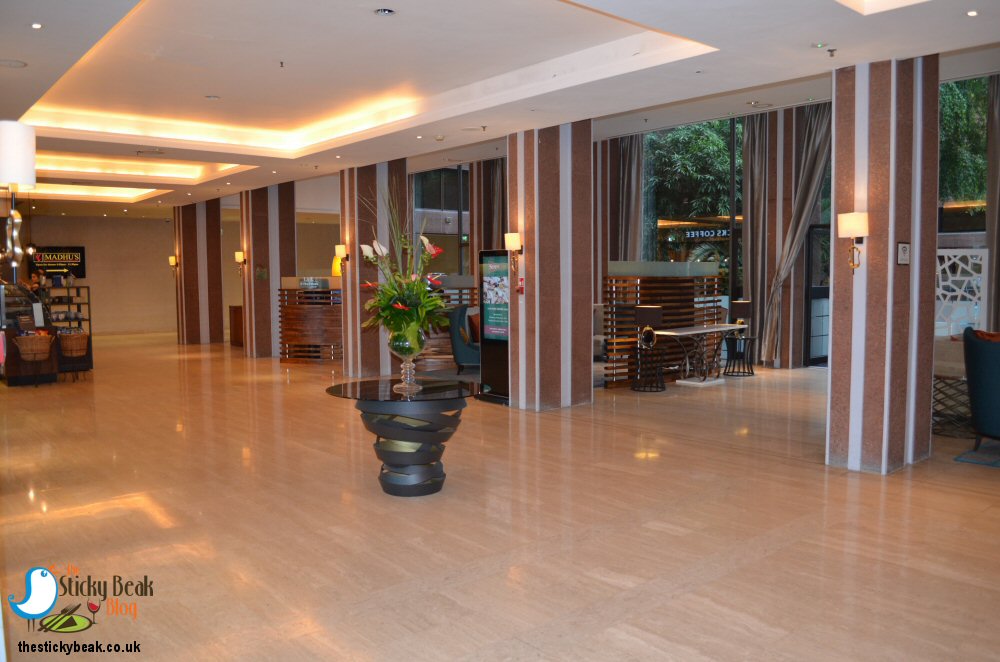 I am really looking forward to sampling the buffet breakfast in the morning, if it's the same standard as the evening meal we'll be fully fuelled and ready to face our busy day ahead; with the time difference it's certainly going to be a long one!
Hot Wings very much deserved at the Sheraton Skyline Hotel, Heathrow; both for the food, the rooms, and the standard of service from the staff :)

Read the next article in the series:
Flying To Washington DC With United Airlines