The Taste of Kedleston Menu At Kedleston County House
---
Published On Sunday 18 Jun 2017 by Sticky Beak
See Recent Dining Out Reviews | See All Recent Reviews


Kedleston Country House has a new Manager, Samantha Ascroft, who along with Head Chef Joe Wood and his amazing kitchen team, has devised a superb summer menu using the best seasonal produce. The showcase evening for this menu was last week and we were kindly invited along to sample the new delights and meet Samantha too.
The building itself is stunning anyway, but the lovely evening sunshine just seemed to bring things even more alive; especially in the Orangery where the evening was being hosted. The Orangery has beautiful slate flooring and the natural light was such that all its subtle tones could be appreciated; its red brick walls were also more vibrant in the sunlight,and their warmth created a great cosiness. All the greenery was at its peak; ferns, grasses and even potted bamboo, which looked stunning and brought the space to life.
Alex showed us to our table, one that afforded us a brilliant position from which to see the other guests arriving; I do like to indulge in a spot of people-watching as you know dear reader! His Nibs had fancied a pint of Poretti beer and I was in the mood for a cheeky, chilled glass of Sauvignon Blanc. It must be said that there is a fantastic range of wines and beers to be had at Kedleston Country House.


Another young lady, Rosie, brought over two Lincolnshire Poacher cheese puffs for us to nibble on, and they were just the thing to get our taste buds on alert. The puffs themselves were lovely and warm so that the centre revealed the gooey cheese; they managed to be light in the mouth, but substantial enough to be savoured. Personally I love Lincolnshire Poacher cheese because it has a lovely robust tang to it that can't fail to be noticed on the palate, but it doesn't linger in the mouth and leave a nasty aftertaste.
You may recall in earlier reviews that I've written about Kedleston Country House that I mentioned the rather delicious Beer Bread that Chef Joe serves with butter and (this time) Pork Dripping. I'm happy to report that Alex brought a lovely metal basket containing a warm, fresh mini loaf of this tasty morsel to our table for us to enjoy, and we greedily broke it apart in double-jig time!


As our starters were being brought to us several other tables were arriving and soon the Orangery came to life with the bubble of chatter and laughter. There was a pleasing mix of tables too from groups of older couples, to just couples, as well as a table of young men enjoying a boy's night out with a twist.
I had chosen Lobster, Sea Trout, and dressed Crab with Fennel, Saffron, and Beach Herbs for my first course and The Man opted for Lamb Shoulder, and Sweetbread, with Pea Purée, Broad Beans and Mint for his starter.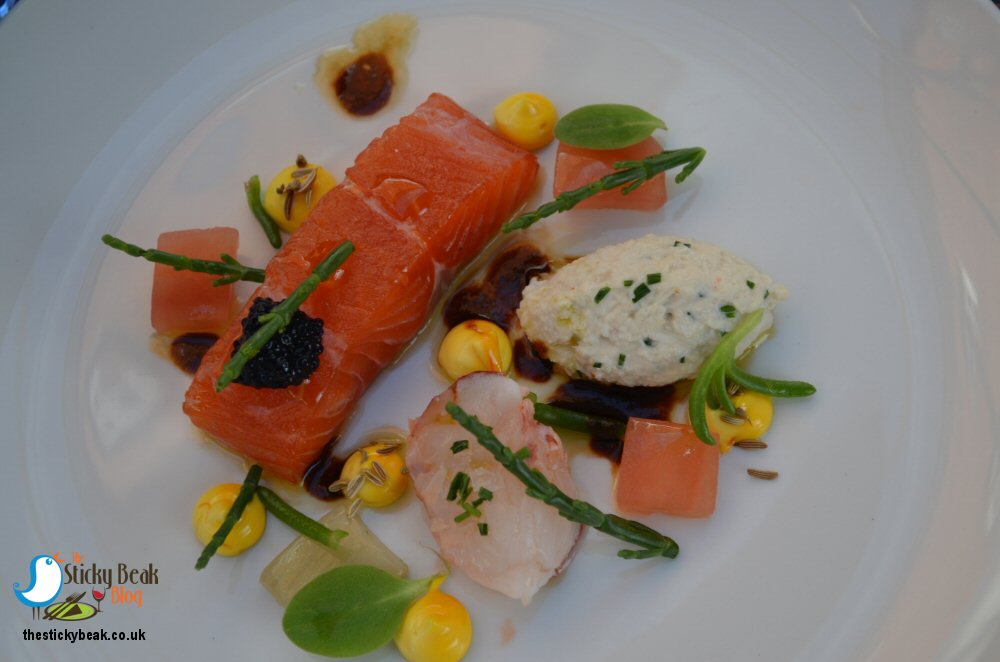 No surprises to see that the food was presented artfully, with each element carefully positioned to please the eye. All three types of fish and seafood on my plate were incredibly fresh and flavoursome; the Sea Trout fillet was firm and dense with a light taste, the Lobster tail was deliciously fragrant and meaty in texture, and the white Crab meat was so incredibly sweet and juicy to eat.

A delicate dot of Caviar decorated the Sea Trout, and its salty note lifted the fish within the mouth. Another summer taste that I adore is Samphire; I've waxed lyrical about the memories this morsel evokes for me, so I was very happy to savour its crunch on this occasion. Gentle aniseed hints and texture were added thanks to the judicious use of Fennel seeds scattered on the Saffron Mayonnaise. It was a clean, vibrant starter dish that scored top marks from yours truly, not just for its flavour, but also for its presentation.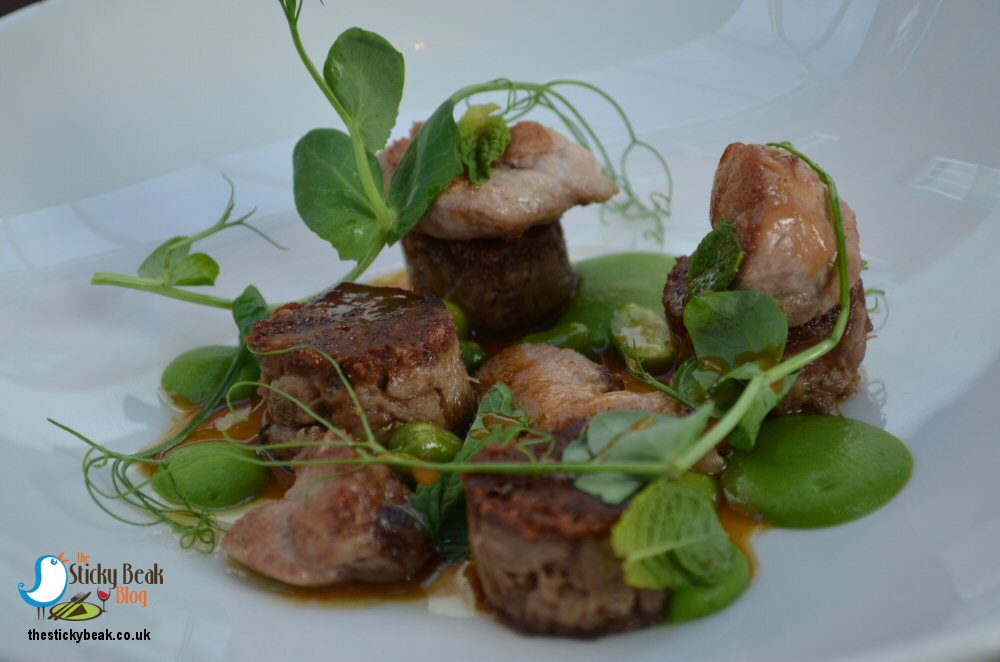 The Man Bird was just as thrilled with his Lamb starter. The rounds of shoulder meat were topped with paler sweetbreads and had fronds of Pea shoots adorning them, with droplets of verdant Pea purée interspersed around the plate and Baby Broad beans nestled in this. What he really loved though was the crispy outer the shoulder rounds had, and the way the meat shredded apart in ribbons yielding their lovely sweet, rich taste in the mouth.

The sweetbreads were creamier and more delicate in flavour obviously and they had a tender texture too. The lightly minted pea purée and broad beans were both superbly sweet; being in season really does showcase them at their finest point, they manage to be delicate but full of taste at the same time.


Juliana asked how were enjoying our starter and asked if we were ok for drinks, returning a short while later to clear our empty plates away. At this point Samantha managed to come over and have a quick chat to us, which was lovely, and we spent a few minutes getting to know each other. It was wonderful to see Ian, the Maitre D' again, he is such a gentleman and nothing is too much trouble for him. Last night he was running a very tight ship making sure his team are focussed and happy, providing the highest standard of service to the guests dining at Kedleston Country House.
One thing that stood out for His Nibs and I during the evening was the fact that Samantha was supporting her team at a large table of guests to ensure the efficient clearing of plates and delivery of food. It was lovely to see that she was also going around each of the tables talking to diners, checking on their comfort and satisfaction.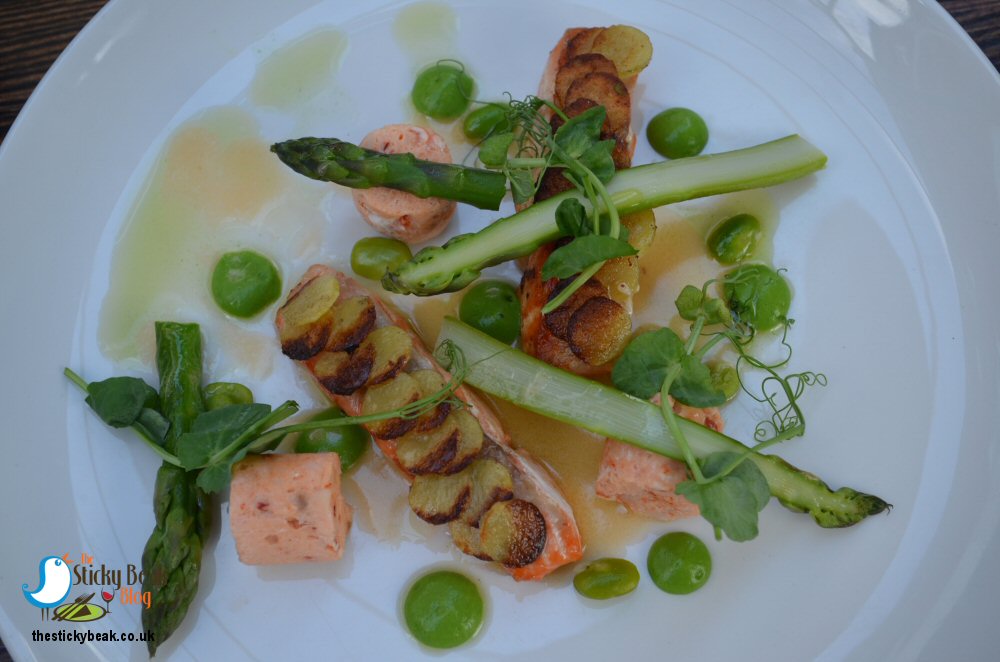 For our main courses we had chosen Sea Trout "Potato Scales", Smoked Salmon, Asparagus, Peas, Broad Beans, and Horseradish (my choice), and Packington Pork Belly and Cheek, Cauliflower, and Smoked Raisin purée (The Mans selection). Our eyes goggled at the beauty before us, Chef Joe Wood and his talented team really were on fire with these dishes!
The Pork belly was lovely and creamy; very tender and a lovely crisped, thin layer of the fat on the top. Hardly any pressure was needed from the knife because the meat was coming apart so easily. Joe had served the cheek two ways; first up was the plain way, just the cheek cooked and laid on the plate, and then there was a croquette of the cheek to savour as well.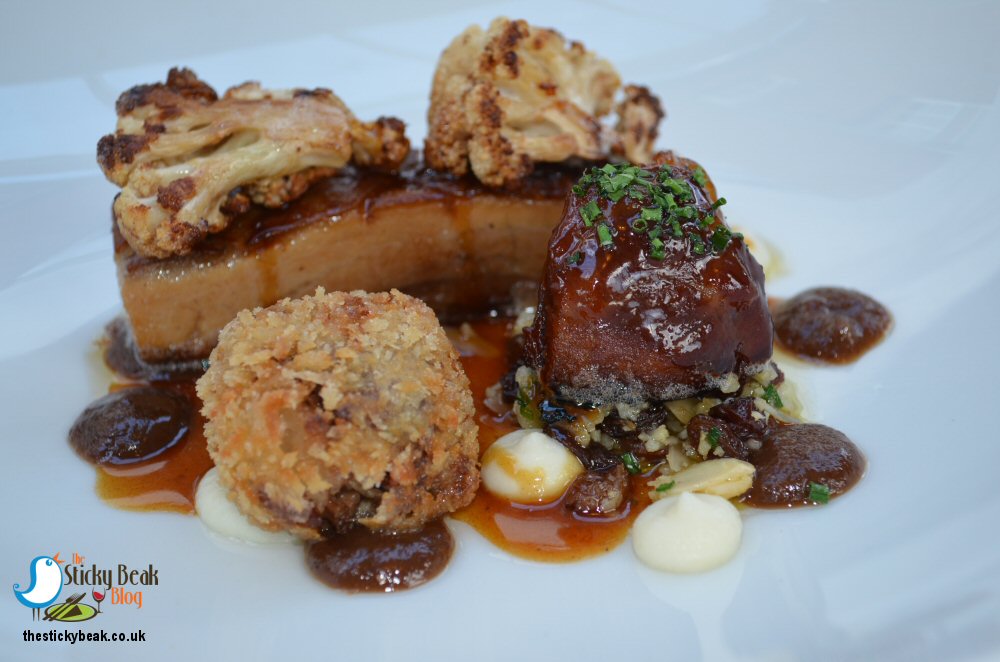 The cheek meat is obviously more robust in flavour and denser textured because of the use it gets in the animals daily life. You can't beat a wonderfully crispy croquette and Kedleston Country House really does serve a great version; superbly crispy outside, not at all oily, and packed with nicely seasoned Pork cheek. The smoked Raisin purée went incredibly well with the pork and charring the Cauliflower florets really brought their flavour out.
My Sea Trout fillets were decorated with Potato "scales"; tiny rounds of Potato that had been coloured on one side to look like real fish scales. It looked so beautiful, that I sat and just studied it for a minute to really appreciate the skill, care, and artistry that went into assembling it. Thankfully it tasted as great as it looked! The rounds of Salmon mousse were equally delicious; the Salmon itself hadn't completely been blitzed, giving a great textural element to this part of the dish. I loved the hint of Horseradish in the mousse as it just imparted the merest whisper of warmth to the palate.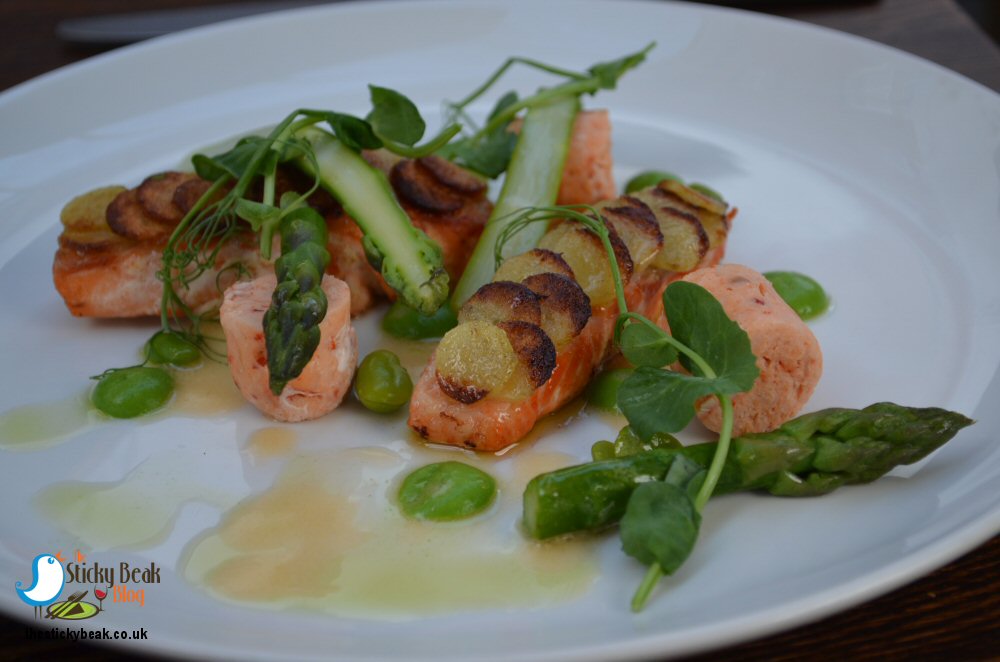 Another summer vegetable that gets my taste buds hopping with glee is Asparagus; I don't care what anyone says it really is great in season. Granted, if it is allowed to mature too long then the stalks can get rather tough and woody, but the stalks used at Kedleston were young and tender and bursting with sweetness.
Katy came to check how we were enjoying our mains, and was very happy to hear our praise, saying that she would pass our comments to Chef Joe and his team.
The summer menu at Kedleston Country House also offers light bites and classic dishes and refreshing salads as well as the "Taste of Kedleston" evening menu, so whatever time of day it is, there is always something delicious to eat. If you fancy a more traditional afternoon experience then their marvellous Afternoon Tea menu with all its freshly made cakes and artisan bread sandwiches is sure to delight.


I can honestly say that I could've eaten all 13 dishes (excluding the cheese course) on the Taste of Kedleston menu that we were sampling. The four starters, four mains, and five puddings have clearly had a lot of thought put into them and utilise seasonal ingredients for maximum flavour. Some of them came from the Kitchen Garden that Chef Joe Wood has carefully been nurturing and I really do believe that small-scale produce has a better taste than commercial versions.

Priced at £29.50 for two courses or £35 for three courses (£3 supplement for the Cheese course as dessert) the Taste of Kedleston summer menu is very good value given the quality, and quantity, of the food you get.


I had already decided what I was having for dessert from the very first second I saw it; Joes Rhubarb and Custard Soufflé. Last time The Boy Wonder and I visited Kedleston I had the Soufflé and it was so good the memory is burned in my brain! Alex at this point told us that Chef, however, had other ideas and had done a special dessert just for His Nibs and me.

Well it turned out to be not just one dessert, it was three delightful morsels. Homemade Cherry Iced Cream (in the traditional sense), Pistachio sponge, and a White Chocolate Mousse had all been lovingly arranged on wooden platters and fresh Cherry halves and Pistachio nuts were arranged between them.
Where to begin? The Cherry Ice Cream had been handmade and there were tiny pieces of ice to crunch in it, rather than it being the homogenous modern version, so that you got little tingles on the tongue from it! Cream is, well, creamy and fairly innocuous tasting naturally, so the addition of tart, slightly sour Red Cherries to it gave it a superb vibrancy in the mouth. Genius!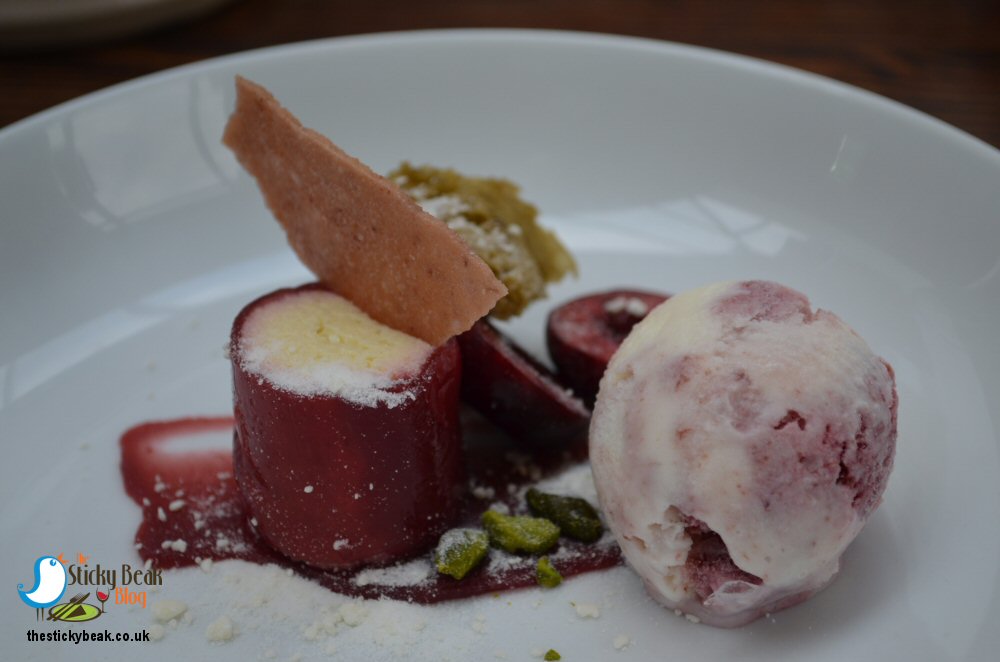 The Pistachio sponge was ludicrously light; I have absolutely no idea how Joe managed to create such a masterpiece, I didn't know cake could be this airy. It had a lovely delicate hint of the Pistachio in it and took on the natural green colour of the nut.
The White Chocolate Mousse had been wrapped in a Cherry Gel and the contrasting colours really did look gorgeous. What we loved about this mousse is the fact that despite its immense richness it isn't at all heavy on the tummy, win-winJ. The tangy Cherry gel also provided a great contrast of flavour to this dessert against the smoothness of the Chocolate.


As is our usual habit, we ordered coffees to round things off and that's when The Man Birds' beady eyes spotted Alex coming towards our table with another pudding! Joe, exceptionally thoughtfully given how busy his kitchen was, had made us "The Sticky Tribute" Soufflés! With it being so popular an evening I never got to thank Chef Joe Wood personally, but I want to say a huge thank you; such a kind and generous gesture really did touch us both.
If heaven had a restaurant, this would be the dessert they would serve! This gossamer-light soufflé rivalled the Empire State building in height and had tiny pieces of toffee within it; my mouth was in a state of un-paralleled glee, doing several dances of joy simultaneously. You're probably thinking that this is as good as it could get, right? Wrong! There was a mini jug of Toffee sauce to pour over the soufflé too; well it would've been rude not too ;) Another scoop of the Cherry Ice Cream with homemade granola clusters was also on the board, and the contrast between temperatures and textures was the proverbial icing on the cake.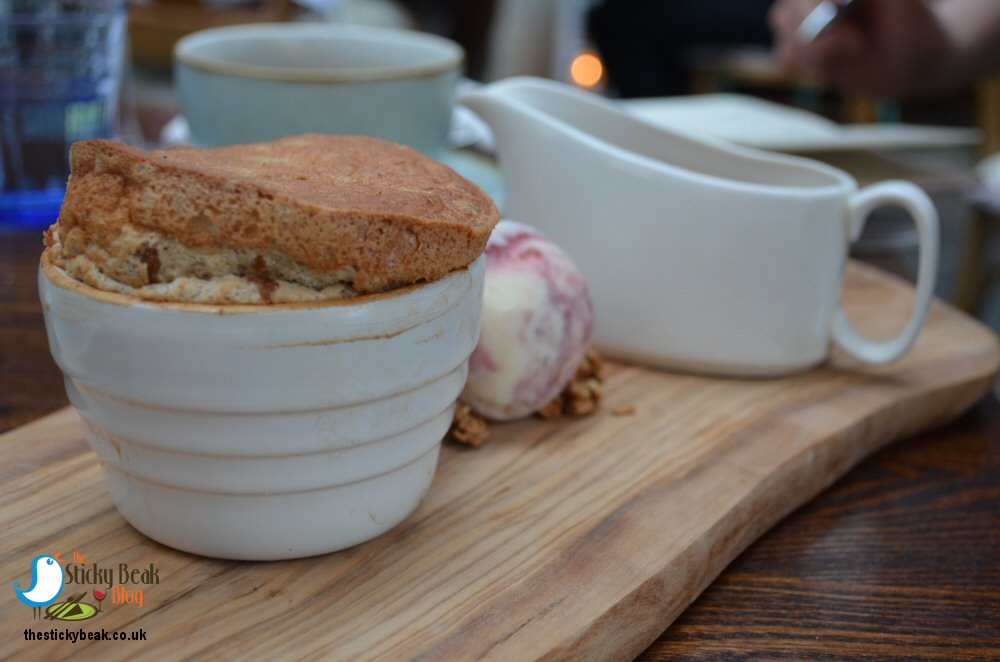 As Ian came to clear our platters away, I told him that if Joe went missing I'd kidnapped him and he was making me endless Soufflés. He asked for our address, and when I replied that I couldn't tell him because then they'd rescue Joe back to Kedleston, Ian replied "No, it's so that I can come and join you in eating the Soufflé". I like your style Ian, I like it very much.
In addition to the Summer menu being available on a daily basis the Kedleston Country House has some incredible events coming up all over the summer and then on into the Festive season, including Christmas and New Year packages. Go and check out their website for more details and see for yourselves. Hot Wings unreservedly given again to the Kedleston team, you really are wonderful.
Some form of incentive was provided to visit this venue
read more