Dinner At The Tickled Trout in Barlow
Published On Sunday 11 Jun 2017 by Sticky Beak
See All Recent Reviews
The Man Bird and I have finally made it to The Tickled Trout at Barlow. It's been on our radar for quite some time but as you know dear reader, time often races away with us and plans don't always work out. Anyhow, as this establishment approaches its third birthday (in August) we have managed to step over its threshold and experience the fusion of Italian and Derbyshire influences for ourselves.
The Tickled Trout has been winning awards pretty much since it began in 2014; the first ones coming in 2015 for Young Chef of the Year (Tom Alberts) and Readers' Choice award, 2016 saw them win Best Gastropub, and they have just won Best Pub 2017 in the Westside Restaurant of The Year awards. Not only that but (hot-off-the-press) one of The Tickled Trout Chefs, Dave Cockerill has, literally last week, won Young Chef of The Year against some excellent competition, and in the high pressure environment of a live cook-off in front of an audience.
As soon as we stepped into the venue we were given such a warm welcome and shown to our table that it was easy to see why it is hugely popular. Managing Director/Chef Patron Chris Mapp runs a very tight ship, not only in terms of the food he serves, but also in the standard of customer service he expects his team to deliver.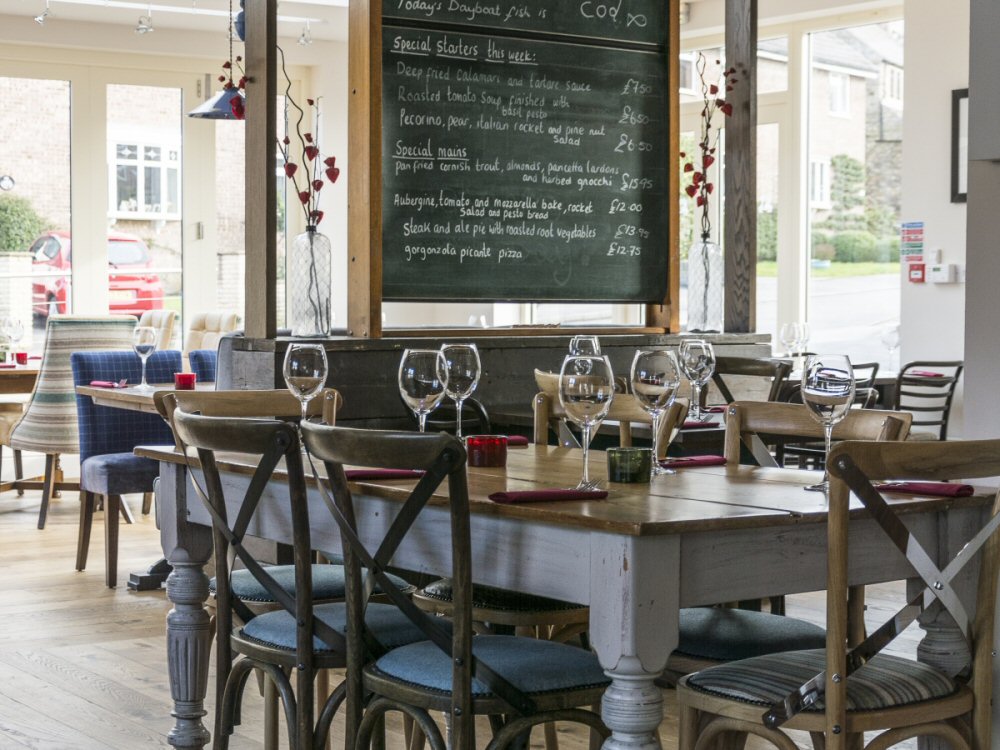 For what was a very sad, neglected village pub only a few short years ago, the transformation is nothing short of startling! It now has a lovely, light airy feel to it thanks mainly to the new conservatory extension with its beautiful glass roof and expansive windows that let the natural light flood in.
The tables and chairs are a subtle mix-and-match collection of items but all have a relaxed shabby chic vibe to them; I really love the very swanky muted tartan chair coverings in blues, greens and creams. There are a couple of banquette seats that have oversized cushions decorating their faded blue seats; I was seated on one of these and they are very comfortable I must say.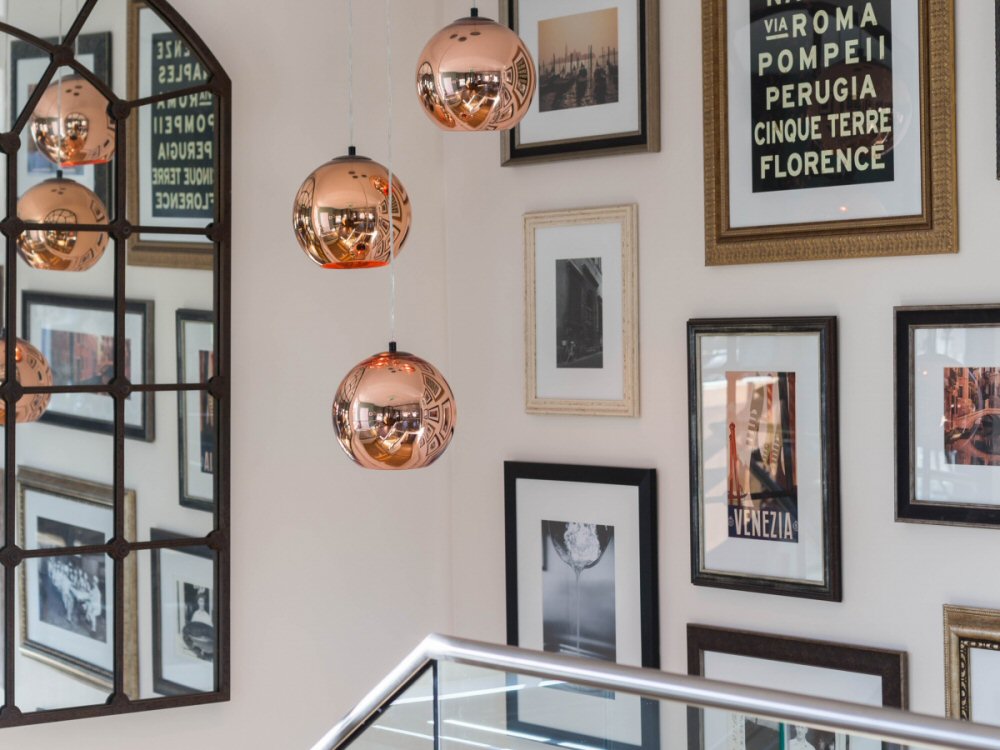 A collection of Italian street scene prints adorn the white walls adding to the relaxed atmosphere that the team have created. We arrived at about 6.30pm and it was already very busy for a Thursday evening with a mix of diners including families with babies and toddlers, to couples, to groups of adults.
One of the team brought our drinks over and handed us the menu to peruse, and pointed the specials board out to us too. A couple of minutes later a tray of Olives, breads, Dukkah and Olive oil was placed before us along with a bottle of chilled water for the table (housed in a very swish etched bottle). It always amuses me how things become trendy in the food and drink world; Amuse Bouches were the trend a while back, and Dukkah/Dukkah, a mix of seeds and spices is the "thing" right now.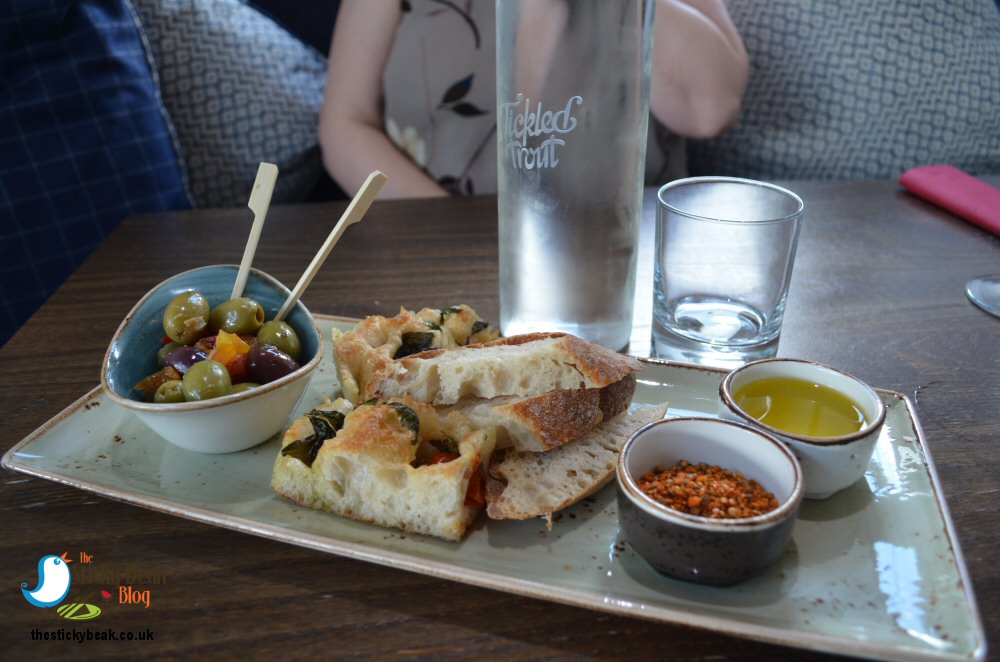 After a short while our starters were winging their way over to us; Parma Ham and Goats Cheese salad for me, Bacon and Egg for The Man. My salad looked beautiful on its long platter, the fresh crisp salad leaves provided the perfect base for the Goats cheese, scattered Candied Walnuts, cubes of Watermelon, and Parma ham.

The salty tang of the cheese paired superbly with the sweet, crunchy watermelon and the slightly smoky hint of the ham was the perfect foil for the candied nuts. All the elements worked well together with none over-powering its neighbours and this resulted in a delightfully well balanced dish that I thoroughly enjoyed. This dish is also available as a main course if you so wish, as is the other starter salad on the menu; Halloumi, Chorizo and Pine Nut.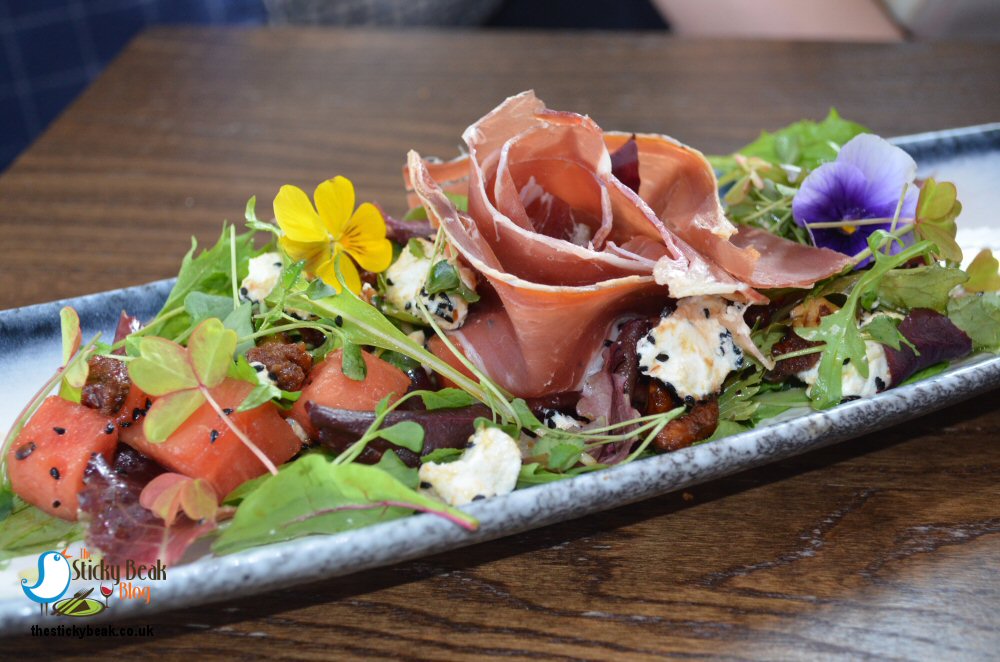 Bacon and Egg sounds like an odd choice to serve as a starter, but this is no ordinary offering of Bacon and Egg. The Bacon is in fact 72 hour slow cooked Belly Pork and it's topped with a halved, soft boiled Quails egg.TT ketchup is dotted around the Pork very artfully, but also in the perfect portion size to enhance the flavours rather than drown them.

As you would expect from slow cooked meat, the Pork Belly was melt-in-the-mouth tender and superbly tasty; the still runny yolk was simply begging for the pork to be dunked into it, so His Nibs duly obligedJ Homemade ketchups just have something about them that bounces out at you like an excited Tigger and this one from The Tickled Trouts' kitchen didn't disappoint with its bright, tangy-but-slightly-sweet flavour. It hit the sweet spot right in the Bulls' Eye.


Having had chance to look at the standard menu for The Tickled Trout earlier in the week, I had pretty much decided I was going to have its self titled dish for my main course. What is it they say, "Best laid plans" and all that? Suffice to say that the specials board threw me a curve ball in the guise of Turbot with Spring Greens, Crab, Lobster bisque, and Wild Asparagus, so that was me sorted; just the Boy Wonder to make his selection. The Tickled Trout do Sourdough Pizzas, even doing a Gluten free option (perfect for His Nibs' sensitive tummy, and only a couple of quid more) so he opted to have the Pollo Piccante one as his main course.
As well as the chilli-marinated Chicken, this pizza has red onion, garlic, chilli, Roquito peppers, and goats'cheese to tempt the taste buds. The base was deliciously thin, light and crispy and you couldn't tell that it was gluten-free; taste wise there is no discernible difference from a gluten containing version. Plenty of toppings had been carefully placed on the base and there was an especially pleasing thick layer of cheese to tuck into.




The chilli chicken certainly had a tongue tingling effect, but not in a blow-your-head-off sense thankfully. At first glance it doesn't look the hugest pizza known to man, but what a belly full it proved to be! His Nibs (typical man when it comes to gadgets) loved the mini pizza wheel provided; it was really sharp and cut through the base first time, no messing. Bosh!
One of my absolute bug-bears is dry, overcooked fish as you know but there was no fear of that happening in The Tickled Trout's kitchen. My Turbot was wonderfully moist with a gorgeous sweet, juicy flavour to it and it was a very generous size fillet too. Underneath the Turbot sat wilted greens, Peas and Baby broad Beans interlaced with flakes of succulent white crab meat.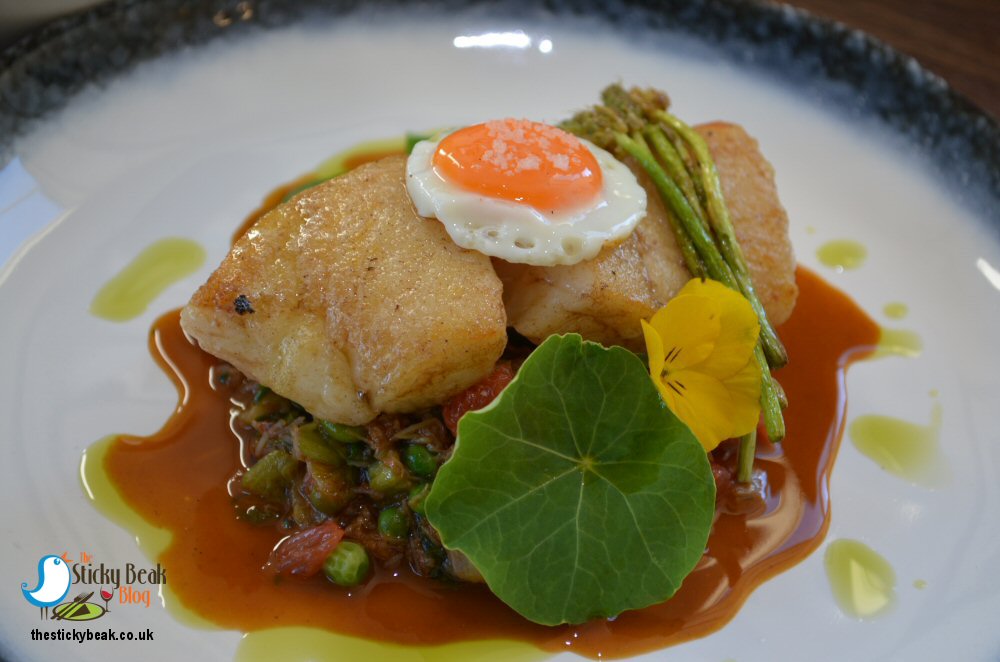 A sheaf of Wild Asparagus was artfully arranged on one side and this tasted wonderful, not quite as thick stalked as its farmed cousin and with a more feathered head on it. Surrounding the vegetables and fish was Coral hued Lobster bisque, imparting superbly rich note to the meal. It really was a joy to eat this dish from the first mouthful to the last.
I also ordered a Caprese salad on the side comprised of bitter and sweet salad leaves and herbs, cherry Tomatoes, and mini Mozzarella balls. This morsel was not only delicious in its own right, but its fresh flavours revived the palate too.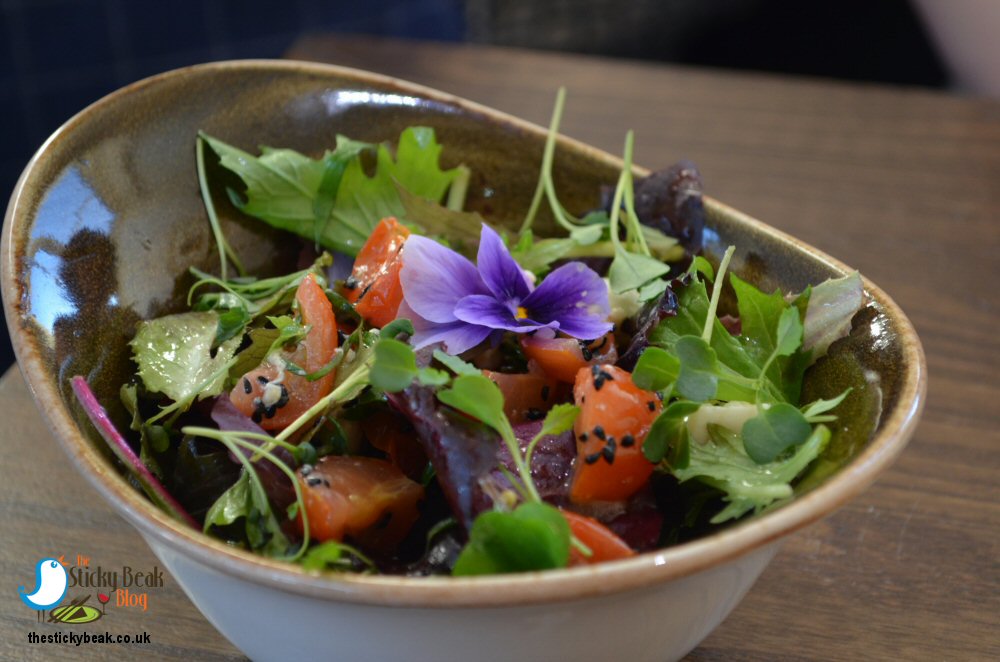 For pudding I managed to bag the last remaining Poached Peach dish, one of Chris' signature desserts, and the one that he chose to include in the Derbyshire Cookbook. This delightful dessert is poached slices of White and Yellow Peaches in a light peach gelee with Apricot Marmalade, Sorbet and Popcorn. Sounds good? Tastes every bit as marvellous I can tell youJ It is a gorgeously fragrant pudding, the epitome of Summer dining as you can literally taste the sunshine as you eat it.

Peaches and Apricots are a knockout combination anyhow as their fragrant notes complement each other naturally. The sorbet was clear and bright on the palate, with crunchy, caramelised Popcorn bringing a textural element to the dessert. Perfect.


The Boy Wonder eventually decided on the brilliantly named Topsy-Turvy Blueberry and Lavender cheesecake with Lemon Curd Ice Cream for his sweet finale to the meal. It literally is topsy-turvy with the vibrant, sweet Blueberry compote at the bottom, wickedly rich Lavender infused cheesecake layer next, and then the biscuit base in all its buttery glory is crumbled on the top. A sunshine-hued scoop of Lemon Curd Ice Cream sat like a crown on all this deliciousness, providing a fantastic citrus tang in contrast to all the sweet notes in this pudding.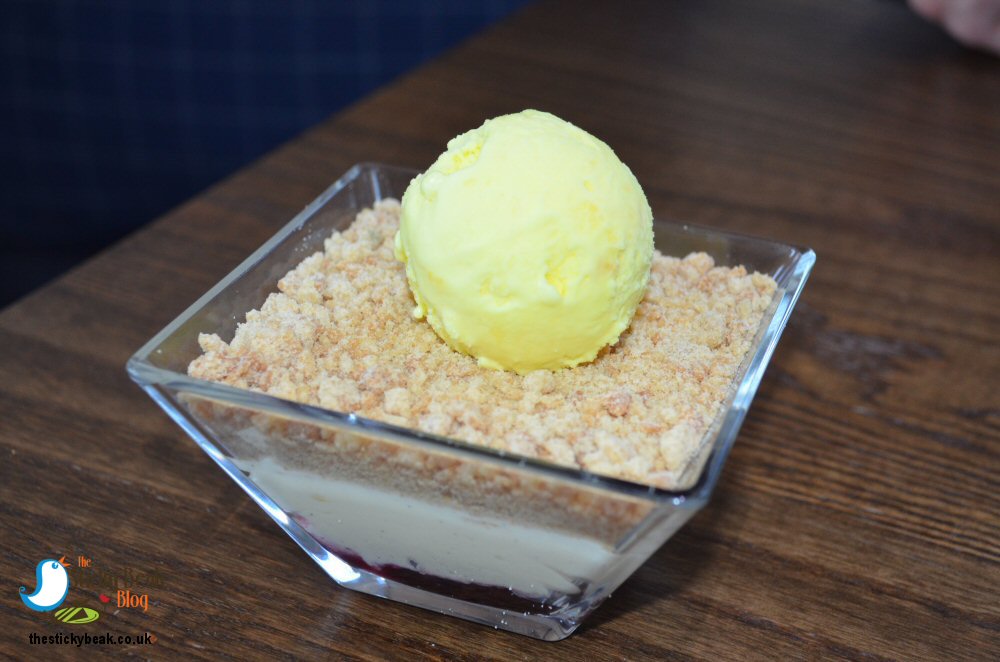 With things running at a slightly slower pace now it was past 9pm, Chris managed to come and chat to us whilst we savoured our Tiger Stripes coffee from James Pogson and his business, Northern Tea Merchants in Chesterfield. I indulged in a wistful "I wonder if this is the coffee we roasted when we visited" moment and the wonderful heady aromas hit me as I reminisced.
Chris was telling us how he and his partner Rachel came about owning one of Barlow villages' pubs, and the labour of love it really was as they set about transforming the building into what you see today. Previously Chris and one of his friends, Paul, owned a restaurant in Padstow called No.6 Padstow which used Flying Fish as their fish and seafood supplier. Flying Fish owner Johnny Godden also now supplies The Tickled Trout, and his Fish (that I've had so far) is absolutely delicious, which is no doubt why he also delivers to The Cavendish Hotel whose kitchens are in Chef Alan Hills skilled hands.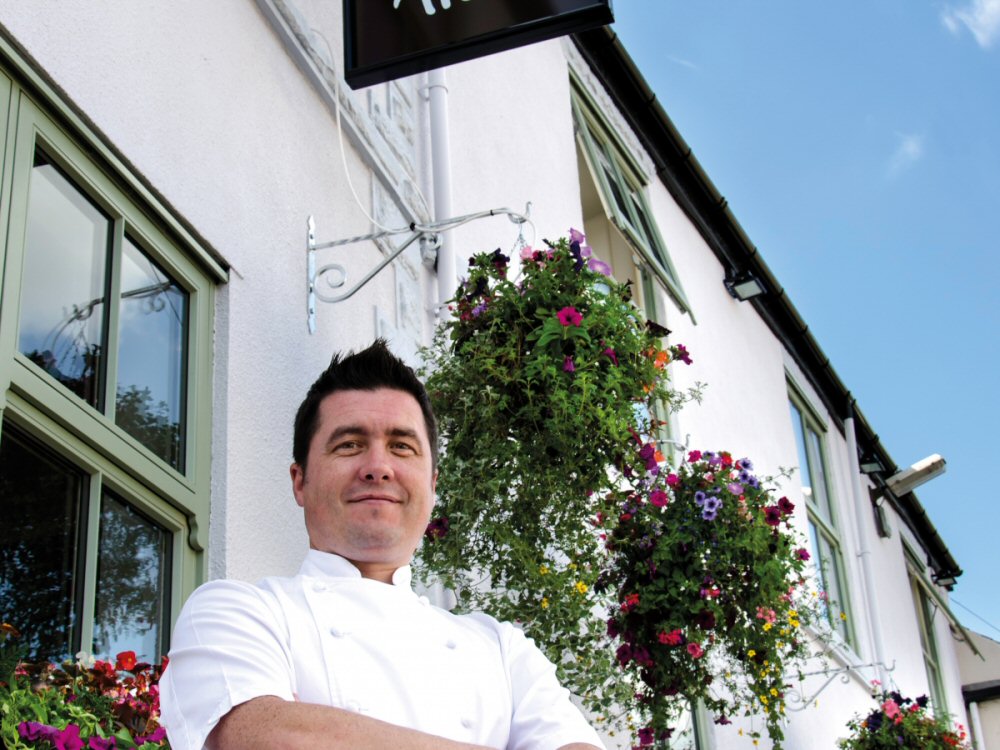 If you look on the reverse of the menu there is a brilliant map of the country outlining where Chris sources his products from. Not only does this inform you of the provenance of your food, but it celebrates the local businesses that are all supporting each other; as you know I am a huge fan of keeping money in our local economy where possible.
My beady eyes had noticed the Pizza Tuesday offer too earlier in the evening, and I took a moment to further inspect the details. This offers 2 pizzas for £17, which is good value in itself but then you can have 2 pizzas and a bottle of house wine for£30 which is a brilliant offer if you ask me.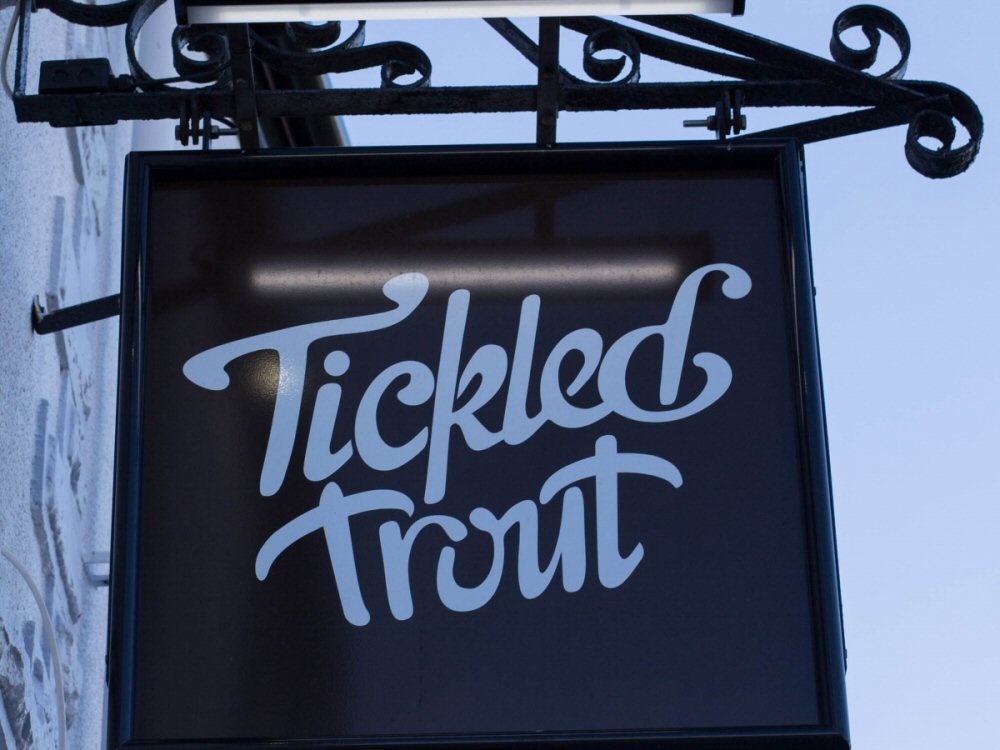 We also got chatting about that stalwart of British family life, the Sunday Roast, and how incredibly important it is in our national psyche. However incredibly busy families are at work and if parents have to work away during the week, things always come back together around the Sunday Lunch or Dinner table.

Tucking in to succulent meats and passing round tureens of vegetables soon gets conversation flowing, with tales of the week soon spilling out amid mouthfuls of food. This philosophy is one of Chris' key factors in his Sunday Roast offerings at The Tickled Trout; vegetables are served in dishes for everyone to help themselves from to encourage a relaxed vibe at the table. The beef Sirloin is slow cooked overnight so it is tender, juicy and packed full of flavour ready for everyone to enjoy when they come to eat it.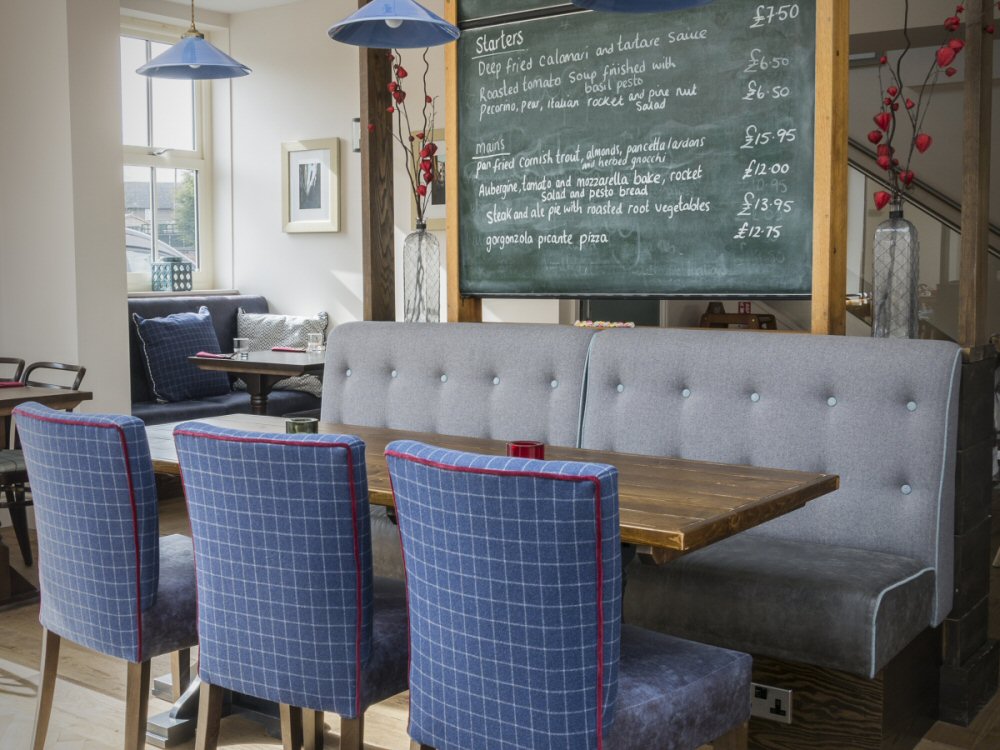 It goes without saying that The Tickled Trout deserve the Hot Wings award; not only was the food superb but the (mainly local Barlow residents) staff without exception were beyond fantastic in everything they did. I would advise ringing ahead and reserving a table, given how popular it was on a Thursday evening I imagine weekends are even busier.
All that remains is for me to say a huge thank you to Chris for inviting us to experience The Tickled Trout, we had an amazing time :)
Some form of incentive was provided to visit this venue
read more