New Menu At Turtle Bay, Derby
Published On Sunday 14 May 2017 by Sticky Beak
See All Recent Reviews
Not to put too fine a point on it but this week has been an absolute swine, so my spirits were in need of a boost. The universe was obviously listening and sent a savior in the guise of Turtle Bay in Derby, as they kindly invited The Man Bird and me
We got in the beak-mobile and made our way down the A38, getting ourselves perched in the Caribbean paradise a la England in time for the happy hour 2-4-1 cocktail deal. Boy was I ready for the Marley Mojito with its Ginger Beer kick, and I know His Nibs needed the Classic Mojito too!
It was lovely and lively in Turtle Bay with plenty of other diners already tucking in to the fantastic smelling food. The air was filled with laughter and conversation, great music was playing in the back ground, and it was just what we needed to start and wind down, release the stress and enjoy ourselves.
Our server for the night was a young lady called Shannon, and she was an absolute superstar all night bless her. We've eaten at Turtle Bay in Derby before and really enjoy it so we were keen to try the new dishes on the menu.


We kicked things off by ordering one of the new sharing platters called the Just Jerk platter and this has marinated jerk wings, glazed Pork ribs, jerk Beef riblets, Jamaican beef patty, Sweetcorn fritters, spiced Popcorn, herb mayo and super Green salad on it. The platter came and it looked and smelled amazing! I had also ordered some Okra Ladies fingers as an additional side and these are sliced Okra coated in spiced Panko crumb and fried, then served with Mango mole and fresh Lime and Coriander mayo.
All the meat was tender and juicy with different levels of spice on them, so rather than it just being one homogenous flavour there were lots of different spices to be tasted and appreciated. The salad had a marvellous range of colours, textures and flavours within it and on both this and the Okra you got a real buzz in the mouth from the lime dressing! The Sweetcorn fritters were delicious too; not only were they a great size but their natural sweet, creamy flavour contrasted brilliantly with the zingy herb mayo and crunchy batter coating. Spiced popcorn is currently a bit of "a thing" in the culinary world and the one at Turtle Bay is fab :)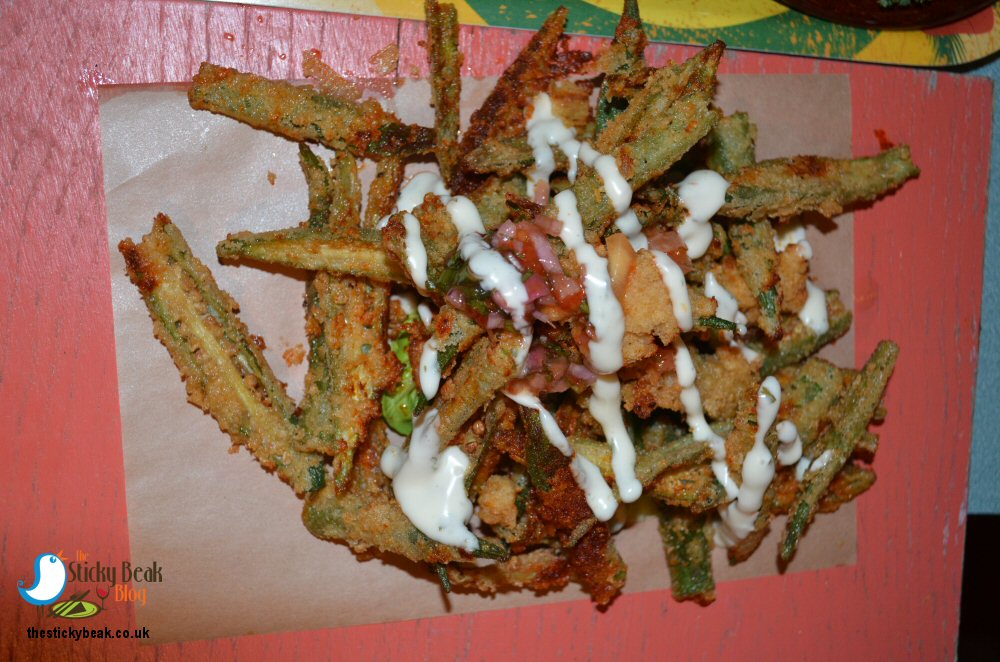 Shannon was happy to hear that we were enjoying the platter and when she came to clear it away it was a great deal lighter to carry on account of there not being a single crumb left! At this point we refreshed our drinks, 2 minutes inside the happy hour cut off time, result! I had gone with Shannons recommendation of the Vanilla and Raspberry Mojito and I give it a hearty endorsement if ever you find yourselves in a position to try it.
As much as the array of beach salads were tempting me as a main course I was in need of meat so I ordered the (new) Slow Braised Beef Rib in spicy jerk marinade and upgraded from the sweet potato fries to the "festival salad". The Boy Wonder opted for another new dish, the Bajan Beef cheeks with steamed rice and Roti flatbread.


My ribs are marinated, slow cooked and grilled in the jerk pit and have beautiful sweet onion chutney and green seasoning with them that taste amazing. The meat was chock full of flavour and there was plenty of it, although at first glance you don't think the ribs are as big as they actually are. This dish also comes with a wedge of fresh Watermelon and its delicate, cool taste is a welcome antidote to all the spiciness in the meal. Another contrasting element in the dish is the vibrant, crunchy, colourful salad. This beaut comprises Avocado, Mango, Watermelon, Carrot and Squash ribbons, Gem Lettuce, Sugar snap Peas, and Coconut shavings all bound in that delicious Lime dressing; a little cone of Crispy fried Chick peas is the (genius) cherry on top.
My mouth was doing a little limbo dance of delight, confronted with this smorgasbord of textures and flavours! I would be more than happy to see the Chickpea cones on the nibbles section alongside the Jerk nuts, Spicy Pork rinds, and Popcorn; I think these would be fab to have whilst you sip a cocktail or beer.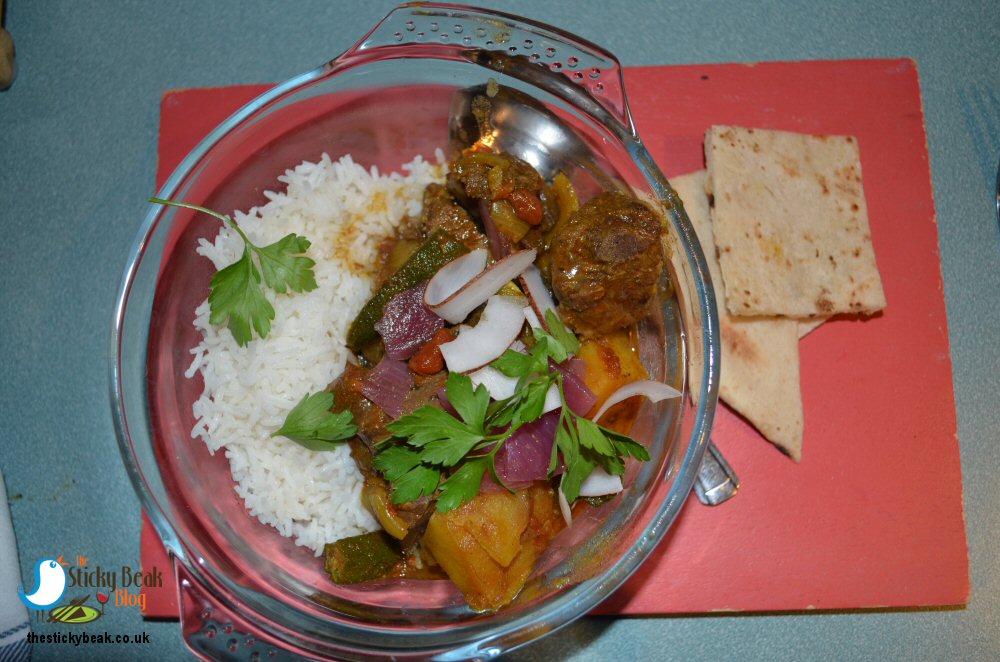 In the "one pot" menu section there are a couple of newbies to savour and the Man Bird opted for the Bajan Beef cheeks instead of the Spinach, Aubergine and Sweet Potato curry. As the name suggests, it came in a single pot and the meat was layered on top of a sumptuous bed of fluffy steamed rice. The Caribbean-spiced meat is cooked with Okra and Potato and topped with shavings of fresh Coconut, and His Nibs said this is a milder dish for those who don't like things really spicy. Fresh Roti bread is on the side of the plate which comes in very handy for mopping up every last bit of the sauce.
Shannon had come over a couple of times to check that we were happy with the meal and the manager came to see what our thoughts were on the new dishes we'd tried too. With the new additions in other sections of the menu, I think that Turtle Bay has a great depth and breadth to its choices that will only add to its popularity.
Last up was dessert and there is a new choice here too; the fantastically named Passion Pie. This sounded right up my street but unfortunately it contains Meringue so I couldn't have it. Weirdly, I absolutely LOVE Meringue but despite not being allergic to it whenever I have it I am always as sick as a dog , so I passed on that and let The Man Bird indulge instead. I had one of my favourite puds, Rum and Raisin Bread Pudding and the Turtle Bay version is wonderful.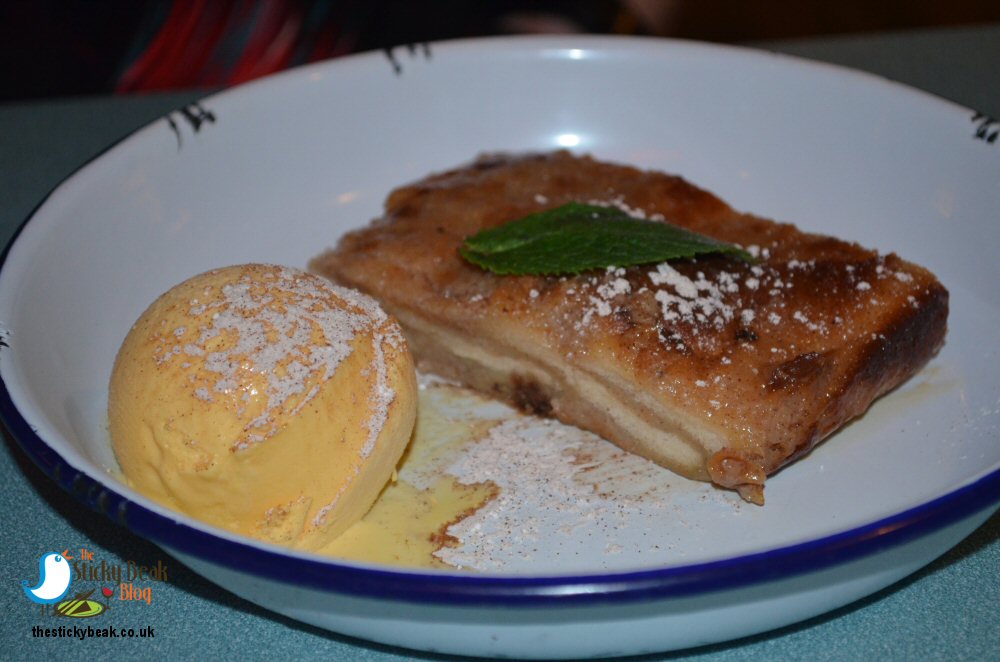 My Rum and Raisin Bread Pudding was one of those utterly delightful comfort foods; full of flavour, but not stodgy at all. There was a great amount of Raisins in there and I could taste the warming note of Cinnamon too. The custard was nice and light and had soaked into the bread which made it lovely and soft; I liked the hint of Rum in there as well. The Vanilla Ice Cream was melting against the warm pud and the contrast of temperatures kept the senses on high alert in my mouth.
The Boy Wonder was bowled over by the Passion Pie; the pastry base was nice and light, topped with a Passion fruit filling. A decadently deep layer of soft, sweet Meringue crowned both of these layers and a drizzle of Passion fruit flesh finished everything off. He really enjoyed the combination of the sweet Meringue and tangy Passion fruit saying that it was satisfying sweet without being cloying or making your teeth tingle!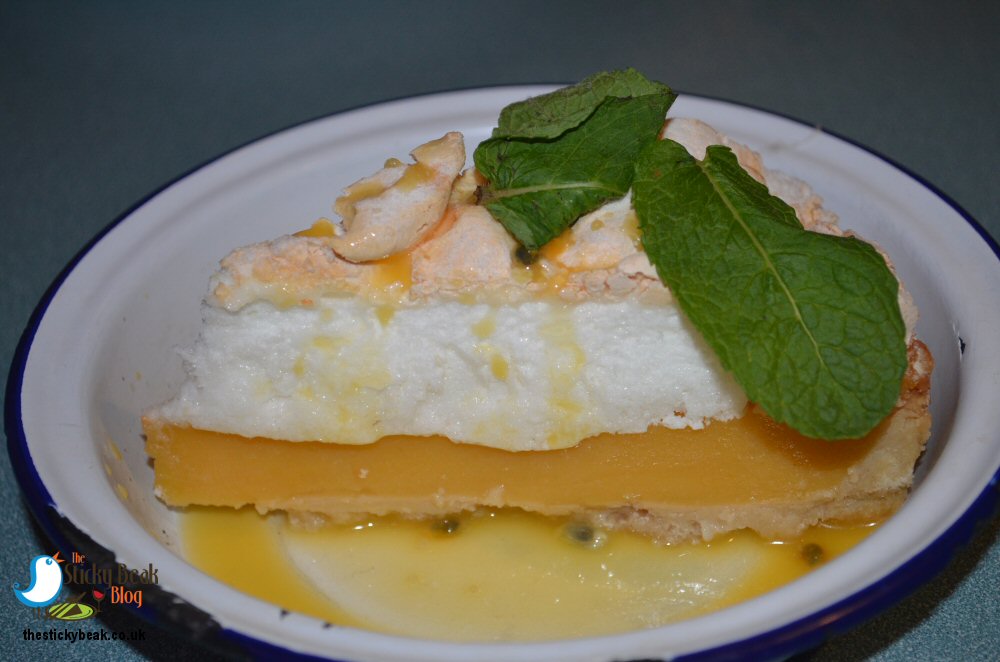 Shannon describes the Passion Pie as a "fruity cloud" and His Nibs had to agree with this portrayal whole-heartedly. We finished up with a couple of coffees before heading back to the nest, having had a brilliant experience again at Derby's Turtle Bay.
With Summer now in touching distance it is the perfect time to go and try all the delicious fresh menu items for yourselves. There are lots of Gluten free and Vegetarian options available, just in time for National Vegetarian Week, 15th-21st May 2017 :)

Hot Wings well deserved for Turtle Bay and the entire Derby team.
Some form of incentive was provided to visit this venue
read more