Dinner At The Orangery Restaurant, Darley Dale
Published On Thursday 11 May 2017 by Sticky Beak
See All Recent Reviews
I've said it before, but the variety of places that The Man Bird and I get invited to never fail to surprise me. I'm no longer in the first flushes of youth, but neither am I anywhere near retirement age, so I was a bit surprised to be invited to try the Orangery Restaurant at Audley St. Elphins Park Retirement village. Those of you who are locals may well remember the site in its former days as a girls' day and boarding school in Darley Dale; you probably smiled as you saw the girls in their smart uniform and straw boater hats walking in the town too.
A lot of the charm and character of the grounds have been retained with the new retirement accommodation sympathetically dotted around the extensive grounds, and there is very little traffic noise to be discerned from the main road thanks to the thick, mature tree- and shrub- line acting as a sonic buffer.
Originally we were going to be sampling the new Terrace Menu out on the beautiful terrace that overlooks a super croquet lawn, but the good old British May weather scuppered that. It's a good excuse to go back another time though, as I was really looking forward to trying one of the sharing boards or the Pear, Walnut, Blue cheese and pasta salad.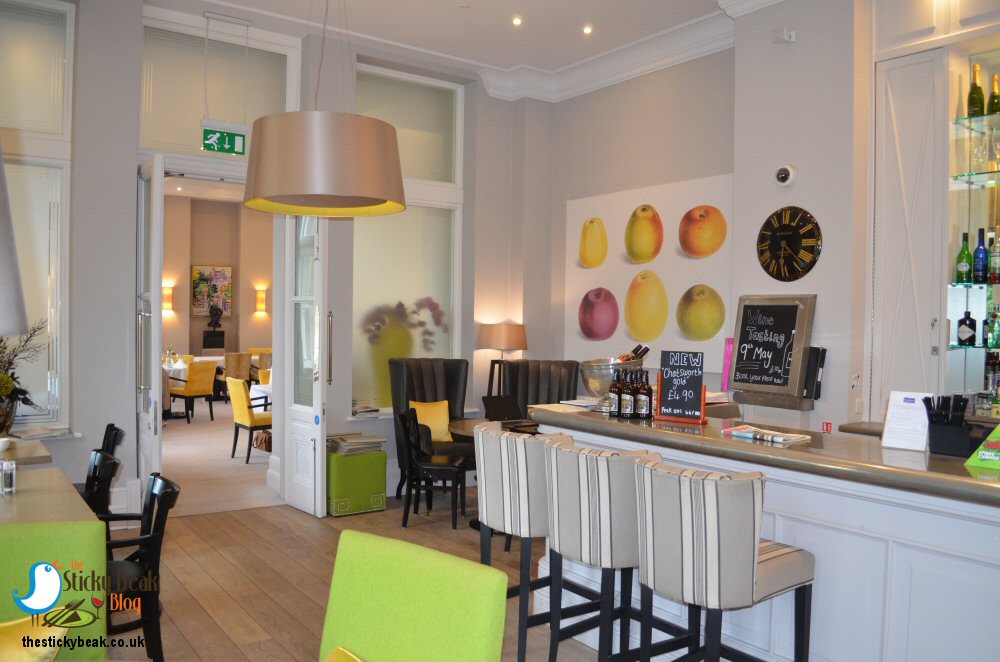 As we walked through the door a lovely lady on reception greeted us and asked how she could help; escorting us through to the cloakroom and Bistro area when we said we were dining that evening. The delightful Sophie came to take our coats and Sue McClean (General Manager) came over to introduce herself and tell us more about the menus on offer.




The Bistro is a light and airy space that overlooks the terrace and is the perfect spot to indulge in breakfast or elevenses as you sip a drink and read the papers. It has wood floors, muted striped window blinds and accent lime green tub chairs to relax in; the bar in there is well stocked with every beverage your heart could desire. I think it would be a great spot to have lunch in too as it seemed to have a very chilled vibe to it.
We took a few minutes to revel in this great area and I sipped a gorgeous Sauvignon Blanc supplied to Audley St Elphins by Berry Bros and Rudd, Britain's oldest wine and spirit merchant; His Nibs had his customary Peroni .


Sue took us through to the Orangery restaurant and wow, what a huge room it is! But the decor and clever arrangement of furniture has meant that it feels quite a homely space, rather than cold and characterless. With it being Saturday the tables were laid with pristine white cloths (as they are on Sunday for the Carvery too), rather than being left au naturel in their dark glory as happens during the week. Small fresh floral arrangements were on the tables, picking up on the white and yellow themes in the room. The rich egg-yolk yellow colour was in both the velvet chairs and the cushions, and there were also vibrant Teal cushions on the seats too.
Sophie handed us the Saturday Special menu to look at, and whilst we were deciding what tickled our taste buds an Amuse Bouche of Pineapple Jelly, Parmesan crisp and Balsamic Caviar was placed before us. This was a lovely combination of tastes and textures and got the digestive juices flowing nicely.


For our starters we chose Panko crusted Haggis Bon-bons with a sweet Chilli Jam and Herb saladette for The Man, and the Smoked Salmon and Pea Risotto with soft poached Egg, Pea shoots, Parmesan and Truffle oil for me.
The Panko breadcrumb coating was very crispy and gave a lovely crunch when bitten into, and the haggis was nice and dense with a rich flavour that partnered the Chilli jam brilliantly. The trio of bon-bons were all a good size and His Nibs said that it was a very generous starter portion.


When the bowl of Risotto was placed before me I gave a little gulp; this surely was meant as a main course, rather than a starter? Being the game little bird that I am, it was a case of "shoulders back, chest out, and give it your all" as I took my first mouthful of the rather delicious Risotto.
My mouth was filled with wonderfully creamy, perfectly al-dente rice and gently fragrant Salmon pieces; I gave a small sigh of happiness and loaded up my fork for more. I tried a tiny bit of the wonderfully verdant pea puree (extremely yummy) before I broke into the softly poached egg. As the yolk released its sunset-hued, rich contents over the bowl, the contrasts of colours within the dish popped visually and were stunning to behold.
All the components worked well together, the result being a delicious, smooth, creamy starter. For those with smaller appetites this would really suffice as a main course; even I struggled to finish it, and I'm hard-to-fill!


Thankfully there was a small interlude between us finishing our starters and the mains being brought out, so I didn't feel quite so much like a Weeble when my Crab and Wild Garlic Tagliatelle with Sea Salt Focaccia, Pesto and toasted Sesame seeds came out. The Wild Garlic grows within the St. Elphins grounds, as do all the herbs used in the kitchen; where possible all the ingredients are sourced locally on the seasonally changing menu.
Again the pasta was perfectly al dente, meaning that you have something to lightly masticate in your mouth, and the crab and gently rounded garlic married together very well. Pesto always has a bright, bouncy taste to it and this lifted the dish superbly, as did the addition of the nutty note from the Sesame seeds. Chef had wilted the wild garlic leaves too and used them to garnish the dish; these still had a little natural firmness left which gave a lovely textural element to the meal.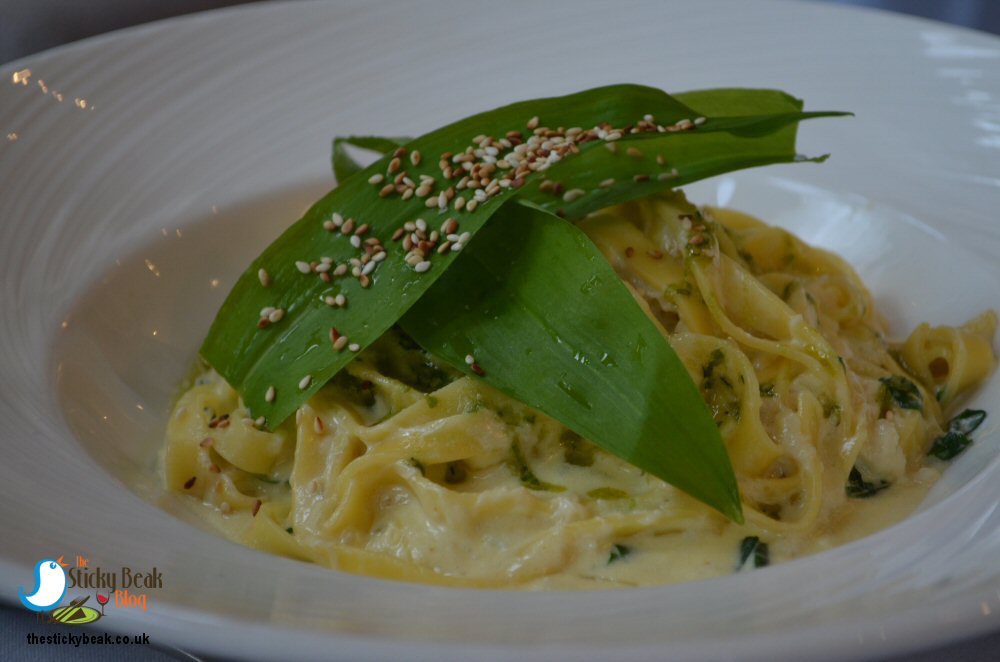 The Focaccia was freshly made and had that delightful mattress-like bounce to it; wonderfully springy and light in the mouth with a great tang from the sea salt. Again, it was a very generous portion size, but didn't lay heavy on the tum at all.
The Boy Wonder had chosen Pistachio crusted rump of Lamb with Fondant Potato, Chantenay Carrots, crispy Sprouting Broccoli and Rosemary jus for his main. This had been presented superbly and fair made my mouth water just looking at it from across the table! All of the medallions of Lamb were cooked pink to retain their natural flavour and juiciness and His Nibs tucked into them with total glee.


Chantenay carrots are always beautifully sweet and bounce on the palate in a playful pup kind of way and this contrasted brilliantly against the sharper, charring note of the broccoli. The fondant potato had a great crispy outer to it and had been nicely seasoned so that when it was bitten into, the mouth did a mini fist-pump of triumph.
Sophie came over and enquired if we would like to see the pudding selection; we said yes, although initially we weren't going to indulge. Our woeful will-power: gluttony ratio meant that we found ourselves tucking into Warm Treacle Tart with Tonka bean Custard and poached Yorkshire Rhubarb (me) and Pineapple upside down cake with Malibu Ice Cream, Banana caramel and toasted Coconut (The Man).


My Treacle tart was everything you could want in this classic pudding; treacly, rich, sticky filling encased in light buttery pastry and served with sublimely creamy custard. The sharp, vibrant taste of the rhubarb really did contrast with this to wake up the mouth and to impart a lighter element to the palate.
His Nibs' Pineapple upside down Cake was also very nicely made and had a light, springy texture to it. In the absence of actual sunshine (blooming typical late Spring weather) this pud delivered the culinary version in spades with its lovely mix of flavours and textures.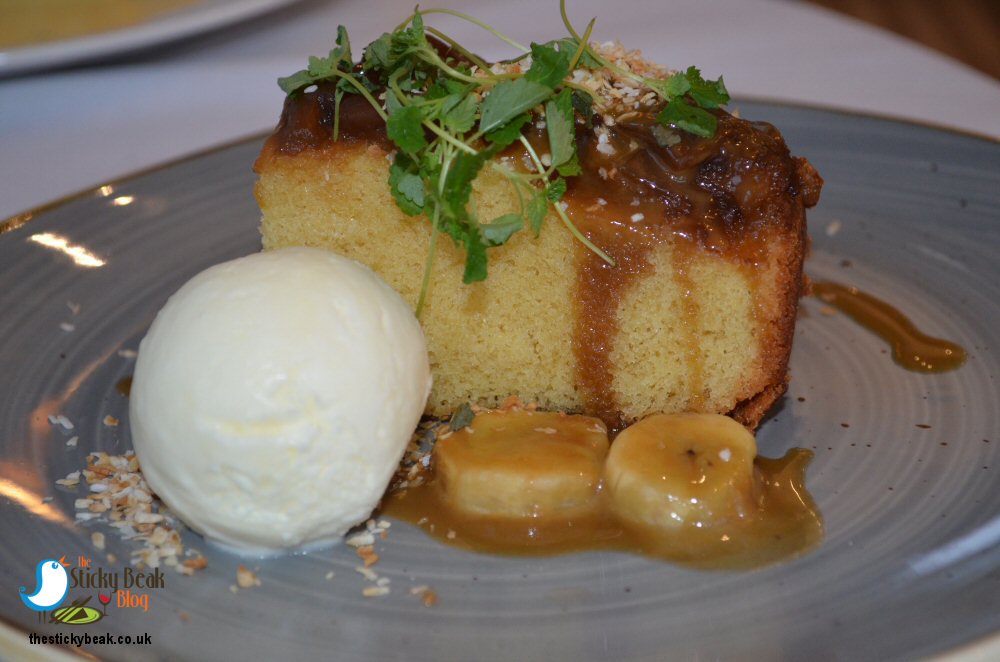 With empty bowls before us, we sank back into the plush, deep chairs at our window table and reflected on what a charming evening it had been. Throughout the evening both Sue and Sophie had been most attentive, making sure that our food was to our satisfaction and seeing if we needed anything else at all. Sophie brought us over our coffees to finish off the meal, and we couldn't help but smile as we saw the homemade biscuit rounds on the saucers' edge. The biscuit were incredibly crumbly and rich, the perfect accompaniment to the dark roast coffee.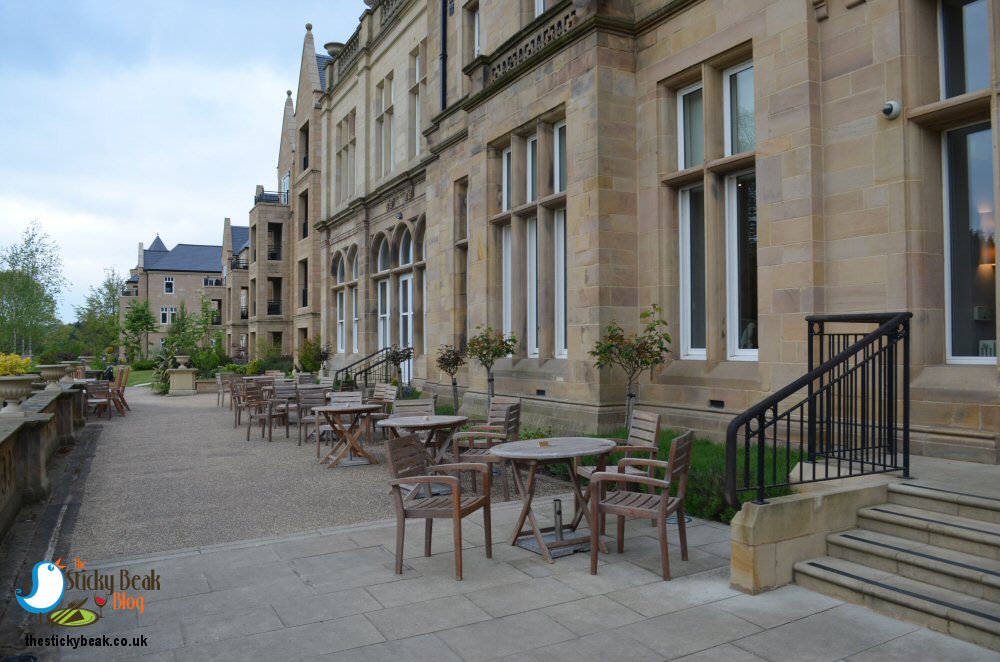 You don't have to be a resident in one of the retirement village properties to avail yourselves of the restaurant and other facilities, and in fact the team welcome the public to come in and see what's on offer. The Orangery is open on Fridays and Saturdays 5pm-9pm (food orders taken until 8pm), and on Sundays for the traditional Carvery from Noon-5pm (food orders to be placed before 4pm). The Bar Bistro opening times are Monday- Saturday from 9am-9pm (food orders until 8pm) and Sundays from Noon-5pm (food orders to be placed before 4pm).
It is advisable to book a table in advance, especially if you have a particular time in mind. We had a lovely evening in beautiful surroundings with Hot Wing-worthy food. We can recommend this without hesitation to friends, family and our readers (the criteria to meet to get a written review) :)
Some form of incentive was provided to visit this venue
read more