The Opening Of Cocos Dessert Factory in Derby
Published On Sunday 16 Apr 2017 by Sticky Beak
See All Recent Reviews
The Man Bird and I are always happy to hear of a new business opening its doors, and even happier when we get asked along to share their official opening celebrations. Normanton is the latest suburb of Derby to be serving up sweet treats at Coco's Dessert Factory, located in the old HSBC bank building on Normanton Road.
It has been open for a couple of months but was officially opened by Derbys' Lady Mayor, Linda Winter, on Good Friday (14th April 2017) with a ribbon cutting ceremony at 4pm. Also in attendance were Arabic Calligraphy artist, Ismail Hussayn and Asian Vlog and Comedy sensation Azzy Jatt, followed adoringly around by what seemed like the entire youth population of Normanton.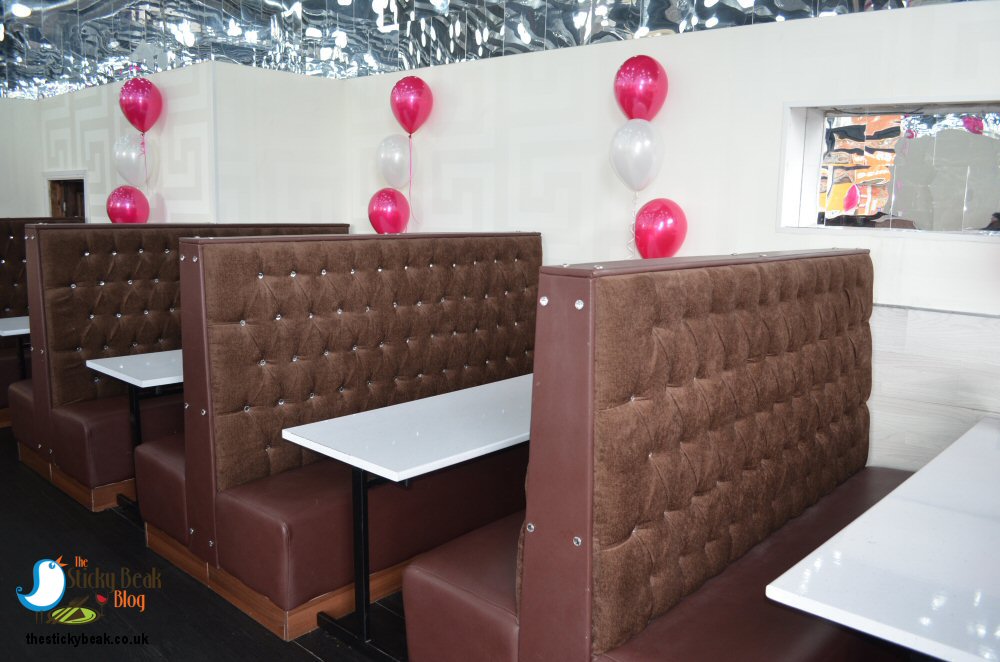 Coco's is fantastically styled with plush high-backed booths housing twinkling counter-top tables. I loved the mirror tile details on the arched windows and the glossy, high-shine wall tiles too. Perhaps my favourite decor detail though was the very stylish, crackle glass globe lights that hung like a million stars in the sky; they really took my eye.
For the opening party a plethora of cerise pink and pearl grey balloon displays had been arranged at each booth and around the venue. The pop of colour really lifted the darker colour scheme at Coco's and created a great feel-good party vibe that everyone got in the spirit of.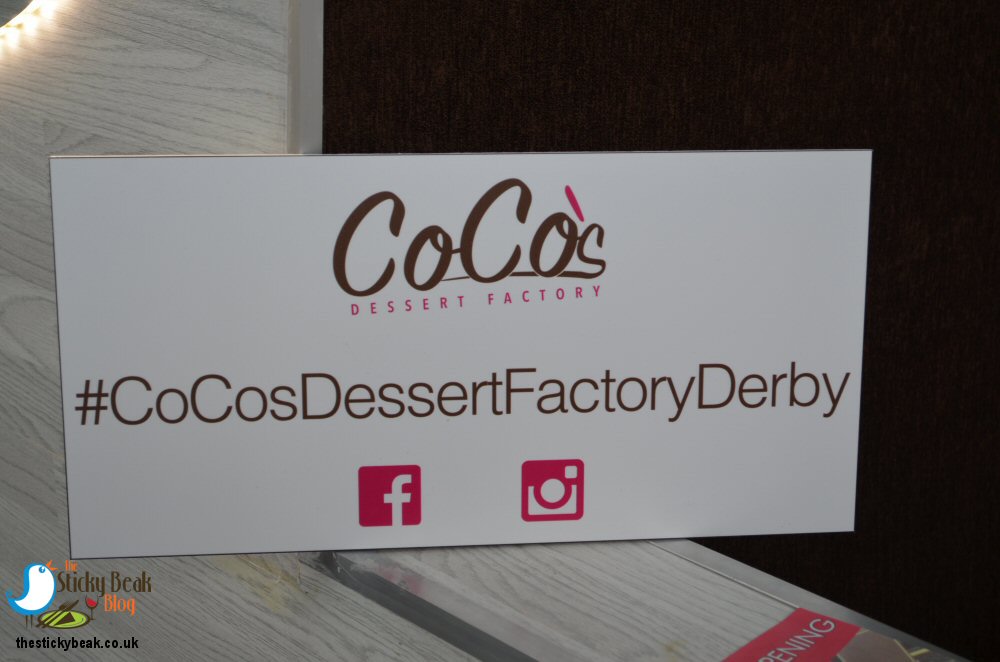 All the staff were super friendly and eager to fill The Boy Wonder, and my, tummies with all sorts of yumminess. A huge platter of patisserie and cakes was placed before the Mayor, The Boy Wonder and I, and we all goggled our eyes in wonder at them. Unfortunately the Mayor was unable to indulge in them, so it fell to me and His Nibs to dig in; it's a tough job sometimes, but we stepped up to the (no pun intended) plate.


Faced with Nutella Chocolate Fantasy, Passion fruit Cheesecake, Chocolate Praline Cheesecake, Chocolate Truffle, Berry Cheesecake, and Ferrero Gateau it was a tough decision as to which one to sample first.
I picked the one closest to me, which happened to be the Chocolate Praline Cheesecake and wowsers was it good! The praline just melted on the tongue, delivering that velvety sensation that has you grinning with bliss and then you get that intense cocoa hit that satisfies somewhere deep in the brain.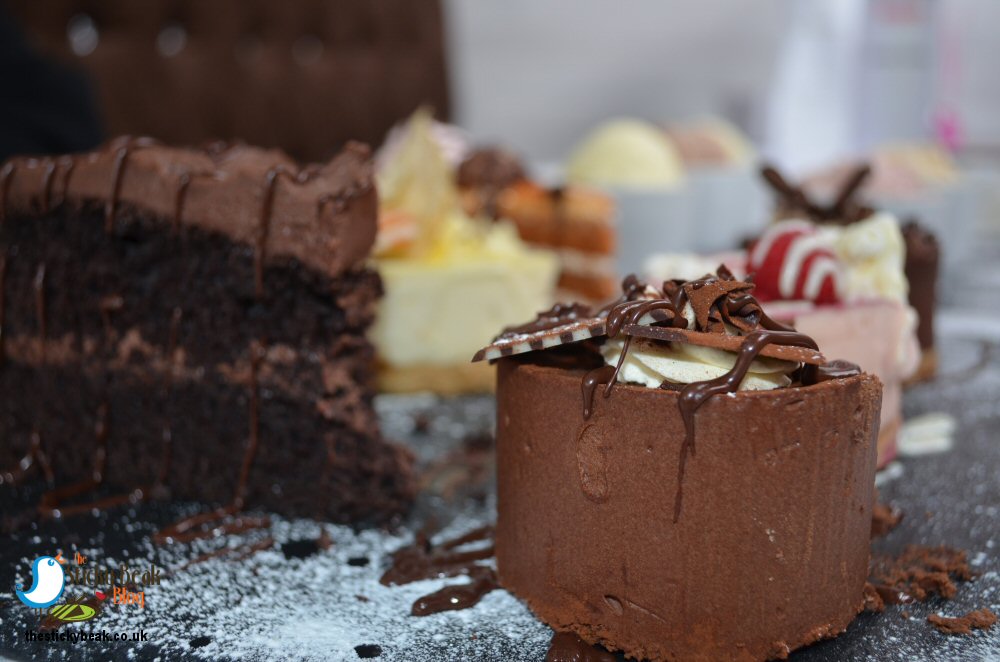 The Nutella laden Chocolate Fudge Cake slipped down just as easily; the sponge itself had a lovely light texture to it and everyone who had it said how great it was. I decided to break the chocolate cycle and plunged my spoon into the Passion fruit Cheesecake next. Passion fruit can sometimes be a bit too overwhelmingly sweet and fragrant for people's taste buds, but at Coco's they have paired it with a natural cheesecake filling that balances this sweetness very nicely.
Next up to try was the Ferrero Gateau; this was a multi-layered minx who was filled with light patisserie crème and topped with Nutella and Ferrero Rocher pieces. Again, this had a lovely lightness to it and soon got gobbled up; I'm a bit of a sucker for Ferrero Rochers anyway, so this was ticking all the right boxes for me :)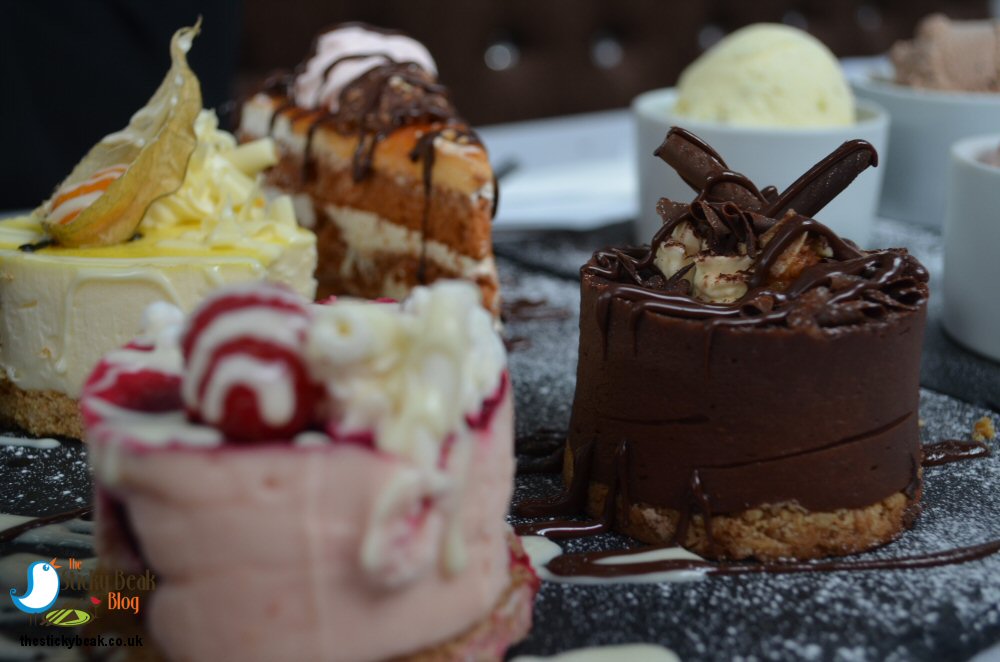 A mini round of the Berry Cheesecake was just begging to be cut into, so without further ado I obliged! The buttery biscuit base was topped with berry-rippled cheesecake that flowed like delicate ribbons through it and imparted their bright notes on the palate. This is the perfect dessert for Spring and Summer; it's vibrant, joyful berry flavours are wonderfully representative of warmer climes and evoke happy feelings.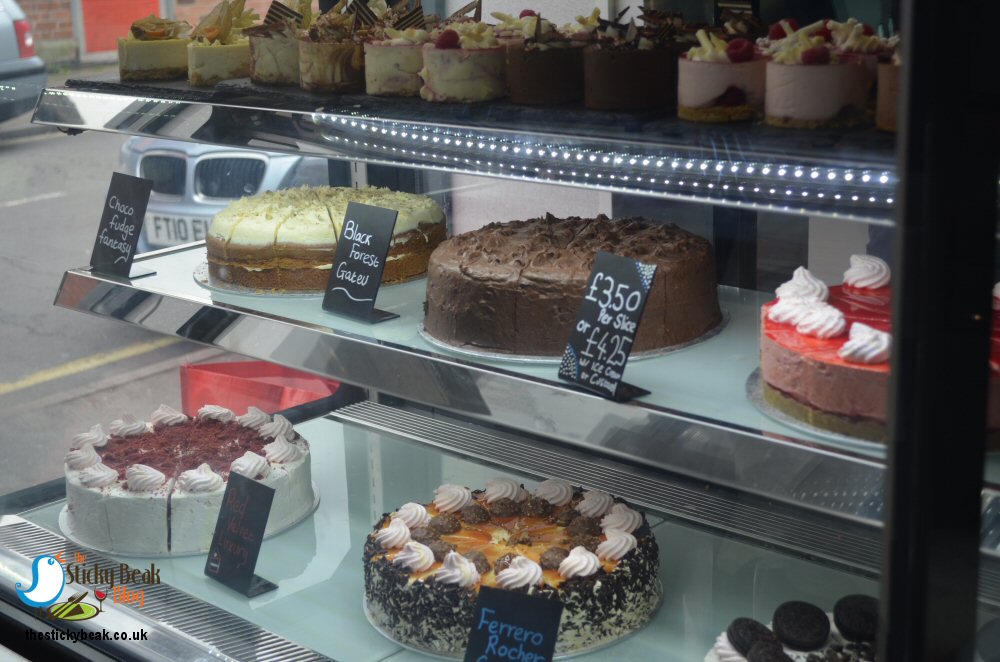 The Chocolate Truffle had patiently been waiting for its glory to be appreciated, and as the first spoonful melted onto my tongue I worshipped at its altar. Like Praline, Truffle is one of those textures that caress the mouth and hit the bliss centre in the brain smack in the Bulls' Eye. Coco's version managed to be wickedly decadent without being cloying or sickly; a tricky balance to achieve, but definitely achieved here.
Before long, a platter of dishes containing different ice creams was winging its way onto our table and I did wonder if I was going to be defeated. Luckily I had His Nibs' expert help with sampling these again, due to Mayor Linda Winter not being able to have these either.


The Mint Choc Chip ice cream was gorgeous, I love the fresh flavour of a good Mint ice cream and this one was very nice. The Man Bird was busy with the Toffee one, and said that it had a great sweet note to it without being sickly; this was also the case with the White Chocolate ice cream that I had moved on to.
Vanilla Ice Cream gave the palate a bit of a breather with its simpler taste, before we moved on to the final two varieties left to try on our platter; Chocolate Chip, and Strawberry. I'm not the world's biggest fan of fruit flavour ice creams as I tend to find them a bit "chemically" tasting, but I was pleasantly surprised by the one at Coco's Dessert Factory. Whilst fruit ice creams are never going to be my first choice, this one actually tasted true-to-type of Strawberry and I went back for second and third spoonfuls.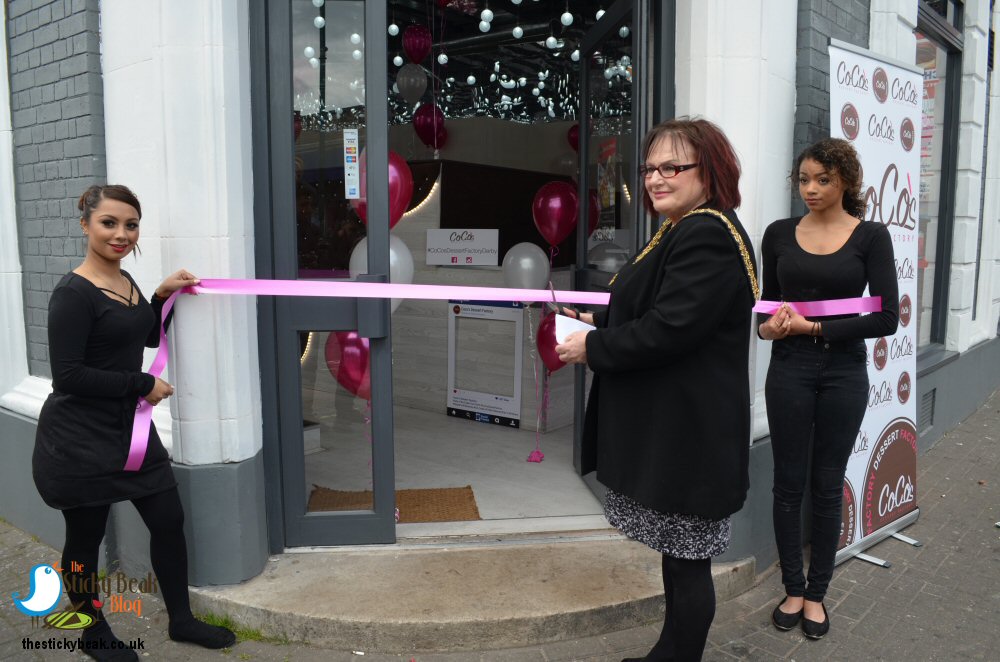 You can't get much more of a crowd pleaser than a quality Chocolate Chip ice cream, and this one would've had us all doing a Mexican wave of delight outside had the weather been a bit more clement. The ice cream itself was pleasantly rich and chocolatey and then the textural element provided by the deliciously cocoa rich chips kept the palate interested even further.
Our tums were more than full at this point in time, so it was nice to go and mingle with the other guests. Ismail was kept busy writing names in his flowing Arabic script; I couldn't help asking if he would mind doing my name for me and he kindly obliged. I'm sure he must've had writer's cramp at some point with the amount of requests he was getting.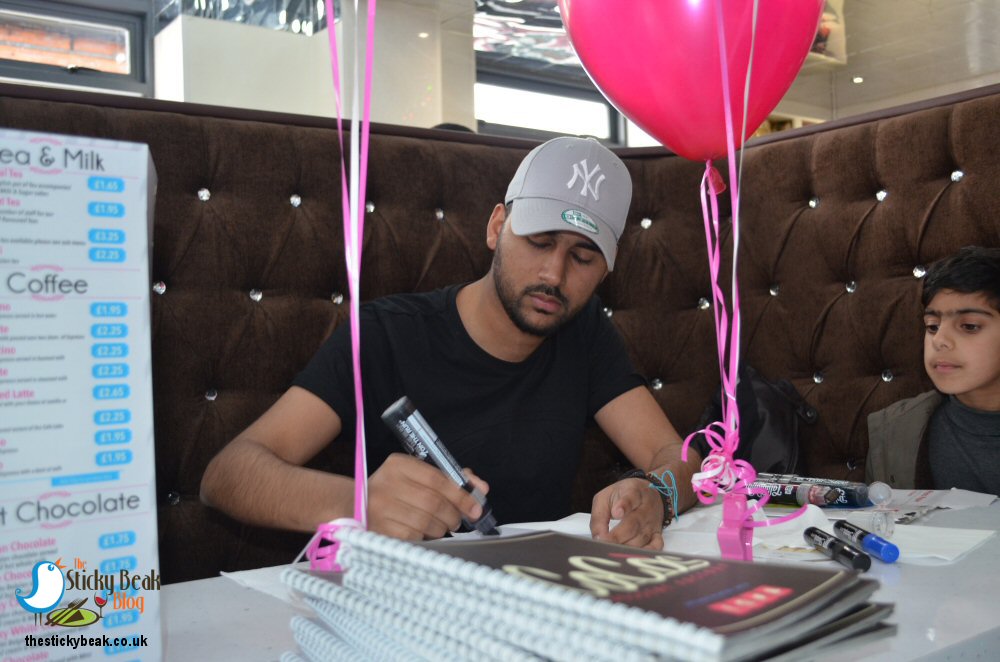 Comedian and Vlogger Azzy delighted guests with impromptu songs and skits, filling the room with laughter. He also had plenty of co-stars eagerly lining up to feature on his vlog, and he accommodated all the youngsters with their requests.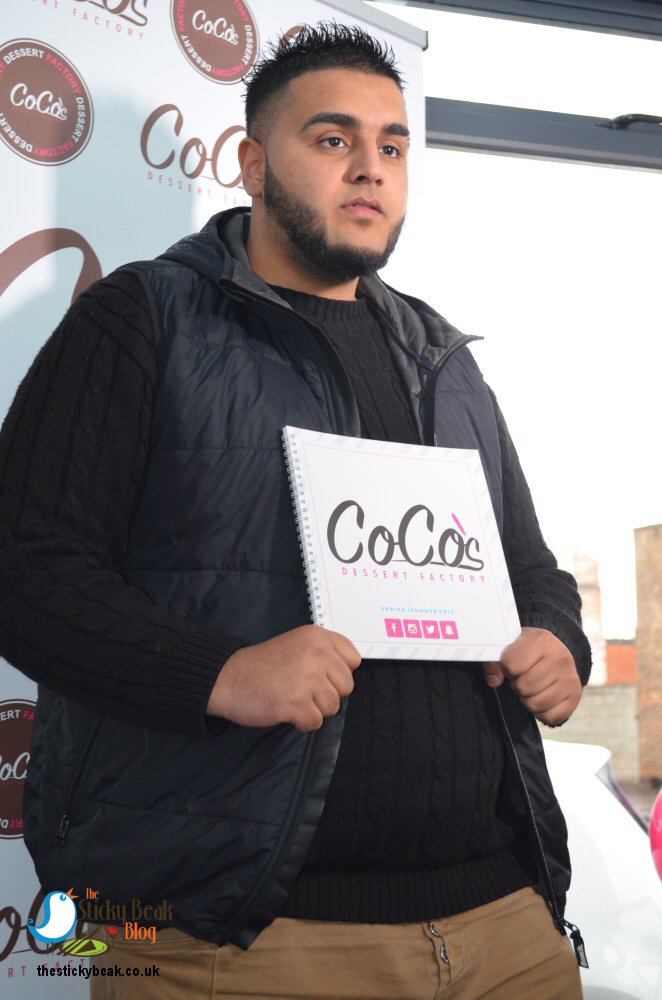 Adam Iqbal (Coco's Marketing and PR chief) managed to grab 5 minutes to come and talk to us and filled us in on some of the crucial details we needed to know. All Coco's desserts are made on the premises, they buy nothing in at all that is ready-made, and their Patisserie chef is from Paris; what he doesn't know about sweet treats isn't worth knowing! I was intrigued by Coco's Chocolate Kebab; yes, a chocolate kebab, you read it right.

The Chocolate comes on a slab, like its meat counterpart, and is carved off in exactly the same way and served in a (sweet Crepe) Pitta with various toppings such as fresh fruit, Nutella and chocolate curls.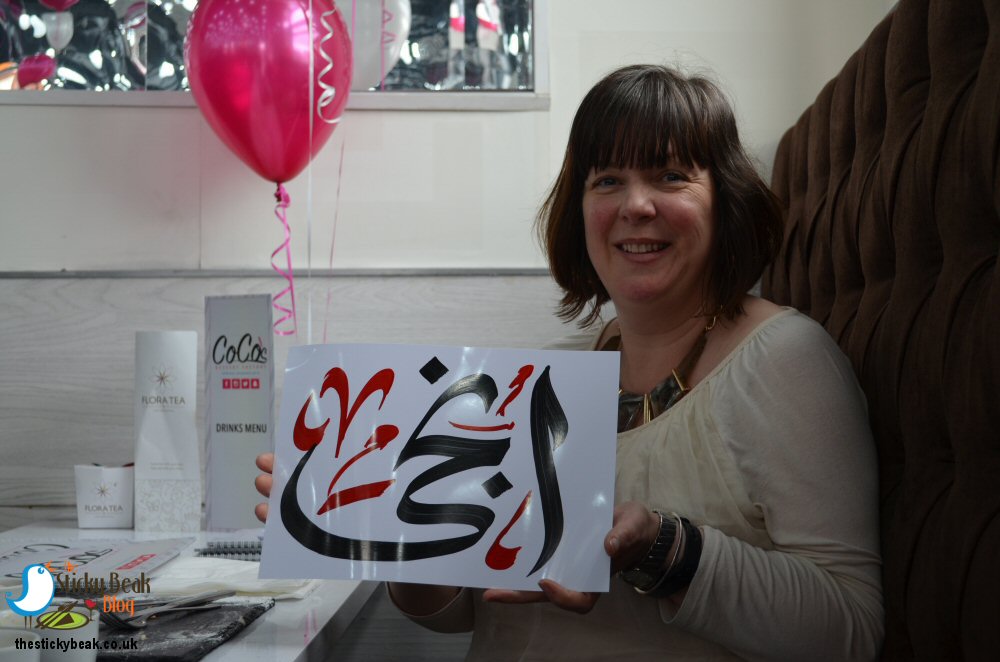 Owner Youseff Ali couldn't be there, but Mrs Ali oversaw the proceedings and came to have a chat with us too. I have to say that she looked absolutely stunning in her sapphire hued Shalwar Kameez adorned in intricate embroidered patterns, and she was just as charming to talk to too. Mrs Ali said that although a lot of the desserts are European in taste, there is also an extensive range of traditional Asian desserts to choose from.
Although I didn't get to try it, I was intrigued by Gulaab Jaaman; this is made from milk solids, rolled into balls and fried before being served with varying accompaniments (vanilla ice cream at Coco's). The milk solids are prepared by heating milk for long periods of time to reduce the water content in them and then they are combined with flour and kneaded like dough before they are fried; the sugar content in them produces a deep reddish colour.


One of the lovely staff brought us a waffle creation over to try; the wonderfully named Strawberry Sensation. The light, crispy waffle was heaving with slices of fresh Strawberries that were drizzled with tangy Strawberry Coulis and accompanied by a scoop of Strawberry Ice Cream. We tucked in, and both of us remarked how delicious it was; this would be fab for breakfast, elevenses or even for supper!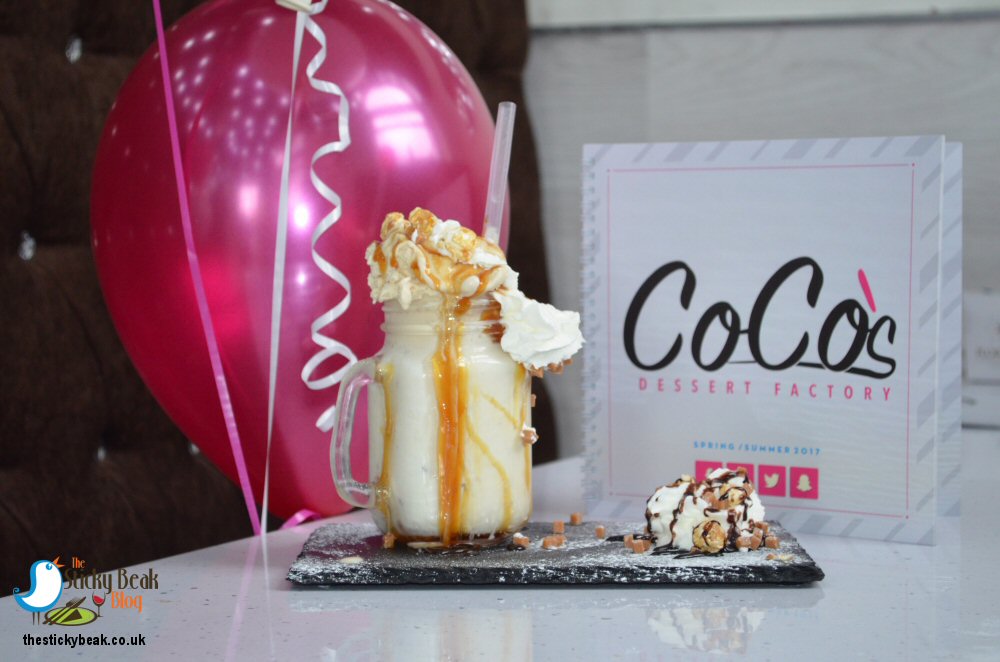 We couldn't leave without sampling the trend-du-jour; the Freakshake. The range of drinks on offer at Coco's Dessert Factory is pretty impressive, both hot and cold versions. After much umming and aahing, we settled on the Caramel and Toffee Double shake to share. This monster consists of Cadbury Dairy Milk Caramel milkshake topped with a scoop of Toffee Ice Cream, Toffee Popcorn, Fudge pieces and finished with a mound of Whipped Cream. Sound impressive? Well, it tastes even better :)
Feeling even piggier than usual, we said our goodbyes and thank you's and rolled out of Coco's doors. The party was still in full swing as we left with people still arriving to sample the desserts and meet the celebrities. It's definitely worth paying Coco's a visit if you're in the area, everything we had was delicious and the staff were all very friendly. Hot Wings well deserved here :)

Thank you for allowing us to celebrate your official opening with you, you were exceptionally gracious hosts.

You can find Coco's on Instagram at @CocosDessertFactory
Some form of incentive was provided to visit this venue
read more