New Menu At The Queens Head In Ockbrook
---
Published On Sunday 9 Apr 2017 by Sticky Beak
See Recent Dining Out Reviews | See All Recent Reviews


It doesn't seem five minutes since The Man Bird and I were attending the opening night of The Queens Head at Ockbrook. David and Julia have given the menu a seasonal overhaul and invited us back to try some of the yummy dishes, so off we flew with much enthusiasm.
Food isn't the only thing new to The Queens Head; as we went to the bar to order some drinks a very familiar face was there. Gareth was the very friendly front-of-house manager at Eastwood Hall when His Nibs and I had a cheeky night away a while ago, and it was lovely to see him again.
We went and sat at our table and it was great to be able to see the outside garden area in daylight; hopefully the weather will be kind this Spring and Summer so that David and Julia can host some BBQs for people to enjoy.
Gareth was telling us about some incredible offers that are currently on offer as he talked us through some of the new menu dishes. Every Friday night from 5pm until closing you can get a bottle of Mumm Champagne for the exceptionally purse friendly price of £20; yep, you did read that right, a bottle of good quality champers for £20!! I can't think of a better way to herald the end of the work week, unless you pair it with one of the delicious new sharing platters.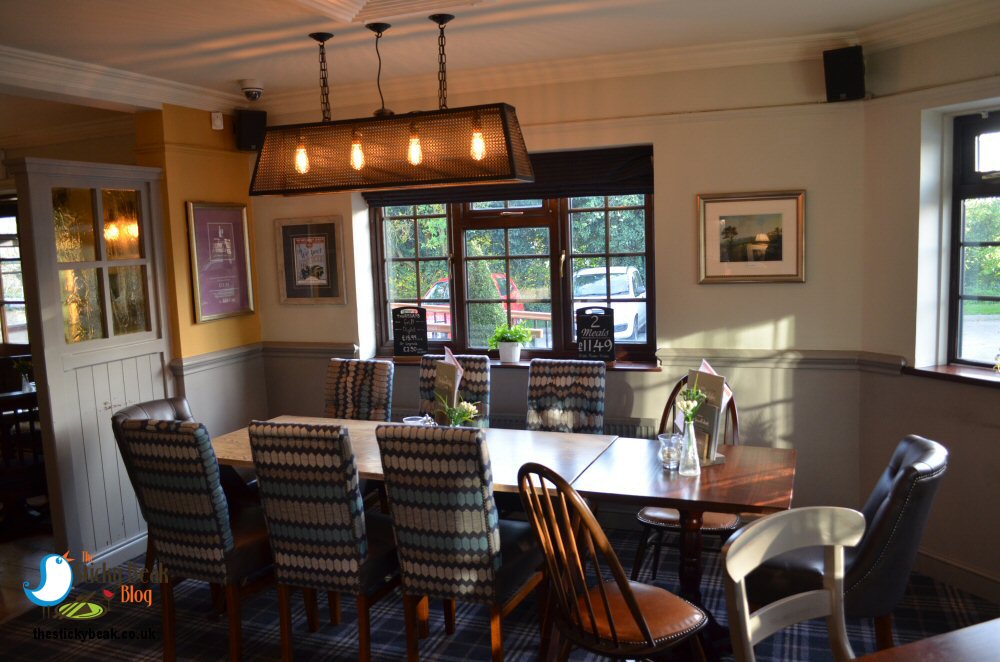 The other brilliant seasonal offer that the team are doing is a pre-orderable picnic basket of food; these are fab if you've got a day out planned and want minimal effort but maximum results. All you need to do is go online and order them, just give at least 24 hours notice; easy peasy, lemon squeezyJ
Anyhow we decided what we fancied for starter and main, noted our table number and wandered up to the bar to place our food order.
To kick things off we had one of the new menu choices, the wonderful Antipasti Platter. This has a selection of Prosciutto Crudo, Salami Milano and Coppa as well as mixed Olives, garlic and baby Silverskin onions, and a dish of Sundried Tomatoes. There is also a Tomato, red onion and herb salsa whose vibrant, fresh flavour signals the arrival of al fresco eating, as well as a very cheeky Lemon and Coriander Houmous and some extra virgin Olive oil and Balsamic vinegar in which to dip the generous slices of artisan Focaccia bread.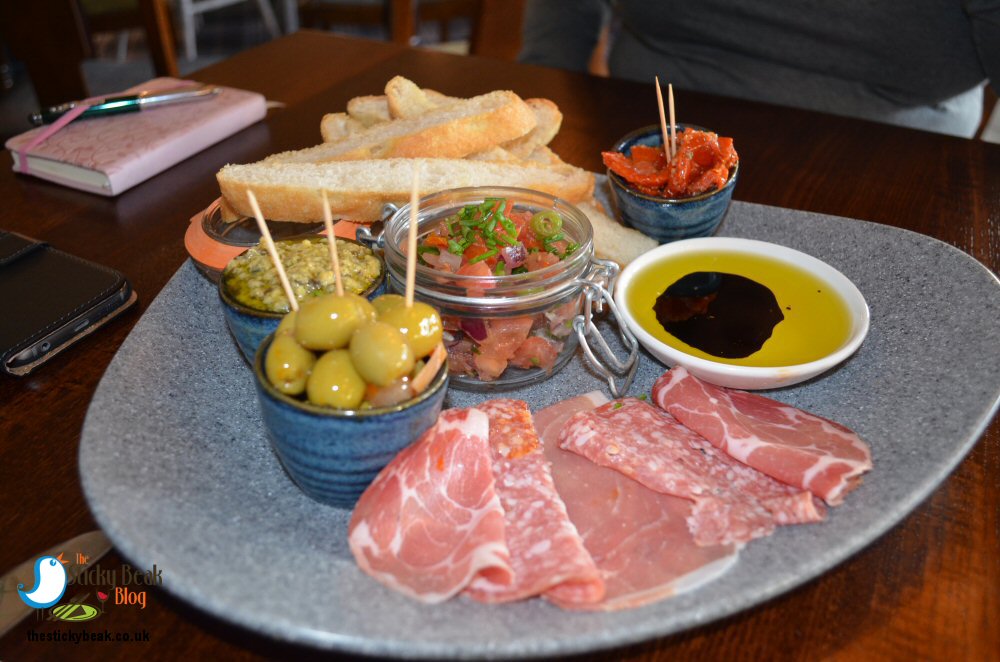 A lovely young lady called Lauryn was also serving us, and she came to check that we were happy with the starters.
Everything on this platter was bursting with fresh, bright tastes and it was superbly presented on a stoneware dish. You really can't get much better than a starter that has something for all tastes, and it didn't weigh us down either so we were very much looking forward to our main courses. I particularly liked the slightly chunky texture of the Houmous; it made a change from the smooth, homogenous offerings that seem to be fairly commonplace nowadays.
In between the starters and mains I took the opportunity to really have a good look at the menu and noticed another fantastic idea that David, Julia and their team have come up with. It can be really hard to try a new wine simply because if you don't like it you've very often wasted at least a fiver, so the habit is to stick to what you know. For £7 you can enjoy a mini "wine flight" and try 3 x 100ml wines of your choice (excluding fizz, obviously), so you can try whites, reds, roses or a mix of any combination if you wish.


I had chosen another new dish for my main course; the Moroccan spiced Lamb Burger topped with red onion and Lemon & Coriander Houmous. I also added grilled Halloumi cheese on top and upgraded my chips to the Sweet Potato fries, as well as ordering a superfood side salad. The Boy Wonder was just in the market for a Mixed Grill with its medley of Rump steak, Gammon, Cumberland sausage, Chicken breast, Black Pudding, fried egg, peas and Beer-battered Onion rings.
Gareth brought our mains out and both dishes were monsters to behold; my burger towered high and mighty in its fresh bun and His Nibs' grill needed a huge plate to hold its contents.
All the meats on The Mans plate had been cooked to preserve their flavour and juiciness, and to be honest, cutlery was pretty superfluous as the meats were so tender. The Cumberland sausage was a good, thick specimen that wasn't overly spicy but had plenty of seasoning to it, and the Black Pudding was a decent variety too. He hadn't been able to resist the lure of a Peppercorn sauce to accompany the mixed grill, and the Queens Head chef does one that has a lovely kick to it without overwhelming the other flavours on the plate. Crispy homemade onion rings and a brilliantly runny-yolked egg completed the dish rather well.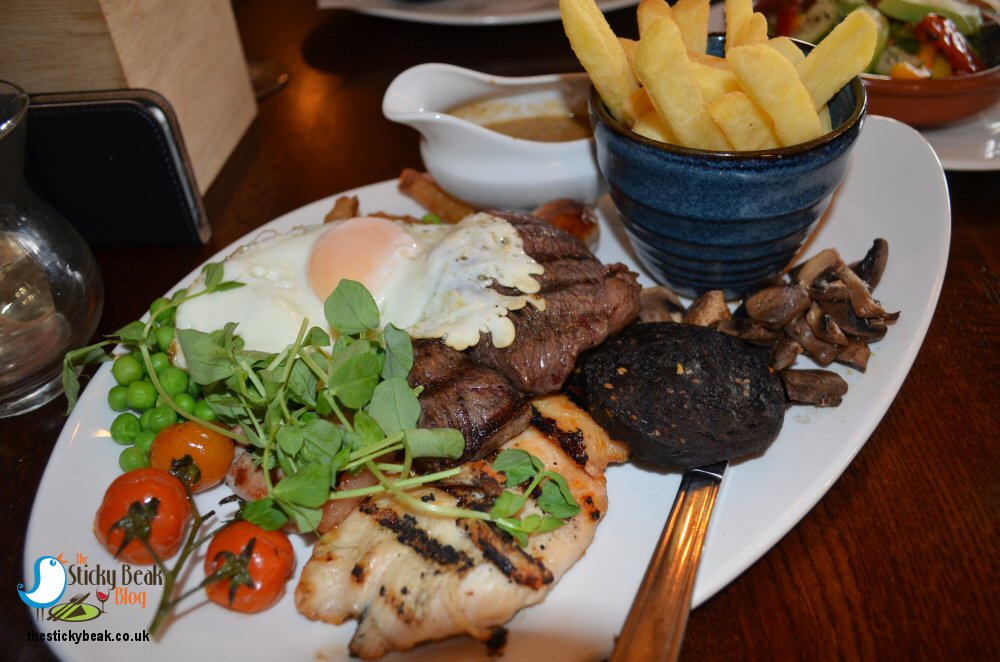 The lovely Lauryn came over again to check that we were satisfied with our food, which we were, and asked if she could get us anything else at that time.
My burger had a wonderful spiciness to it that represented this regions cuisine very well. The Houmous complimented the patty superbly with its citrus note coming through nicely, and fresh tomato, lettuce and gherkin slices gave some textural interest to the meal. I do like Halloumi cheese and there was a wonderful, thick slice of it in its entire grilled glory sitting proudly on top of the Lamb patty, imparting its unique flavour on my palate.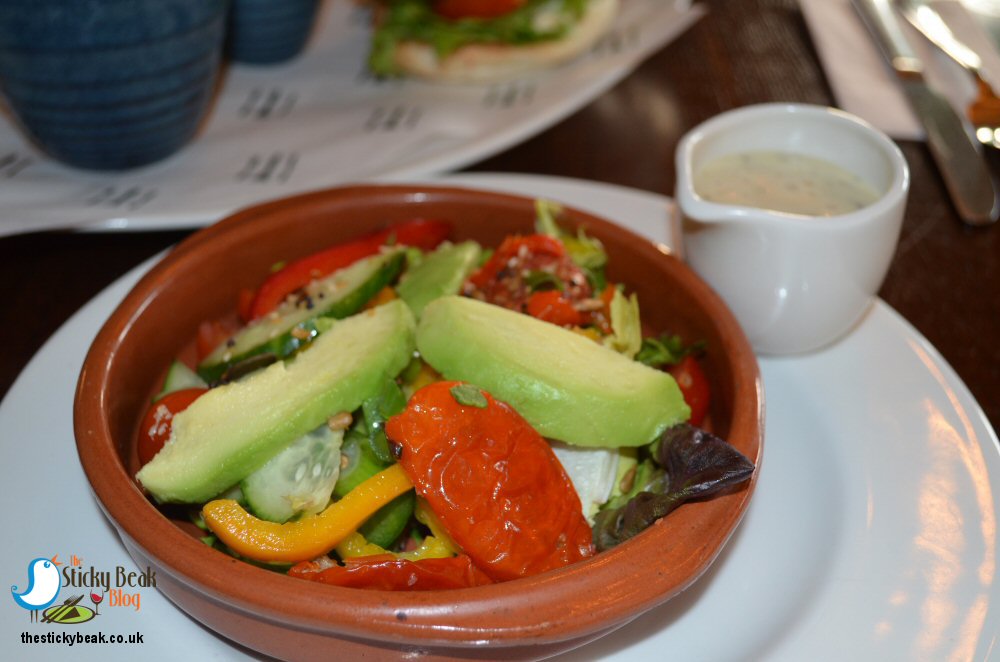 The Sweet Potato fries were lovely and crispy on the outside and deliciously soft inside, and I kept dipping them into the piquant relish that was in a separate little pot on my plate. I kept picking away at the wonderfully crisp, fresh superfood salad and every mouthful was different. There was everything you could want in it; mixed salad leaves with their differing flavours, avocado slices, baby Spinach, Edamame beans, fresh pepper slices, spring onion, roasted- and fresh- tomatoes, cucumber and mixed seeds. I loved the fact that the Lemon and Olive oil dressing came in a little pot on the side so you could add as much or as little as you wanted.
We gave ourselves a little break before we went back up to the bar to order our puddings. It took me an absolute age to decide what I wanted, and I still ended up having two desserts as I really couldn't pick between the Summer Pudding and the Elderflower Syllabub. Both these puddings epitomise warm days of Summer to me, and I was just in the mood to try them.


The Summer Pudding was delicious in all its mixed berry vibrancy, and really woke my taste buds up. A great balance has to be struck in a summer pudding between soaking the bread with the berry flavours but not over-soaking it so that it goes soggy, and the Chef at the Queens Head in Ockbrook has done a wonderful job. A pot of double cream sat on the side just begging to be poured all over the jewel coloured dome, so I duly obliged and tucked in with abandon!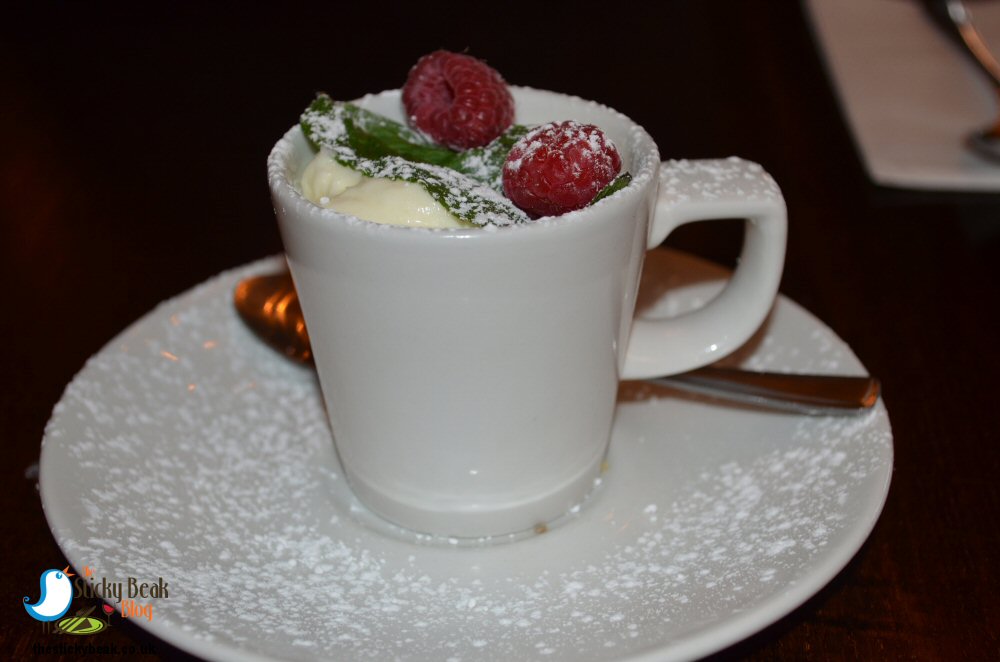 My second dessert (although can I just say that it was a mini version, not the full enchilada!) was that quintessentially English offering, the syllabub. In the Queens Head version, Bottle green Elderflower cordial is gently combined with whipped cream to produce a light, deliciously fruity finish to a meal. This was wonderfully light and refreshing and didn't lay heavy on my tummy at all.
His Nibs had decided to have the luxury Salted Caramel Bar which is described as layers of Chocolate truffle and Salted Caramel on a chocolatey biscuit base served with Salted Caramel sauce and ice cream. The Boy Wonder said it was very rich and tasty with a texture reminiscent of a dense mousse. The combination of the Salted Caramel sauce and creamy Vanilla Ice Cream was a marriage made in culinary heaven, and he said every mouthful was a pleasure to savour.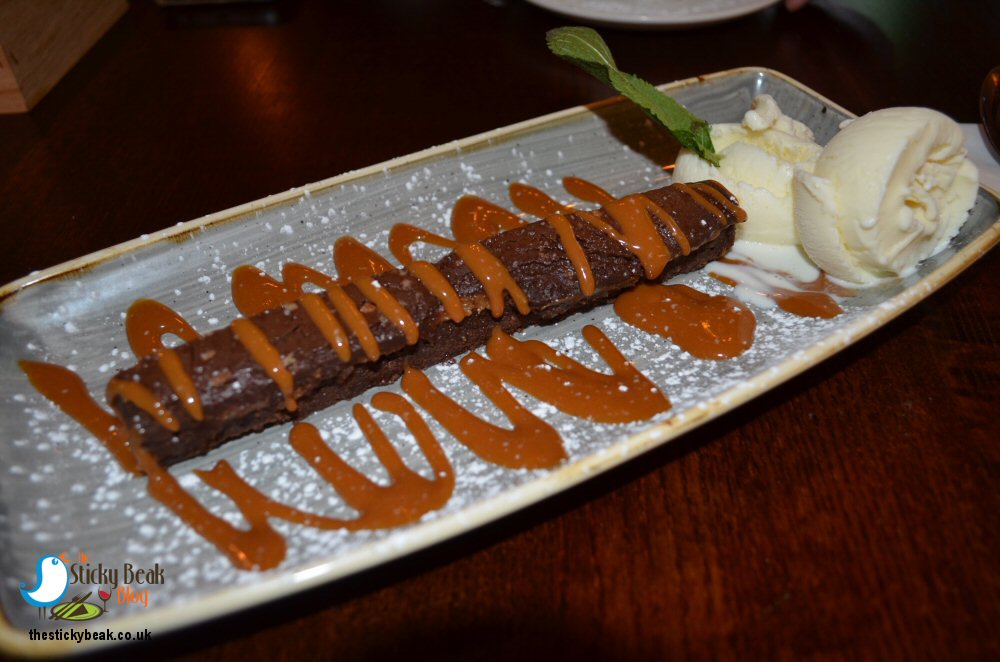 We rounded things off with our usual coffees, although My Man wanted a black coffee rather than a milk- heavy Latte. Throughout the evening there had been a steady stream of diners coming in and the pub had a lovely hum of conversation wherever you went.
If you haven't been before, now is the time to enjoy the lighter nights in a friendly venue where they do great food. Hot Wings awarded again to Dave, Julia, Gareth, Lauryn and the rest of the team :)
Some form of incentive was provided to visit this venue
read more