Birthday Burgers At Hide Burger Bar, Derby
Published On Sunday 2 Apr 2017 by Sticky Beak
See All Recent Reviews
The Chickadee had her birthday during the week so, amazing parents that we are, we booked a table for us all plus the Boyfriend Bird at Hide Burger Bar in Derby. This venue leads a double life; during the week it is open 8am – 3pm and 9am-4pm on Saturdays as award winning cafe The Docks Eatery, and transforms into Hide Burger Bar in the evenings, Tuesday – Saturday from 5pm.
The building is actually the old magistrates' court, just in case you wondered and the sturdy door handles are the first things you notice; proper thick brass affairs that mean business. Decor wise Hide is fairly modern and uncluttered but it has a brilliant, relaxed atmosphere. There were already several tables taken when we arrived and people kept arriving throughout the evening, including a couple of large groups; definitely worth booking in advance I would say.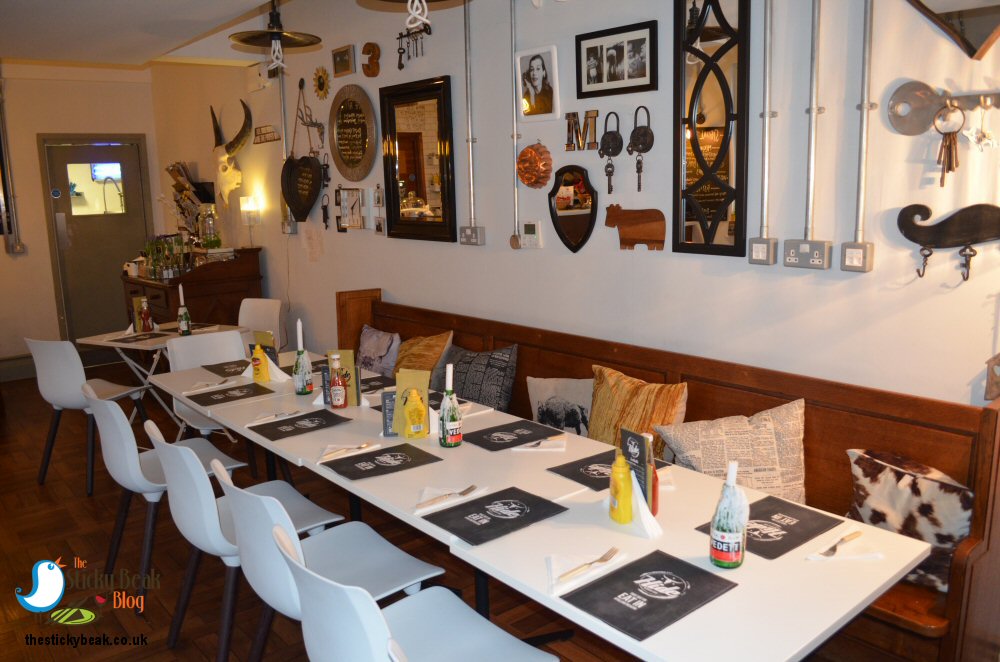 First thing to do was get drinks ordered; the fledglings had soft drinks (I was tempted to try one of the ice cream floats, but the lure of wine was too strong!), I had a cheeky glass of Malbec and His Nibs had a bottle of Estrella (gluten free, apparently). Our lovely server gave us a few minutes to decide on our burger choices and it really is all about the burger at Hide. They use locally sourced beef (apart from their signature Hide Burger which is fashioned from Bison meat); in particular a cut called Chuck Steak which they grind down to form the burger patty. Chuck Steak is a really flavoursome cut of meat and this translates straight into the burger.
The Hide team cook their burgers medium pink, unless requested otherwise, and use a flat top grill cooking method so that the flavour truly reveals itself as it melts in the mouth. They keep things simple to showcase the burger and as I often say, sometimes it is simplicity which shines brightest in a culinary sense.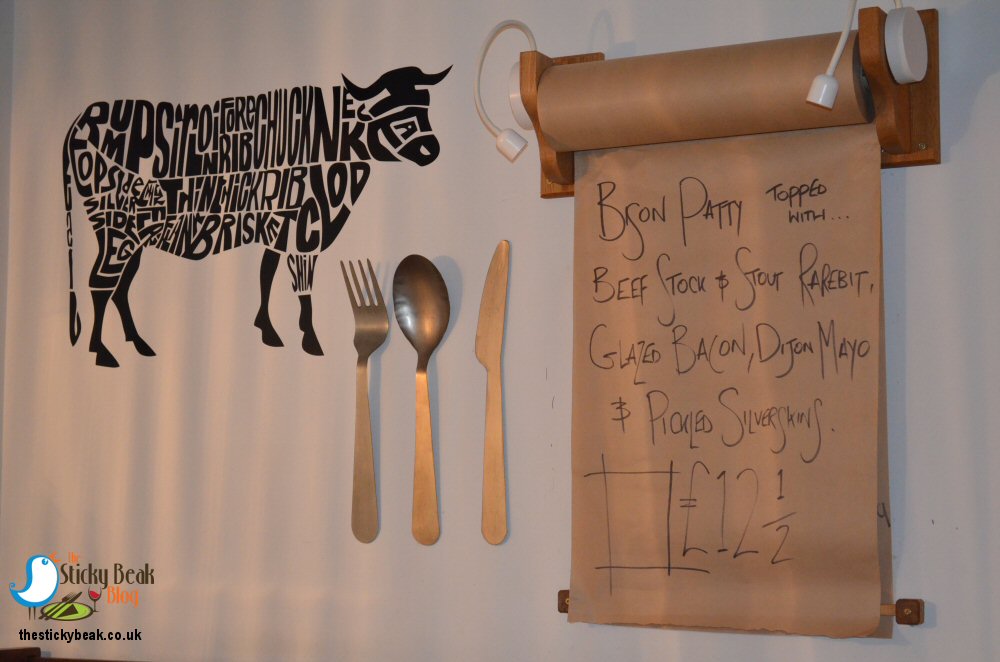 Only fresh ingredients are used in the burger; from the patty, to the salad, relish, and brioche bun; again if you start with top quality ingredients, the difference will easily be noticed in the mouth. Something that the team do point out is that they cook fresh to order, so during busy times the chefs may take a little longer to prepare your food. I never mind waiting for something that will be at the peak of its quality, after all if I'm spending my money, I want to get maximum bang-for-my-buck.
We eventually made our choices; Smoky Burger for The Man Bird, Bacon and Cheese for My Chick, the Chicken Burger for The Boyf and Hides Special burger for me. We couldn't resist a side order of Onion Rings, and were looking forward to trying the Rosemary salted chips that come with the burgers.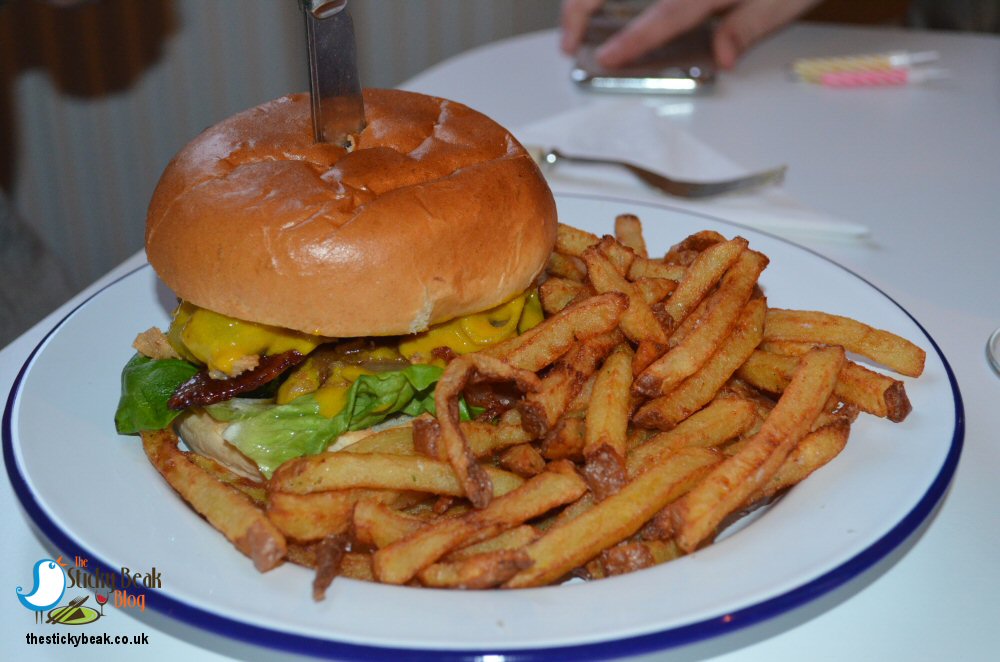 The Special burger on this occasion was a Bison patty topped with Beef stock and Stout Rarebit, Glazed Bacon, Dijon Mayo, and Pickled Silverskin Onions. If it proves to be popular, this particular incarnation may become a regular feature on the menu.
The Bacon and Cheese version is fairly straight forward; the 6oz beef patty is topped with Cheddar or Stilton (your choice), Streaky Bacon, Red Onion, Pickles, Holy Cow ketchup, smoky Moo Mayo, and Gem lettuce.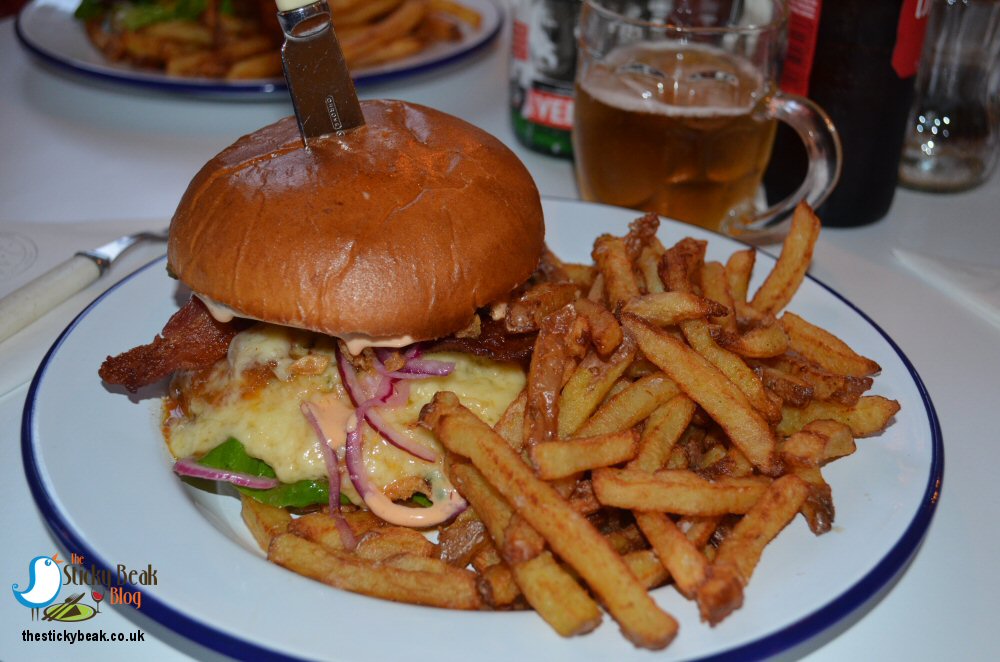 His Nibs opted for the Smoky Burger with its patty covered in smoky Onions, Smoked garlic Cheddar, Bourbon glazed streaky Bacon, crispy onions, red onion, Pickles, Holy Cow ketchup, smoky Moo Mayo, Gem lettuce and Brioche bun. I can tell you one thing dear reader, there was going to be no kissing in the Sticky Beak nest that night; not with all those Onions floating around!
The Boyfriend is quite particular in his tastes so when he ordered the Chicken burger, we all quietly raised an eyebrow. This particular burger starts with a marinated chicken breast and has Mango and Pineapple Salsa, Rum glazed streaky Bacon, Coriander Crème Fraiche, Holy Cow ketchup, Gem lettuce and the bun; nothing contentious there you would think. Our server very helpfully suggested that the Salsa and Creme Fraiche components were put in pots on the side, so that BB could try a bit if he wanted to, as he was reluctant to have them included on his burger.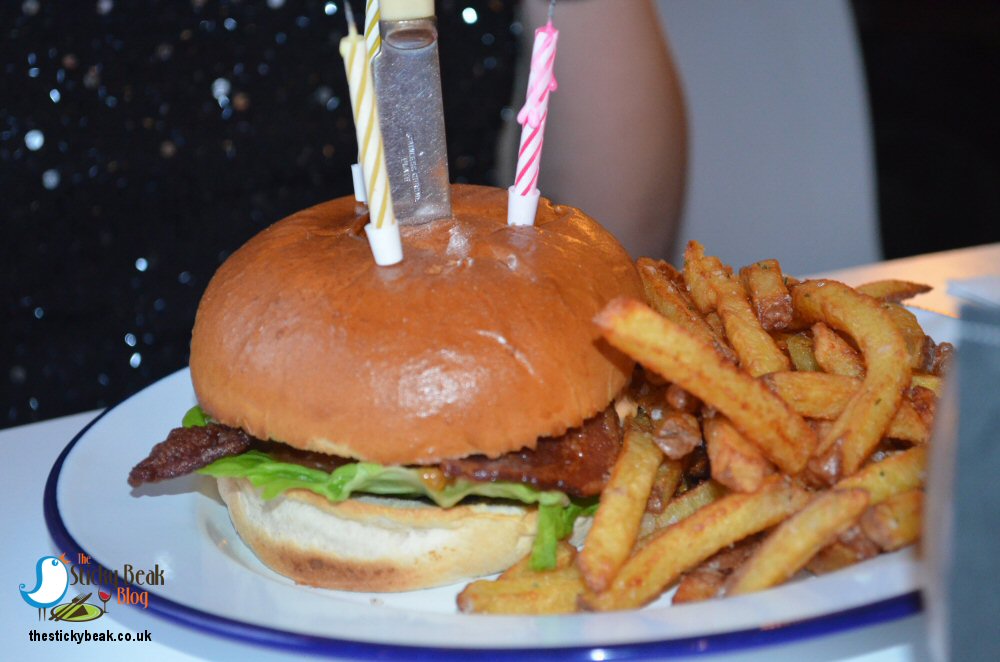 It wasn't particularly long before our food arrived; the Hide Team had put mini candles in our Chicks burger as they brought it over, which I thought was a lovely touch. Thank you guys :) A hush descended on our group as we all eagerly tucked in. All that remained of the burgers, fries and onion rings after an indecently small time frame was a solitary onion ring sitting forlornly in its bowl.
Without exception, we all said how incredible the burgers tasted; they were succulent, full of flavour and a very satisfying size. All the components worked brilliantly together, giving the perfect balance of sweet, tangy, spicy and mild flavours on the palate. The crispy lettuce and pickles also gave some crunch and texture in the mouth.
With all the regular menu burgers priced between £8.50 and £11.50 and my Special burger at £12.50, we all thought that they were great value for money given their size and the fact that chips are included.
Our tummies were more than a little full, but you can't skip pudding on a birthday can you? So we were given the pudding list and left to decide what we fancied. In truth, we all could've eaten the entire menu but we reined our gluttony in and His Nibs had the Proper Treacle Sponge with Vanilla Bean Ice Cream, I had the Chocolate Orange Bread and Butter Pudding with pouring Cream and the Love Chicks had an Oreo Brownie Sundae to share.


The desserts were all a great size, so we knew we'd got our work cut out eating them. Our Chick and her Squeeze were busy digging out pieces of gooey Oreo Brownie from their blankets of Vanilla and Chocolate Ice Creams, Whipped Cream and Wafers. Tell tale bits of chocolate kept escaping, leaving them both with fantastically comical chocolate rings around their mouths! There was much tinkling of spoons against glass as they desperately sought to get every last little bit of ice cream out.
My Bread and Butter pudding was just brilliant. The balance of Chocolate and Orange flavours was perfect in my mouth and the dessert wasn't overly sweet as can sometimes be the case. I couldn't help myself and poured all the little jug of cream over it and just allowed it to sink in and permeate the bread. It was one of those rarities; a pudding that beat my tummy. I cannot begin to explain to you the pain I felt at having to leave such deliciousness, even though it was only a couple of spoonfuls.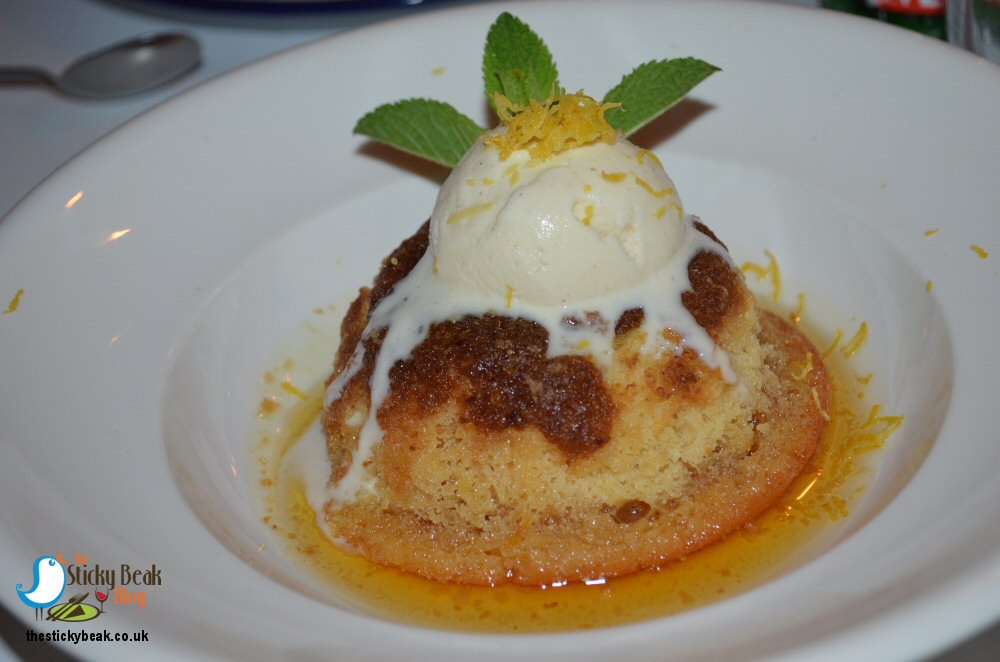 The Man Bird is quite an aficionado when it comes to Treacle Sponge puds so when his eyes lit up and a grin spread across his face I knew that the team at Hide do a pretty darn fine version! It had a very nice texture to it, wasn't "clarty" at all and had a great treacle depth to it apparently. None of it went begging; let me put it that way.
We skipped coffees as the Kids weren't bothered about another drink, but we had had an excellent evening all round. If you haven't been before, or if you just really appreciate a good burger, then I can thoroughly recommend Hide Burger Bar to you. Hot Wings definitely deserved here :)
No incentive was provided to visit this venue
read more